This post is sponsored by Visit Phoenix and Visit Mesa. As always, all opinions are my own.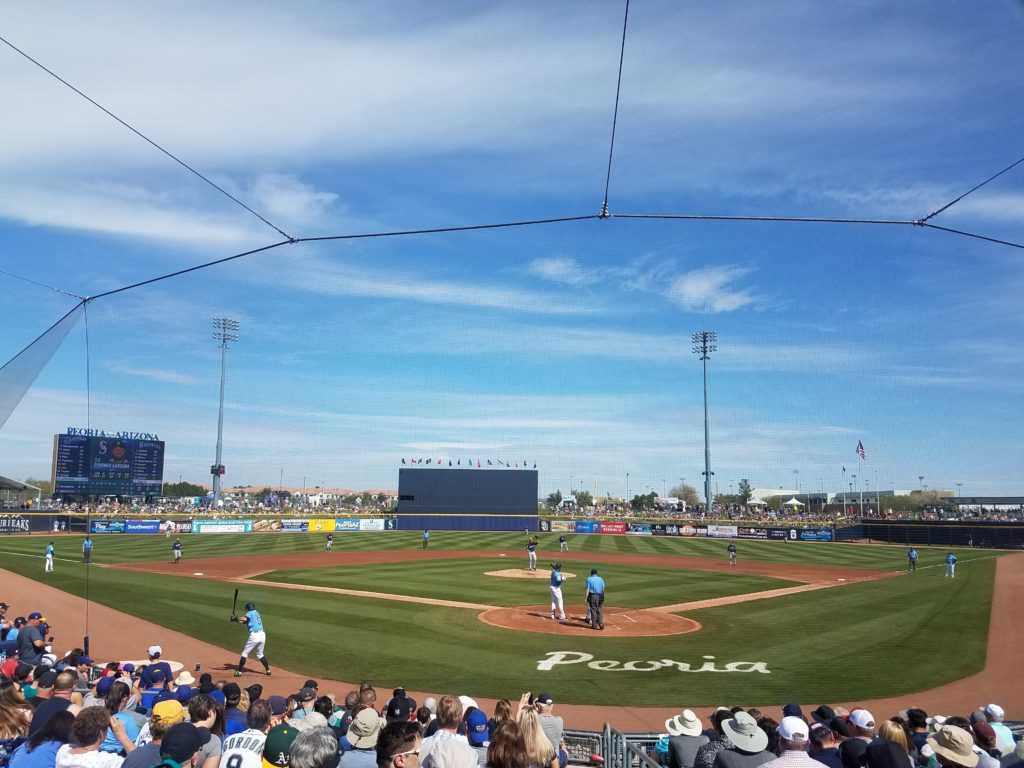 It is Spring time in Arizona and that means it is Spring Training, something that is kind of a big deal around here. If you've never heard of Spring Training, then let me educate you real quick. Spring Training is a special time and it needs to be on your bucket list for so many reasons (I will outline my favorites) but before I do that, let's talk about what exactly Spring Training is!
Spring Training is what it sounds like: it is training for Major League Baseball teams that happens in the Spring (specifically February 22-March 26). The biggest differences between Spring Training and regular season baseball are the dates and locations. If you are a baseball fan, I guarantee that you will love Spring Training. If you aren't super into baseball, I can guarantee that you will love Spring Training for other reasons. Check out 8 reasons to add a Spring Training game to your Arizona Bucket List!
#1: Spring Training Only Happens in Two States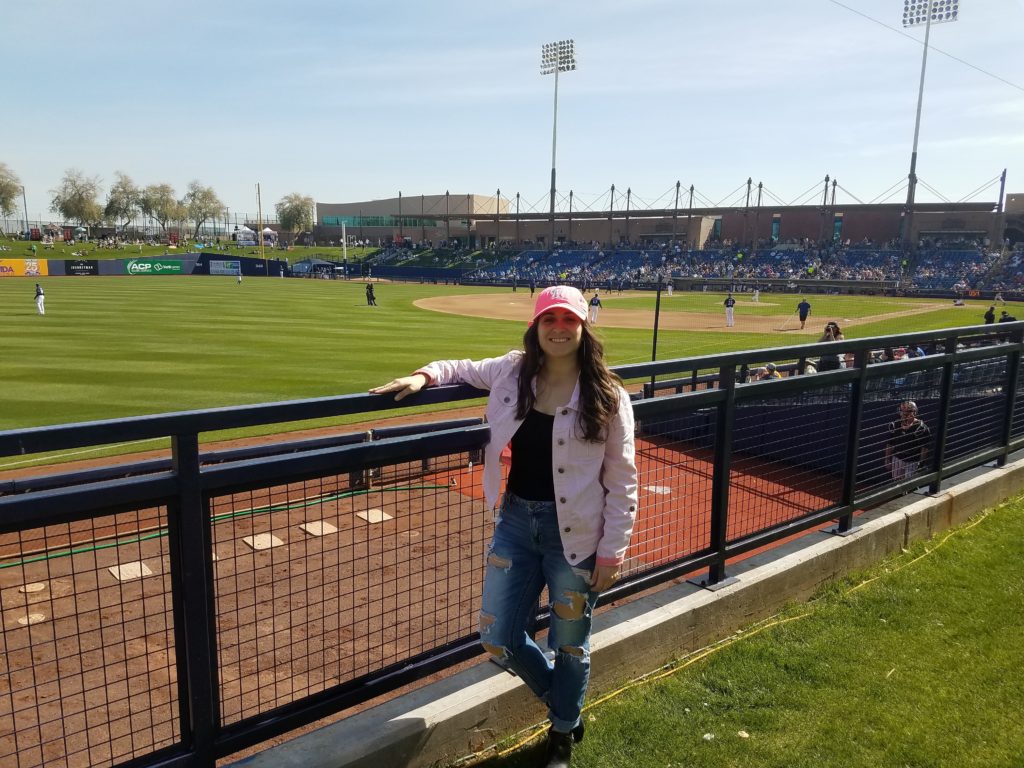 This is the main reason that I will recommend going to a Spring Training game to people in Arizona….Spring Training only happens in two states: Florida and Arizona! So many people travel to our beautiful state just to witness the amazing spectacle that is Spring Training, so do yourself a favor and drive to your nearest stadium (there are 10 in Arizona)!
#2: It's Much Cheaper
Spring Training games are a lot cheaper than your regular season baseball games, I'm talking as low as $6 y'all! A few reasons for this price are because the stadiums are smaller, there are lawn seats available (more on that later), and the star players aren't always playing (which isn't necessarily a bad thing)….so this results in a lower price, which makes Spring Training an easy and spontaneous activity.
#3: Food And Drink Options Galore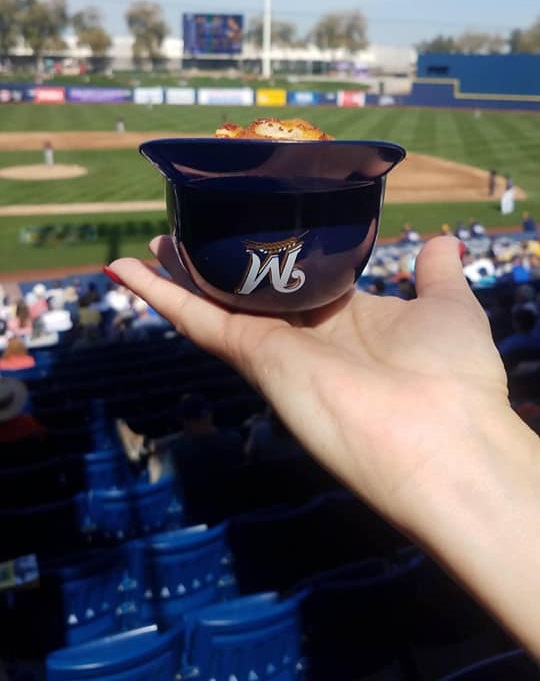 I know I've mentioned that a lot of the stadiums mirror their team's home stadium (Chicago pizza at the Chicago Cubs stadium and cheese curds at the Milwaukee Brewers stadium) but another fun part about Spring Training is that the stadium also allow you to bring in your own food! That's right, I saw a lady with Chipotle and thought 'What a legend'. If you don't want the stadium food, and you aren't feeling like packing some snacks, you can also check out the food trucks at each stadium or stop by an ice cream, shaved ice or kettle corn cart! There are also a ton of bars, including my favorite: the Jim Beam Bourbon Bar at Sloan Park. Peoria Sports Complex has a build your own burger bar where the burgers are grilled outside right in front of you!
#4: The Smaller Arizona Stadiums Mirror The Team's Home Stadium
If you've never been able to travel to Chicago to see the Cubs play at the legendary Wrigley Field, then going to a Spring Training game at Sloan Park, the official Chicago Cubs Spring Training stadium is your best bet! I had the opportunity to attend a Spring Training game with my friends from Visit Mesa and I felt like I was back in Chicago! Not only is the stadium structure similar, the food offered at Sloan Park was just like that in Chicago! I had Giordano's pizza and it was delicious! I also got to check out a game at Maryvale Baseball Park, the official Milwaukee Brewers Spring Training stadium with my friends at Visit Phoenix, and again I felt like I was back in Milwaukee! When I travel I eat, so of course one big 'Milwaukee food' was the cheese curds, and guess what, you can find these in Phoenix!
#5: Lawn Seats Are A Thing
In my opinion, lawn seats are what make Spring Training what it is. Spring Training is more casual than regular baseball and what is more casual than bringing a blanket to a stadium? Try relaxing while sipping some sangria or beer and watching some baseball and that is what you call perfection. These lawn seats are also super inexpensive. I highly recommend that everyone take a hat, sunglasses and sunscreen because it does get pretty sunny here in Arizona!
#6: Early Afternoon Games Mean Day Drinking and Half Days at Work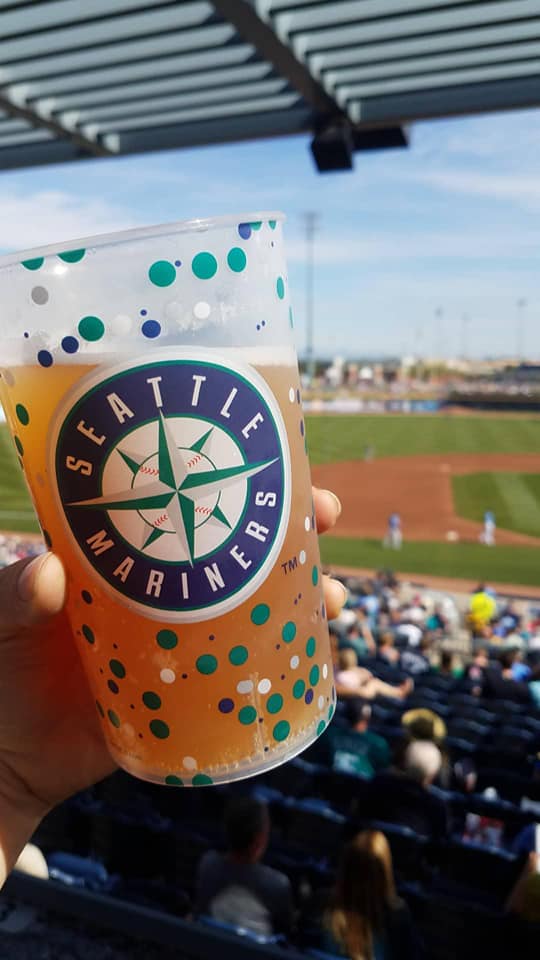 A lot of the games start in the early afternoon which gives you the perfect excuse to take a half day from work and enjoy a little day drinking. I am a fan of sangria in the early afternoon, but you really have your pick on what you'd like to drink. I love the fact that you can go and enjoy an activity during the day as well because most people choose to socialize later in the evening.
#7: It Is A Smaller and More Personal Experience
Since Spring Training is played in smaller stadiums, it feels like a more personalized experience. The lines are shorter for restaurants, bars, the bathroom, and you get a much better view of the game! Parking is also so much easier because you aren't battling the thousands upon thousands of fans.
#8: There Are Activities For Everyone
If you're not a huge baseball fan, I am here to tell you that there's so much more than baseball to Spring Training. Each stadium has different things to entertain you whether it's food trucks, delicious restaurants, bars, or festival type games! Sloan Park gives you the opportunity to type your name into their official 'Sloan Park' sign that says something like 'Chicago Cubs Welcome [insert your name here]!', how cool is that?! I like baseball, but I also like going to games to eat, drink and socialize with my friends. Maryvale Baseball Park hosts yoga before the games so you can get some fitness in AND have some fun! Spring Training is the perfect excuse to grab all of your friends and watch some baseball.
The tickets are cheap, the food is delicious, and each stadium has something fun to offer. I am going to try to go to each baseball stadium in Arizona this Spring Training, will you join me?
I hope this list inspires you to check out a Spring Training game! Let me know if you do 😉
Thank you all for reading, and stay enthusiastic!
Feel free to follow the adventure on social media
Facebook / Instagram / Twitter / Youtube
-Maira
Please follow and like us: