This past week was a very exciting week for me, for my blog/Facebook page, and for all of you (my friends and readers)! First, I crossed off bucket list item #320: Check out Monster Bubbles at Paradise Valley mall, which was super exciting, random, and epic! It was an exciting week for my blog/Facebook page because we had our first giveaway! And it was an exciting week for you (my friends and readers) because one of you won the giveaway and joined me in crossing off a bucket list item!

Let's jump right in! A few of you may ask 'what is a Monster Bubble and why on Earth would you want to do that?'. Let me explain. A Monster bubble is a 9 foot tall gerbil ball (looks like a sphere) where people go in (like a hamster/gerbil) and run around and bounce all around an enclosed space. That might sound a little weird, but oh my gosh it was such a blast.
The lucky winner for this week was Kameron! I was so excited that Kameron won the very first giveaway because this past year, he has really shown that he embodies the message that Enthusiastic About Life has chosen to share. Kameron is ALWAYS ready for an adventure, and this past year he has made it his mission to be more spontaneous, to travel more, to hike more, and to overall just become more Enthusiastic About Life. And he is also a fellow blogger! Check out his blog here.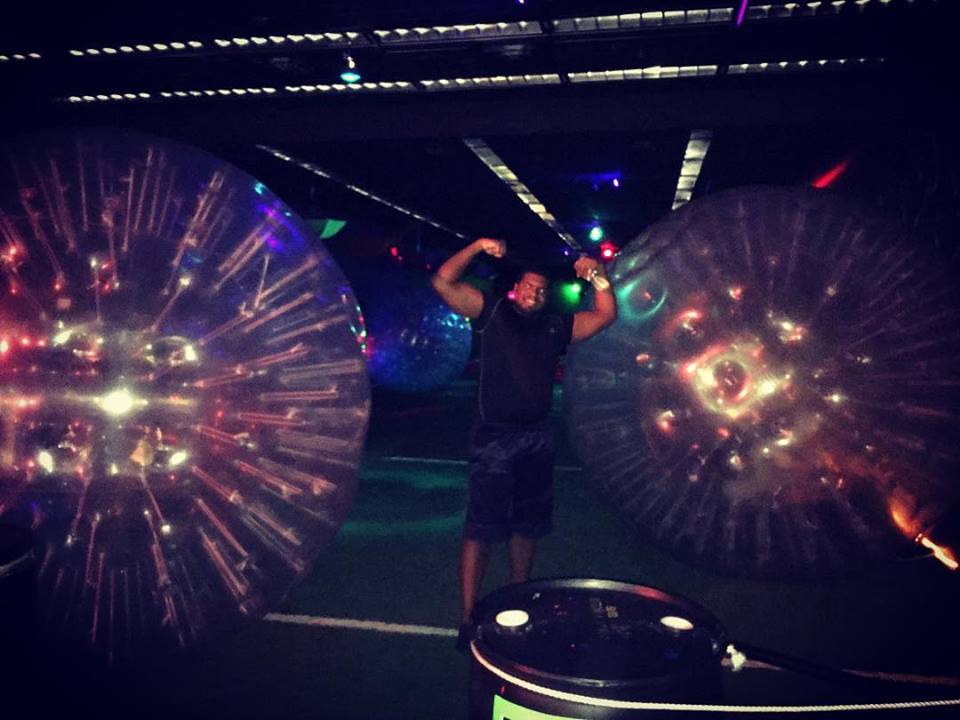 (Photo courtesy of Kameron's instagram)
So I've explained what a Monster Bubble is, but I have yet to explain why I would want to go inside of a Monster Bubble. Well, I first heard about the Monster Bubble from a friend's Snapchat. My friend from U of A posted a snapchat of a soccer game where the players were all inside of a gerbil ball and then playing regular soccer. I saw that Snapchat, took a screenshot and added 'go inside of a gerbil ball' to my bucket list. And then through the MeetUp group Women On Adventures, someone organized a Monster Bubble event and I saw my chance to cross off a bucket list item!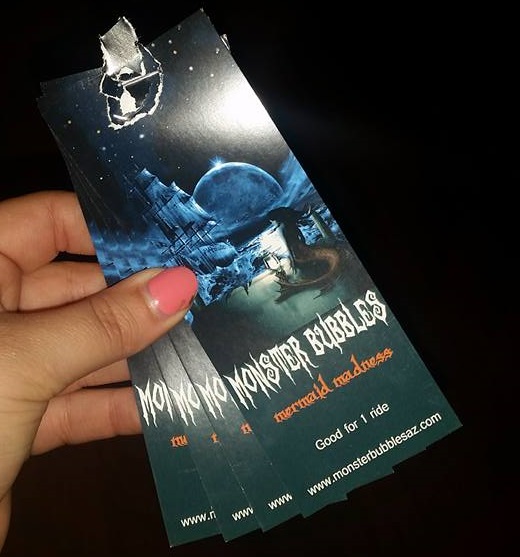 I hosted the giveaway and Kameron won and joined me and we had such a blast. Apparently, I don't know how to read instructions because I didn't read the fine print where it says 'you won't be able to wear any jewelry, loose items, GLASSES, etc.' so I got to the Monster Bubbles place in my glasses and had to take them off and be super blind throughout this whole experience. Running around in the Monster Bubble in a dark room with a light show going on was super cool, but a little scary for me because I was super blind and everything was blurry haha 🙁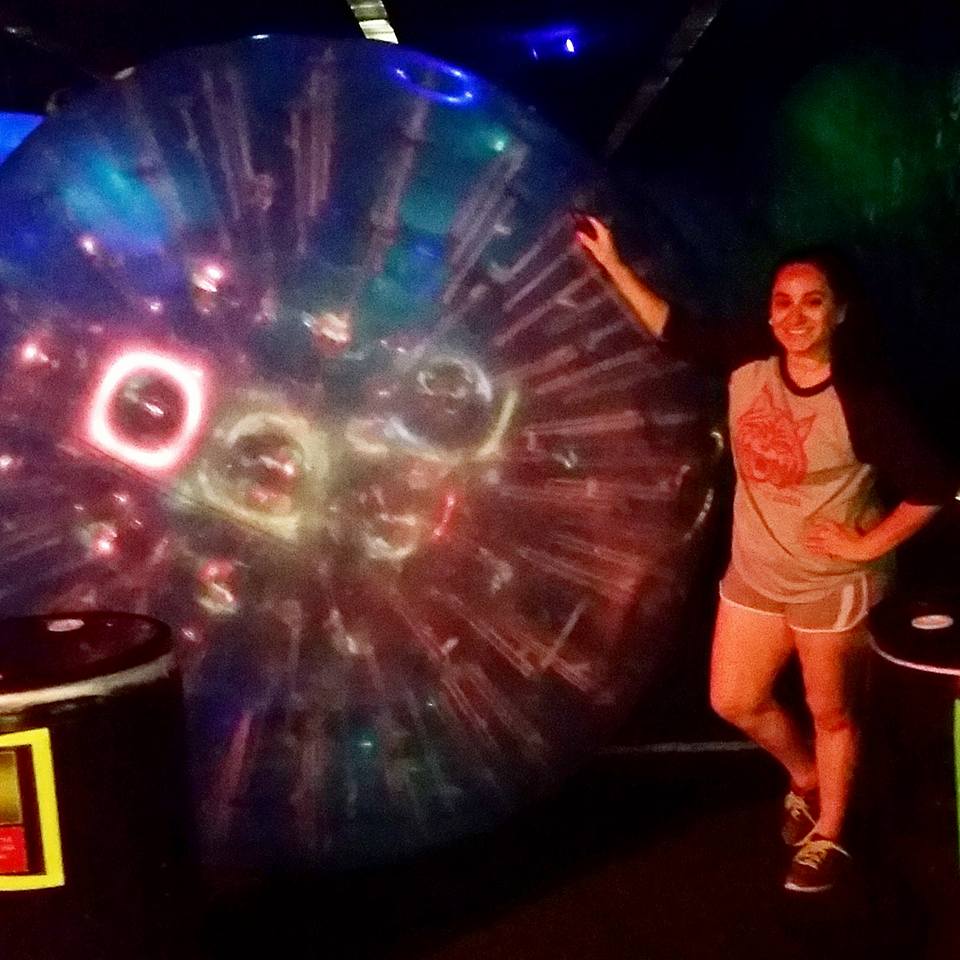 Running around in the Monster Bubble was SUCH A WORKOUT. I literally felt like I was wading through water but it was still really fun! I'm of average height (5'3) and the top of my head was very close to the roof of the bubble so I was a little worried about my friend Kameron who is pretty tall. I later found out that he was crawling on his hands and knees in the bubble which explained why he was so tired haha. I got super sweaty so my one recommendation would be to wear comfortable work out clothes.
We were kind of let loose in the room and just told to tumble around, but Kameron decided it would be hilarious to bump into me (and the other women lol) and so I did a couple of front flips in the Monster Bubble which was a little terrifying haha.
One thing that I was a little worried about was that I was going to fall out through the hole in which I came in through but I made sure to keep that hole on my side the entire time because it would have been horrible to fall out of the hole and get trampled (joking, that is almost impossible haha).
All in all, it was such a blast and I'm very happy to have crossed off this bucket list item with a friend! I got out of the Monster Bubble super sweaty but it was so worth it! Stay tuned and make sure that you are following the official Facebook page for Enthusiastic About Life because that is where the giveaways will happen, and more are definitely coming!
How many of you have done something like this or are interested because I do have a couple of tickets left and may give some more away! Comment down below 🙂
Thanks for reading and stay enthusiastic 🙂
You can read more blogs on 'Bucket List Items' here!
-Maira
Please follow and like us: