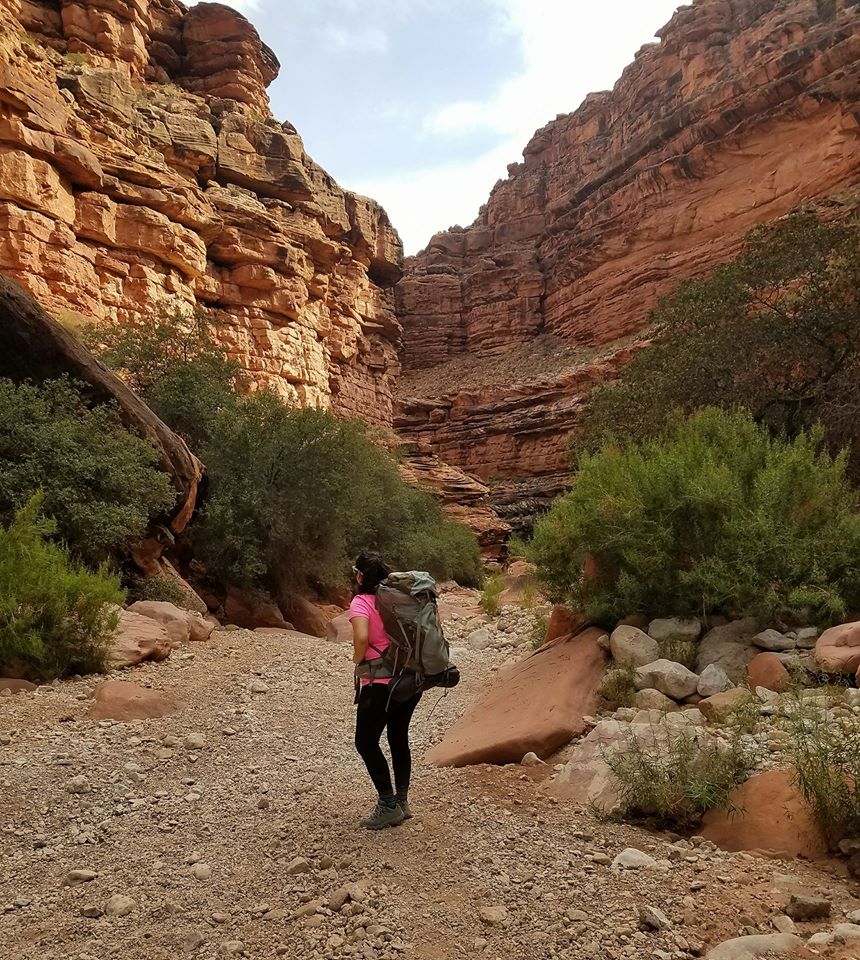 I crossed off a major bucket list item and it was an incredible experience: hiking Havasupai Falls. You can check out 7 Photos To Inspire You To Hike Havasupai Falls if you're not quite sure what this incredible place in nature looks like and you can also check out my Phoenix training plan to help you get ready physically! This item took me a little while to cross off because I wanted to train for the 10 mile hike and I needed to buy/borrow all of the equipment.
I learned a lot about what I should have brought and what I should have left behind. My backpack was huge and I realized it could have been SO MUCH LIGHTER. But it's okay, you live and learn…and if you have a blog like me, you teach others! So, I'm here to help with the ultimate Havasupai Falls packing list!
This list was created based on googling, a blog post recommended by a friend, asking friends who are avid backpackers, and then kind of just guessing and hoping for the best. Lucky for you, I have a lot of lessons learned so I will be including what is necessary, what I wish I had brought and what is nice to have if you have space. Enjoy!
Before you start packing though, I would recommend you lay all of your items on the floor where you can see every item. This will help you ensure that you don't overpack and that you don't miss anything, and it will also help you 'tetris' your items into your backpack so that they all fit perfectly. Good luck!
What You Definitely Need:
Backpack
A backpack is hands down the most important thing. You need a backpack to carry all of your gear and the biggest lesson I learned is that less is more. I overpacked and those 5 extra unnecessary pounds felt like 20 pounds after 10 miles.  I didn't own a backpack so I borrowed one from friends (thanks Jesse and Molly!) but you have several options if you are like me. You can borrow a backpack, purchase one for cheap on Offerup or Craigslist, or rent one from REI. The most important thing to look at when choosing a backpack is make sure that it fits your body (it's not too big), make sure it's comfortable (a good way to check this is to take this backpack with weight in it on a long hike in your area and then see how it feels), and also make sure that it is large enough to carry all of your stuff.
My friend Luis advises to research light weight cost effective material because they do exist!
Water
Water is also super important, without it you will not make it to the end (or it will be miserable). I took a gallon of water split into 2 half gallon containers…and this was too much water, I didn't finish it and water IS SO HEAVY. My friend had told me that you don't really need that much water, especially during the cooler months. I only ended up drinking a little less than half a gallon on the hike down. There is water down at the bottom from a faucet that you can use to fill up your water bottles. I recommend you train and see how much water you drink and then decide that way.
My friend Tim usually carries a small squirt bottle with electrolytes in water so that during the hike he can have flavored water and can replenish lost electrolytes.
Clothing & Shoes
My biggest lesson on clothing and shoes is that it's best to bring a limited amount, because if you're like me, you won't be making many wardrobe changes. Honestly, you are camping so does it really matter what you wear? I would suggest just bringing clothes to sleep in, swimming items, and one other change of clothes if your trip is less than three nights.
When it comes to hiking shoes, make sure they are light and actual hiking shoes and not running shoes or sneakers. Hiking shoes help you be steady and this is so important especially on the way down because it's so easy to stumble and sprain an ankle. I would recommend you also break them in before the big hike! Again, if your trip is less than three nights (like mine), I would say you only need to bring 1 pair of extra socks.
Sunglasses and a hat are also great if you go during sunny times.
First Aid Kit
This is necessary because a blister on this super long hike can quickly turn this into the worst hike of your life. You can find cheap and small first aid kits online. I would recommend also purchasing moleskin which helps with blisters.
Food
Make sure you have snacks to consume during the hike (fruit, granola, energy chews) because you will need sustenance. I had a friend almost pass out during the hike (she just needed sugar) and the energy chews were very helpful.
You also definitely need food for when you're down at the campground. I took a camping stove (more on that later) with instant soup (Cup of Noodles) but honestly granola bars would have been enough to sustain me. Just think about what you'd like to eat while you're camping and bring the most lightweight items. There is also a little food store down at the bottom that sells fry bread and other items (a little pricey) but it's almost worth it to not have to carry your items down to the bottom.
My friend Tim suggests bringing two packs of dehydrated food since it is filled with the calories. One pack will be for when you arrive and the other pack is for the night before to fuel your body for the hike out.
Tent
What is camping without a tent right? You definitely need a tent especially if it is raining because no one wants to sleep outside in the rain, plus it keeps the little chipmunks and bugs away.
Miscellaneous
You will need to bring toothpaste and a toothbrush (there are bathrooms down near the camp area too so you can brush your teeth there or do it out in nature if you don't want to walk.
Water cleansing tablets are also a recommendation because they're cheap online or at REI (you just throw these tablets into the water you'll be drinking and they get rid of bacteria) and it's better to be safe than sorry.
Make sure you bring a photo ID because you will need this to check in to get your wrist band for access to Havasupai Falls. I would also recommend you bring cash and a debit/credit card for food or if you don't want to hike out you can pay to get a helicopter ride out! My friend Luis does advise that you shouldn't plan for the helicopter, since sometimes it is not available.
Make sure you bring sunscreen as well even if it's not super sunny.
You will need something to sleep on like a sleeping pad or a hammock if it's not raining. You don't really need a sleeping bag (and most are really heavy).
What I Wish I Had Brought:
Hiking Equipment
I didn't take any hiking poles because I didn't think I'd need them but after falling and almost spraining my ankle I wish I had. Normally, I can hike without hiking poles but carrying your backpack full of gear makes a tumble pretty dangerous and it's a little hard to stay steady.
Low Key Entertainment
A deck of cards or a book is nice to have because you will have some down time. There's only so many hours of the day that you can spend swimming or hiking.
Miscellaneous 
Bug spray is also recommended as you are out in nature and there are bugs! The nice thing about going in a group is that you can all split the community items like bug spray or tooth paste and that way your backpack isn't super heavy with these items.
What Is Nice If You Have Space:
Photography/Videography Equipment:
If you have the space I would bring your action camera (GoPro) or a nice camera to document the hike. Of course bring your phone but nicer photography/videography equipment is better to capture the insane beauty of Havasupai Falls.
I would also recommend you bring a battery pack for your phone and other electronics. You don't want to run out of battery and there aren't any outlets down at the campground so make sure you bring enough to last you the entire time you are down there. I brought my battery pack but I also had my phone on airplane mode to save my battery while down there since you don't have any service at all (only in certain areas).
Camping Equipment
You can use the flashlight on your phone to walk around in the dark but my friend had a headlamp and I wish I had one. It makes going to the bathroom a lot easier!
I brought a camping stove which was nice because we had hot food but along with the camping stove I brought the little tank to power it, plates, bowls, and utensils and this added extra weight to my pack. It's nice to bring a camping stove but really only if you can't survive without hot food. The next time I go to Havasupai I will just take granola bars since they sell fry bread at the bottom anyway.
A hammock (in addition to whatever you'll be sleeping on) is also nice because I love reading on a hammock but this will also add weight to your pack.
Clothing:
If you have room for sturdy water sandals I would definitely bring those because you won't want to wear your hiking shoes in the water, plus some of the rocks at the bottom really hurt your feet so I wouldn't recommend going into the water barefoot.
---
I hope this list inspires you to go out and get some nature in your life. Please comment below any other items I missed in this packing list and I will update my list to reflect that!
For more Havasupai hiking inspiration, check out #MairaInSupai on Instagram! For other hiking inspiration, check out my Hiking Bucket List!
Stay tuned for a video of my experience along with more tips!
Thank you all for reading, and stay enthusiastic!
Feel free to follow the adventure on social media ?
Facebook / Instagram / Twitter / Youtube 
-Maira
Please follow and like us: