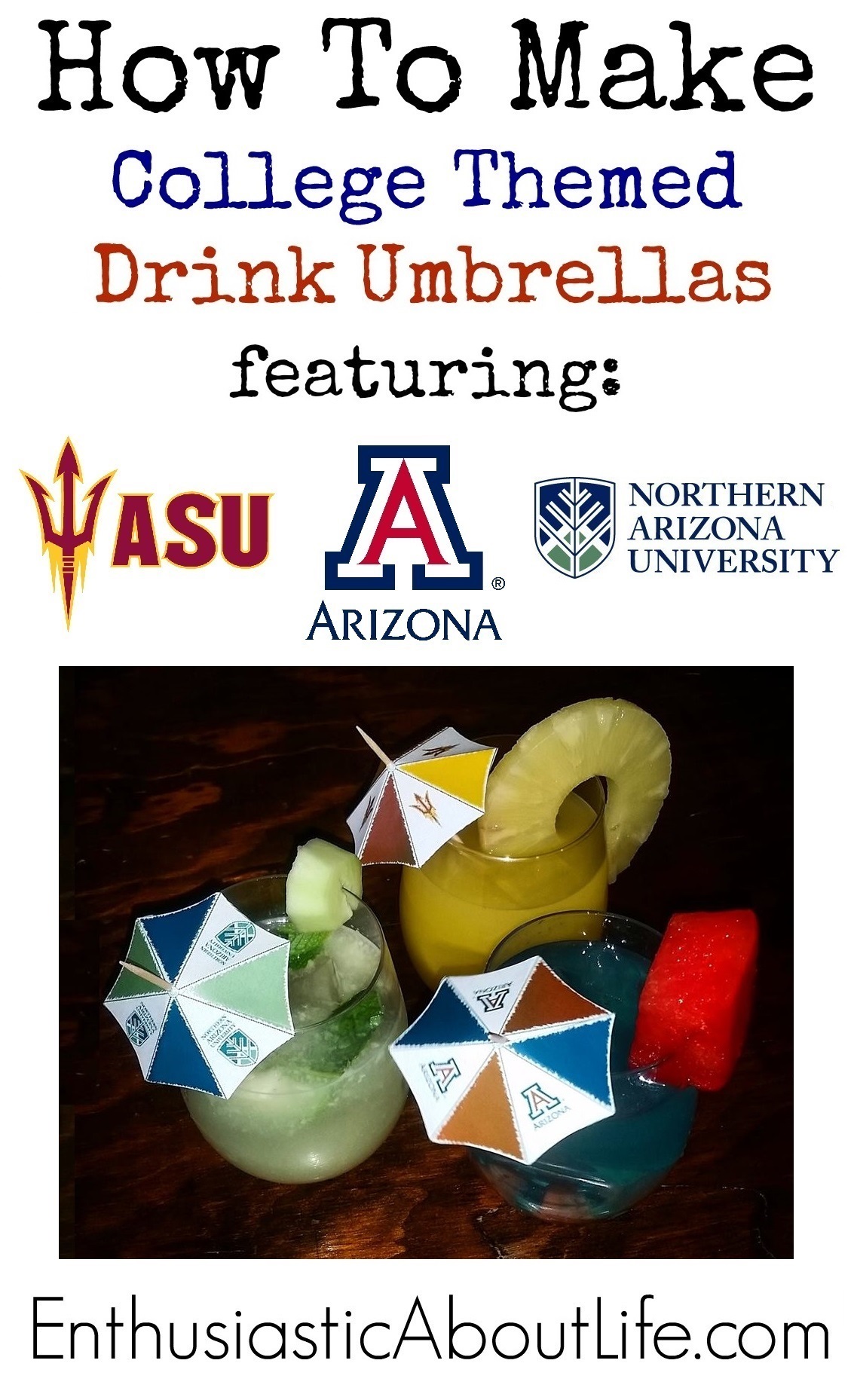 This week I started the process of crossing off bucket list item #9: become a bartender and there is so much to learn before I can fully cross off this item! I'm very excited to graduate from bartending school 😉 and start hosting my own parties! One thing that has come about from my learning how to be a bartender, is that I am getting so many ideas of drinks and drink decorations. This week, Enthusiastic About Life is kind of in a nostalgic university mood, so I made some University of Arizona themed drink umbrellas! As well as some Arizona State University and Northern Arizona University drink umbrellas. They were SUPER easy, I've included the templates so that you can just download them and also some extra steps to modify the drink umbrellas in case you want to make some for your own college or a sports team or a bridal shower. The possibilities are endless!
I am going through the process of becoming a bartender online because it's a lot easier for my schedule to do it this way. If you're interested in joining me, I am taking the Bartender & Barista Training Course through Bartender & Barista. The course is completely online, totally legit and costs $199. I used a Groupon and it was way cheaper. Keep a look out on Groupon and maybe you can find a similar discount!
I am one lesson in and so far I've learned how to keep a bar clean, where the different liquor bottles should go, and some secrets of the trade. But today we are not talking about being a bartender, we are talking about being crafty!
I made drink umbrellas for U of A (of course), and decided to be nice and include our friendly rival ASU, and our neighbor up north NAU.
University of Arizona Drink Umbrella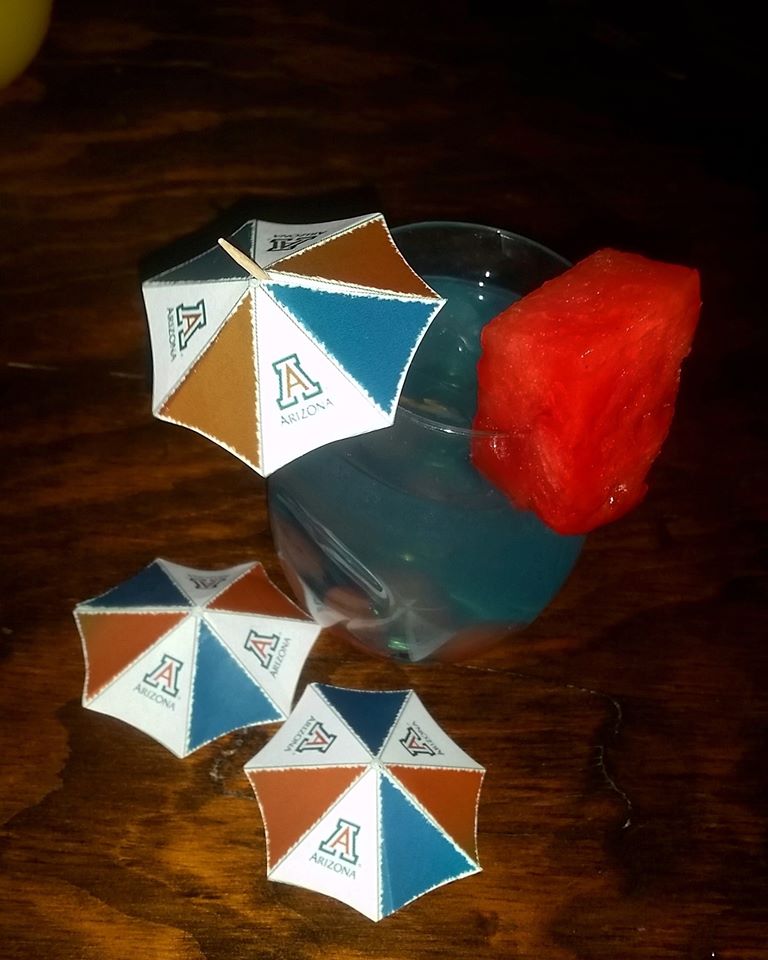 The drink umbrellas are super easy, you can just download the U of A template HERE, cut it out, tape the ends together, and stick a toothpick or straw through it. And voila, you are done! And I think it looks better if the drink kind of matches the umbrella so for U of A, we have an AMF 😉
Here is the recipe for an AMF from DrinksMixer:
1/2 oz
vodka
1/2 oz
rum
1/2 oz
tequila
1/2 oz
gin
1/2 oz
Blue Curacao liqueur
2 oz
sweet and sour mix
2 oz
7-Up® soda
Pour all ingredients except the 7-Up into a chilled glass filled with ice cubes. Top with 7-Up and stir gently. I also added a watermelon piece as a garnish to really compliment the red and blue of the U of A drink umbrella.
Northern Arizona University Drink Umbrella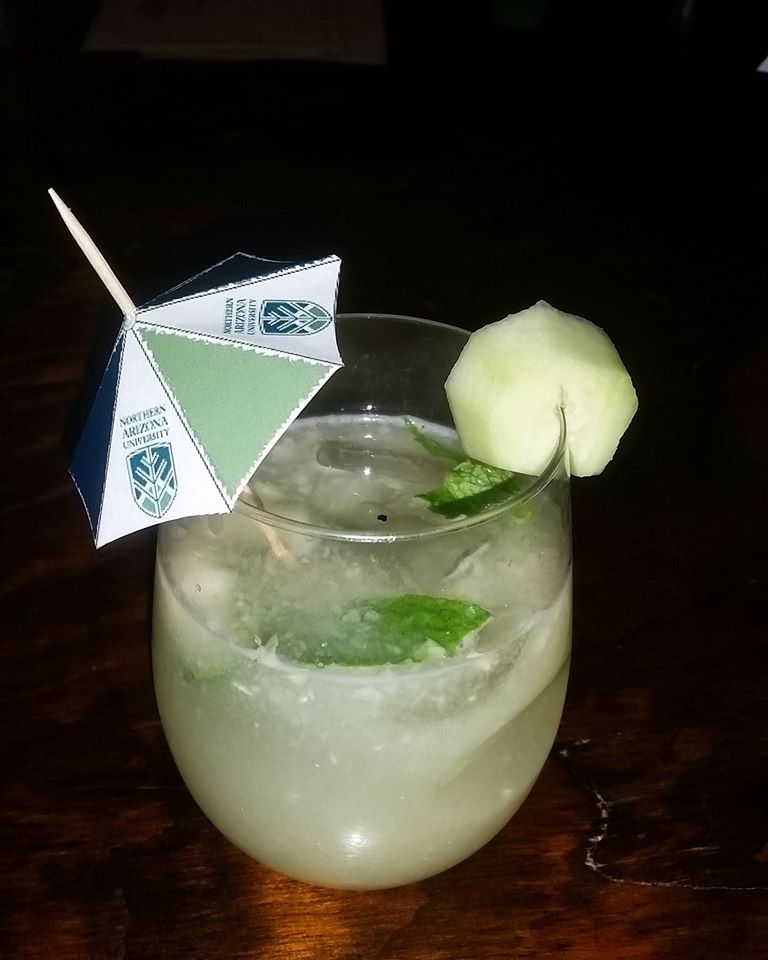 My favorite drink umbrella was the NAU one because the cucumber mojito perfectly matched the colors. You can download the NAU template HERE.
Here is the recipe for a cucumber mojito from DrinksMixer:
1 oz
white rum
1 oz
simple syrup
5
mint
Leaves
5
cucumbers
4
lime
Wedges
1 splash
lime
juice
Mix ingredients in order listed. Shake very well in ice till shaker is frosty. I also added a cucumber slice as a garnish to compliment the NAU colors!
Arizona State University Drink Umbrella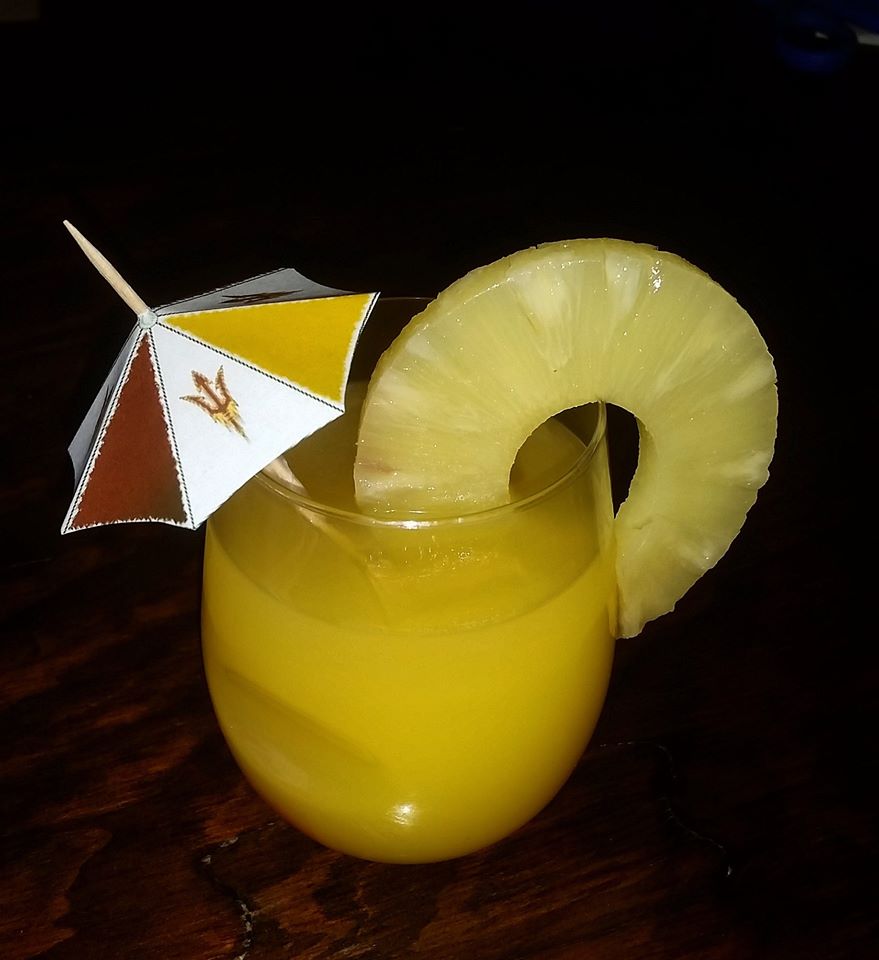 I also really liked the ASU drink umbrella because it was paired with a piña colada, and I LOVE piña coladas. You can download the ASU template HERE.
Here is the recipe for a piña colada from DrinksMixer:
1 1/2 oz
light rum
2 oz
cream of coconut
2 oz
pineapple juice
1 cup
crushed ice
Pour rum, cream of coconut and pineapple juice into a blender with one cup of crushed ice. Blend until smooth, and pour. I garnished it with a huge slice of pineapple because here at Enthusiastic About Life, we go big or go home. And again, the garnish compliments the ASU colors.
---
It's SO EASY. If I didn't include your college here or if you want to customize your own drink umbrella, here is the original template I used from Pinterest. All you have to do to customize is open the file in paint, copy and paste a logo (click rotate to paste the logo on multiple sections), and that's it!
Let me know what you're planning on making and if you might become a bartender now! Keep a look out for more updates on my bartender journey. I'll be sharing my favorite drinks soon!
Thanks for reading and stay enthusiastic!
More blogs about bucket list items can be found here.
-Maira
Please follow and like us: