Hi friends!
This past week, something super exciting happened. But before I jump into the story, I have to give you some background information. Back in 2005, when I was 13 years old I bought my very first rap album. The album I bought was The Massacre by 50 Cent. I think it was my cousin who lived in Chandler who introduced me to 50 Cent's music. I bought the album and it was back in the day when we didn't have a computer in our house so there was not really a way for me to look up lyrics to my favorite songs.
So, what I used to do, was to literally sit down in my room and listen to songs over and over until I learned the words. I think it only took me about 3 days to learn all of the lyrics to the entire album. To this day, I think I might still know all the words lol so if 'Disco Inferno' ever comes on in the club, you know I'll be that person singing along lol…'look homie I don't dance, all I do is this, it's the same two step with a little twist' lol. Anyway, I found out (THROUGH A SUPER RANDOM SOURCE) that 50 Cent was going to be in town promoting his new vodka (Effen Vodka) so of course I HAD TO GO. Let me tell you about the super random source before we continue lol. So a few months ago, the instagram account @SenorCheladaEast (which is basically a beer mix distributor lol) started following me on instagram. I checked out their page and they posted some pretty interesting stuff, so I started following them back. So a beer mix distributor was the reason I found out that one of my favorite rappers was going to be in my city lol. So I show up to the 50 Cent meet and greet, bought his vodka (of course) even though I don't really like vodka..like at all lol, and got in line.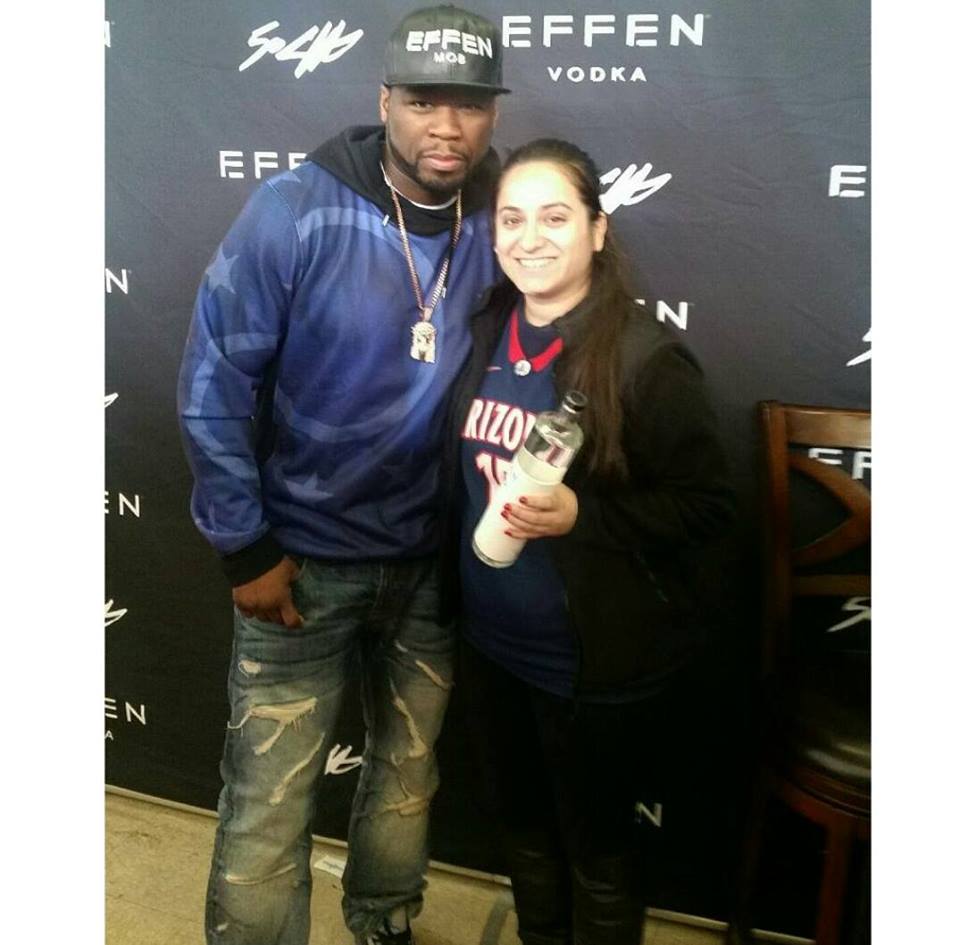 The meet and greet was in a part of town that I normally don't go to..with that said, some pretty interesting things happened. First off, when I was crossing the street to Paradise Liquor store, a random guy fox whistled at me…something that literally had not happened in years lol. I would have been more offended and disgusted but I was about to meet 50 Cent lol. Next thing that happened, a random guy tried to sell me an iphone that had a cracked screen and appeared to not be functioning (I politely declined lol). And a few other things that I won't share here…feel free to ask me in person lol. Anyway, I finally make it to the front of the line and I MEET 50 CENT. And let me tell you, homeboy is really tall..like a lot taller than I expected lol. And he looked exactly the same as what he looked like on the album cover of The Massacre, he has not aged a day lol! I met him, shook his hand, got a picture with him and told him that I was a huge fan (since 2005). He was so nice, he kept saying 'that's really cool, sweetie thank you' lol. I also told him that I wasn't a fan of vodka and that he should consider making a Tequila and he laughed haha. So I made 50 Cent laugh which was awesome. After our picture, I wished him luck and thanked him for coming out to AZ. It was so awesome lol. It was going to be hard to top that excitement that weekend lol.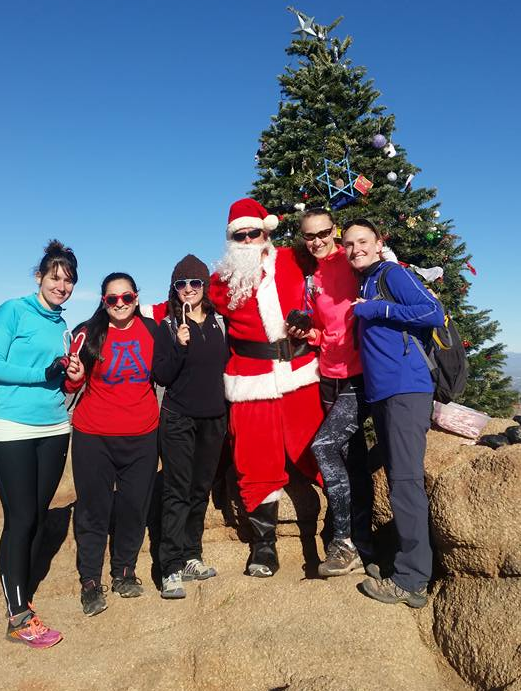 Switching gears….this weekend I also hiked and conquered Camelback Mountain! Something that I hadn't done for almost 4 years! I've hiked Camelback 4 times now…because it is a pretty difficult mountain and not many of my friends want to hike there with me lol. A few of my friends at Honeywell (#HoneywellHikers on instagram 😉 haha) decided we wanted to try hiking Camelback Mountain on Sunday morning but we were not going to do the common difficult trail, no instead we were going to hike Cholla Trail, the 'easier' trail. I didn't even know there was an 'easier' trail lol. So we start hiking, and it's a little steep but not super bad and it's a little chilly so at least we aren't sweating a lot yet. And so far, it's a great hike with amazing views but as we keep hiking and climbing, I start to realize that the trail is getting a lot steeper. Like steep to the point where you literally have to use your hands and upper body strength to pull yourself up lol. And this was how the ENTIRE TRAIL WAS. You had to use your hands to pull yourself up and you had to find foot holds for your feet.
I realized that the trail was physically difficult yes, but to me it was more mentally difficult because every time I had to use my hands to pull myself up and basically scale up the mountain I was terrified that I would grab a loose rock or miss a step and fall to my death lol. But it was an amazing hike when we finally completed it around 1.5 hours later lol. There's a part where you are crossing a rock bridge and it's kind of scary and this is where Rene yelled at me to stop so that she could take a picture of me lol. But I didn't know she wanted to take a picture…for some reason my logical mind immediately went to thinking that she was yelling at me to stop because there was a bear behind me lol. Anyway, after so much time using our hands (yes I got blisters…take gloves people lol) we made it to the top!! And there was a huge surprise for us up there! Apparently a couple of hikers had taken a huge Christmas tree up there…I don't know how they did it. I could barely take myself up there, let alone a tree lol. They had taken up a huge Christmas tree and decorated and CAMELBACK SANTA WAS THERE!!! There's literally a guy who dresses up like Santa and hangs out and takes pictures lol. He also hands out candy canes, it was awesome haha. I had never been so happy to reach the top of a mountain, and believe me…the banana I took for a post hike snack was completely and 100% deserved lol. The way down was even worse. There were multiple times where I had to sit down and just slide down otherwise I would fall to my death lol. But I highly recommend this hike! Great workout, beautiful views, and Santa is waiting for you at the top!! Let me know if you'd like to hike Camelback Mountain with me, you know I'm always down!
Thanks for reading!!
You can read more blogs on 'Bucket List Items' here!
-Maira
Please follow and like us: