This post is sponsored by the Roseville Visitor's Association. As always, all opinions are my own.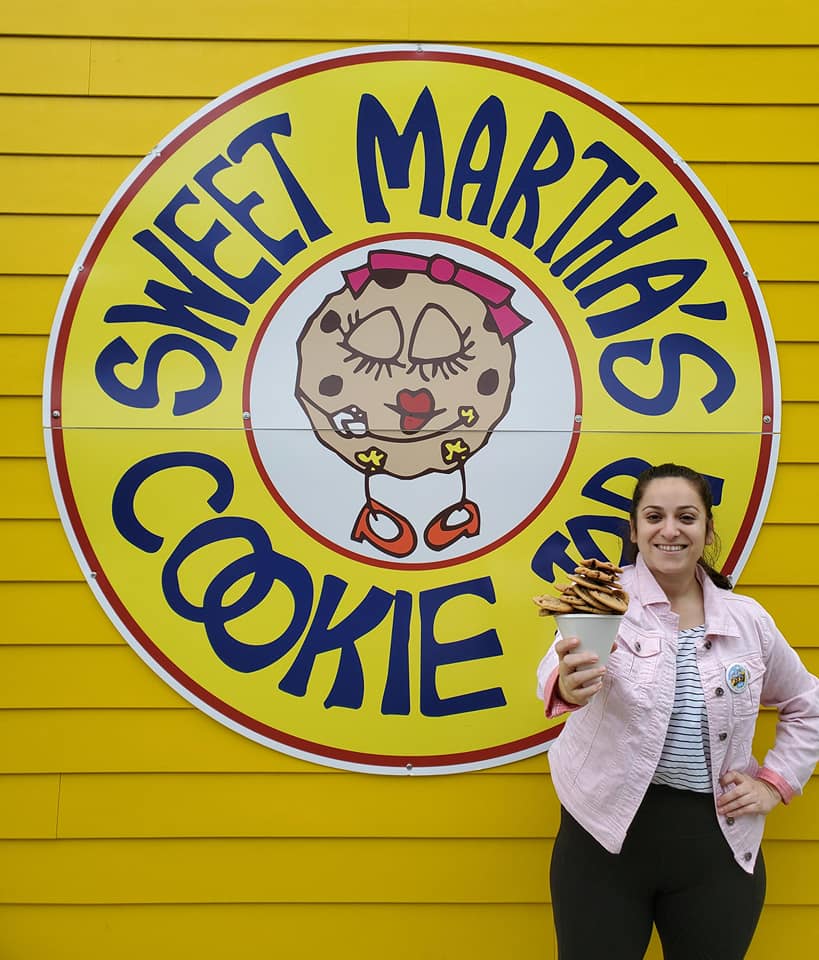 Two weeks ago, I had the incredible opportunity to fly to beautiful Minnesota and check out one of their most popular events, the Minnesota State Fair. After checking out the MN State Fair, I have come to realize what is the most important thing about fairs: THE FOOD and the Minnesota State Fair does not play.
The Minnesota State Fair began in 1854 and has been going strong ever since bringing in local folks as well as folks from all over the world. Over two million people crossed off the Minnesota State Fair from their bucket list and this year, I was involved in helping break a new record for attendance: 2,126,551 people!
There is so much to see and do including going on rides, shopping, visiting the animals, enjoying live music but my favorite part of the fair was all of the food and drinks available!
Check out 9 of my favorite foods at the Minnesota State Fair recommended by friends, the Roseville Visitors Association and the Internet. And yes, half the video is me just super excited to eat EVERYTHING! Enjoy and let me know what else I need to try!
Half of these foods were inside of the Food Building and the rest were scattered throughout the fair grounds. I recommend downloading the fair app to get yourself prepared to enjoy all of the food and attractions!
Tom Thumb Donuts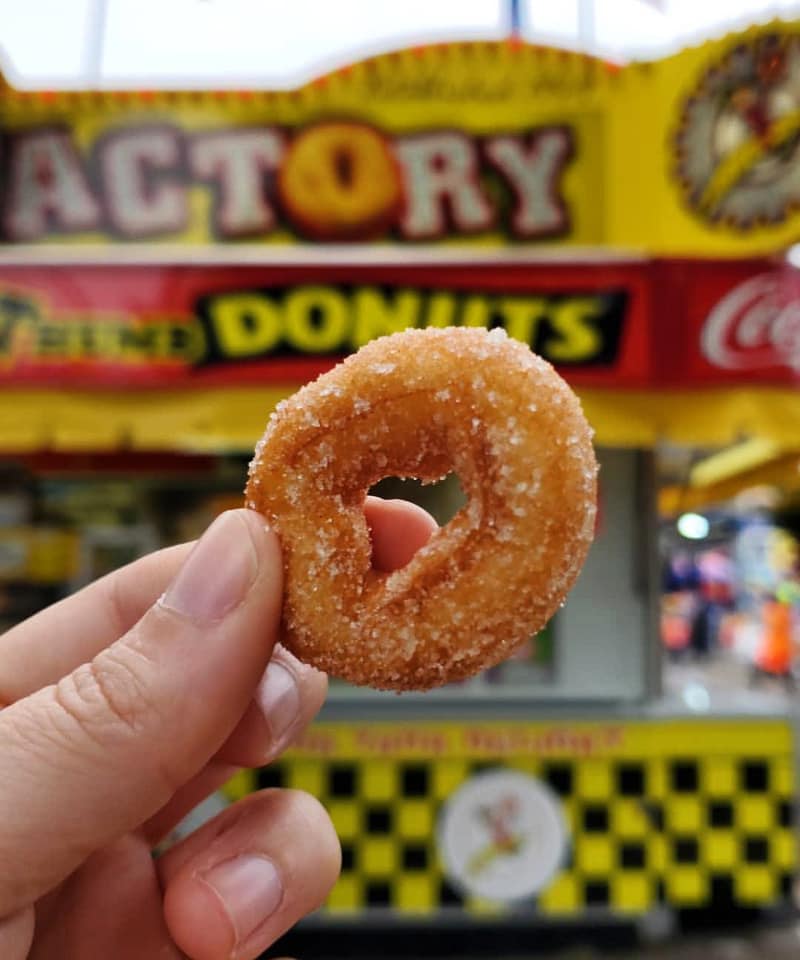 If you are a donut person, you need to make a stop at Tom Thumb Donuts. A small bag of these (that you can totally share or keep to yourself) is only $5! They are warm, sugary, flaky and delicious!
Pronto Pups
My friends from the Roseville Visistors Association told me that I absolutely had to add a Pronto Pup to my food bucket list so that I could be a part of the big corn dog vs pronto pup debate. I know this looks like your typical corn dog, but it's not! Most corn dogs are made with a batter made from cornmeal or corn flour, while a pronto pup is made with flour or pancake better. I really liked it because it tasted like a pancake!
Nitro Ice Cream
Unfortunately, I only had the chance to try a quick sample of the Nitro Ice Cream because this is the first thing you see when you walk into the Food Building, but it was so tasty! The sampling happened so fast that there was no time for photos but check out the video! The ice cream was delicious!
The Mouse Trap Cheese Curds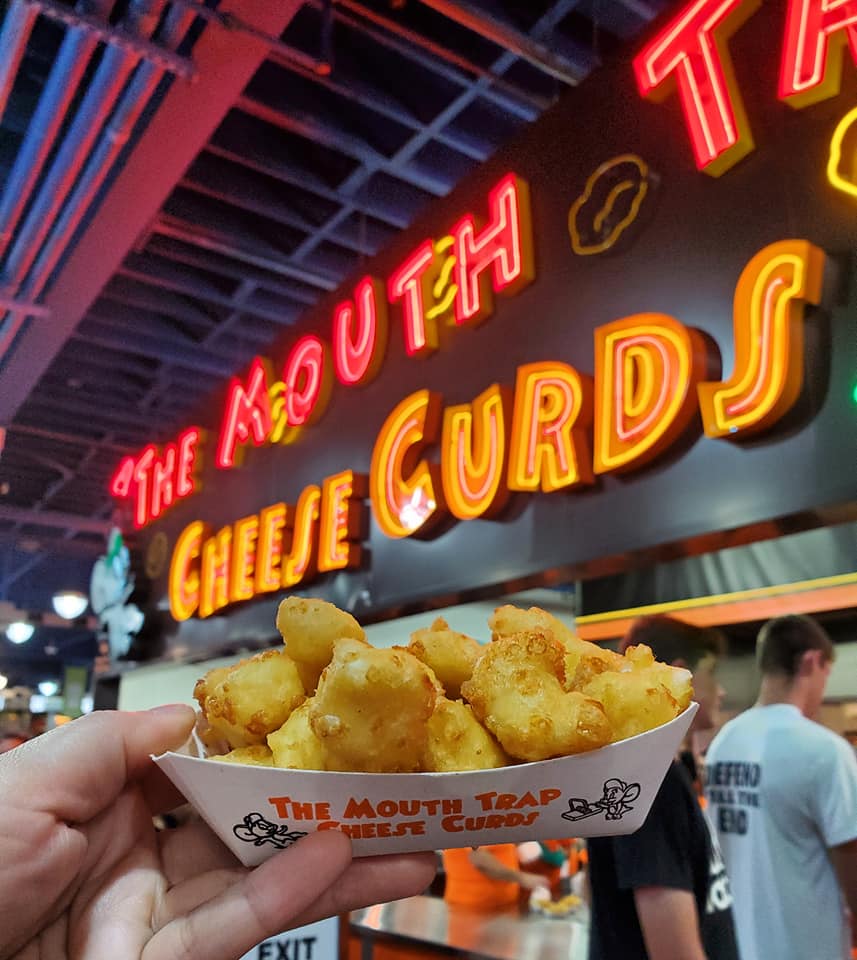 If you've never had a cheese curd in your life, then you need to stop and book the next flight to Wisconsin….or better yet, make your way to the Minnesota State Fair! These tiny pieces of heaven are easy to eat and taste so fresh! I almost went back for seconds.
Mini Donut Beer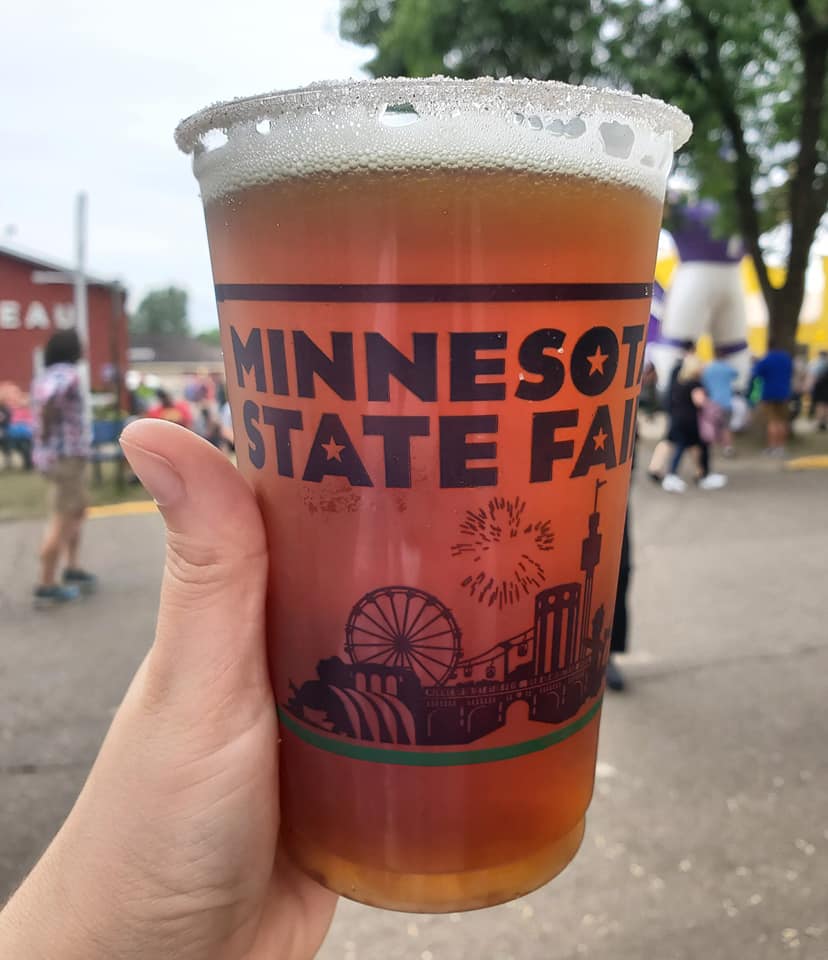 I know this isn't a food item, but 8 Foods and 1 Drink To Try at the Minnesota State Fair wasn't the best sounding title. All of the amazing food needs to be washed down with something right? I made my way over to the beer area and asked for their most popular beer: Mini Donut Beer from Lift Bridge Brewery. The Mini Donut Beer is only available at the Minnesota State Fair and is refreshing, especially with the cinnamon sugar rim on the cup!
Big Fat Bacon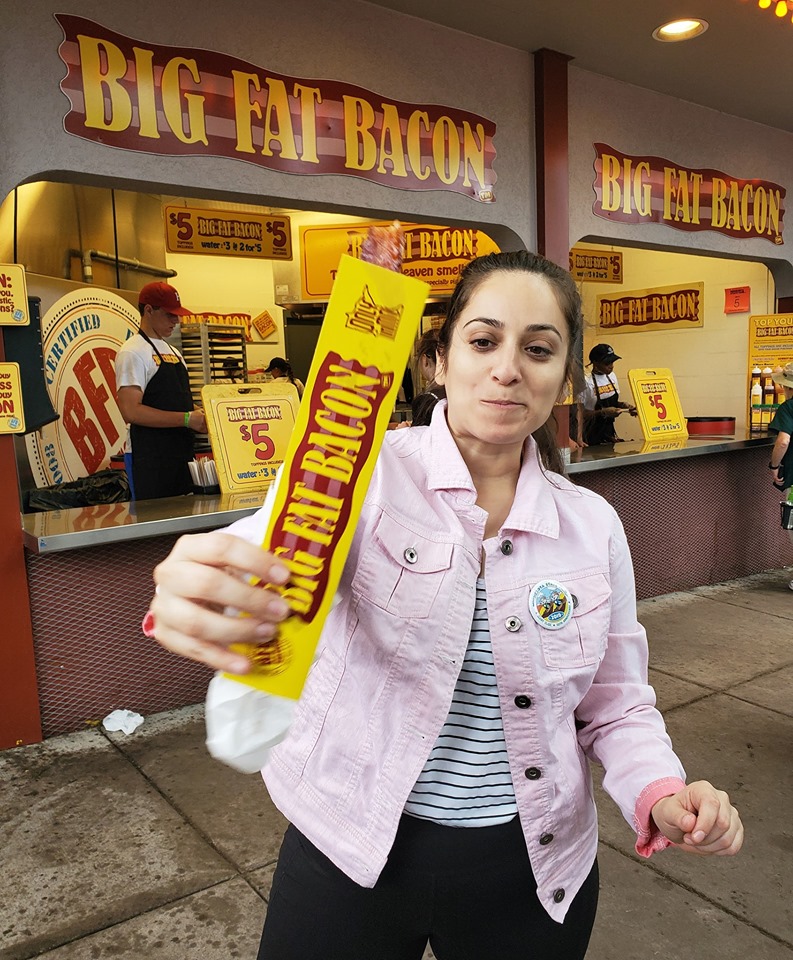 Big Fat Bacon was hands down my favorite food item at the fair. It was crispy and chewy at the same time and there was a hint of maple syrup. It comes on a stick so it's super easy to eat and share, even though I didn't want to share!
Deep Fried Candy Bars: Deep Fried Oreos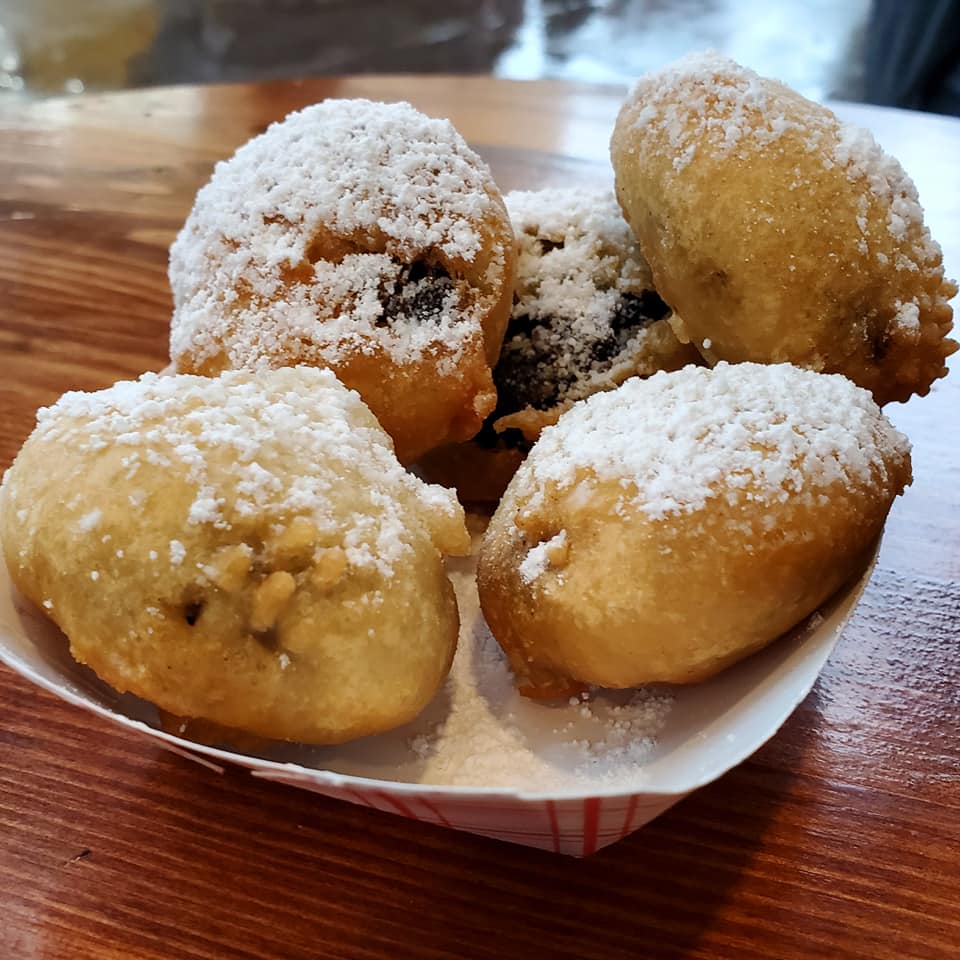 Everyone knows that deep fried foods are almost synonymous with state fairs. I 10000% encourage you all to stop by the Deep Fried Candy Bars booth and grab yourself some deep fried oreos. They were so delicious and warm, especially on a rainy day!
Dairy Goodness Bar: Strawberry Sundae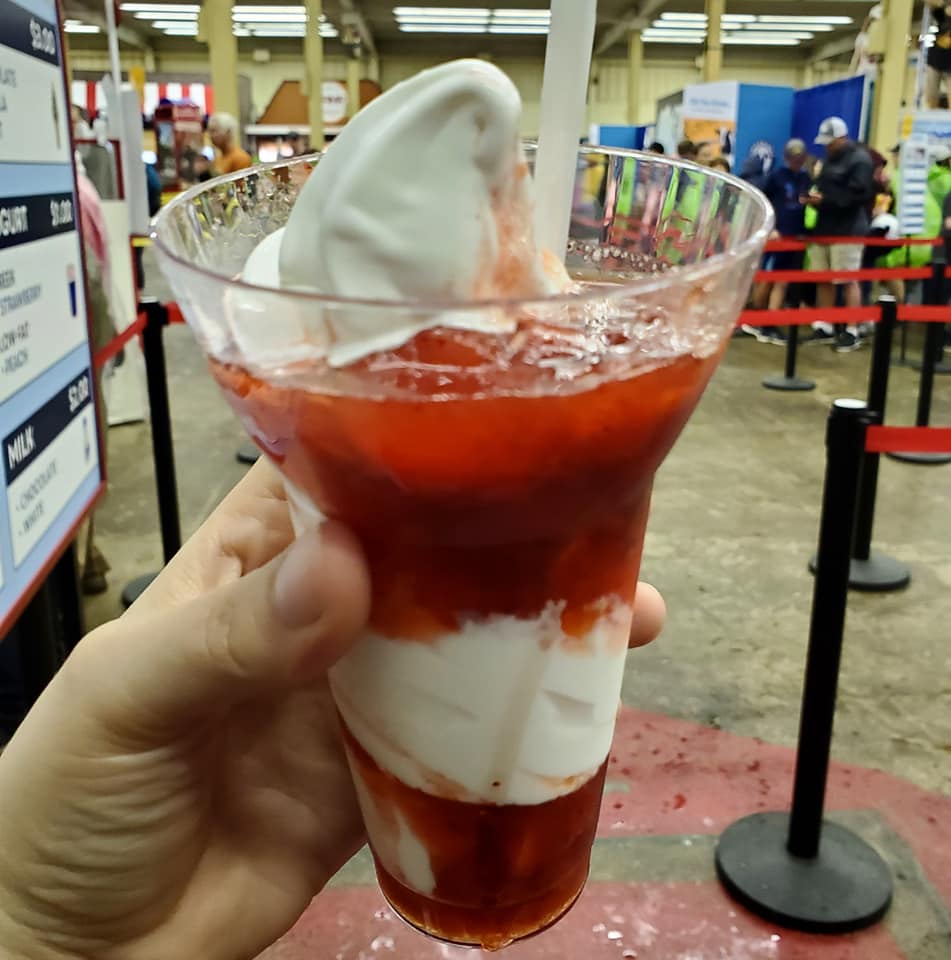 Have you ever wanted to have ice cream that tasted like it was literally JUST made before it was served? Look no further than the Dairy Goodness Bar. They have several ice cream snacks but I recommend the strawberry sundae. It was INCREDIBLE. The strawberries were sweet, juicy and fresh and the vanilla ice cream was mouth watering!
Sweet Martha's Cookie Jar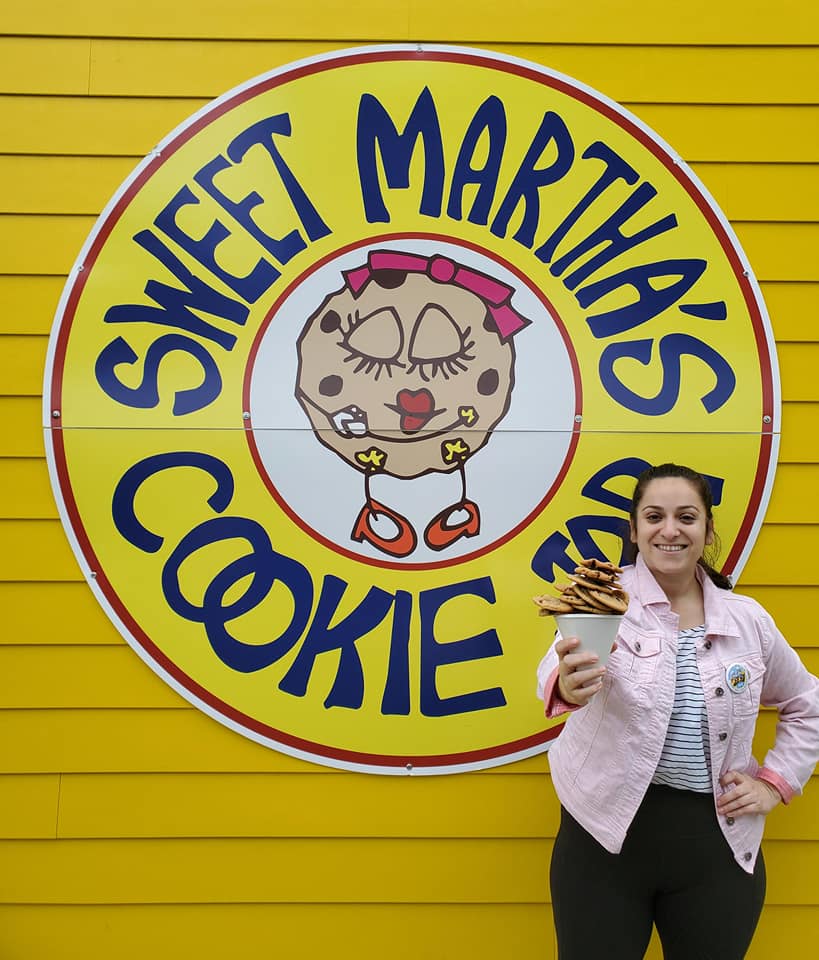 Last but not least, the item I was most interested to try were the cookies from Sweet Martha's Cookie Jar. You may have seen these famous cookies on viral videos all over the internet. I remember watching this Insider video and literally adding the Minnesota State Fair to my bucket list. They are known for the Take Home Bucket that is $17 but they also sell cones of cookies pictured here. These cookies are meant to be shared and they are AMAZING. I brought some home with me on my flight and I'm still eating them!
---
A huge thank you to the Roseville Visitor's Association for letting me experience all of the wonderful parts of your city and the surrounding cities! If you'd like to see more what I did in Minnesota, check out #MairaInMN on Instagram.
Thank you all for reading, and stay enthusiastic! 🙂
Feel free to follow the adventure on social media
Facebook / Instagram / Twitter / Youtube
-Maira
Please follow and like us: