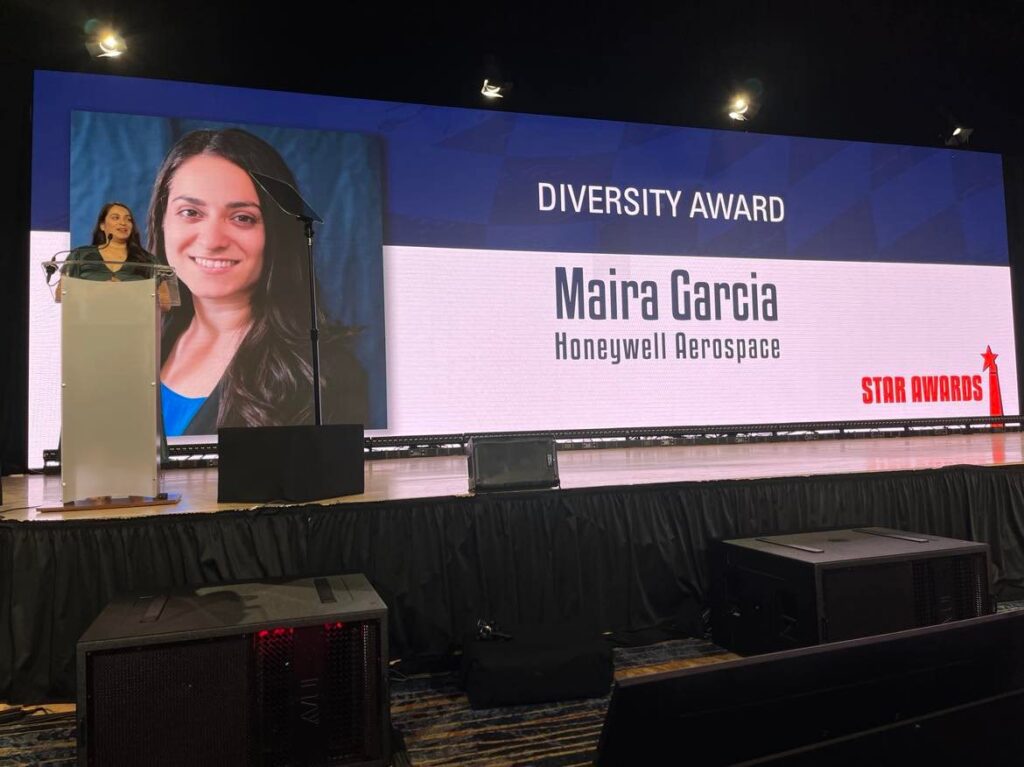 Last weekend, I experienced a career and personal highlight: I had the honor of accepting an award from the Society of Hispanic Engineers (SHPE) in front of colleagues, friends and folks I consider my family.
I joined SHPE twelve years ago in college and you can see some of my involvement with this wonderful organization by checking out #EnthusiasticAboutSHPE and/or by reading my post: How To Be An Enthusiastic Leader!
My friend and colleague Justin nominated me for the SHPE Technical Achievement Recognition (STAR) Diversity Award. The Diversity Award is presented to a recipient who strives to ensure Hispanic advancement in job promotions, business development and community activities within an organization. The honoree supports and leads diversity and inclusion efforts in the workplace and champions diversity in the community.
I wanted to share my acceptance speech with you all in the hopes that my words can convey the extreme love and respect I have for SHPE and to hopefully inspire others to continue to open doors for others.
Acceptance speech:
As an engineer, I've worked on flight controls, engines, and now I fly airplanes (in a simulated environment) for work. I love being an engineer but being the SHPE Program Manager at Honeywell where I lead our recruiting efforts is the most fulfilling role I've had thus far.
In this role, I work with my amazing core team to ensure we are prepared for every Convention. Seeing an interviewer give an offer to a SHPE member reminds me why this work is so important. Seeing a candidate's face light up because their whole life, and let's be honest, the life of their family, is about to change, is so rewarding. It reminds me of my own experience when I received an offer and realized that all of the hard work and sacrifices of my immigrant parents was worth it. There are no words to describe how it feels to have this partnership with an organization that changed my life back in college and continues to change lives today.
Engineering is not easy. When I hit a roadblock now, I am reminded of my time as a student. A lot was difficult: the courses, being away from family, feeling like I couldn't voice my struggles because my family had worked so hard to get me there. I remember thinking about quitting and reaching out to my SHPE familia.
I know what it's like to feel like you don't belong. I grew up in West Phoenix, where a majority of people are Mexican. I never really knew what it was like to be a minority until I got to college. It's easy to start thinking 'Maybe I shouldn't be here' when you are in a place where nobody looks like you. I remember that feeling and that's why it's important to me to give opportunities to SHPE members because I know first hand, the talent and intelligence these members have.
For me, SHPE was the difference between graduating and quitting. When I reflect on what this Diversity award means, it's that. It's about doing what I can so that people who look like me can be successful in whatever path is meant for them.
I would be nothing without the support of my colleagues, mentors, friends and of course my family. Thank you to my Core Team, my SHPE Phoenix friends, the SHPE U of A chapter, and the Honeywell leadership.
I'll leave you all with my favorite quote…"What a gift it is to work hard at work worth doing".
Gracias!
---
A huge thank you to my amazing colleague and friend Justin Favela for taking the time to nominate me, Joshua Pascoe, Francisco Brown-Muñoz, and Rebecca Primeau for supporting with a letter of rec, Hector Garcia/Rob Anchondo/Marla Peterson for the years of mentorship, the incredible SHPE UA alumni and friends that support every SHPE effort I share and of course the SHPE Phoenix Professional Chapter and the SHPE UA student chapter for allowing me the opportunity to stay involved.
I am so thankful for the SHPE Core Team and the Honeywell leadership that allows me to do so much in partnership with an organization that changed my life back in college.
Thank you all for reading, and stay enthusiastic!
Feel free to follow the adventure on social media
Facebook / Instagram / Twitter / Youtube
-Maira