Looking for Phoenix recommendations? Check out The Ultimate Phoenix Food and Drink Bucket List!
We have been featured on the local Phoenix food guide instagram account 🙂
Click each picture to see the restaurants in that food category.
Featured restaurants this week: AMERICAN FOOD!
Read posts about food and drink here!
---

American Food
THE CHUCK BOX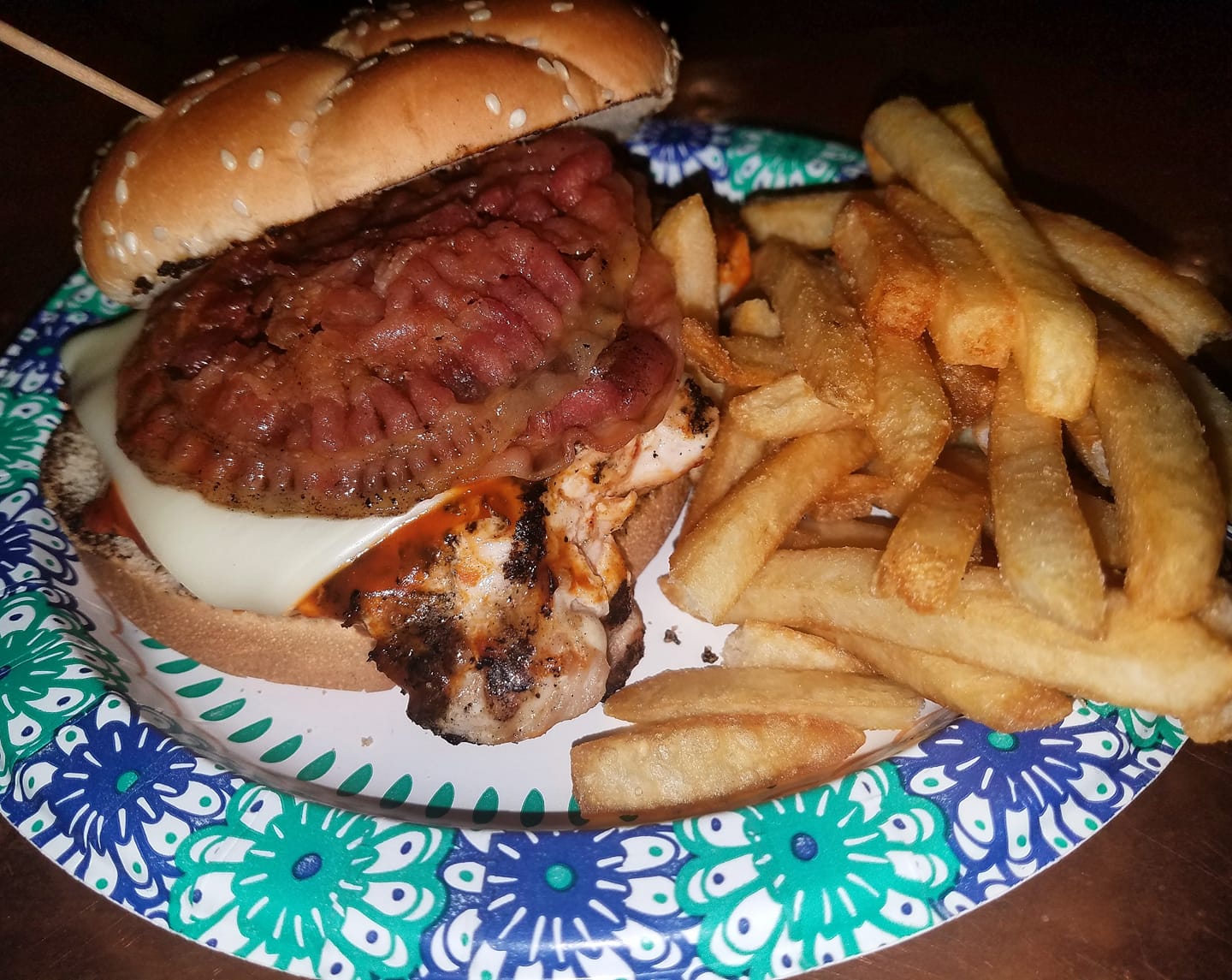 The Chuckbox is so tasty. I had the spicy chicken sandwich with a BACON WREATH and it was delicious. It's made to order on an open mesquite fire right in front of you so it tastes super fresh! They also have beer and wine if you're thirsty 
 and FYI it's cash only.
THE PARK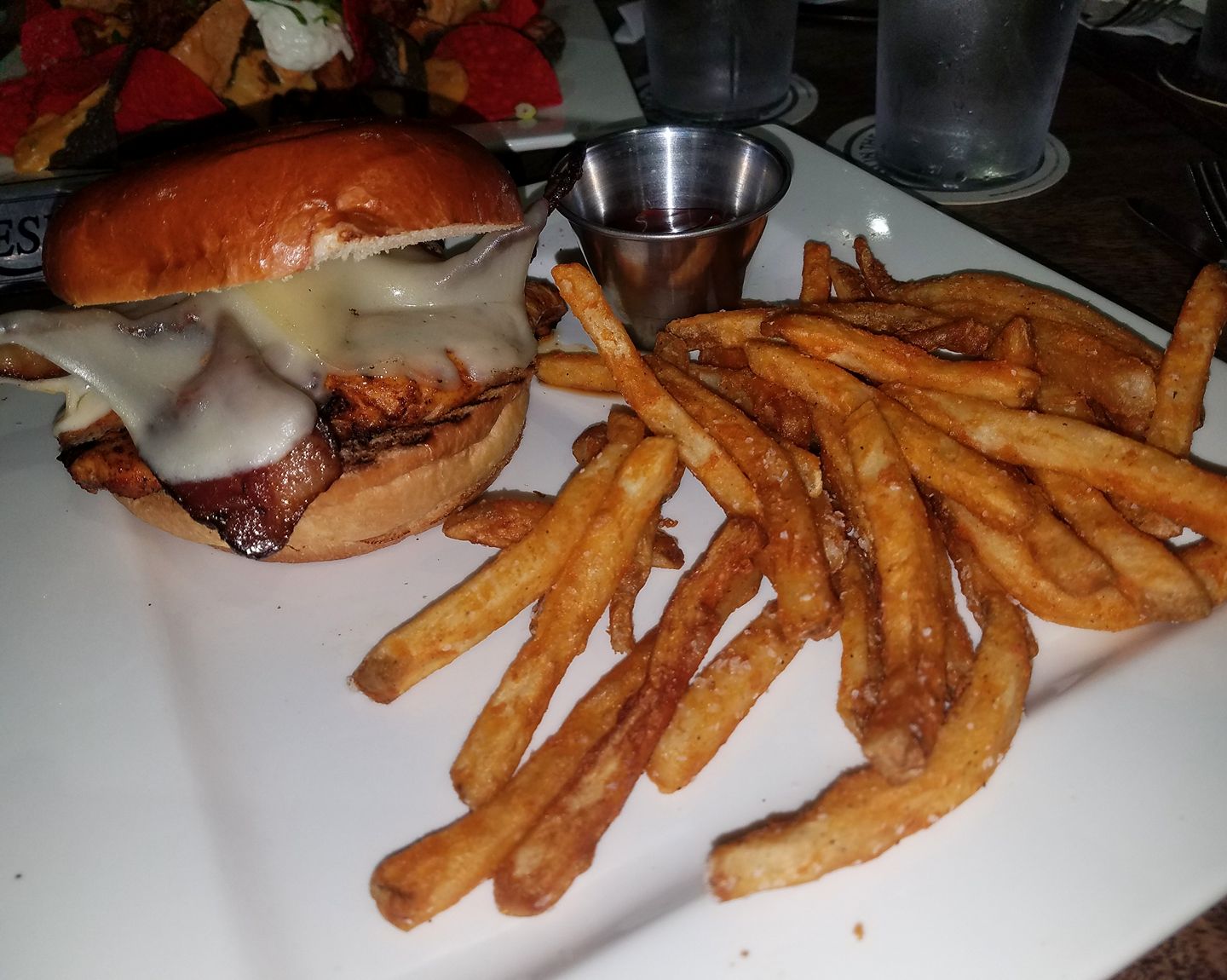 I tried the grilled chicken sandwich with bacon and cheese AND fries at The Park : Street Food Bar and Beer Garden and it was so good! So good, in fact, that I ate the entire sandwich and left like 4 fries even though I was stuffed midway through (lol). The Park is an interesting restaurant because they have an indoor beer garden and you can serve yourself as much (and as many different kinds) of beer as you'd like!
THE RANCH HOUSE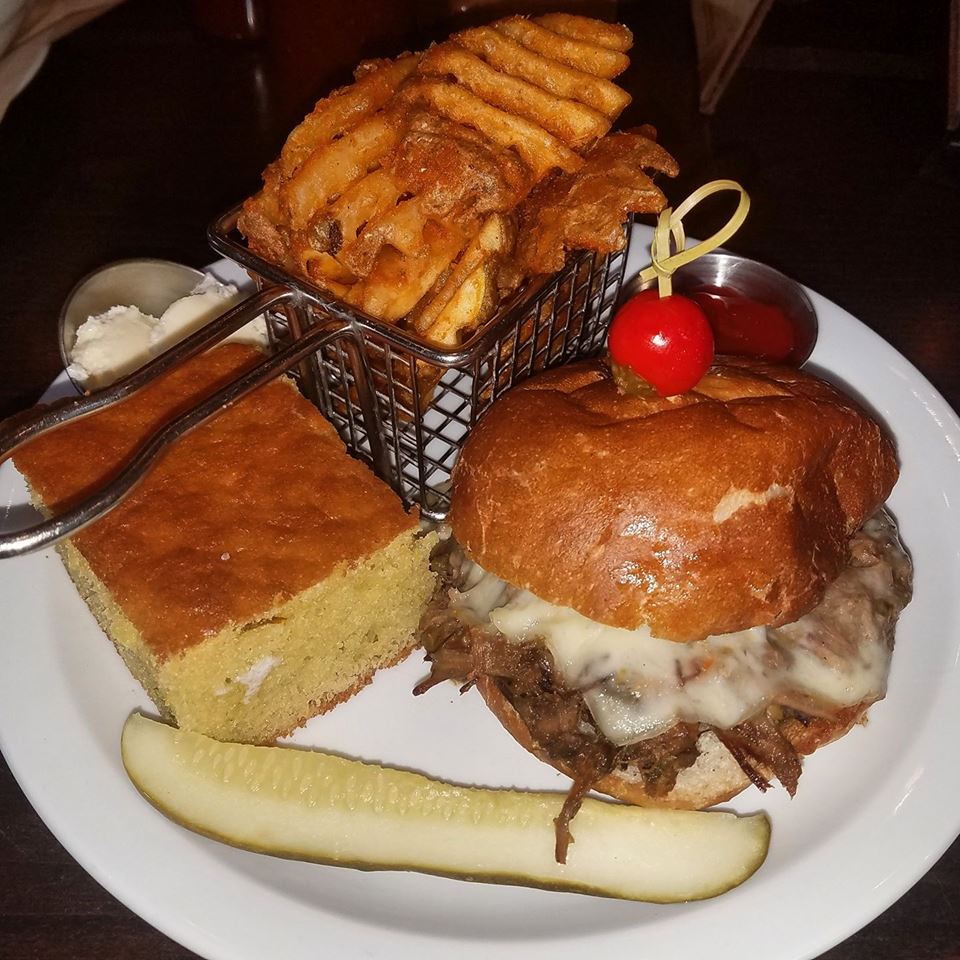 One of my fave dishes in New Mexico was the brisket sandwich from The Ranch House. The green chile brisket sandwich had habanero pepper jack cheese on a brioche bun and it was just the right amount of spicy. The brisket was so tender and the green chile just added another depth of flavor to the sandwich. IT WAS SO TASTY.
SALUT KITCHEN AND BAR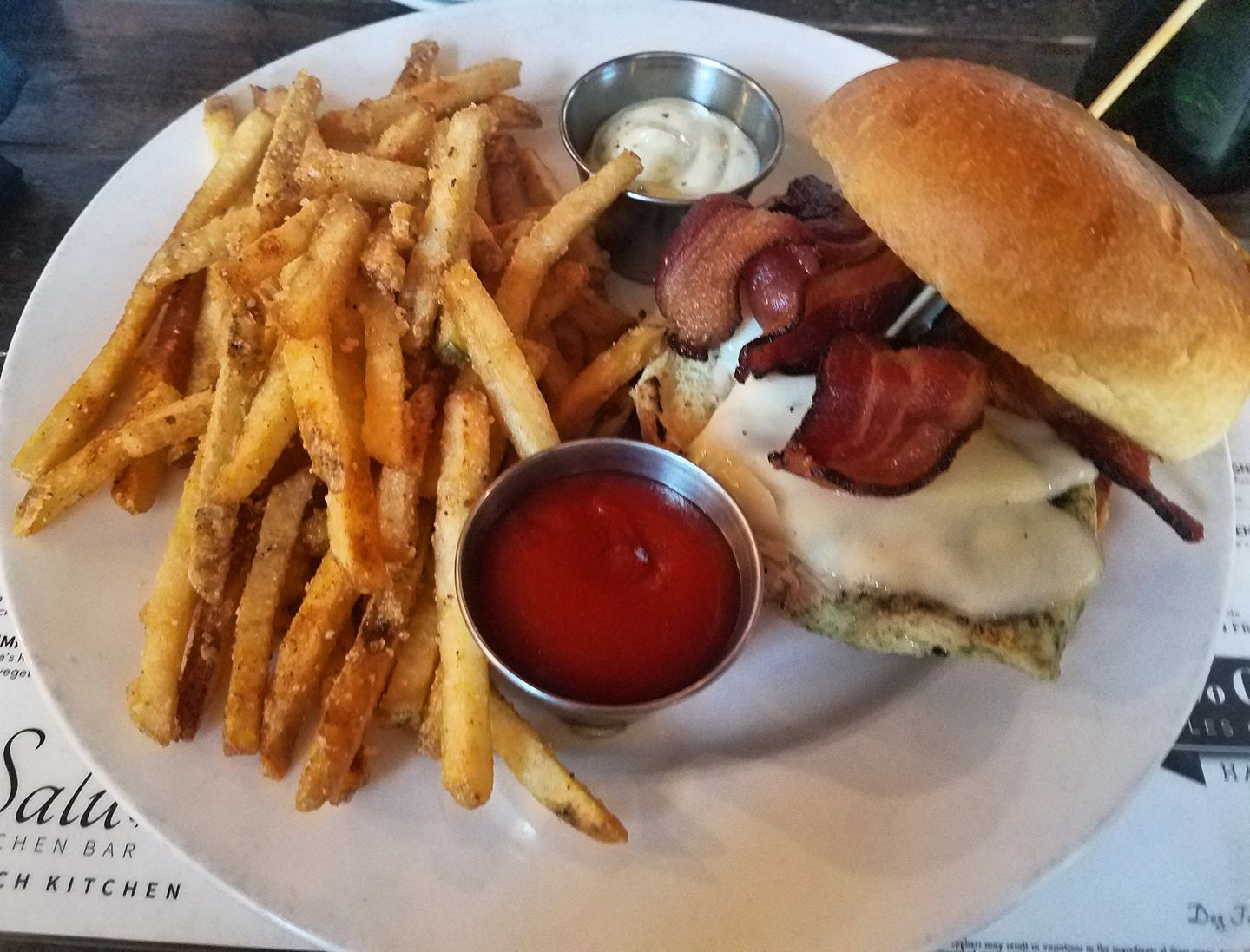 I love the happy hour at Salut Kitchen and Bar because you can get 50% off all bottles of wine…and if you dont finish the bottle, you can take it home! Doesn't that sound amazing? They're also dog friendly and have delicious food! Their brunch is super tasty and their dinner is just as good! I had the Applewood Grilled Chicken sandwich with the regular truffle fries with Lemon Truffle aioli, SO MUCH FLAVOR!
FAIR TRADE CAFE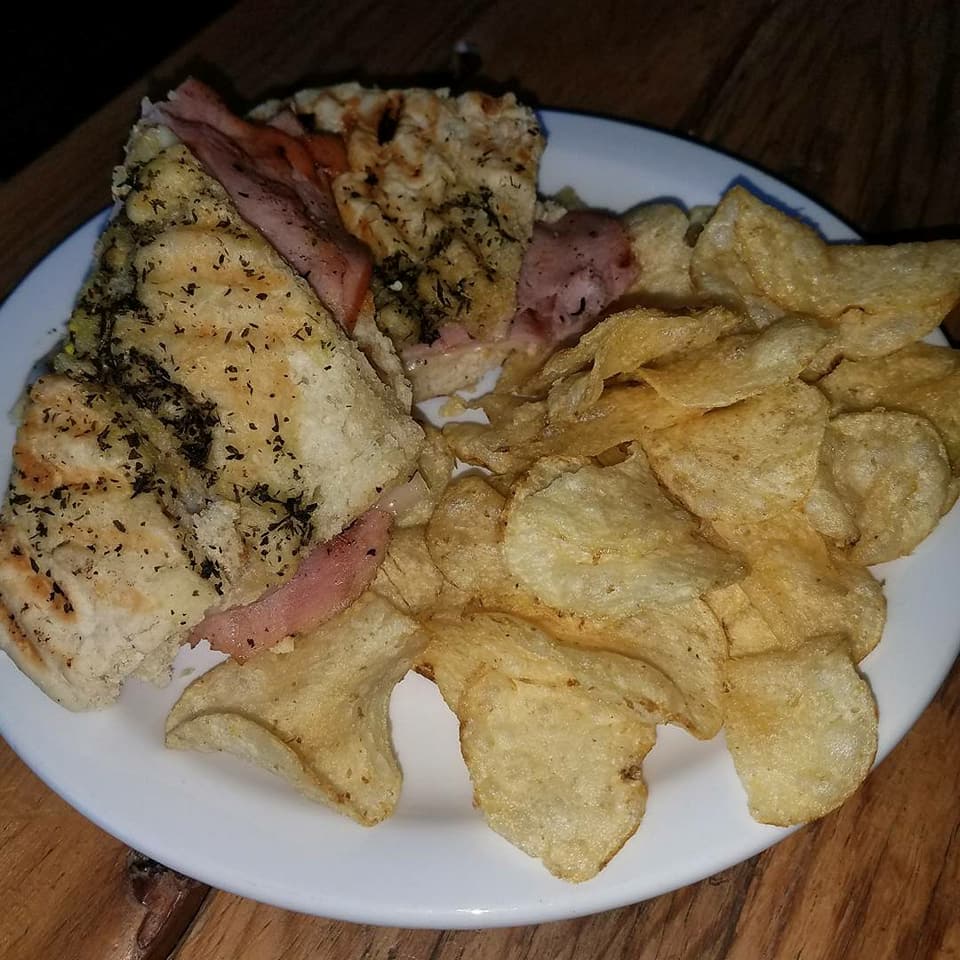 Fair Trade Cafe is my current fave weekday restaurant because on Wednesday nights, they host weekly game nights with your typical board games AND LOTERIA!
Plus they have delicious food and drinks! I had the ham and swiss panini on their house-made Herbed Panini bread and it was so tasty and full of flavor.
HONEY BUTTER FRIED CHICKEN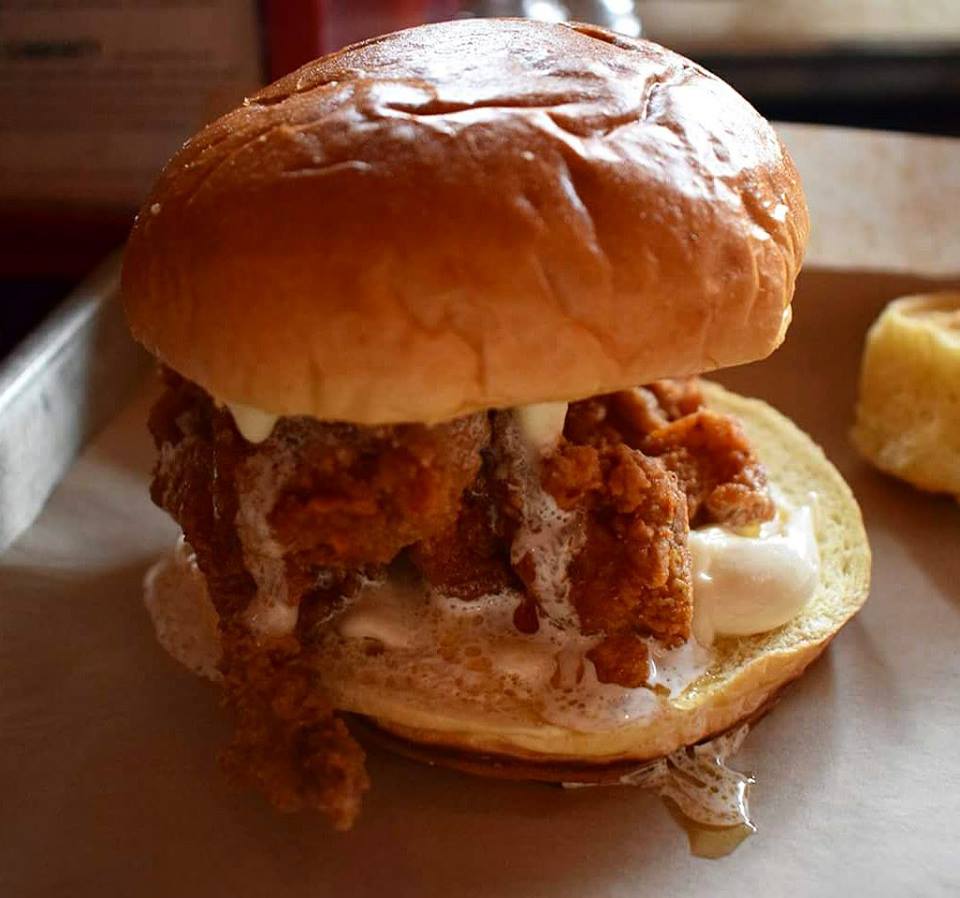 I know Chicago is Pizza heaven but I was told by my foodie friends that I had to check out Honey Butter Fried Chicken and OMG. This fried chicken sandwich with HONEY BUTTER is hands down the most delicious chicken sandwich I've ever had in my life. Make sure to stop here when you're in Chicago. The staff is super friendly and they have really good drinks too! I almost want to lick my phone screen just looking at this photo 😉
BLUE HOUND KITCHEN & COCKTAILS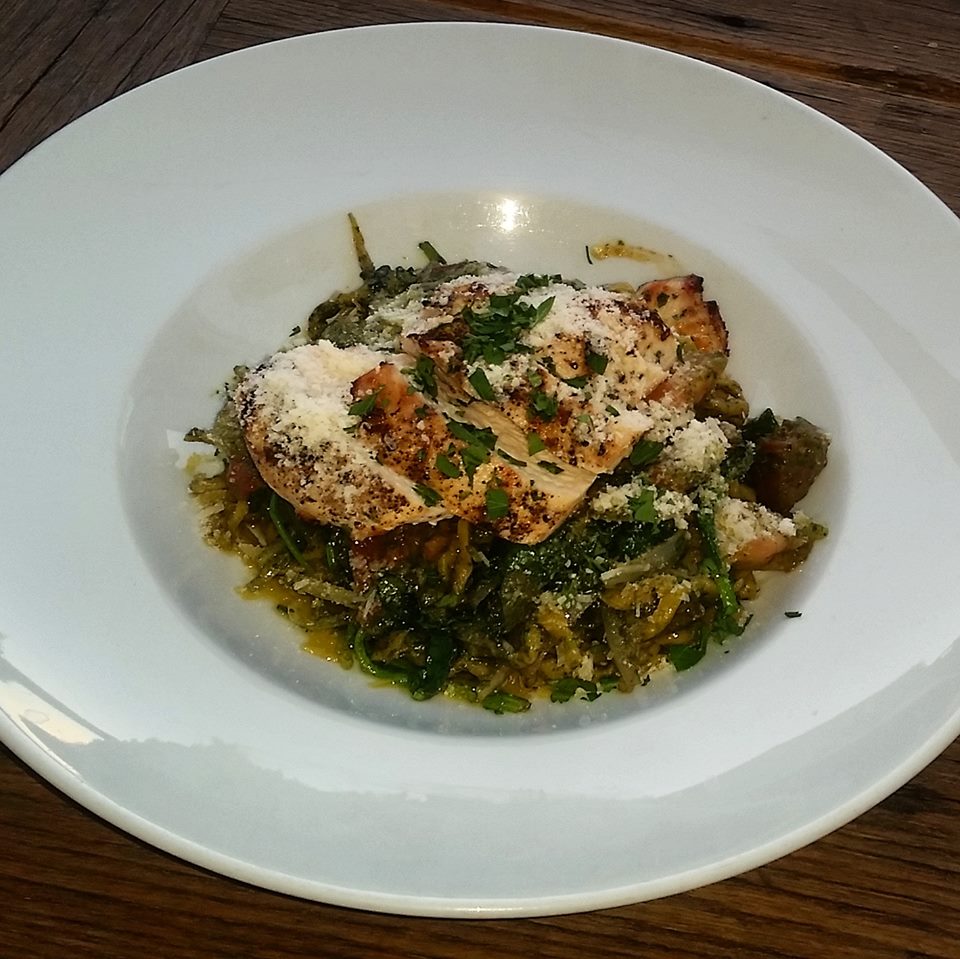 Blue Hound Kitchen & Cocktails was delicious and super dog friendly (they gave my friend's dog 2 water bowls!). For dinner, I had the handmade pasta with basil pesto, parmesan and grilled chicken. It was literally heaven on a plate!
FEZ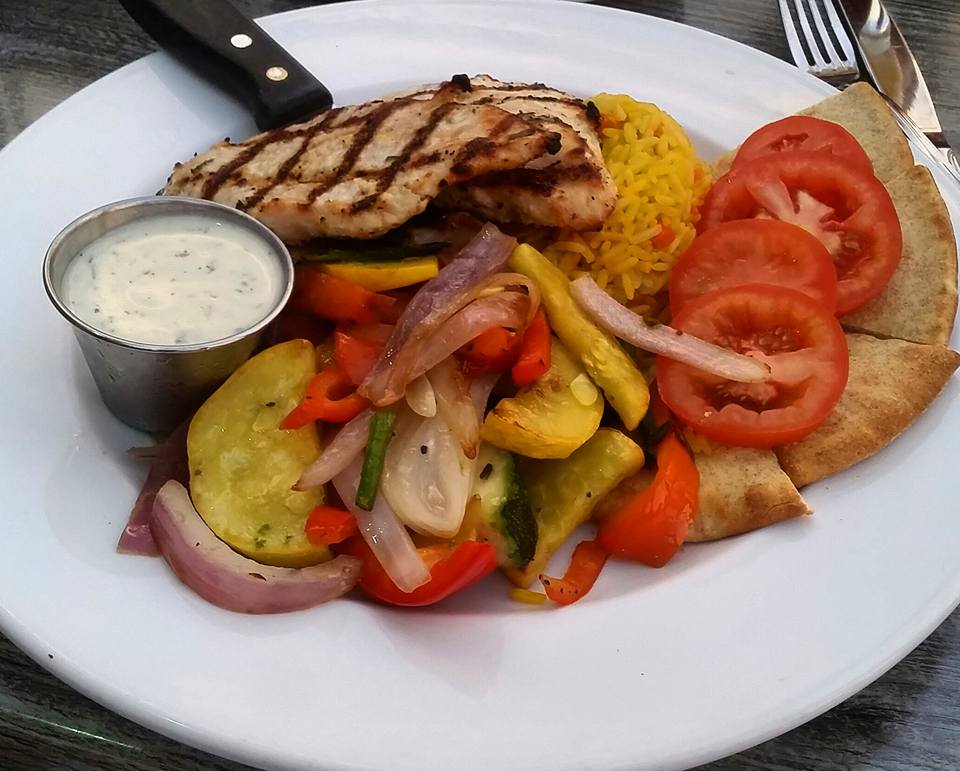 While I was dog sitting, Drizzy and I also crossed off food bucket list item #106: Fez On Central! I had the #FezFit which features grilled chicken, citrus saffron rice, vegetables, pita bread and mint sauce. It was very tasty, their service was phenomenal, and Drizzy loved their patio!
OHSO BREWERY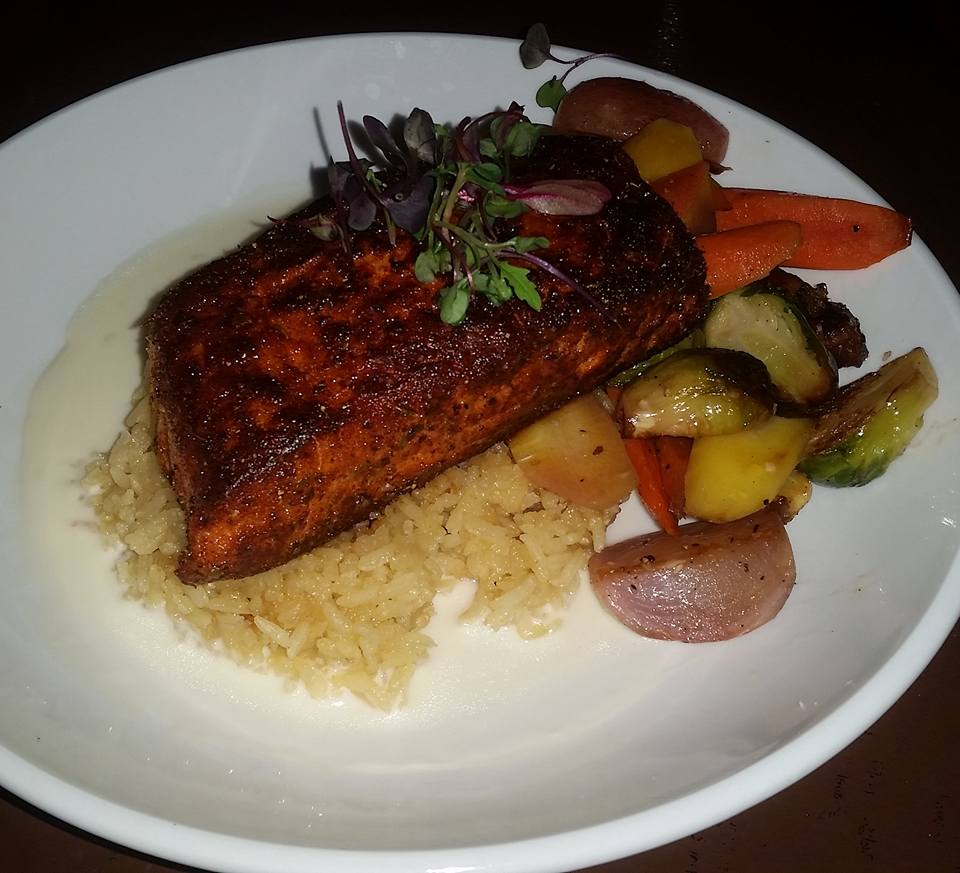 I had so many people tell me to try this dog friendly restaurant and I can totally see why! The patio is huge, the food is delicious, the beer is fantastic AND they have homemade dog treats! I had the blackened salmon with aloha rice, seasonal vegetables and lemon butter sauce. So flaky and savory; we recommend! 
LOWRY BEER GARDEN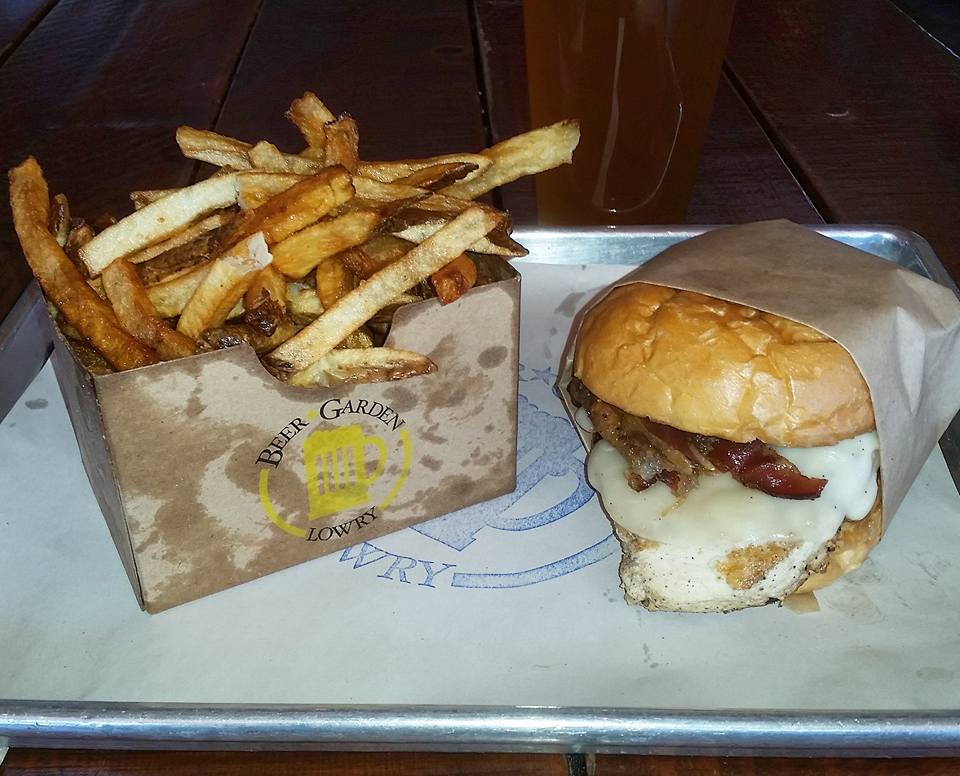 Because there's no such thing as a diet when you're on vacation
? I crossed off food bucket list item #404 with my first visit to a beer garden for lunch! The Lowry Beer Garden was super hip, poppin' and had delicious food and great beer. I tried the B-52 Bomber sandwich with grilled chicken, double sugar cured bacon, mushrooms, caramelized onions and provolone. Plus delicious home fries and an Apricot Blonde beer. The atmosphere was super fun and the food was perfect. I kind of wanted to keep drinking here but I had other bucket list items to cross off so I will have to come back!
ZINBURGER – WINE & BURGER BAR
My cousin and I crossed off food bucket list item #185 : Zinburger Wine & Burger Bar! I had the grilled chicken sandwich with thick cut bacon, provolone, and braised onions. The chicken was so juicy and flavorful, the bacon was savory and the braised onions were the cherry on top! My cousin ordered the Samburger with applewood smoked bacon, american cheese, lettuce & 1000 island. She LOVED it! And don't even get me started on the fries…SO GOOD! We recommend
DISTRICT AMERICAN KITCHEN & WINE BAR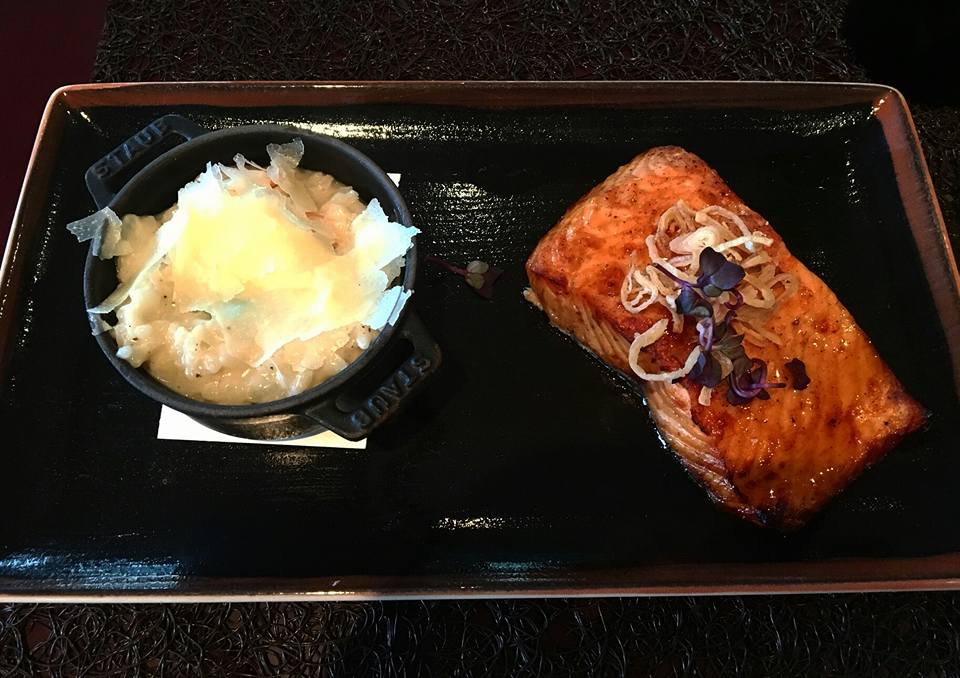 Last night before the Pitbull/Prince Royce/Farruko concert, my brunch crew and I tried something different and crossed off food bucket list item #545 : District American Kitchen & Wine Bar! I had the Cedar Roasted Pacific Salmon with maple bourbon glaze and a side of risotto with shrimp! It was super tasty, the restaurant was very hip/classy and the service was great. At the end of every meal there is a really fun surprise. I won't ruin the fun by telling you what it is, but trust me it is awesome!
THE BEARDED LADY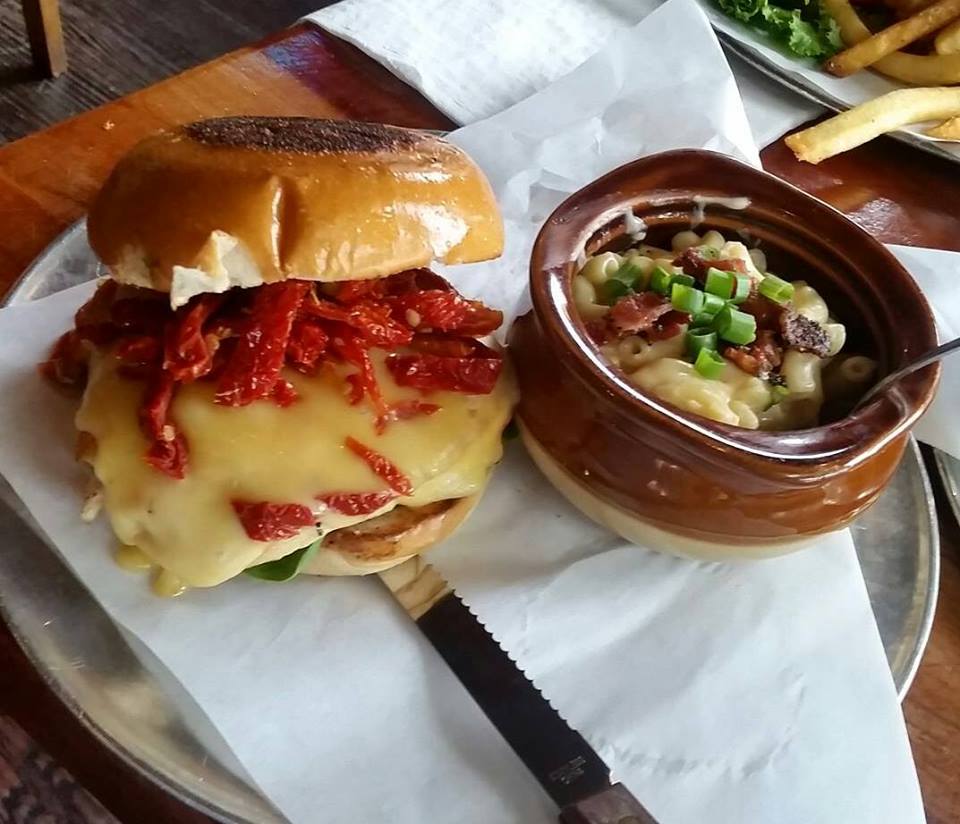 I'm all about grilled chicken sandwiches and mac n cheese ESPECIALLY when it's from The Bearded Lady in Fort Worth, TX! Bucket list food edition item #540 was such a delight to cross off because the food was super flavorful and the ambiance was very chill! I loved the combination of sun dried tomatoes, sautéed onions, spinach, cheddar cheese and grilled chicken! It was phenomenal! Thanks Meghan for recommending and hanging out with me! 
BURGERS AMORE FOOD TRUCK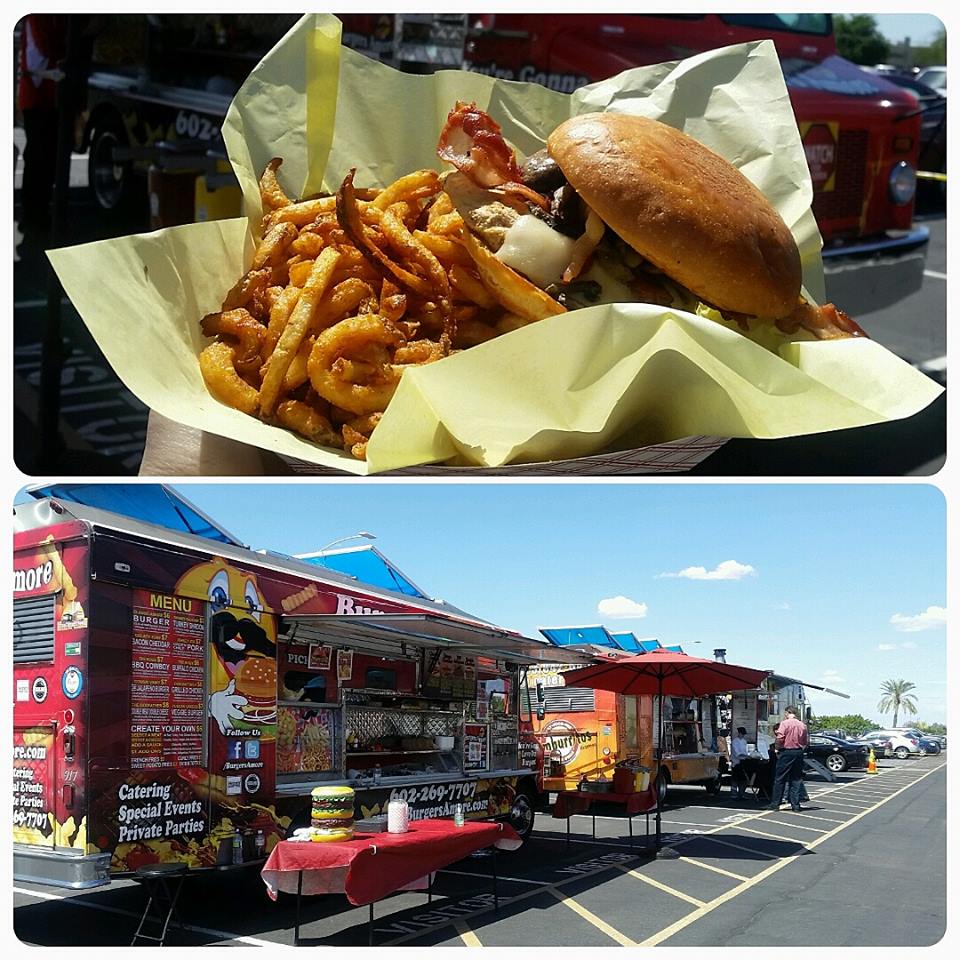 I love when my job makes it easy for me to cross off bucketlist items! Today, we had food truck Wednesday and food bucket list item #505 was completed: try Burgers Amore! This food truck was recommended by my coworker Kris and I owe him a beer because my chicken, bacon, swiss and mushroom sandwich was seriously out of this world. It's hard to find a good chicken sandwich at a burger spot but wow, Burgers Amore was a home run. Highly recommend!
RUSTLER'S ROOSTE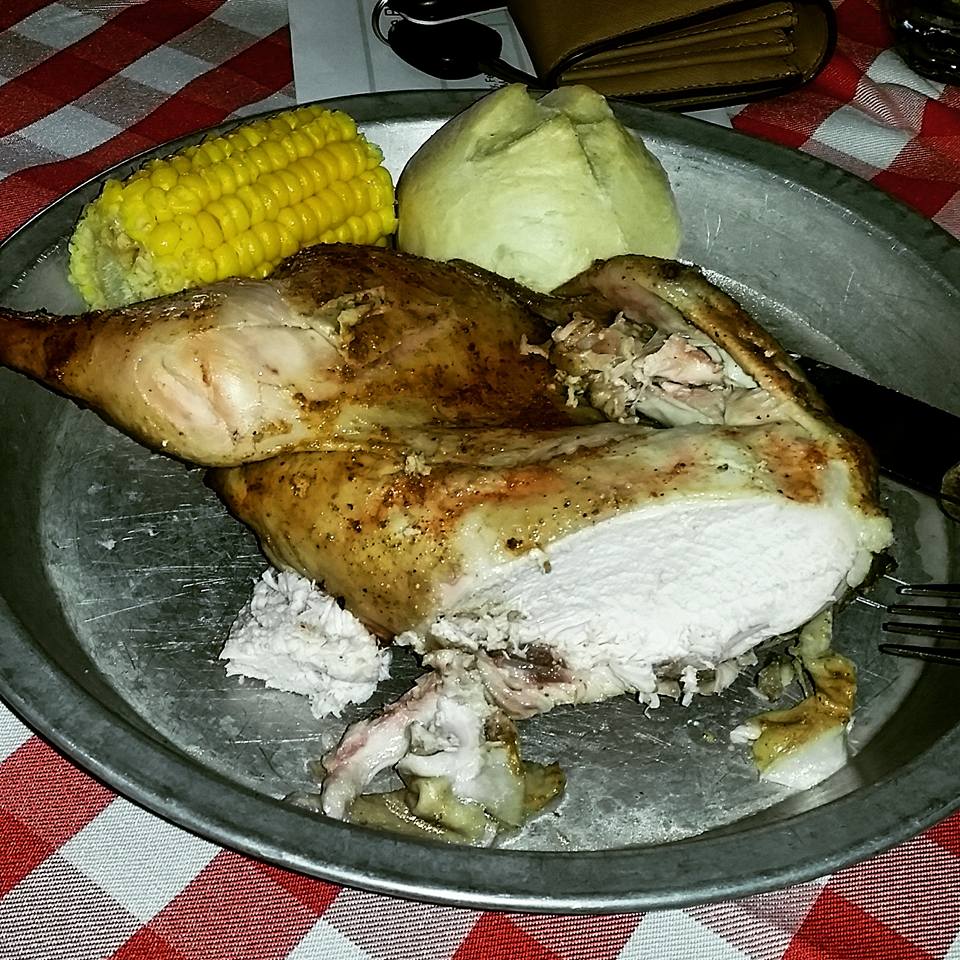 I finally had dinner at Rustler's Rooste. Super cool restaurant! Their motto is 'brews with a view'. ?? Delicious chicken and it was so huge!! And that's their normal portion size. The corn was so sweet and flavorful. They also had a live band and it was just a really fun time! Next time I will line dance. I recommend!
THE HAYMAKER RESTAURANT CO.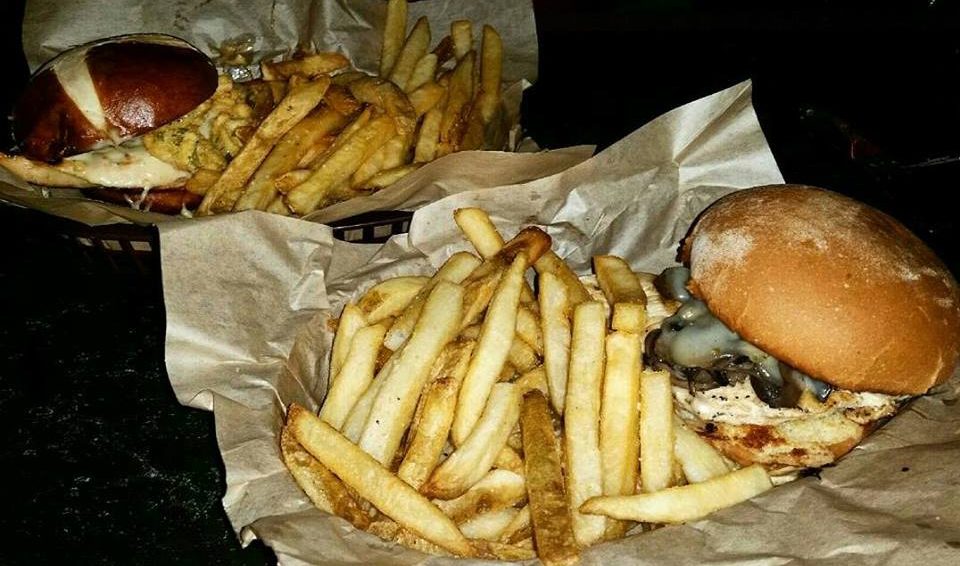 Had a very late 'See You Later' dinner with one of my faves ❤❤ and simultaneously completed life bucket list : food edition item #289! Eat at The Haymaker! I had the mushroom, swiss and grilled chicken sandwich! It was delicious and super great service! I recommend!
FREDDY'S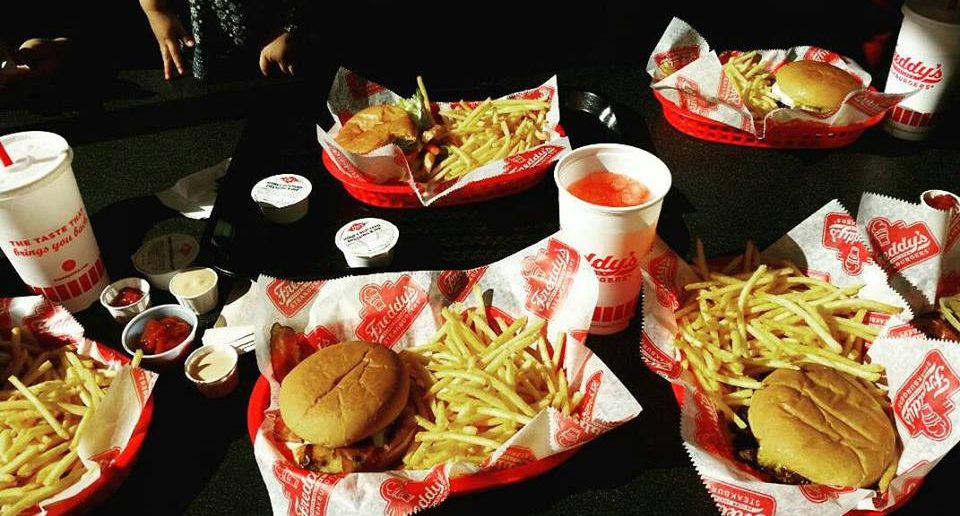 I finally tried Freddy's today because Christina is already tired of turkey lol it was really good!! I loved the thin cut fries!
TILTED KILT PUB AND EATERY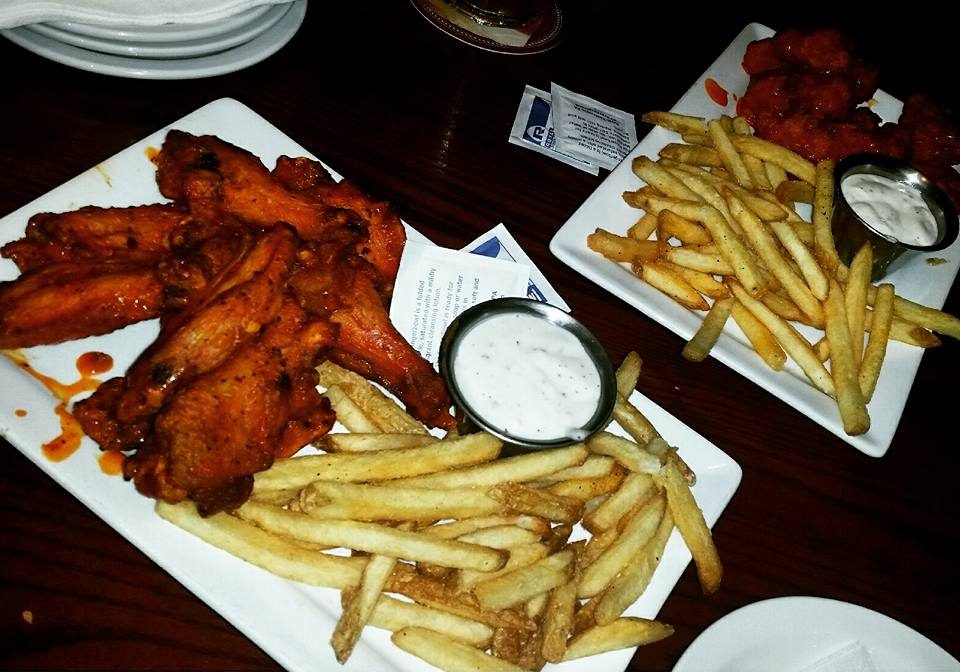 Finally tried the world famous hot wings at Tilted Kilt! Pretty solid!
JOE'S FARM GRILL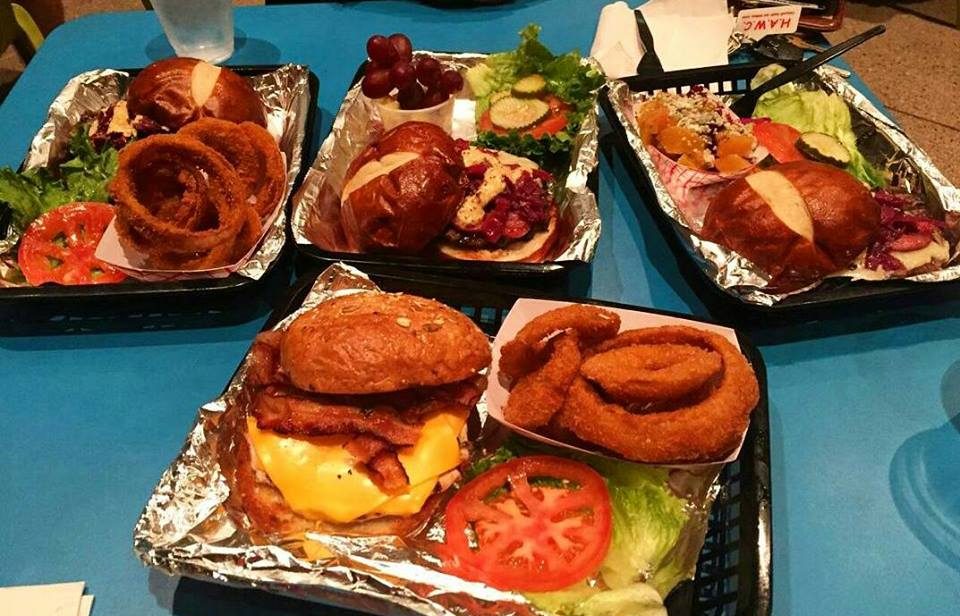 Oh my god y'all I think I've found my favorite restaurant for American food. The food at Joe's Farm Grill in Gilbert IS MOUTH WATERING. My friend Guy Fieri from the Food Network tried this place and so obviously I had to try it. Hands down one of the most delicious chicken and bacon sandwiches I've ever had. Super juicy and flavorful and those onion rings were just 'dynamite' ??? Delicious and HIGHLY recommend. Definitely will come back every time I'm in the area. Also the restaurant is just super cute, trendy and very different!!
THE FINAL SCORE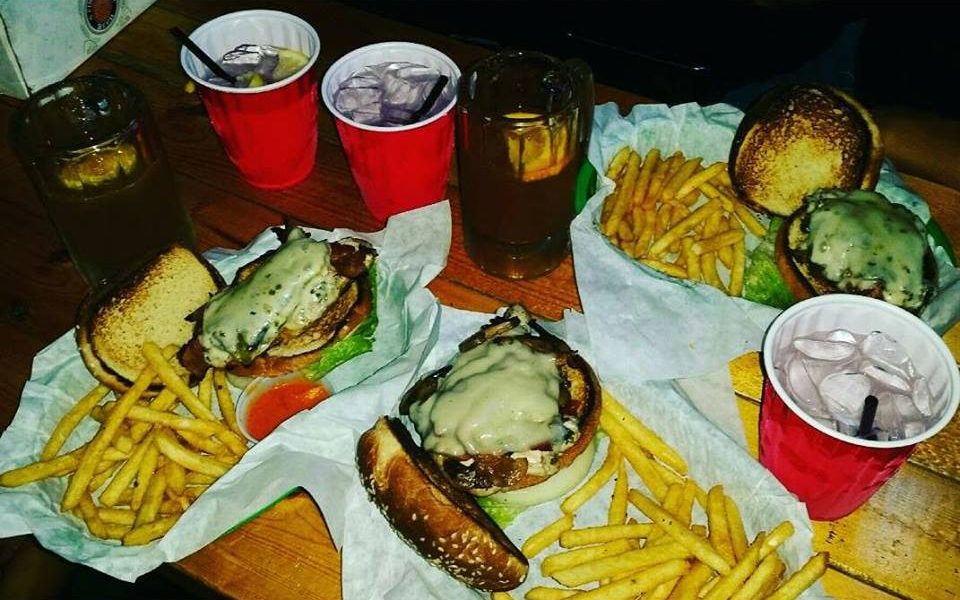 One of my favorite parts about coming to Prescott every few weeks is trying the food here! Tonight we crossed off life bucket list : food edition item #471! Eat at the Final Score! I had one of the best grilled chicken sandwiches I've had in a long time. It was perfectly cooked and super juicy. This is definitely one of my top three restaurants in Prescott. Definitely will be back. Great service too!
CHELSEA'S KITCHEN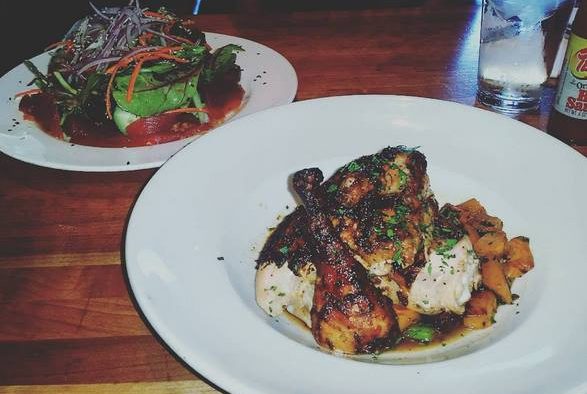 Had a great lunch with my mentee and simultaneously completed life bucket list : food edition item #22! Eat at Chelsea's Kitchen! Super cute and fancy place with AMAZING food. Literally as soon as I walked in, I could SMELL the flavor. I had the rotisserie half chicken and Joe had the tuna salad! DELICIOUS! Definitely will be coming back and trying everything on the menu 🙂
FLYING STAR CAFE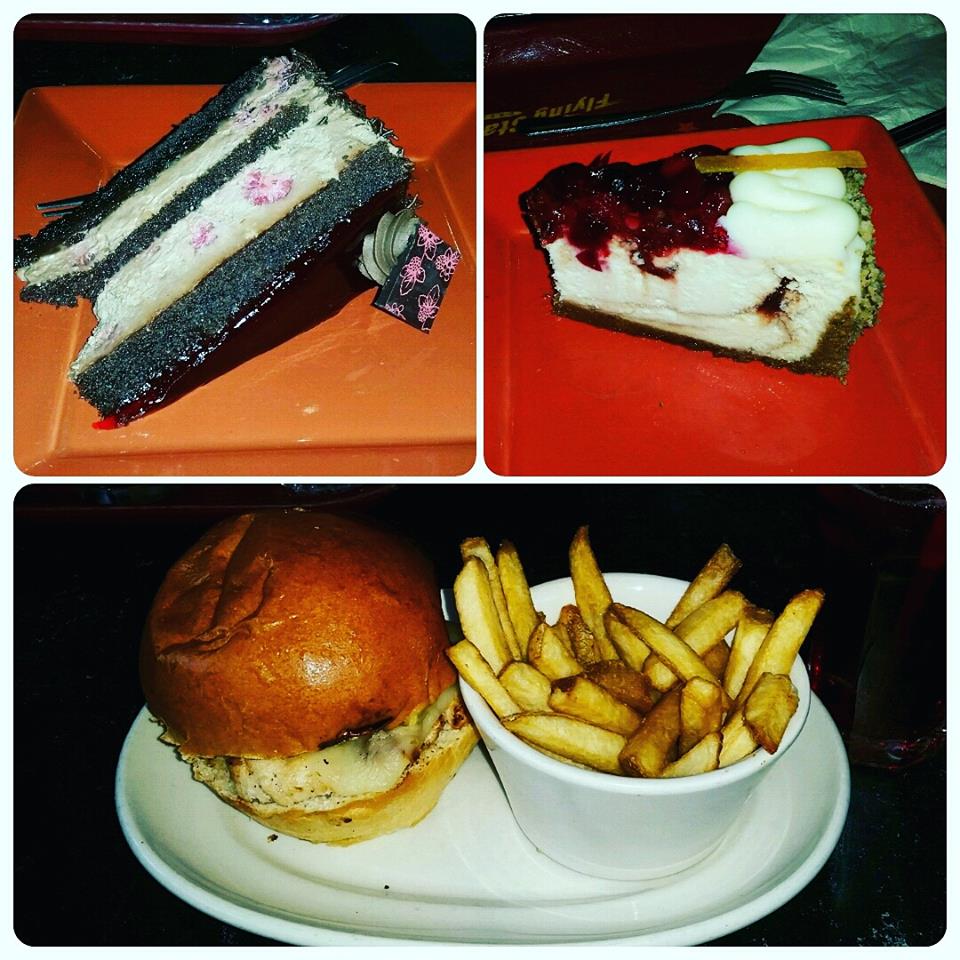 Flying Star Cafe is Albuquerque's favorite chain since 1987! This place was recommended to me by my friend Mariela who joined me for dinner! Delicious chicken sandwich and fries and the homemade cheesecake and chocolatecake was TO DIE FOR. No wonder the locals love this place. Fantastic dinner with fantastic company.
THE TURQUOISE ROOM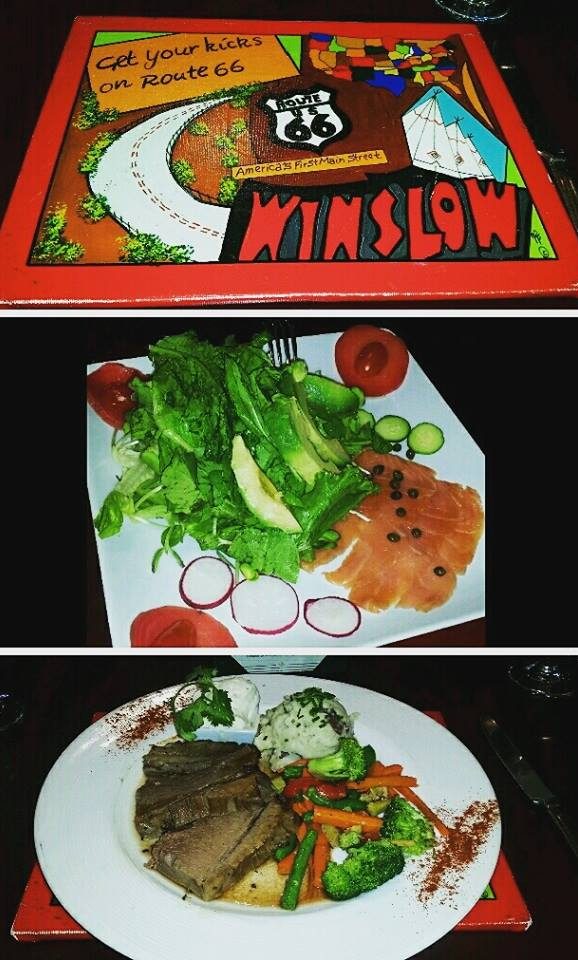 First stop as we ate our way from Phoenix to Albuquerque to Santa Fe was the Turquoise Room in Winslow, AZ! Fancy and quaint restaurant inside an even fancier hotel: La Posada! I had the briscuit (super tender and delicious) and my mom had the smoked salmon salad (she loved it!) We recommend!!
REHAB BURGER THERAPY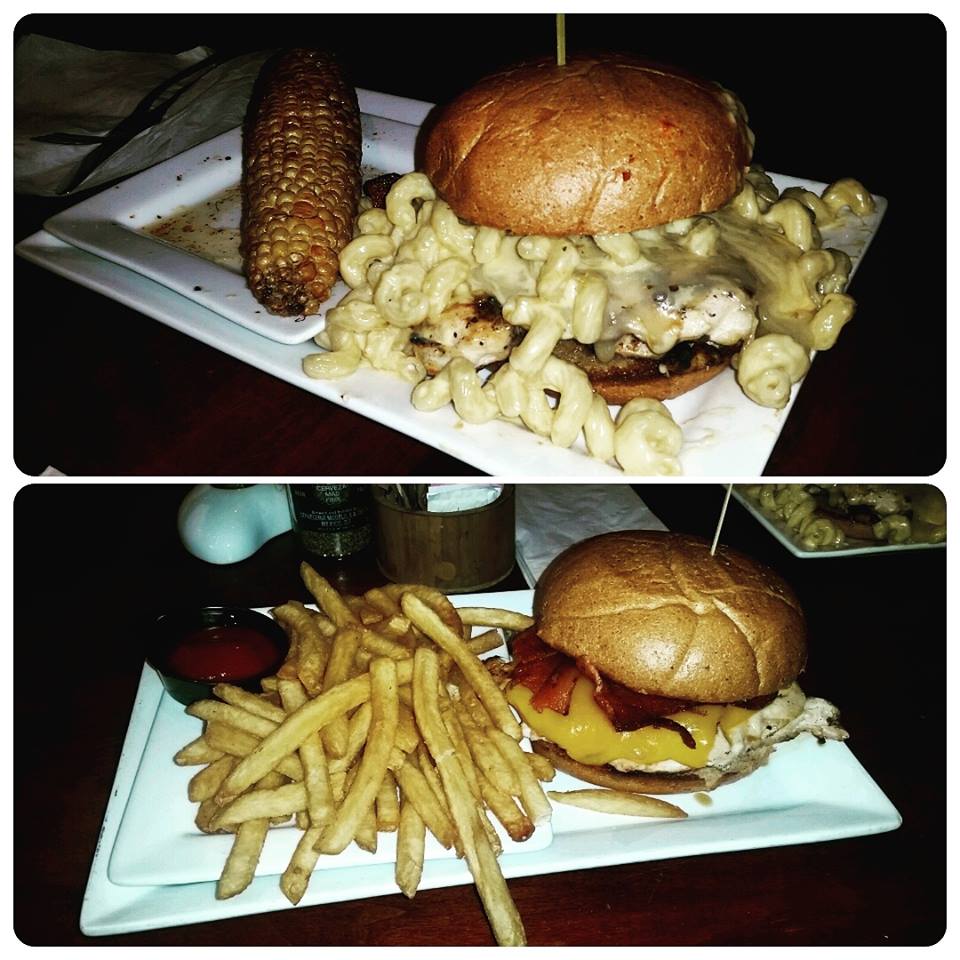 Rehab Burger Therapy in Scottsdale was amazing. I had a super juicy and delicious grilled chicken sandwich! Yamille had the Mac & Cheese grilled chicken sandwich with the Jamaican corn. So good!!
THE RAVEN CAFE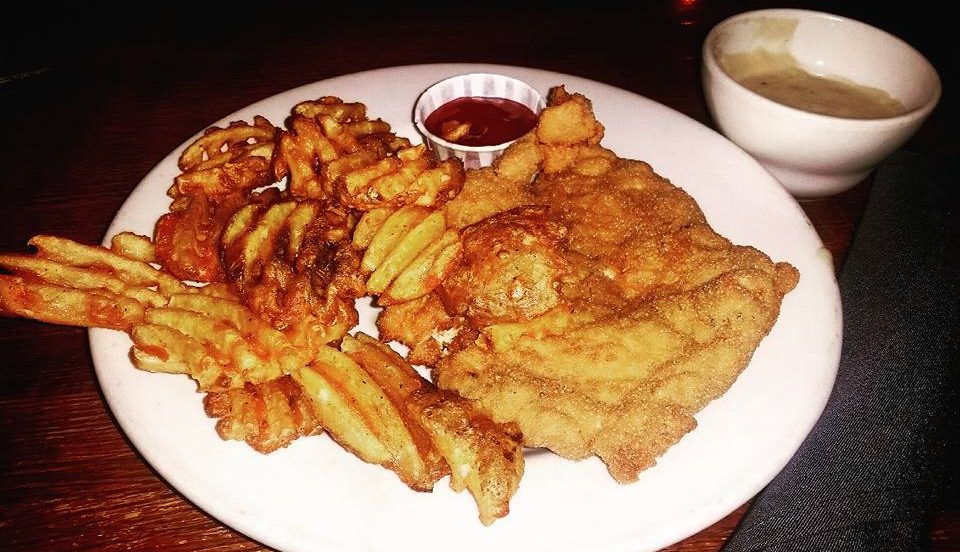 The Raven Cafe in Prescott is a super hip place with an awesome beer and wine selection and the food is AMAZING. I think this is my favorite place in Prescott so far. Loved the chicken fried chicken, the waffle fries and the homemade gravy. DELICIOUS. Thanks for the recommendation Tim!
GURLEY STREET GRILL
The Gurley Street Grill in Prescott was delicious, had such a classy feel and fantastic service. My blackened chicken and fettucini pasta with house made sauce was just fantastic and full of flavor. Thanks for the recommendation Tim! You are ALWAYS RIGHT.
CULINARY DROPOUT AT THE YARD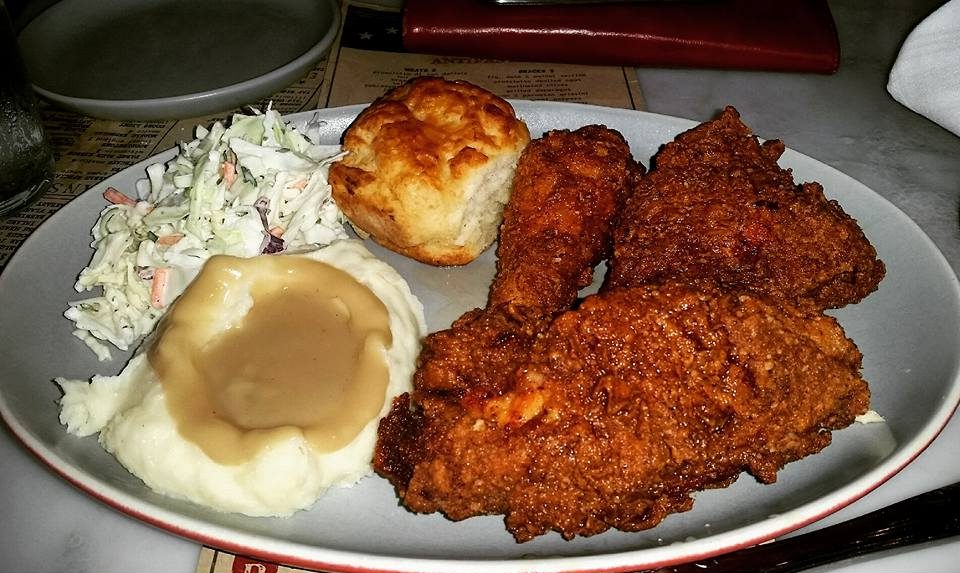 I've been wanting to try the Culinary Dropout for so long! I got the delicious fried chicken and was really happy because the portions were huge (and I was so hungry). I can't believe I ate the entire plate (lol). The biscuit was just heaven in my mouth, the chicken was perfectly fried and had such good flavor. This place has a great feel too and is perfect for large groups. Definitely having my birthday dinner here next year! I recommend! They have cool little things to do after you eat too (corn hole, ping pong, etc.)
THE PURPLE TURTLE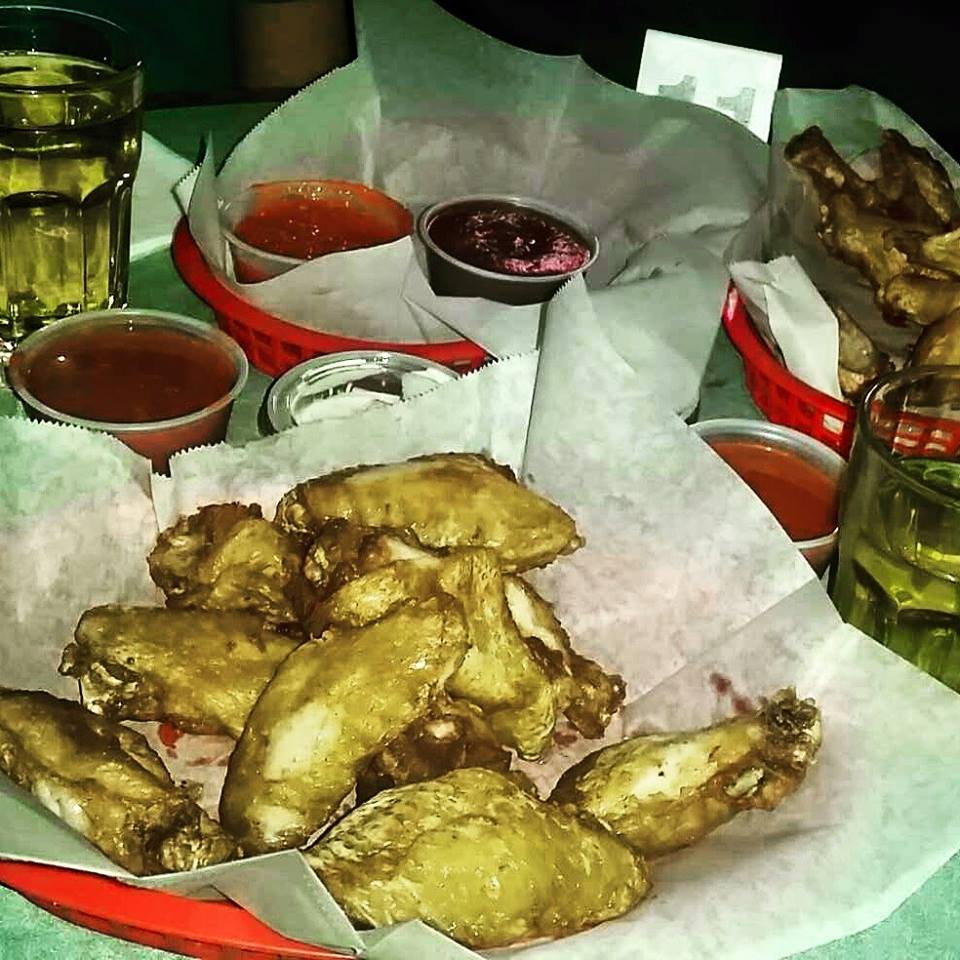 The wings at the Purple Turtle were DELICIOUS (and super cheap). And they also had REALLY CHEAP beer! The suicide wings were so spicy that I was literally tearing up lol this has never happened before! Definitely making this my spot when I'm on this side of town!
DESOTO CENTRAL MARKET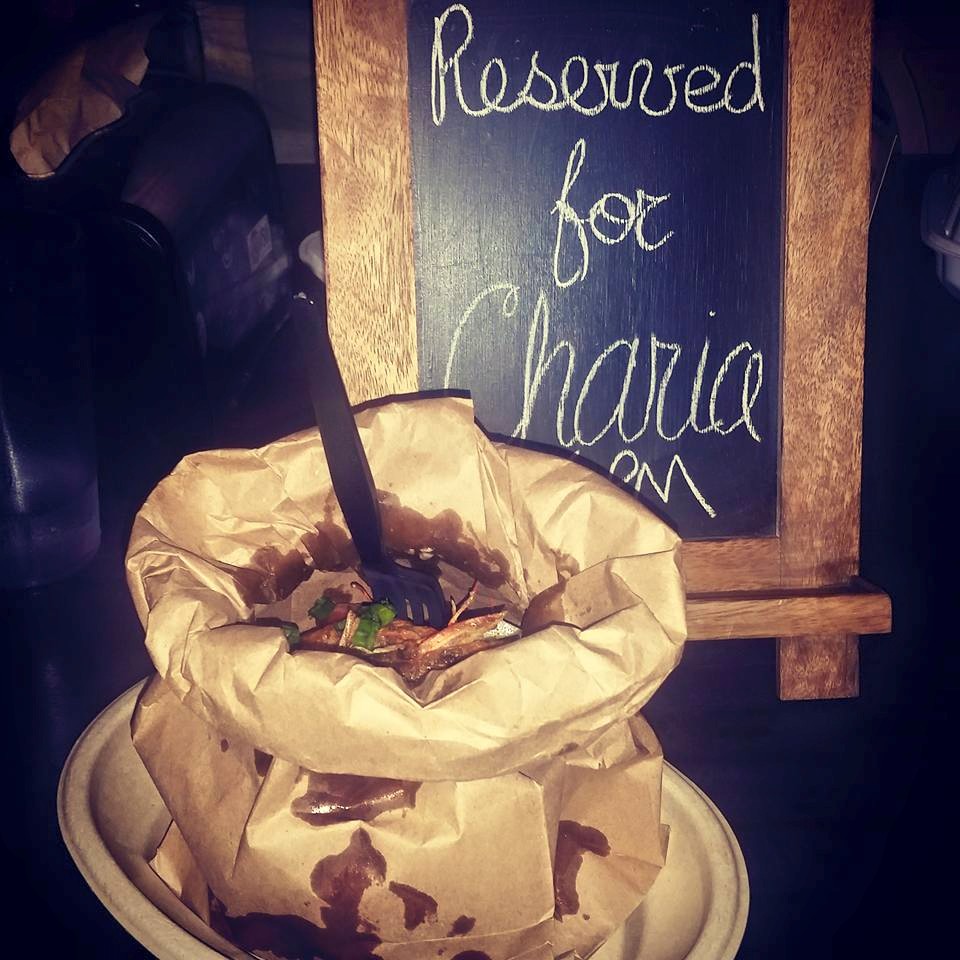 This place was so trendy just like my friend Charise who invited me here to celebrate her birthday. I spontaneously added DeSoto Central Market to the bucket list because I want everyone to come experience this place! DeSoto Central Market is really cool because it's basically a huge warehouse with a ton of different booths/restaurants inside it. All of the food there is very unique and delicious and I'm hoping to come back and try all of the restaurants inside here. I had a bag with shrimp, potatoes, corn, sausage and other delicious items from Yard Bird and The Larder! Really flavorful!
THE WELCOME DINER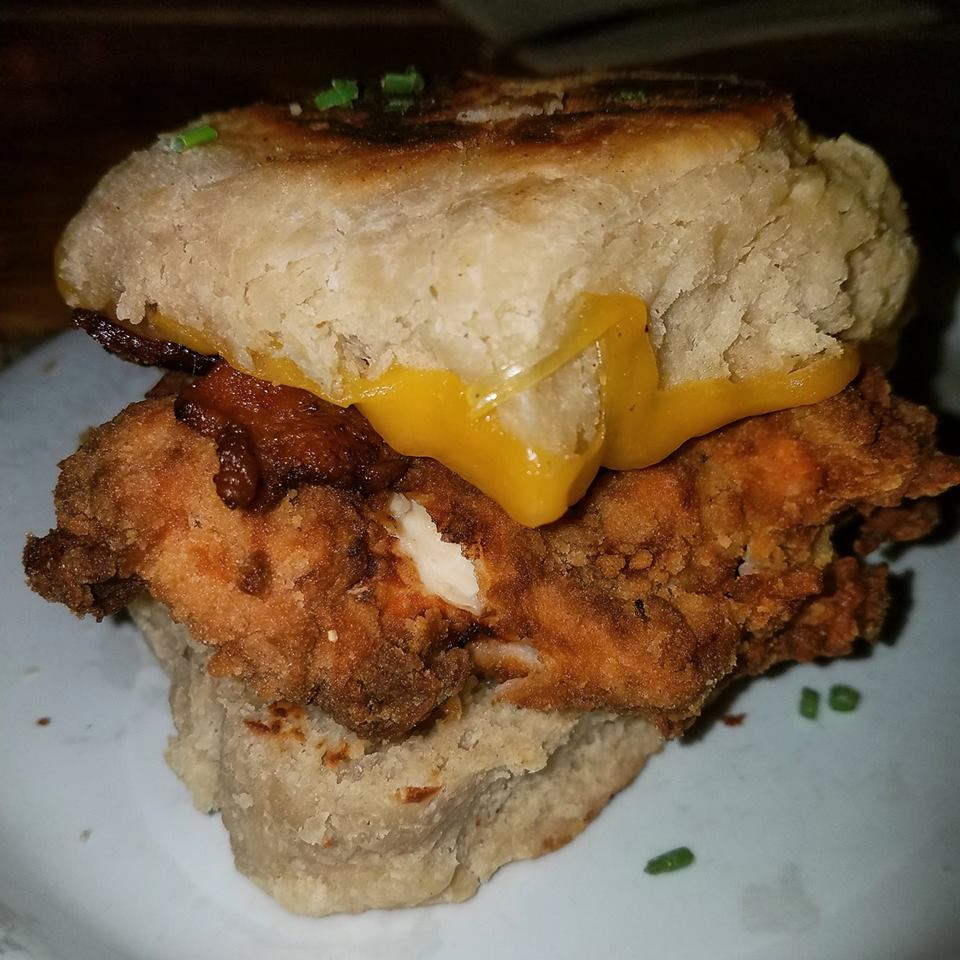 If you know me, you know that I like to constantly be trying new restaurants but there are a few places where i am a repeat customer. Welcome Diner in downtown Phoenix is definitely one of those places! If you're looking for a casual place with amazing food, then look no further! I'm sure you will love the this fried chicken biscuit sandwich with bacon, cheese and gravy (on the side). SO. FREAKING. BOMB.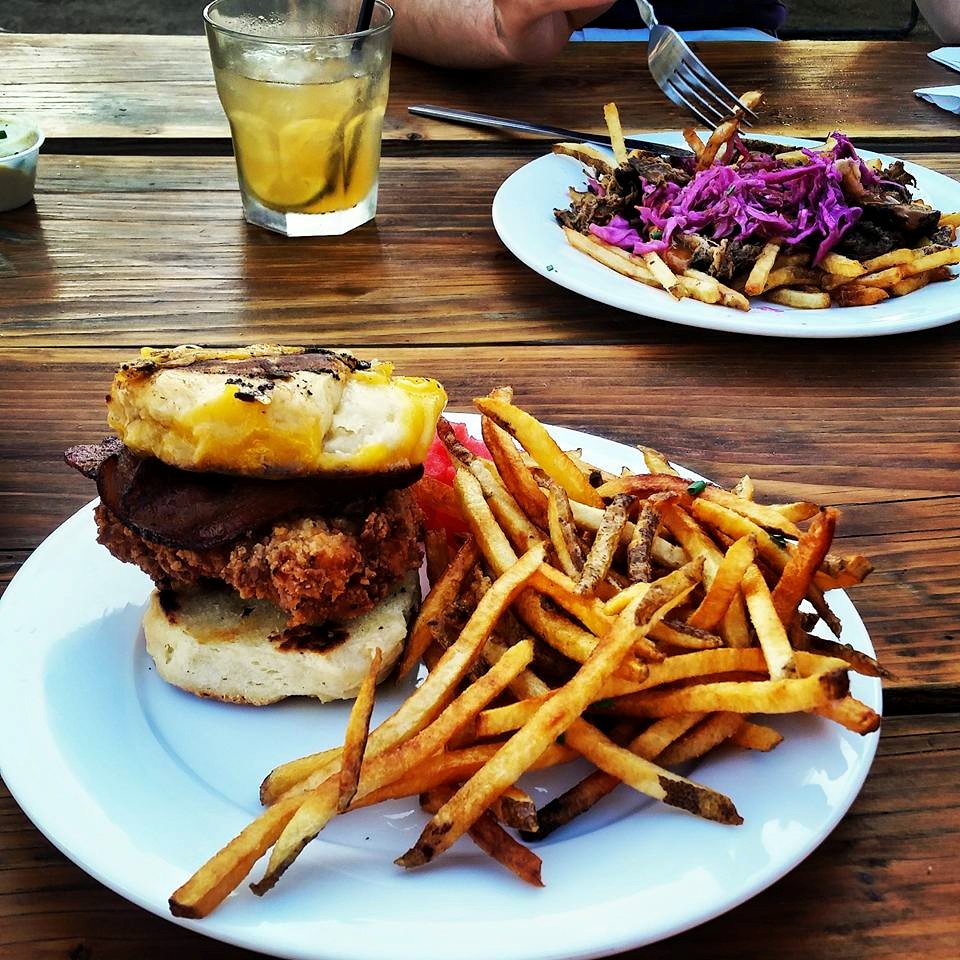 I finally got a chance to eat at The Welcome Diner after getting this place recommended to me by so many people! Such a cute little place. Everything we ordered smelled delicious! Best chicken and bacon biscuit sandwich I've ever had. The biscuit literally melted in your mouth and the chicken was perfection and the bacon was just a bonus. Highly recommend.
THE ARROGANT BUTCHER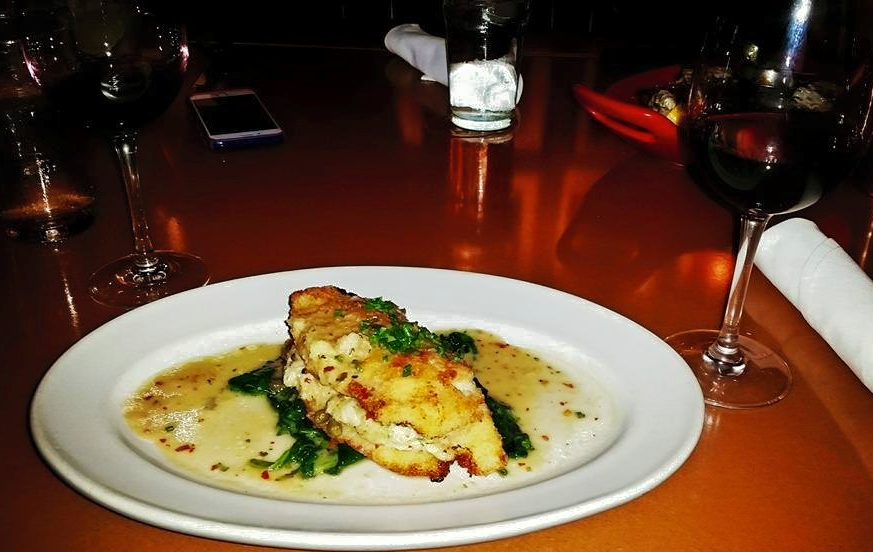 The food at The Arrogant Butcher was really good! Cool, hip place! I had a delicious crab stuffed chicken paired with a red wine from Spain for Becky's birthday! I recommend it because the food and the drinks are great, but also because it's in a great downtown location near a ton of bars! So you can eat and then party!
CORDUROY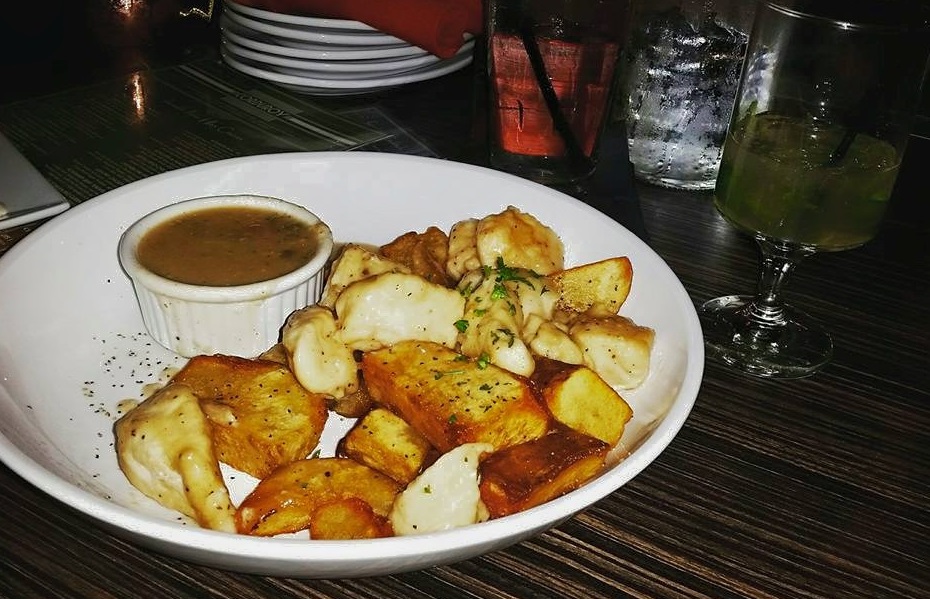 Spontaneously deciding to add Corduroy to the bucket list after realizing that The Lost Leaf doesn't serve food and after Switch Restaurant and Wine Bar didn't have room for us lol. Corduroy had a great atmosphere, delicious lemony chicken and interesting drinks! Loved my apricot mojito!
HANNY'S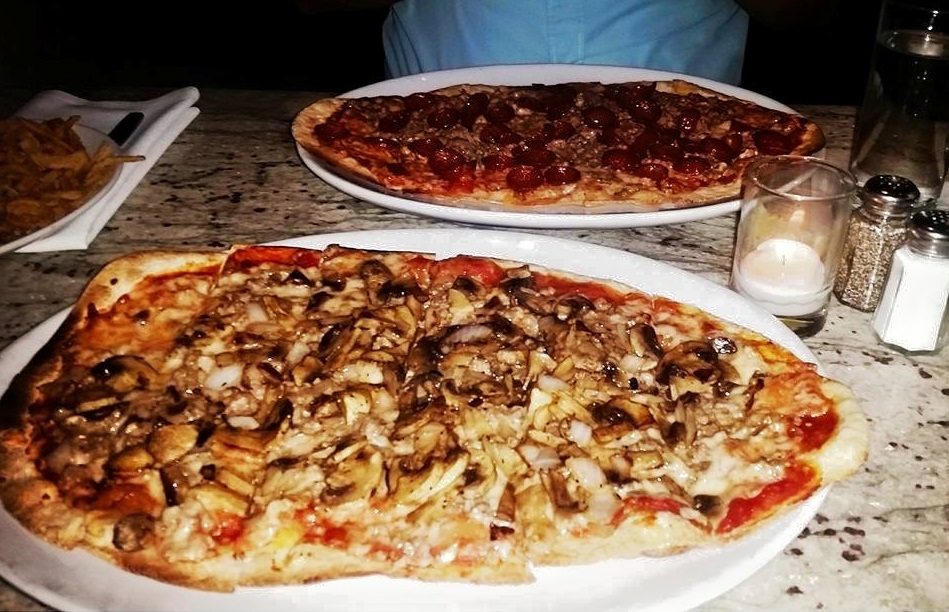 One last birthday dinner and then I'm done celebrating my birthday lol
Thank you for the dinner Jose! I've partied here at Hanny's before but I've never had their food…it was tasty! Super classy place.
TWIN PEAKS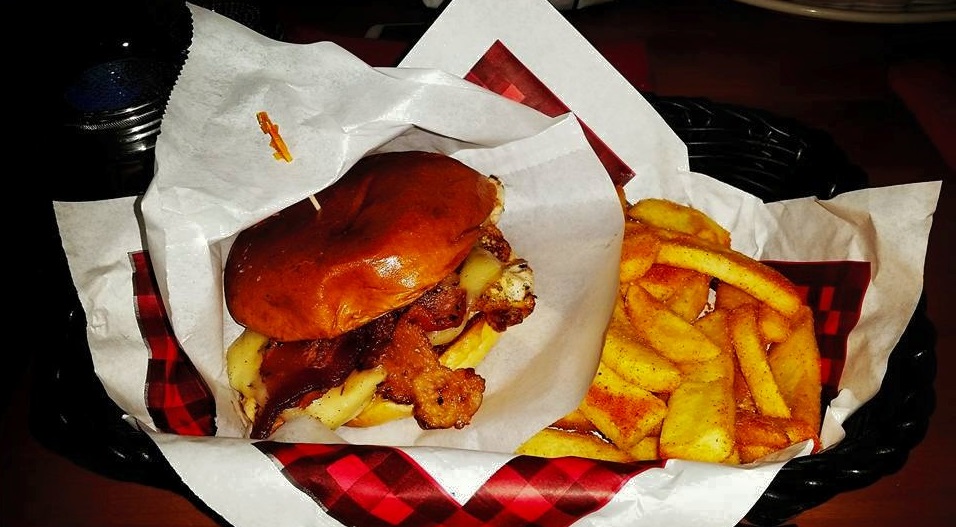 Decided to have my birthday dinner at the infamous Twin Peaks! A lot of my guy friends were very happy that I chose this place and I was so confused as to why until we got there. All of the servers are female…and wear (really cute) shorts and crop tops. The food was delicious and they have the infamous ski shot (which was also on my bucket list of course). It's basically a group shot that you take with your friends where they have shot glasses lined up on a ski. Add it to your bucket list, it is super fun haha.
TOP OF THE ROCK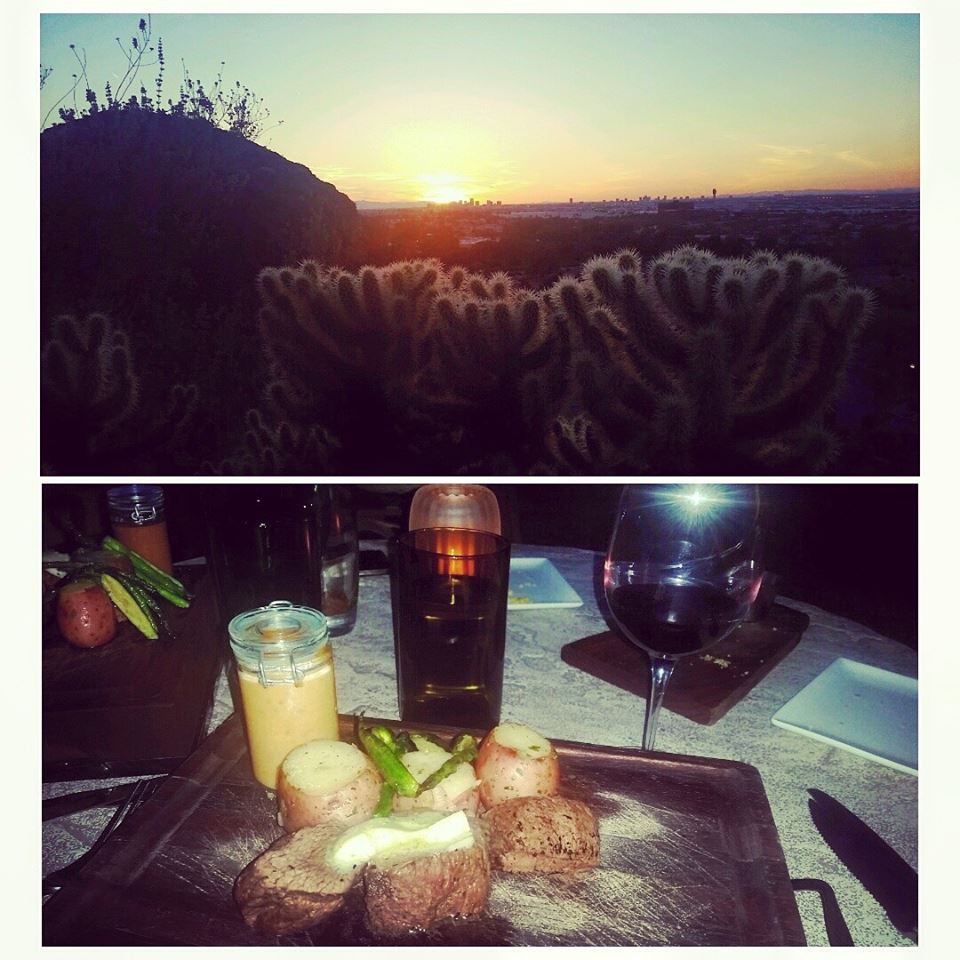 Came out to celebrate my 1 year anniversary (a few days early) with Honeywell. It's been such a great year out in the real world and it has FLOWN by. So happy and gracious to be where I am, surrounded by people that make me happy, and working on what makes me passionate. Cheers to a great year and cheers to many more to come. Happy anniversary to me and happy anniversary to Ashley and me for surviving one year out in the real world. To celebrate this accomplishment, we went to the restaurant on top of a mountain with a beautiful view of the valley and delicious food and wine: Top Of The Rock!
THE DUCE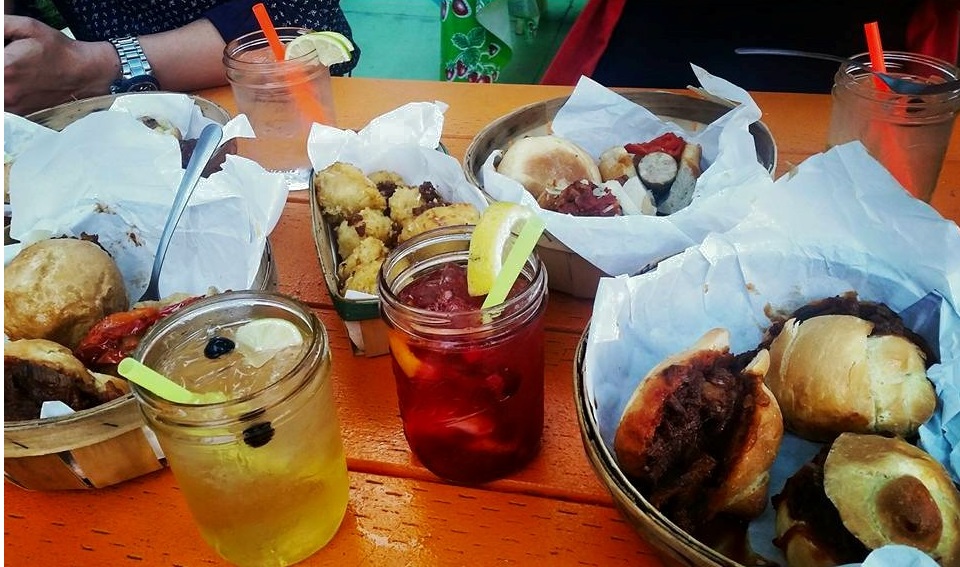 I LOVED THIS PLACE. The environment at The Duce was poppin' and the food was delicious. Also, the cocktails were kind of involved and had a ton of ingredients but it all worked out because those drinks were delicious. I had the briscuit sliders and the cranberry cobbler cocktail! Def coming back! This is my new spot.
38 DEGREES ALE HOUSE & GRILL
I spontaneously added 38 Degrees Ale House and Grill to the food bucket list while vacationing in San Diego. Delicious steak and frites and much needed pinot noir.
PINK'S HOT DOGS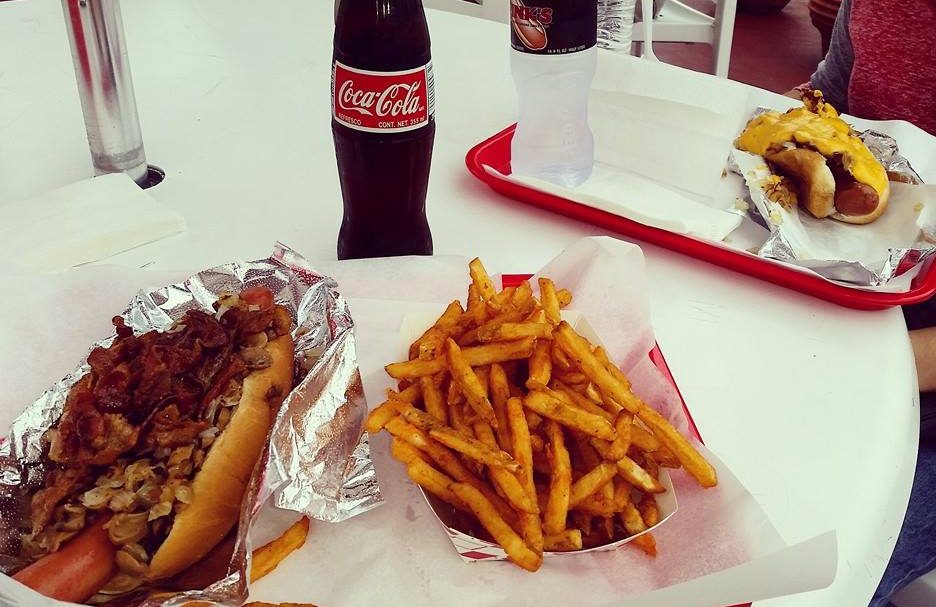 Life bucket list food edition item #169 completed! Get a hot dog from
Pinks
! Got lucky and didn't have to wait super long! Delicious hot dog and super cool to eat at this historic road side spot!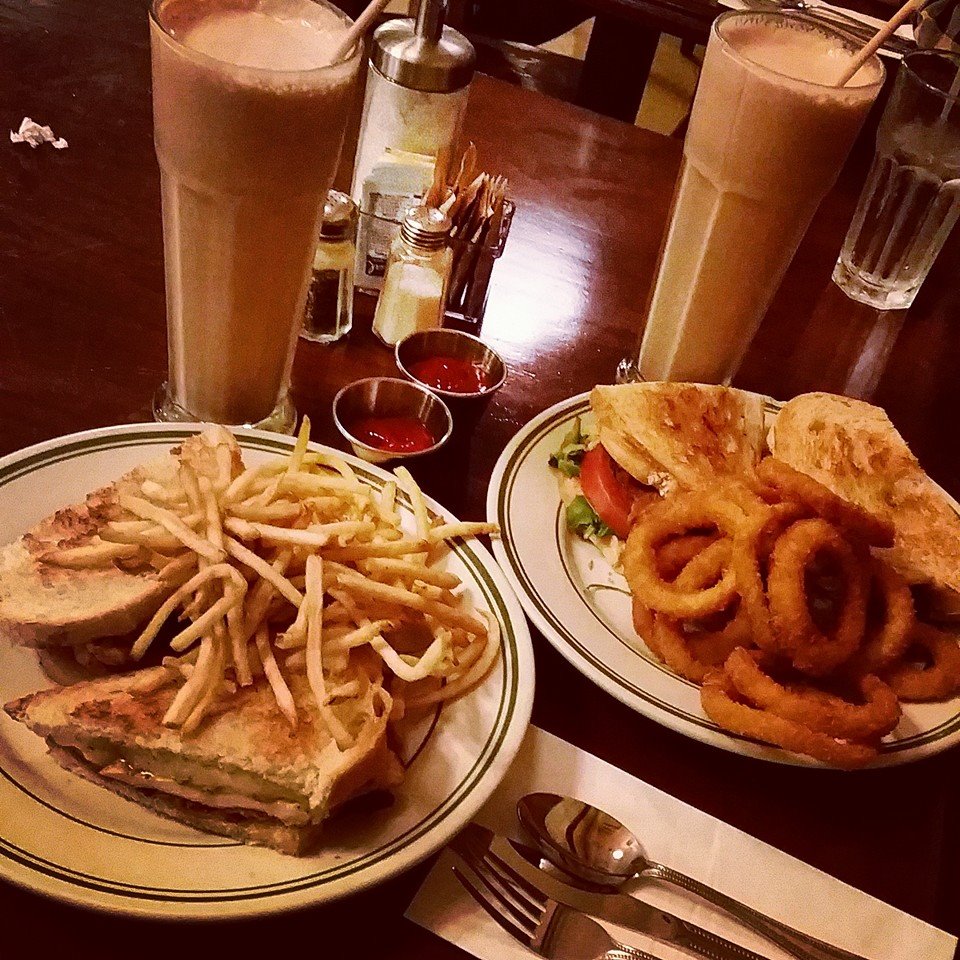 Food bucket list item #228 completed! Eat at The
Nickel Diner
in downtown Los Angeles for Valarie's birthday! Everything was delicious and full of flavor. The Oaxacan chocolate shake was ridiculously savory.
LENNY'S BURGER SHOP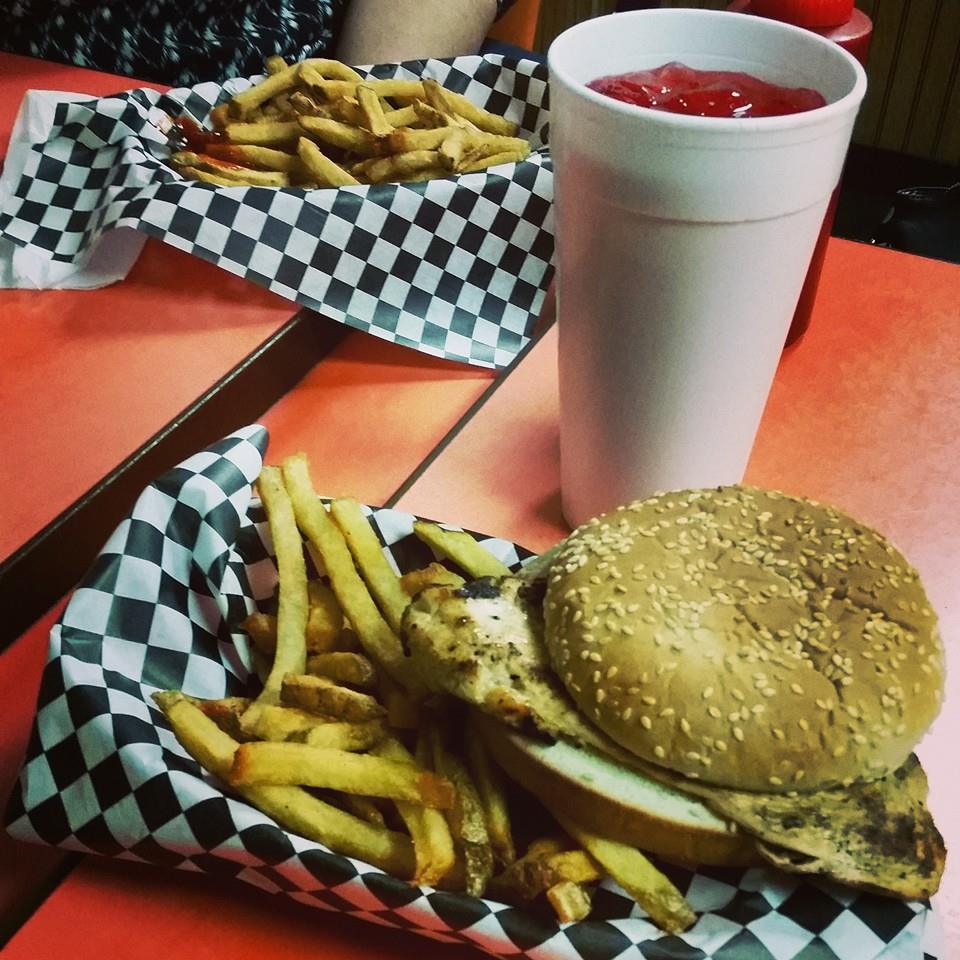 Happy birthday Ashley! ☺?? Food bucket list item #126 completed! Eat at Lenny's Burger Shop! Cute little place with big flavor. I had a grilled chicken sandwich with some of the most savory french fries I've had in a while.Delicious grilled chicken fillet sandwich.
TRUE FOOD KITCHEN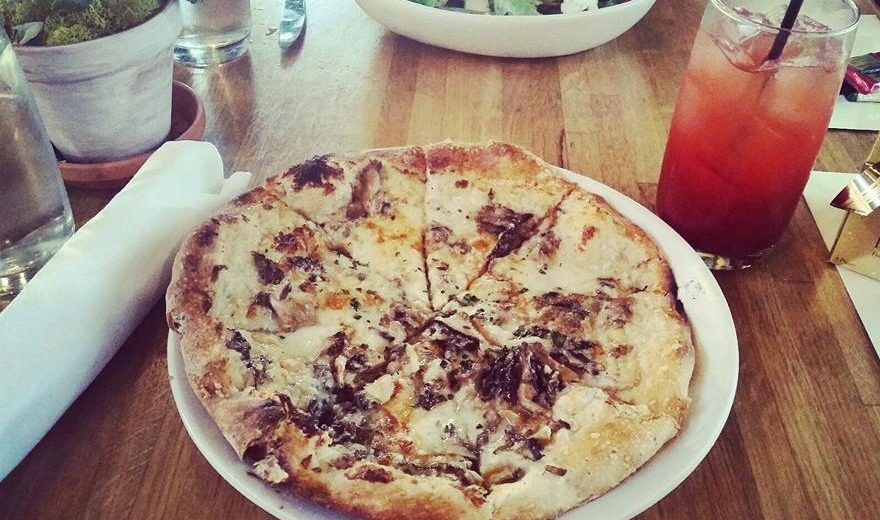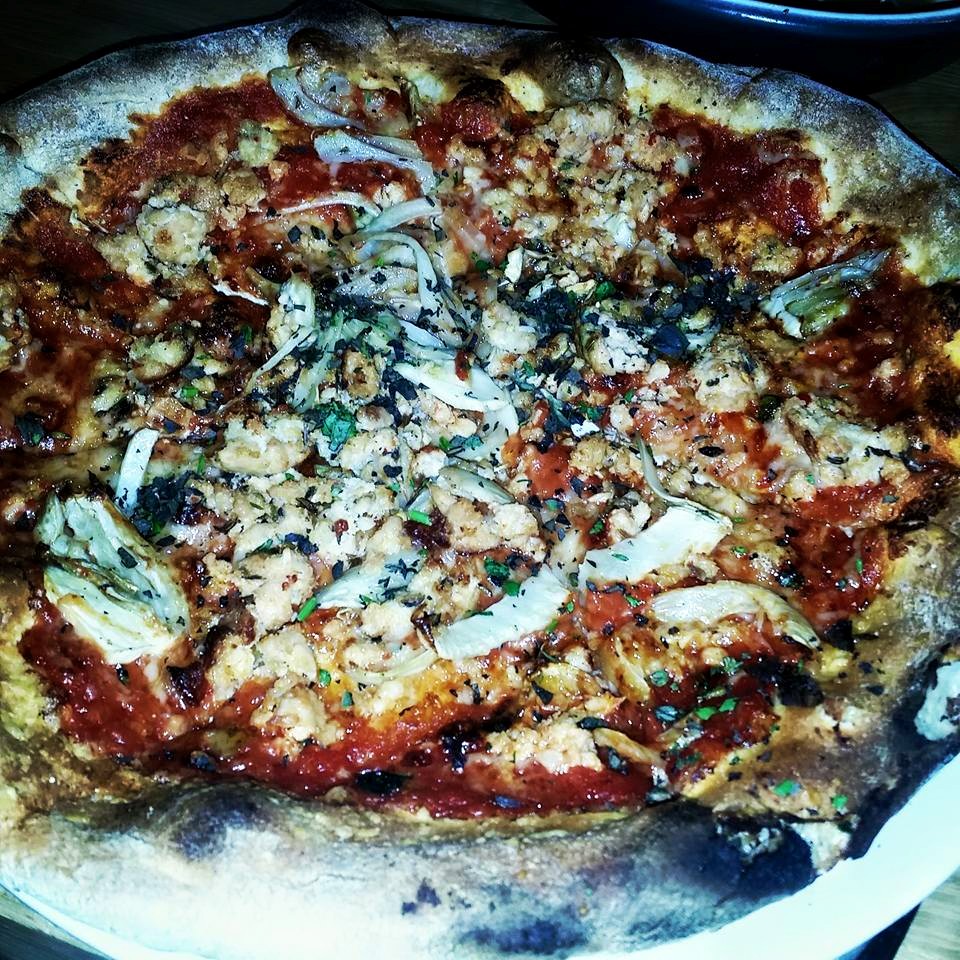 Food bucket list item #247 completed! Try True Food Kitchen! So healthy AND delicious.I ate the entire wild mushroom pizza and did not feel bad about myself at all hahaha. Super tasty!
DAILY DOSE OLD TOWN BAR & GRILL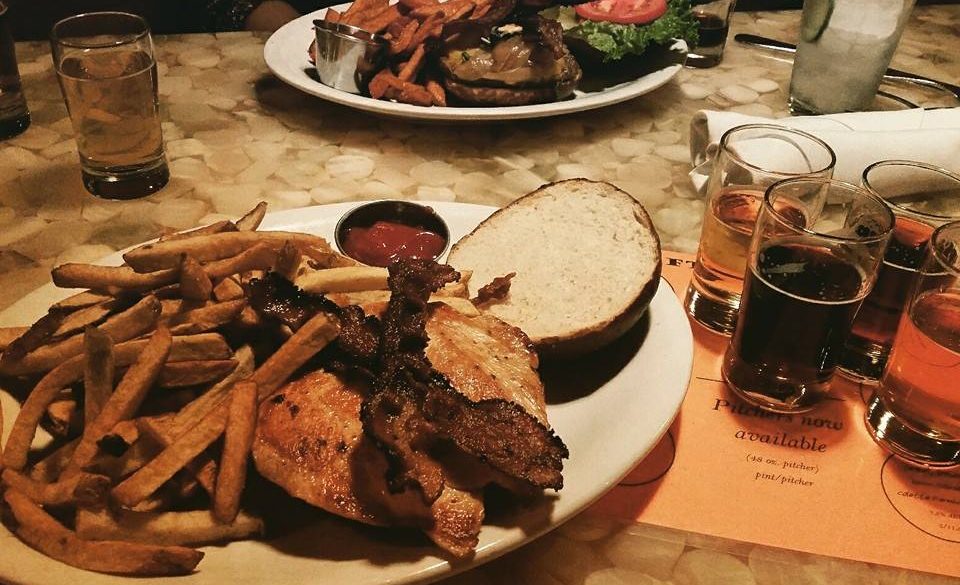 Daily Dose is DELICIOUS.They have fantastic beer (I had a flight of beer) and the chicken and bacon sandwich I had was so juicy and perfectly cooked! And the fries were probably some of the best fries I've had in Scottsdale. Definitely coming back, especially because I've heard that they also have fantastic breakfast! Recommend this place if you are in the area!
THE HABIT BURGER GRILL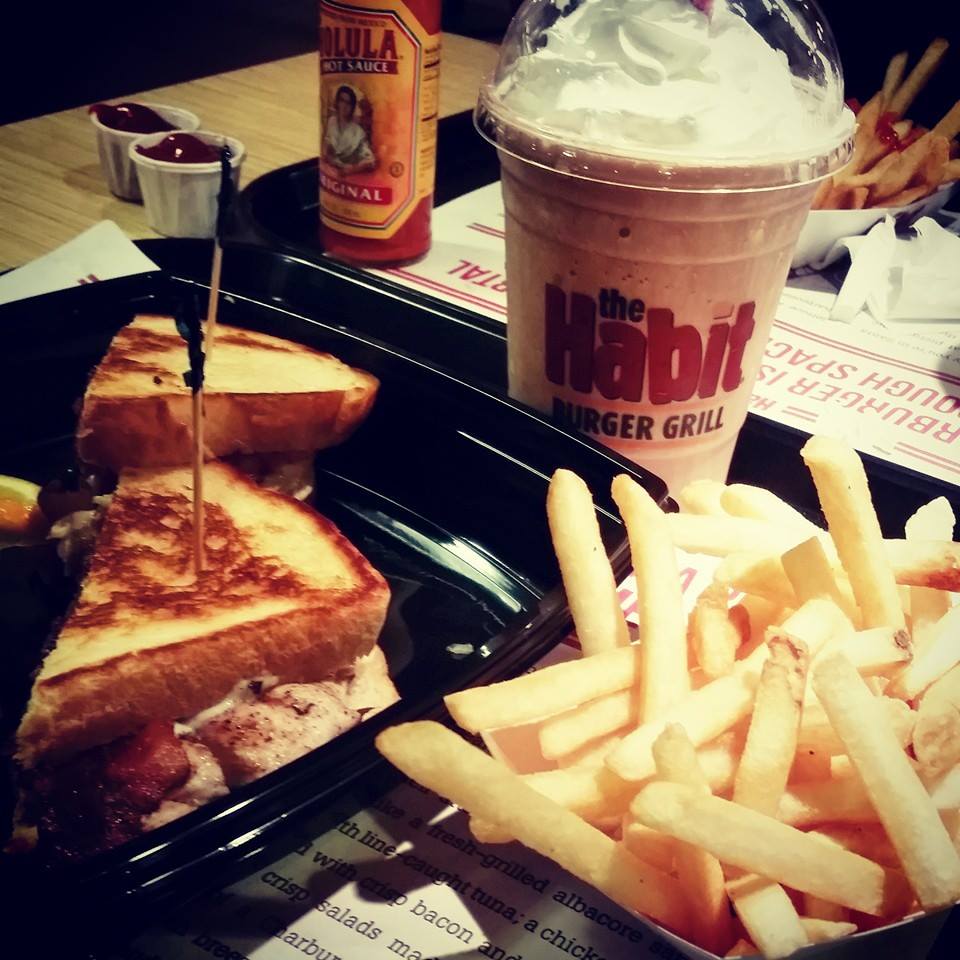 Finally tried The Habit Burger Grill! Food bucket list item #136 completed! I've never had such a good sandwich at a burger place. The chicken was juicy and grilled perfectly. The bread was super tasty. The fries were seasoned and full of flavor. And the shake was the cherry on top.
BROASTED CHICKEN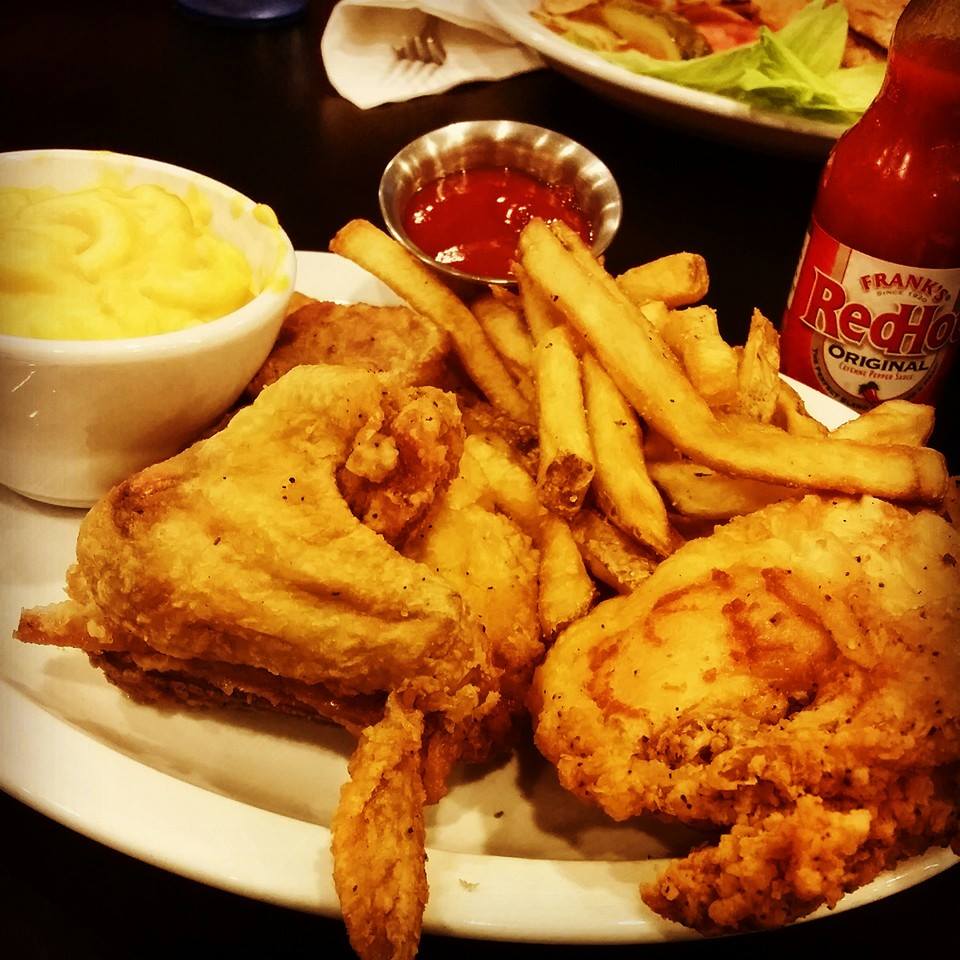 This chicken is broasted. If you have to ask you'll never know. But I'll go ahead and tell you. The only reason I ordered this dish was because of the word 'broasted'. I was intrigued and gave it a try without even looking up exactly what it meant. I tried this while at the SHPE ( Society of Hispanic Professional Engineers ) National Conference in Detroit. IT WAS DELICIOUS. I'll tell you what broasted means: prepare food using a cooking process that combines broiling and roasting. Definitely encourage y'all to try it! Food bucket list item # 248 completed! Try broasted chicken at End Zone Chicken and Ribs!
PRESCOTT BREWING COMPANY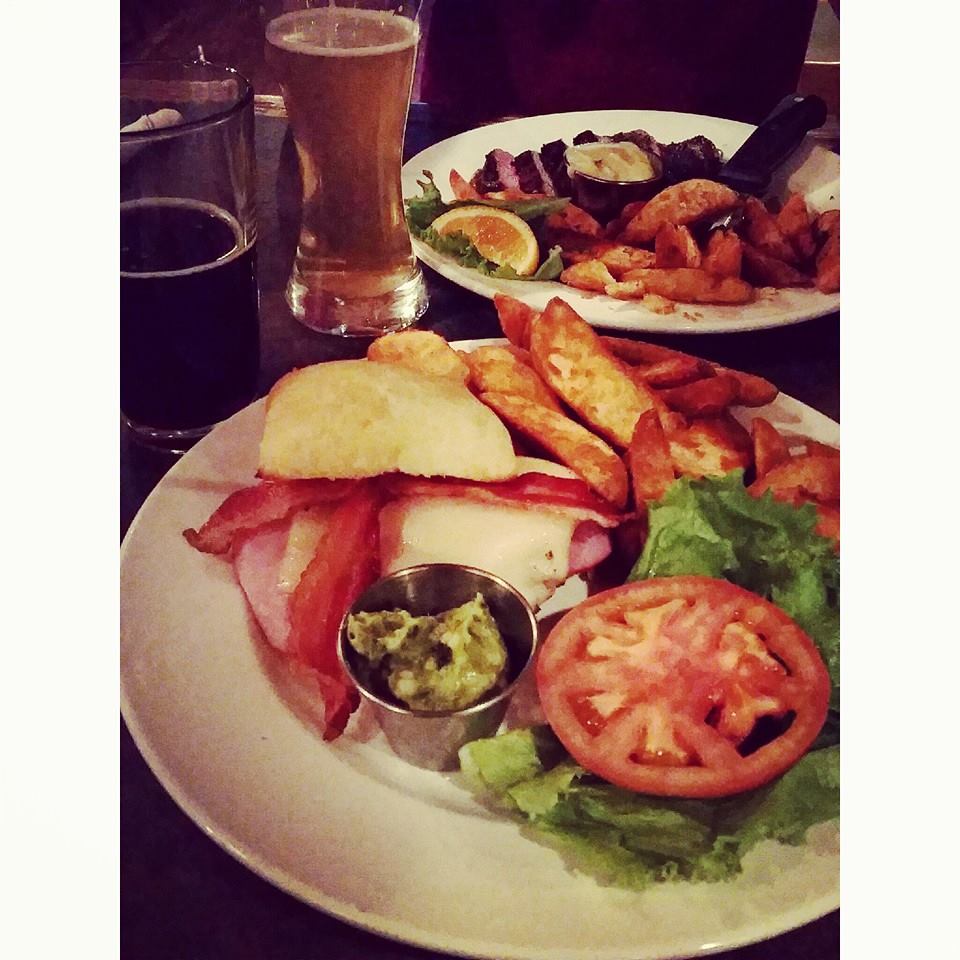 I was told that if I was ever in Prescott, I HAD to try this place. Food bucket list item #139 completed! Eat at the Prescott Brewing Company! Best sandwich I've ever had and the Porter beer was on point! I've come back to eat at this restaurant so you know it has to be good! Highly recommend if you are in the area. Thanks to my wonderful friend Tim for the recommendation!
PHOENIX PUBLIC MARKET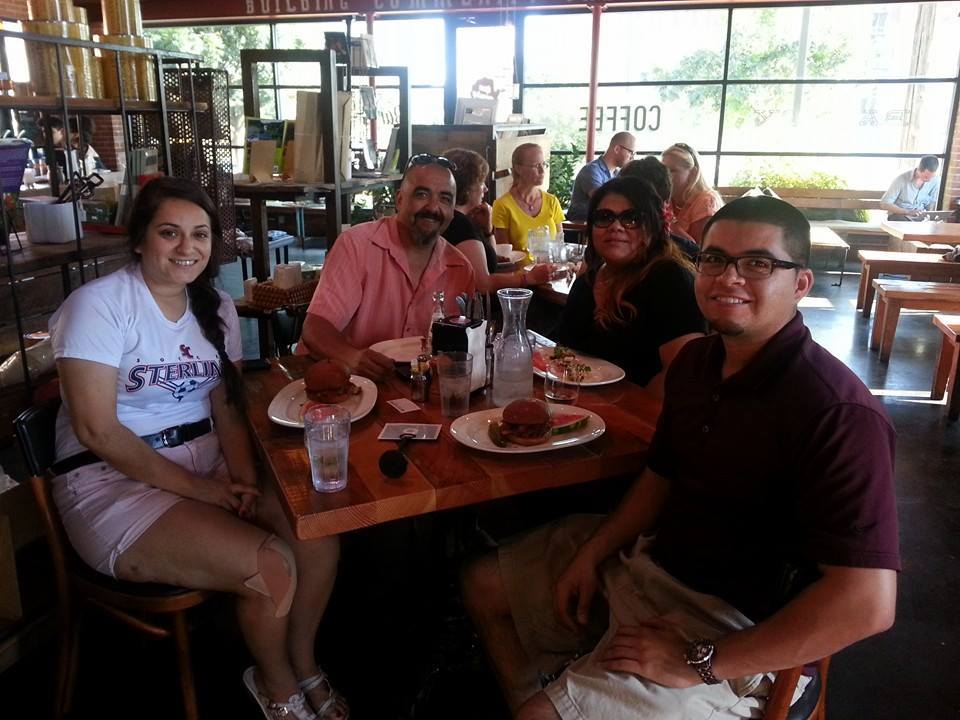 My friend's very, very classy mom recommended this place to me! Phoenix Public Market was a super cute restaurant and the pulled pork sandwich was delicious! The wine was on point and the strawberry cake was phenomenal. I recommend this place! They also have live music and huge fried chicken dinners!
---
JOE'S KANSAS CITY BAR-B-QUE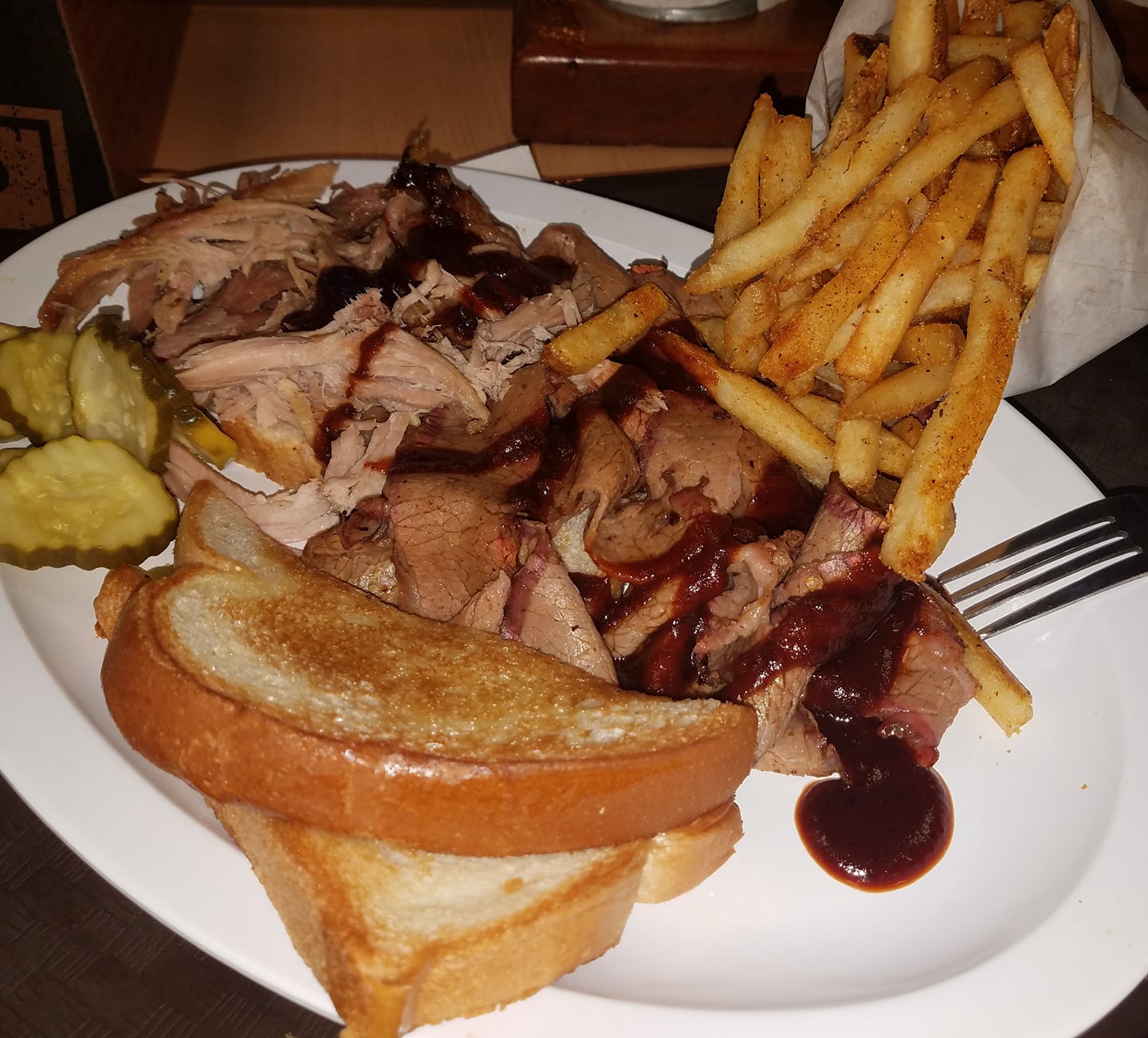 I had the best BBQ of my life at Joe's Kansas City BBQ in Kansas City, Kansas. That's right, I crossed state lines when I was in Missouri all for this BBQ and it was so worth it. I had the pulled pork, brisket and fries. It was PHENOMENAL. There was so much flavor in every bite that I ate my entire plate and my stomach was hurting because it was too much food but I would do it again in a heartbeat. It was that good. Do yourself a favor and book a trip to Kansas.
TEXAS BBQ HOUSE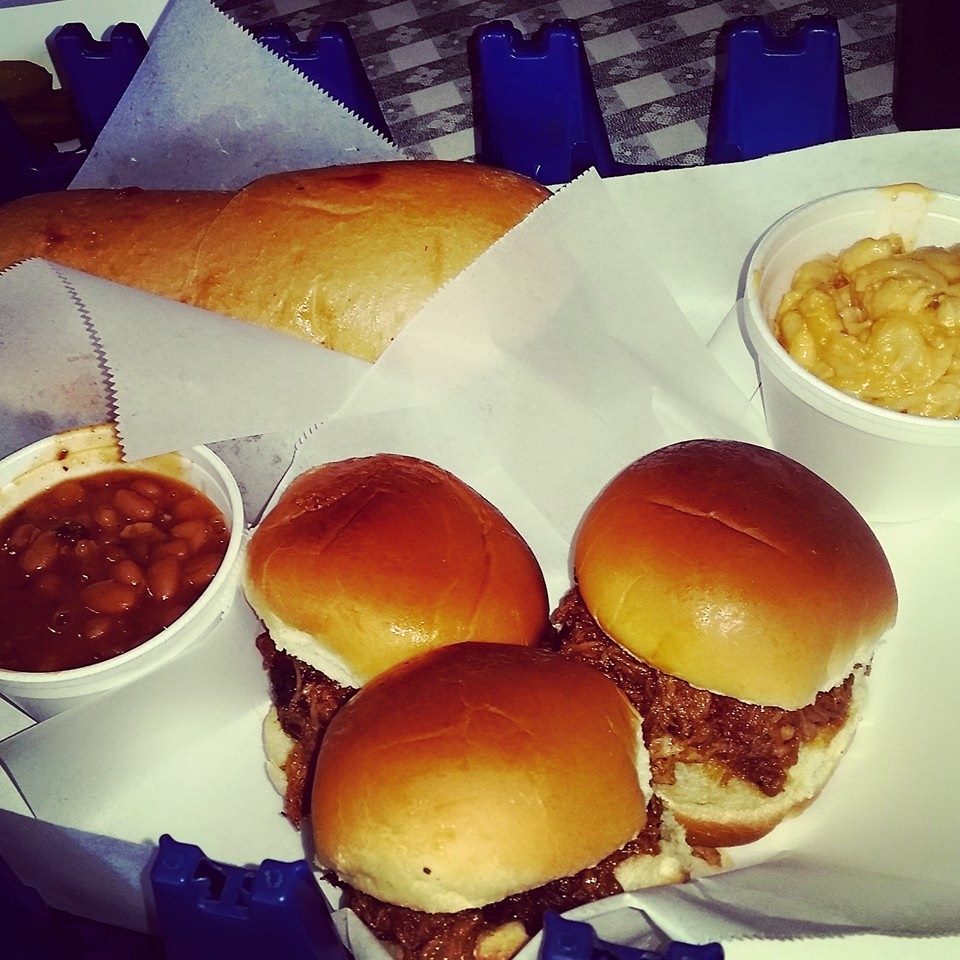 So good catching up with you today Jose! Thanks for joining me in trying Texas BBQ House! Delicious briscuit and pulled pork sandwiches! Hit the spot.
---

Dessert
GINO'S EAST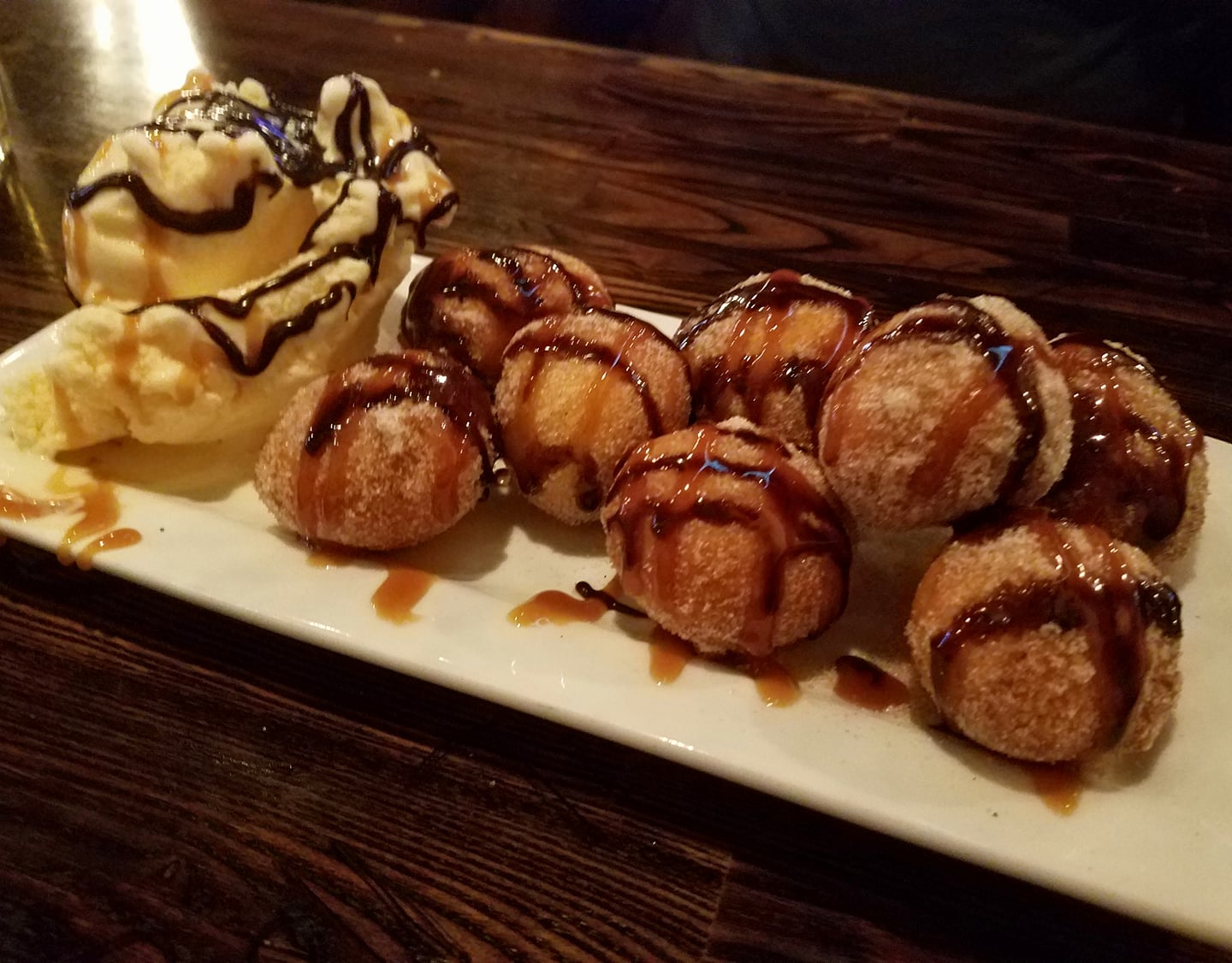 I know I've mentioned before that I'm a huge fan of the deep dish pizza at Gino's East but have I ever told y'all that their dessert is also amazing!? Their Cinnamon Sugar Beignet Balls are out of this world and even though I was super full from the pizza, I still ate them all.
MCFATE BREWING COMPANY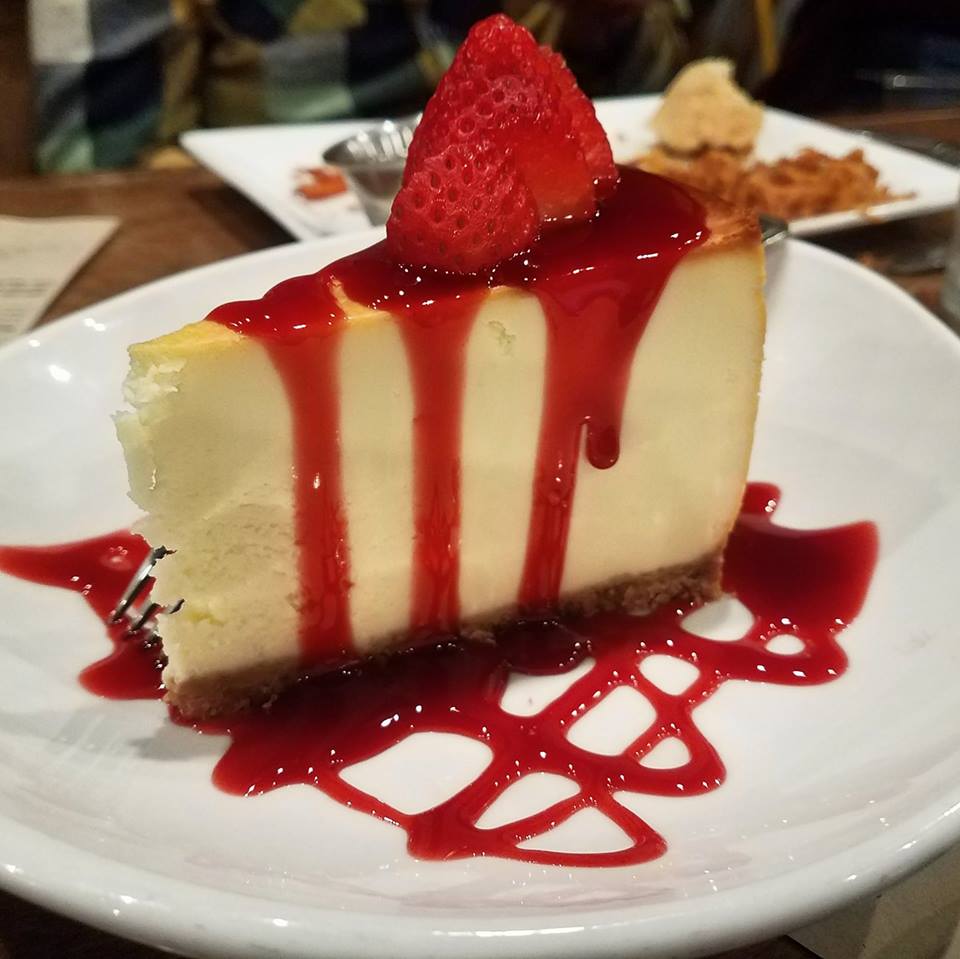 Nothing says holidays to me like a huge, delicious slice of my favorite dessert: cheesecake! If y'all haven't made it out to McFate Brewing Company, do it soon! Their beer is good and so is their dessert!
BAKED AND WIRED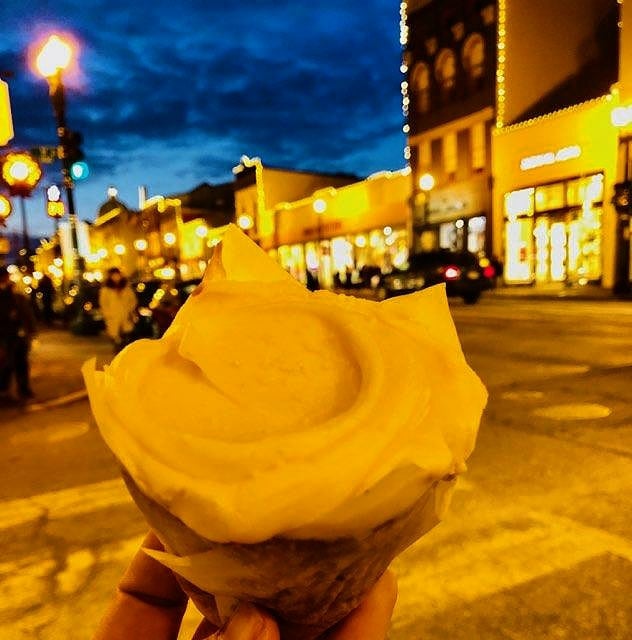 This is the most delicious strawberry cupcake I've ever had in my life. No lie, it was so good. If you're ever in DC, stop by Baked and Wired in Georgetown and grab a cupcake. They're huge and full of flavor! The only complaint I have is that while we were there, someone was definitely getting broken up with…how messed up is that!? Why ruin the best cupcake place in the area for someone! I hope she bought some cupcakes after to feel better. ?
GRANVILLE ISLAND PUBLIC MARKET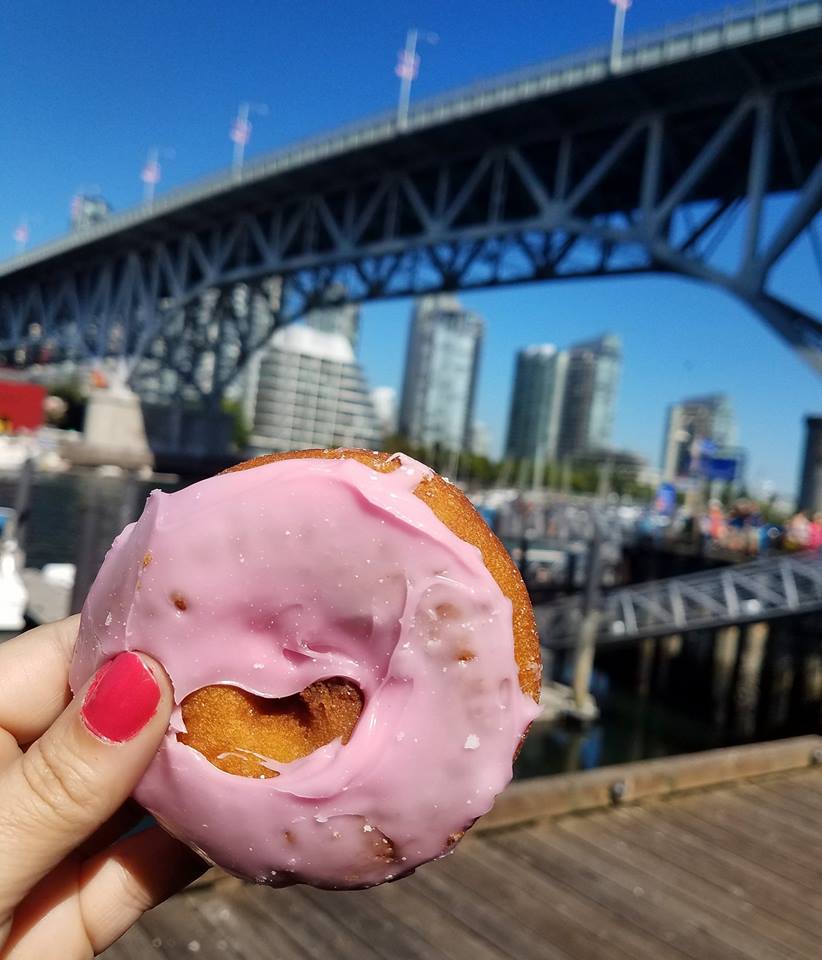 The most delicious strawberry donut I've ever had was in Vancouver, Canada! I picked up this tasty treat at Granville Island Public Market. 
?
IZZY'S ICE CREAM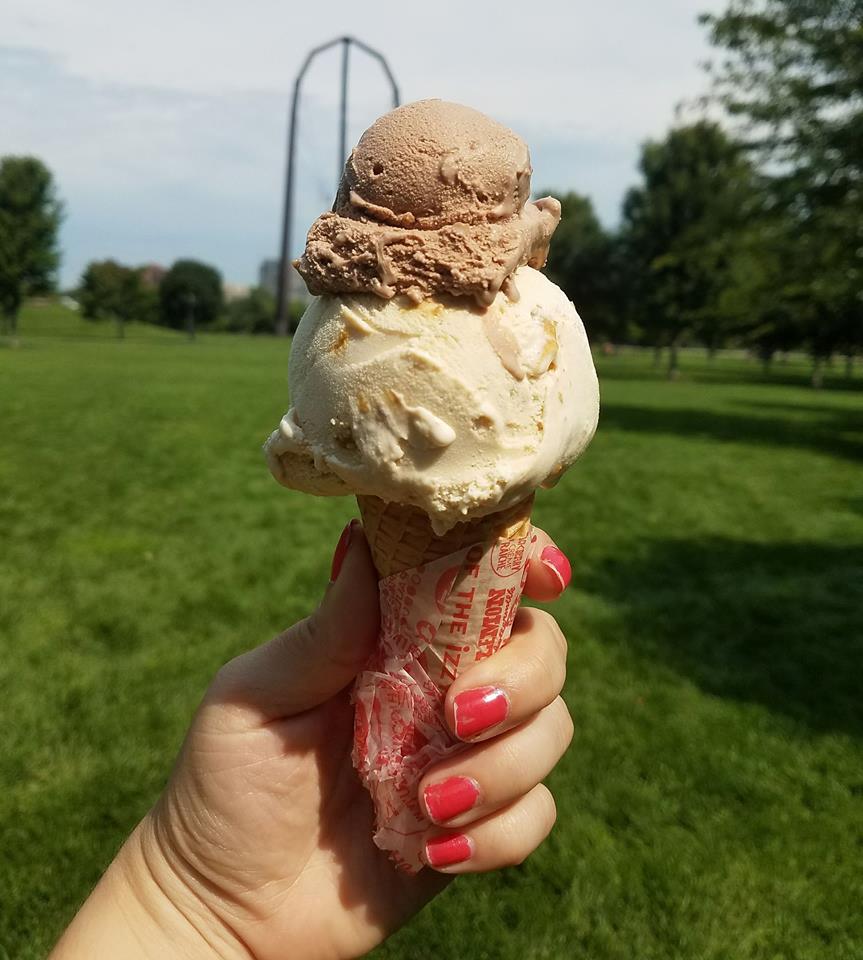 =I loved loved loved Izzy's Ice Creambecause every purchase comes with a free 'Izzy scoop' which is that tiny sample scoop on top! It was nice to enjoy an ice cream treat without having to worry about it melting all over my hand within the first 2 minutes (#arizonaproblems) 
😉 What are you all eating this weekend? If this Dessa's Existential Crisis (whiskey, amaretto, pecans and cashews) and chocolate/peanut butter Izzy scoop looks delicious, you can try it during the Superbowl!
FRONTIER RESTAURANT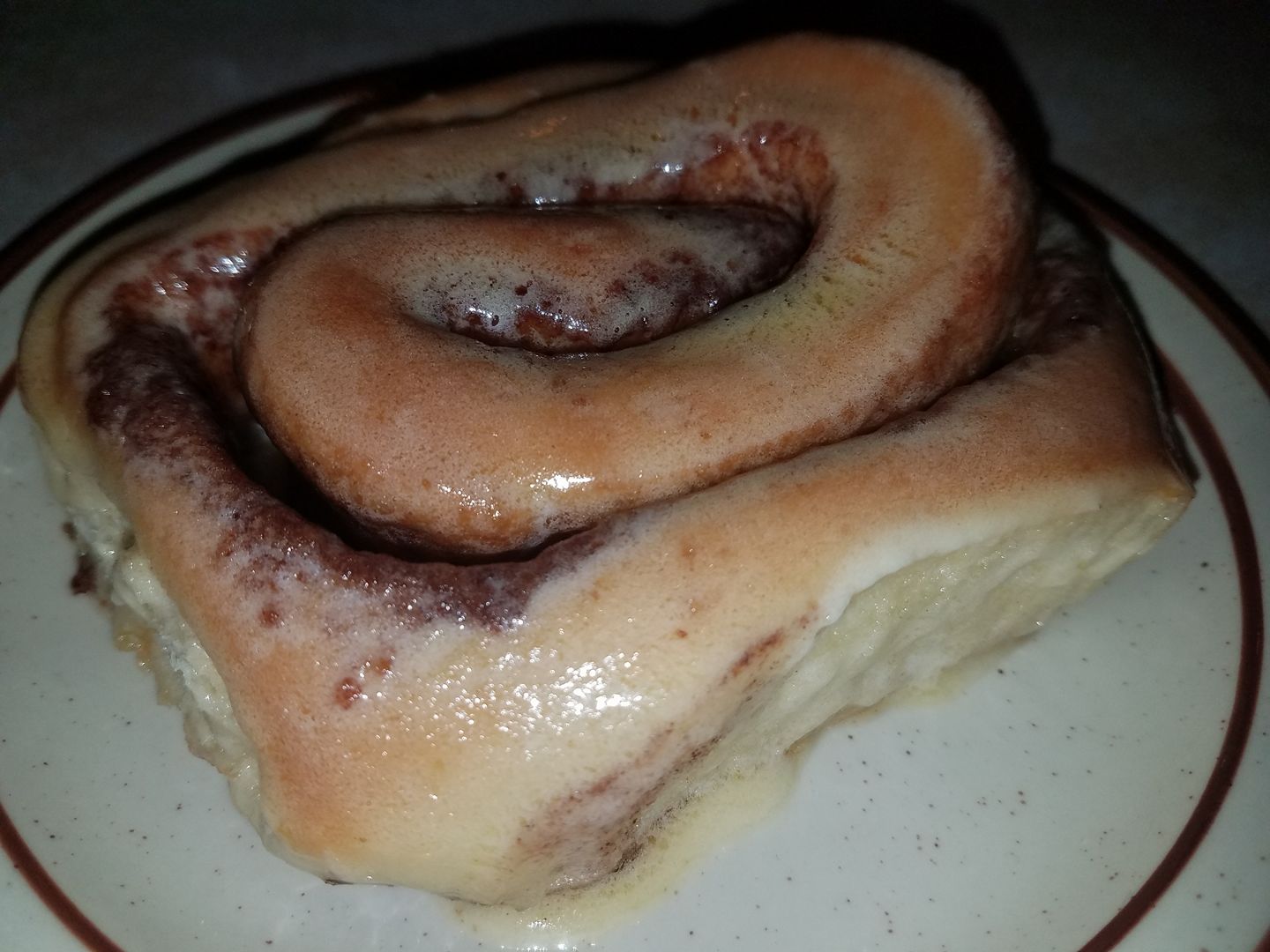 My first stop in Albuquerque, New Mexico was Frontier Restaurant, a 40+ year old restaurant knowns for its super large and super cheap sweet rolls! Yes it's delicious and yes I ate it all! #noshame
SWEET BITES RASPADOS AND MORE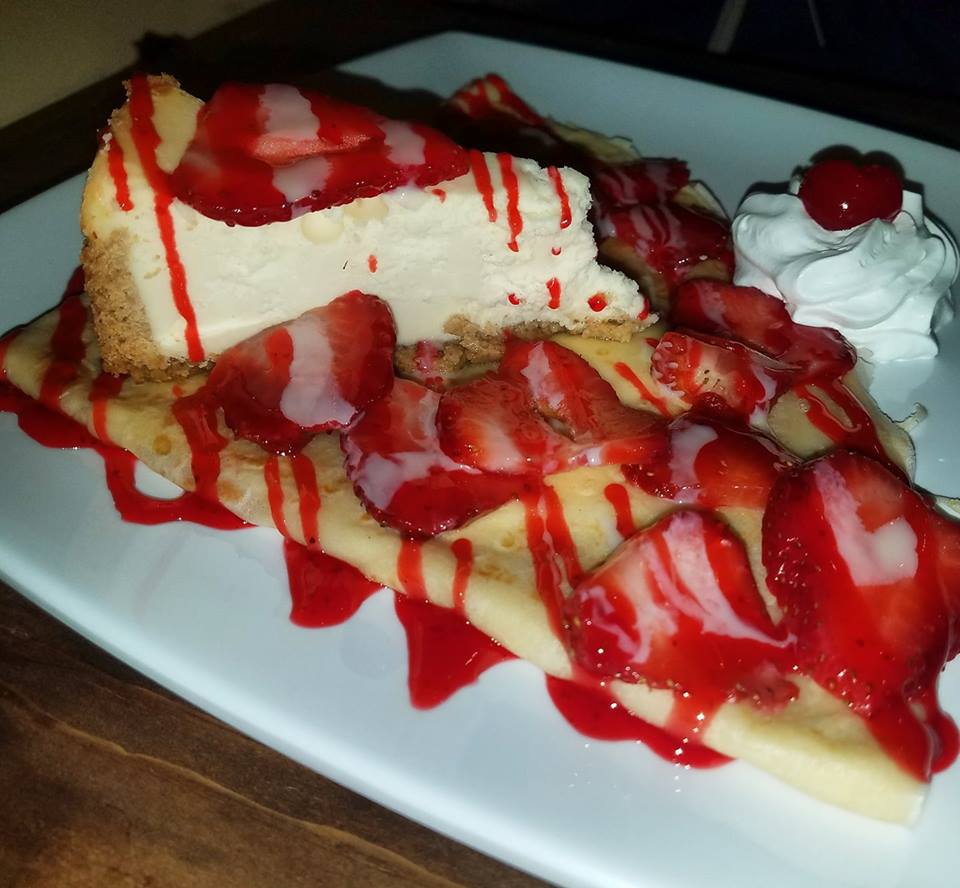 I finally had the chance to try Sweet Bites Raspados and More in Laveen! A coworker recommended this place to me and when I stopped by and mentioned that he recommended them, they knew who he was! I guess he's a regular but seriously y'all if you're craving something sweet like a delicious 'cheesecake crepe' that is literally a cheesecake on top of a crepe, then stop by! The owners are so nice and they have a huge variety of sweet treats!
COLD SPOONS GELATO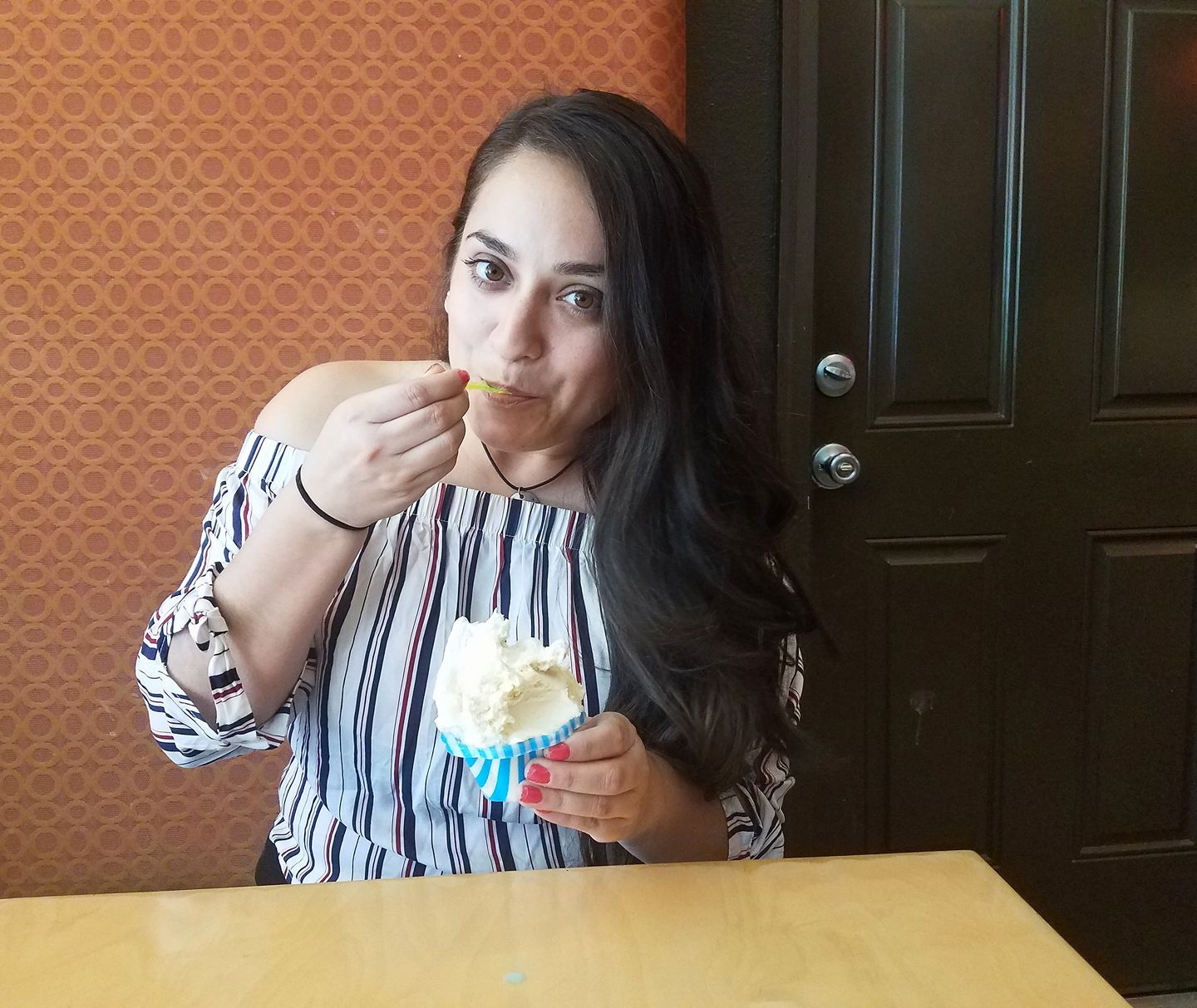 I stopped at Cold Spoons Gelato and had the Roasted Almond AND the Caramel Sea Salt flavors, yes I got two..it's fine, diets aren't real when you're on vacation. Both flavors were freaking amazing…my hat goes off to this place, it's delicious and deserves to be on your food bucket list! 
PIE SNOB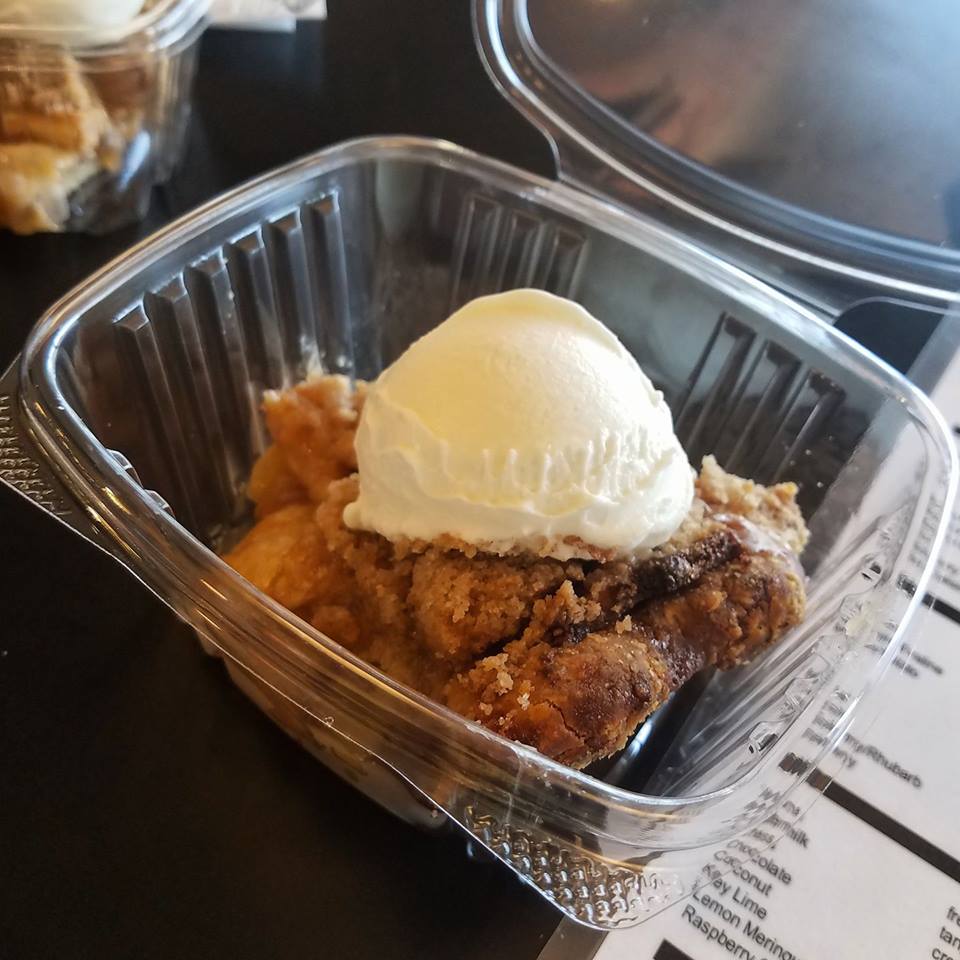 Happy #PiDay everyone! For those unaware, Pi Day is celebrated on March 14th (3/14) around the world because the constant Pi ( "π") used in math is approximately equal to 3.14! Pi represents the ratio of the circumference of a circle to its diameter. To celebrate, I got the last slice (yes the last slice!!) at Pie Snob! I got a slice of classic apple pie with some of the creamiest ice cream I've ever tasted! So good, I'll definitely be back plus it's a super cute bakery.
POSTINO ANNEX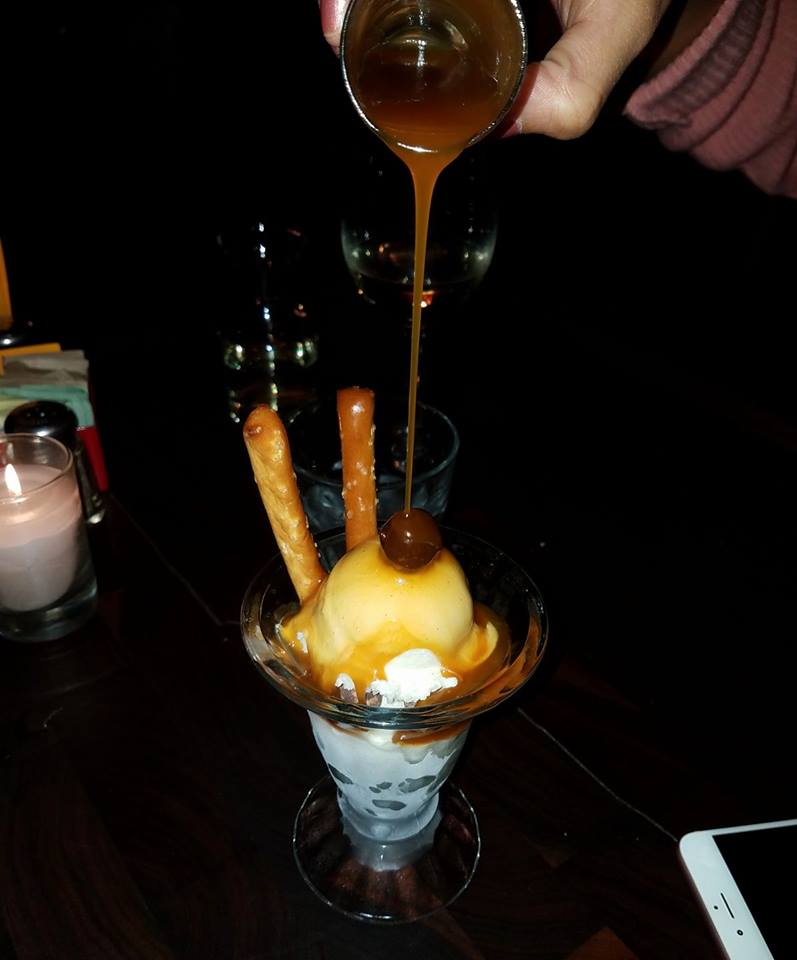 Yes that is salted caramel being poured over the Vanilla bean ice cream sundae! And yes it also has chocolate and corn nuts and pretzel sticks and yes it was PHENOMENAL. You all need to make a stop at Postino Annex in Tempe this weekend and grab some dessert! 
MARCELLINO RISTORANTE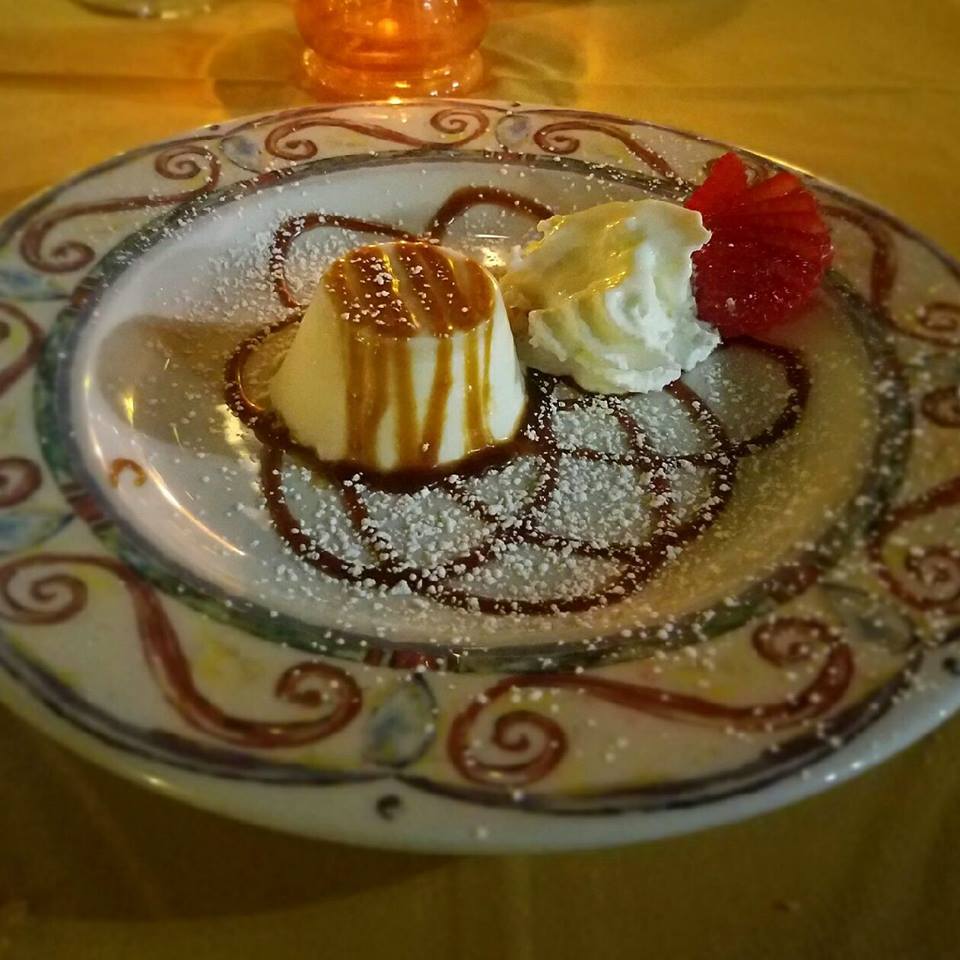 This delicious dessert (Panna Cotta) from Marcellino Ristorante IS SO FREAKING DELICIOUS. It's perfect for a date 😉
FRENCH'S CUPCAKE BAKERY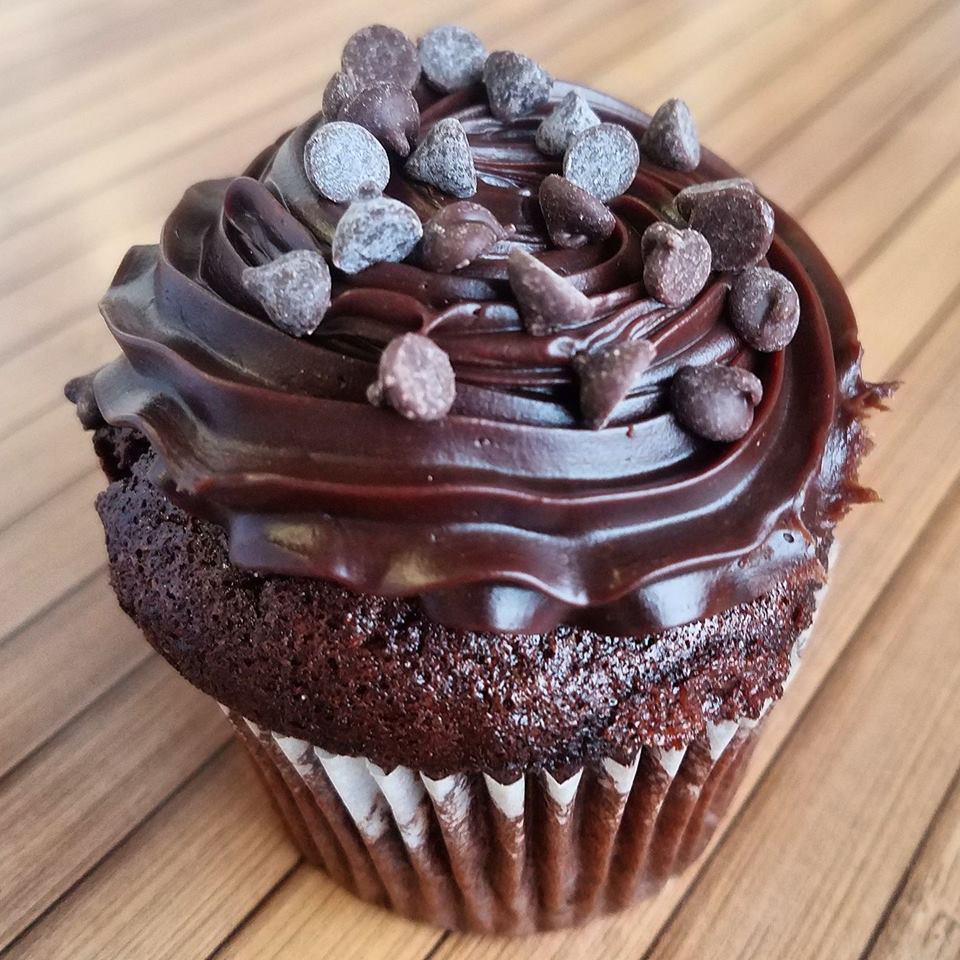 Doesn't this double chocolate cupcake look amazing?! Thank you to Girl On the Move fellow blogger Girl on the Move Blog for her amazing Orange County bucket list (#GOTMocbucketlist) that led me to French's Cupcake Bakery! Such a sweet and mouth watering cupcake. Seriously just go buy one
?
CREPE BAR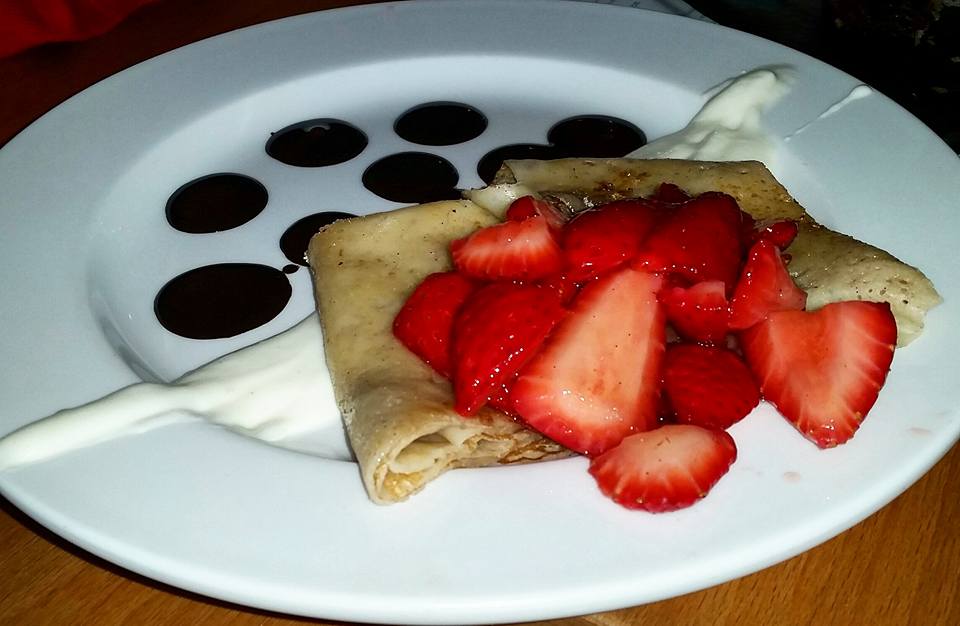 If you are craving something sweet you need to check out Crepe Bar in Tempe! I discovered this place through a #JoinTheBrunch outing and can't wait to go back! I had the dessert crepe with strawberries, chocolate and whipped cream. So simple yet so satisfying! 
BOSA DONUTS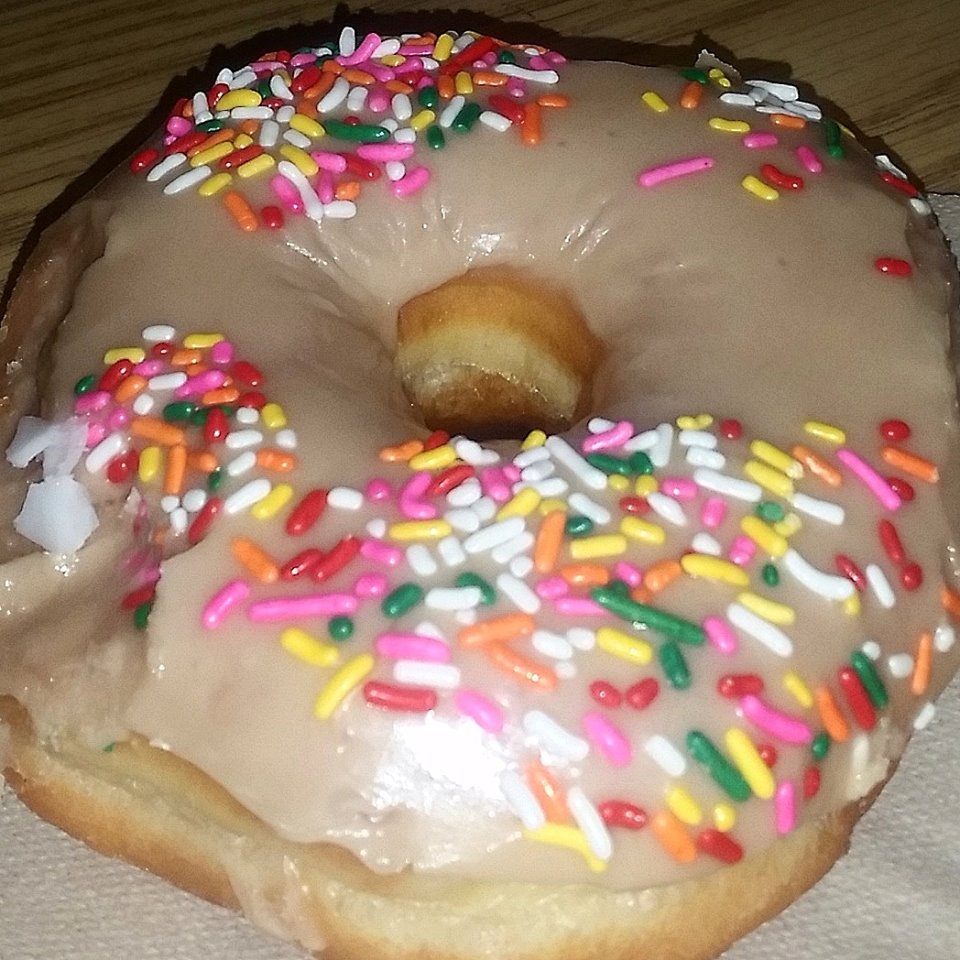 To celebrate National Junk Food Day, I crossed off food bucket list item #341: Bosa Donuts! This donut was SO GOOD. It was so flaky and soft and had the perfect amount of icing. If you bring a box of these donuts into the office, you will probably get promoted. Check out my top 6 desserts in the valley here. I promise it's a good list! How are you celebrating this special day!??
?
❤
DIFFERENT POINTE OF VIEW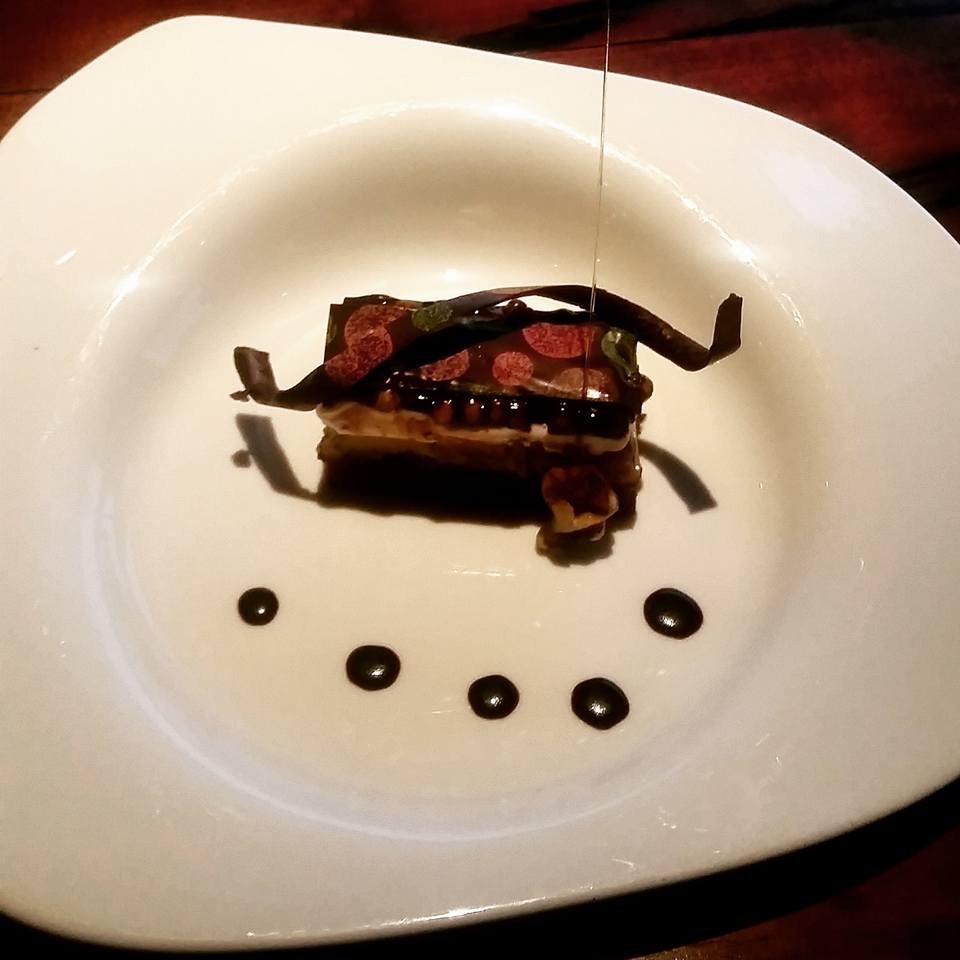 My friend Ashley and I celebrated our 2nd year work anniversaries/surviving another year in the real world by crossing off bucket list : food edition item #200: Different Pointe of View Restaurant! Let's talk about desserts today. I had the devil's delight which was a slice of devil's food cake with walnut filled caramel, toasted marshmallows and crispy pearl ganache. So delicious, plus the view of the valley is amazing!
BITES DONUTS FOOD TRUCK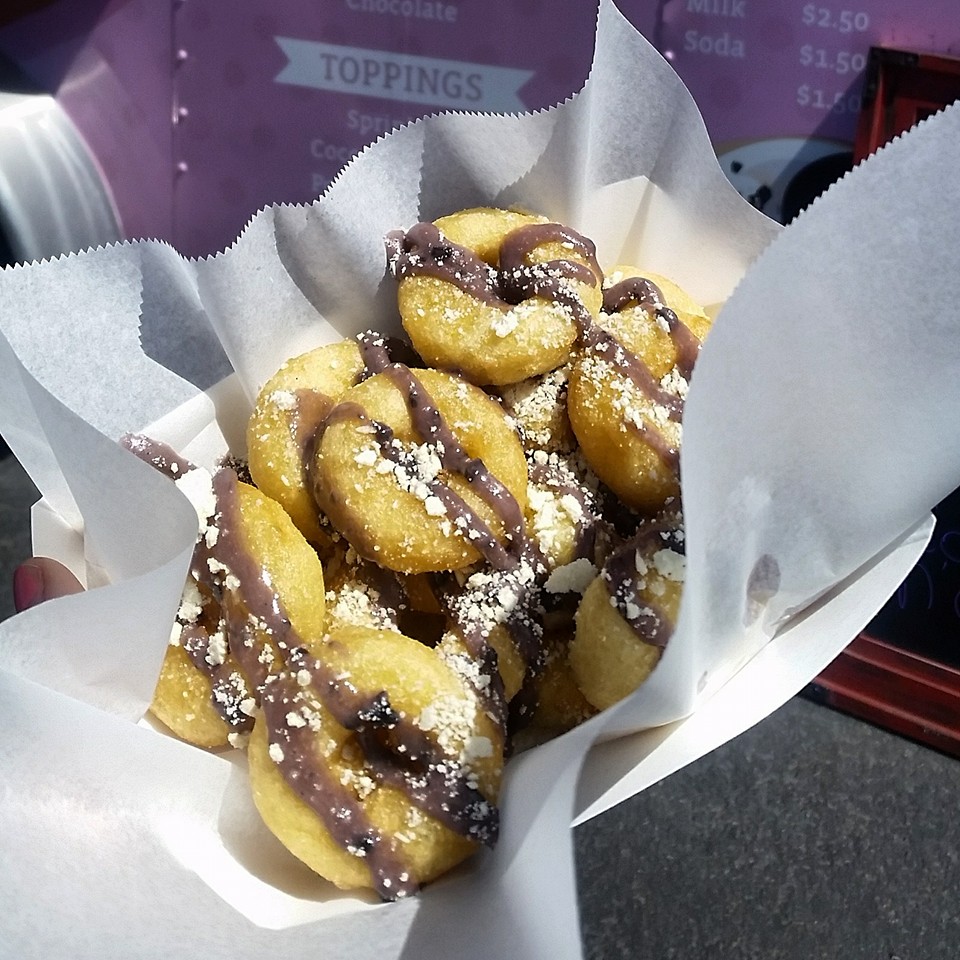 On National Donut Day, I celebrated by crossing off bucket list : food edition item #499 : donuts from Bites Donuts Food Truck! Soooo good and dangerous because they're tiny donuts and it's super easy to eat 30 of these. I had the blueberry mini donuts so they're semi healthy right?!
THE TANTALUM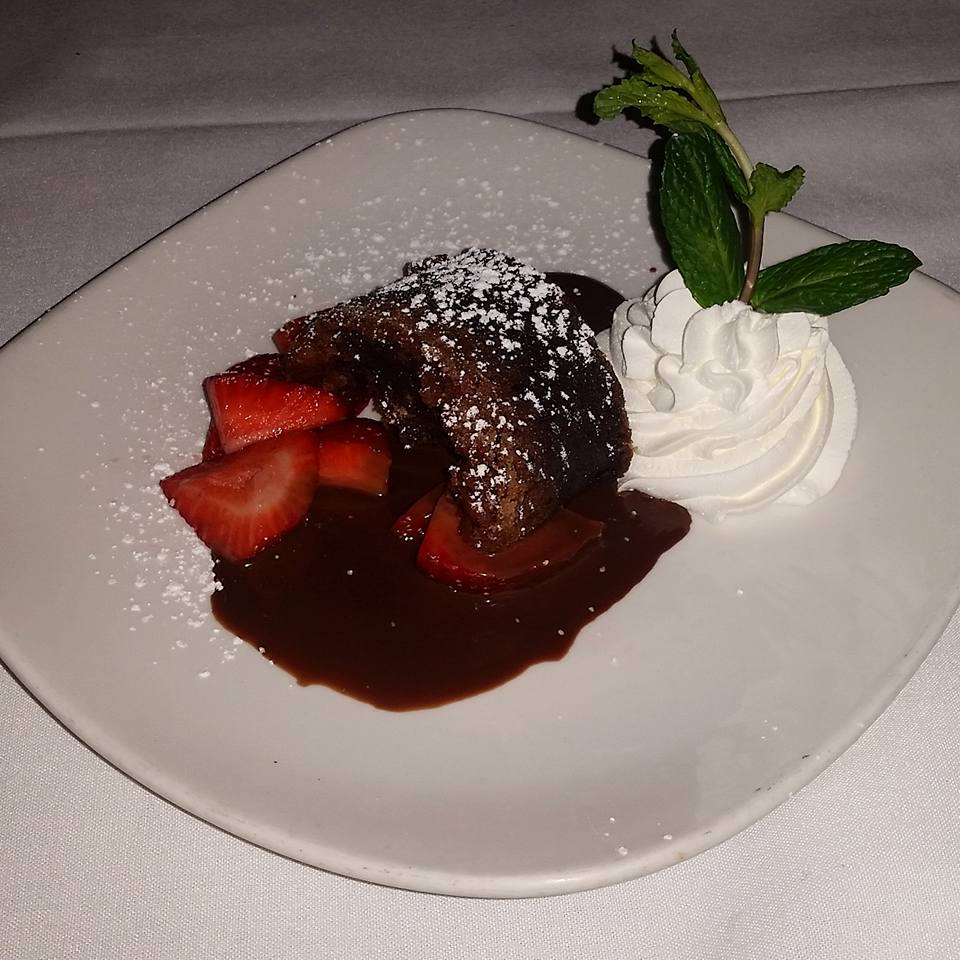 Excuse me while I go take a 10 hour nap after the most delicious dessert I've ever had in my life. It was SO RICH and creamy and heaven in my mouth. Chocolate cake with strawberries, chocolate and cream. I loved The Tantalum in Long Beach! Thank you Dove for hooking us up with a wonderful dinner, party bus and overall a very empowering experience. 
CHURN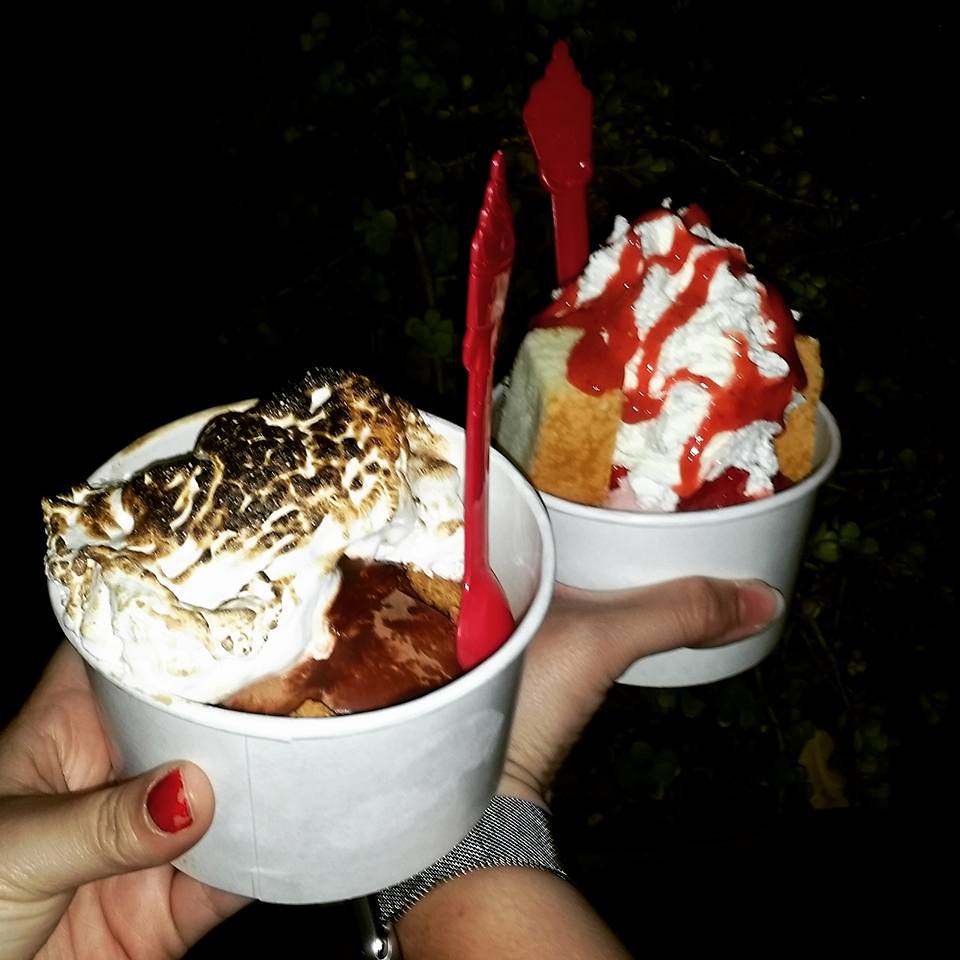 I tried the ice cream at Churn in central Phoenix and yes we are in the single digits of the food bucket list which means I've been wanting to try this place since at least two years ago. It was AMAZING. No wonder everyone raves about it. I got the smores sundae and Yamille got the strawberry shortcake sundae. Mine was delicious and the marshmallow fluff was just heaven. Will definitely be back. ???
CIBO PIZZERIA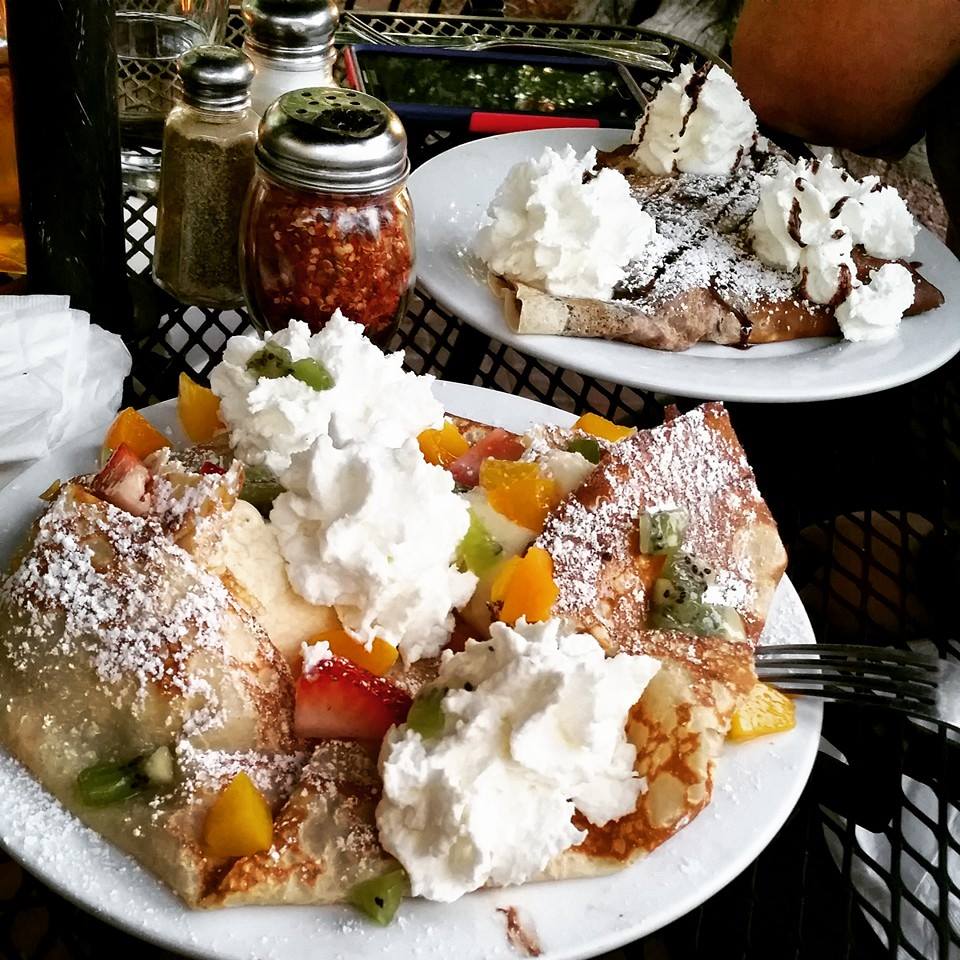 Cibo Pizzeria
is definitely one of my favorite places. Super cute restaurant and once we took a quick look at the dessert menu, we knew we had to get dessert! We tried the fruit and nutella crepes even though we were so stuffed and they were both so good!
BUCA DI BEPPO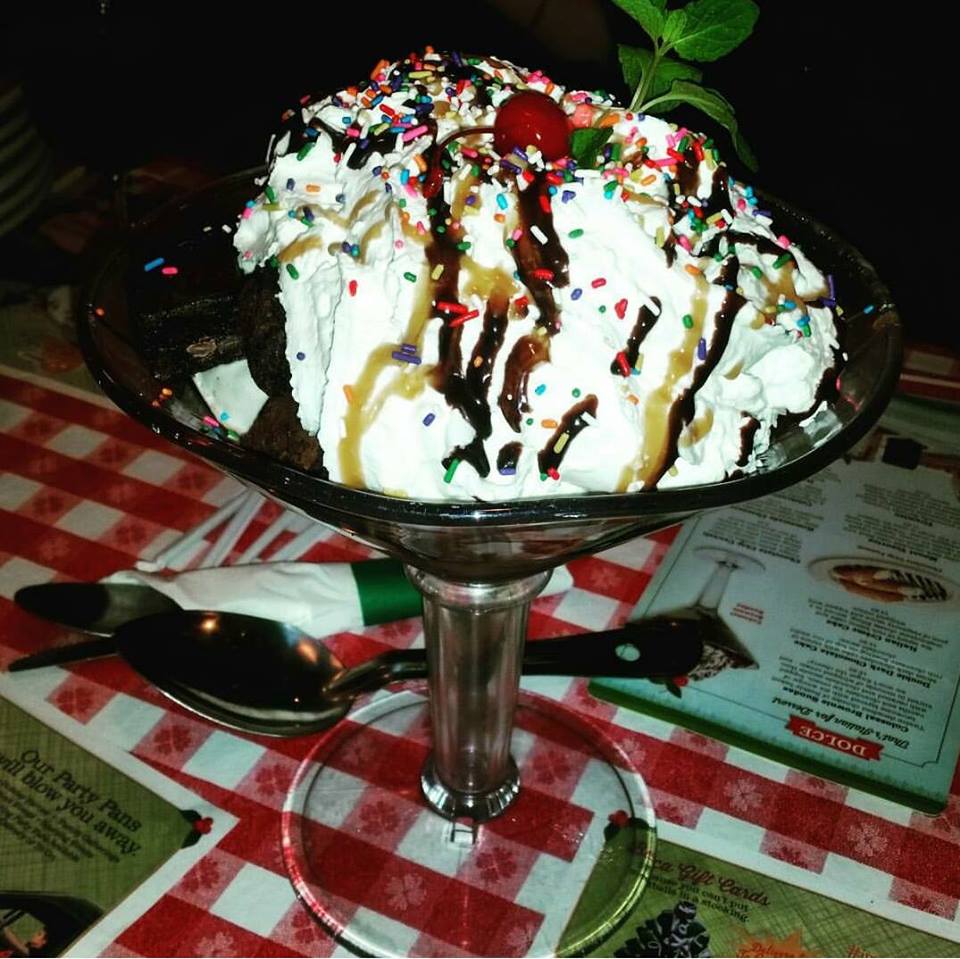 Buca di Beppo Italian Restaurant has delicious Italian dinner but the best part of it was hands down the dessert! This Colossal Brownie Sundae was literally heaven. ???
FREDDY'S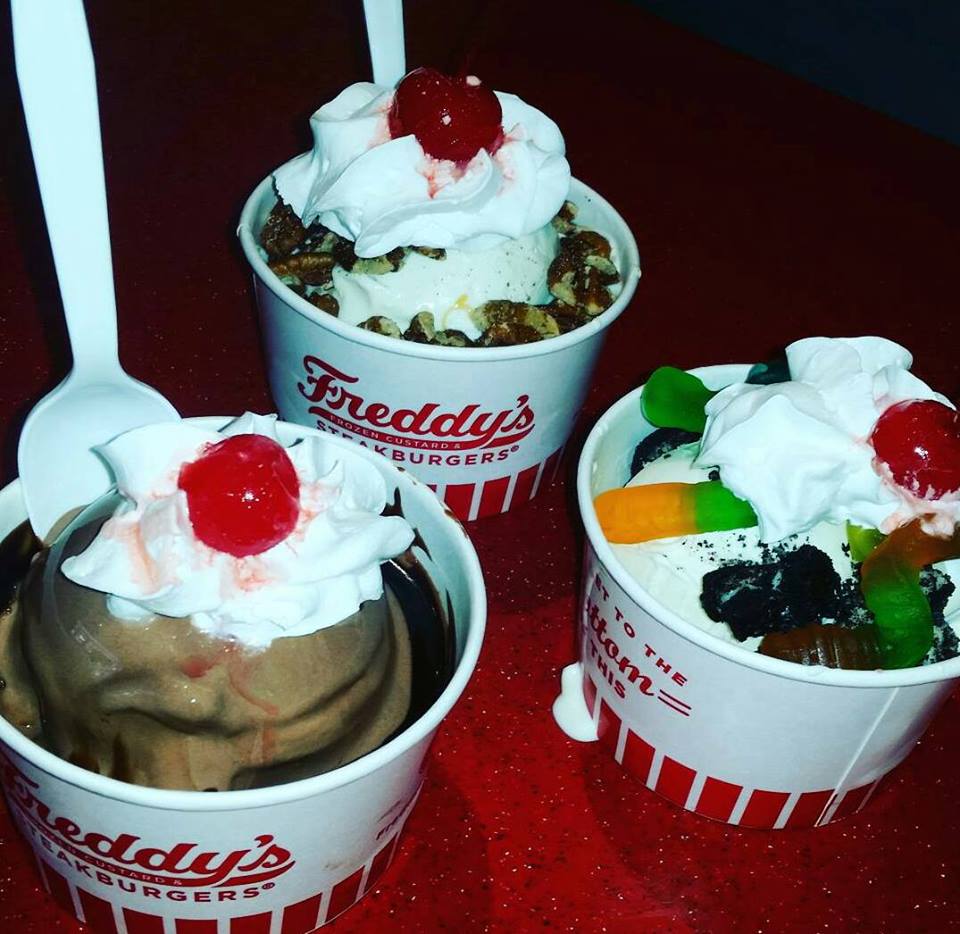 Of course Freddy's is on the food bucket list because of the infamous custard! DELICIOUS! I got the chocolate brownie delight, my sister got the signature turtle and my cousin got the Dirt N Worms!
THE RUSTY SCUPPER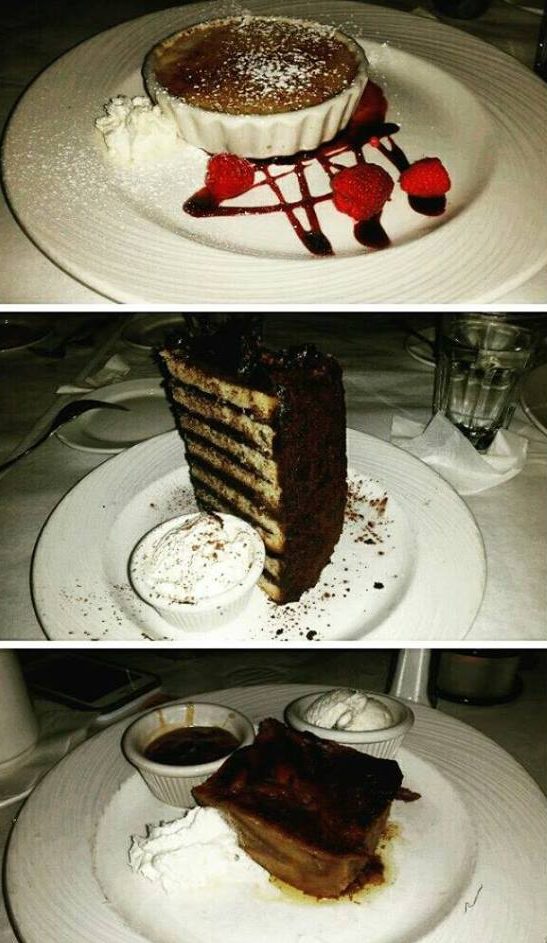 The Rusty Scupper also had AMAZING desserts. We all shared the creme brulee , smith island cake, and bread pudding. Everything was delicious, highly recommend!! I love Baltimore!
OLD EBBITT GRILL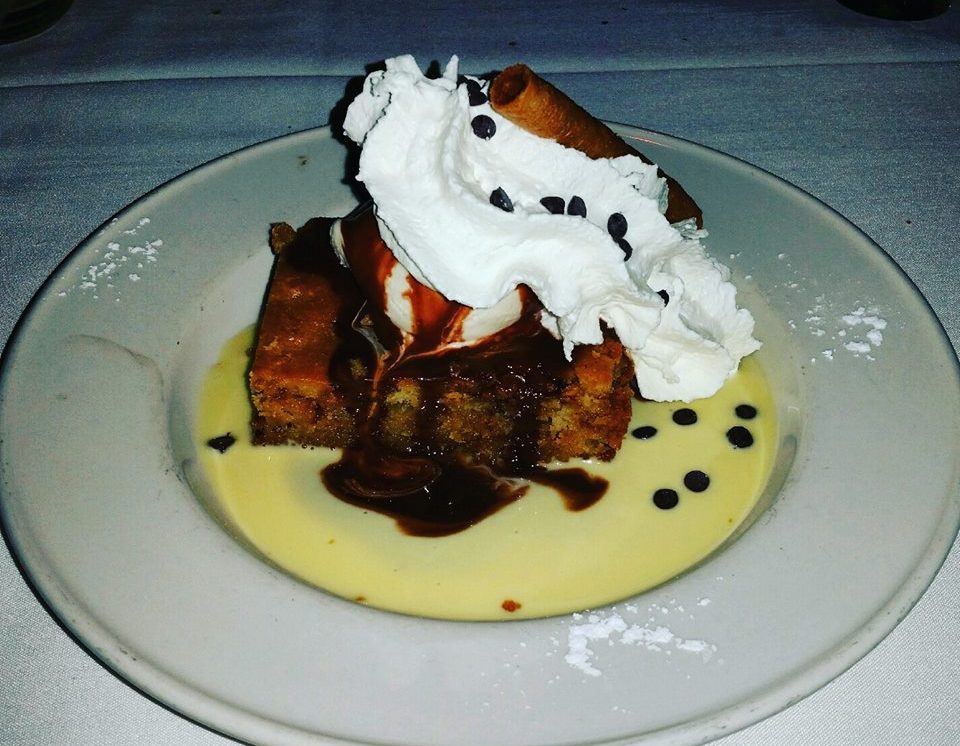 Of course I put my diet on hold while in Baltimore / DC. I had the Butterscotch Blondie Sundae at The Old Ebbit Grill and it was FANTASTIC. Melt in your mouth delicious
GOLDEN CROWN PANADERIA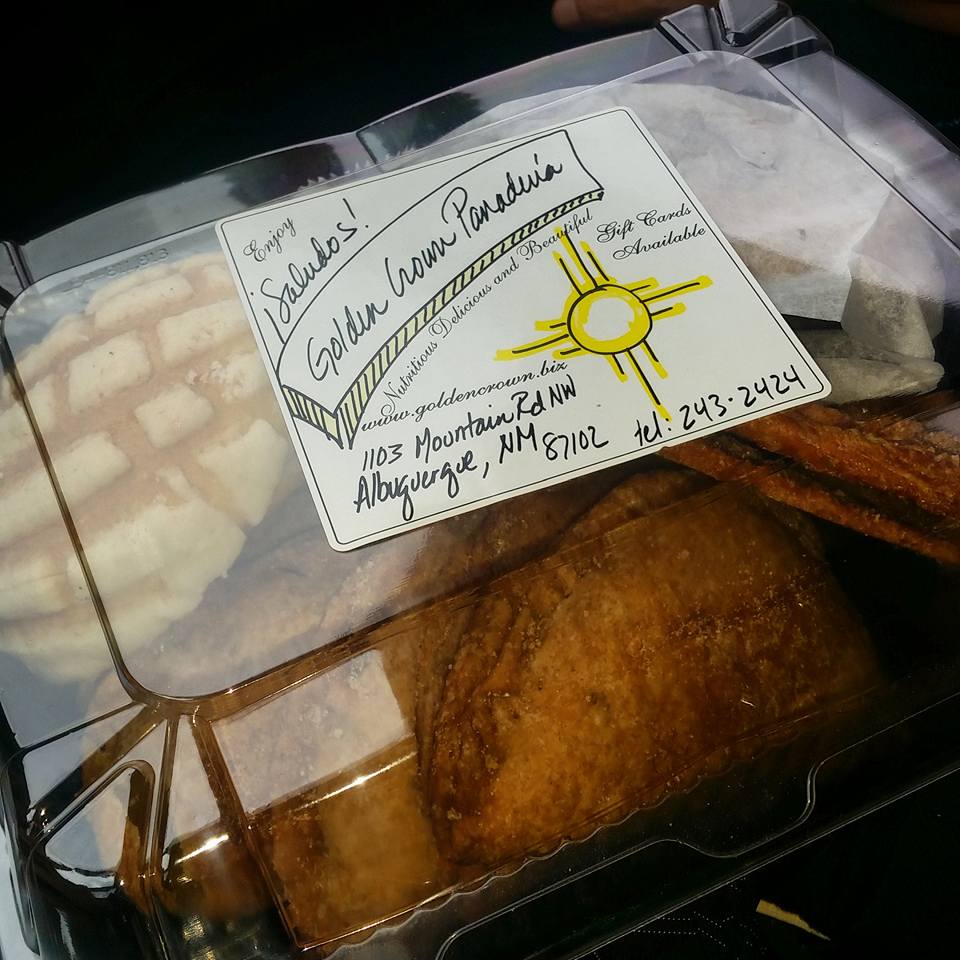 Made it to ABQ right on time to complete life bucket list : food edition item #457 : try the pastries at Golden Crown Panaderia! I had a few samples and everything is delicious!!!
VOODOO DONUTS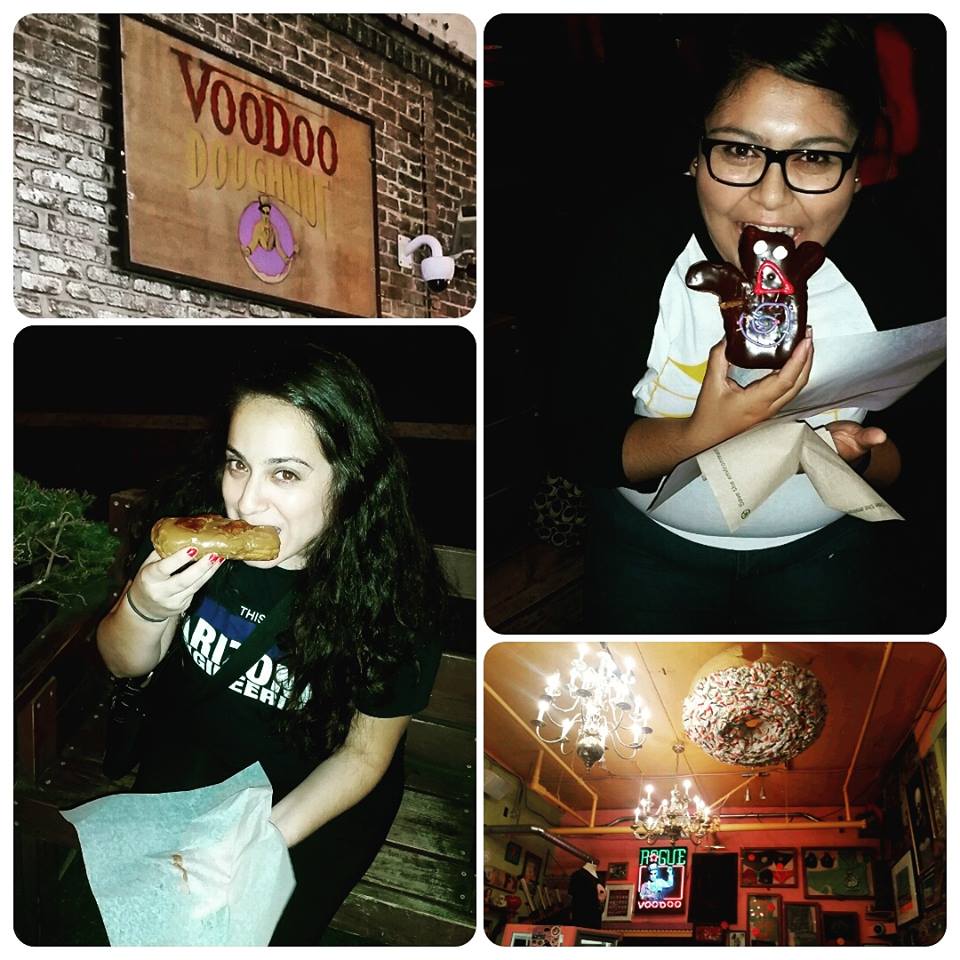 So my flight from Portland to Phoenix got canceled and I got stranded in Portland for the night and naturally I did what any normal person would do: start crossing off some bucket list items! A huge shout out to Mariela (the real MVP) for coming to my rescue and showing me all around Portland! Seh took me to eat a famous donut at Voodoo Doughnut! Crazy cool place with delicious donuts! I had the maple and bacon log (YUM) and Mariela had the voodoo donut! Cool place! Def coming back!
RASPADOS Y TORTAS LOS DIABLITOS LOCOS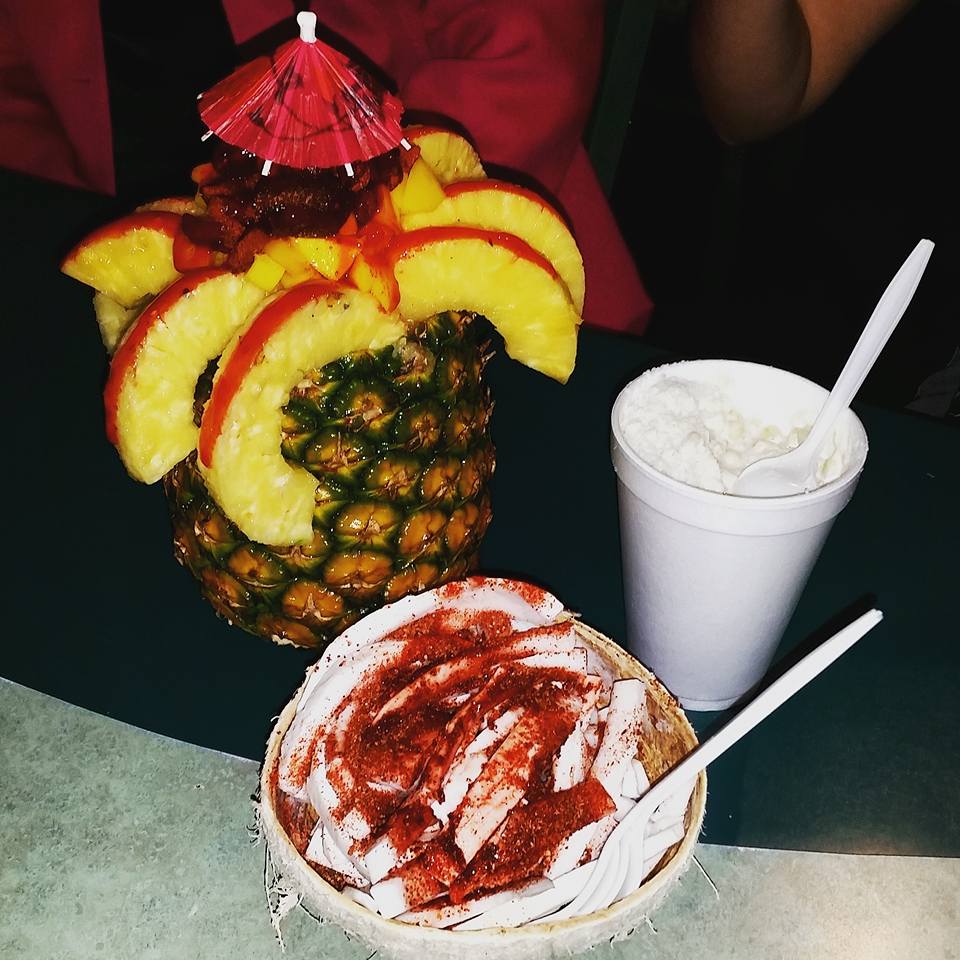 My mom and I tried the mexican desserts at Raspados Y Tortas Los Diablitos Locos on 83rd ave just off of the I-10! Wow just wow. I got the coco preparado and it was so good! My mom's dessert was hands down the best. She got piña loca (crazy pineapple) and not only does it look beautiful, it was full of flavor. And my sister loved her elote en vaso (corn in a cup)! Definitely coming back!
RASPADOS NEZA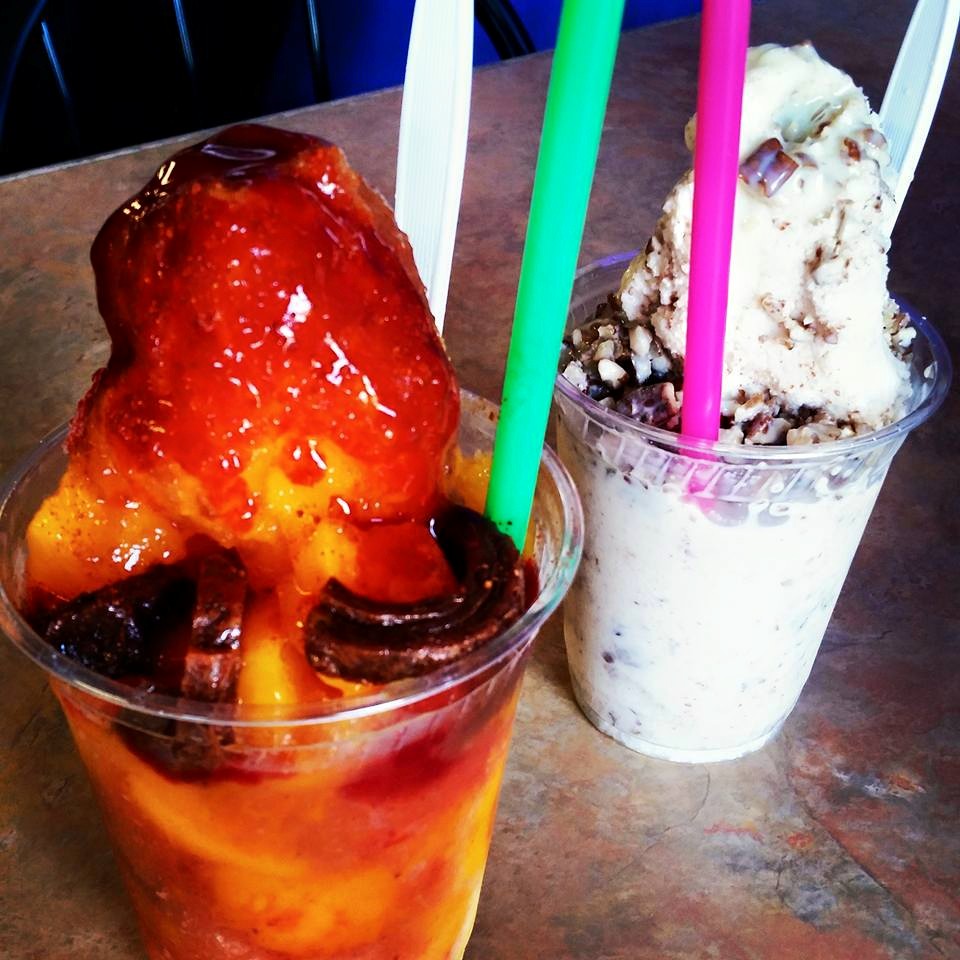 I finally got a chance to try Raspados Neza after months of my sister recommended this place and her recommendation did not disappoint. This place is AMAZING. Apparently after every spoonful I kept saying 'mmm' because it was so good and i didn't even realize it! My sister had to point it out to me haha but definitely recommend this place! I had the mango and chilli raspado and it was heaven.
ELEPHANT EAR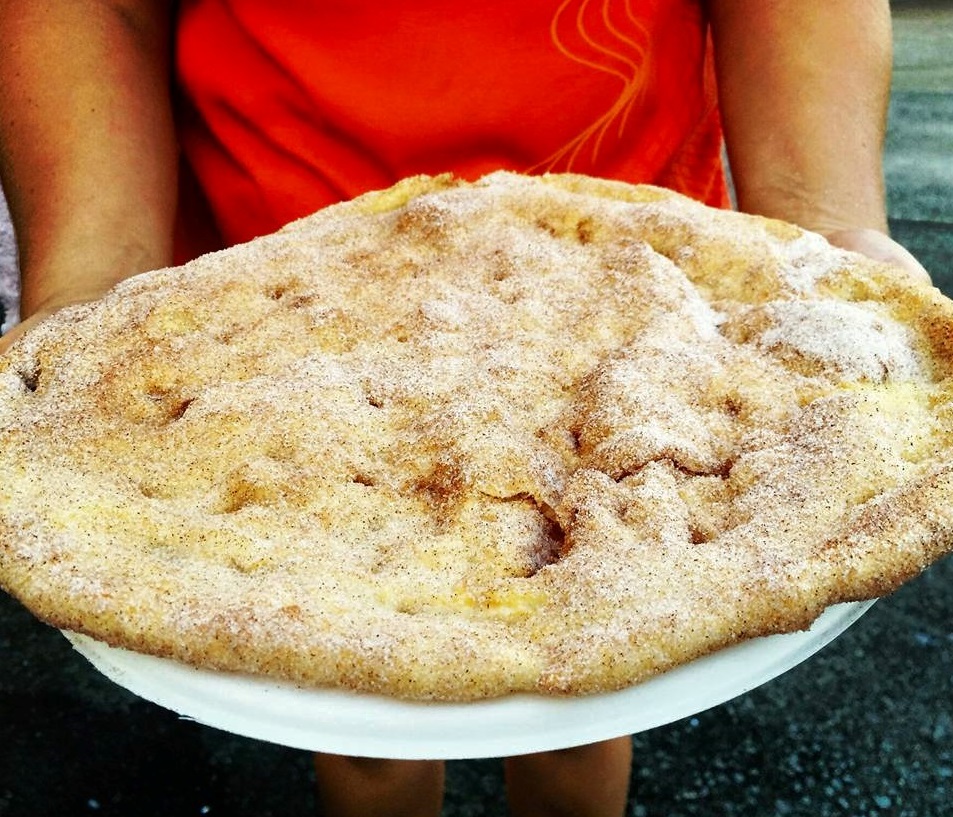 While vacationing and having a blast at the roller coaster capital of the world: Cedar Point I was told that I needed to try a Michigan delicacy: an elephant ear! It's basically the east coast's version of a funnel cake. It was DELICIOUS and amazing and I want more. It tastes like a funnel cake, churro and Mexican pastry buñuelo mixed all in one!
APPLE FRITTER DONUT SHOP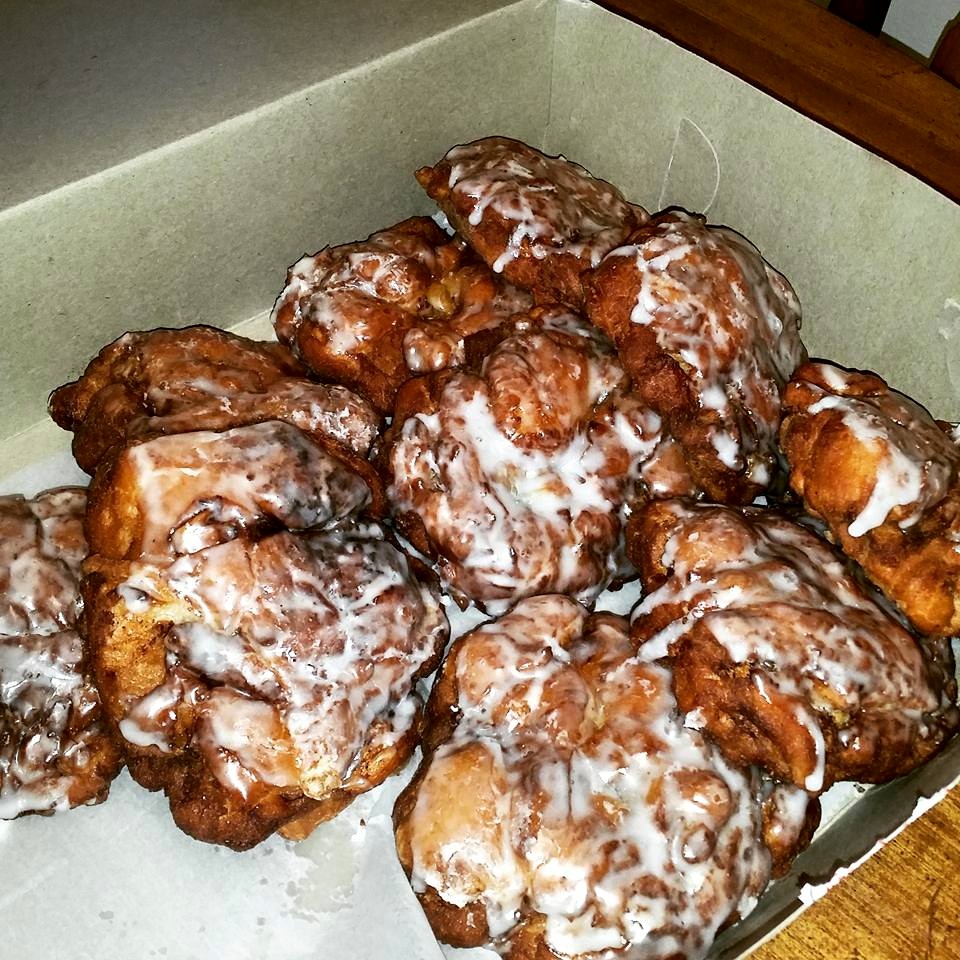 So I just had the BEST apple fritters in the USA. I tried the apple fritters at the famous Apple Fritter Donut Shop in Michigan! So flaky and delicious and worth waking up at 7am for sure!
THE VIG 
The Vig had amazing brunch and they also have a secret delicious dessert menu!
 CRAB POT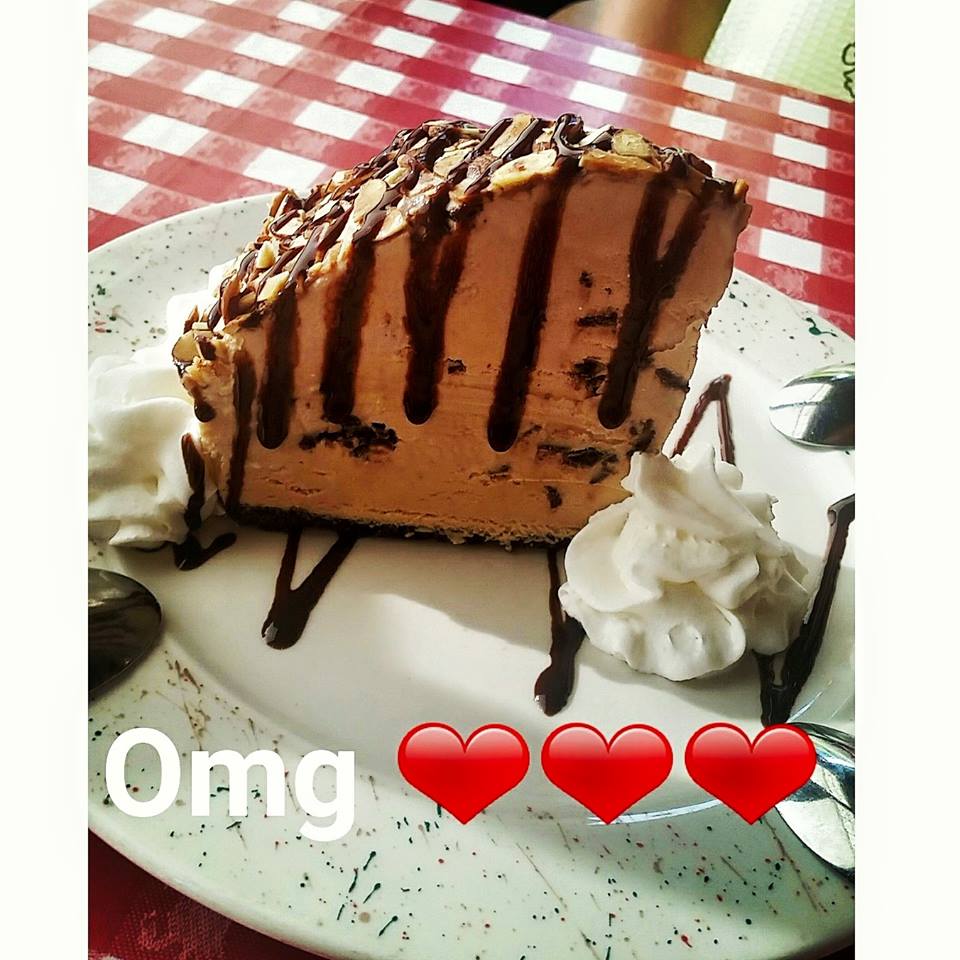 Finally got a chance to eat at the famous Crab Pot Restaurant! Hands down, the BEST seafood I've ever had in my life. And don't even get me started on the dessert. My god, basically heaven in my mouth.
BONJOUR CUPCAKES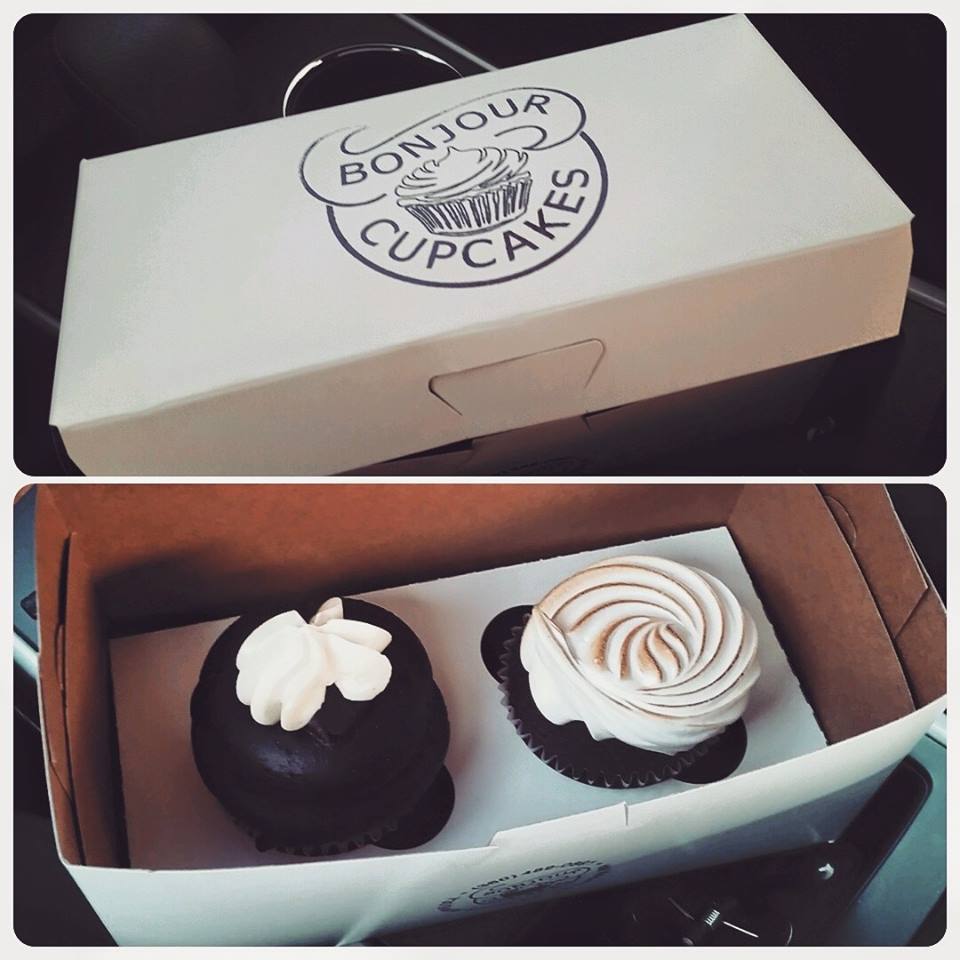 Tried the cupcakes at Bonjour Cupcakes near the Capitol building! Soooo good. I had the chocolate vanilla cupcake and my mom had the smores cupcake. Definitely coming back
PUBLIC SCHOOL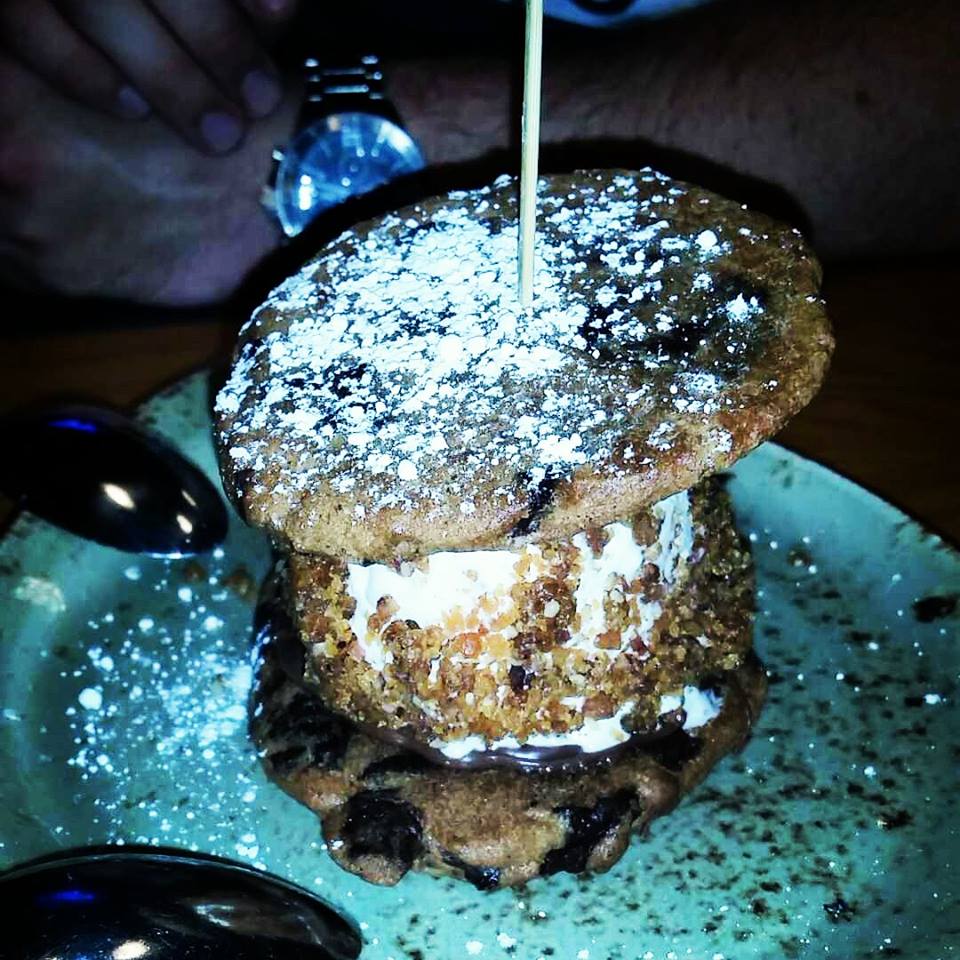 Food bucket list item #152 completed! Try the food at
Public School
! I had a delicious short rib and then shared a birthday cookie sandwich with nutella, bacon, and vanilla ice cream for Valerie's birthday. BEST DESSERT I'VE EVER HAD.
BOWIE'S BAKERY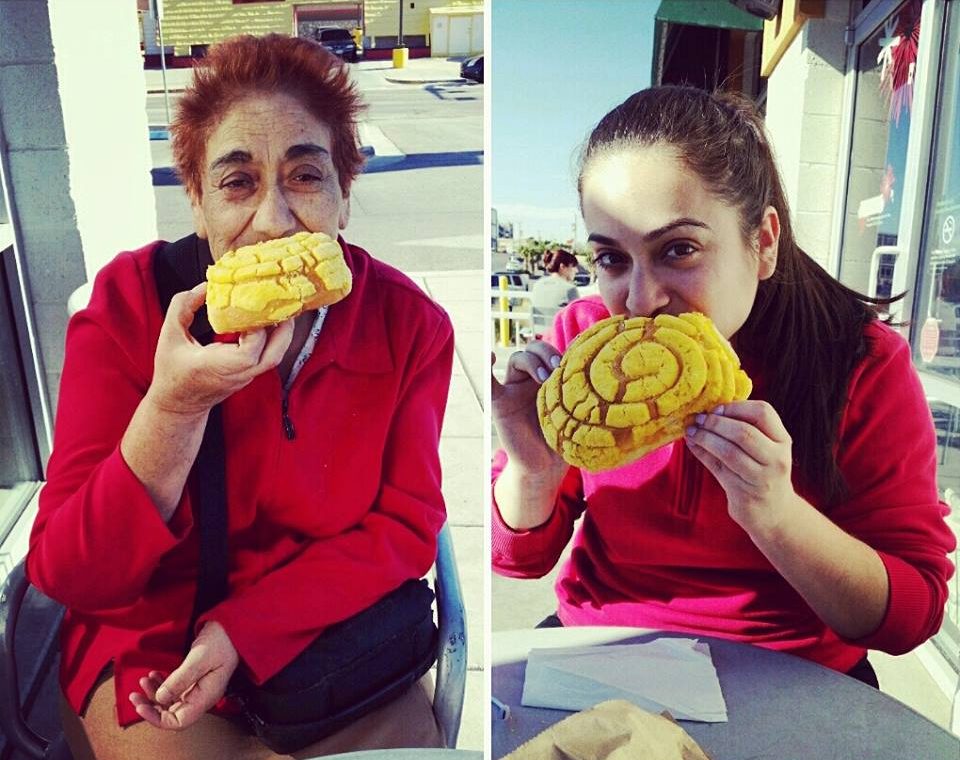 Buzzfeed told me that the best pan dulce in El Paso could be found at Bowie's Bakery…so naturally we went to Bowie's Bakery. Food bucket list item #162 completed! Try the pan dulce. It was definitely the best pan dulce I have ever tasted. HIGHLY RECOMMEND.
SWEET REPUBLIC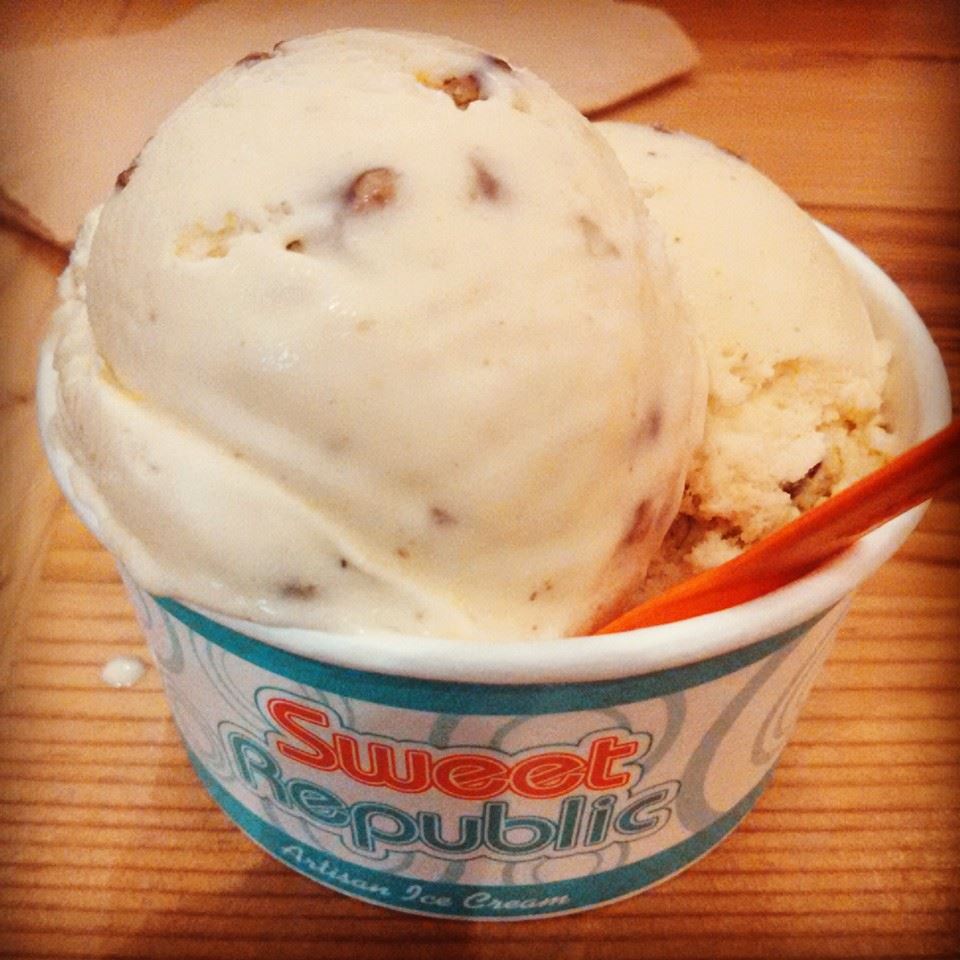 I got to go to Sweet Republic:Artisan Ice Cream and try the ice cream there! It was delicious! Always a good time with my 2nd family David, Irene, and Martin! 😉
Thanks for recommending this place Irene, it was delicious and there are so many different flavors to try.
JONES BROS CUPCAKES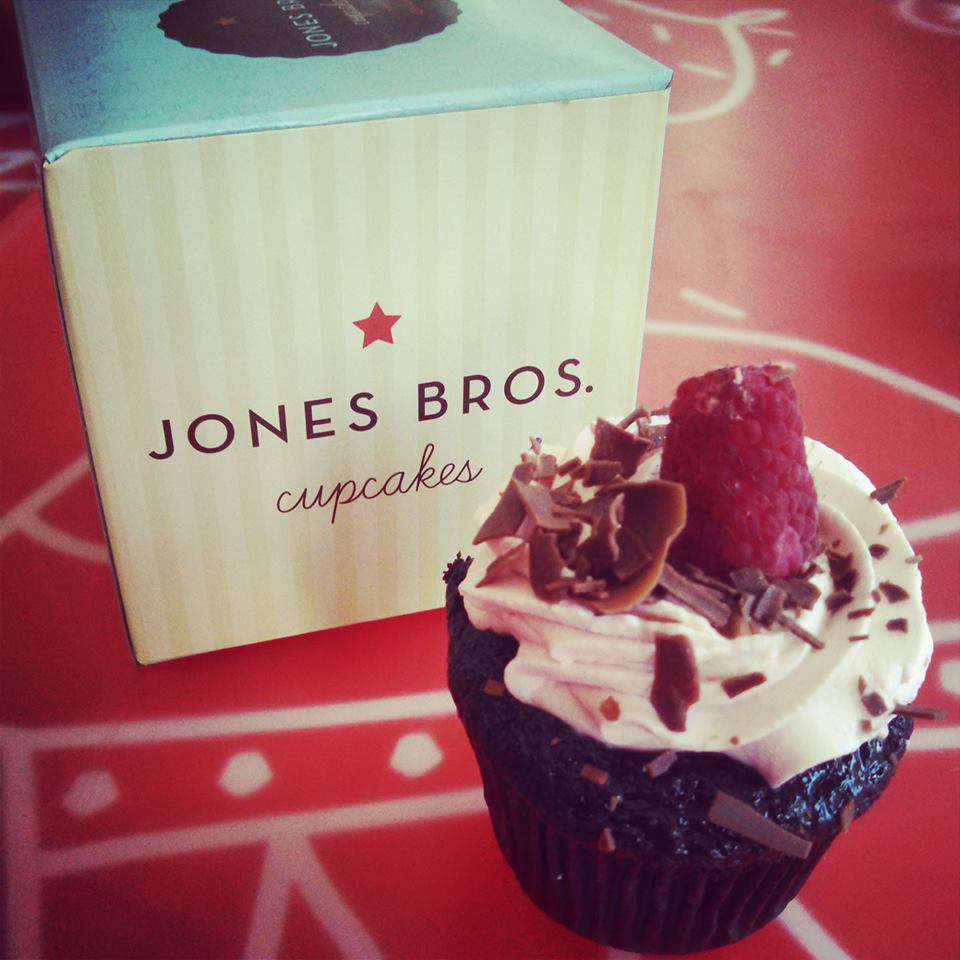 If you know me, you know that I'm all about sweets and sugar and candy and CUPCAKES. While in Nebraska, I got the chance to try the cupcakes at Cupcake WarsChampions Jones Bros. Co!!! Chocolate raspberry and basically heaven in my mouth.
---

Pizza
PIAZZA SAN MARCO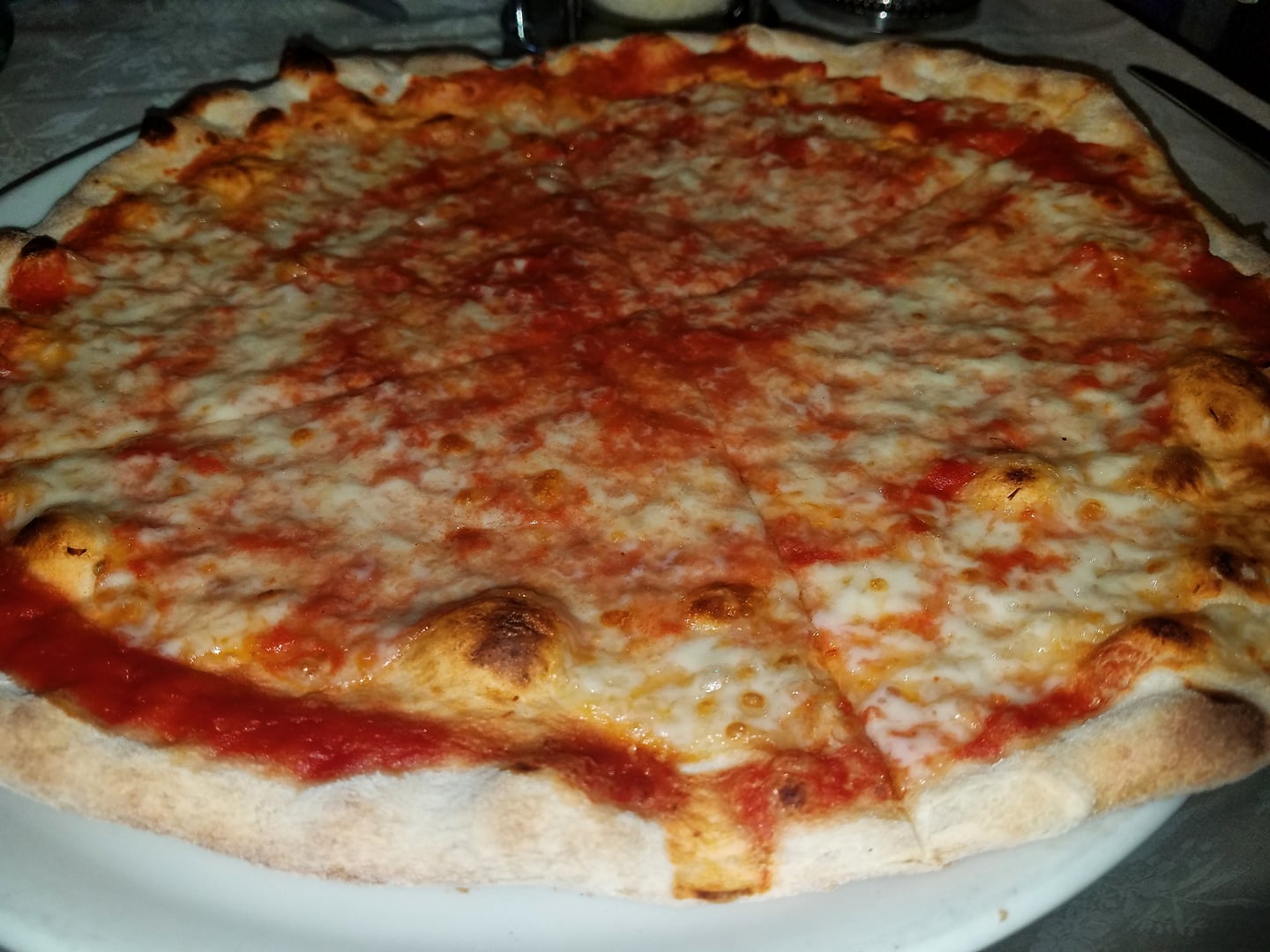 I had a classic margherita pizza in Venice and IT. WAS. AMAZING. The crust was my favorite part. Normally I save the crust for last and only eat it if I'm still hungry (I'm a child, I know lol) but I ate the entire thing! 
?
?
?
LIBERTY MARKET
Liberty Market in Old Town Gilbert is the new spot! I tried their Supreme wood fired pizza with pepperoni, Italian sausage, green bell peppers and mushrooms…all of my favorite things! The crust is perfect, the sauce is tasty, and the service is great!
PIZZA LUCE
I had heard great things about Pizza Luce and I am here to tell you that all of the great things I had heard were completely and 100% true! They have great service, the pizza is delicious, and they have a great variety of beer!
NO ANCHOVIES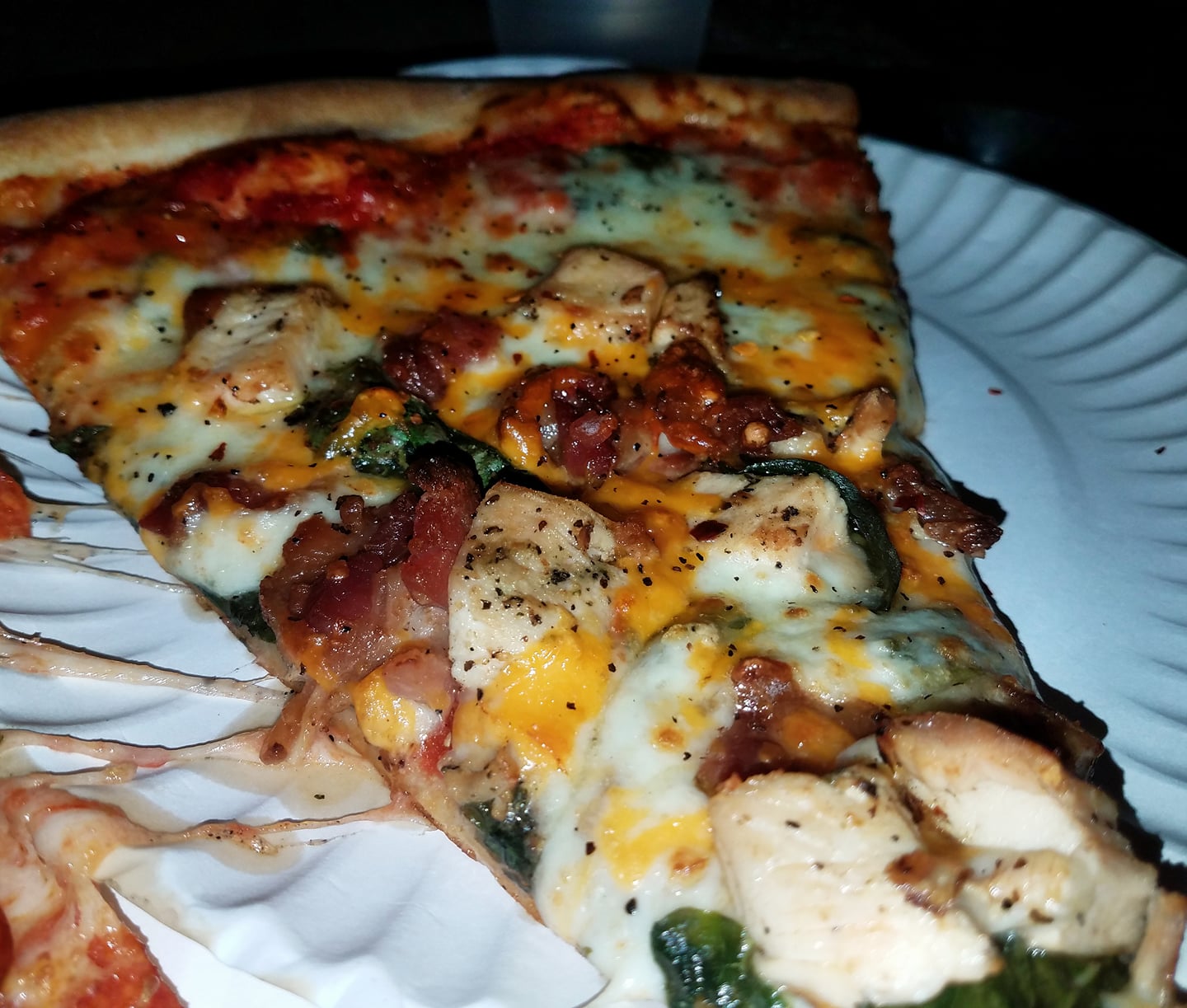 Every time I drive down to Tucson I always make sure to stop at No Anchovies! and get a slice of pepperoni and a slice of whatever looks the most delicious. This time, the delicious slice turned out to be cheddar, spinach, bacon and chicken pizza and oh my goodness. Quite possibly the most delicious thing I've eaten in a while!
DION'S PIZZA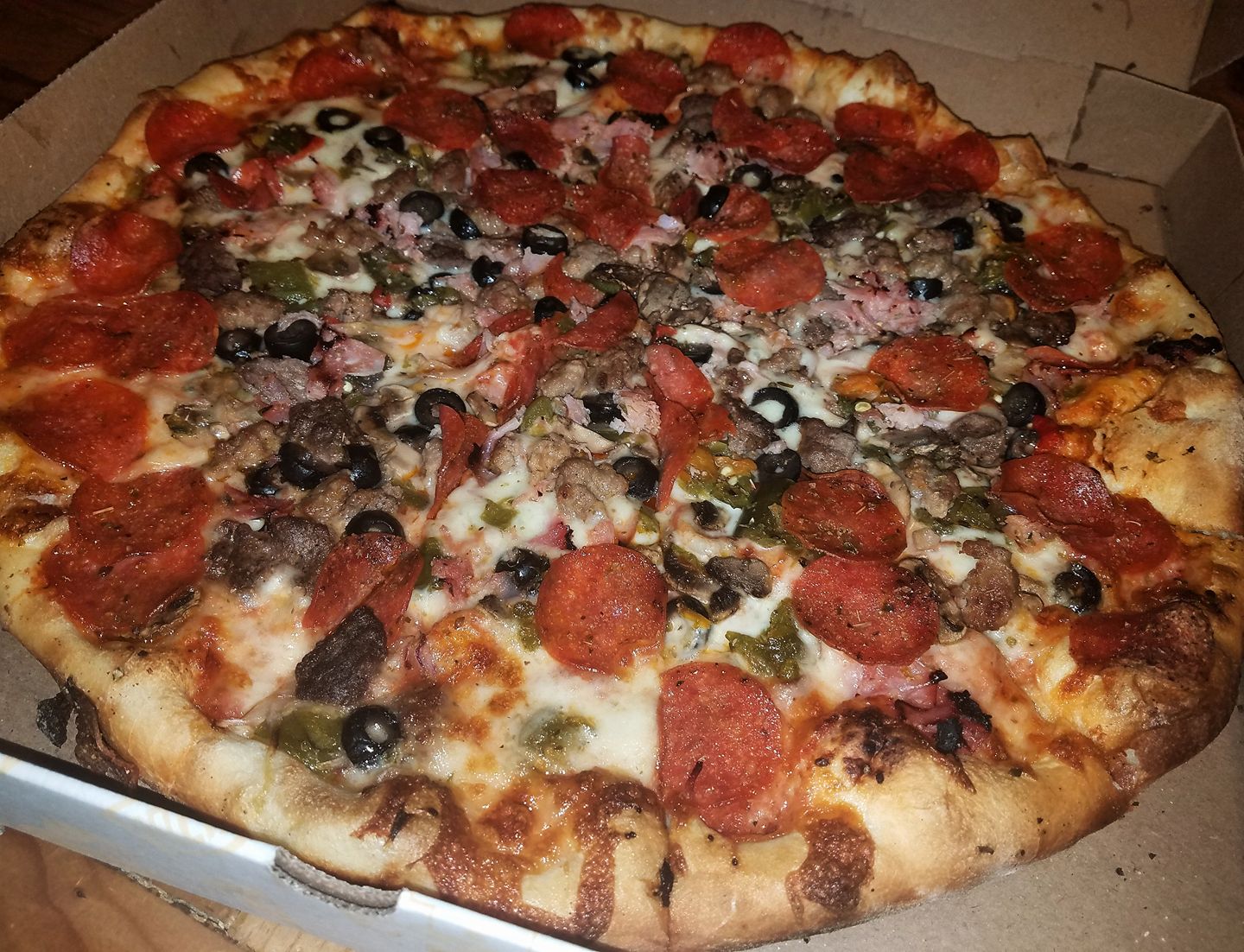 My cousin told me that Dion's is the spot for pizza and I can see why. IT IS SO GOOD. LIKE A SOLID 10. And the thing that makes this pizza so special…IT HAS GREEN CHILE ON IT. Yes, people in New Mexico put that on everything but it totally works! 
GINO'S EAST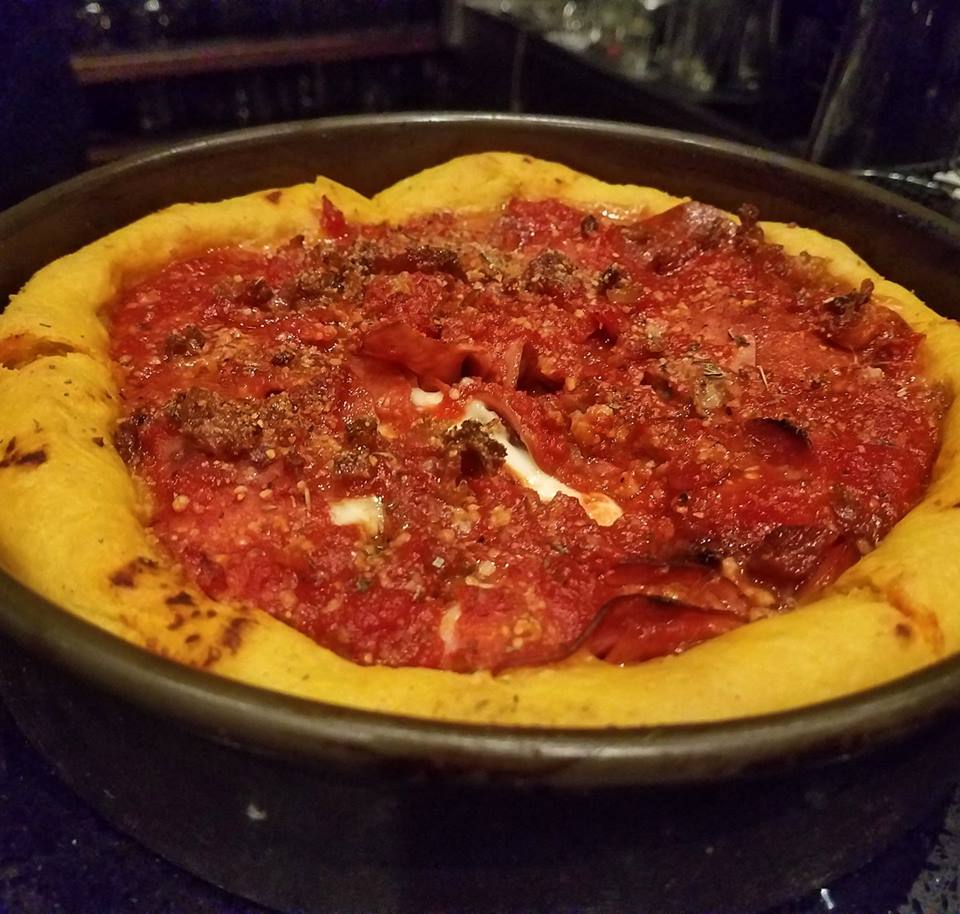 There are so many delicious pizza places in Chicago and I had SO MUCH pizza when visiting, and it was wonderful. All of the pizza places I tried were delicious for different reasons and Gino's East was a fave for its sauce! Seriously, so good. The crust, the cheese, the meats, and the sauce all came together so well. I'm a big sauce person and loved that I had all this extra crust to dip in my sauce 🙂
PETER PIPER PIZZA
I was fortunate to have been invited to my local Peter Piper Pizza to their first ever #PhxTastemakers event with a few of my foodie friends and we were seriously spoiled. We got an epic tour of their kitchen, played some games, and then got to sample some new conceptual items coming to a menu near you! More info will be coming soon, but for now enjoy my new favorite item: the Tuscan Pizza-Ioli. #PeterPiperPizza has always been my spot during lunch, but with this new creation…I may have to come back for lunch AND dinner!
ZAFFIRO'S PIZZA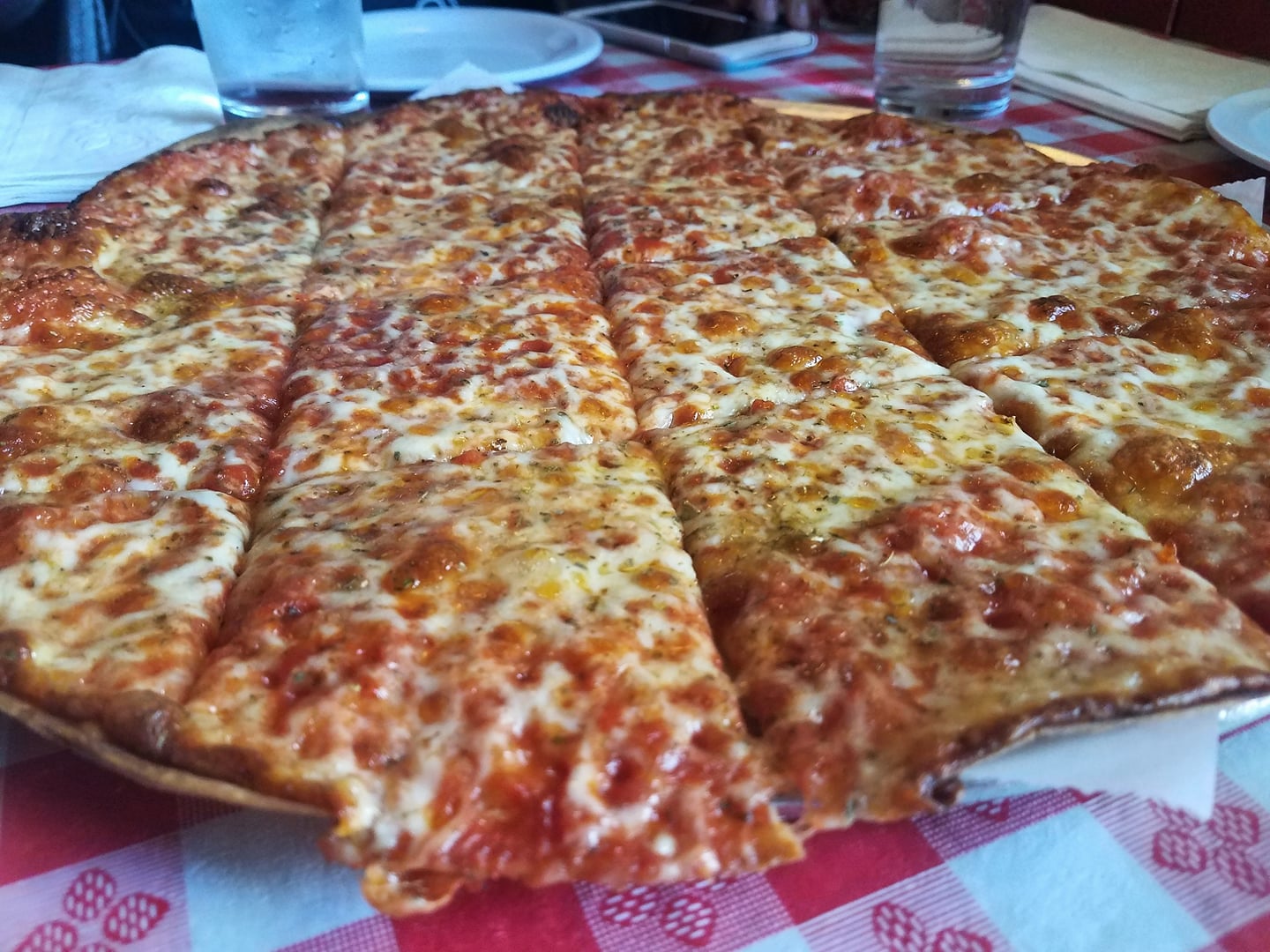 You've all obviously heard of New York style pizza and Chicago style pizza, but have you heard of Milwaukee style pizza!? I hadn't but it is my new fave! Milwaukee style pizza like this one from Zaffiro's is pizza where the crust is baked first, toppings are added, and then baked again so what you're left with is something called 'cracker crust'. It's a thin crust that is very crispy but when cut into squares it is strong enough to be held with just one hand…so that the other hand can be used to hold your beer
?
?
LOU MALNATI'S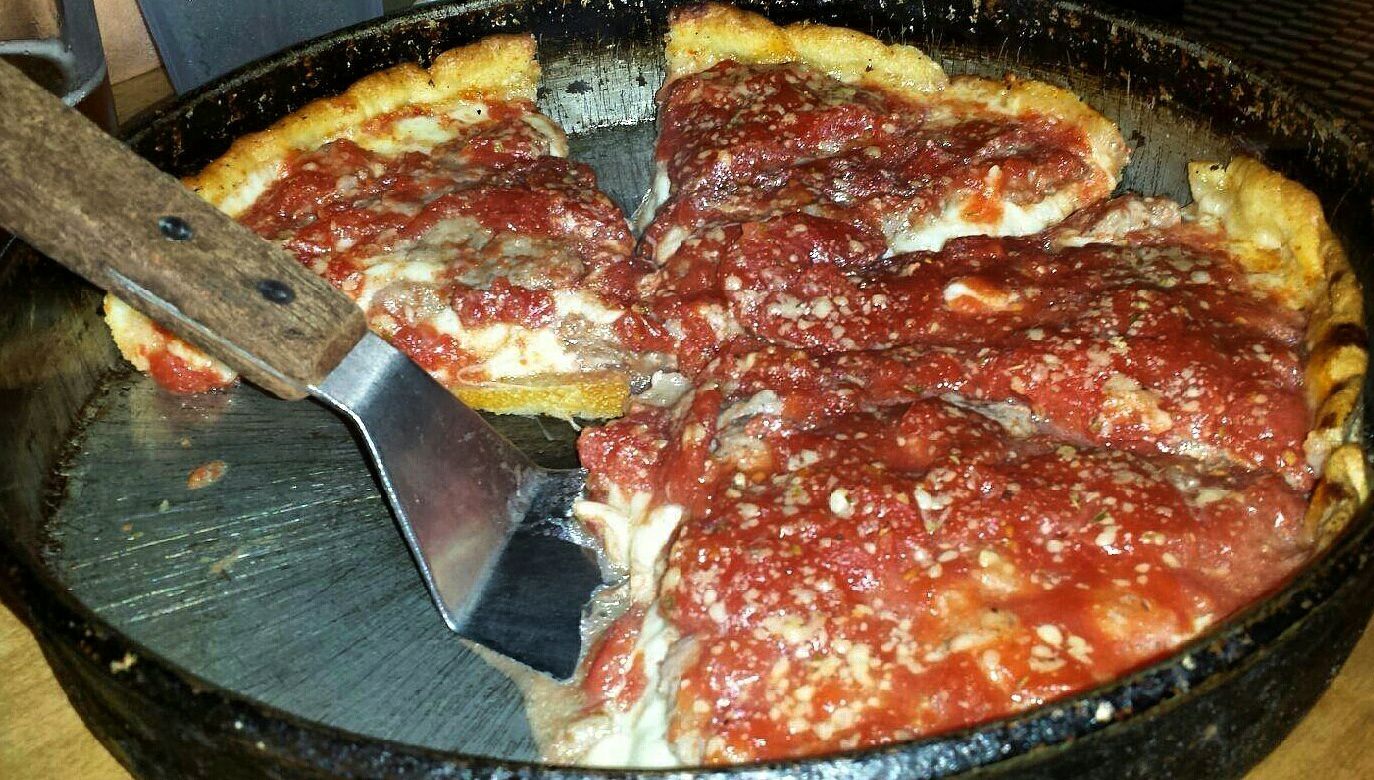 You know I had to try several deep dish Chicago style pizza restaurants and Lou Malnati's was my favorite because of how cheesy it was! It was so delicious and lucky for me, a location just opened up in my home city Phoenix! Who wants to grab a slice?
?
?
GIORDANO'S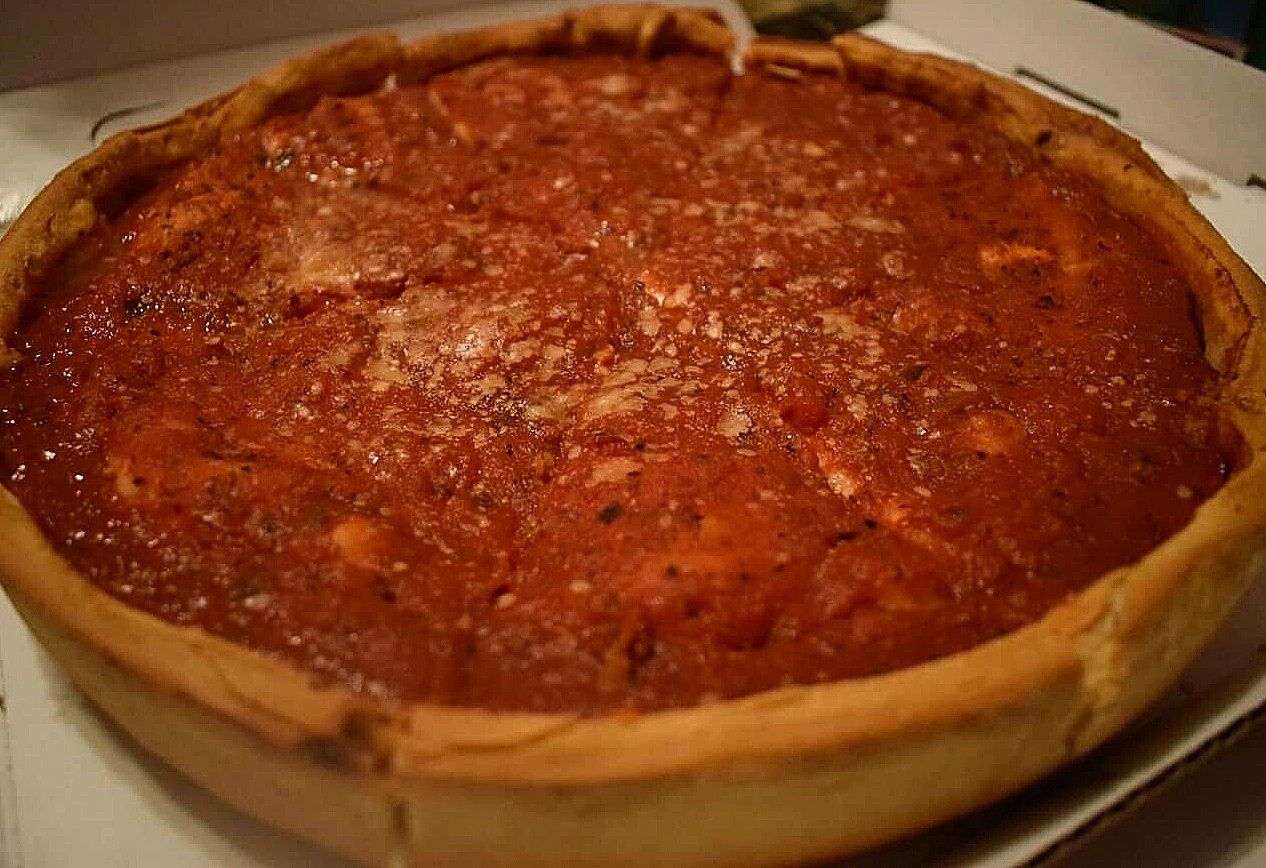 I also couldn't leave Chicago without trying Chicago style pizza! Many friends recommended Giordano's and I'm so glad they did! It was amazing, I don't think I can go back to regular pizza. JK I love all pizza
😉 but seriously y'all, deep dish pizza is phenomenal. I love the homemade crust, the SAUSAGE and that there's a ton of cheese. So good, do yourself a favor and book a flight to Chicago.
PIZZA A METRO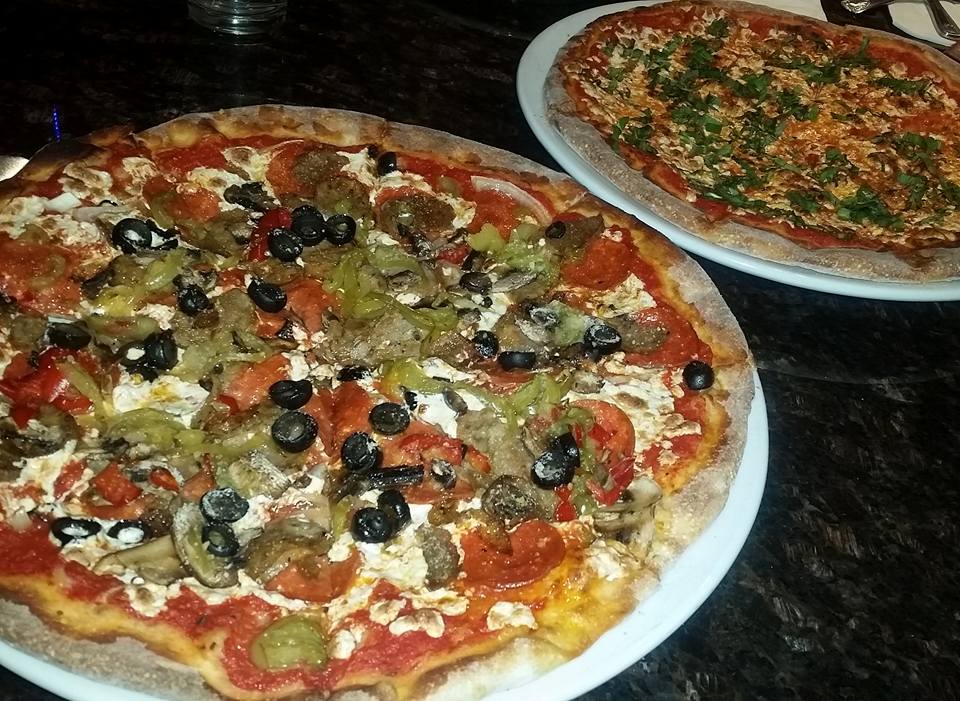 This particular slice of heaven comes from crossing off food bucket list item #514: Pizza a Metro! Tiny little spot but huge on flavor! I opted for the meat lover's which had tomato, mozzarella, italian sausage, meatballs, pepperoni, ham, AND bacon. And my friend got the classic Margherita. Both were delicious, fresh and had really tasty crust! They also had really good service, I would definitely come back!
CRAFT 64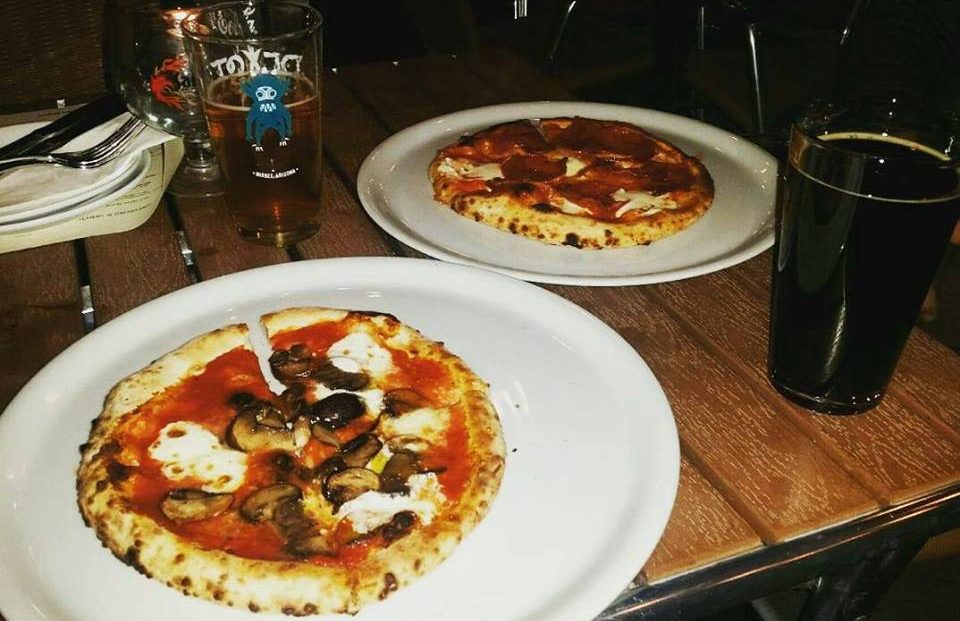 The pizza (and AMAZING beer selection) at Craft 64 is what makes this restaurant so great! The pizza was delicious and they had a HUGE beer selection. The restaurant is also really trendy and perfect for a date. I tried the Fate Candy Bar milk stout beer and my cousin tried the Mudshark Road Zoda beer. Both delicious, highly recommend this spot if you're in Scottsdale!
POMO PIZZERIA NAPOLETANA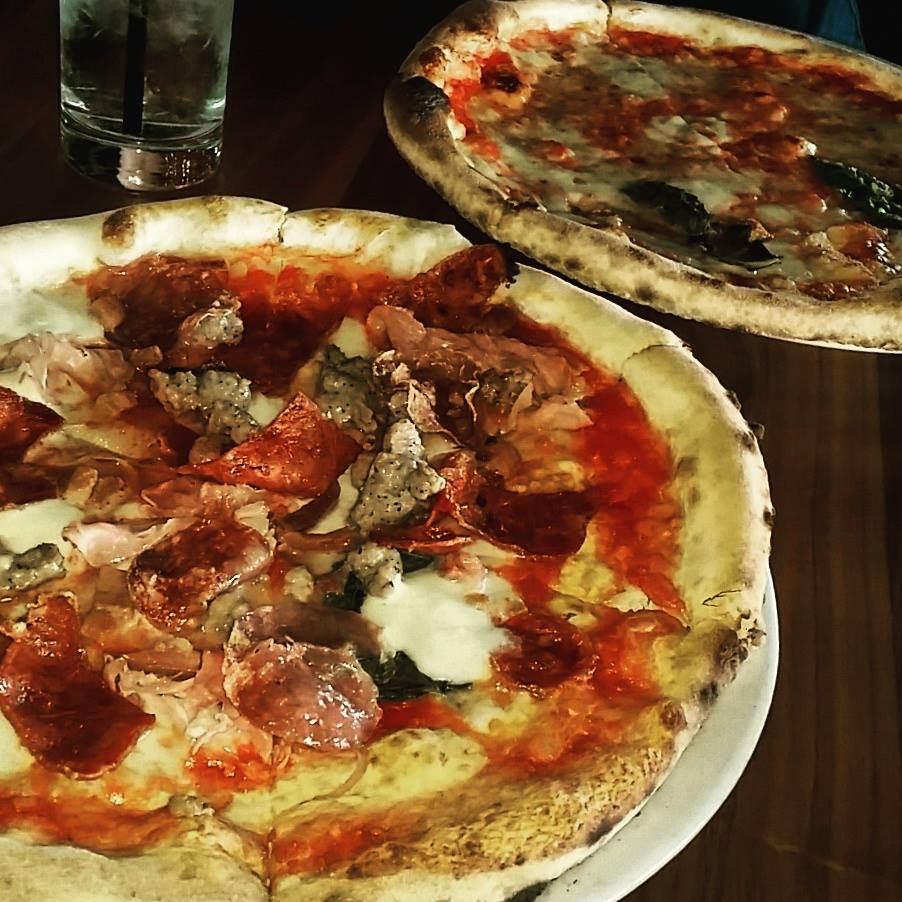 Quick pre-halloween party dinner lol!! Life bucket list : food edition item #205 completed! Try the pizza at Pomo Pizzeria! Delicious pancetta!
PIEOLOGY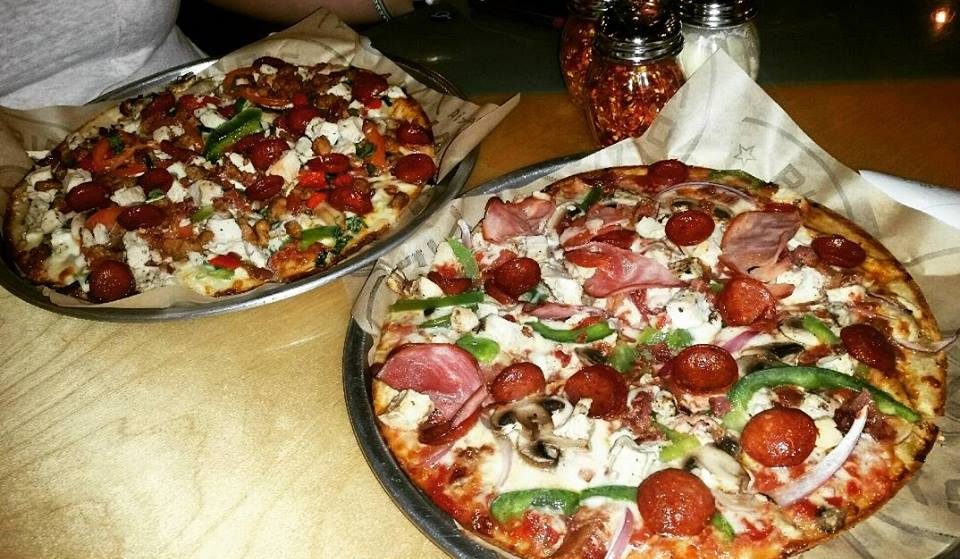 Yep, I'm definitely on a roll with building my own custom pizzas! I customized my own pizza at Pieology! Super delicious, quick and a great deal for a personal pizza with unlimited toppings. Definitely one of my top customizable pizza places! Thank you to my cousin William for inspiring me to come here with your Snapchat pictures!
FIRED PIE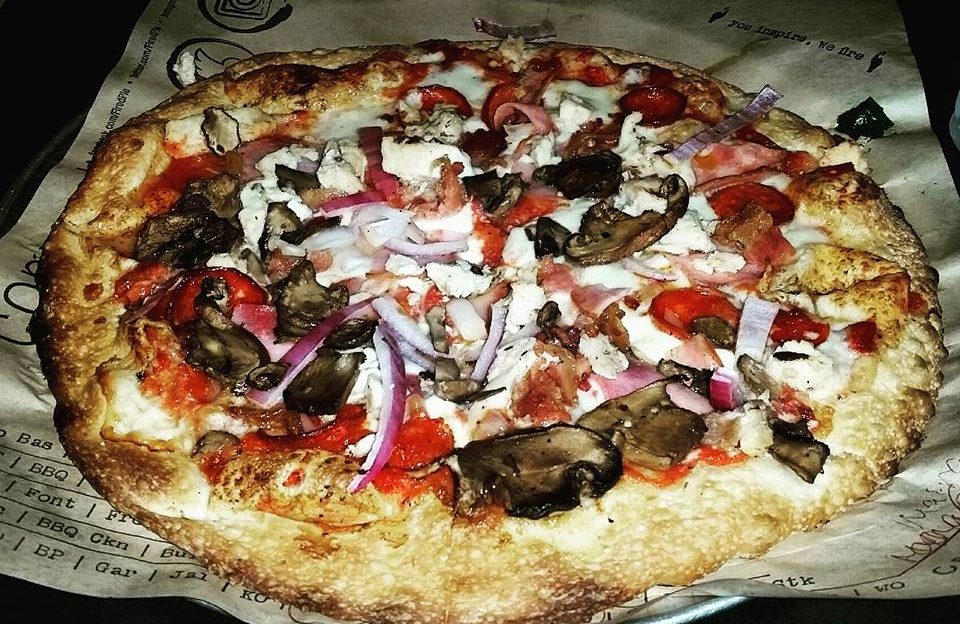 I guess I'm on a roll with building my own pizzas. I tried Fired Pie which is basically Subway or Chipotle but for pizza! Cool place where you can build your own pizza and add unlimited toppings! Delicious and super fast! I recommend!
PIZZA STUDIO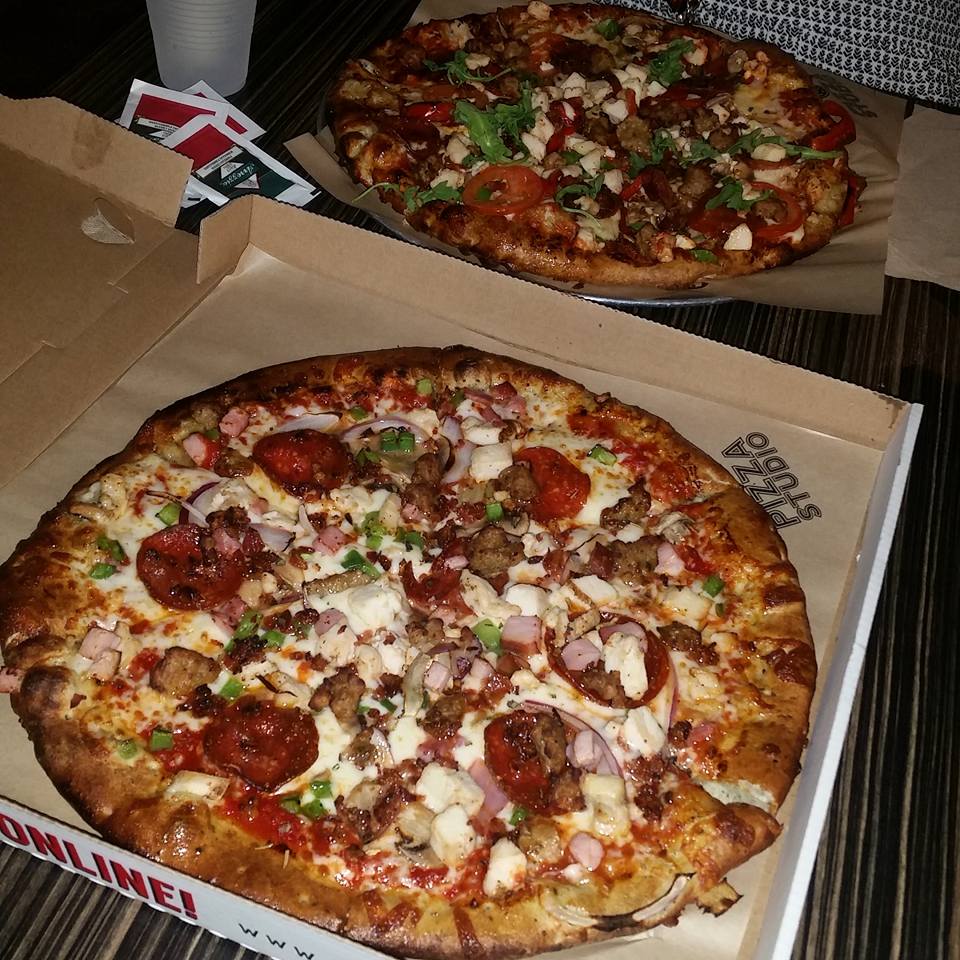 Yamille and I made our own unique pizzas at Pizza Studio in Downtown Phoenix! I'll be honest, I didn't expect it to be super good but wow was I pleasantly surprised! Delicious thin crust and fresh ingredients! I love that the pizza was only about $8 with unlimited toppings! We highly recommend! Definitely coming back.
PALERMO'S PIZZA & WINGS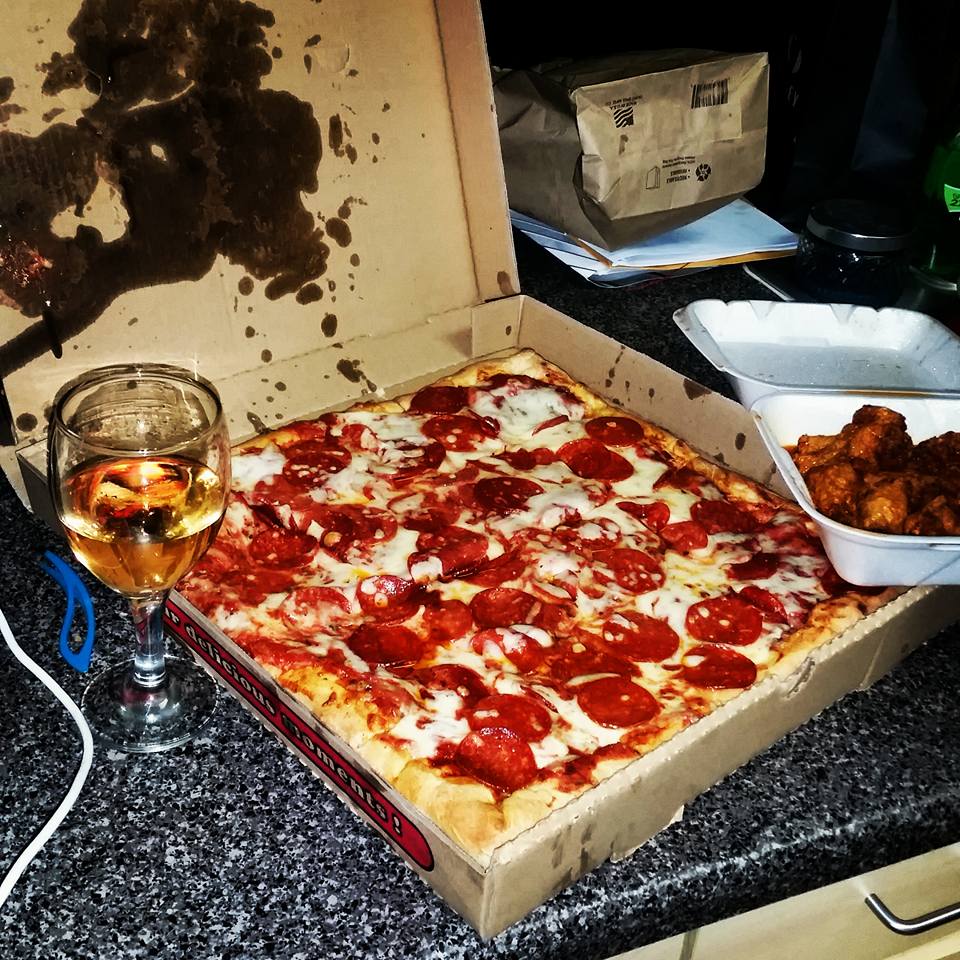 Mmmmm. Now Palermo's Pizza & Wings will always have a very special place in my heart because this was the food I had at my website launch party! The pizza was huge and delicious and the wings were out of this world. Can't wait to go back! Maybe for my 1 year anniversary with the blog coming up in August!
LA PIAZZA LOCALE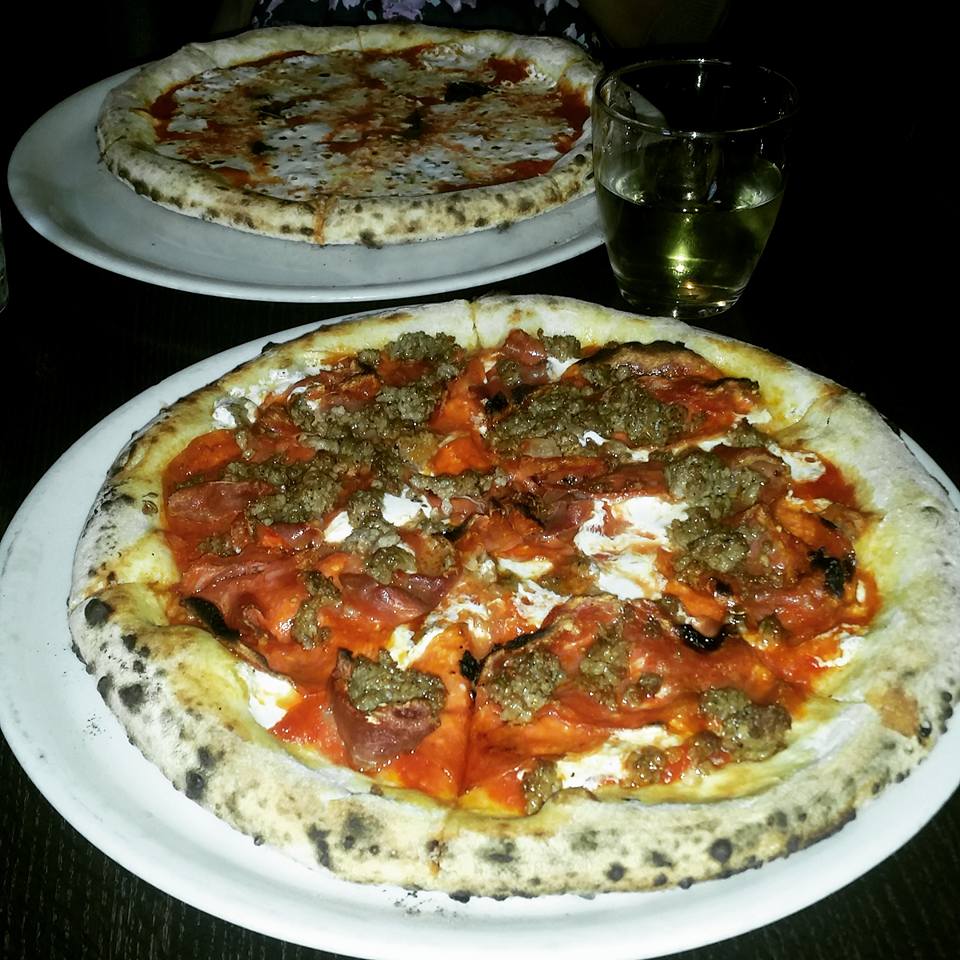 Hannaha and I tried La Piazza Locale for a re-concert dinner and it was really good. Plus they had fantastic service, we recommend especially if you are in the downtown area near Comerica Theatre! ??
ADAM'S PIZZA & WINGS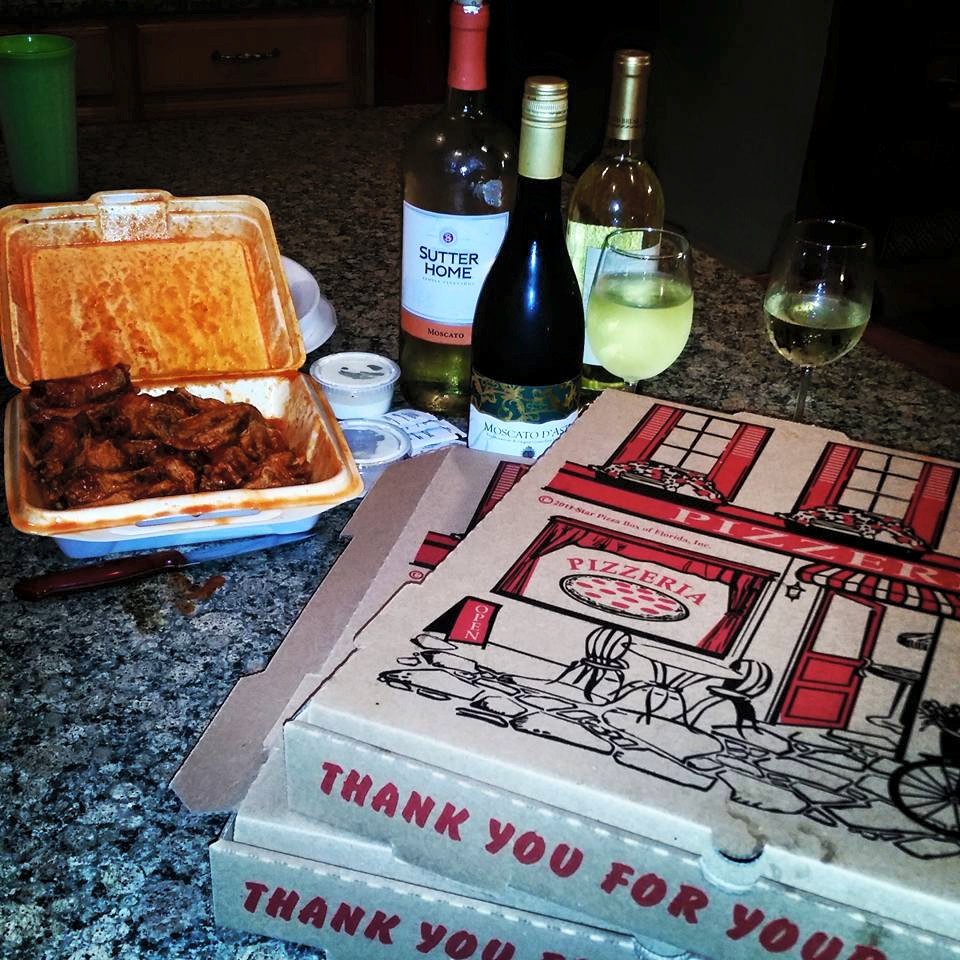 I tried Adam's Pizza and Wings in Tolleson for an impromptu wine wednesday! Delicious pizza and FANTASTIC wings that really hit the spot.
LOUI'S PIZZA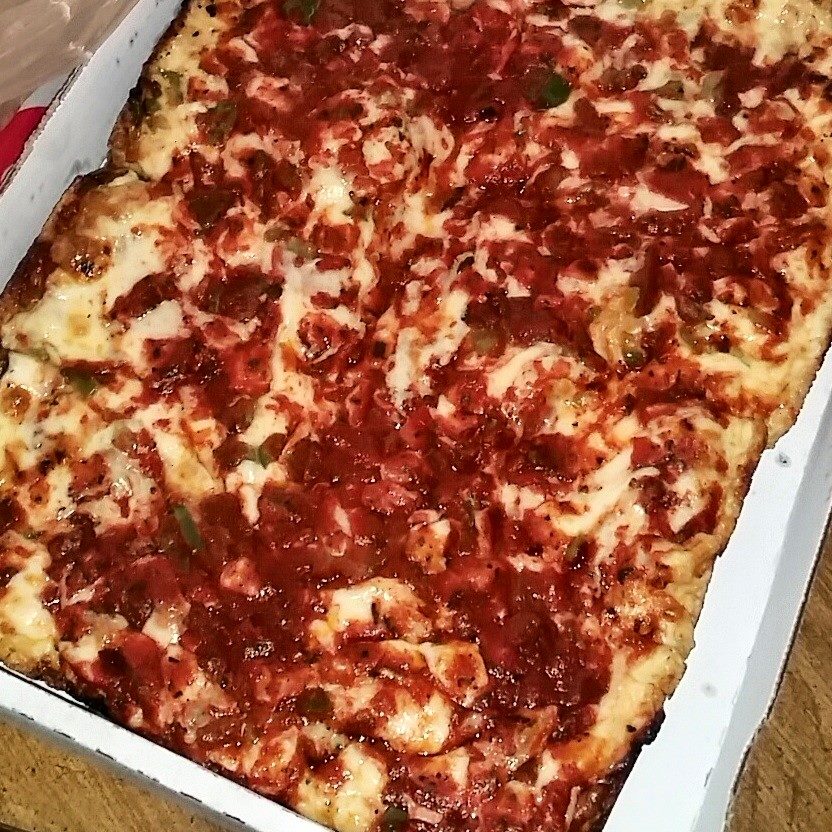 Finally got the chance to try Detroit style pizza!! i tried the famous Loui's Pizza Restaurant. It was so packed and the place was poppin' and the pizza was DELICIOUS. THERE WAS SO MUCH CHEESE and flavor. I recommend!! Also, did you all know that Little Caesar's and Hungry Howie's started in Detroit?! The more you know!
LUIGI'S AT THE BEACH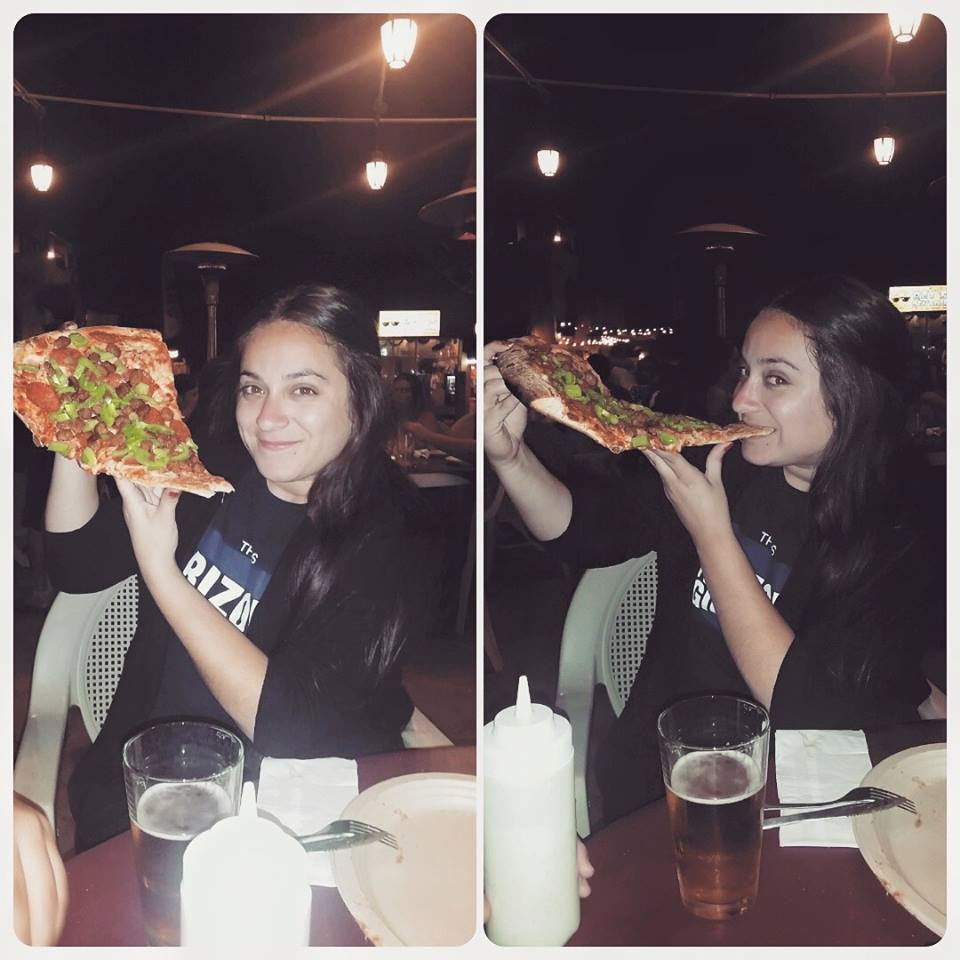 While on vacation, I totally ignored 'la dieta' (the diet) and tried the huge slices of pizza at Luigi's At The Beach in San Diego ! Omg so stuffed. Huge pizza with huge flavor. Definitely going to come back every time I'm in SD!
HUMBLE PIE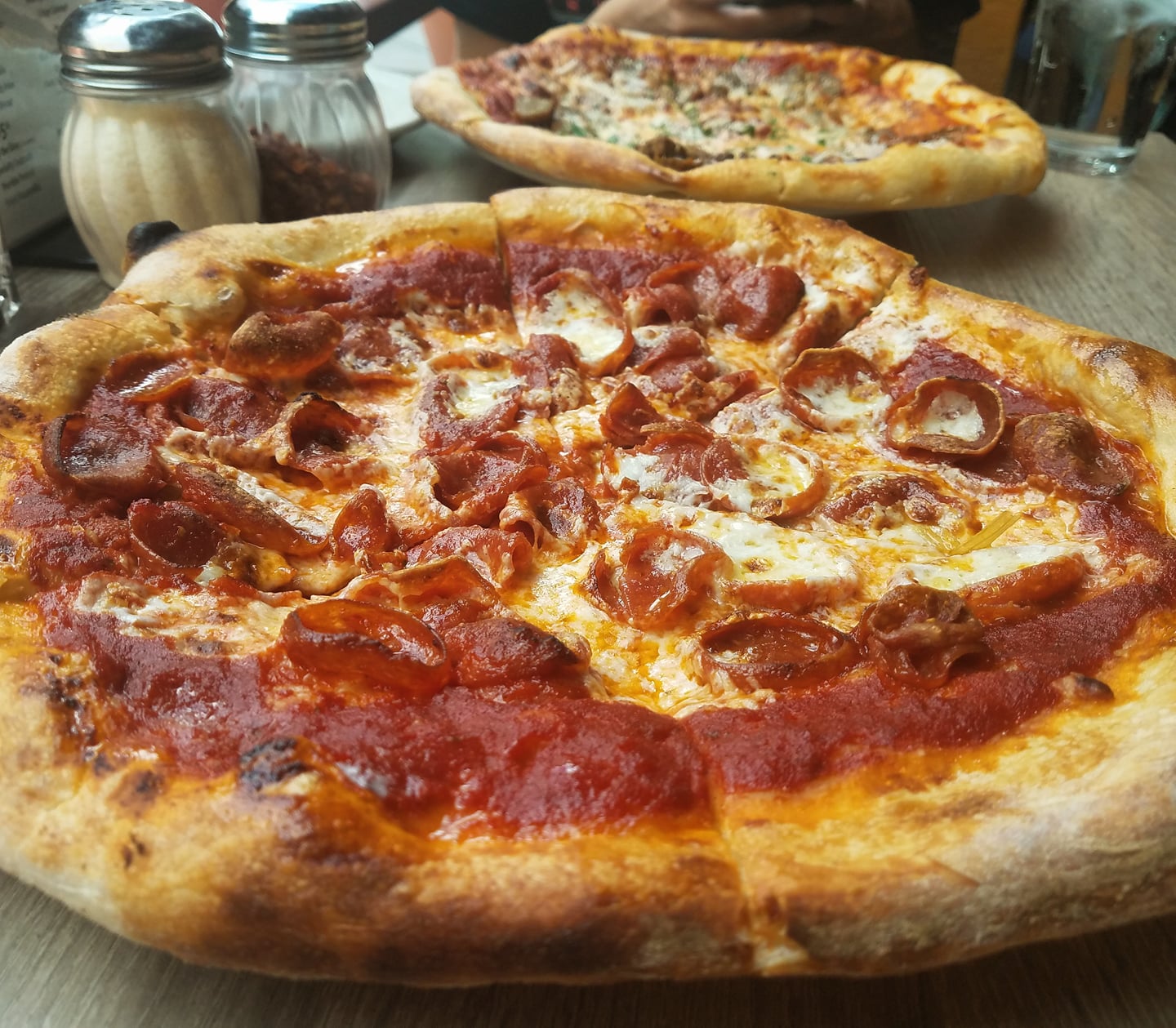 My wonderful friend Gloria helped me with this bucket list item. We tried the pizza and the cheesy sticks at Humble Pie! So good that this picture doesn't even need a filter lol

SPINATO'S PIZZERIA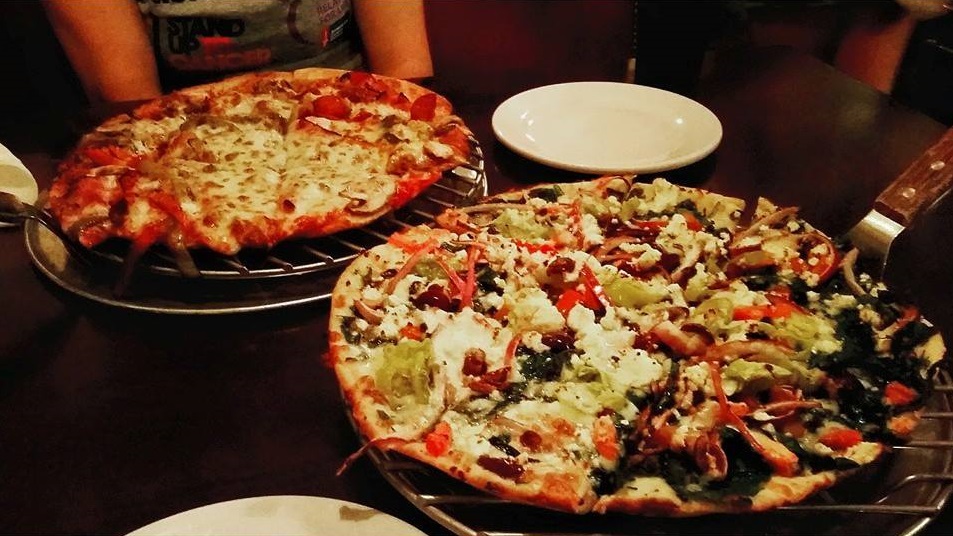 Tim and I tried the pizza at Spinato's Pizzeria to celebrate Tim's promotion! Congratulations and thank you for dinner! It was so good that we are still eating even though we were full lol.
FEDERAL PIZZA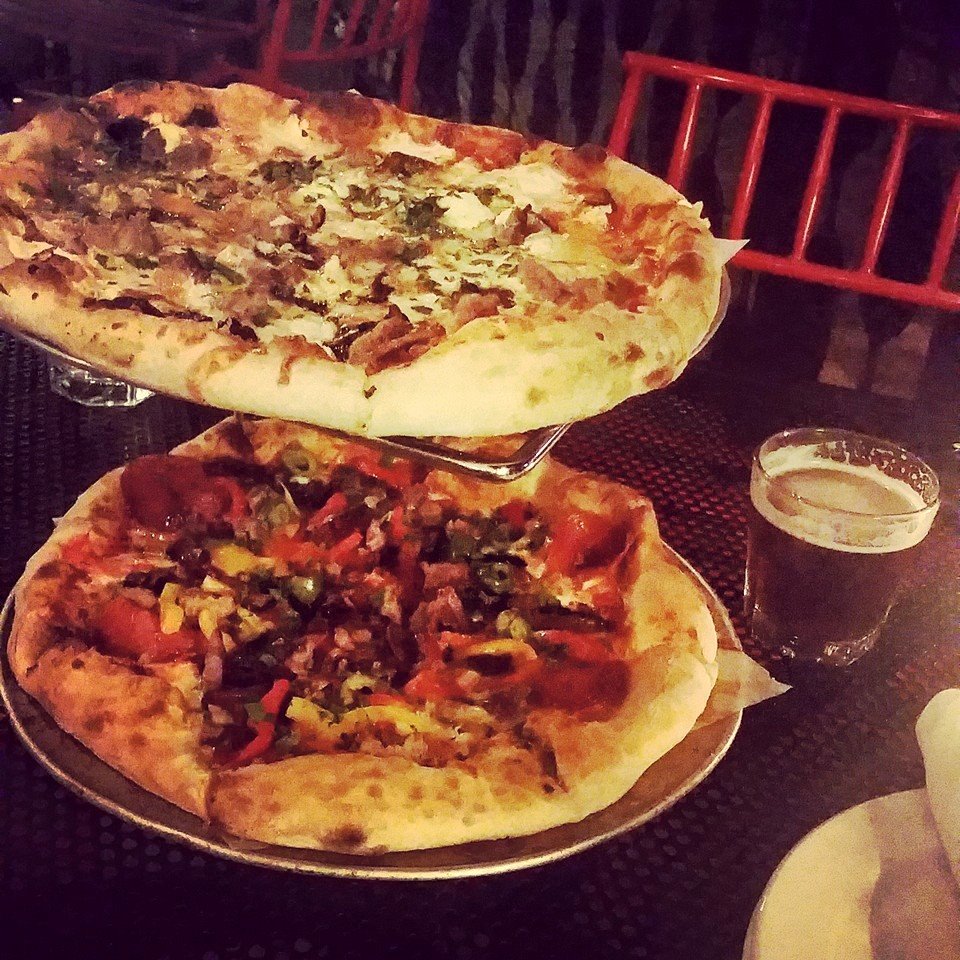 The pizza at Federal Pizza was so good.! As soon as the pizza came out, I knew it would be good. It smelled like heaven and it tasted even better. We recommend.
FRANK'S PIZZA AND WINGS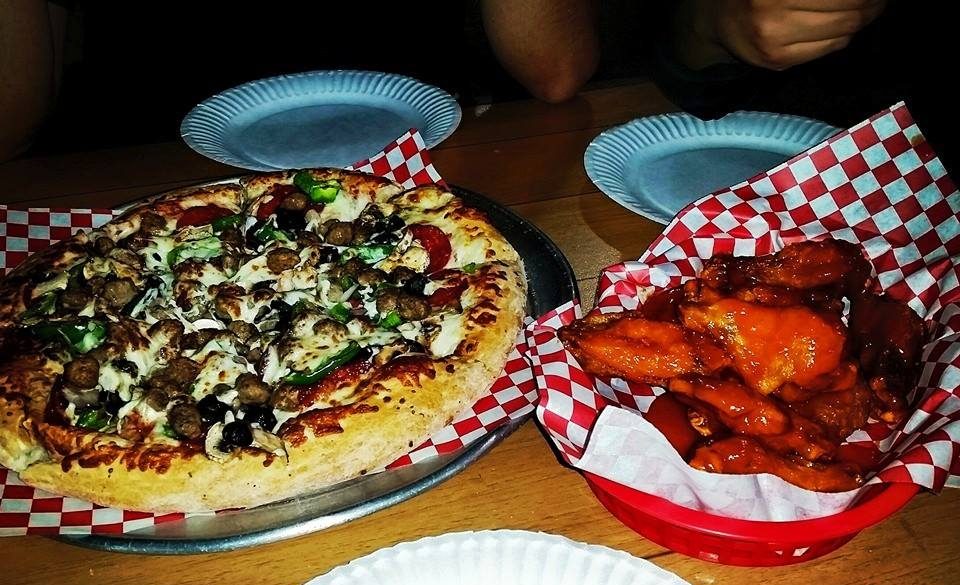 Jessica, Luis, and I were a little hesitant to try
Frank's Pizza and Wings
because it looked kind of sketch but we learned our lesson: NEVER DOUBT THE BUCKET LIST. Delicious pizza! We will be returning and trying the suicide wings. For sure.
CIBO PIZZERIA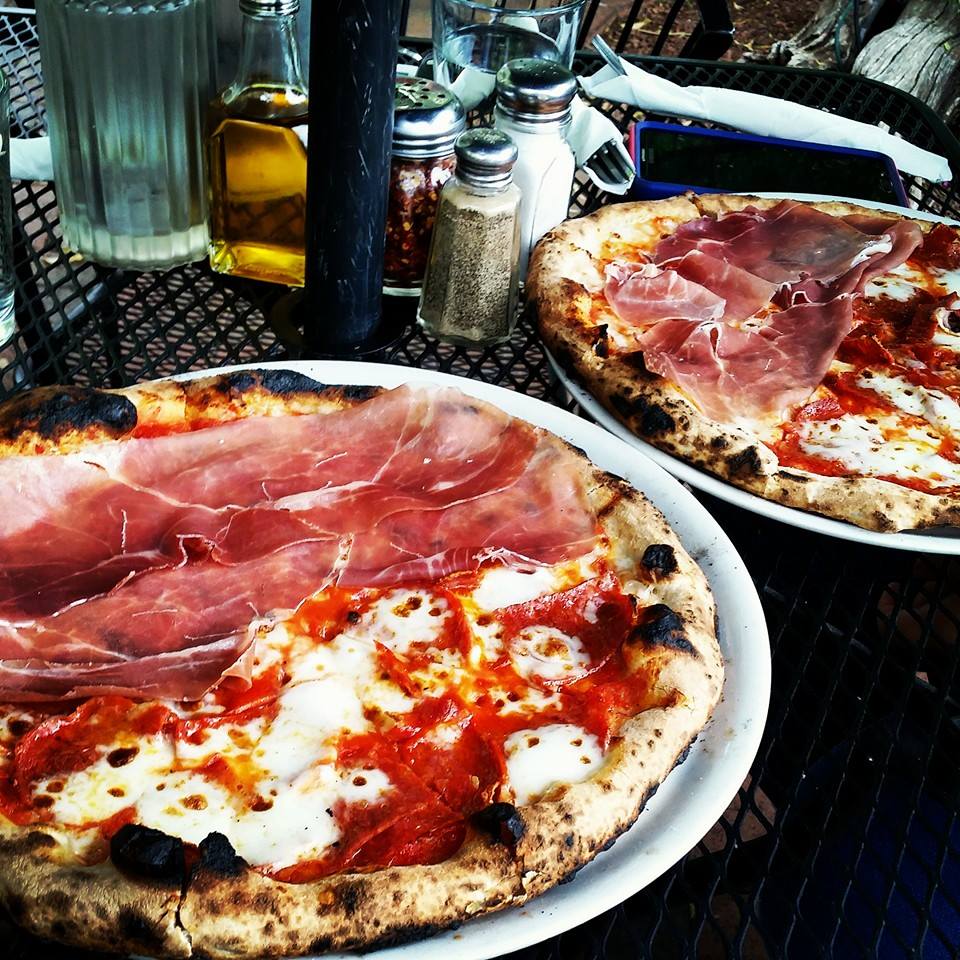 Cibo Pizzeria
is definitely one of my favorite places. Super cute restaurant with delicious pizza. The spicy salami definitely blew any pepperoni pizza out of the water!
THE PARLOR PIZZERIA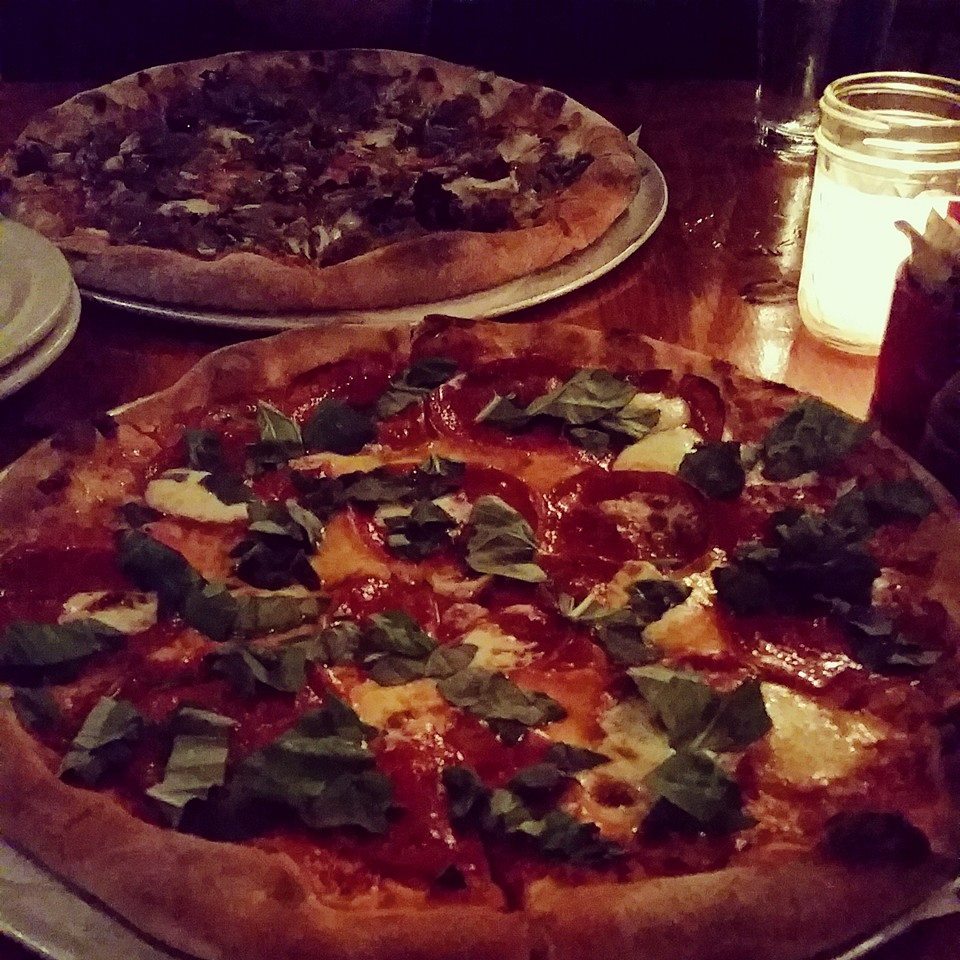 I had been wanting to try The Parlor Pizzeria because not only has Food Network rated it as the #1 pizza in Arizona but I also heard that the restaurant was really classy. My friend Jose and I finally made it out here and it was AMAZING. Definitely some of the best pizza I've had in AZ and the restaurant had such great vibes. The accolades this place has received are well deserved. Highly recommend, it is dynamite pizza!
SAUCE PIZZA AND WINE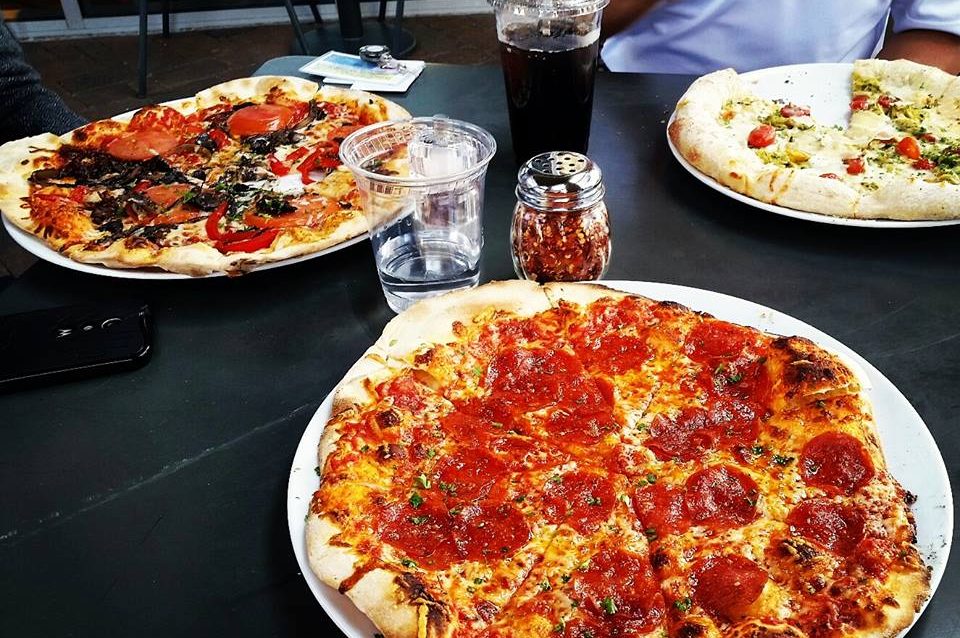 I tried Sauce Pizza & Wine with 2 friends from work during the week and it was DELICIOUS! It was also very quick but the food didn't feel like 'fast food'. It was really good and I remember once I ate half I was full but it was so good that I kept eating and ended up eating the whole pizza. That's how you know it's delicious lol there are a few locations around the valley, so definitely try them out!
PIZZERIA BIANCO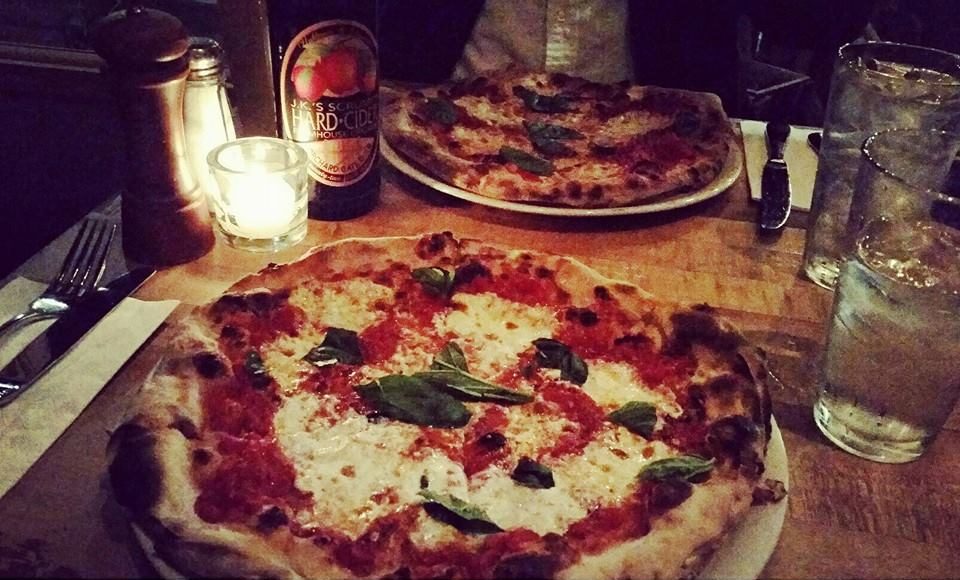 I had been dying to try the pizza at Pizzeria Bianco ever since I saw it get featured in a Buzzfeed article among the best pizza in the USA! Delicious, full of flavor and super classy. I love that they have a bar next door where you can drink wine and wait for your table. Definitely coming back, it was worth the wait!
MAGPIES GOURMET PIZZA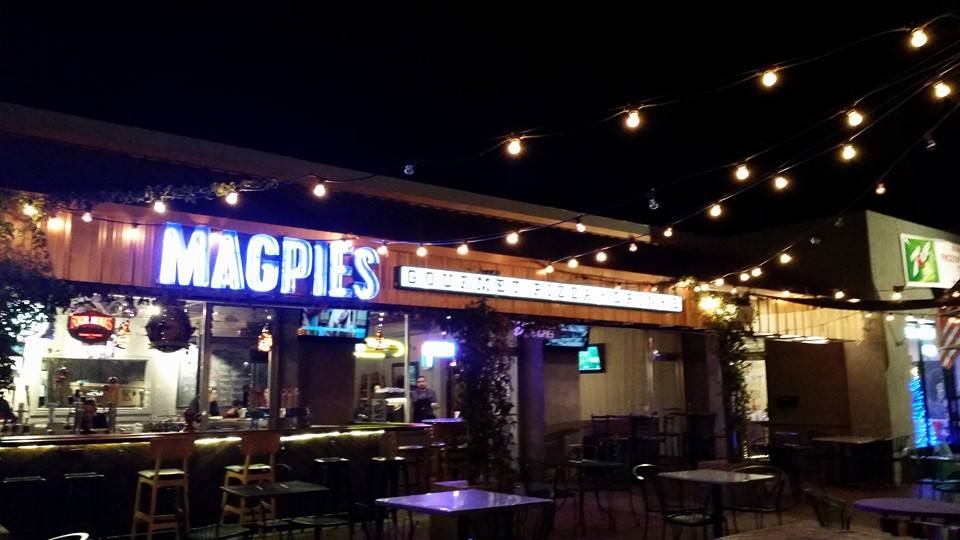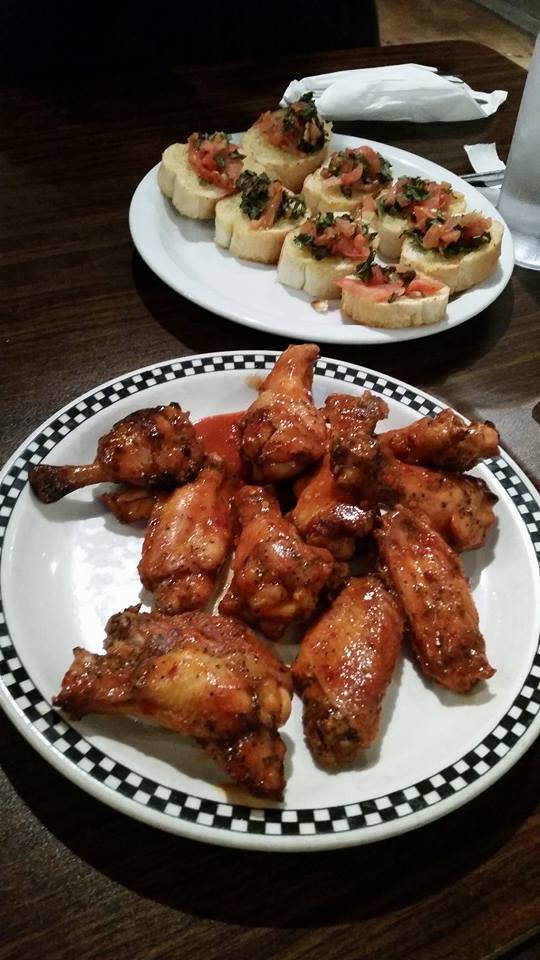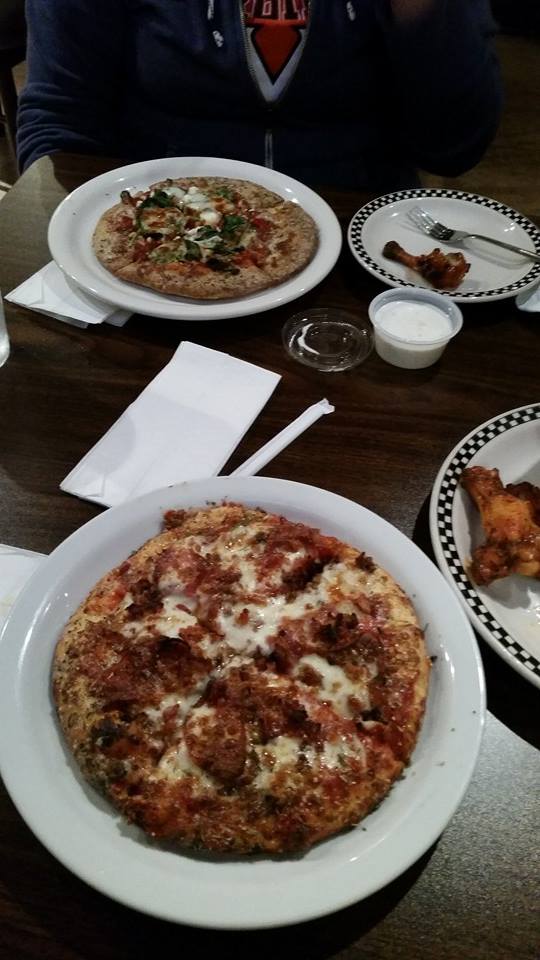 Oh man, Magpies Gourmet Pizza in Tucson is AMAZING. I can't believe I never went here while I was in school, I definitely missed out. DELICIOUS pizza and wings, with a ton of flavor. The only thing I don't like is that the pizzas are not as big as most personal pizzas but they are still very filling. Just looking at the pictures is making me want to go back lol I highly recommend!!
---
ROSCOE'S CHICKEN AND WAFFLES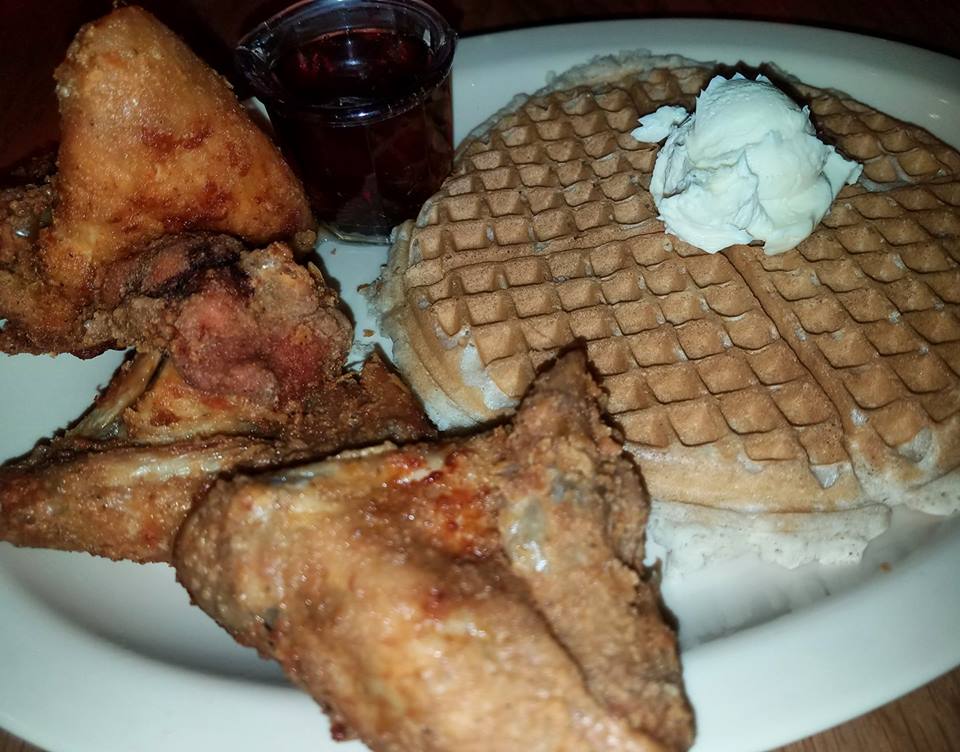 If you think I don't pay attention when you all recommend restaurants, then here is some proof! A few of you recommended Roscoe's Chicken' N Waffles in California and omg y'all. It was DELICIOUS. I had the Obama plate and added some hot sauce (definitely necessary) and it was so good, can you all believe that I had dinner here twice lol. Seriously, add this spot to your food bucket list. It's amazing. 
?
SQUARE ONE DINING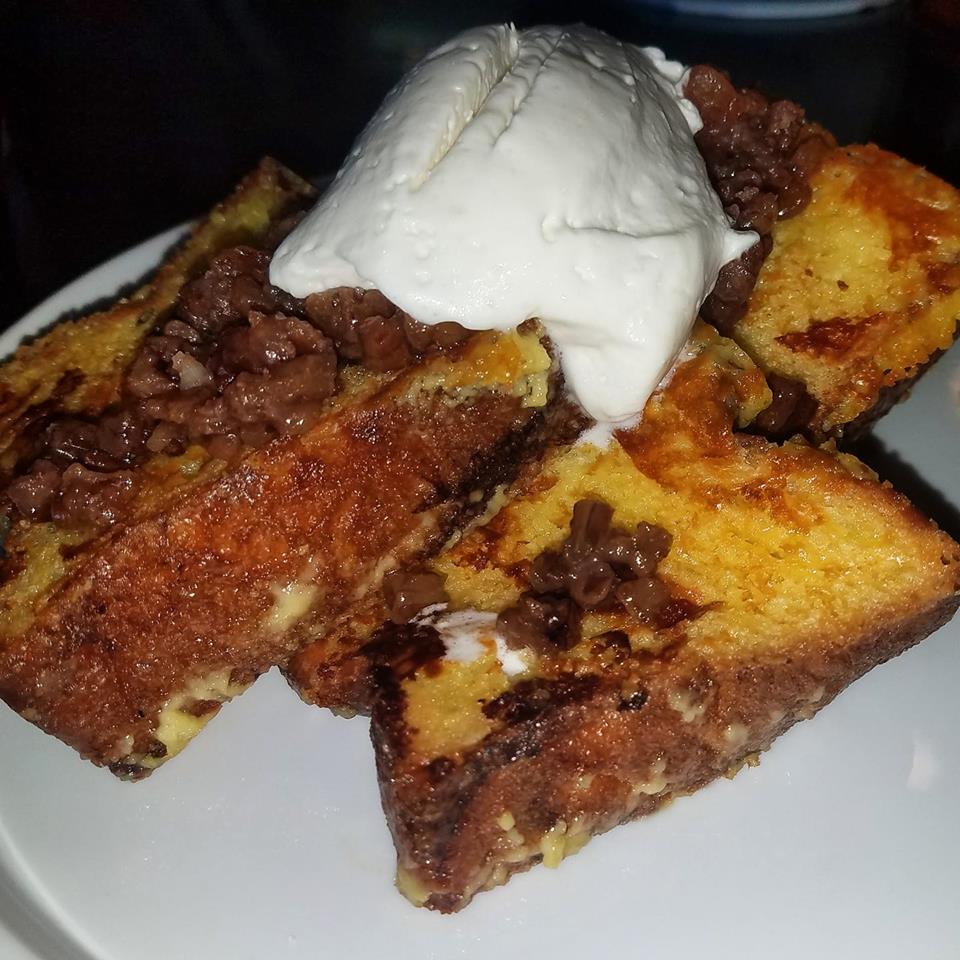 I tried the brioche french toast from Square One Dining in LA and it was DELICIOUS! The french toast was flaky, the bourbon-pecan topping was NEEDED, and the whipped cream just finished off the dish. I can't wait to go back!
ORIGINAL PANCAKE HOUSE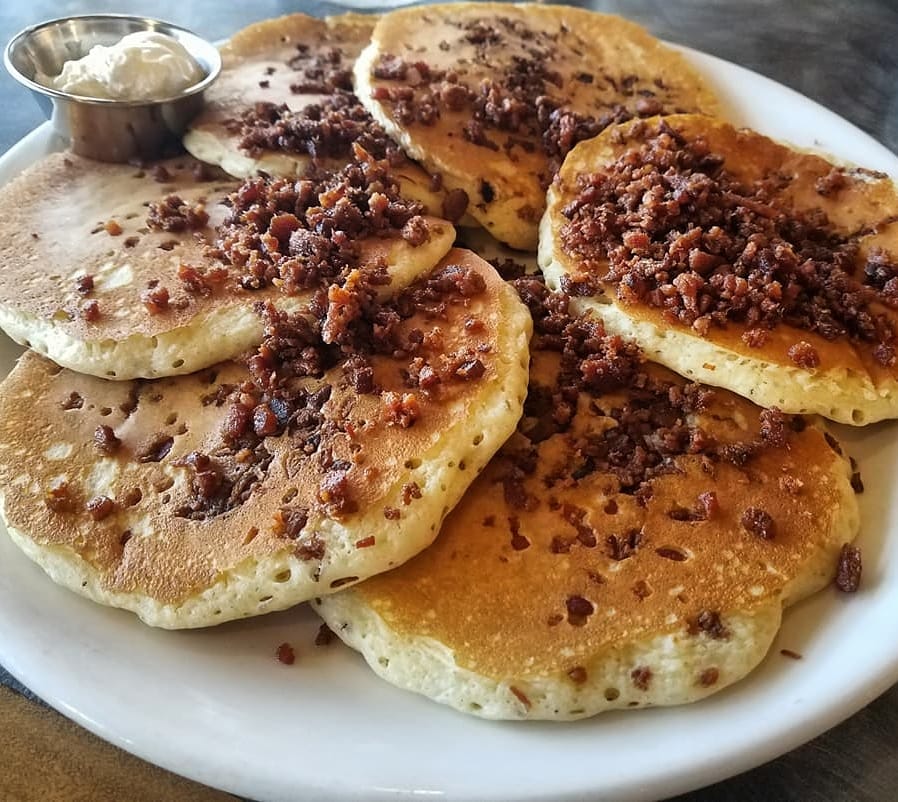 I love breakfast food and I love brunch, so I was thrilled to find amazing breakfast in Minnesota which happened to be my favorite meal while visiting. I had the incredible bacon crumb covered pancakes atOriginal Pancake House – Roseville, MN and my friends, it was the best thing I've eaten in my life. And IT WAS SO MUCH FOOD. The pancakes were perfectly fluffy and sweet, the bacon crumbs were in every bite, and it just hit the spot. My mouth is watering just by writing this and reminiscing lol.
?
?
?
THE WINDSOR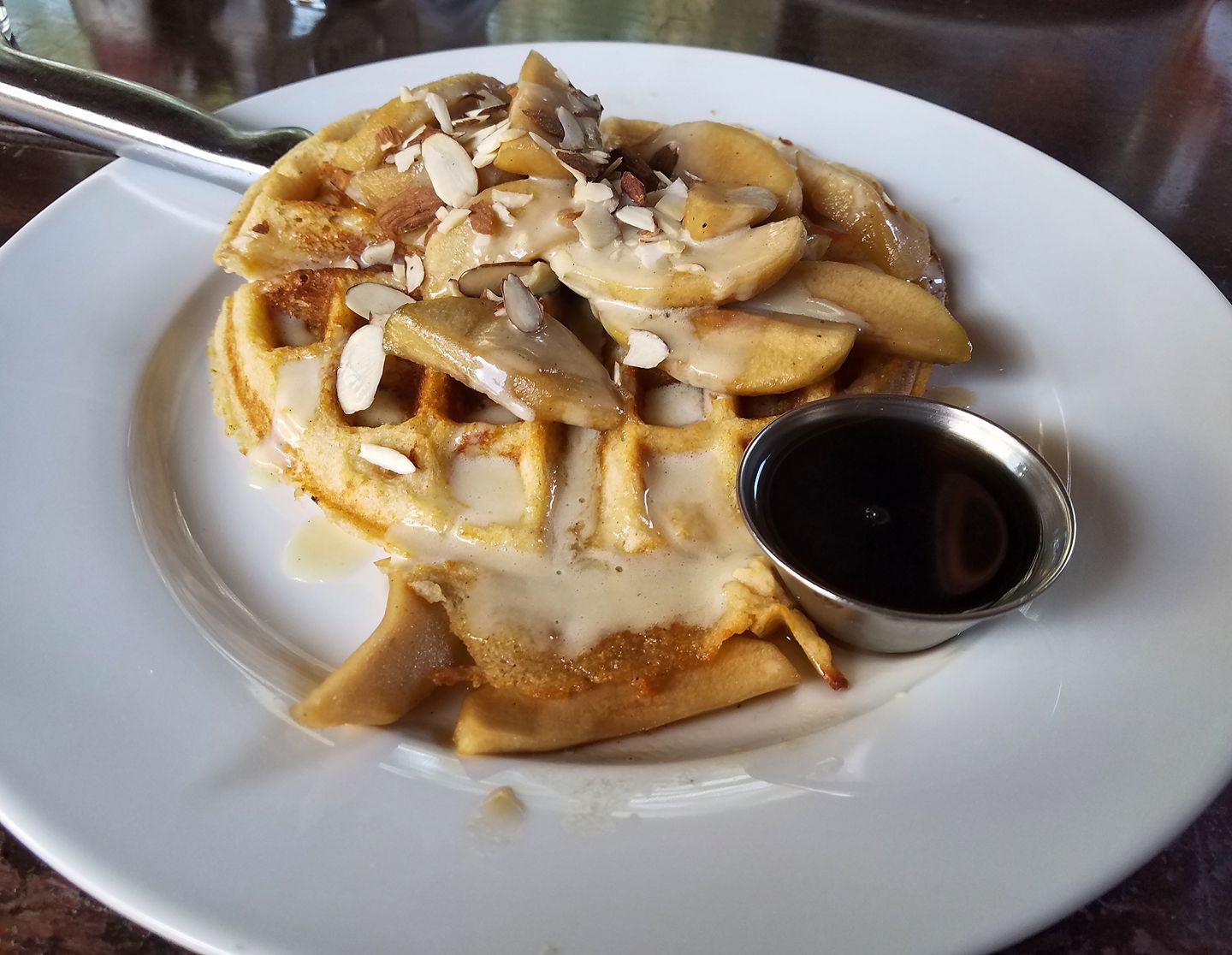 I tried the apple almond waffles at The Windsor and omg my friends, these were some of the tastiest I've ever had and I eat out quite a bit. What I loved about this place besides the delicious food and good drinks is that they are dog friendly!
PRESCOTT STATION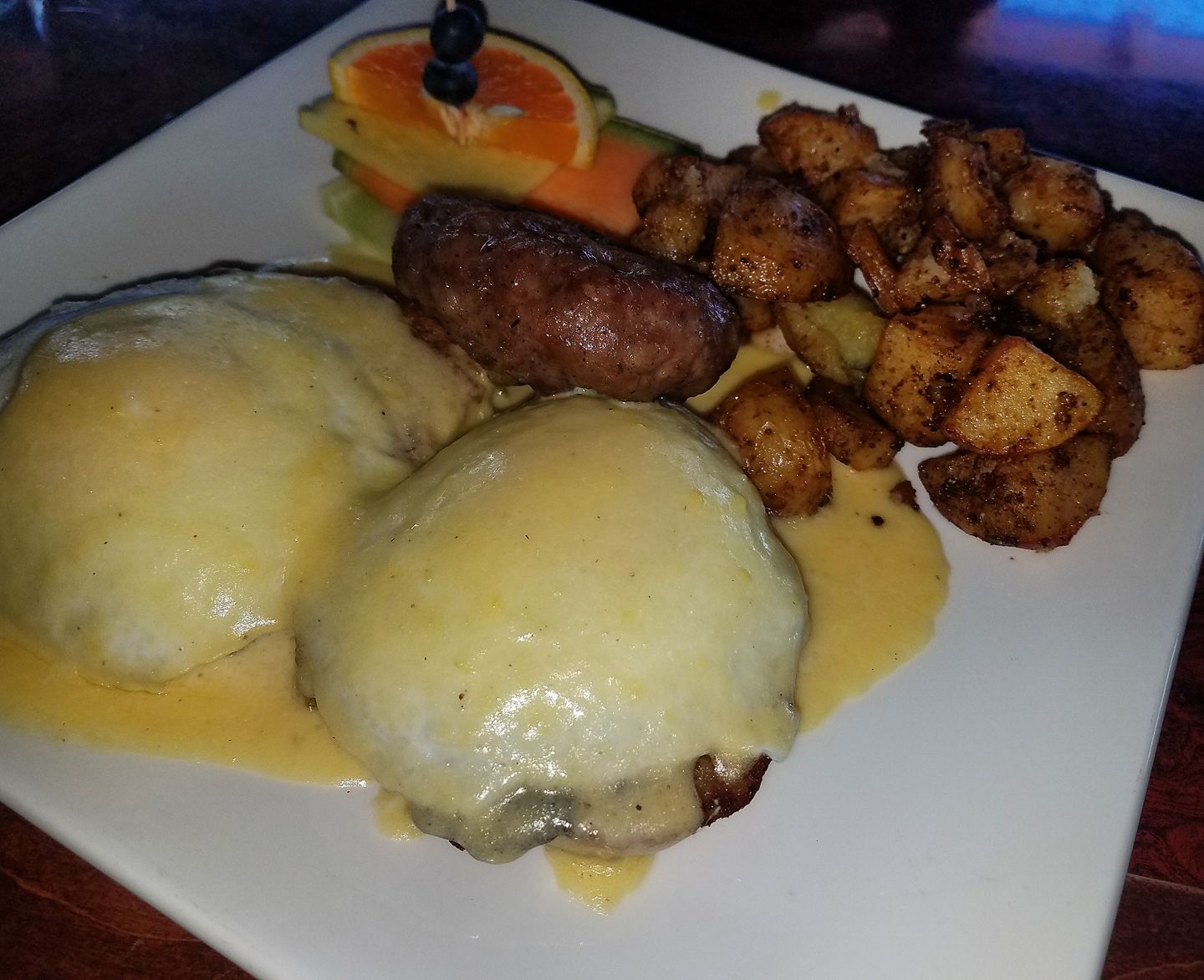 If you know me at all, you know that I'm all about that ESPECIALLY if it comes with unlimited mimosas! The last time I was in Prescott, I discovered a hidden gem that serves delicious food (eggs benedict, waffle sausage patty, and seasoned potatoes) and has unlimited champagne…you can add orange juice if you really want to but I didn't 
😉 the next time you hike a mountain in Prescott, feel free to try the brunch atPrescott Station! It's the perfect combination!
THE DUCE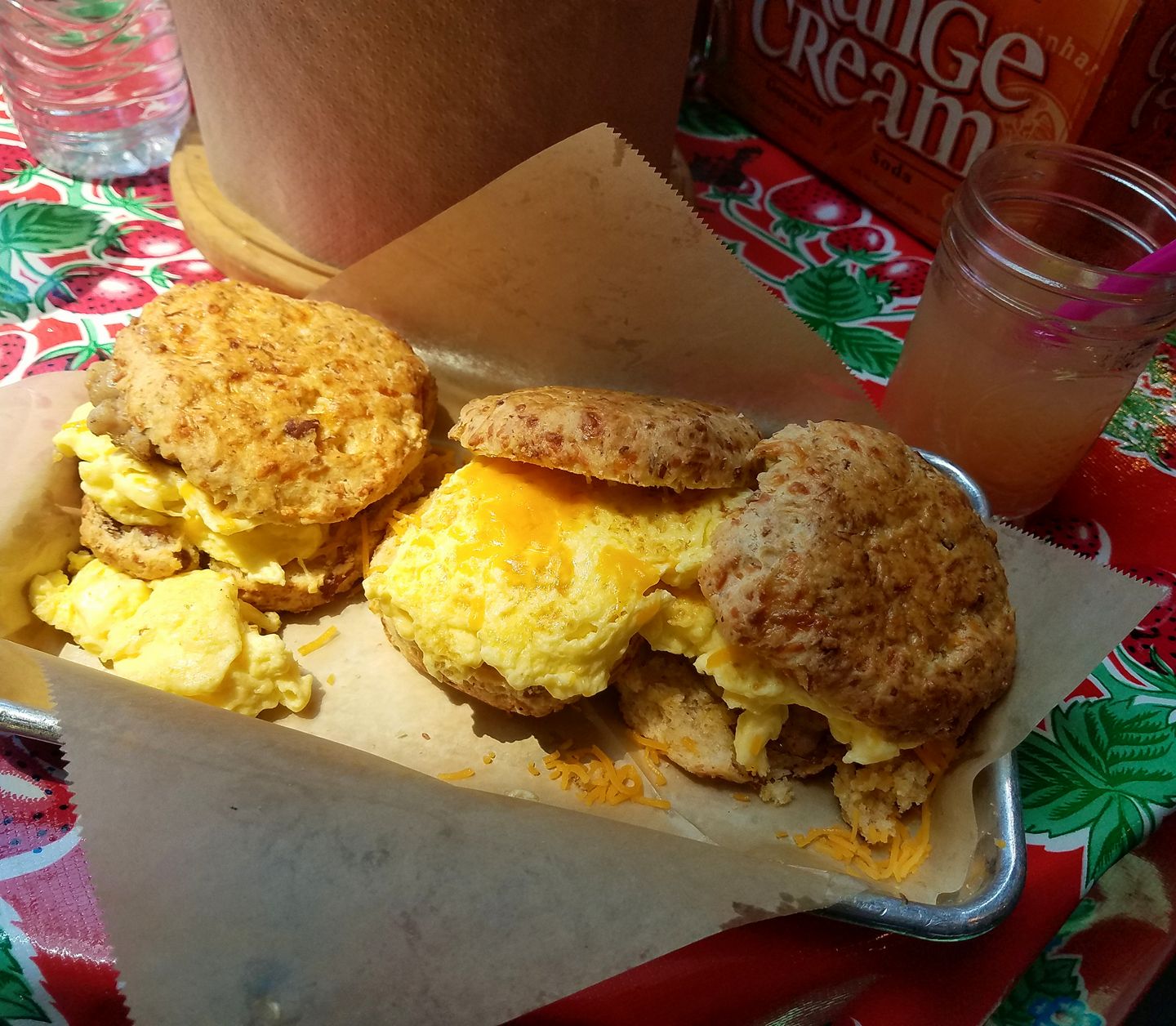 Brunch is my fave meal and The Duce did not disappoint. After my intense workout I ordered the Cheddar Bacon Buttermilk Biscuit Sliders and omg…they were so bomb and I completely deserved all that buttery and cheesy goodness (lol). It was super filling, I ate two and then ate the 3rd one an hour later (lol). The biscuits are house made and include scrambled eggs, chicken sausage, & cheddar cheese. Simple but super tasty. 
ESS-A-BAGEL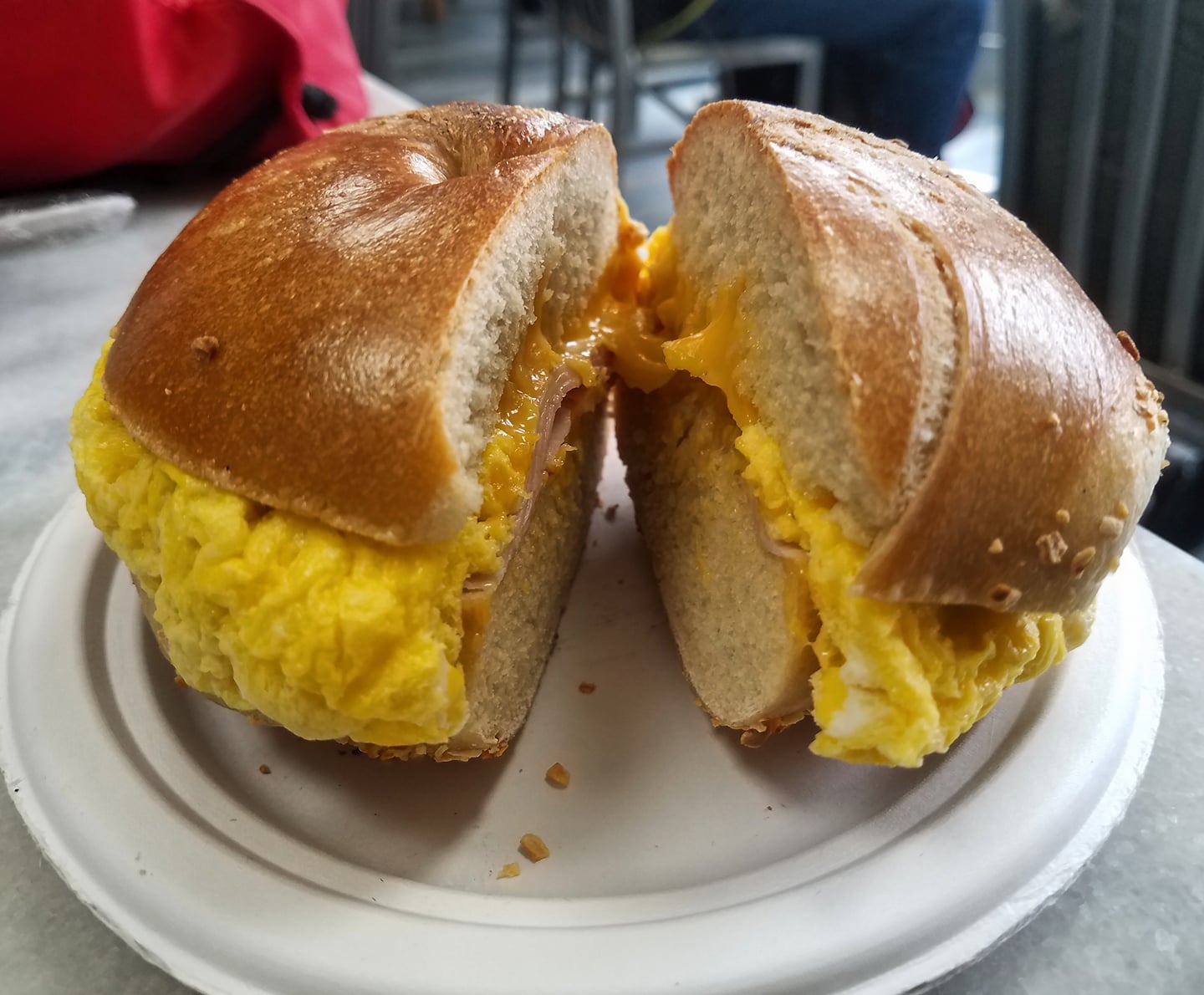 Everyone told me I had to have a bagel in NYC, so my friend and I stopped at Ess-a-Bagel and we LOVED it. I had a ham, egg and cheese bagel sandwich and it was phenomenal. I loved the food but was more in love with the whole ambiance. We stood in line and they were so quick to take your order….a little too quick that I panicked and ordered the first thing on the menu because I didnt want to hold up the line lol. 
LUX CENTRAL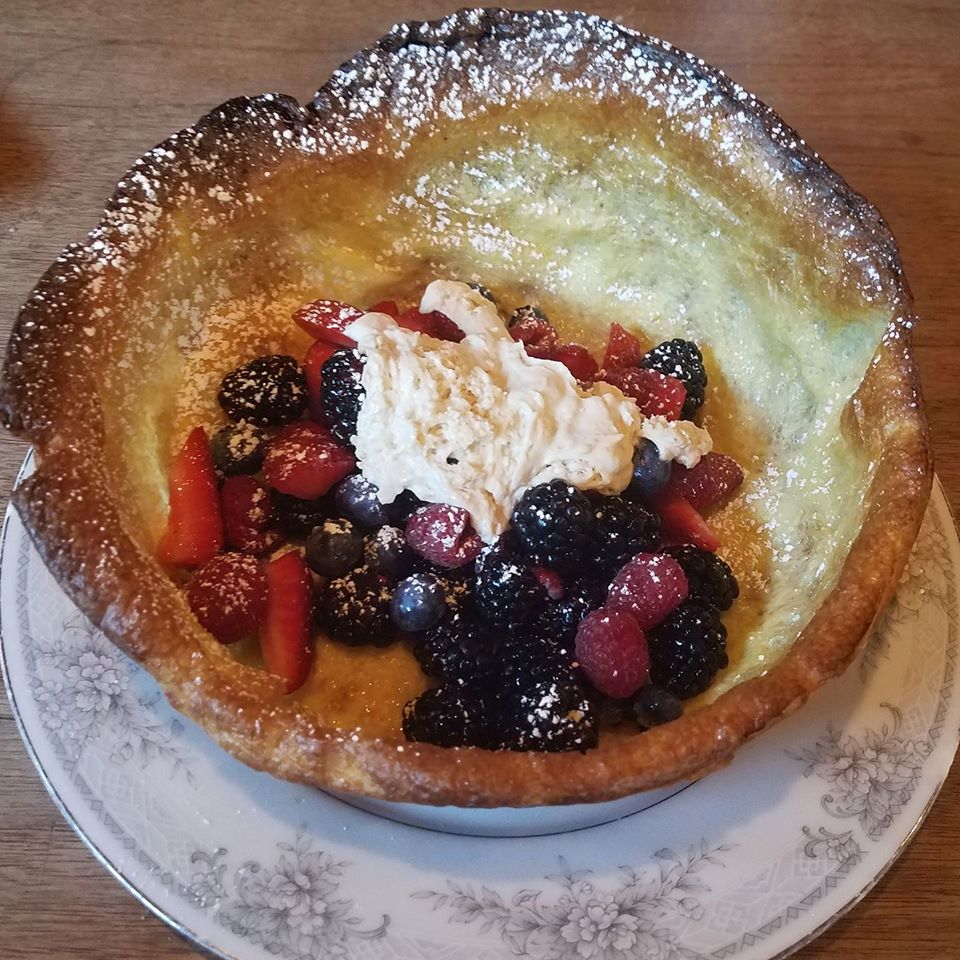 I found a new fave brunch item at Lux Central and it tastes even better than it looks, TRUST ME! The Dutch pancake with house made whipped cream and berries was PHENOMENAL and it's honestly so much food. I'm posting this and wanting to lick my screen, it is that good lol.
BOSSCAT KITCHEN & LIBATIONS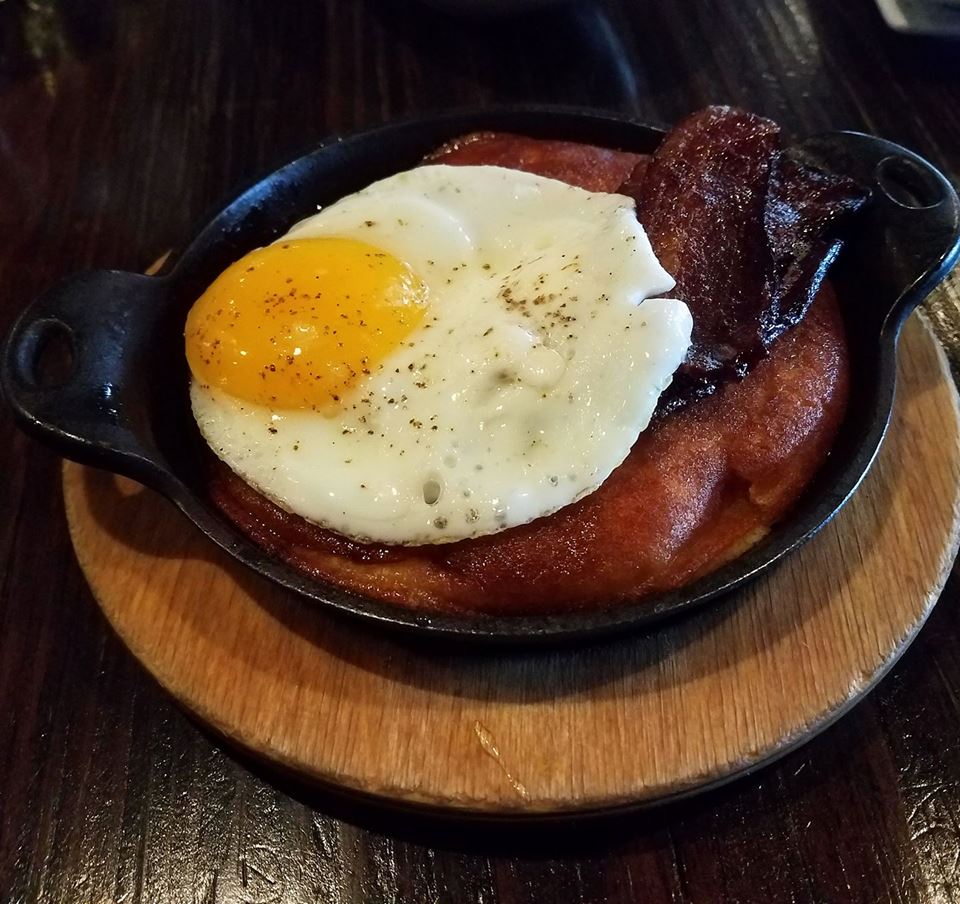 I enjoyed a barrel aged breakfast featuring a sweet skillet pancake with whiskey maple syrup, a duck fat fried egg, and bacon! The perfect combination of a sweet and savory brunch in California!
POSTINO ANNEX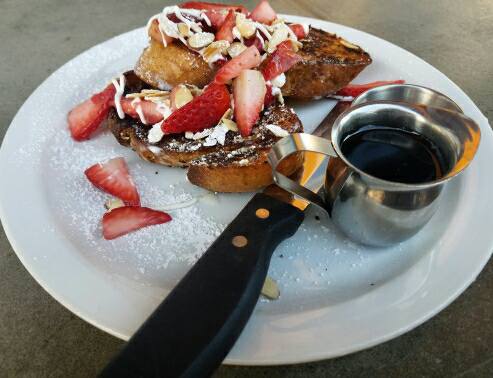 If you've never had the brunch at Postino Annex , you need to do yourself a favor and make some plans to come here. I had the ciabatta french toast with house made berry preserves, almonds and vanilla creme fraiche and yes it was as delicious as it looks AND sounds!
PERK EATERY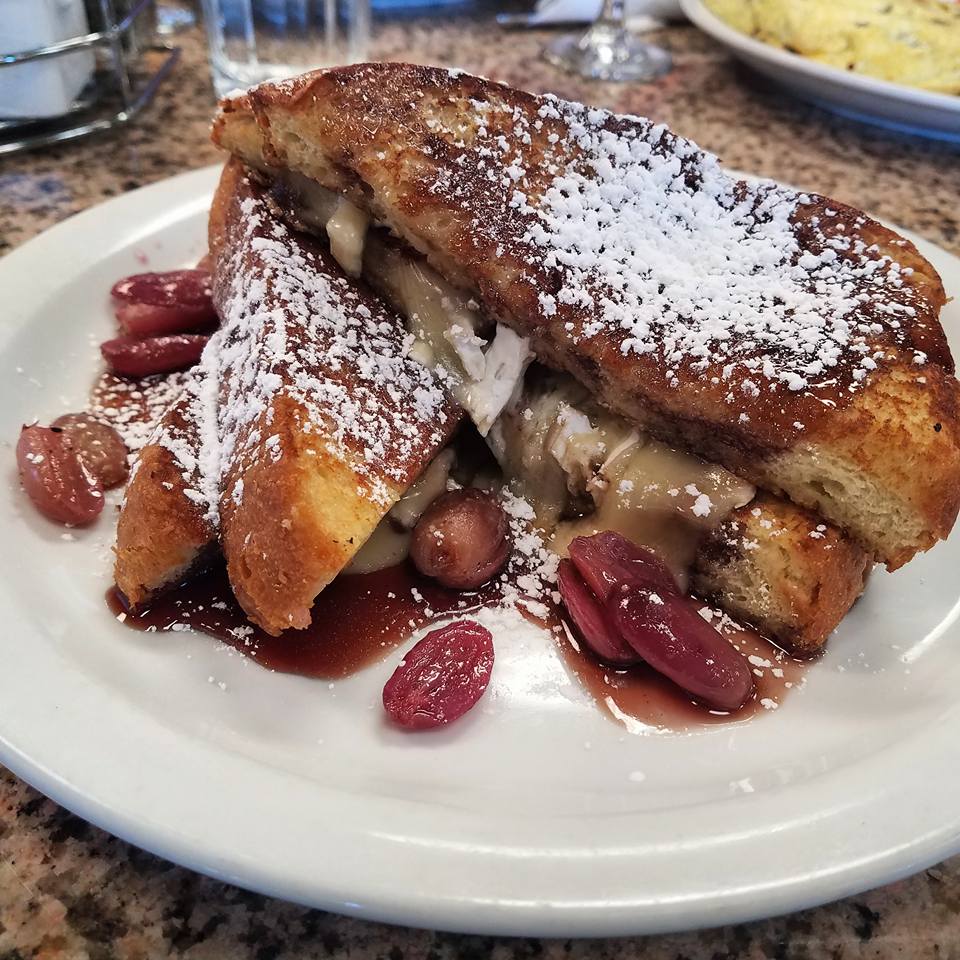 Brunch so hard, French toast wanna find me.
?The last #jointhebrunch of 2016 was a success by crossing off food bucket list item #559 : Perk Eatery in Scottsdale! I had the Wine Country French toast and yes it tastes as good as it sounds. French toast, French Brie, roasted red grapes and red wine rosemary syrup. Guy Fieri gave this dish his stamp of approval and now it has mine! 
FIRST WATCH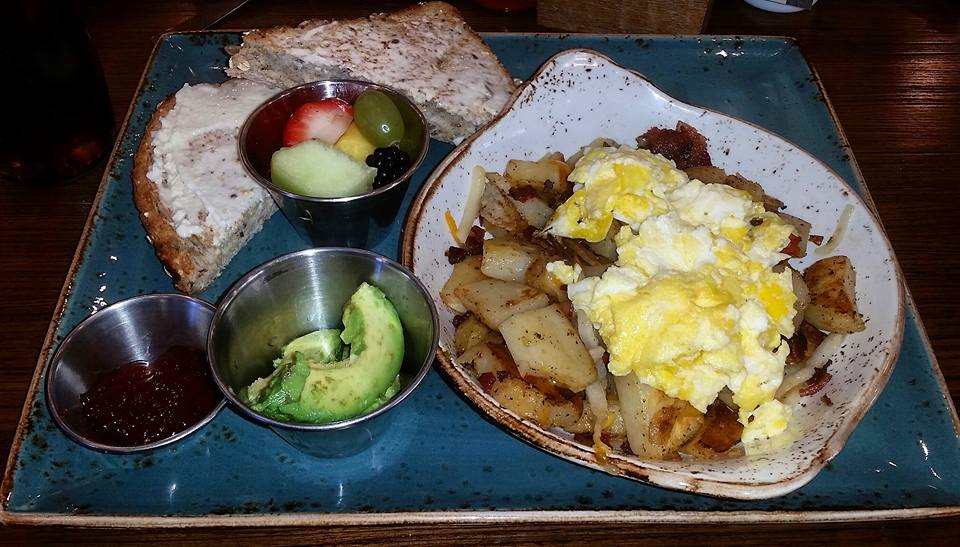 Weekends are for brunch, and brunch is for the hungry! Crossed off food bucket list item #195: First Watch! And I loved it! The Farmhouse Skillet hash with eggs, seasoned potatoes (my fave), bacon, roasted onions, CHEESE, and toast. Super hearty and just what I needed.  
?
? 
ORIGINAL BREAKFAST HOUSE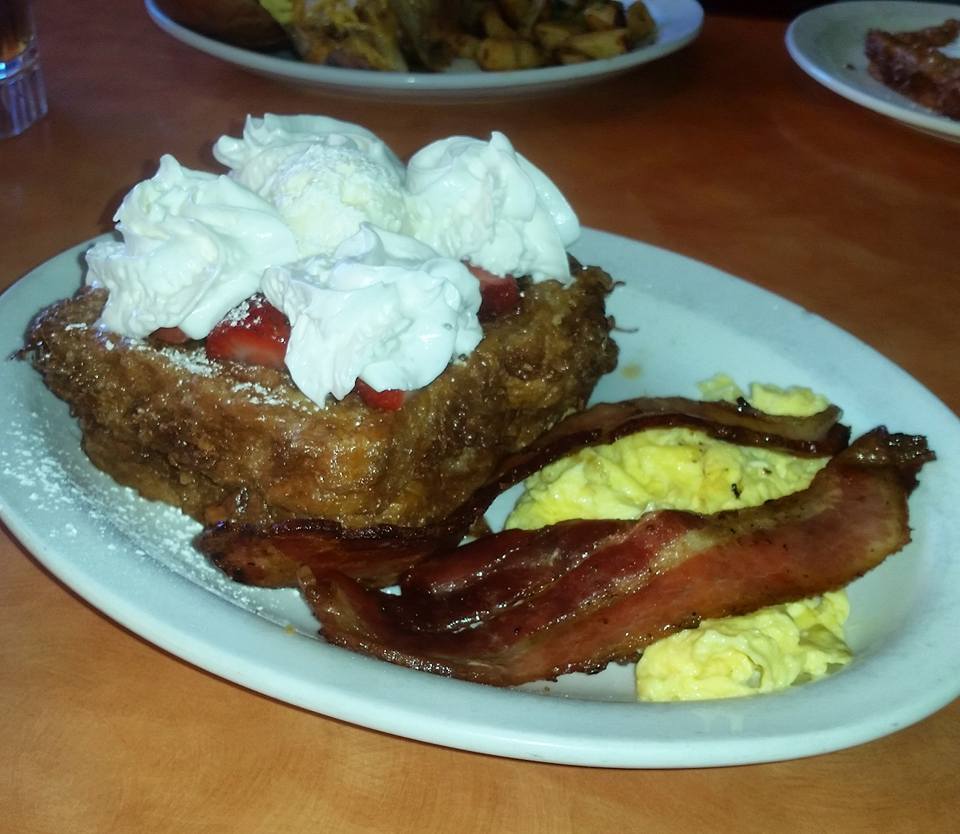 If you're looking for an absolutely hearty breakfast, look no further than The Original Breakfast House. And since it was called 'original breakfast' I decided to stick with a traditional breakfast plus I saw someone else getting the same thing and it SMELLED delicious. The waffle was so golden and flaky, the bacon sizzled to perfection and the eggs so tasty! Food bucket list item #534 completed!  
??
THE GLADLY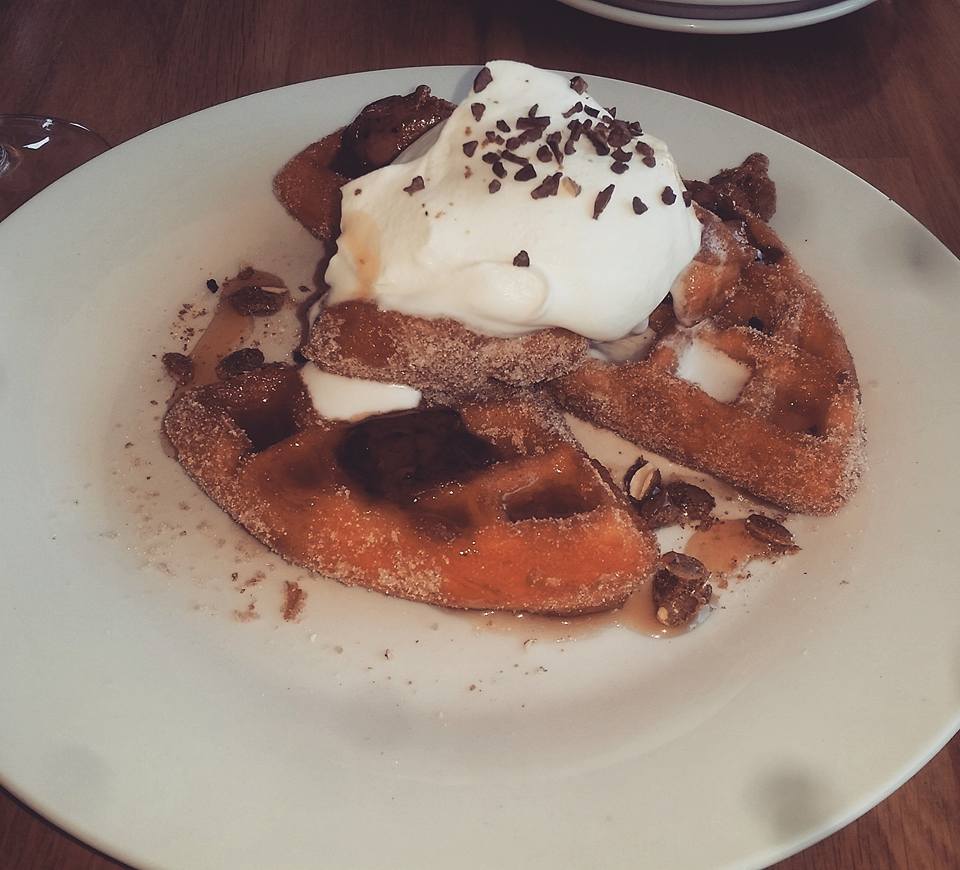 Dessert or breakfast? Why not both!? This churro waffle from The Gladly is officially my new fave brunch item. That's right, you read it right. It's a waffle that tastes like a CHURRO. But it's not overly sweet because of the smoked chile-chocolate butter. It's so delicious that although our server told us it was perfect to share, I totally didn't (lol). What are you all up to on this Sunday Funday?
?
?
DAILY DOSE OLD TOWN BAR & GRILL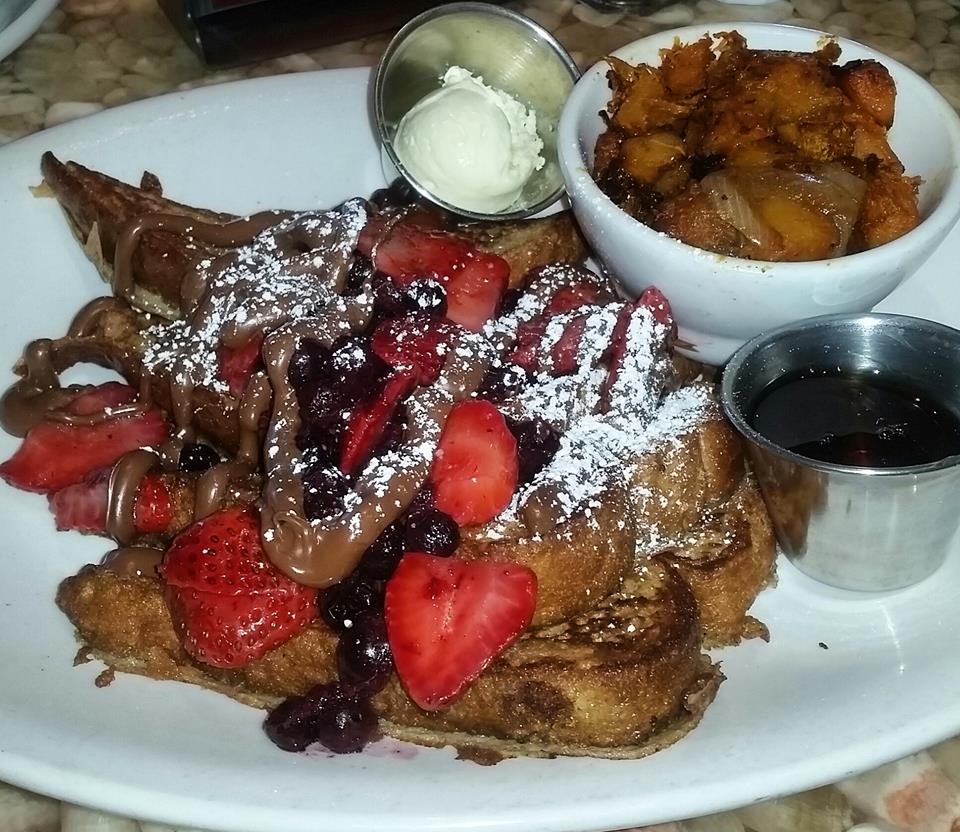 Celebrated a fabulous labor day weekend and a friend's birthday by crossing off food bucket list item #48 : brunch at Daily Dose! It was delicious! I had the frenh toast with NUTELLA, fresh berries, and powdered sugar! I also had a tequila sunrise that was phenomenal because they make their own simple syrup in house! Highly recommend!
UNIVERSEL DEJEUNERS ET GRILLADES (CANADA)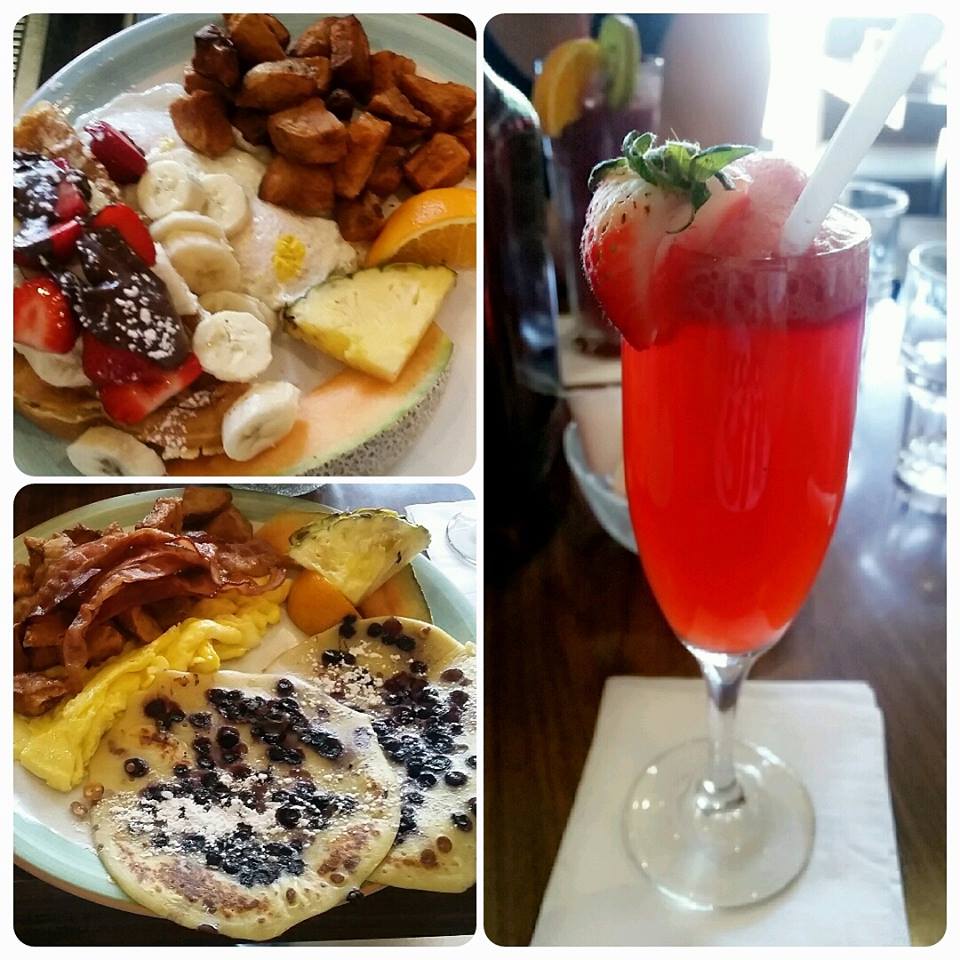 My brunch club #jointhebrunch has officially gone international! I am loving Canada and the HUGE portions. I had a mimosa fraisiere (strawberry mimosa), eggs, bacon, potatoes, toast and of course since I'm in French Canada I had to get the crepes with blueberries! My gosh, it was all phenomenal. Universal Restaurant is currently winning on the best brunch (in Montreal) I've had so far!
THE BERKSHIRE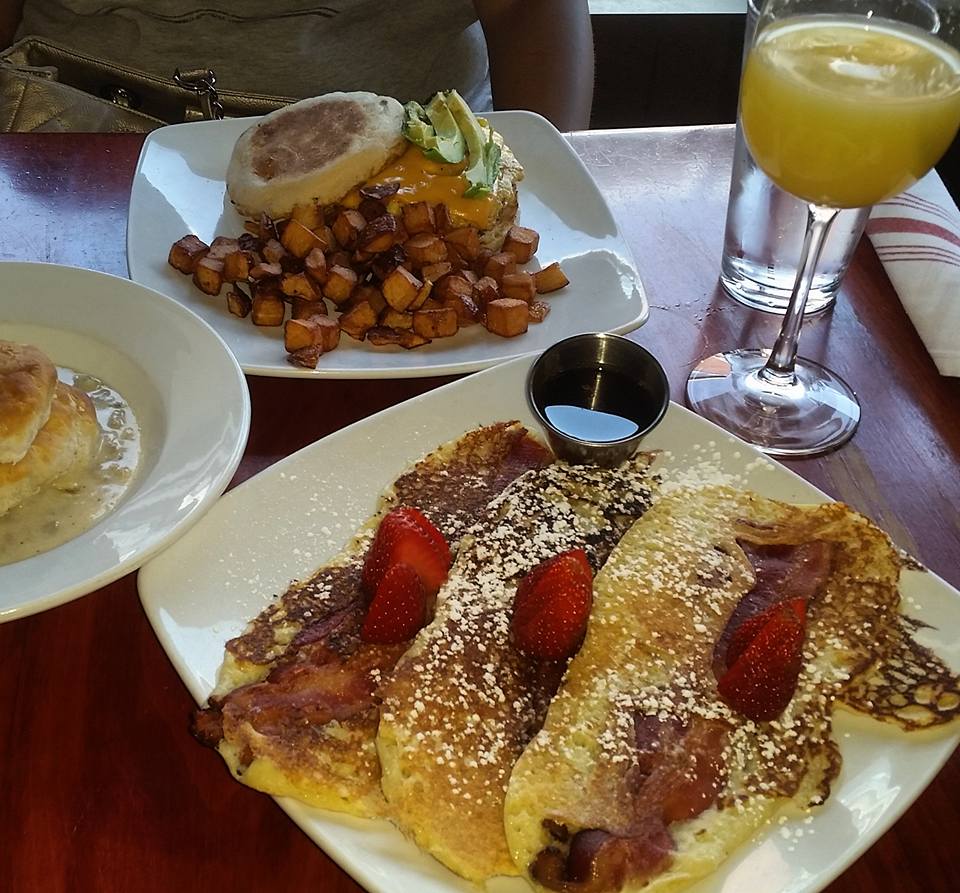 One of my favorite parts about traveling is trying new places to eat and today my best friend and I hit the jackpot! Food bucket list item #527 completed: have brunch at The Berkshire Restaurant where their motto is 'Swine, Wine and a Good Time'! SO GOOD. I had the bacon pancakes with strawberries, and biscuits and gravy, UNLIMITED mimosas, and my friend had the breakfast sandwich with delicious house fries. It was all phenomenal and I never want to leave Denver. ?
PENCA RESTAURANTE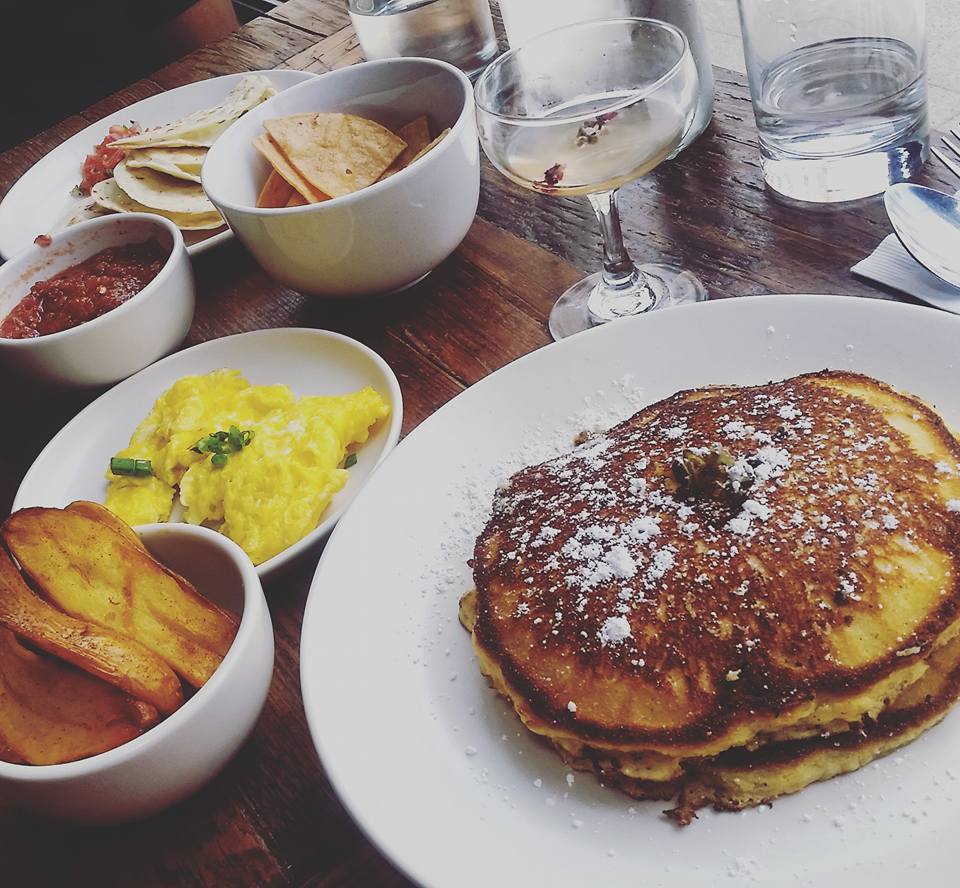 Wishing I was in Tucson right now so I could be enjoying crossing off food bucket list item #170 again! I LOVE the brunch at Penca Restaurante! I had the delicious pancakes that tasted like heaven, eggs and fingerling potatoes. This place was super cute and hip and they have the best sangria in town! Literally.
VIRTU HONEST CRAFT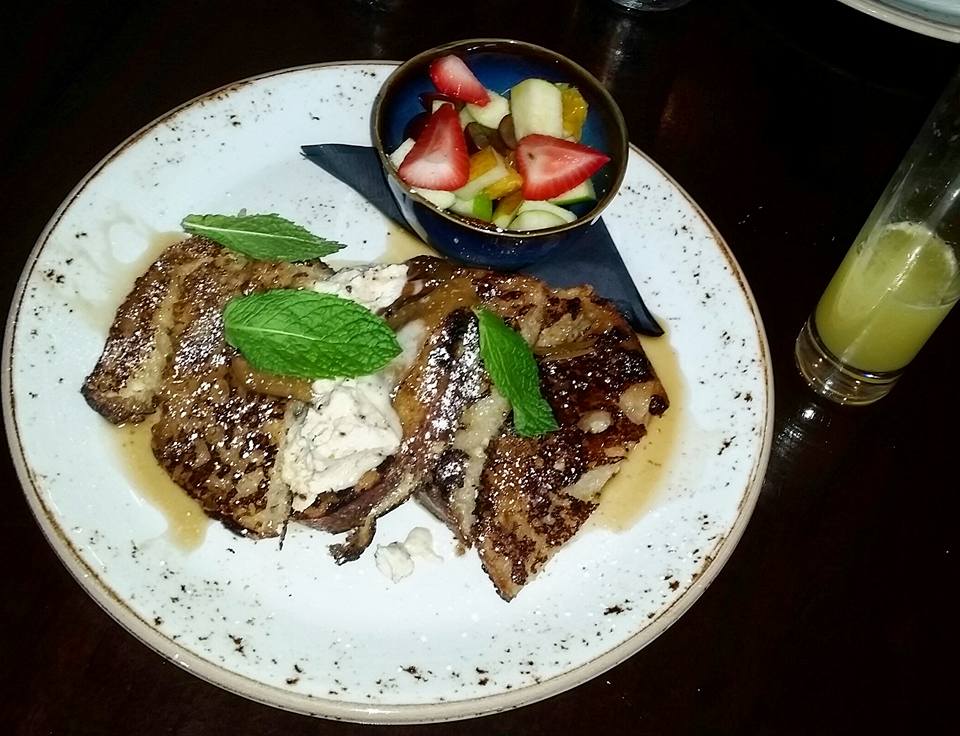 Just because it's National Brunch DayAND Father's Day! Bucket list : food edition item #140 completed: eat at Virtù Honest Craft! If you know me at all, you'll know that I LOVE French toast and the Brown Butter French Toast with toffee, cinnamon pears, and mascarpone was absolutely delicious!! Definitely coming back!
SCHNEPF FARMS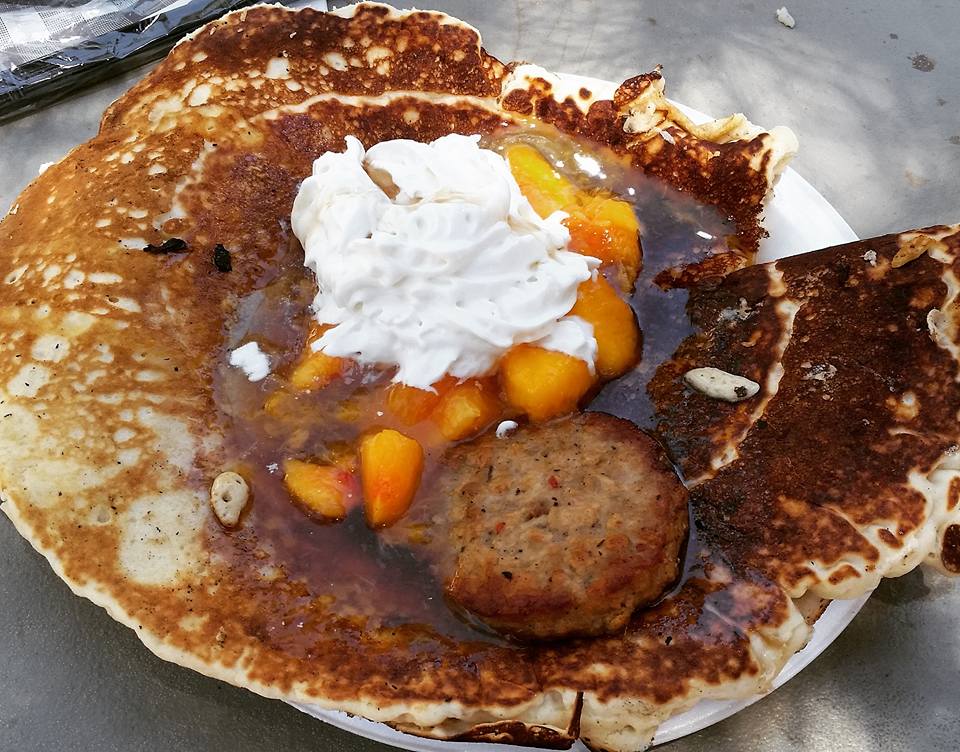 You know what is one of my favorite things in the world? Having breakfast for dinner! I really wish this was my dinner tonight but unfortunately it's just a picture from last Sunday when I crossed off life bucket list: food edition item #338 : eat the infamous peachy pancakes at Schnepf Farms! Oh my goodness, they were so big and flakey and the fresh peaches on top was just the final detail to make this a perfect breakfast. Check out more pictures of these pancakes being made and other pictures from my experience at the Peach Festival.
N COUNTER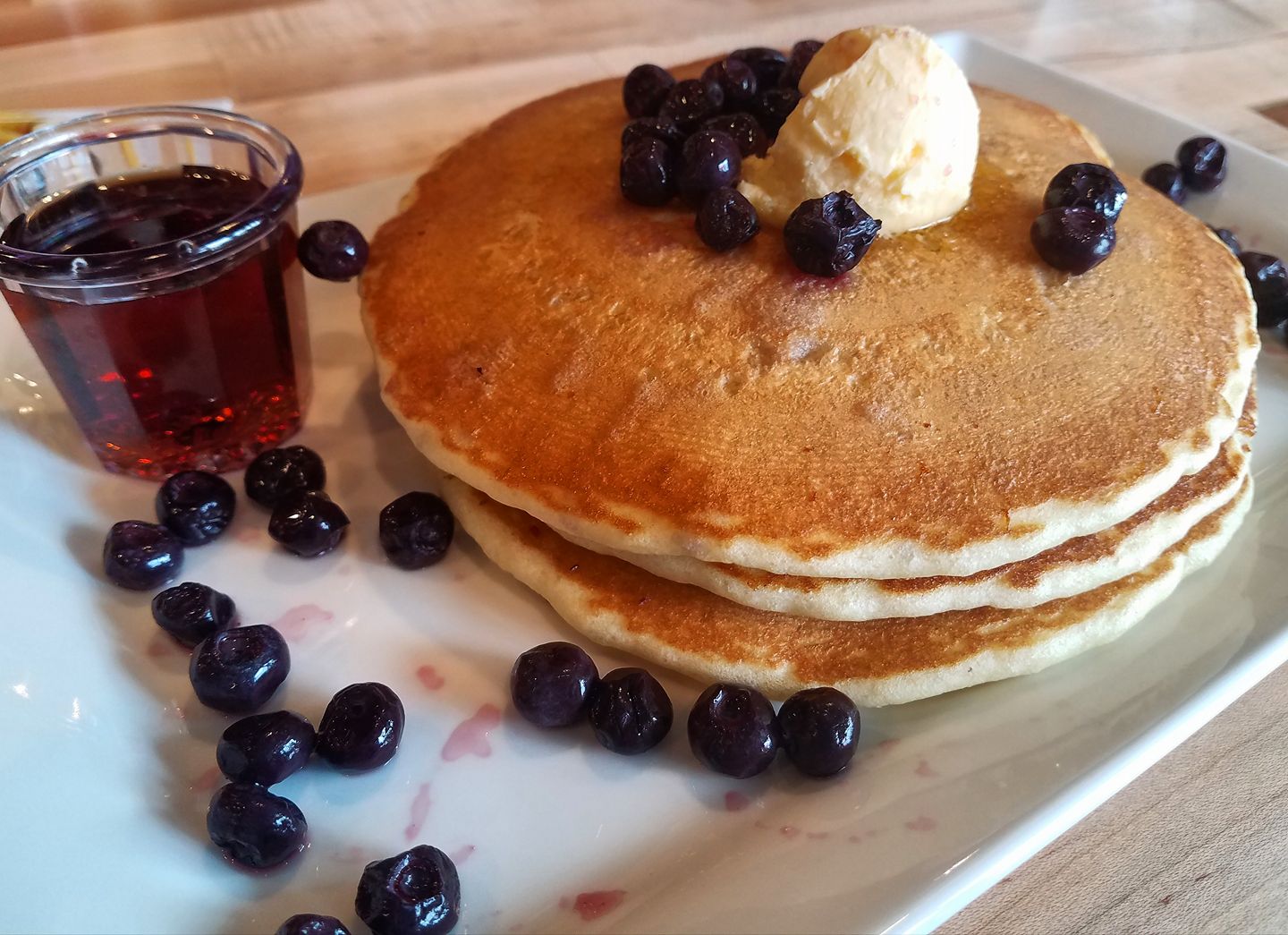 What's mother's day without a little brunch? Together we crossed off life bucket list: food edition item #315 completed : eat brunch at N Counter on Mill Ave in Tempe! Thank you Priscilla for the recommendation (on your Snapchat) it was DELICIOUS!! I had the loaded omelette and my mom had the French toast and pancakes (she couldn't decide so I got her both because she's a queen).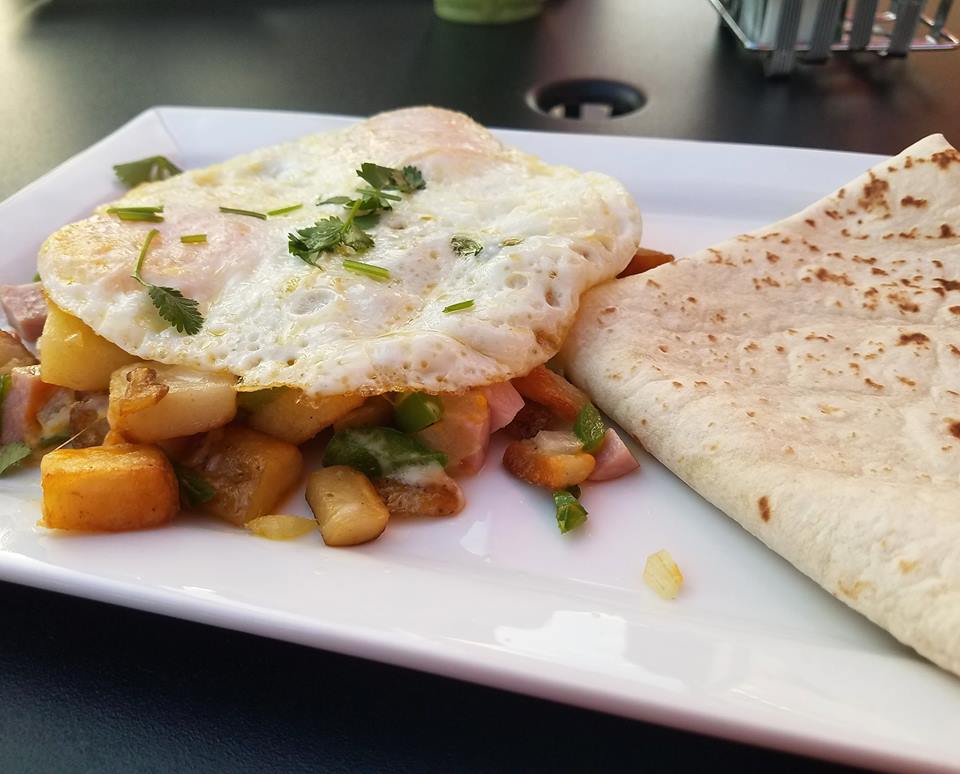 I ordered one of their sautés (the Denver) which includes ham, green pepper, onions, grilled potatoes, and melted cheese with choice of toast AND a tortilla! Delicious and super filling! 
CHELSEA'S KITCHEN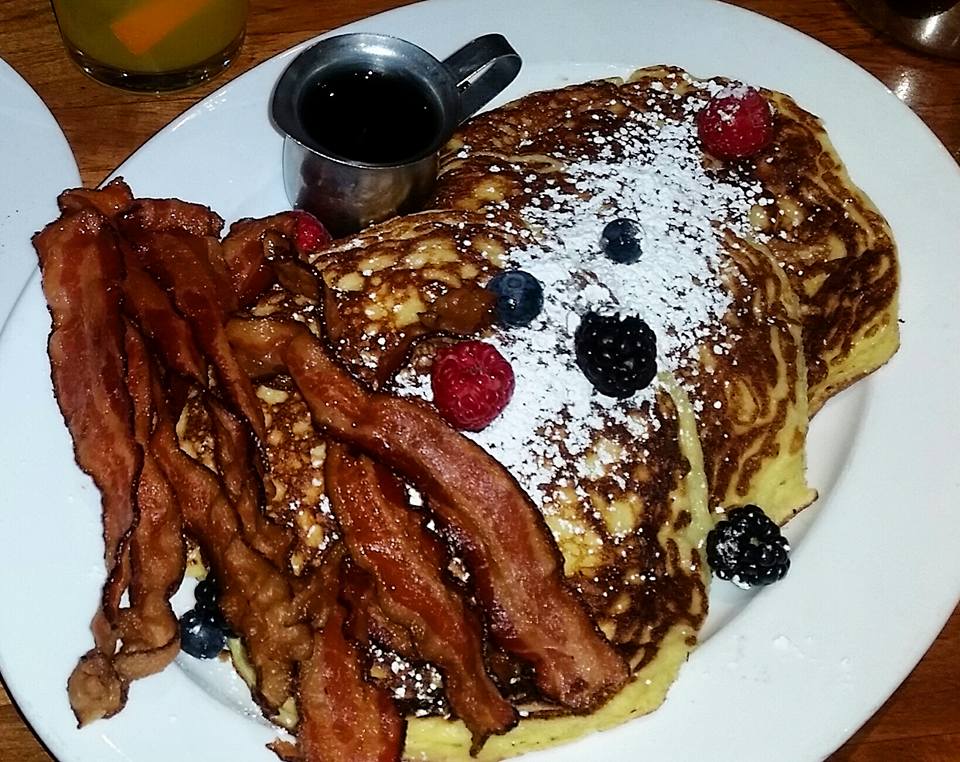 The 'Join The Brunch crew finally got together after what felt like forever to cross off life bucket list : food edition item #22 : Chelsea's Kitchen! I had the Chelsea's Hot Cakes with seasonal fruit and applewood smoked bacon. It was delicious and the hot cakes had a hint of lemon so I literally felt like I was eating lemon cake. I also tried the sangria which was delicious! We recommend! We also saw a celebrity here. You know that your brunch crew has officially made it when quarterback Carson Palmer from the AZ Cardinals joins you for brunch! ???
SALUT KITCHEN & BAR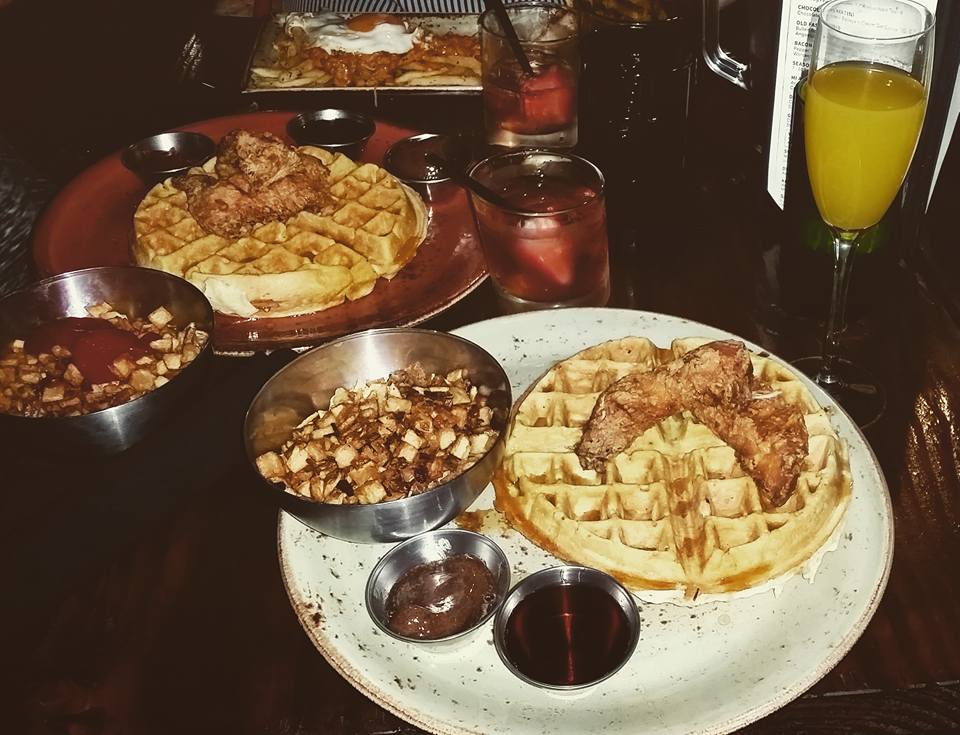 My favorite weekend meal! Crossed off life bucket list food edition item #507 completed: try the brunch at Salut Kitchen and Bar in Tempe! I got the chicken and waffles (yes I've been eating this a lot haha) and the bottomless mimosas (but we got there late so we only had one ?). The chicken was really good and the waffles came with a super flavorful brown sugar and pecan sauce! Also really liked the atmosphere I will be back! Plus they have wine flights on Tuesdays!
THE FARM AT SOUTH MOUNTAIN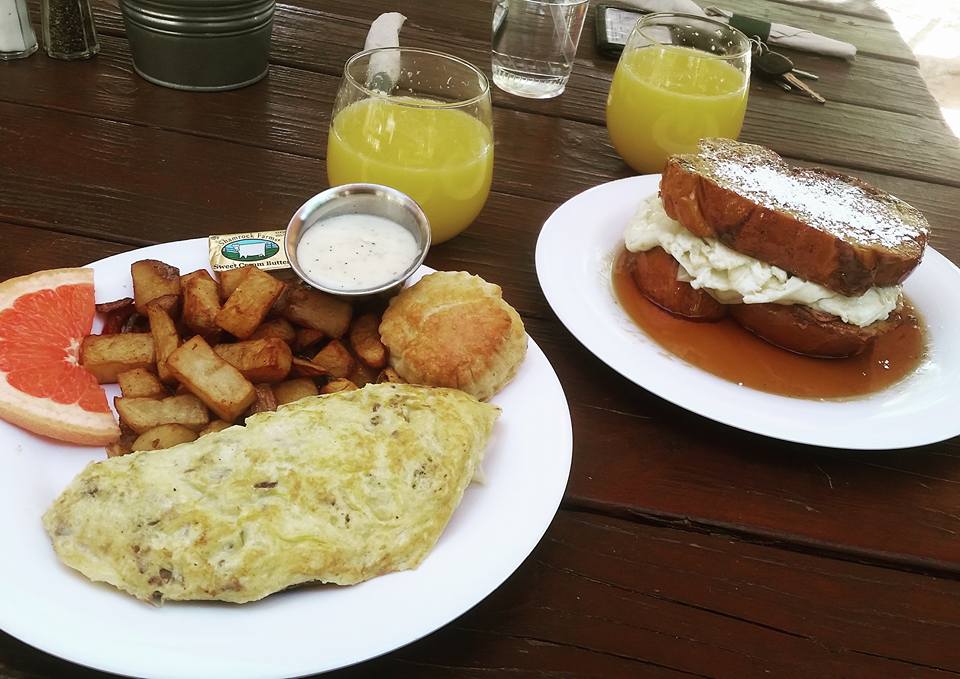 So it looks like my running partner and I are starting a new tradition of grabbing brunch after every race we complete! After our 5K this morning, we stopped by The Farm at South Mountain to cross off life bucket list : food edition item #279! It was DELICIOUS. We of course had mimosas, I had the the 'pork is the new black' omelet with breakfast potatoes and a flaky buttermilk biscuit and my cousin had the farm monte cristo which was a french toast sandwich with egg, ham and cheese covered in syrup. Thank you Deyzi for recommending! Not only is the food fantastic, but it's such a beautiful area, they have such great service and the vibe is so cute and classy! 
OHSO DISTILLERY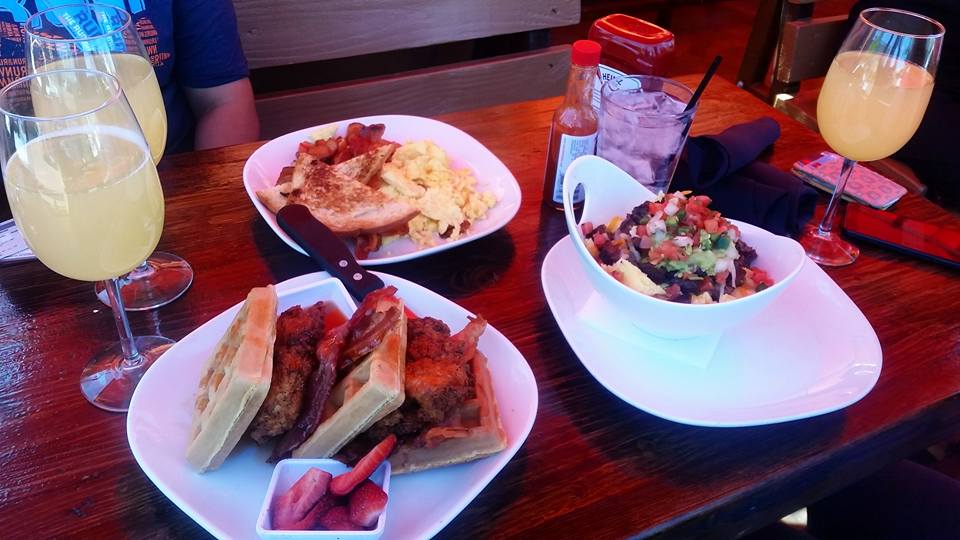 You know we had to grab some food after running a 10K! Life bucket list : food edition item #381 : try the brunch at OHSO (Outrageous Homebrewers Social Outpost) in Scottsdale has been completed! I've been to the Phoenix location for dinner but the brunch is a million times better. Thanks Renee for the recommendation! The chicken and waffles was to die for. Super juicy chicken and flavorful waffles. Juana tried the classic breakfast and Renee finally had steak and eggs! Plus the brunch comes with a mimosa or a beer!
CARLY'S BISTRO 
Started off the day by crossing off life bucket list : food edition item #27! Eat brunch at Carly's Bistro in downtown Phoenix! We had a very special birthday edition of 'join the brunch' for Hannah's birthday! Super delicious food, HIGHLY recommend
CREPE BAR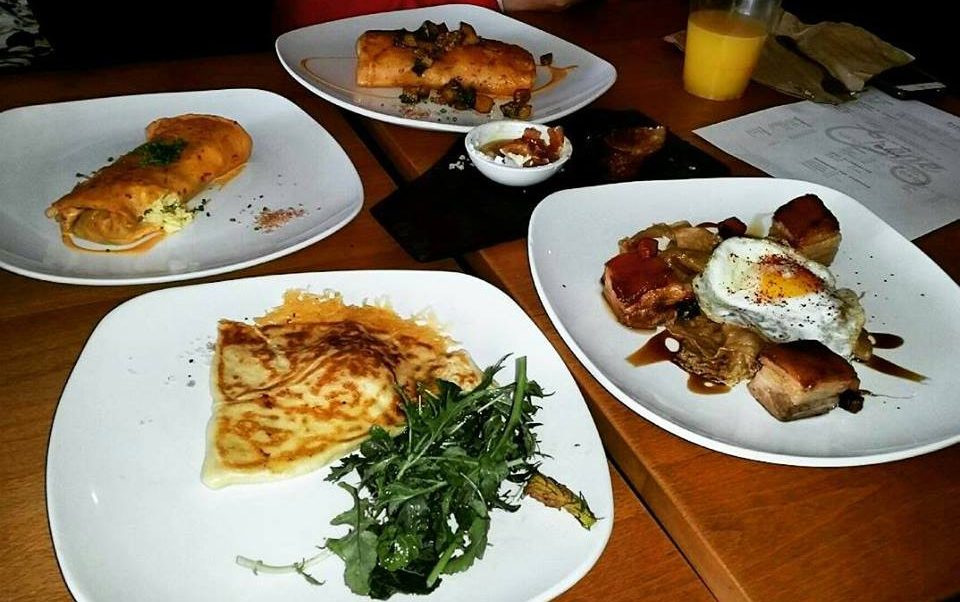 The first Join The Brunch' of the year was a success! So good to see you ladies, missed you all! Thanks for helping me cross off life bucket list : food edition item #461 : eat brunch at Crepe Bar in Tempe! The crepes were delicious, we recommend! ??? 
ORANGE TABLE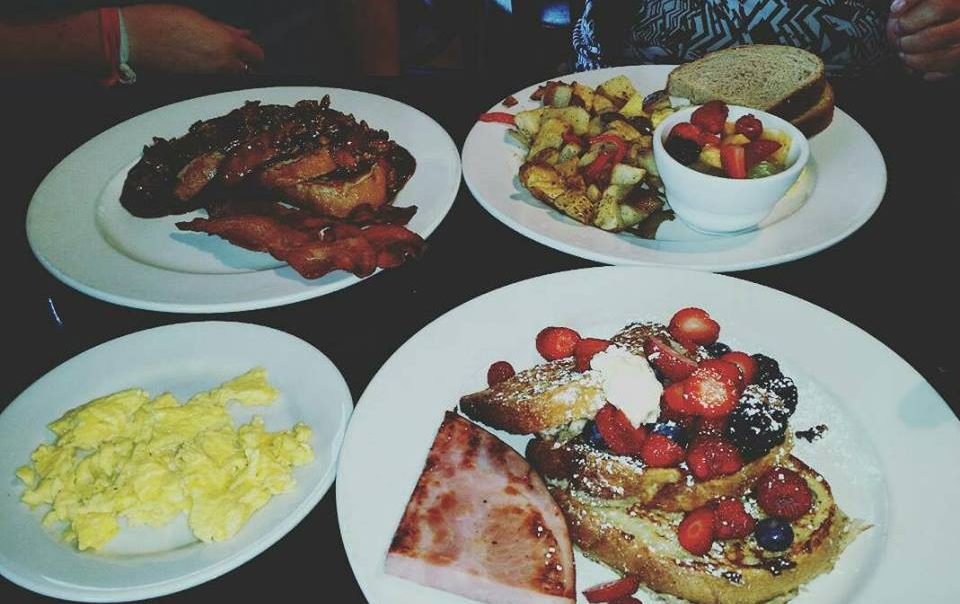 The brunch at Orange Table in Tempe was DELICIOUS!! I had the traditional french toast with berries, Yamille and Deyzi shared French toast with whiskey syrup sauce (def getting that next time)! Super delicious, we recommend!
THE BREAKFAST CLUB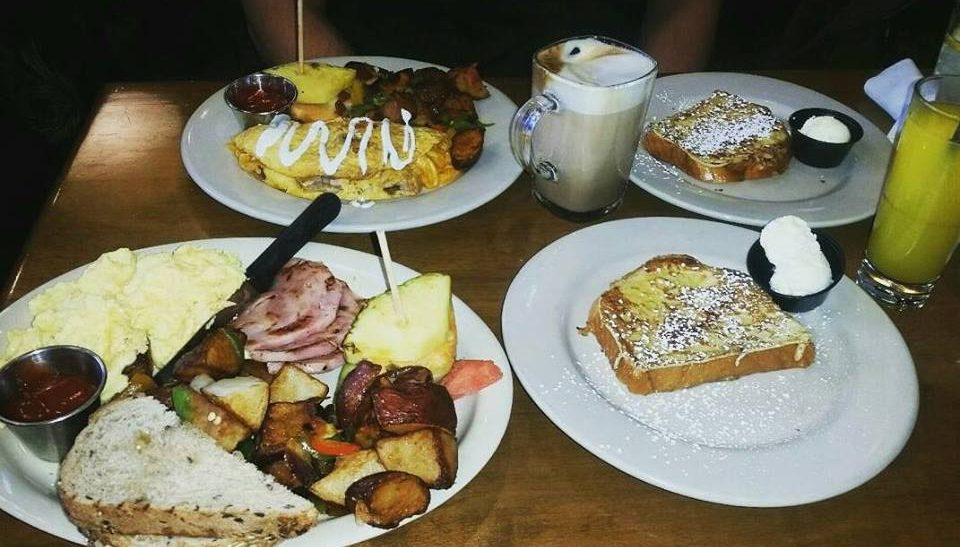 Got a chance to catch up with my friend Jose and hear all about his trip to Indonesia and simultaneously completed life bucket list : food edition item #277 : eat at The Breakfast Club in downtown PHX! The foo was so DELICIOUS and filling. The portions are HUGE but the prices are small and super reasonable. I loved everything on my plate but the potatoes were my favorite!
FEZ RESTAURANT AND BAR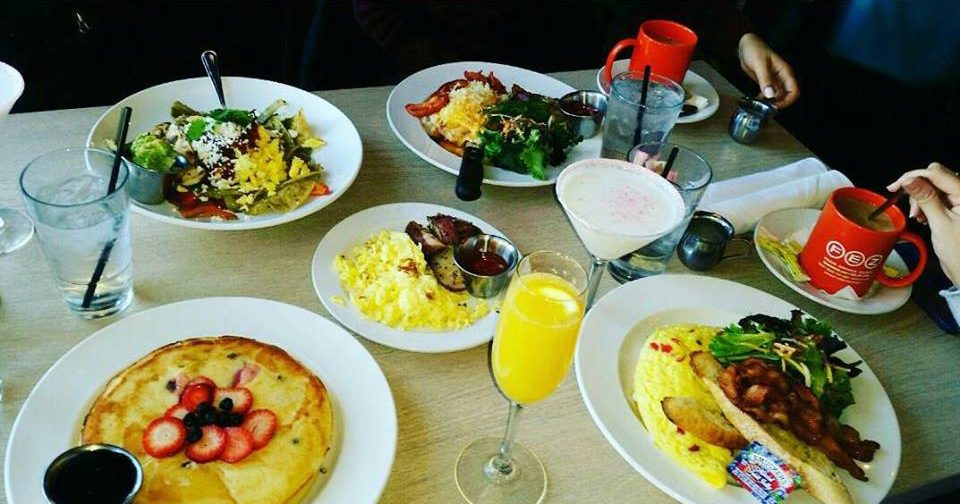 The last 'Join The Brunch' of the year was a success. We tried the brunch at Fez On Central! DELICIOUS. I had the strawberry/blueberry hot cakes with eggs and roaster potatoes. They were SO GOOD. I also loved the $4 mimosas and other really cute (really strong) brunch drinks! Will definitely be back!
VALERIE CONFECTIONS AT GRAND CENTRAL MARKET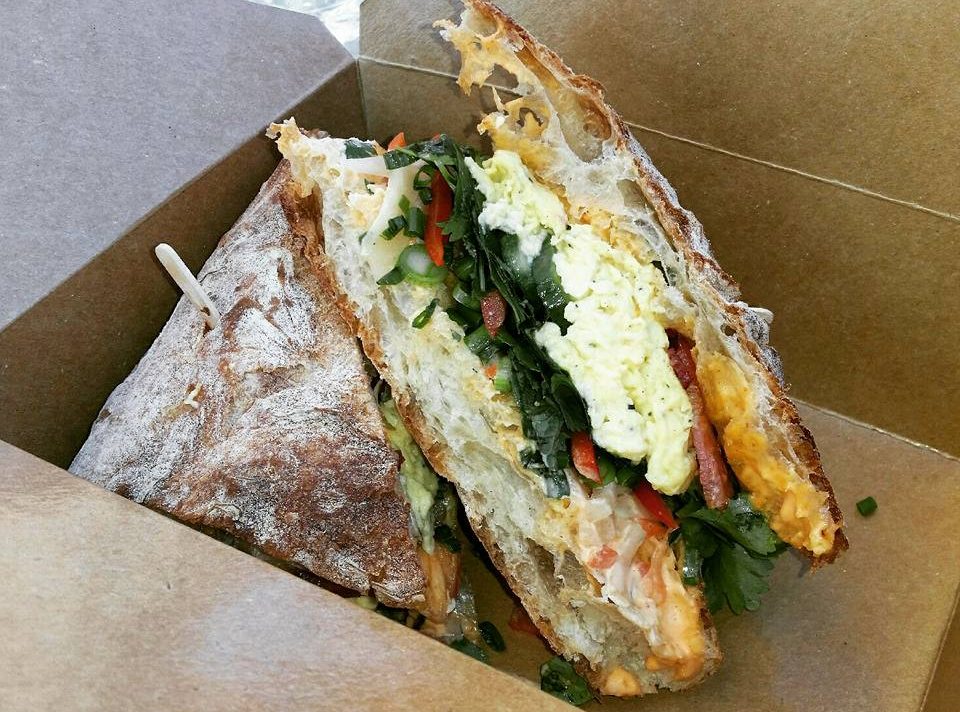 I took a girls' trip to LA and we ended a fabulous weekend by stopping at Valerie Confections located inside the Grand Central Market in LA (similar to Desoto Central Market in Phoenix) to grab some breakfast to go. Super cool place filled with tons of very diverse restaurants. I had the bahn mi breakfast sandwich and it was DELICIOUS.
THE HOUSE BRASSERIE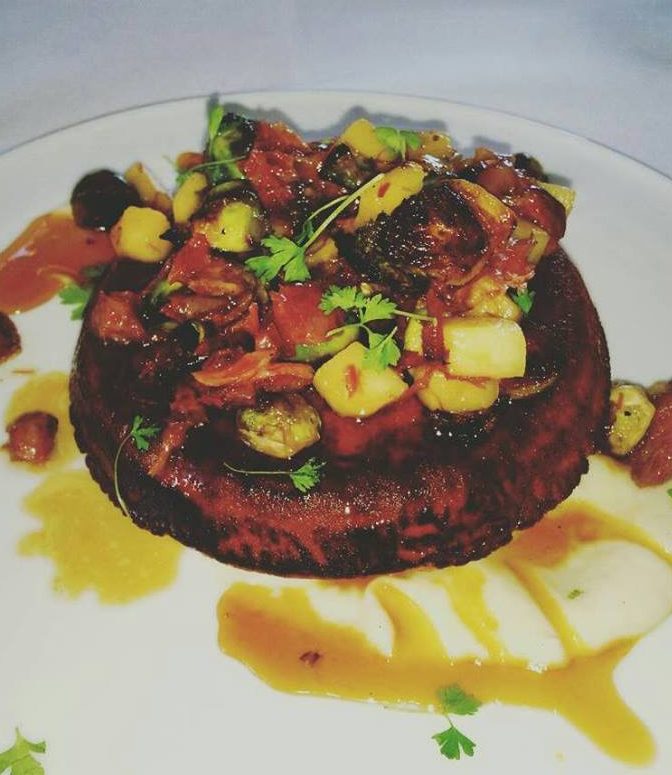 After partying at RnR Scottsdale my brunch squad and I wanted to try something a little more calm so we ended up at The House Brasserie! It was DELICIOUS and super cute and the staff was so friendly. They put a cloth under Yamille's purse so it wouldn't get dirty! Tell me that isn't great service. I had the Dutch pancake which is basically cake for breakfast. It's really pretty (hello instagram lovers) but also really filling and delicious. I loved the artichokes and pieces of bacon at the top. Definitely coming back!
RNR SCOTTSDALE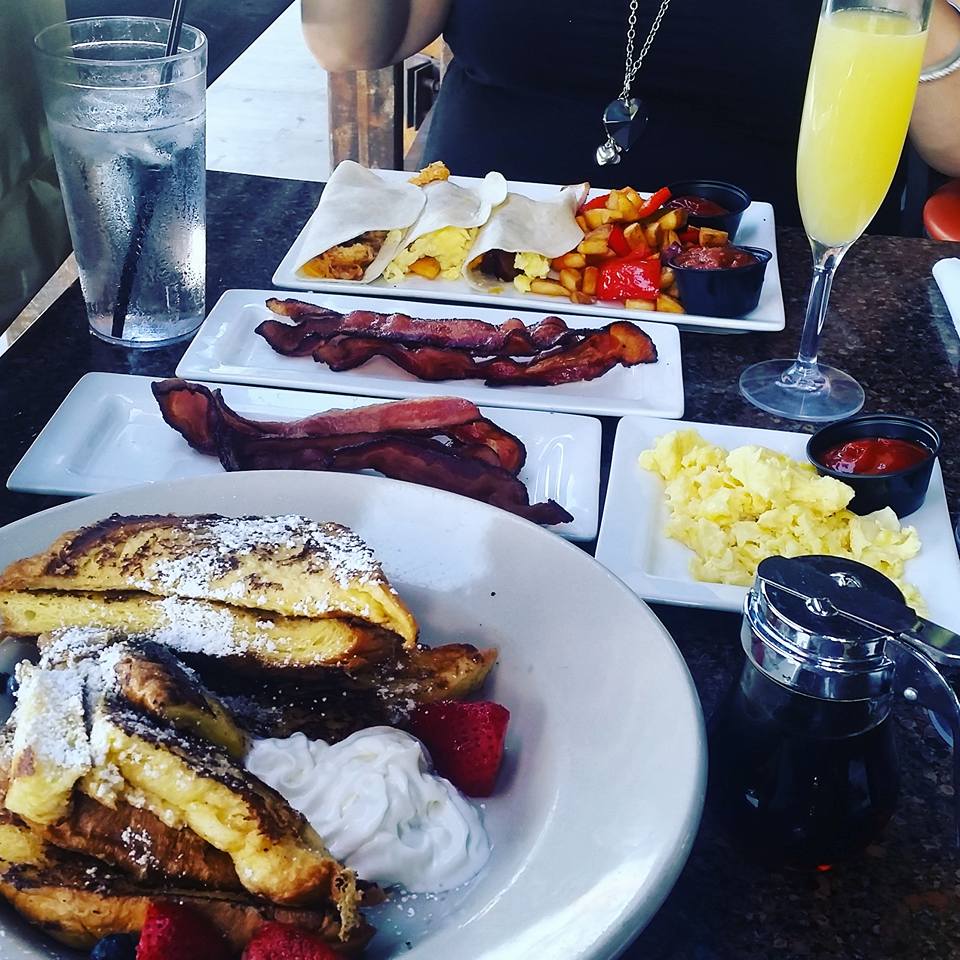 Getting brunch at RnR Scottsdale (Rest and Relaxation) is one of my favorite things in the world to do. I love brunch and RnR is the ultimate definition of brunch. Not only is their french toast to die for, but they have unlimited mimosas and every time I go here, it feels like a huge party. They play great music, the staff is super friendly and this place is always poppin'.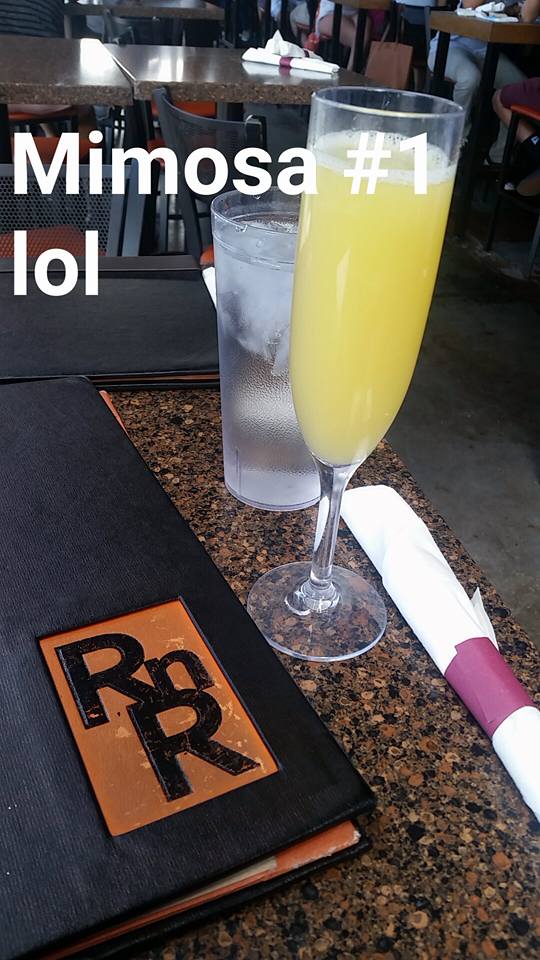 SCRAMBLE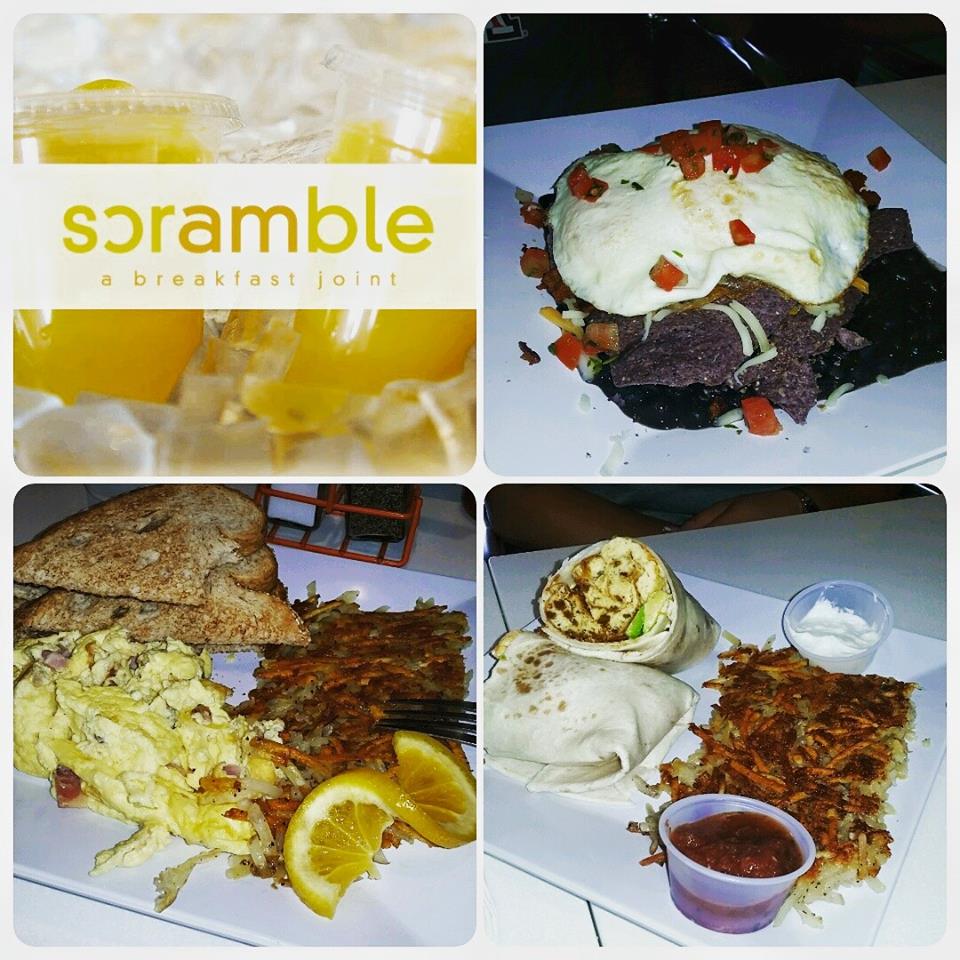 Scramble : A Breakfast Joint is now one of my favorite breakfast places in the valley. It was absolutely DELICIOUS. We had the meat lovers scramble, huevos rancheros, and chorizo burrito with jalapeño cream cheese! We recommend!
THE CRACKED EGG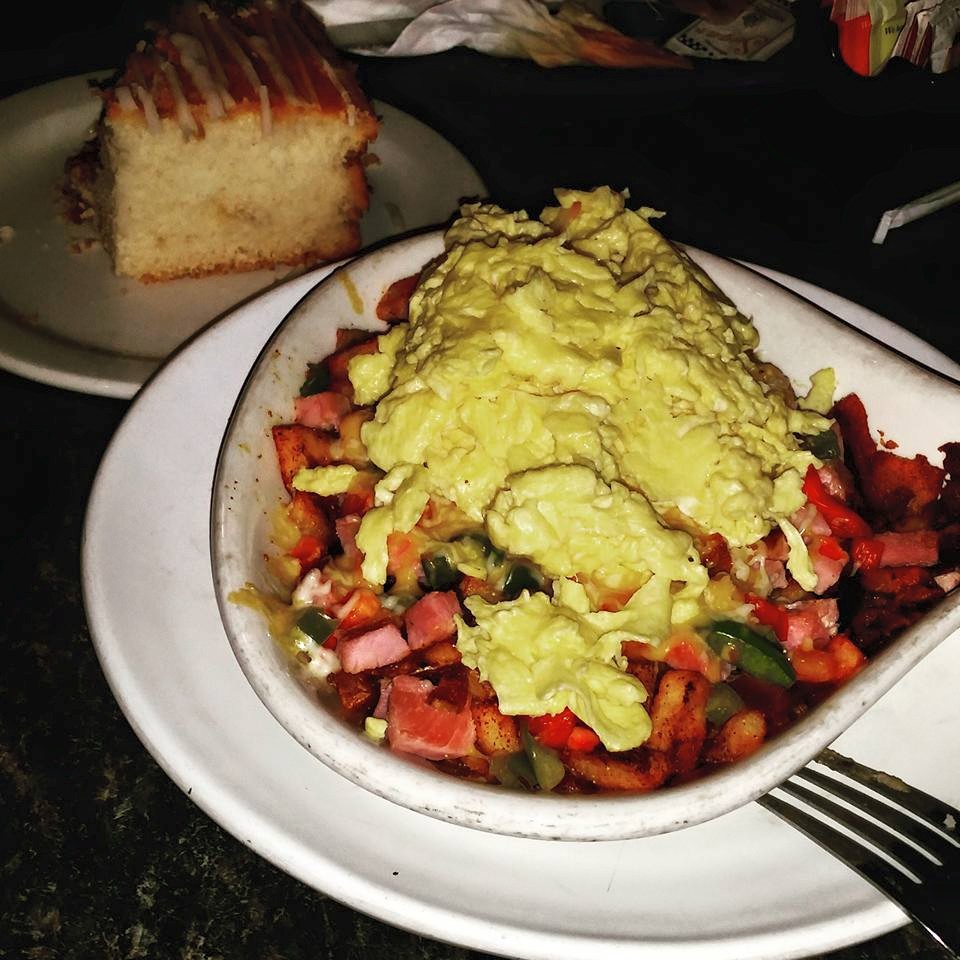 Growing up, I never really knew that Vegas was a foodie spot but let me tell you. It totally is. And if you are a breakfast foodie, then you need to make it out to The Cracked Egg. This place is phenomenal. One of the best breakfast skillets I've ever had. And I'm loving their coffee cake. Literally heaven in my mouth.
THE VIG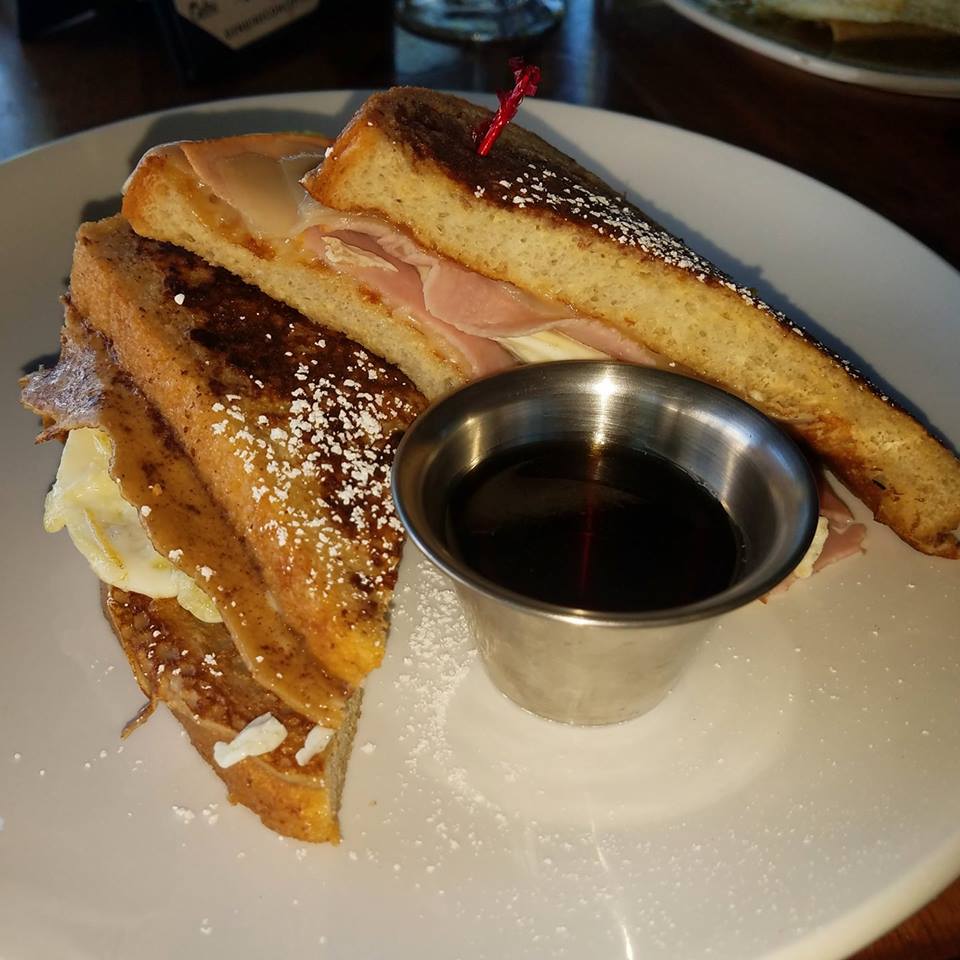 The Vig is delicious, they have $3 mimosas, AND a secret dessert menu! Honestly, what else do you need!? This monte cristo was literally heaven and I'm drooling just looking at this photo. ?
?
?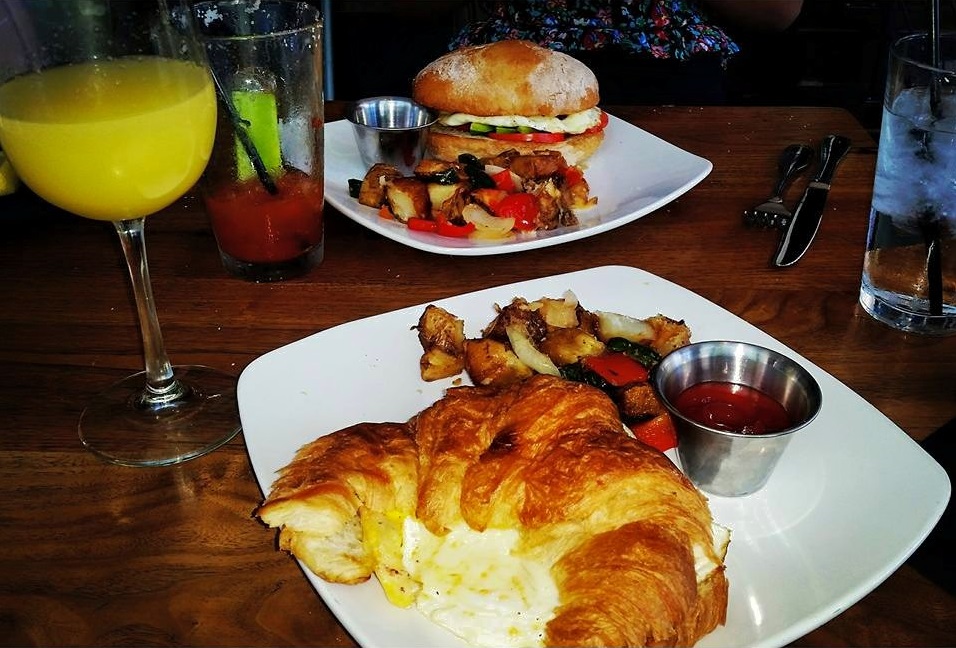 Brunch is one of my favorite things in the world and the brunch at The Vig was AMAZING. I had the breakfast croissant sandwich and the breakfast potatoes. Plus they have bottomless mimosas (always fantastic).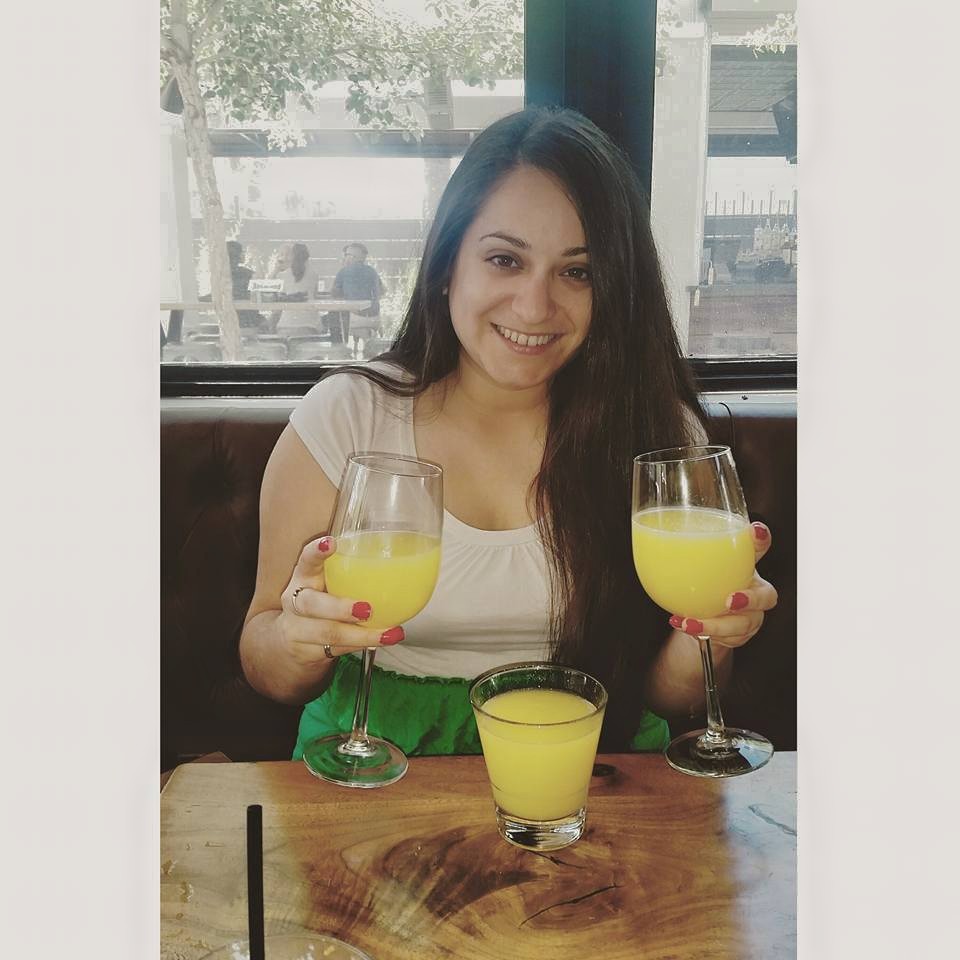 THE GOOD EGG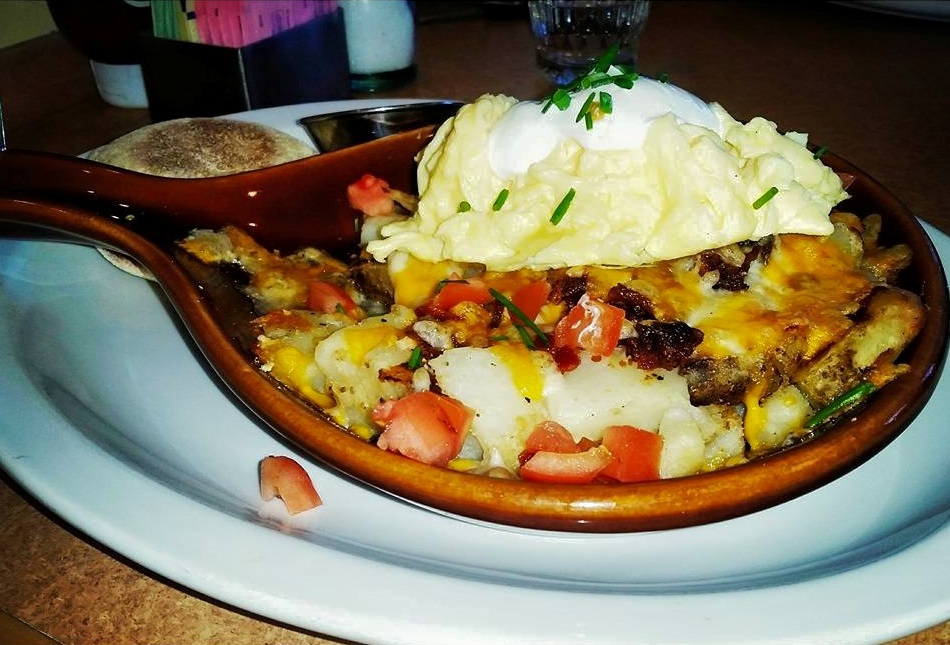 There's a reason why The Good Egg is so high up on the bucket list (#3!!). It was DELICIOUS. I had the breakfast skillet which came with a biscuit and oh my good. It was so filling, so flavorful and just overall some of the best breakfast I've had. And it feels healthy! I've heard their protein pancakes are legit so I will be back! This place is perfect for a post hike meal (which is why I've come to this restaurant twice after a hike haha).
CAFE CREPE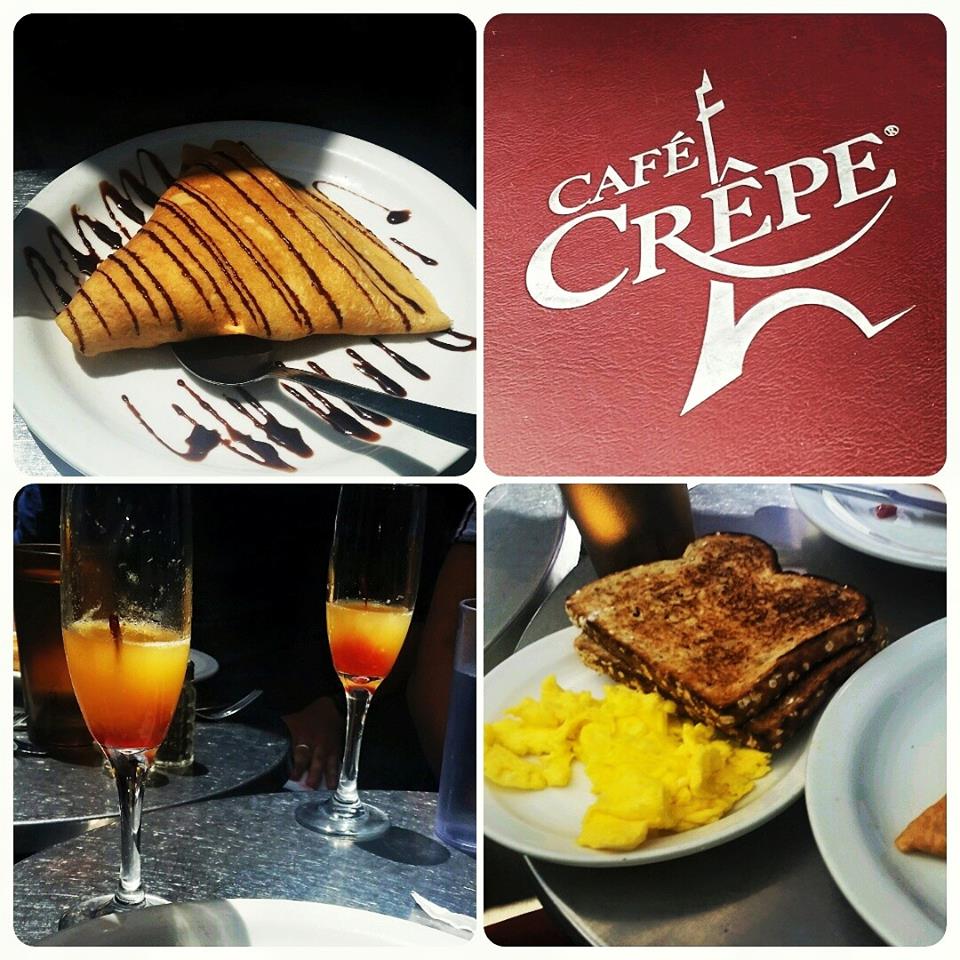 I tried the crepes at Cafe Crepe in Santa Monica while vacationing and omg they were DELICIOUS and the mimosas were just what we needed. Also our really attractive waiter said 'good choice' when I ordered my ham and swiss cheese crepe. I love being on vacation.
PREP & PASTRY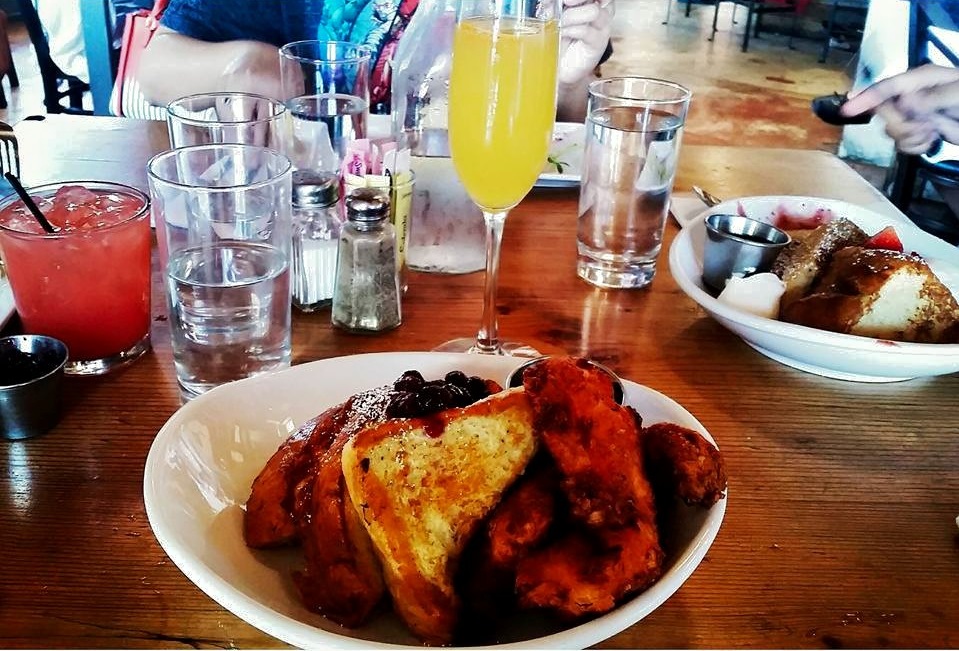 Had a delicious 'fancy breakfast' aka brunch! Prep & Pastry is one of my favorite brunch places in Arizona. I really wish it wasn't in Tucson because that means I can't go and eat there as often as I'd like. I had the fried chicken and French toast and it was just mouthwatering. Their brunch drinks are also sooo good!! I learned from them that brunch without booze is just a sad late breakfast lol
MATT'S BIG BREAKFAST
Finally tried the food at Matt's Big Breakfast! Hands down the best waffle I've ever had. I recommend! Make sure you get there early because this place is ALWAYS poppin.
---
TACOS SAHUARO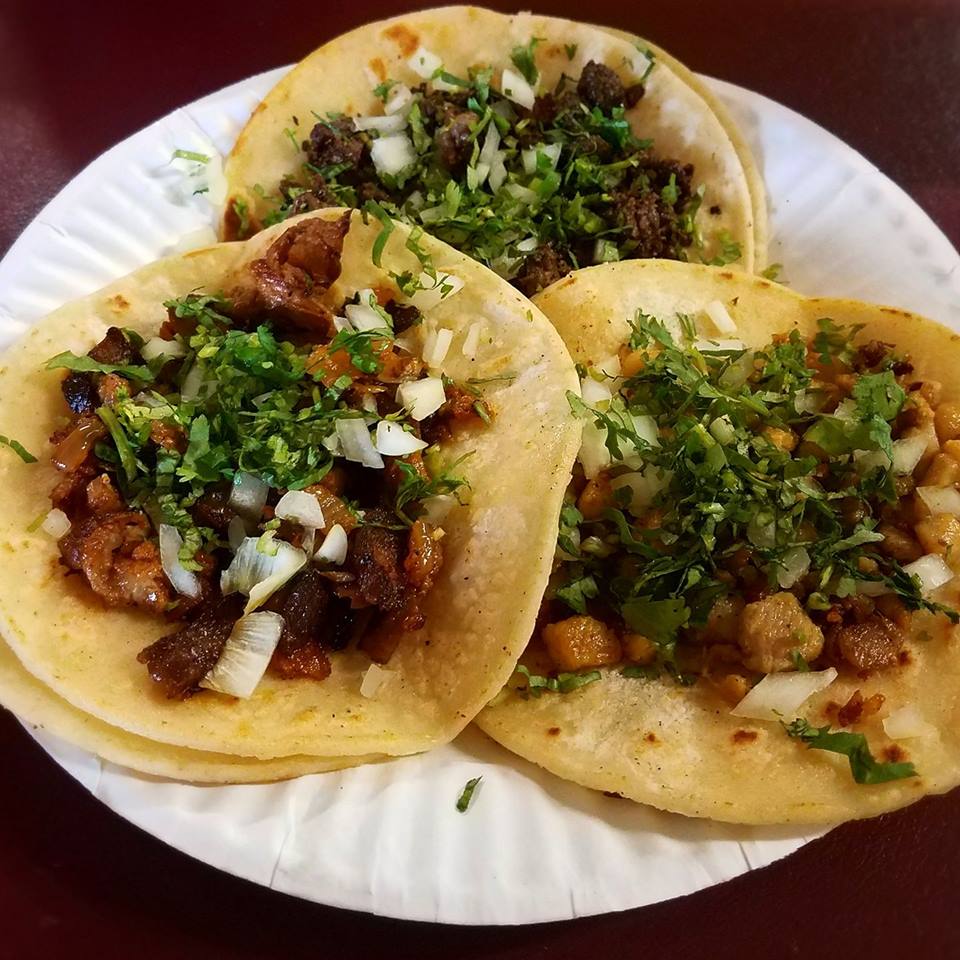 Tacos Sahuaro is my current fave taco spot in downtown Phoenix! The tortillas are homemade, the carne asada is so flavorful, the salsa is SPICY and the staff is so nice! Thanks Juan for turning me on to this spot!
TA' CARBON MEXICAN GRILL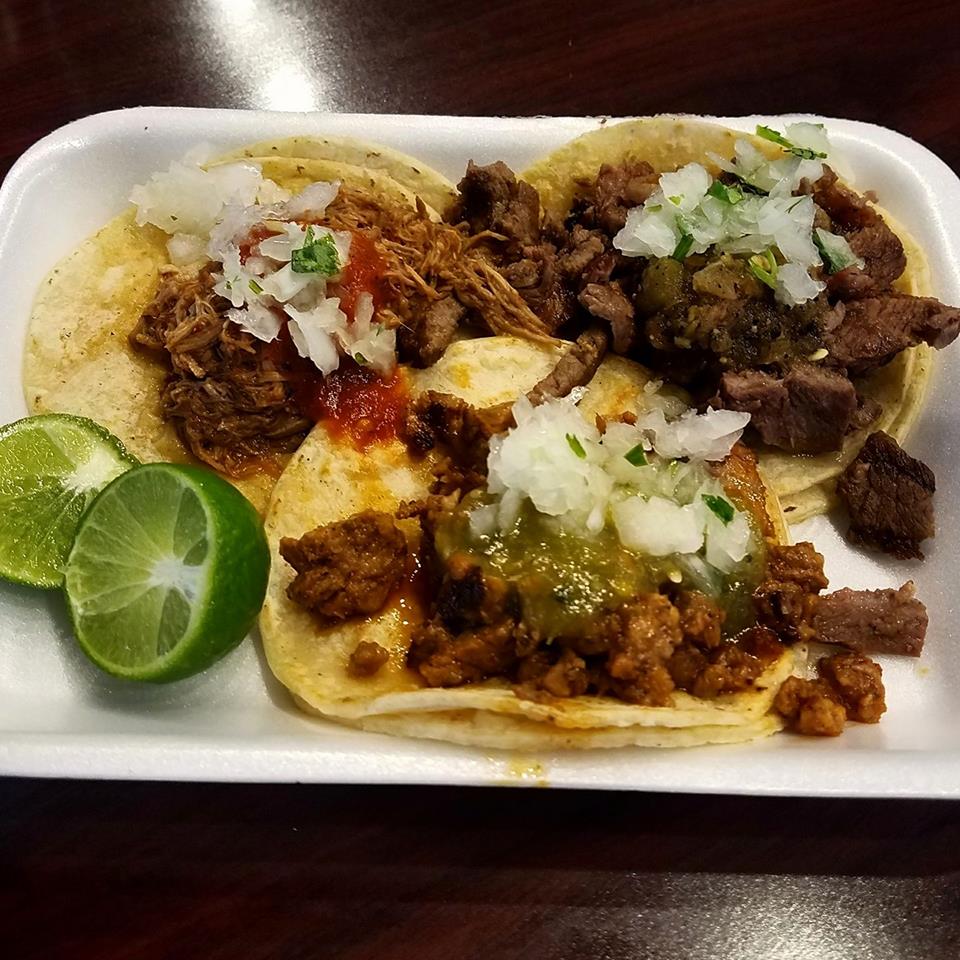 A few weeks ago, a friend asked me for my favorite Mexican restaurants in Phoenix and I promised him I would give him 5 restaurants to try so here it is! #3 on the list is pictured here (Ta Carbon Mexican Restaurant!). Ta Carbon is a delicious Mexican place, and their tacos are amazing as well! I mean just look at the picture, pictures don't lie! 
PATIO 7 AUTHENTIC NAVAJO CUISINE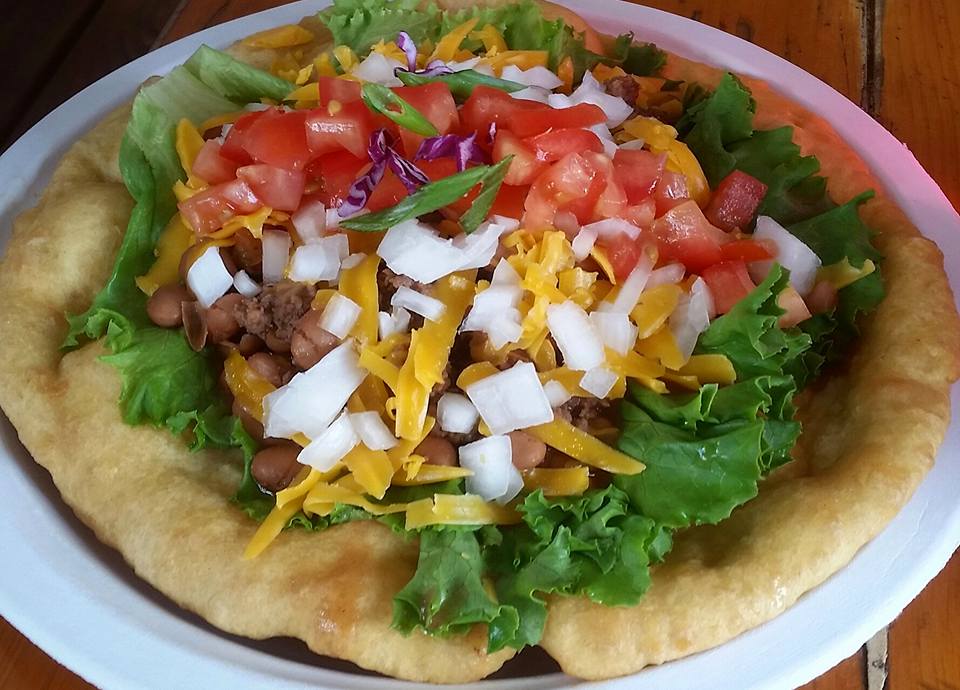 Not your typical Taco Tuesday submission but let me tell you that if you've never had an authentic Navajo fry bread taco, you need to add these to your food bucket list! I had the traditional beef taco on fry bread at Patio 7 and IT. WAS. DELICIOUS. Definitely not the healthiest thing I've ever eaten but the extra calories were so worth it. 
CRESCENT BALLROOM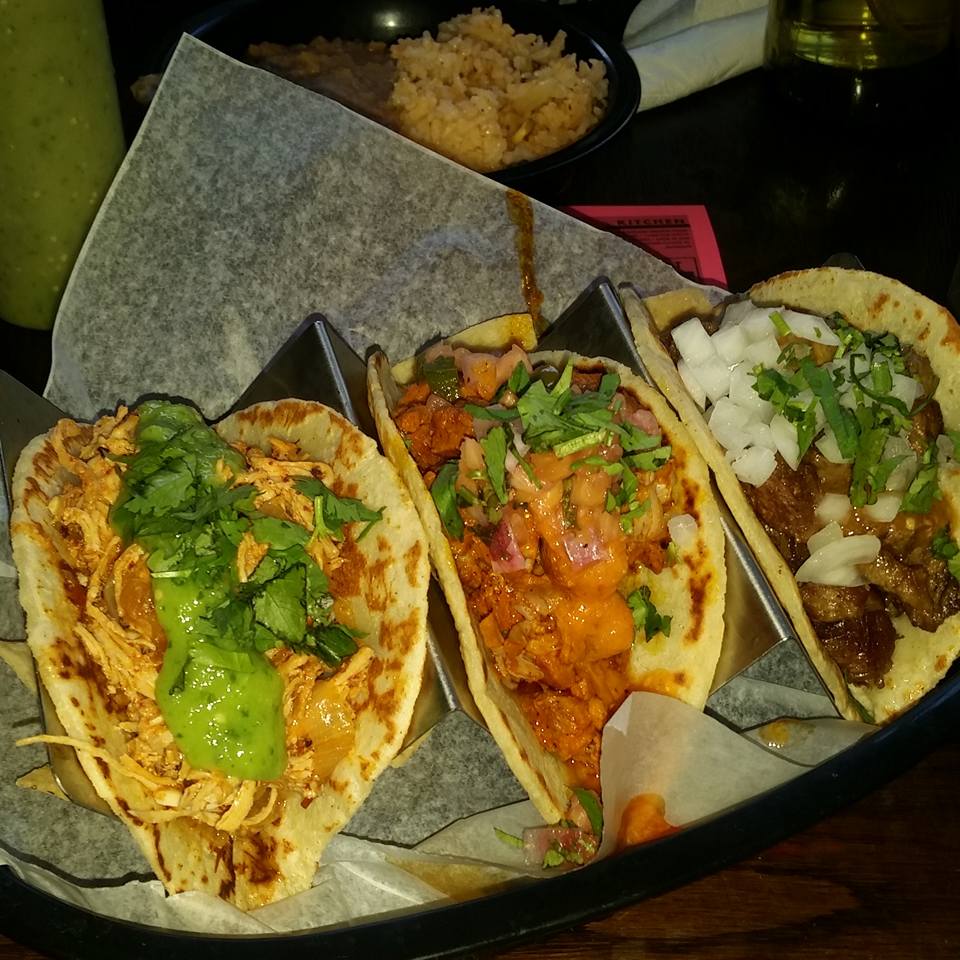 No filter needed for tonight's early birthday dinner! Thank you Jose for treating me to Crescent Ballroom! I've partied here and only recently found out that they are well known for their tacos (their tortillas are home-made!). Definitely coming back. I had the carne asada, pork, and chicken tacos. So flavorful and the home made tortillas are some of the best I've tasted in the valley!
SALT, TACOS & TEQUILA
Finally made it out to try Salt, Tacos y Tequila! The ambiance here is poppin'…I'm definitely going to make it a point to start my nights here whenever I party at Westgate. Great music, great service, great food AND great drinks. We tried the chipotle shrimp tacos, carne asada tacos, beans, rice and chips with salsa and guac. The shrimp was really flavorful, the carne asada made me feel like I was at a family cook out (it was so good), the salsa was spicy, the guac was super creamy and the rice and beans were delicious. And the drinks…oh my goodness. Super delicious tequila drinks. We tried the blue hawaiian margarita and the blood orange margarita. Definitely coming back. Thank you Ruben for recommending everything we tried!
TAQUERIAS EL CHINO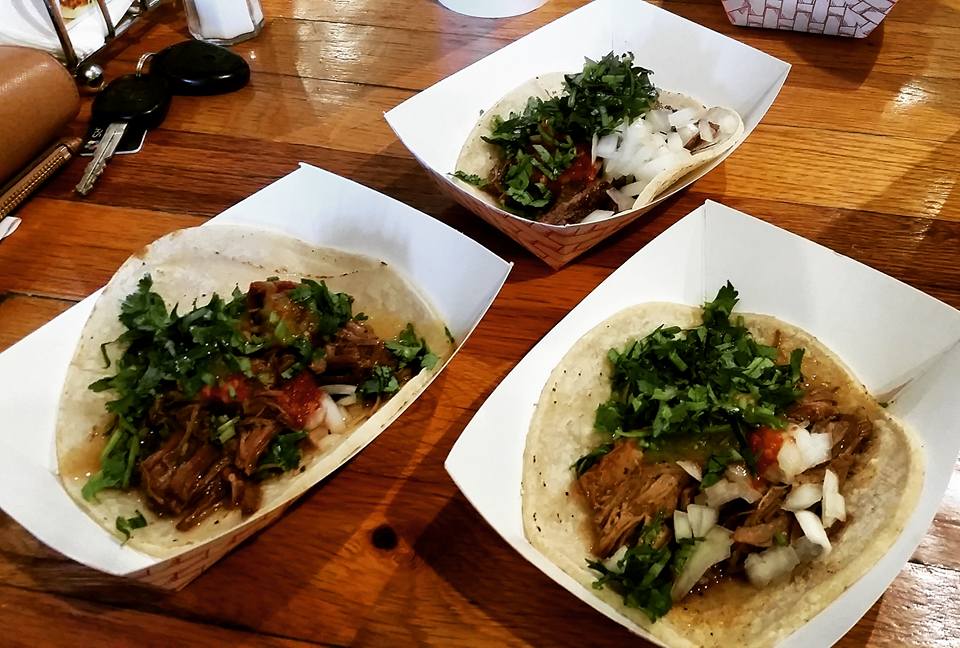 Life bucket list : food edition item #451 was completed today with an old friend! We were both craving tacos and decided to try Tacos El Chino! Thank you to Timo, Erick and countless others who have been recommending this place for a while. All of the tacos had so much meat. I tried the carne asada, pollo asado (chicken), pork and the barbacoa. Usually the carne asada is my favorite but I was really loving the chicken tacos today. Their salsa bar is really spicy and delicious. A few tears may have slipped because it was so hot haha we recommend!
TAQUERIA LOS YAQUIS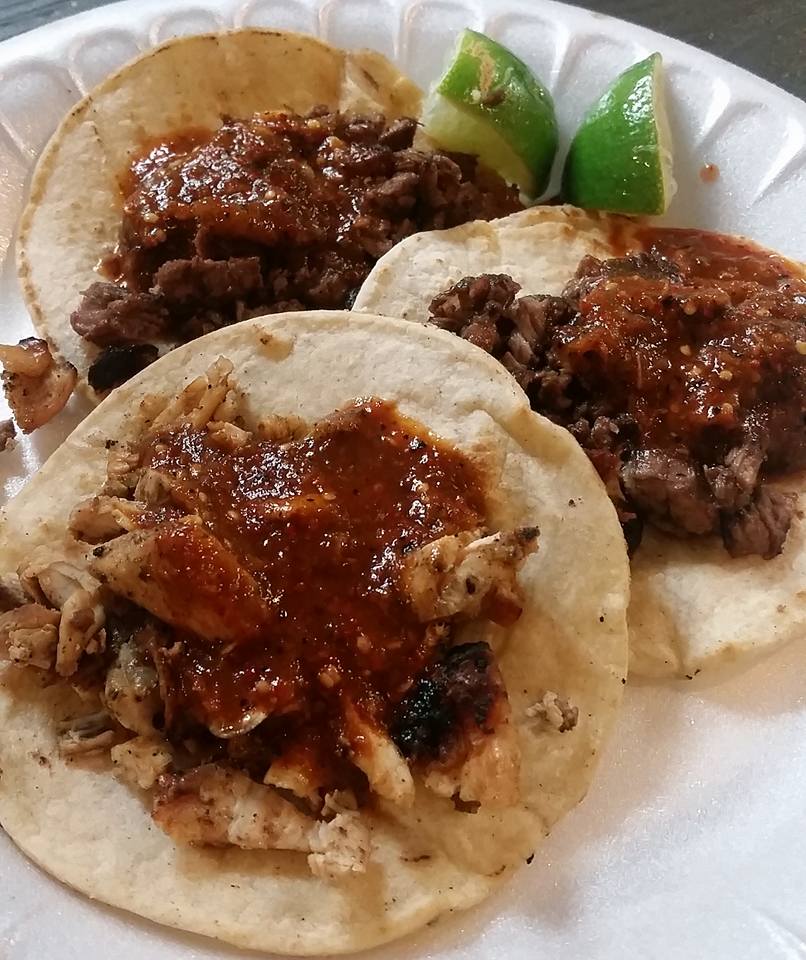 Absolutely no filter needed for these phenomenal tacos from Taqueria Los Yaquis in downtown Phoenix. There is a reason why this place is food bucket list item #34! I've gotten so many recommendations to try this place and it is definitely a top taco Tuesday spot. I had the classic carne asada and the pollo asado and both were super flavorful. Super cheap and delicious. Highly recommend! It is one of my favorite late night taco spots in the valley.
BACKYARD TACO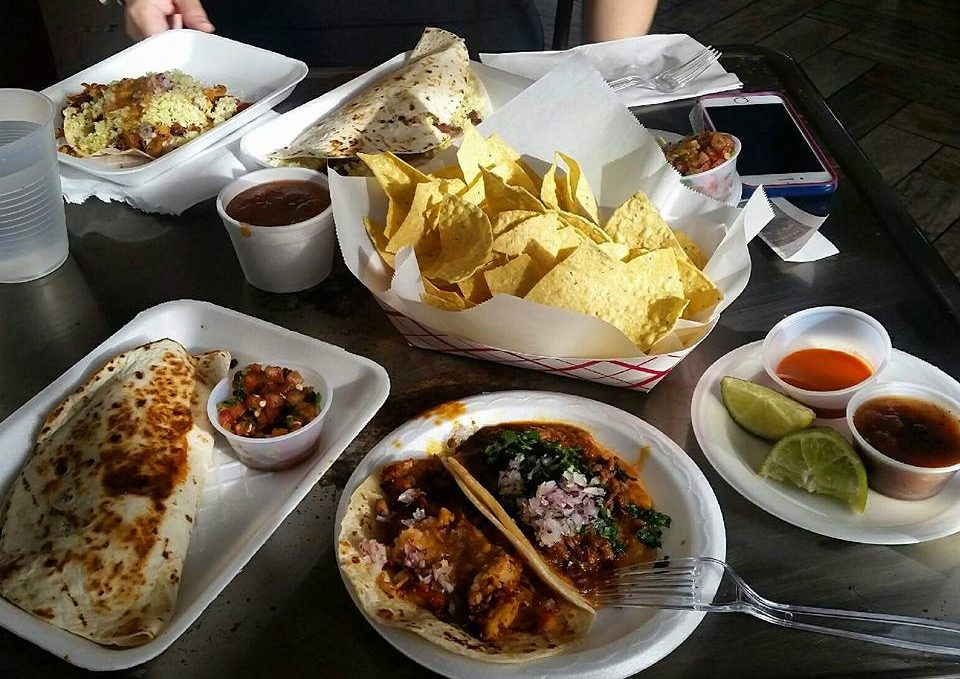 After hiking you know we had to go eat all the calories we burned off lol so we went to go complete life bucket list : food edition item #223! Try the tacos at Backyard Taco in Mesa! Hands down, some of the BEST tacos and salsa and quesadilla I've had in Arizona. I had the chicken and birria tacos and the carne asada quesadilla! Thanks for the recommendation Yamille! Making this my new spot when I'm on this side of town! Everyone go try, it is bomb!! No filter needed!
RESTAURANT ATOYAC ESTILO OAXACA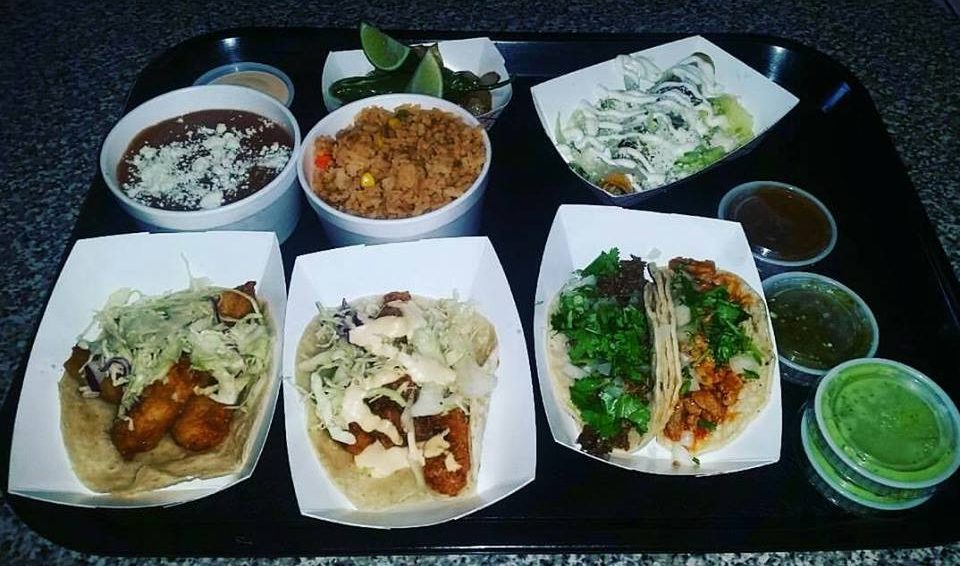 Omg y'all I finally made it out to the restaurant with the best fish tacos in Arizona and they are definitely worthy of that title. The food (specifically the fish tacos) at Restaurant Atoyac Estilo Oaxaca is delicious. The fish in the fish tacos are super flaky. The hype was not wrong. I also had the al pastor and carne asada tacos, rice and beans. What diet right? But seriously this place is delicious, definitely coming back for Taco Tuesday! Really good rice and beans and super reasonably priced. My mom had the fish taco and a dorado de res (rolled taco). We highly recommend!
TAQUERIA Y CENADURIA CULIACAN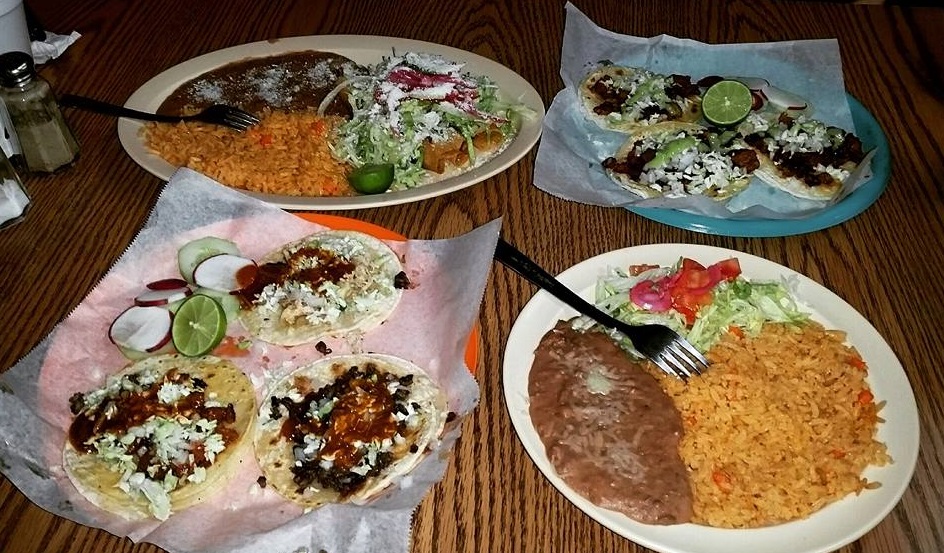 Finally got a chance to try Taqueria Y Cenaduria Culiacan! WOW. this place has some of the best carne asada tacos I've tasted! We highly recommend. My mom got the flautas and my sister and I got the tacos! P.S. this place smelled so good when we walked in that when my sister was in the middle of ordering, my mom rudely interrupted her so that she could get her food asap.
TACOS MI RANCHITO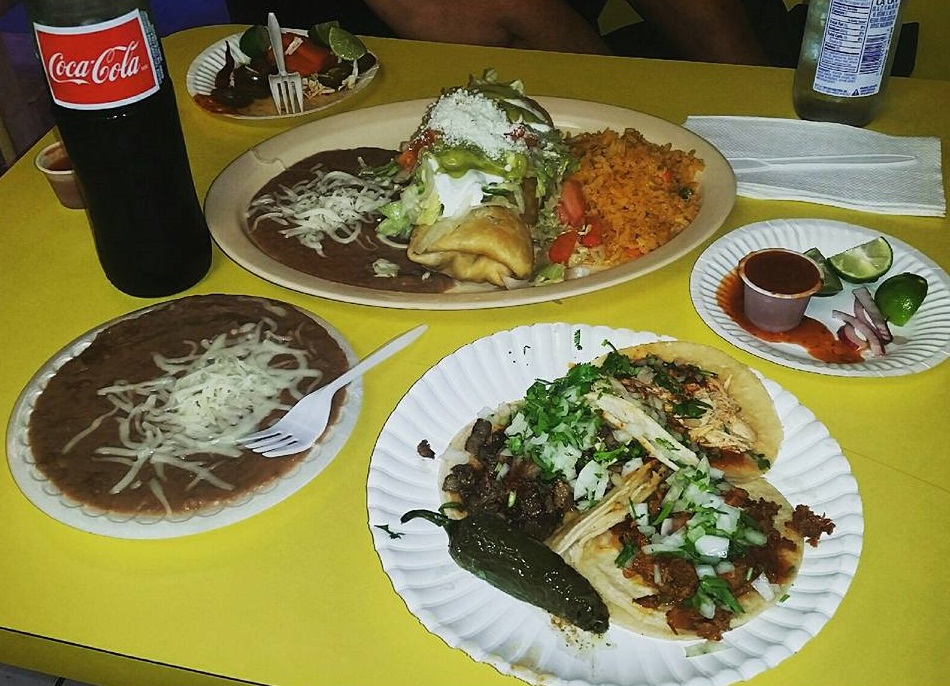 My mom and I tried the tacos at Tacos Mi Ranchito and oh my goodness, we highly recommend. These tacos were BOMB. My mom tried the chimi and she said it was delicious! We will be back, for sure.
LOS TAQUITOS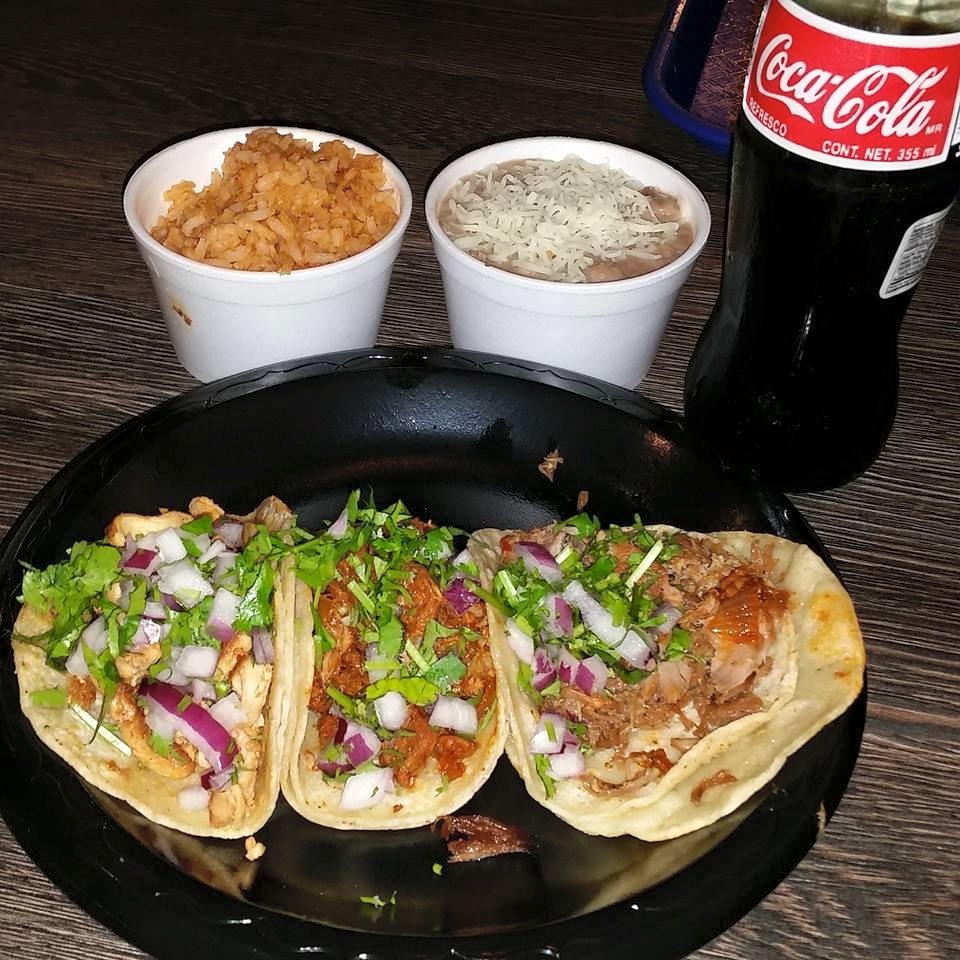 I tried the tacos at Los Taquitos!!! Delicious tacos and only $1 on taco tuesday! I may have to drive on this side of town more often just to eat these lol and I'm usually more of a red salsa kind of person but their green salsa is AMAZING. Highly recommend this place!
TACOS EL GORDO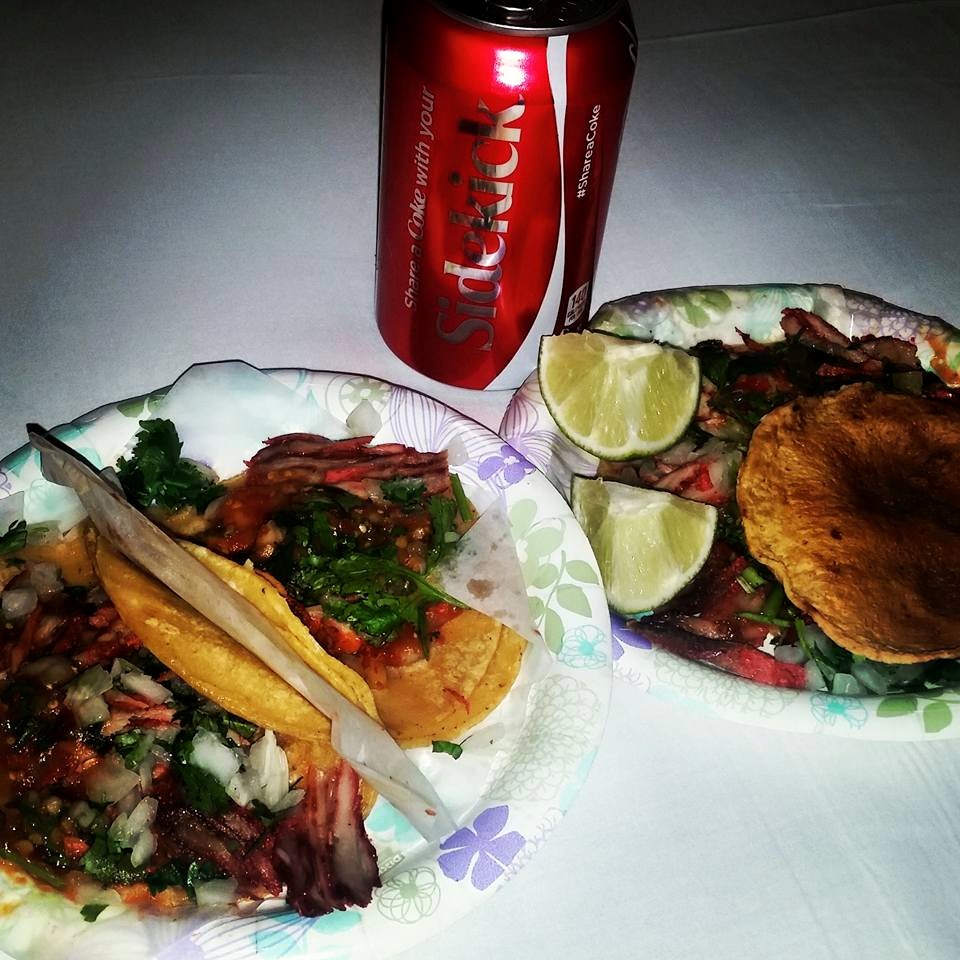 This past 4th of July weekend, I celebrated in Vegas and you know when you are partying in Vegas, that you will be needing some delicious food the morning after. Tthe food at Tacos El Gordo…Omg!!! Best tacos I have ever had, HANDS DOWN. Delicious. Definitely making this my regular spot every time I hit up Vegas. Damn this place was delicious.
BARRIO QUEEN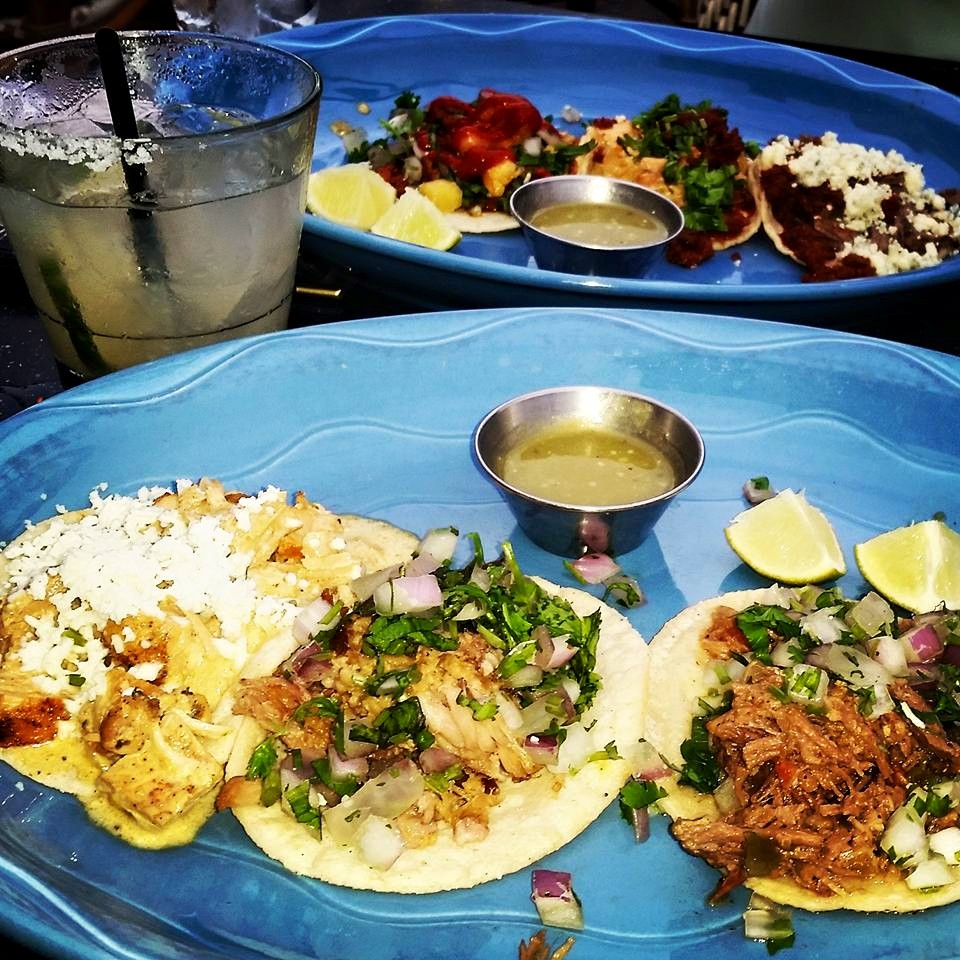 The tacos at Barrio Queen make taco tuesday my favorite day of the week! Omg so delicious. My favorite was the al pastor taco and I loved the margaritas! Definitely coming back! I recommend this spot if you need some tacos in your life and you are chillin' in Scottsdale!
TACO GUILD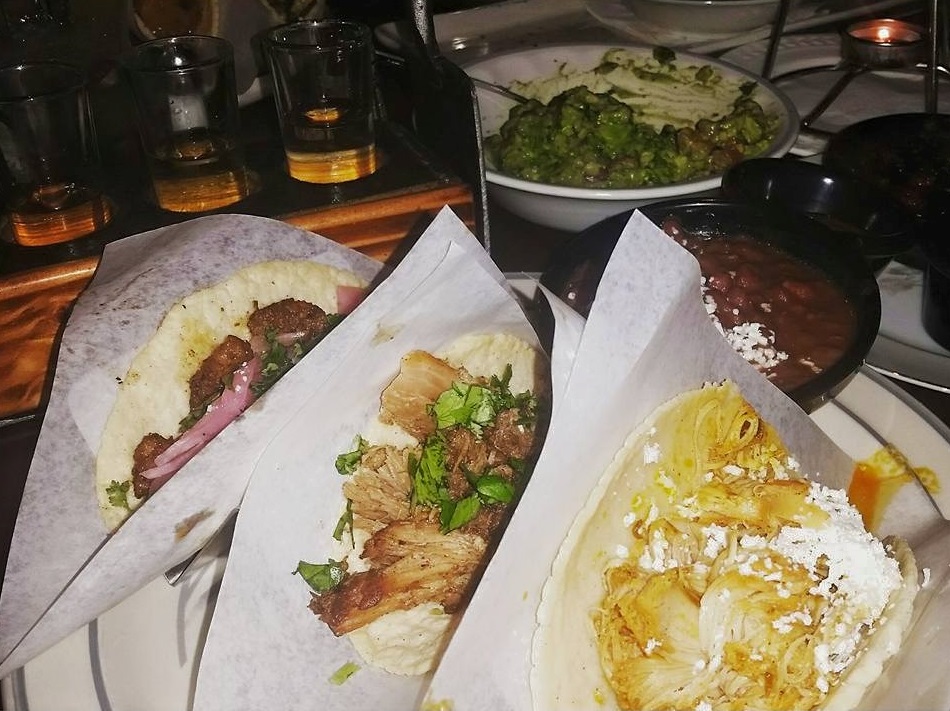 The birthday festivities continue! My cousin Brianda brought me to a bucket list restaurant: Taco Guild! Delicious chicken tacos and super cool restaurant. It used to be a church. And yes that is a flight OF TEQUILA. And yes it's not a good idea lol
BLANCO TACOS & TEQUILA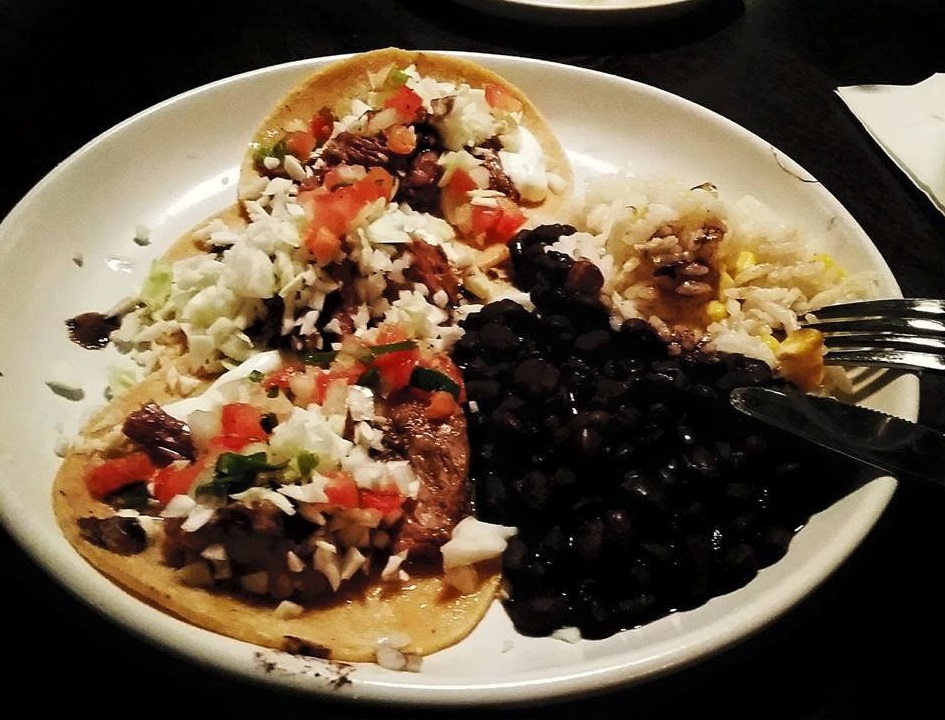 Had a nice time at the SWE Phx (Society of Women Engineers – Phoenix Section) banquet today. Coincidentally, it was held at a bucket list restaurant.
Food bucket list item #33 completed! Tried the classic margarita (not pictured) and the machaca tacos at Blanco Tacos & Tequila! Delicious.
LA SANTISIMA GOURMET TACO SHOP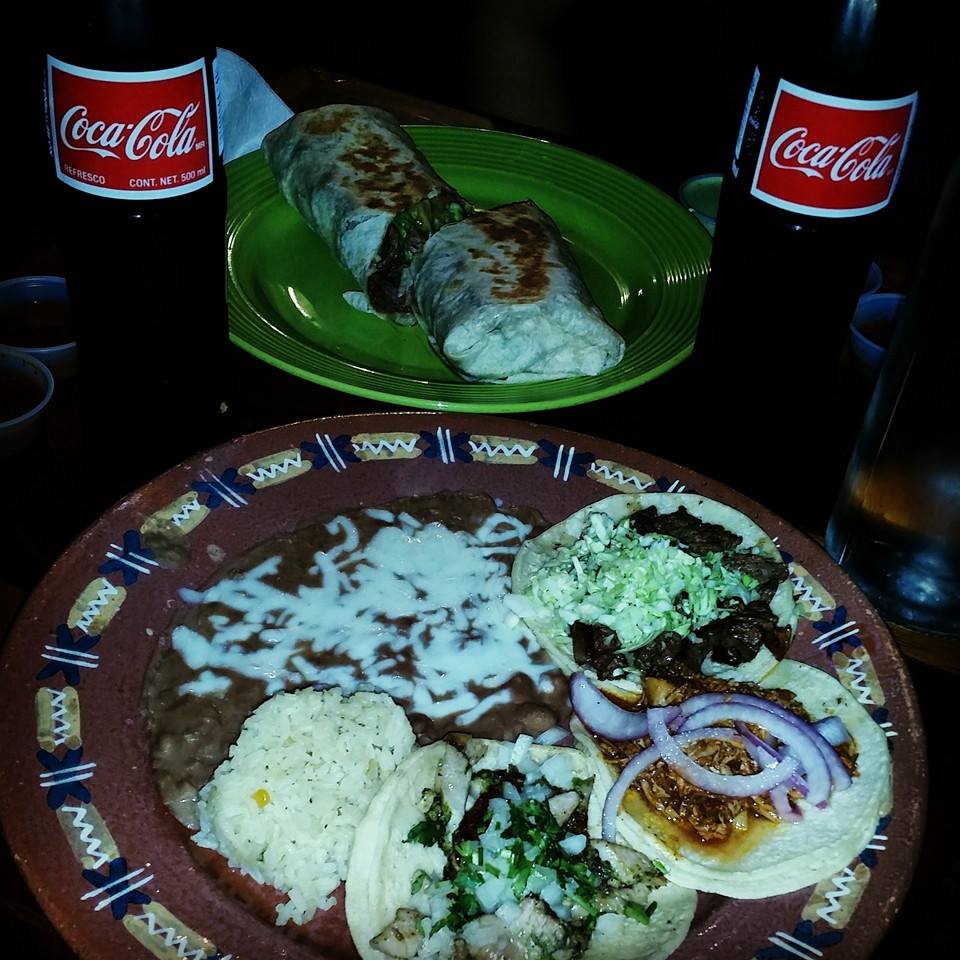 Food bucket list item #104 completed! Try the street tacos at La Santisima 'Finix'! Omg such good tacos and according to Tim, the gaucho burrito was 'bursting with flavor'. Seriously recommend. They also had an amazing salsa bar with some of the most flavorful and spiciest salsa I've tasted in Phoenix. Everyone come here!
CHICO'S TACOS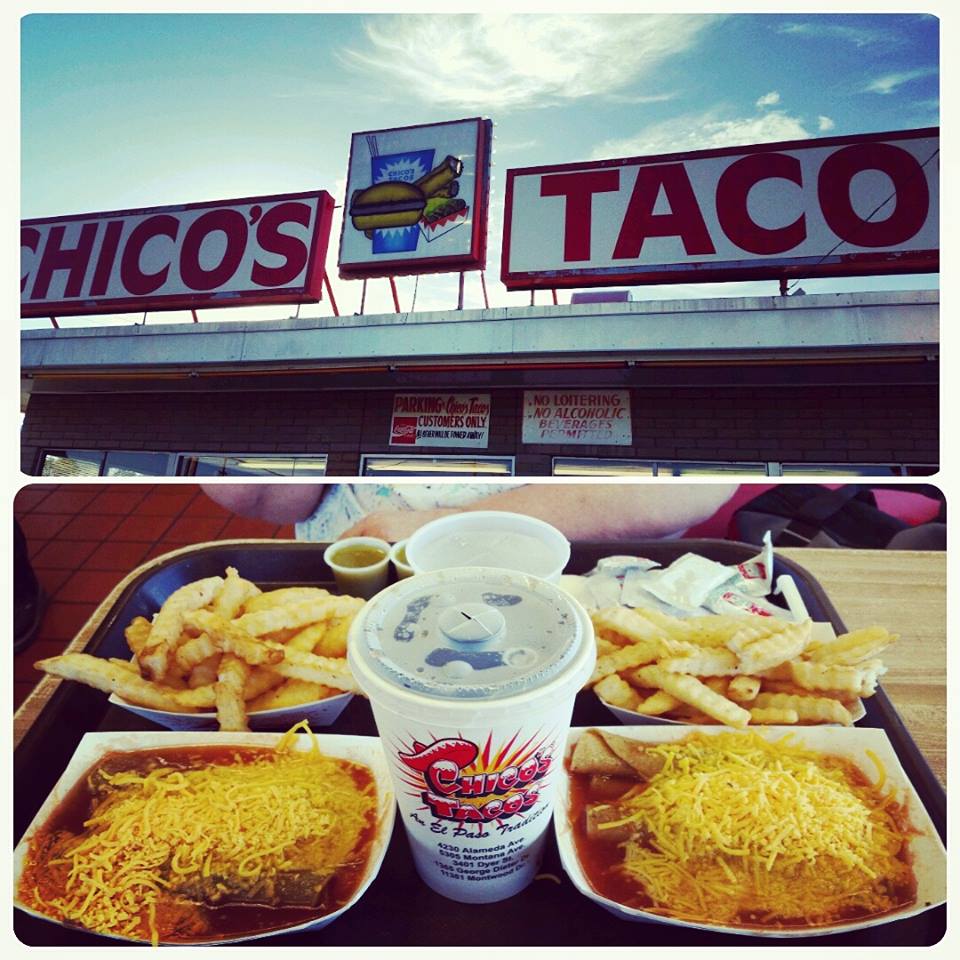 OK now I understand why this place was on The Food Network's 'Best Thing I Ever Ate'. These 'tacos' are ON POINT. Everybody loves these tacos. The locals and the tourists and everyone. My mom loved them. I recommend these very different tacos! Go try Chico's Tacos today!!
LA FLOR DE LA CALABAZA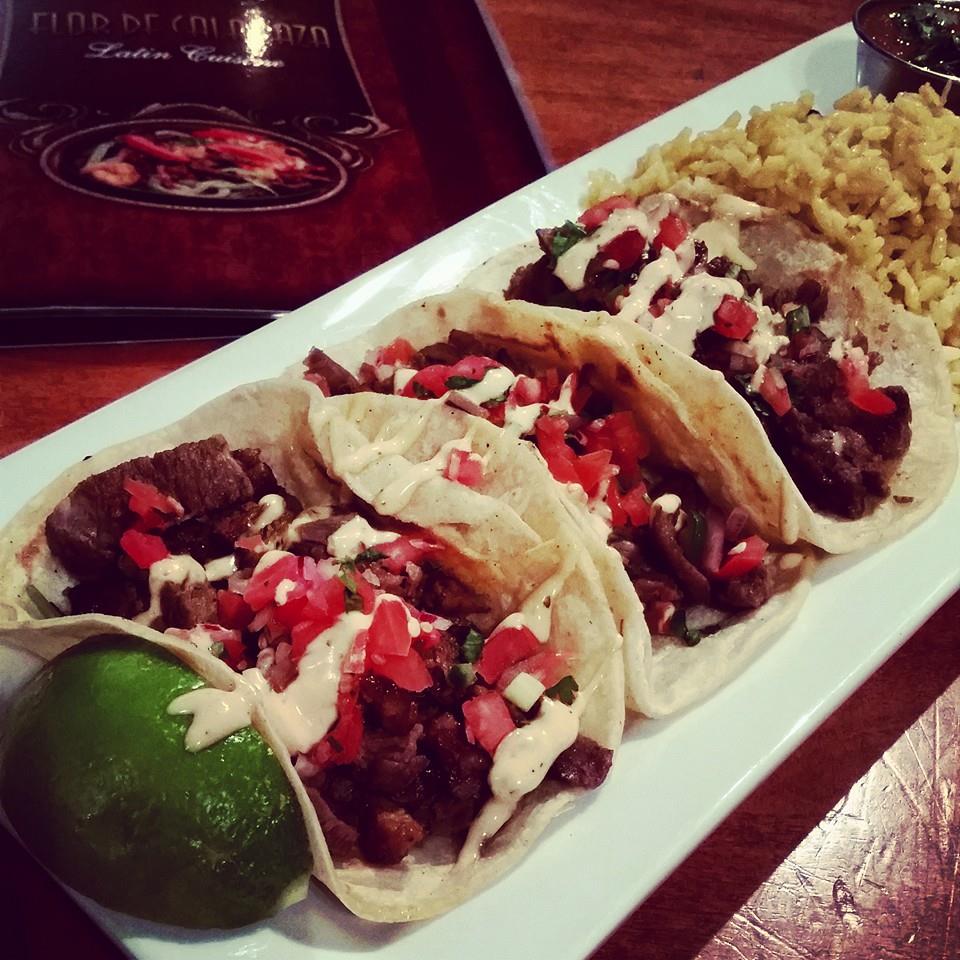 We tried La Flor de La Calabaza right before the Jarabe de Paloconcert downtown! This place had really good tacos and a great atmosphere! They also have 99 cent margaritas every Tuesday! Highly recommend if you're in the area! Super classy, fancy mexican food.
BARRIO CAFE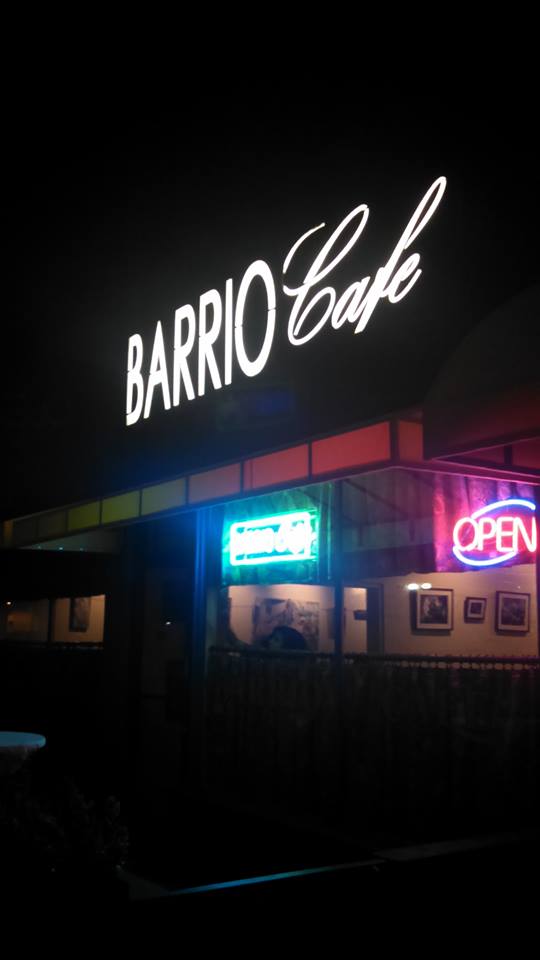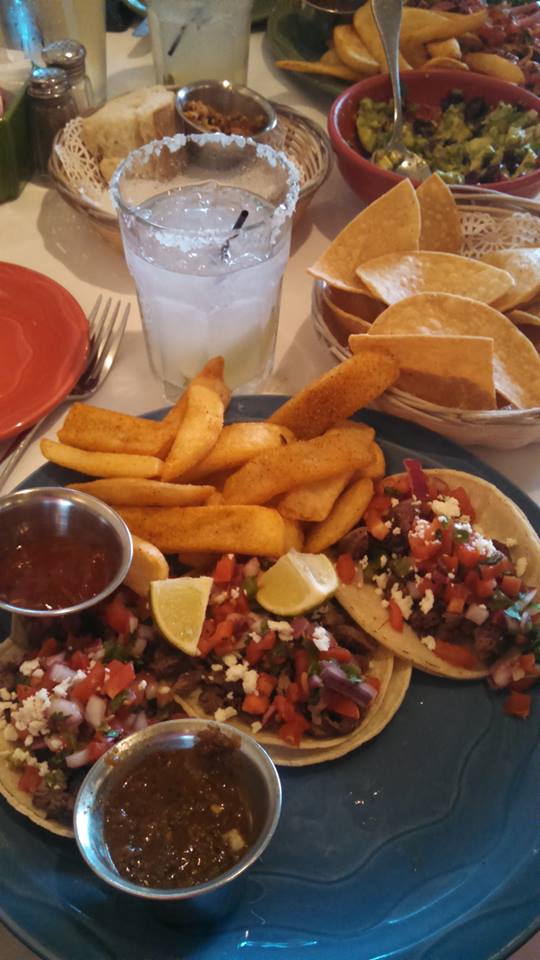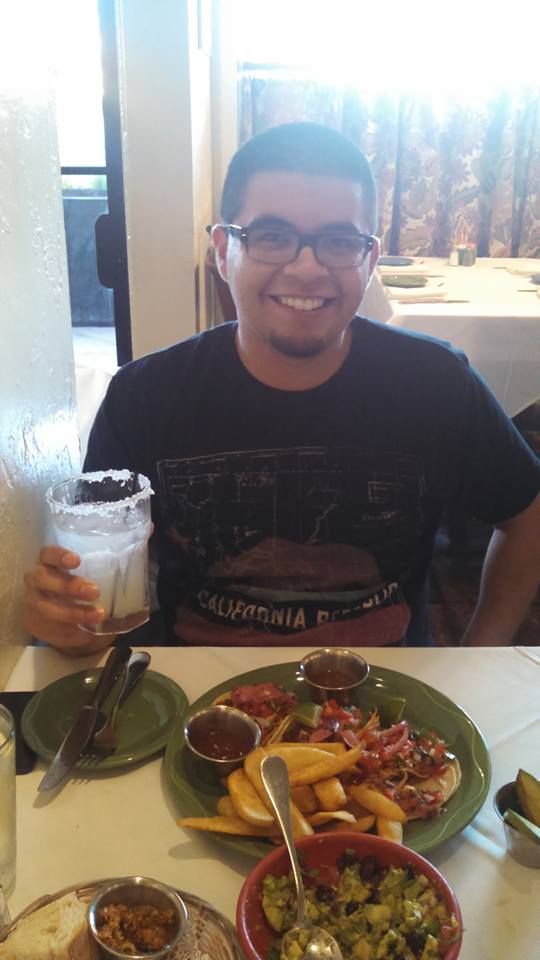 Oh man, Barrio Cafe is money, hands down. This place had some of the tastiest tacos I've ever tasted and I'm Mexican so you know I've tried good tacos. Highly, highly recommend this place for amazing Mexican food. The margaritas are also very strong. The place itself is so unique and has some beautiful artwork. I had the opportunity to meet the Chef at the Phoenix Cook festival and I got to see her do some demos and she's great. Definitely try this place, y'all.
---
MARBLE BREWERY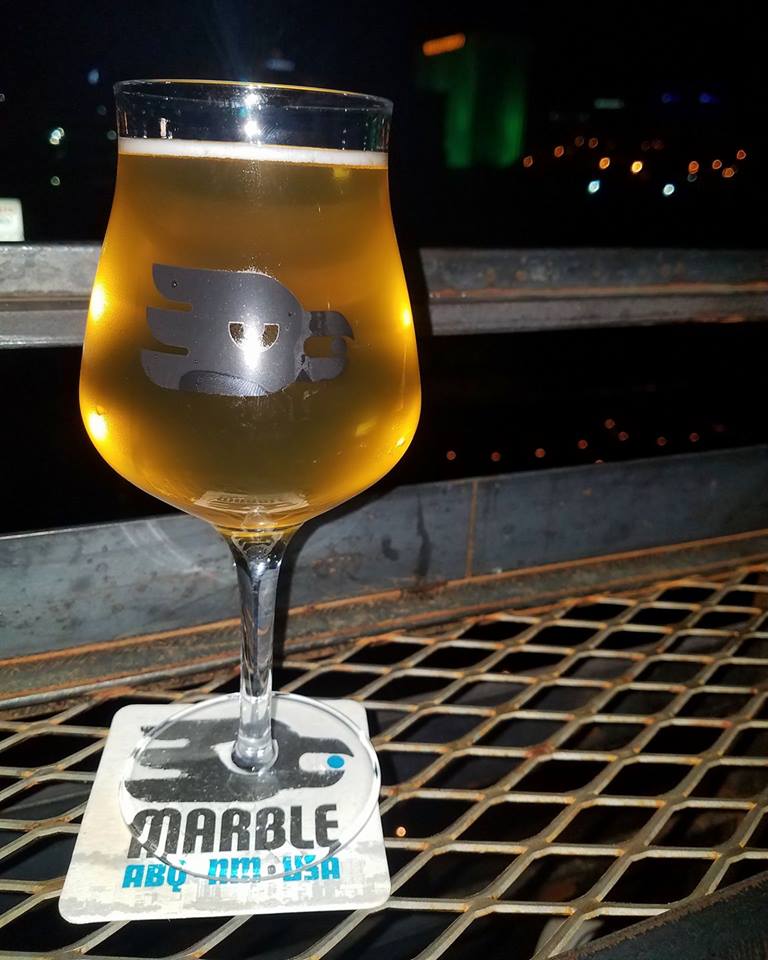 One of my fave items on my bucket list is to check out a brewery in every state 
😉 I tried Marble Brewery in Albuquerque and they had great beer and a great atmosphere! My cousins and I drank the Passionate Gose Beer (hint of passion fruit and a strong aroma of guava).
ENLIGHTENED BREWING COMPANY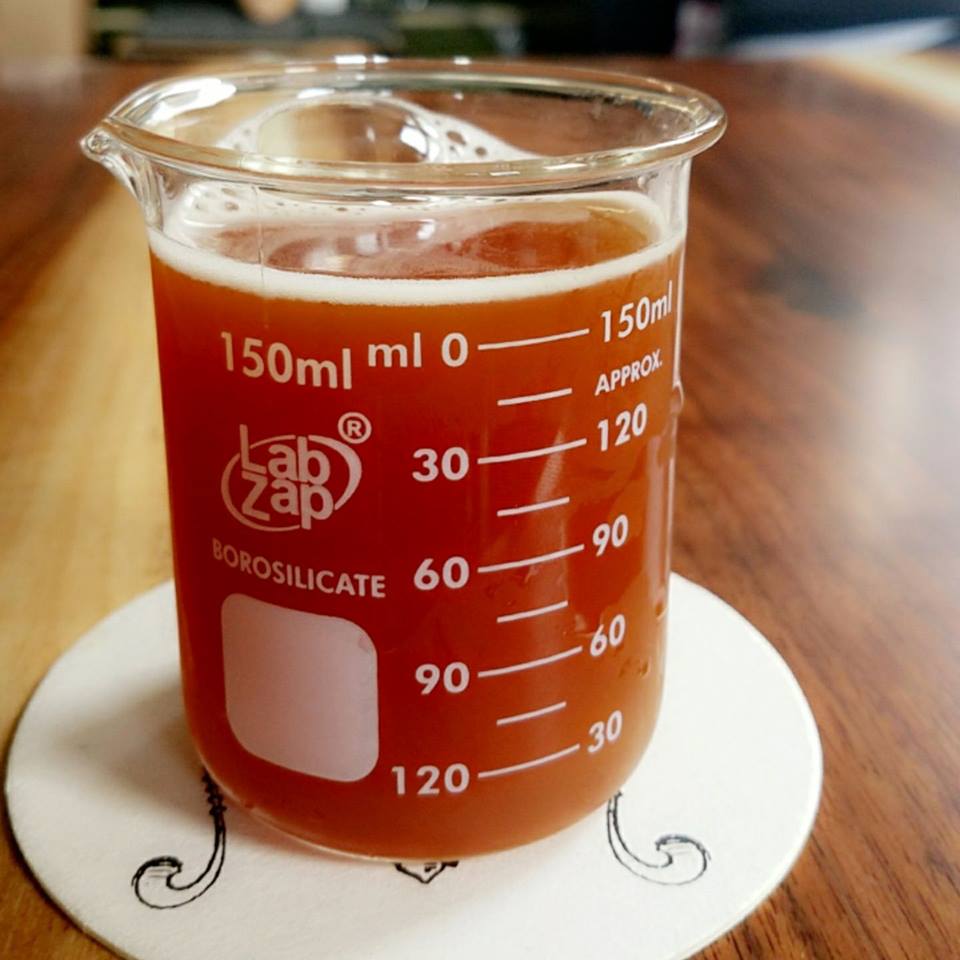 I've been in Milwaukee less than 24 hours and I can already begin to understand why beer is such a huge part of the Milwaukee experience. I went on a craft brewery and cocktail tour today with #VisitMKE and omg friends, the beer game has been changed. One of my fave beers today was the Ardennite Belgian Ale (7.0% ABV) shown here.
?
URBAN HARVEST BREWING COMPANY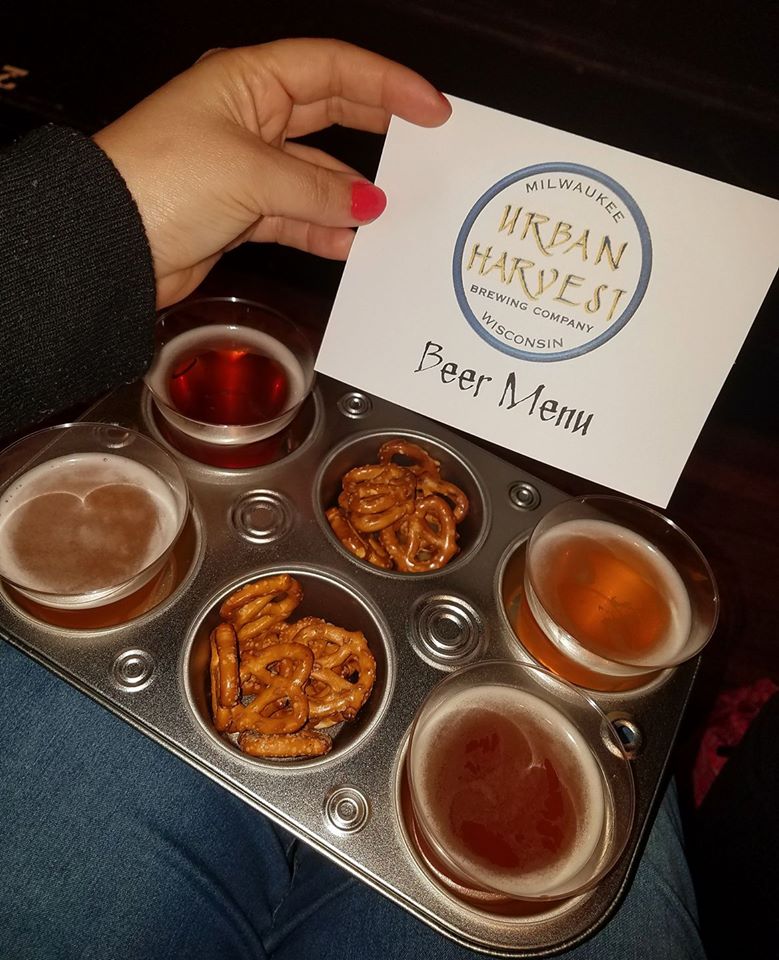 I'm having Milwaukee withdrawals and missing all of the amazing beer there including these 4 different beers from Urban Harvest Brewing Company, another brewery founded by an engineer. I see a pattern y'all, maybe the Enthusiastic About Life Brewery will be opening soon
😉 the four beers here are the Black Puppy Pale Ale (5.2% ABV), Ach Ya Der Hey-Fe Weizen (6.3% ABV), Old Town Amber (7.0% ABV), and Cork Screw IPA (6.0% ABV). My favorite was the Black Puppy Pale Ale because of the adorable name and the well balanced finish
?
MILL AVE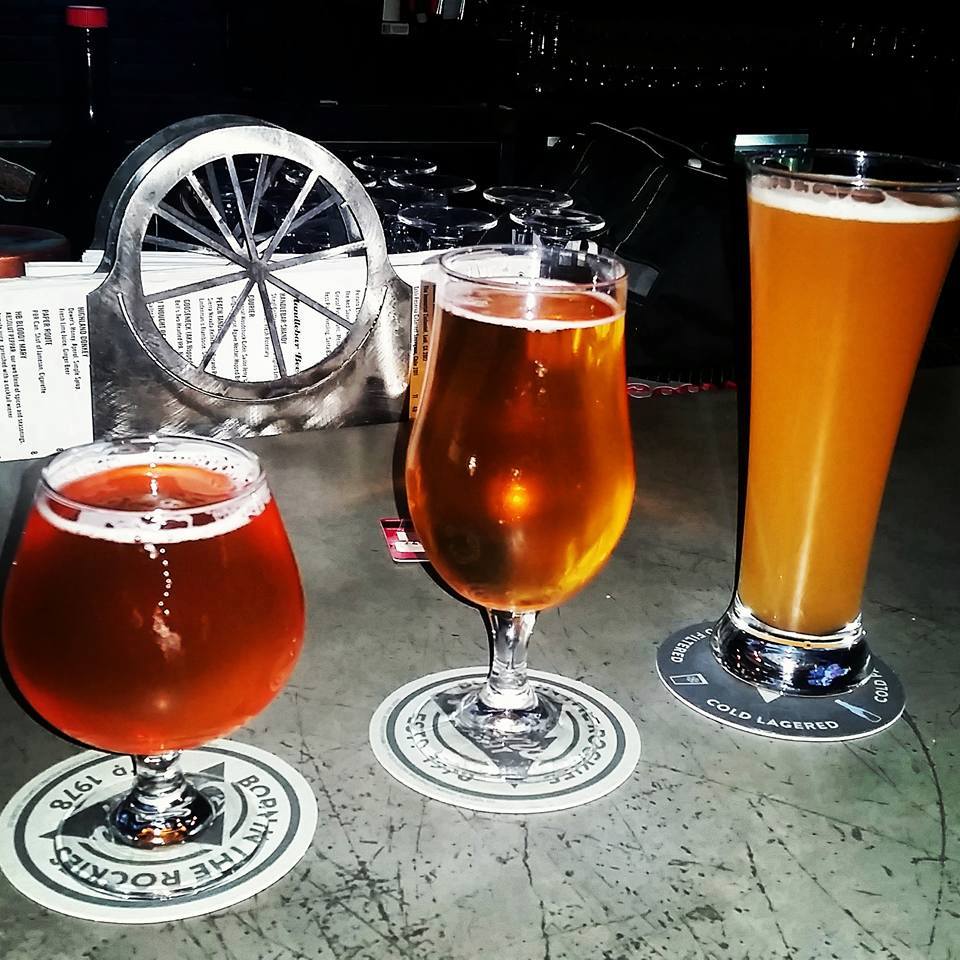 Mill Ave in Tempe is definitely one of my favorite places to get beer. Not only are there a ton of bars, but these bars have really good craft beer! And there are so many different varieties of craft beer available!
SALT, TACOS & TEQUILA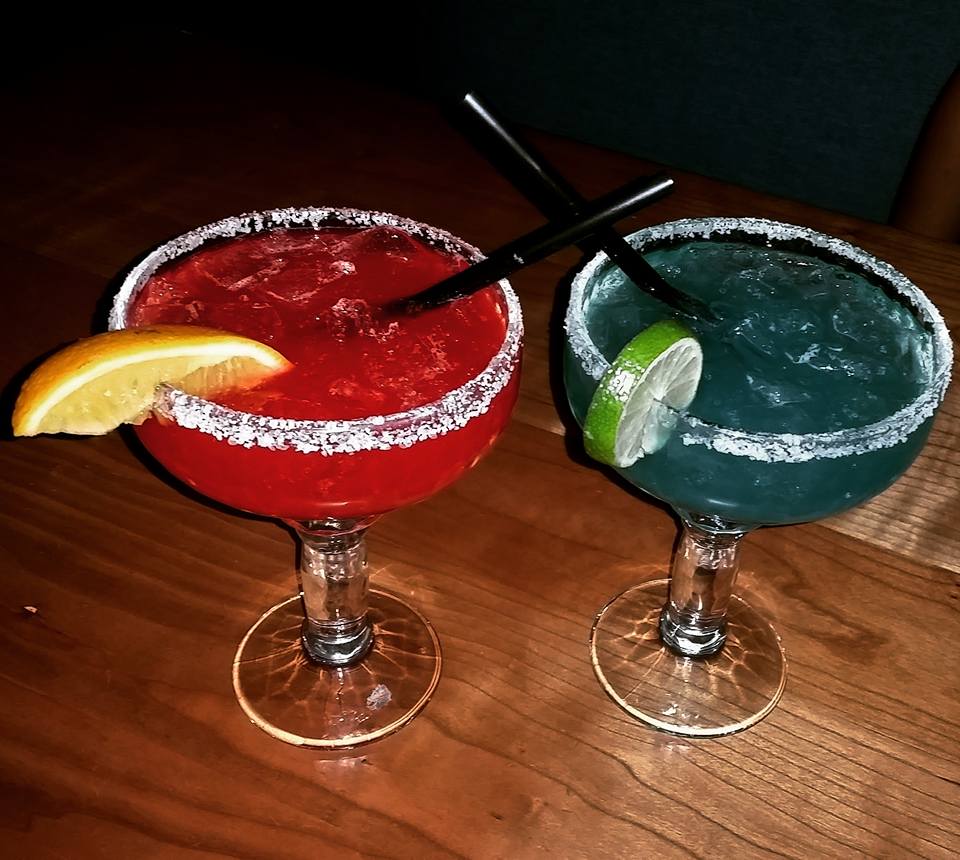 You would think that a place called Salt, Tacos & Tequila would have really good margaritas, and you would be correct to assume that. I tried the margaritas at Salt and they were so delicious! Not only are the drinks really good, the atmosphere makes you really want to party. I'm always down to come here for drinks!
FIESTA MEXICANA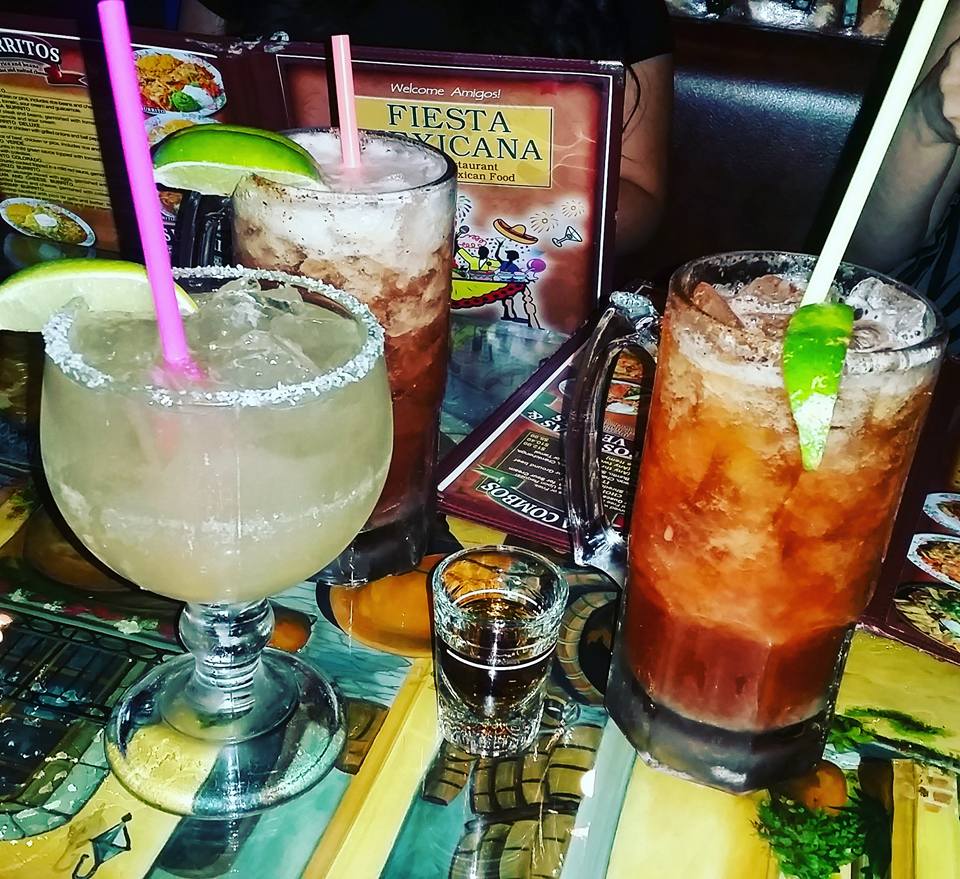 So Marisa's birthday celebration turned into tequilas tuesday because I just found my new favorite margarita place!! Not only are their drinks delicious, they also give you an extra shot of tequila 'just because'. Y'all need to check out Fiesta Mexicana restaurant on the West side of town. Thank you Marisa for recommending and happy birthday!! They also have delicious food, check out the Mexican Food section on the Food Bucket List here.
BITTER & TWISTED COCKTAIL PARLOUR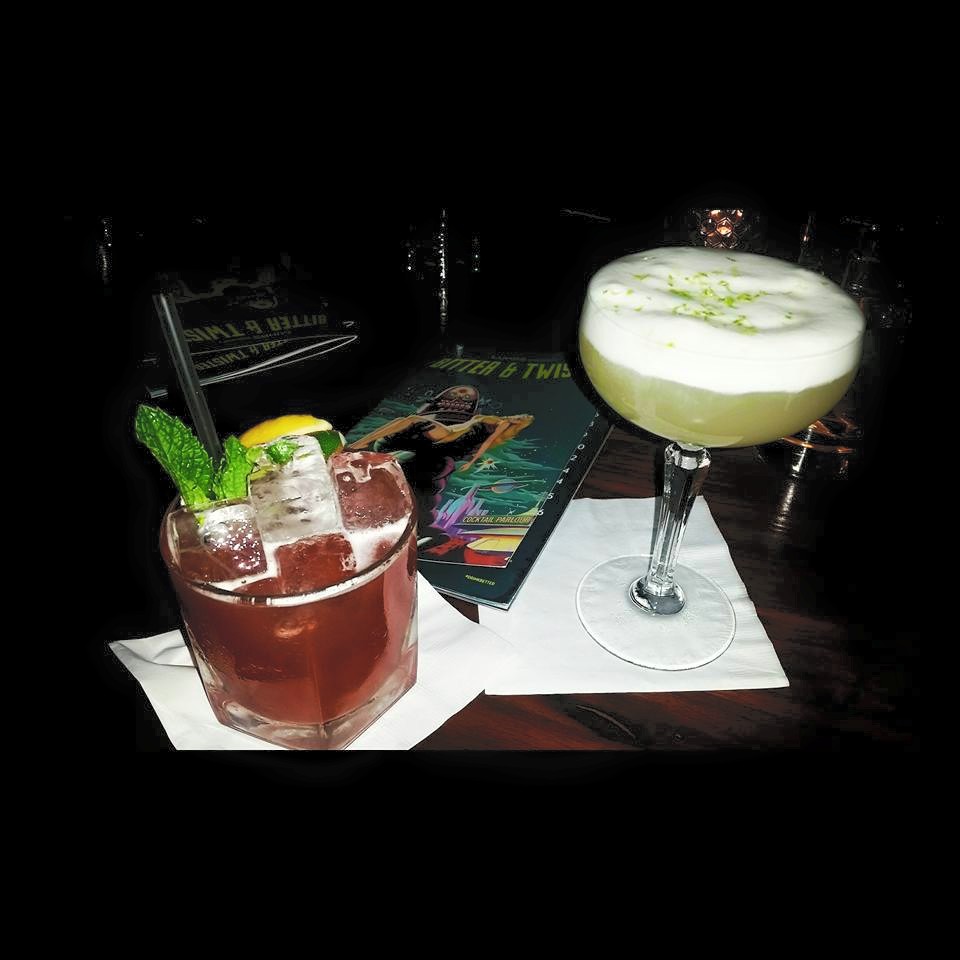 Bitter & Twisted Cocktail Parlour is now one of my favorite places to go and drink! Super hip place with SO MANY drink choices. I had the lime and the coconut drink which is basically a margarita with coconut and it was amazing. Yamille had the tickled and slapped! So good! Want to come back and try all the cocktails!
POSTINO WINE CAFE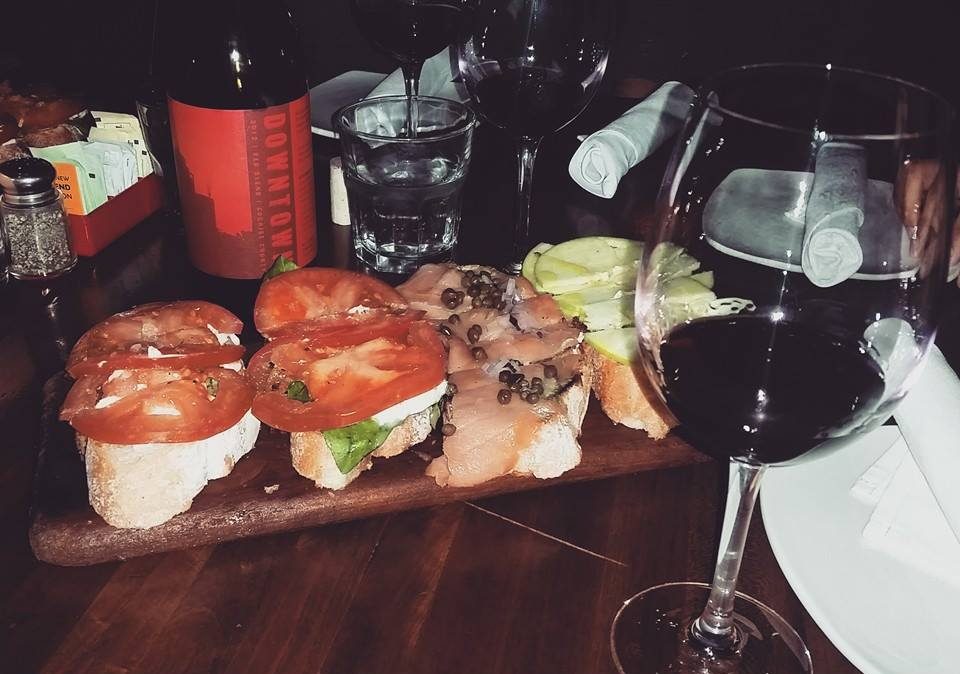 Food bucket list item #31 completed! Try
Postino Wine Cafe
! Great atmosphere and you really can't beat a bottle of wine and bruschetta for $20 on Mondays and Tuesdays!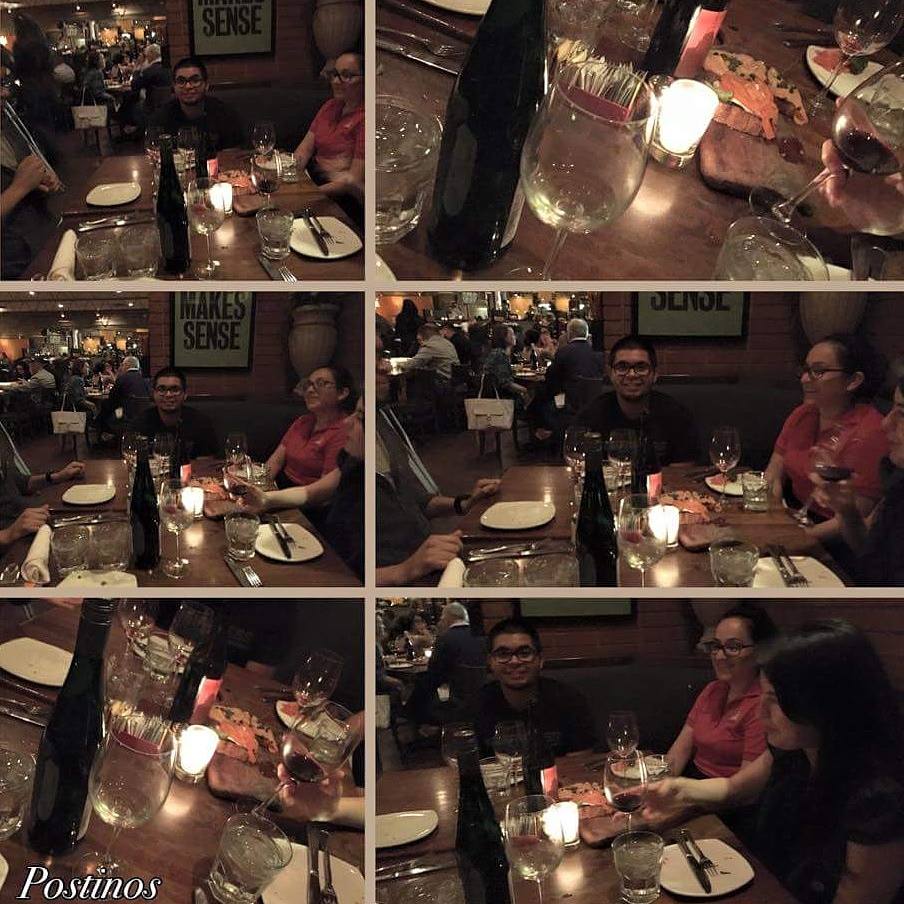 ---
BRAHAUS LION KöLN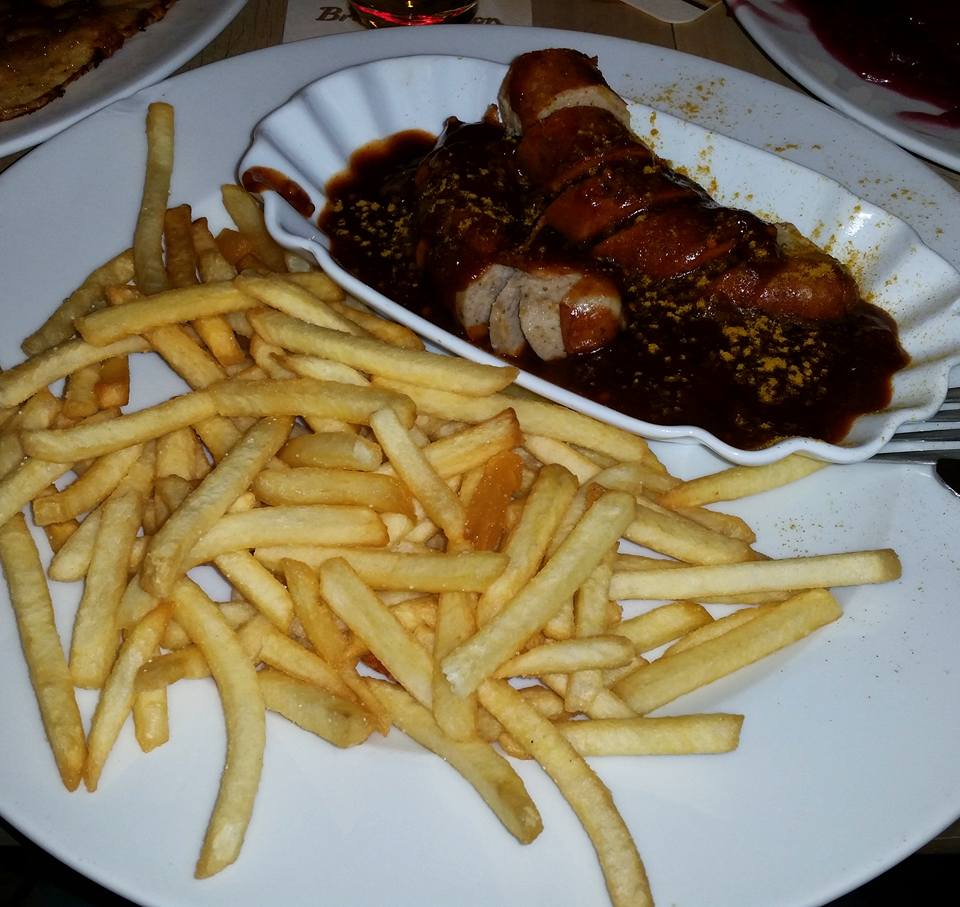 I HAVE to share that the most delicious bratwurst I have had was in Koln, Germany at a restaurant called Brahaus Lion! 
BAVARIAN INN OF FRANKENMUTH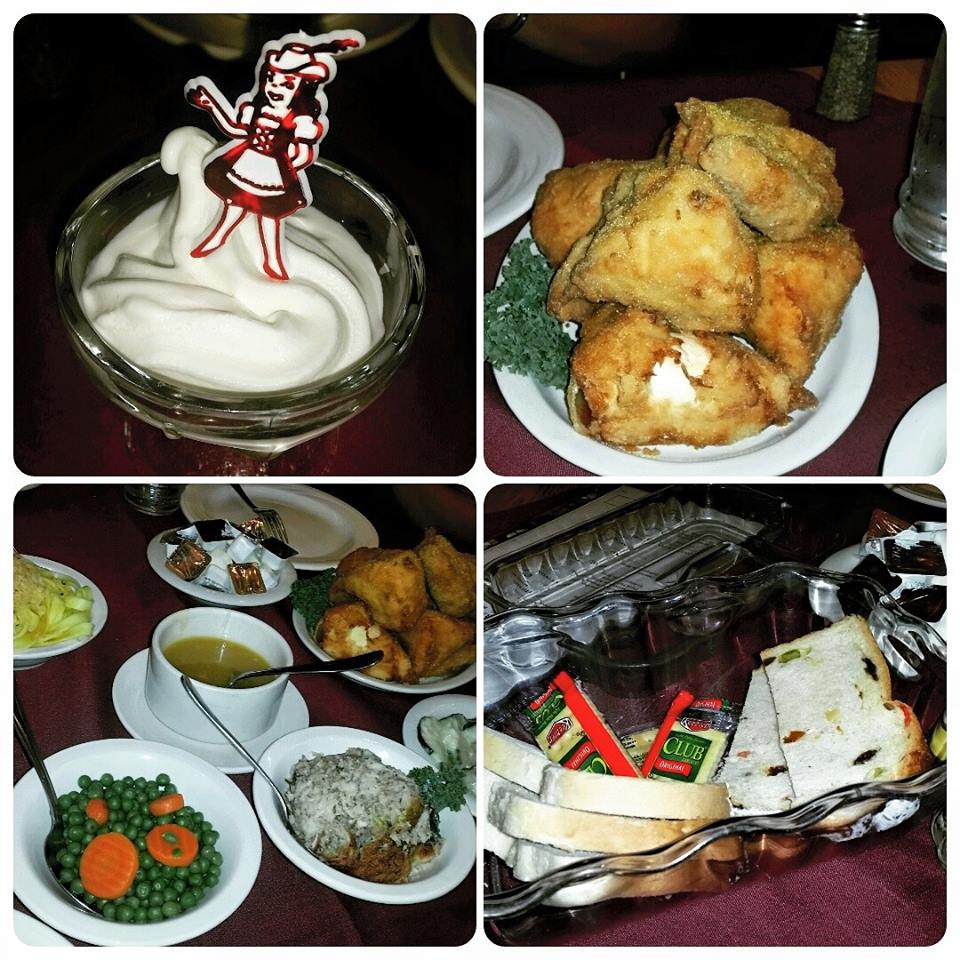 During my trip to Michigan, I was told that I HAD to have the world famous Chicken Dinner at the Frankenmuth Bavarian Inn so of course I did! It was delicious and so much food!!! I recommend because the food is fantastic, the service is great, and Frankenmuth is a really unique place to visit! I felt like I was in Germany!
---
Brazilian Food
FOGO DE CHAO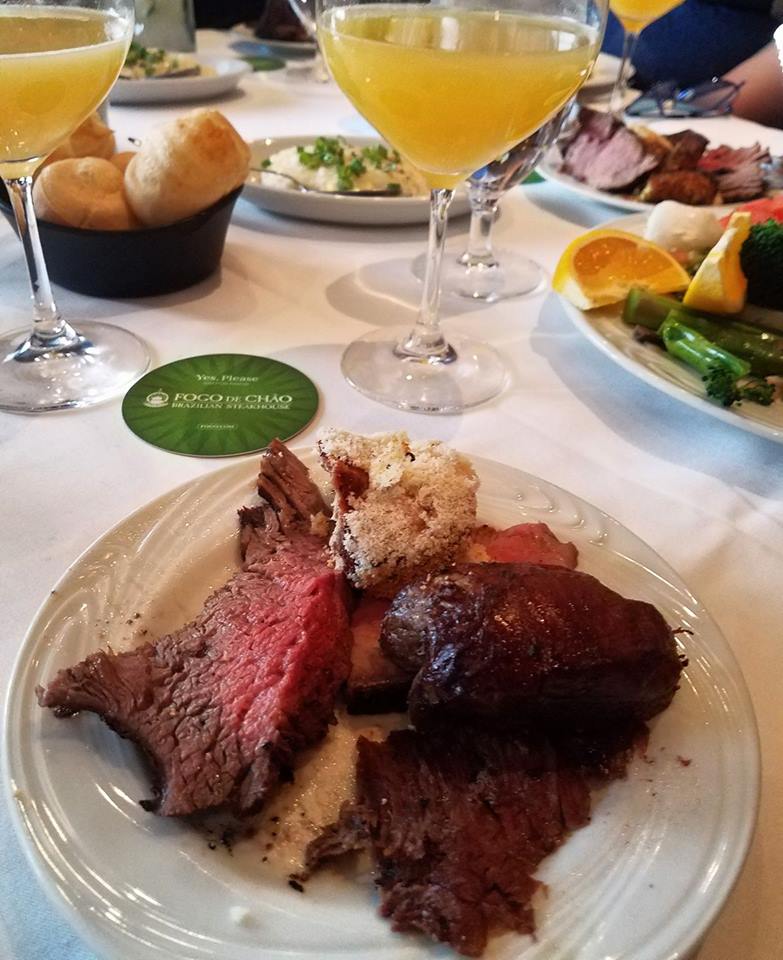 Fogo de Chão Brazilian Steakhouse is an authentic all you can eat meat carved tableside Brazilian steakhouse and oh my goodness friends. It is DELICIOUS and a ton of food so make sure you come hungry. They have a fun system where you flip a card over if you are ready for more food and like magic, the servers will bring you more! They have so many different kinds of meat including steak, chicken and seafood. My favorite was the top sirloin!
---
FLAMINGO PALACE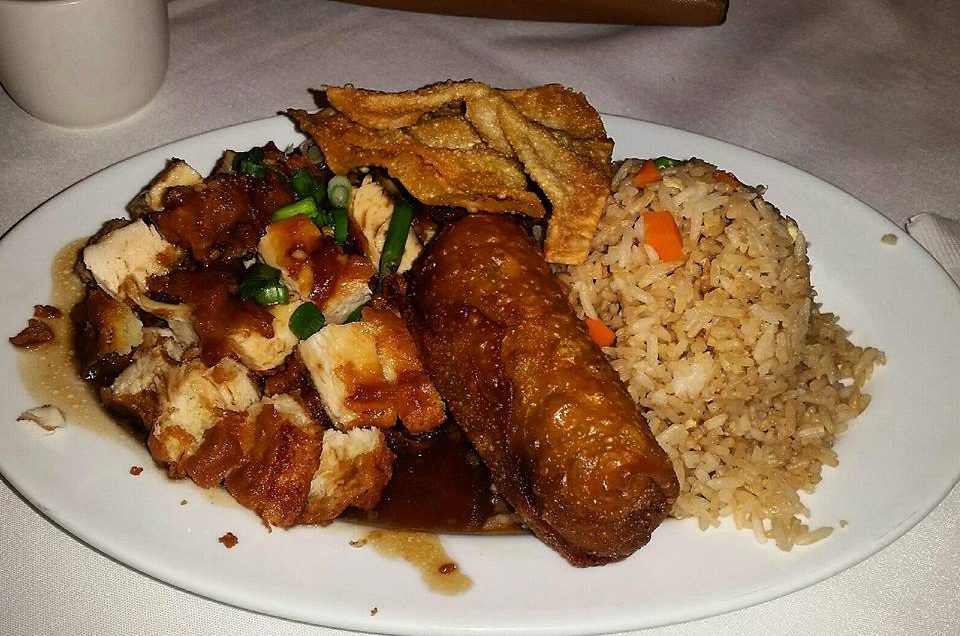 I had some DELICIOUS chinese food today at a restaurant recommended to me by my coworkers. It wasn't on my food bucket list but it was too good to not add it. HIGHLY recommend if you're looking for some fancy Chinese food. Flamingo Palace is located in North Phoenix and I recommend the Flamingo Palace chicken which was AMAZING. They also load up your plate so go hungry! 
---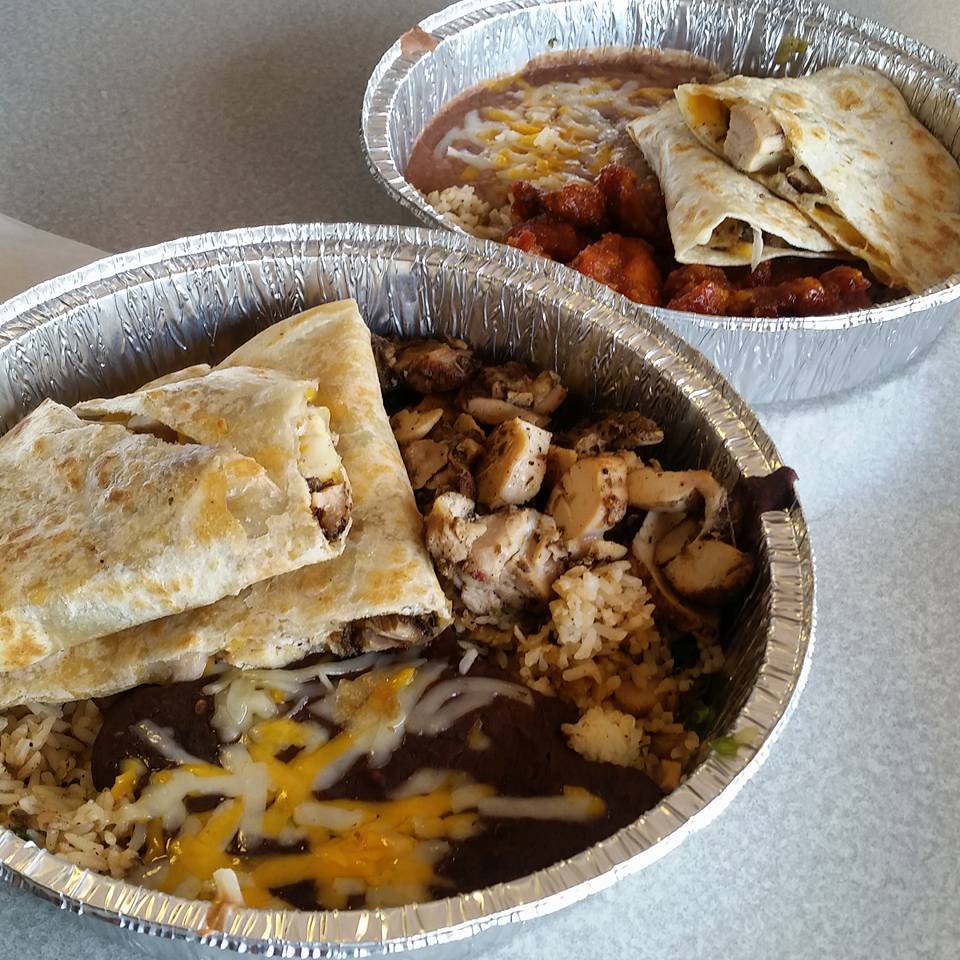 So this restaurant isn't officially on the Food Bucket List because I tried this restaurant before the Food Bucket List became a thing. However, I am featuring it here because Chino Bandido is my favorite restaurant in North Phoenix AND it's my favorite fusion restaurant: Asian/Mexican. There is absolutely no filter needed fort his dish. The jerk chicken quesadilla and jerk fried rice never disappoint.

?
SUMOMAYA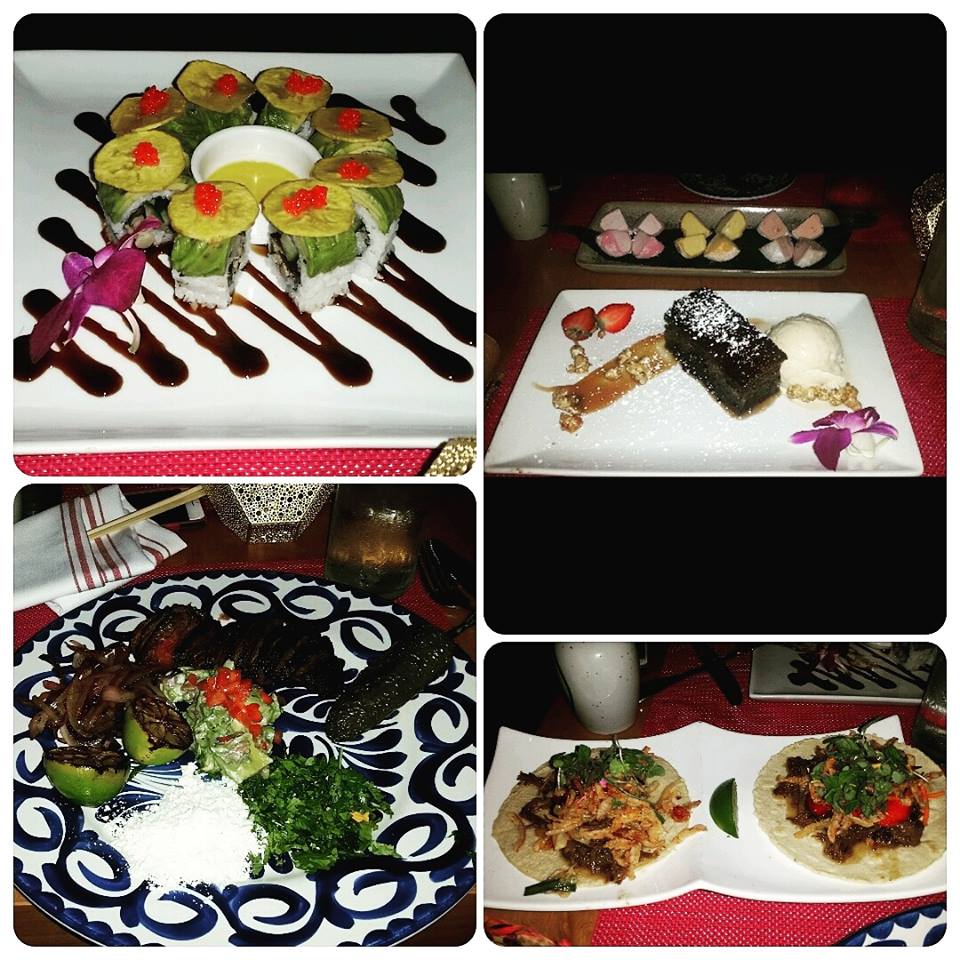 Decided to try a little Mexican Asian fusion and ended up at
SumoMaya
in Scottsdale ! DELICIOUS and they are one of the best Mexican Asian fusion restaurants I've ever had. I got to try mochi ice cream and delicious carne asada with an Asian kick!
JULIA'S JOINT MESQUITE GRILL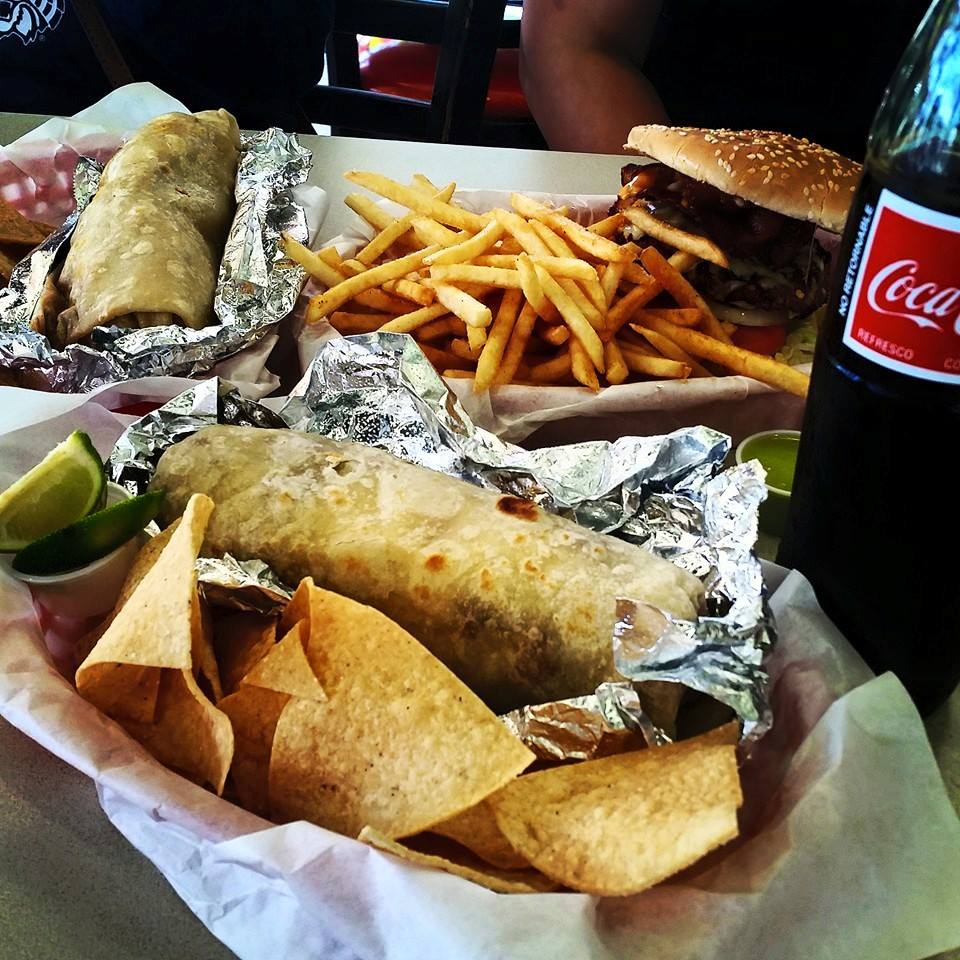 Food bucket list item #229 completed! Try the food at Julia's Joint Mesquite Mexican Grill! It was really tasty and the people who work here are so nice! Plus they have burritos and hamburgers (quite a mix of Mexican and American food) haha.
JAMBURRITOS CAJUN GRILLE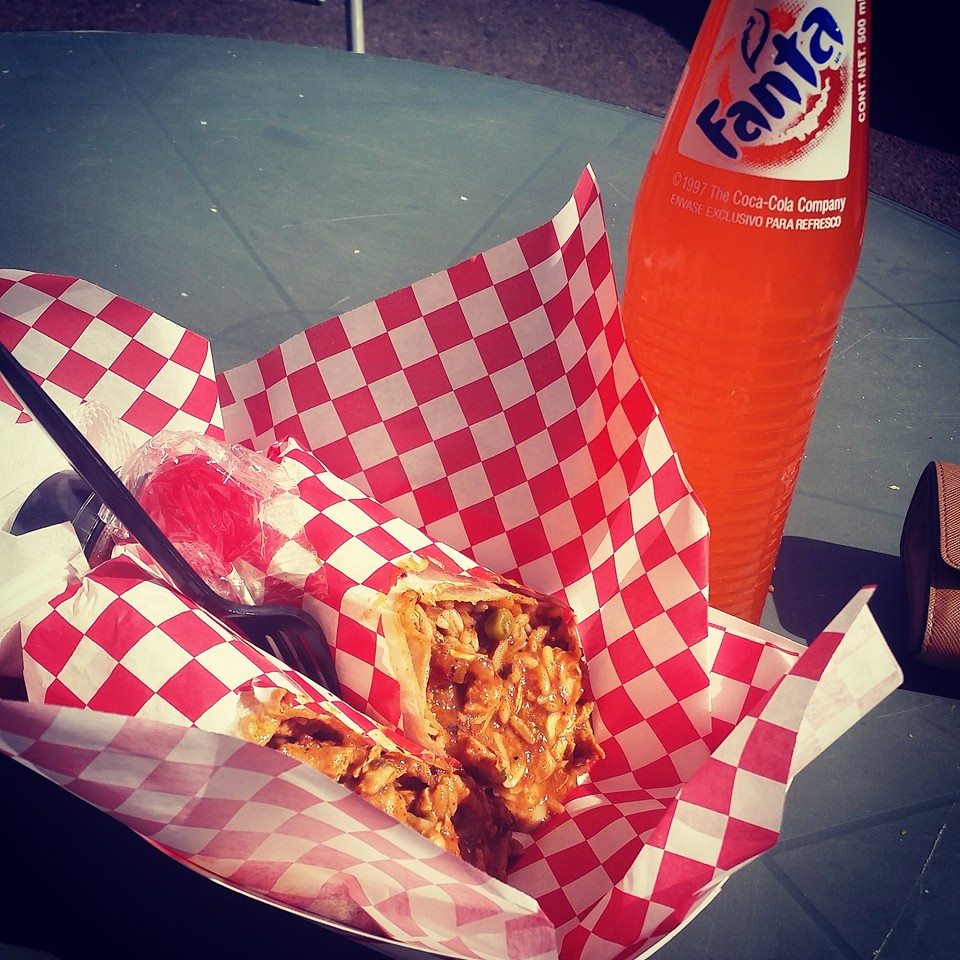 Food bucket list item #245 completed! Try the food at Jamburritos food truck!! A fusion of cajun and mexican food. This chicken jamburrito had SO MUCH DELICIOUS FLAVOR. Thank you Kevin for recommending it! The first time we tried this restaurant was actually pretty hilarious. We ended up coming here because Kevin and I tried to hike Camelback Mountain but we were both injured so we didn't finish. We made it about 1/5th of the way to the top and then just gave up and came to eat lol.
---
COMPASS ARIZONA GRILL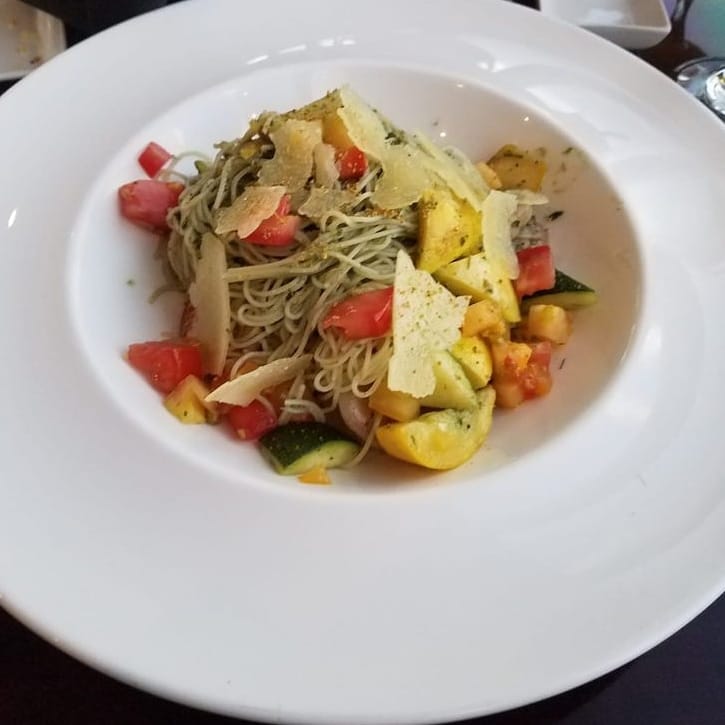 The Compass Arizona Grill within the Hyatt Regency in Phoenix is great for carb-loading but it's also perfect if you're trying to admire some beautiful views while you eat. It is the only revolving roof-top restaurant in Arizona and rotates slowly to showcase amazing views of the Phoenix area. The pasta was delicious but what really sold me was the fresh Parmesan sprinkled on top!

MARCELLINO RISTORANTE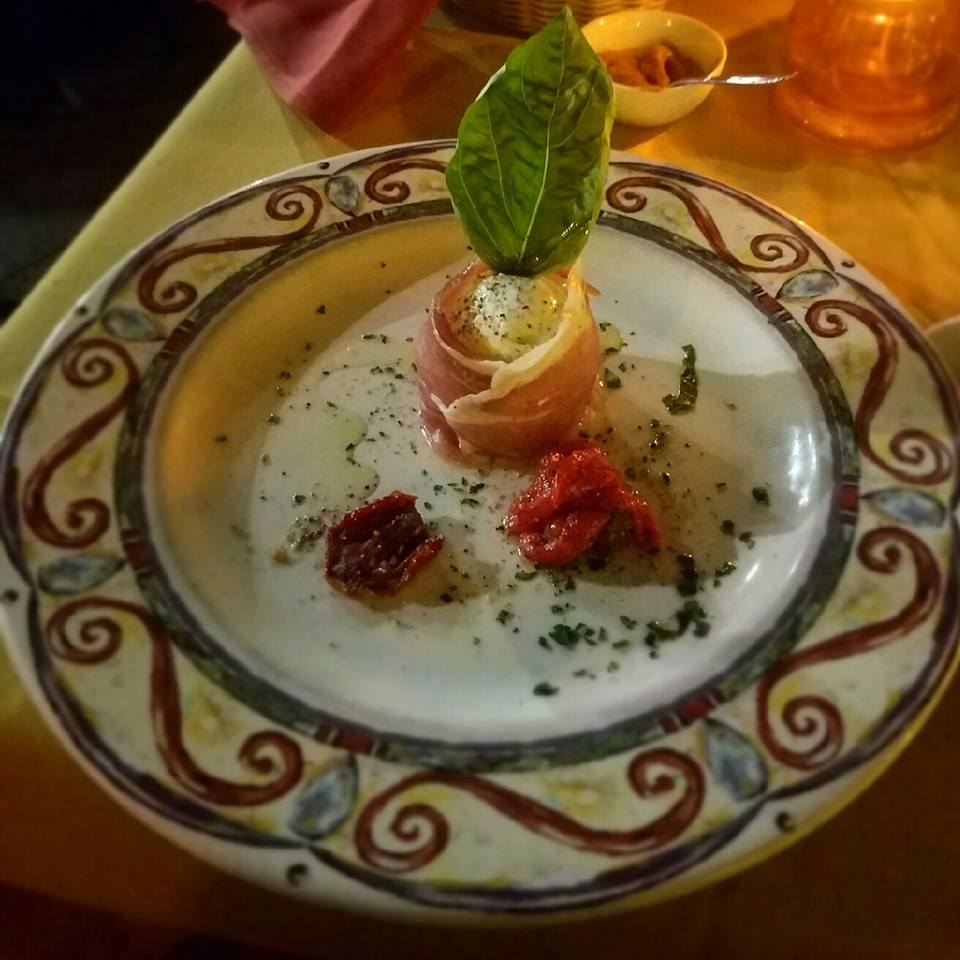 Arizona Restaurant Week was last week and last Friday I got to cross off food bucket list item #416: Marcellino Ristorante in Scottsdale! This place was absolutely delicious, I'll make sure to add more photos of my 3 course meal in the coming weeks (and on the blog!). For our first course we had prosciutto wrapped mozzarella and tomatoes with roasted peppers. Literally heaven in my mouth, highly recommend!
LA BONA PASTA
La Bona Pasta is a super cute little place with delicious food. We tried some grilled chicken with angel hair pasta and the pollo parmigiano! So filling, we recommend!
BUCA DI BEPPO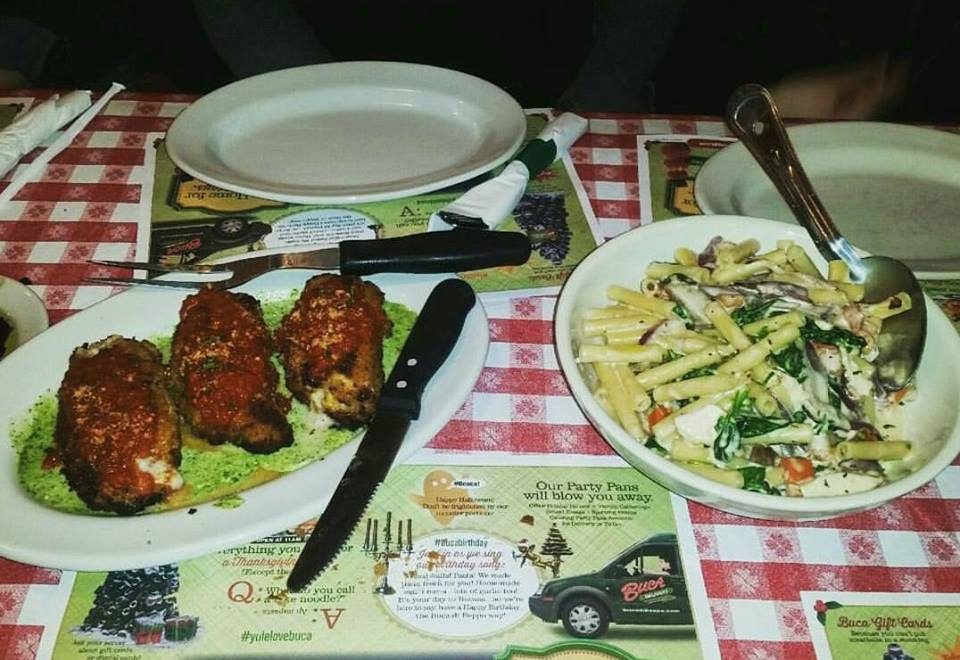 Had a successful 'See You Later' dinner and simultaneously completed life bucket list : food edition item #219! Eat at Buca di Beppo Italian Restaurant! IT WAS DELICIOUS! I love how all the meals are served family style and you just share. I had the Prosciutto Stuffed Chicken Breasts and my sister/cousin had the pasta. SO GOOD. Also they have great wine and really strong margaritas. Highly recommend!
SORTINO'S LITTLE ITALY RISTORANTE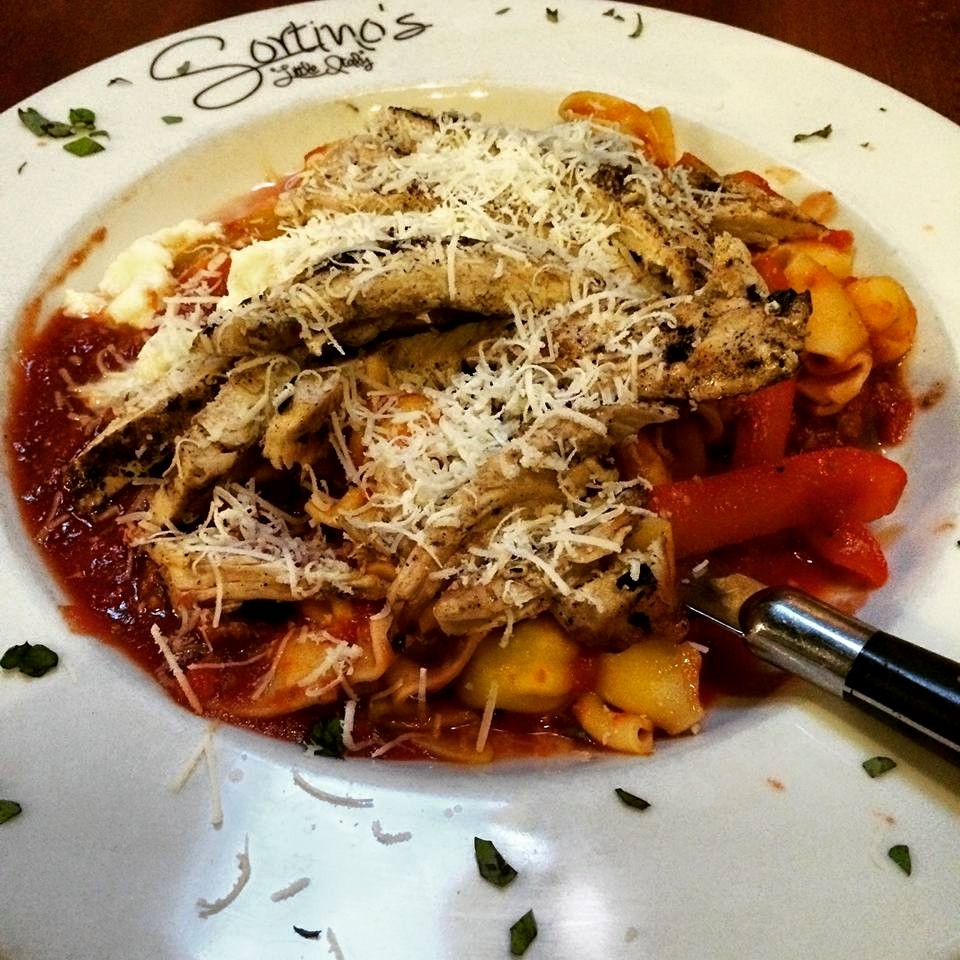 After having a blast at Cedar Point we were starving and ecided to try the food at Sortino's Little Italy Restaurant because it was only a couple of minutes away from the park! Hands down the best Italian food I have ever had in my life. I had grilled chicken with little pasta pockets WITH CHEESE and sausage. It was amazing and full of flavor and I didn't want to leave lol HIGHLY recommend.
THE GARLIC CLOVE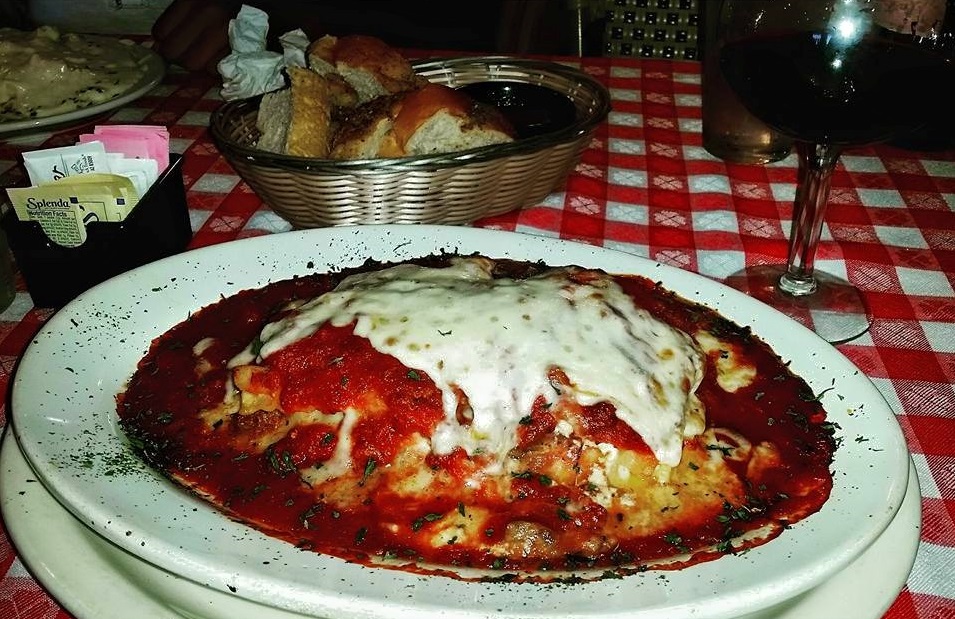 We made it to Kingman and my friend Javier took us to the best Italian restaurant here! The food at The Garlic Clove was delicious and they had HUGE portions! I recommend if you're driving through Kingman on your way to Vegas!
THE OLD SPAGHETTI FACTORY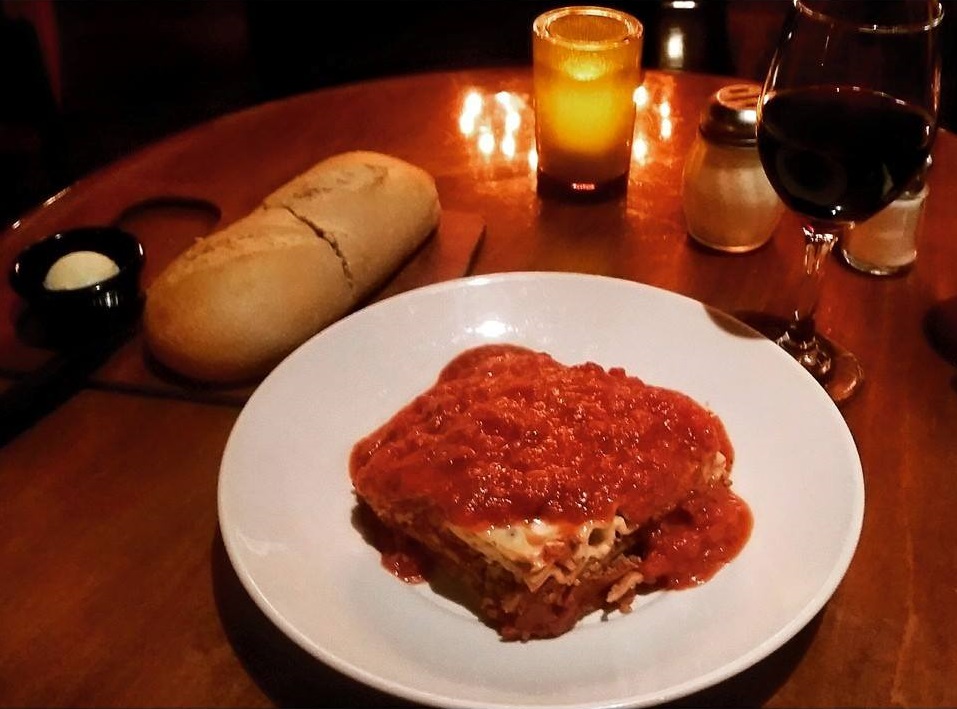 The Old Spaghetti Factory been around basically forever and for good reason. Some killer italian food! Thank you for the recommendation Marissa! If any of you are ever in Seattle, definitely go try this place!
GIUSEPPE'S ON 28TH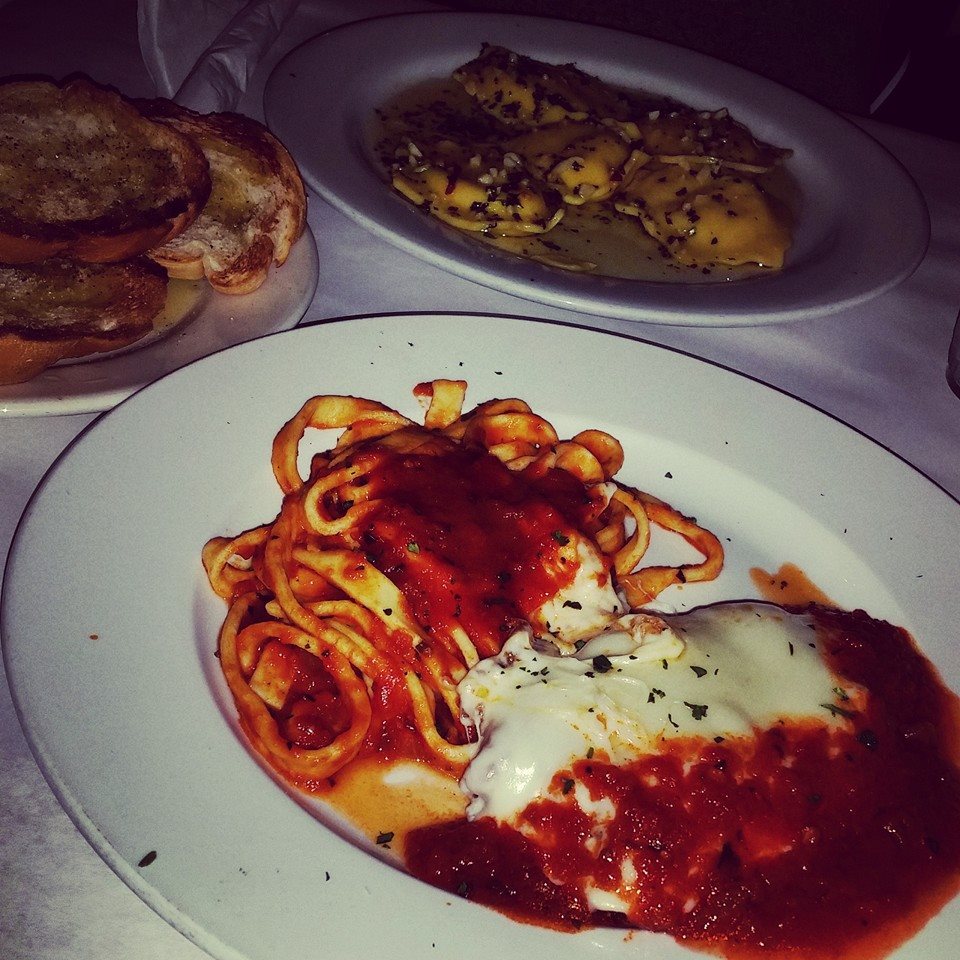 My friend Jenny had a race the weekend that we checked out Giuseppe's on 28th so we went there to carb load. This place is hands down one of my favorite Italian restaurants in the valley. It is super authentic and delicious and they have HUGE portions. Also, the owner is super friendly! Guy Fieri was right. This place is dynamite!
---
HAYASHI-HIBACHI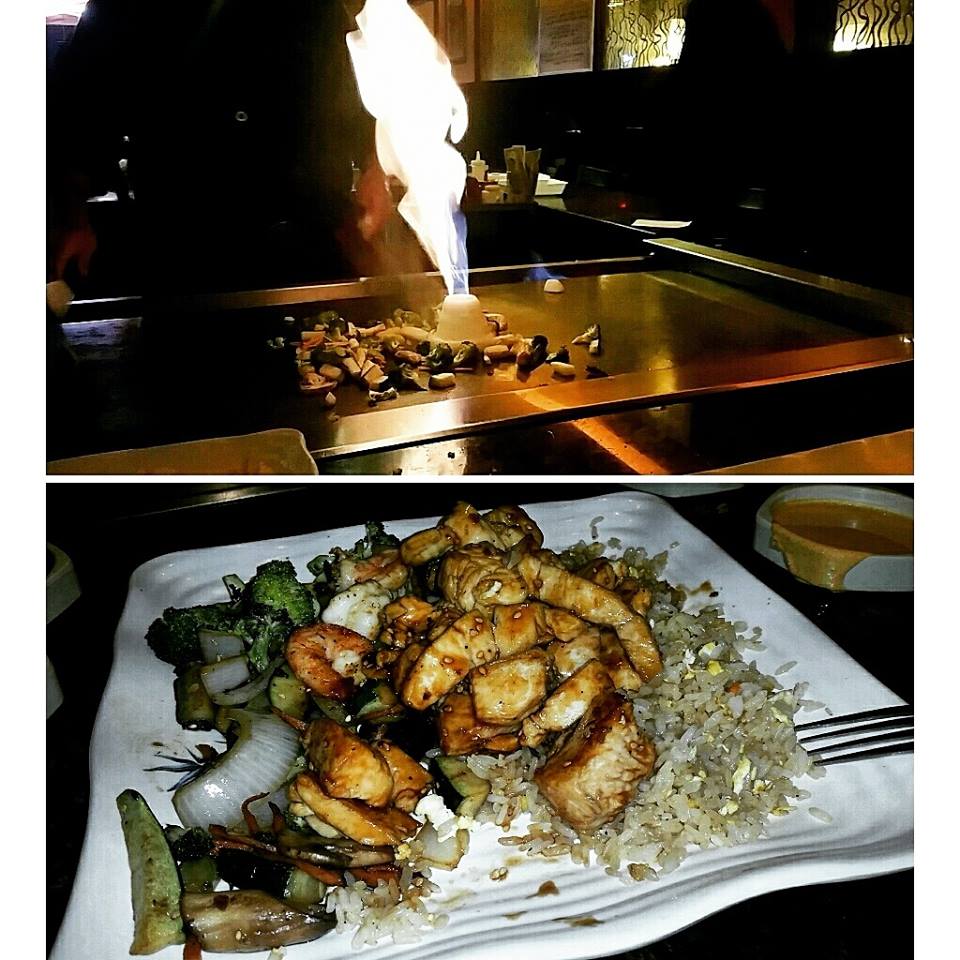 Took my mom to her first teppenyaki experience and simultaneously completed Food bucket list item #313! Try the food at Hayashi Hibachi ! It was delicious and my mom had a blast and we both recommend! ???
---
ROTANA RESTAURANT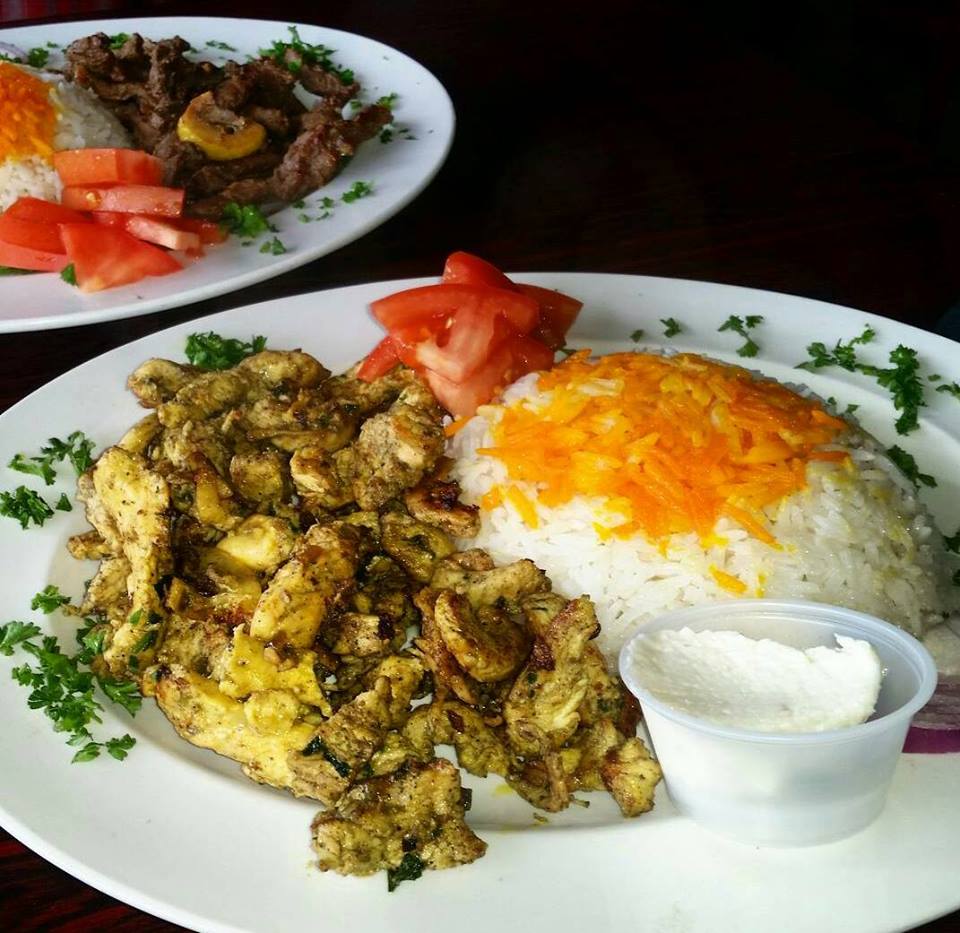 I tried the newest mediterranean restaurant in North Phx :
Rotana Restaurant
! I had the chicken shawarma and Calvin had the beef schawarma! It was really good, great service and great environment!
BYBLOS RESTAURANT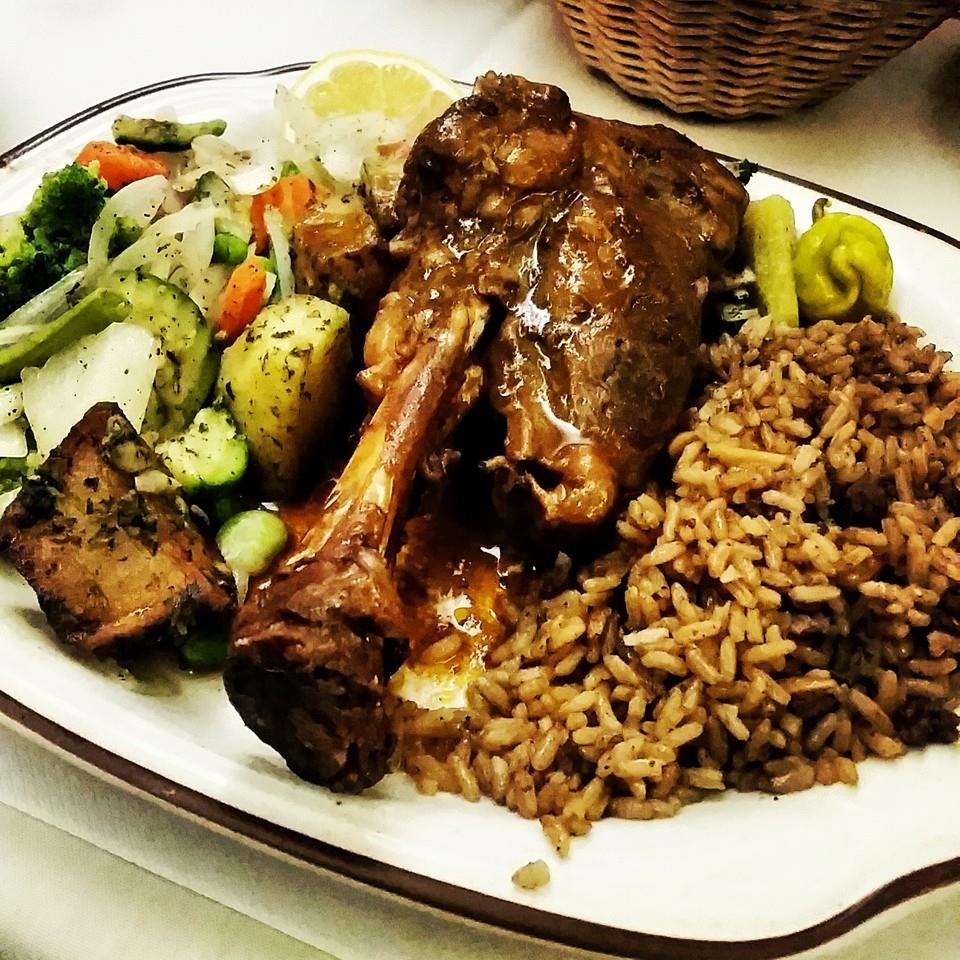 The Mediterranean food at
Byblos Restaurant
in Tempe was super delicious! This lamb shank was SO tender. Definitely recommend. Plus, the owner is a nice older man who offered us coffee since we were just hanging out after we finished our dinner.
---
GUERO CANELO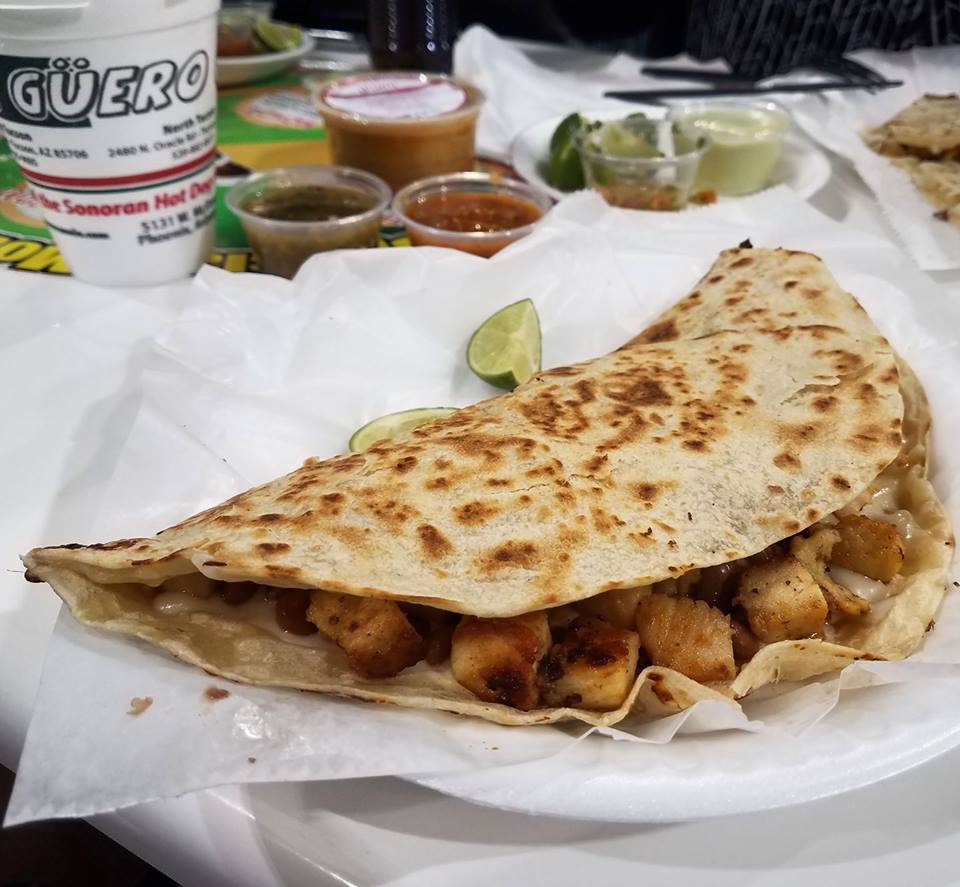 We are going old school this week by featuring my FAVORITE restaurant during my time in college: El Guero Canelo! They seriously have the best tortillas, Sonoran hot dogs, and salsa and lucky for me they now have a location in Phoenix!
TACO GARAGE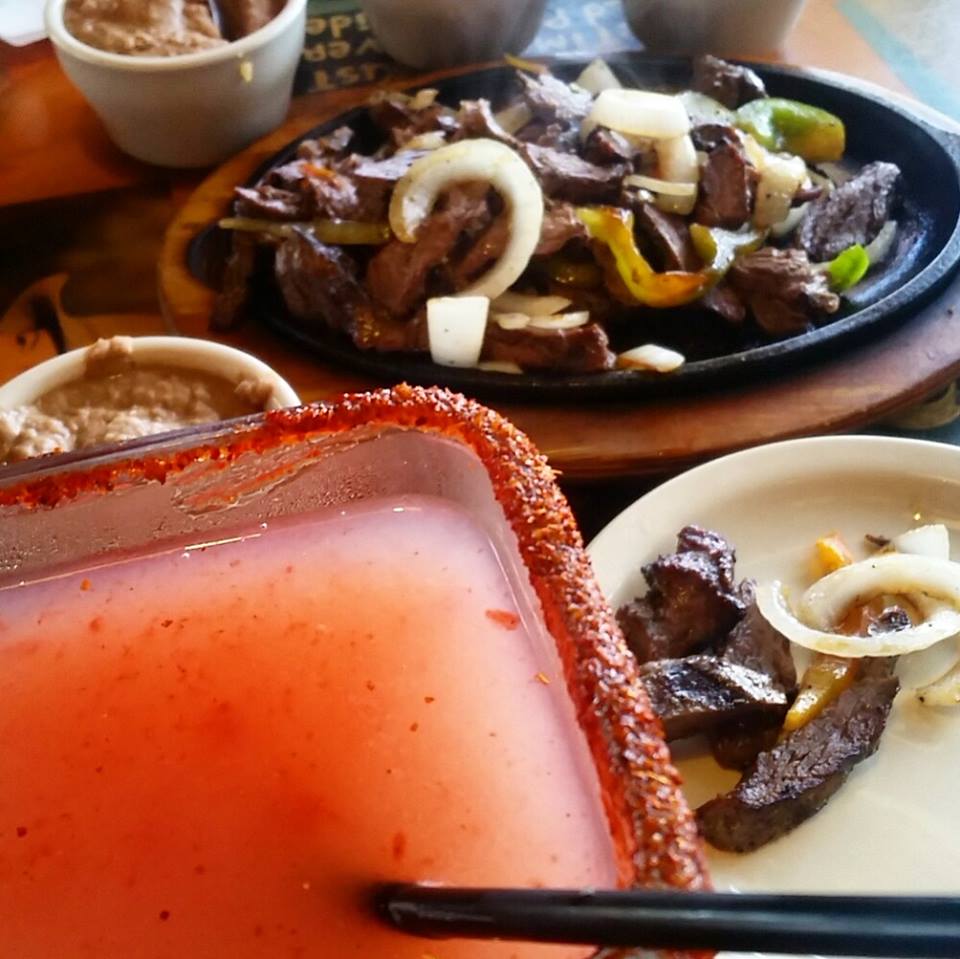 Somebody once told me that fajitas are perfect on Fridays and I think they're right! Wishing I was back in Texas crossing off food bucket list item #530: eat at Taco Garage! Loved all of the Tex Mex food we had (fajitas, rice, beans, and homemade tortillas) in San Antonio, Corpus Christi and Dallas. Don't even get me started on the strawberry chamoy margarita ? 
FIESTA MEXICANA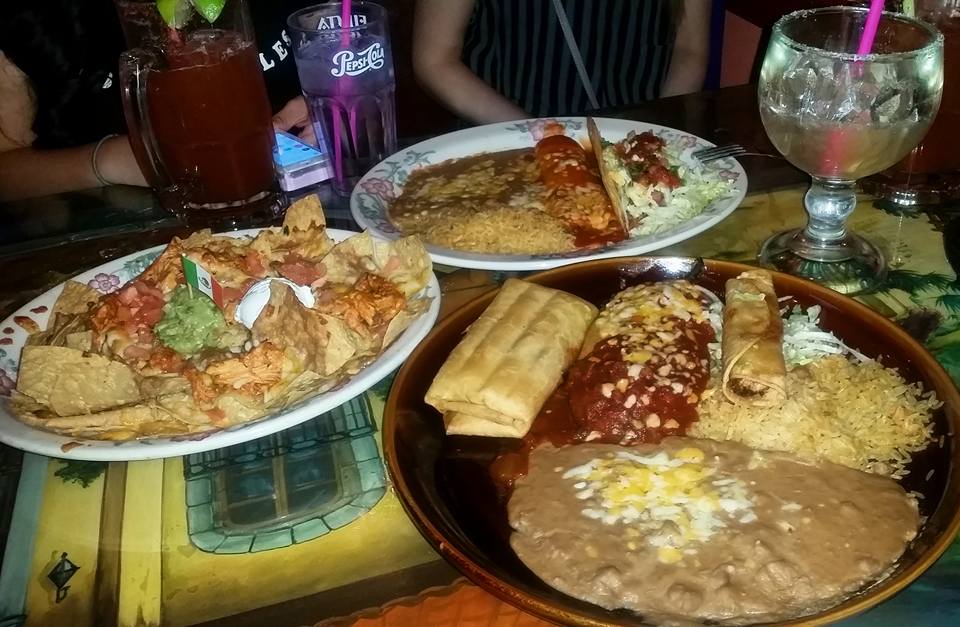 I LOVE when a place has great drinks AND great food! I tried the mexican food at Fiesta Mexicana on the west side of town! I had the fiesta combo with a taquito, chile relleno, and a chimichanga. Oh my goodness. Heaven in my mouth. It is delicious and the service is so great and the ambiance is just everything. Highly recommend. Plus their margaritas come with an extra shot of tequila on the side..just in case, check out the drinks featured on the Food Bucket List here.
LOS OLIVOS MEXICAN RESTAURANT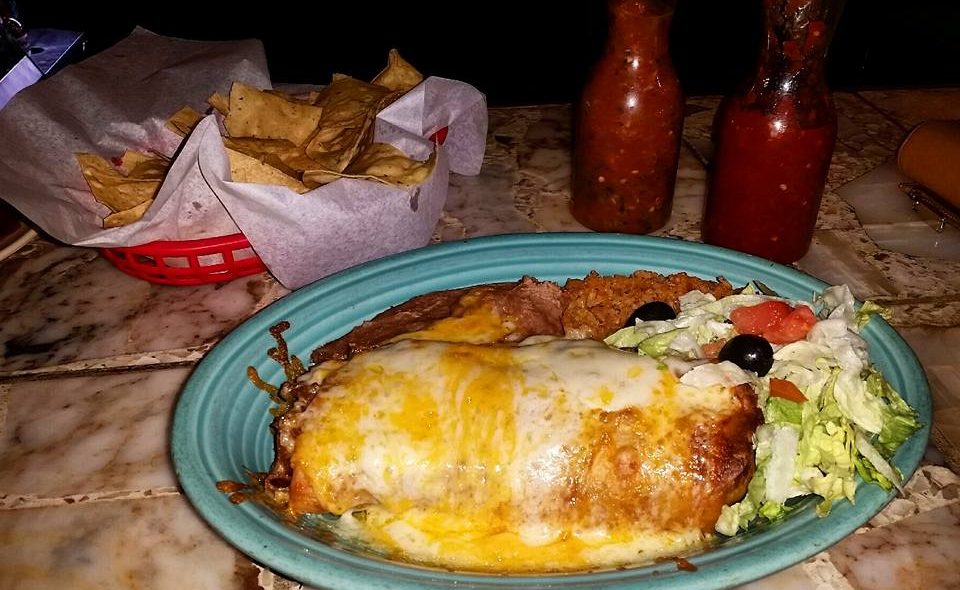 The food at Los Olivos Mexican Restaurant in Scottsdale was amazing! The chicken chimichanga was DELICIOUS and the service was great but it was a little pricey. I would go back if someone paid for me lol or if I was feeling like a baller.
EL RINCON MEXICANO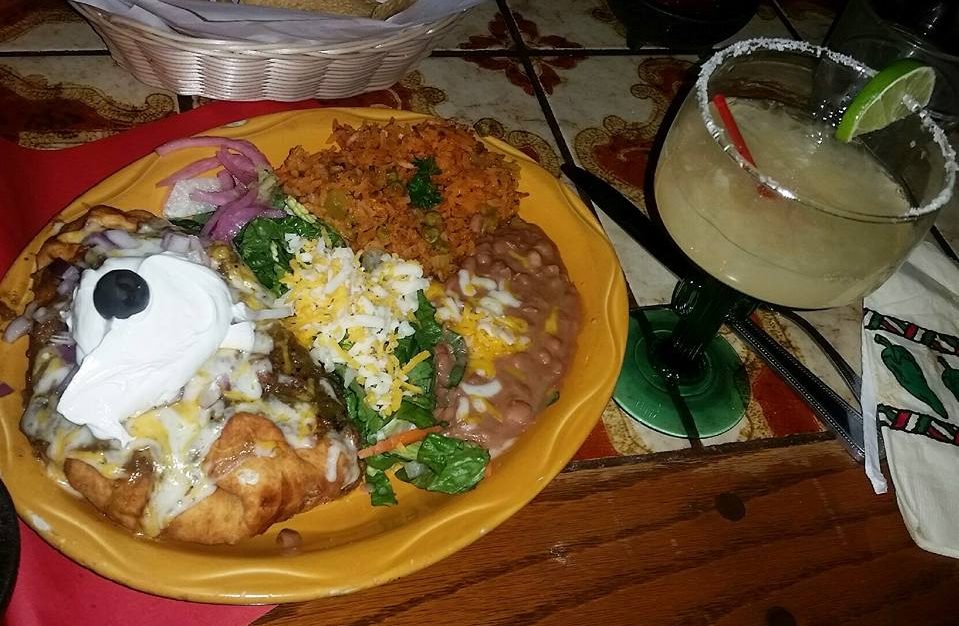 Valentines Day dinner was a success! My mom and I tried El Rincon Mexicano in Sedona! My mom had the chimichanga with machaca beef (enchiladastyle) with rice and beans and I had the chicken quesadilla and the world famous margarita ?? it was SO GOOD. Definitely coming back and our waiter was so cute and gave us roses at the end. ❤
LA PINATA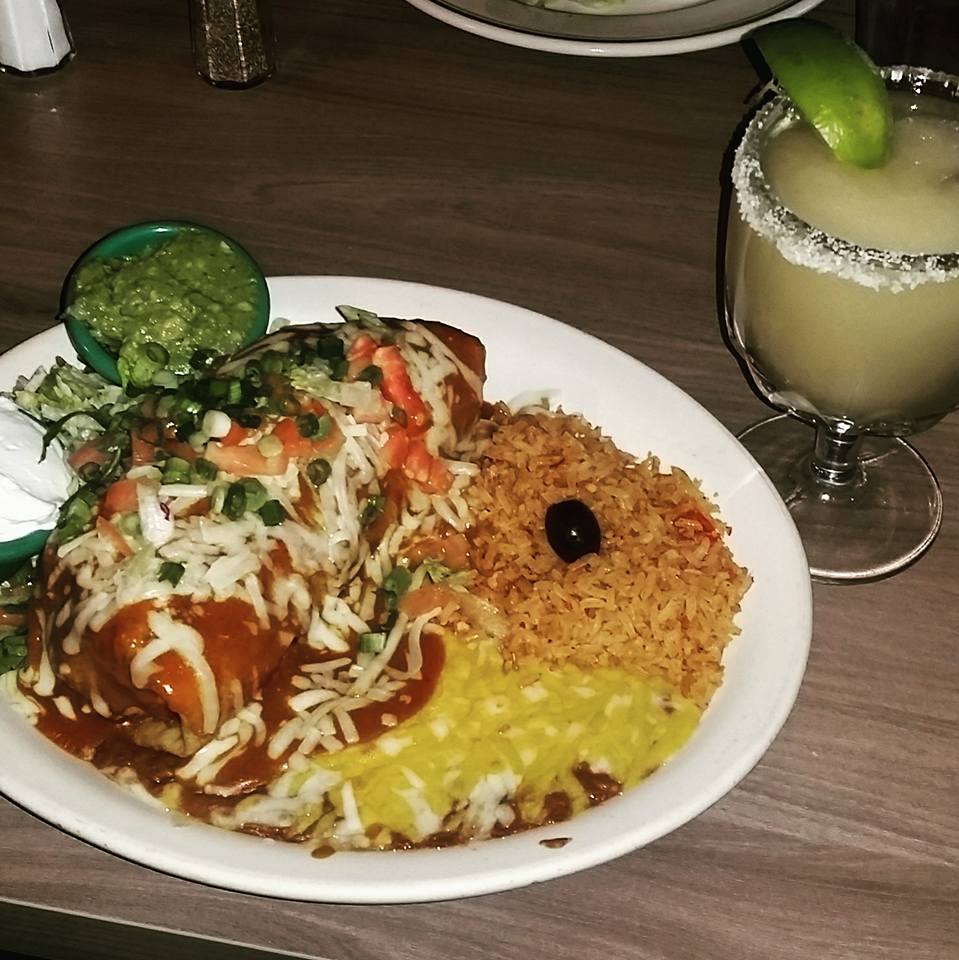 You know we had to celebrate a successful bridesmaid shopping adventure with margaritas and mexican food! Life bucket list : food edition item #331 completed! Try the food at La Piñata in downtown Phoenix! Super delicious and amazing and super flavorful chimichanga and the margaritas are STRONG. Def coming back. Thanks for the recommendation Gloria!
LOCO PATRON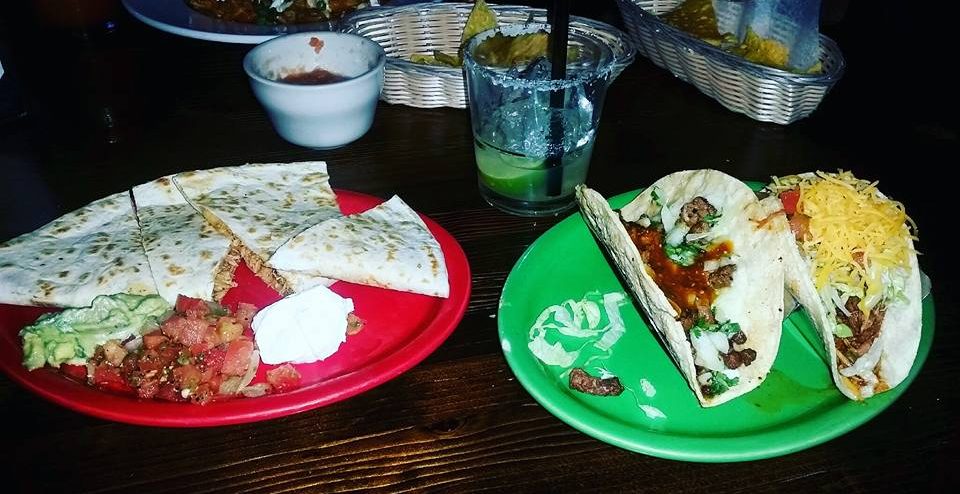 Who said you couldn't mix business with pleasure? Great happy hour before getting down to business and helping to plan an epic conference with SHPE Phx at ASU! Big things coming, stay posted!
Also, simultaneously completed life bucket list : food edition item #190! Eat at Loco Patron in Tempe! Awesome happy hour ($5 margaritas and $3 quesadillas plus some street tacos) and great staff! I recommend!
ROSITA'S PLACE MEXICAN FOOD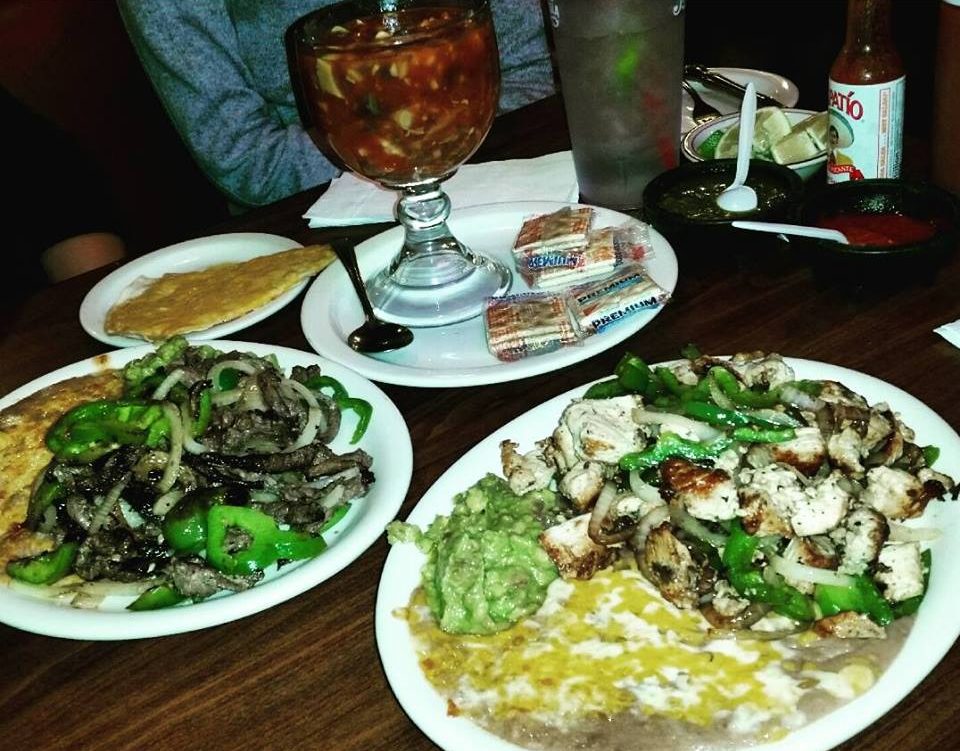 I finally got the chance to try Rosita's Place! I had the chicken fajitas, Yamille had the beef fajitas and Hannah had the cocktel de camaron! Super delicious! Would definitely come back here! It's so much food for what they charge, I love it!
TERESA'S MOSAIC CAFE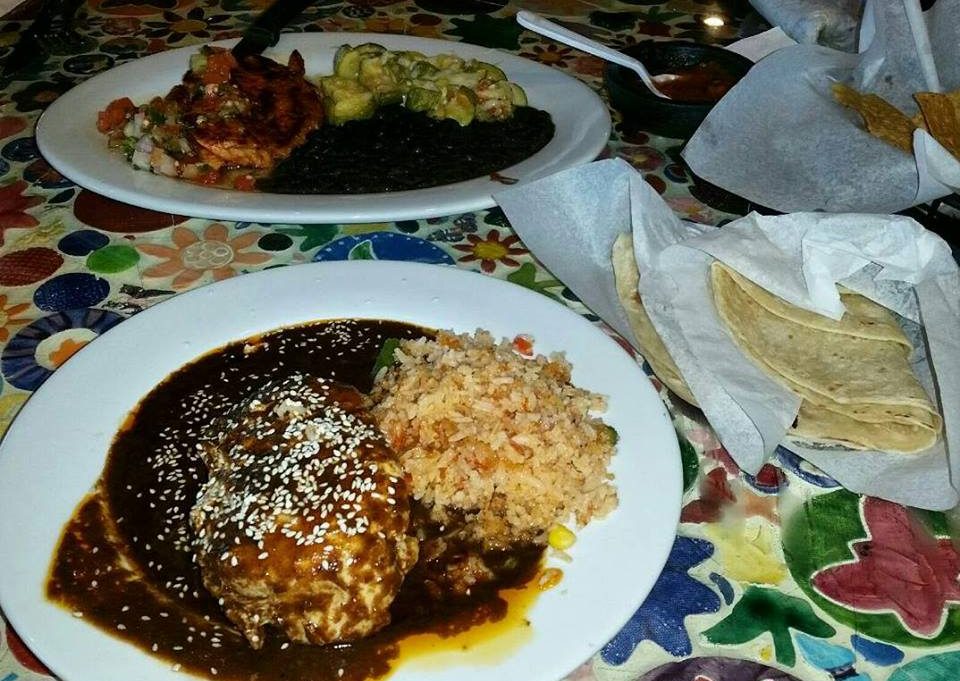 Teresa's Mosaic Cafe was DELICIOUS and a super cute restaurant. I had the chicken mole and Rafa had the adobada chicken! So good, def going to bring my mom here because she will approve of this mexican food. To quote Rafa : 'Se siente como que la cocinaron con amor' lol aka 'It tastes like they made this with love' hahaha so good!!! No wonder Bobby Flay from the food network is a fan! Highly recommend!
DON RUBEN'S MEXICAN FOOD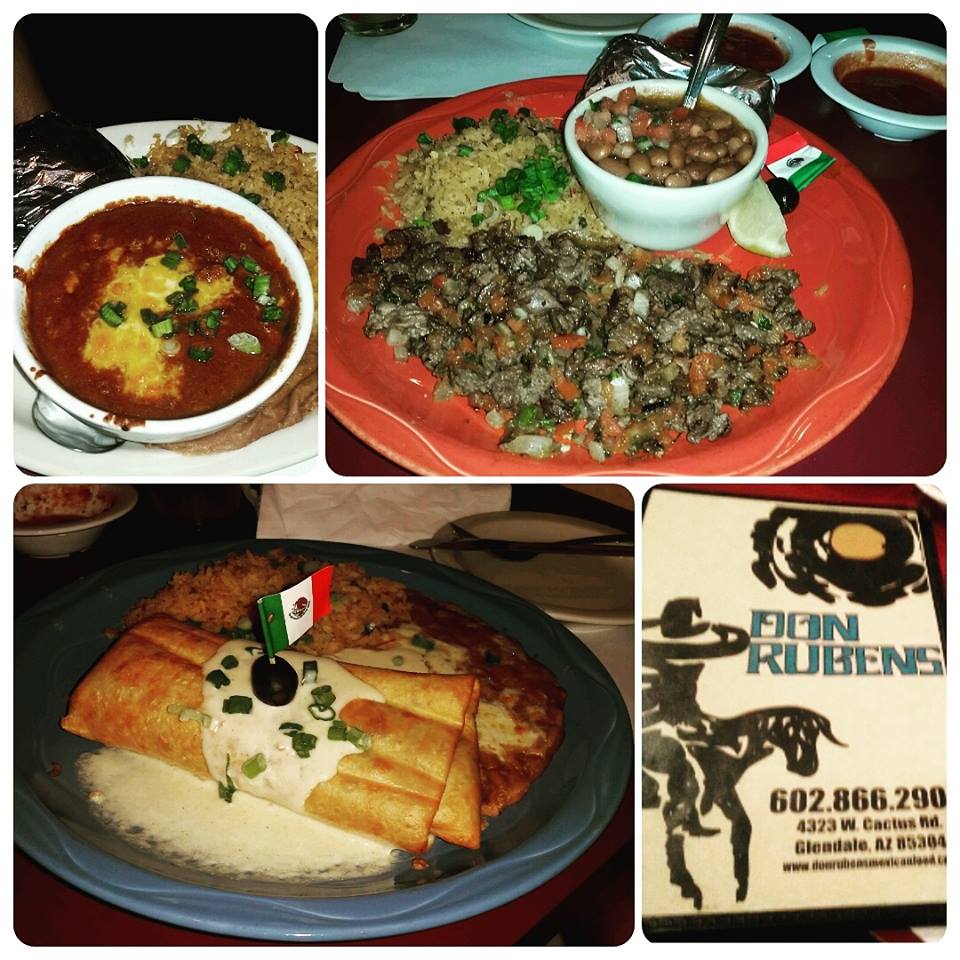 Tried some AMAZING Mexican food with my coworkers today!!! HIGHLY RECOMMEND. Making this my new spot when I'm in this area! The food at Don Ruben's Mexican Food is DELICIOUS and on Sundays they have $5 house margaritas! I had the steak picado, Tim had the diablo burrito, and Luis had the chilli con carne. Thanks for joining guys, see you next Sunday!
COMEDOR GUADALAJARA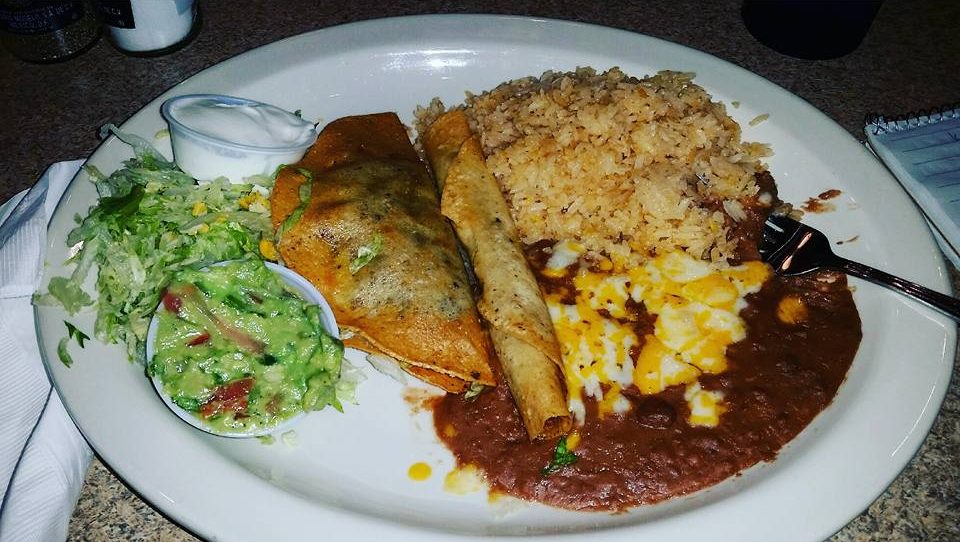 After a ton of friends recommending this place I finally tried Comedor Guadalajara! AMAZING and great service and apparently always busy (BECAUSE IT'S SO DELICIOUS). I highly recommend and it's so good that I've come back a few times already. Plus, their margaritas are really strong 🙂
RAUL AND THERESA'S MEXICAN FOOD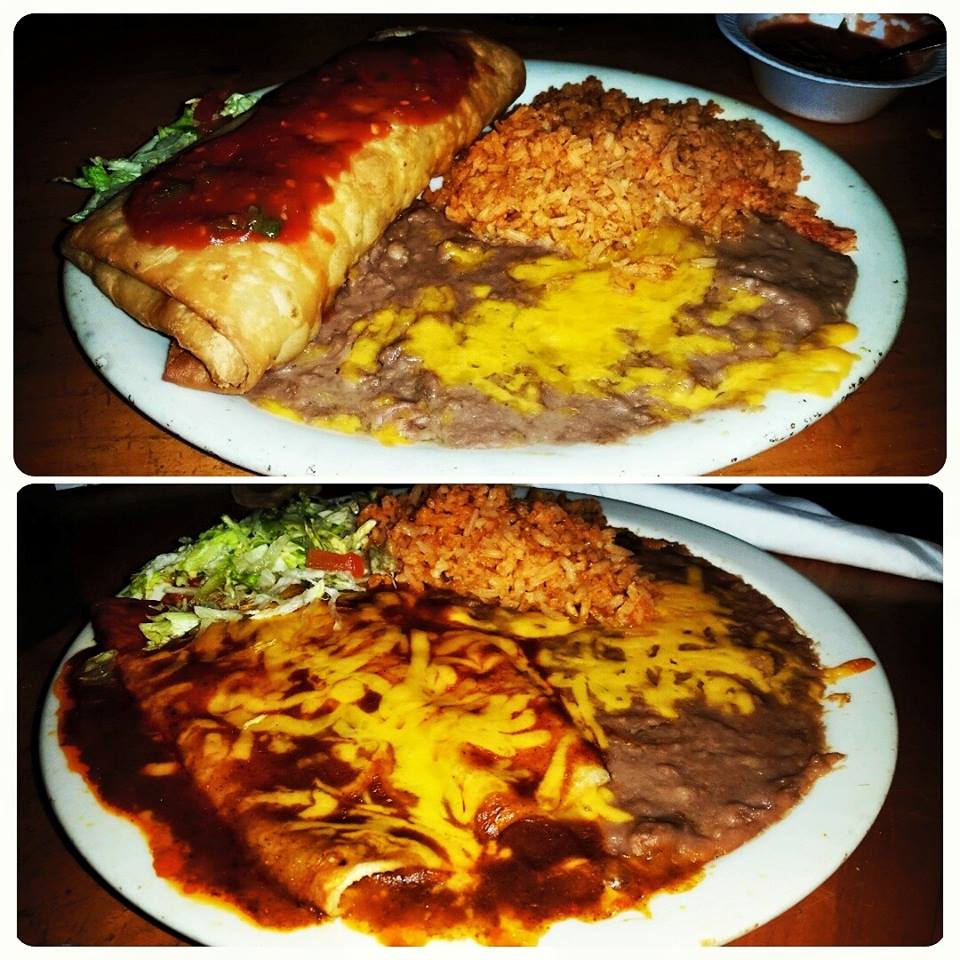 Thank you so much for my birthday dinner wifey and for your friendship! I've missed you! Love you and thank you so much for treating me to bucket list: food edition item #213 completed! The food at Raul and Theresa's Mexican Restaurant was DELICIOUS and it's such a cute little spot with great service!
POPO'S FIESTA DEL SOL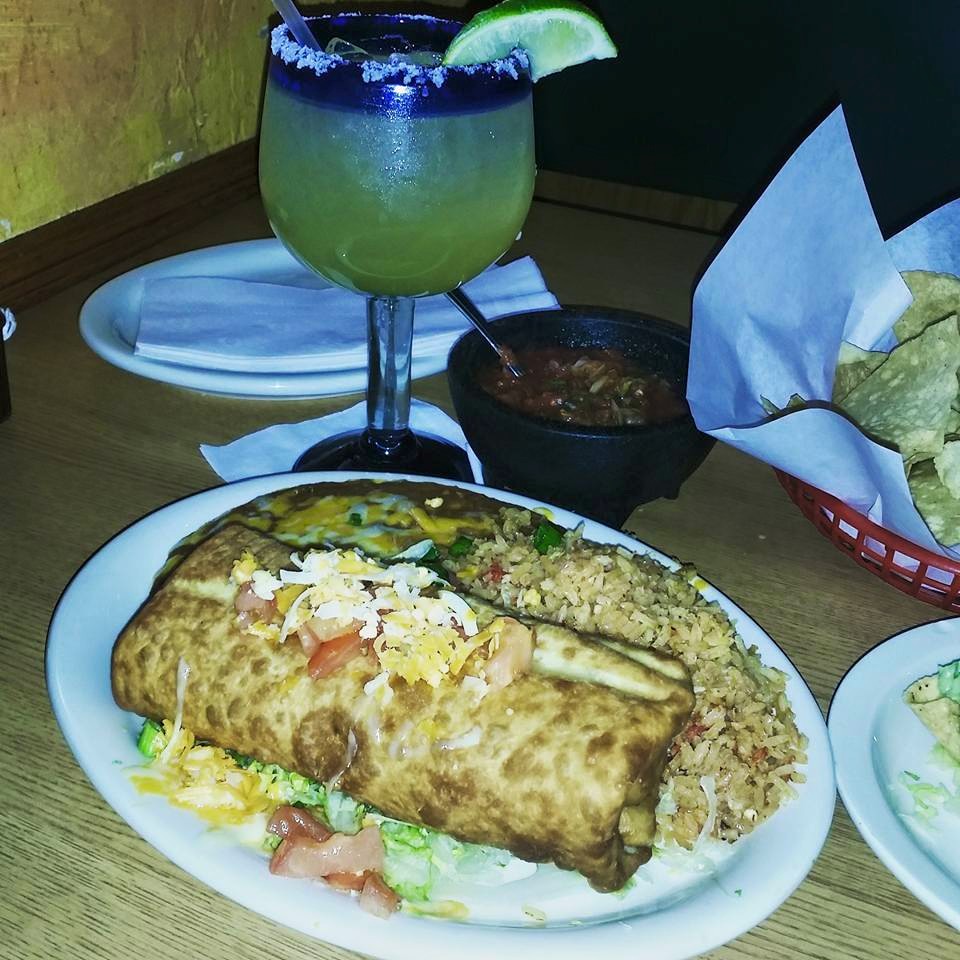 Gloria and I again tried the food at Popo's Fiesta Del Sol Mexican Restaurant! I guess we love to go out to eat together haha. I will say that this place has one of the best margaritas I've ever had. Very strong but super flavorful. And the chimichanga was out of this world. I will be back, for sure!!
MAZATLAN RESTAURANT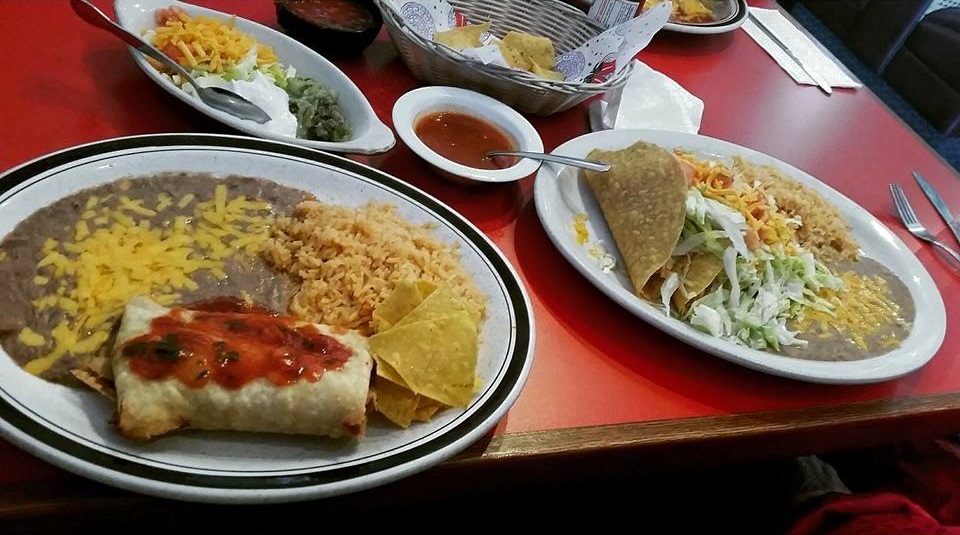 My aunt took us to her favorite Mexican restaurant chain in Washington! The food at Mazatlan Mexican Restaurant was super delicious and the service was fantastic, I recommend!
LOS REYES DE LA TORTA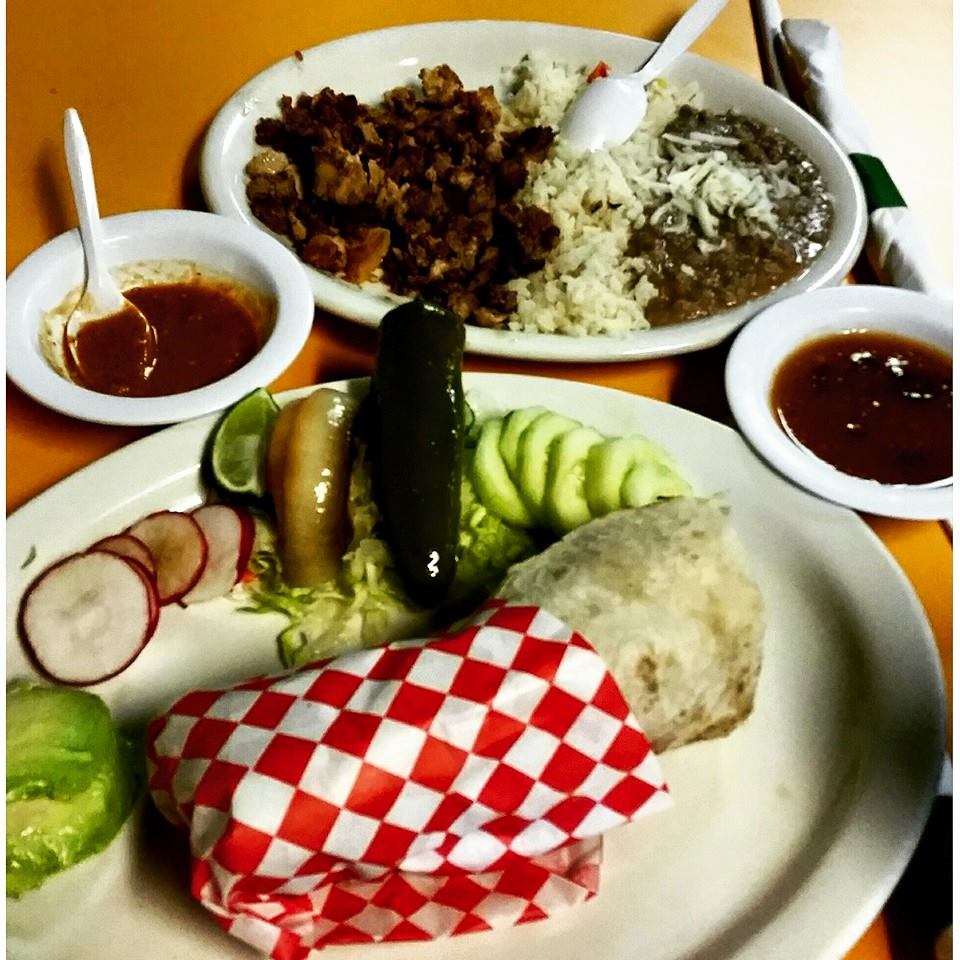 OMG. I finally got a chance to try Los Reyes de la Torta and all I have to say is that they have some BOMB FOOD. The burrito de asada is so flavorful and the salsa they serve with their chips is beyond spicy but super good! My mom and I recommend this place! No wonder it was on the Food Network's Man VS Food!
MAMA LUPITA'S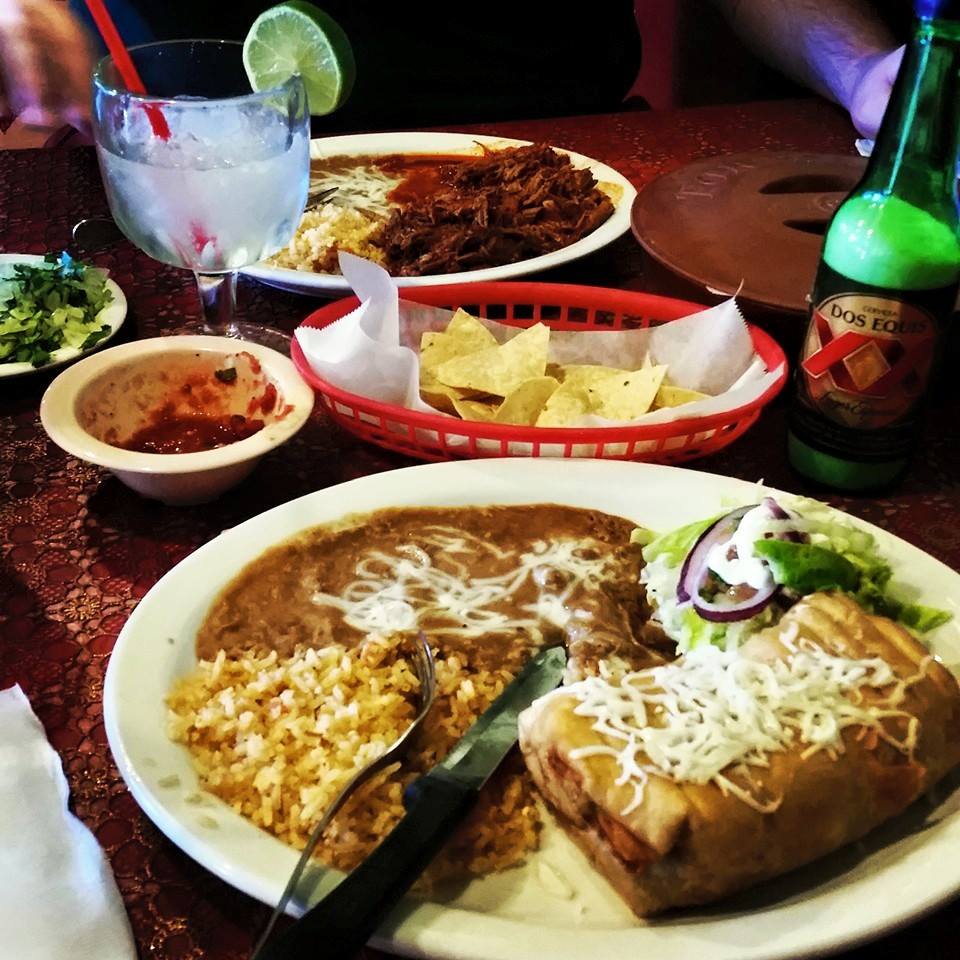 I had been wanting to try this restaurant for a while, as you can see by how early the bucket list number is!
Mama Lupita's
was so delicious! And the restaurant was super cute and casual, very homestyle and they didn't give off that vibe that they were trying too hard. It really felt like I was eating at a family member's house. Super delicious chimi!! I'm loving the rice!
LOS DOS MOLINOS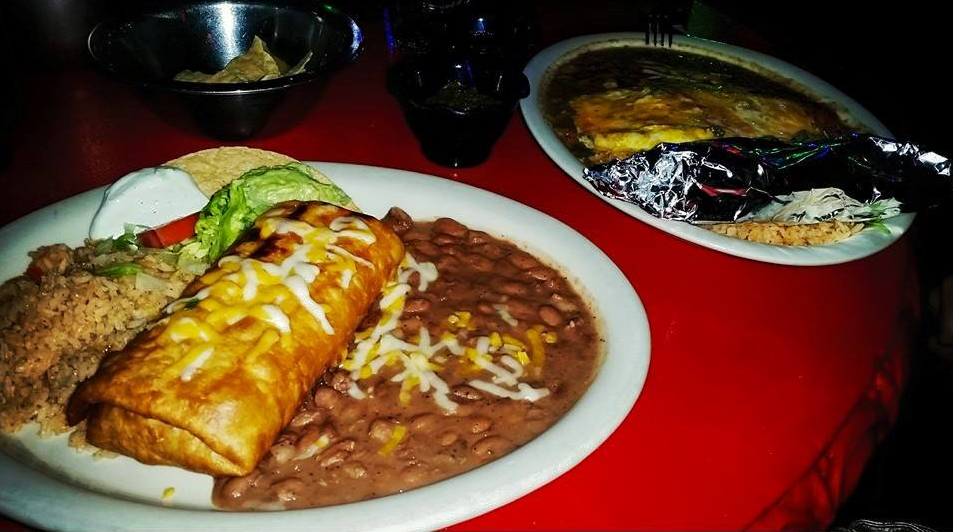 The food at
Los Dos Molinos Restaurant
was AMAZING! Omg this chimichanga was just perfectly fried and the chicken inside was so tender and flavorful. And the beans. I CANNOT GET OVER THE BEANS. Do yourself a favor and check this place out. I almost want to lick my screen right now, it was that good lol
THE ORIGINAL BURRITO COMPANY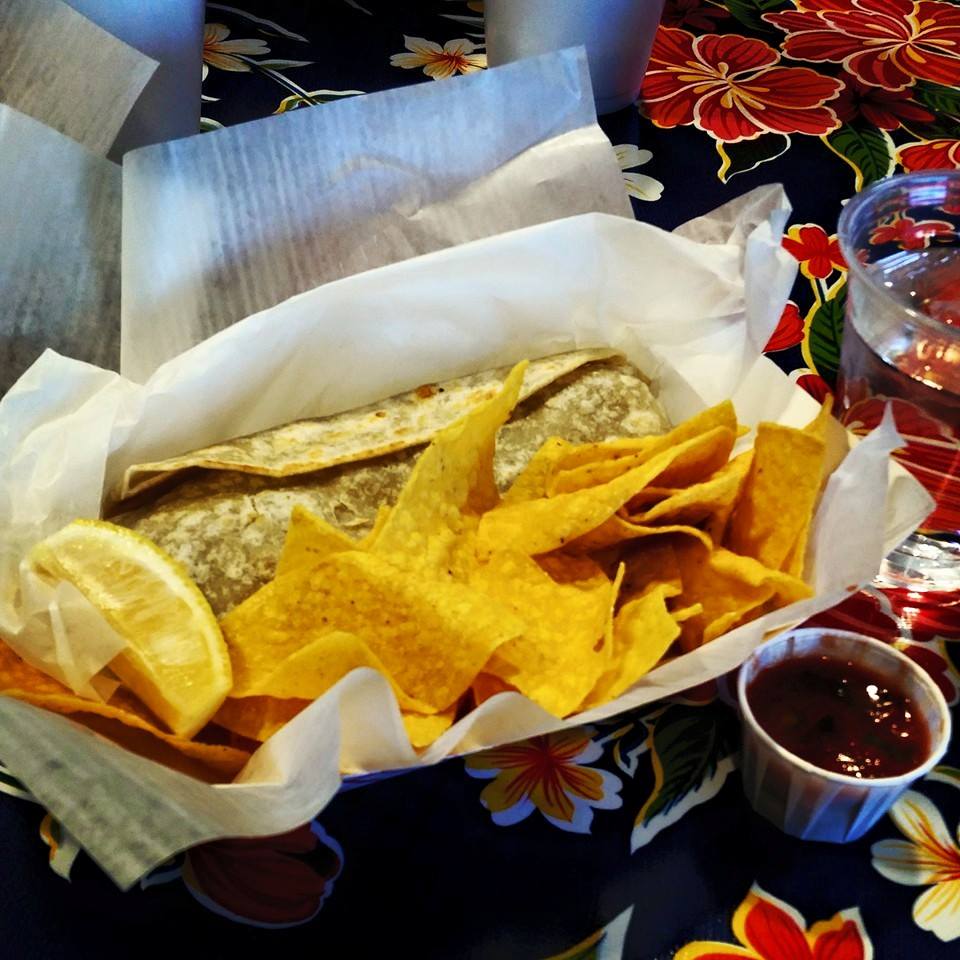 We decided to try
The Original Burrito Company
because we were in Chandler for a professional development seminar and I had heard really good things about this place. The burrito was really good and the salsa was really spicy and flavorful!
DON TACO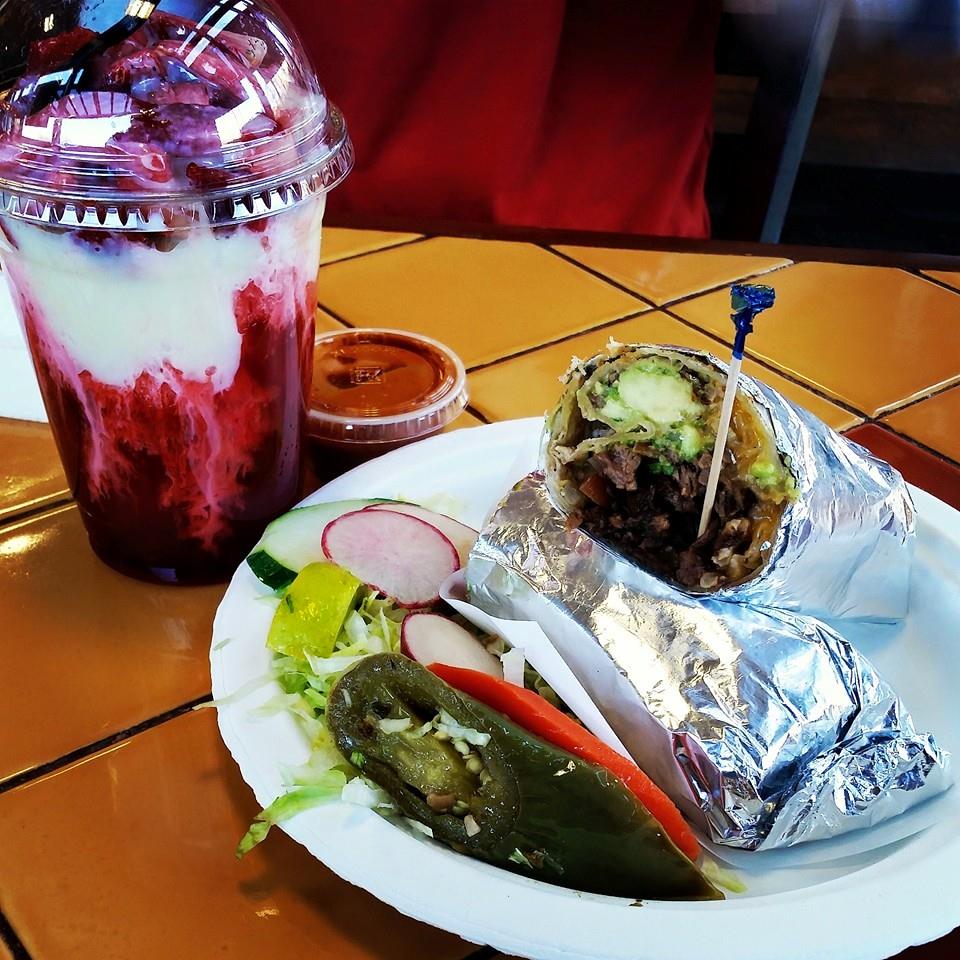 I finally got a chance to try the new restaurant Don Taco! Delicious burrito de asada and the mangoneada (not pictured) was amazing. Christina enjoyed her fresas con lechera. Super nice people work here and they play really good music!
TAQUERIA DON PANCHO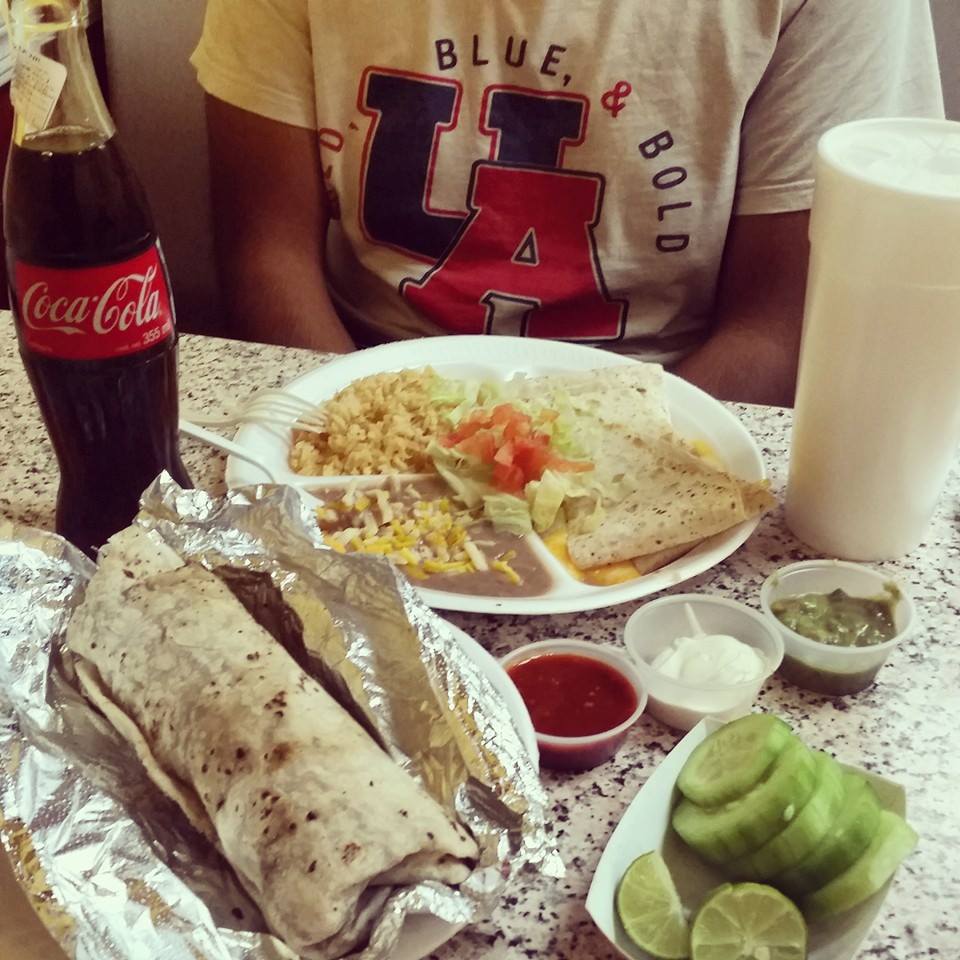 Javier came to Phoenix to run a half marathon and together we tried Taqueria Don Pancho! This place has DELICIOUS food and the music is on point. This may even be better than Chipotle! I had the chicken burrito and the chicken inside was just amazing. You could taste that the chicken had been made on a grill (which was a good thing). Highly recommend this place!
TA' CARBON MEXICAN GRILL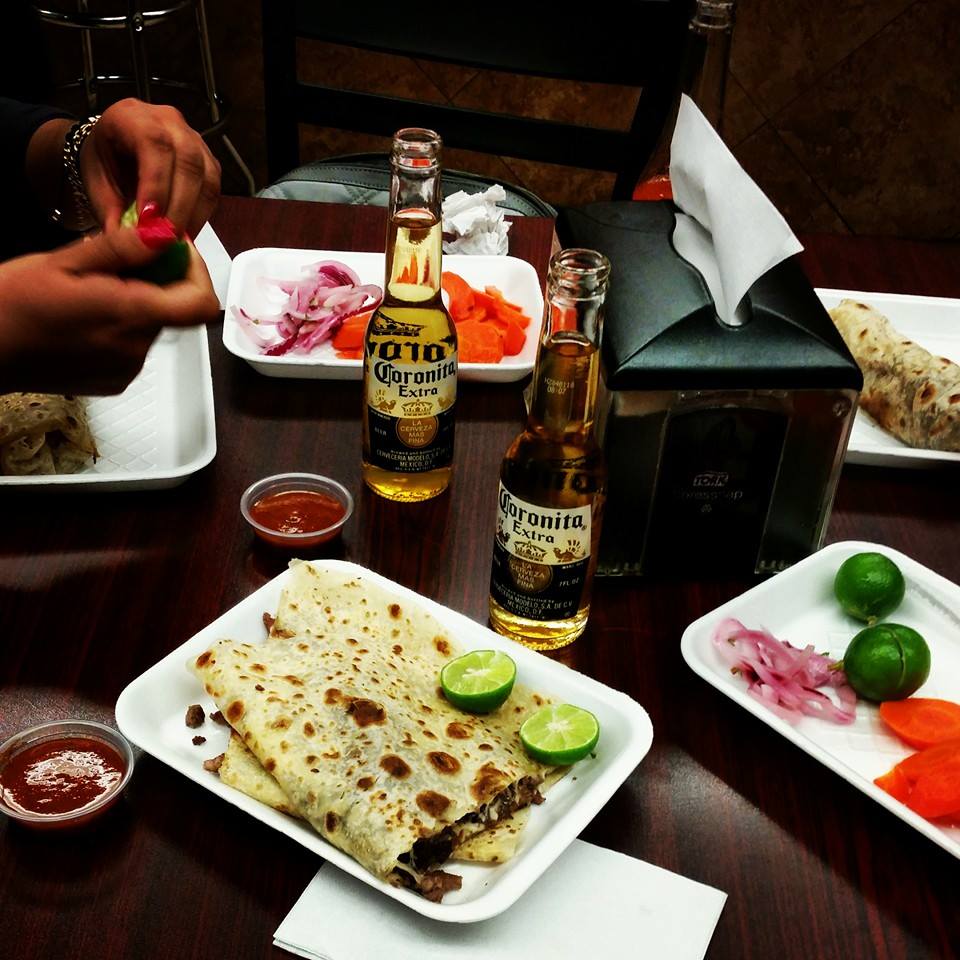 Ugh, this place is definitely one of my favorite Mexican restaurants in the valley. They are fast, simple, and delicious. The carne asada is so flavorful. HIGHLY RECOMMEND Ta' Carbon. Plus the name is clever and hilarious lol
SYLVIA'S LA CANASTA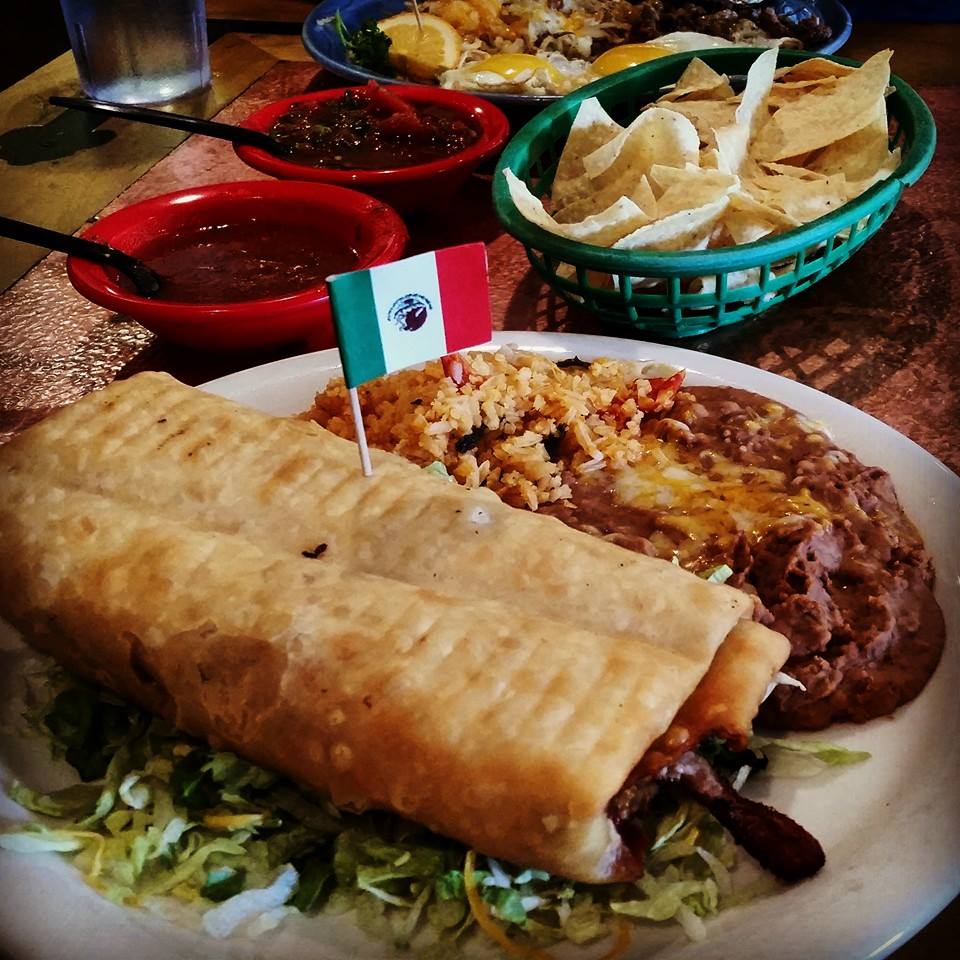 Food bucket list item #282 completed! Try the food at Sylvia's La Canasta Mexican Restaurant! The chimichanga was sooo good. Thanks for the recommendation, Ashley! Ashley and her family have been coming here for years and I can definitely see why. Cute little restaurant with fantastic customer service. Really good beans too!
SOPHIA'S PLACE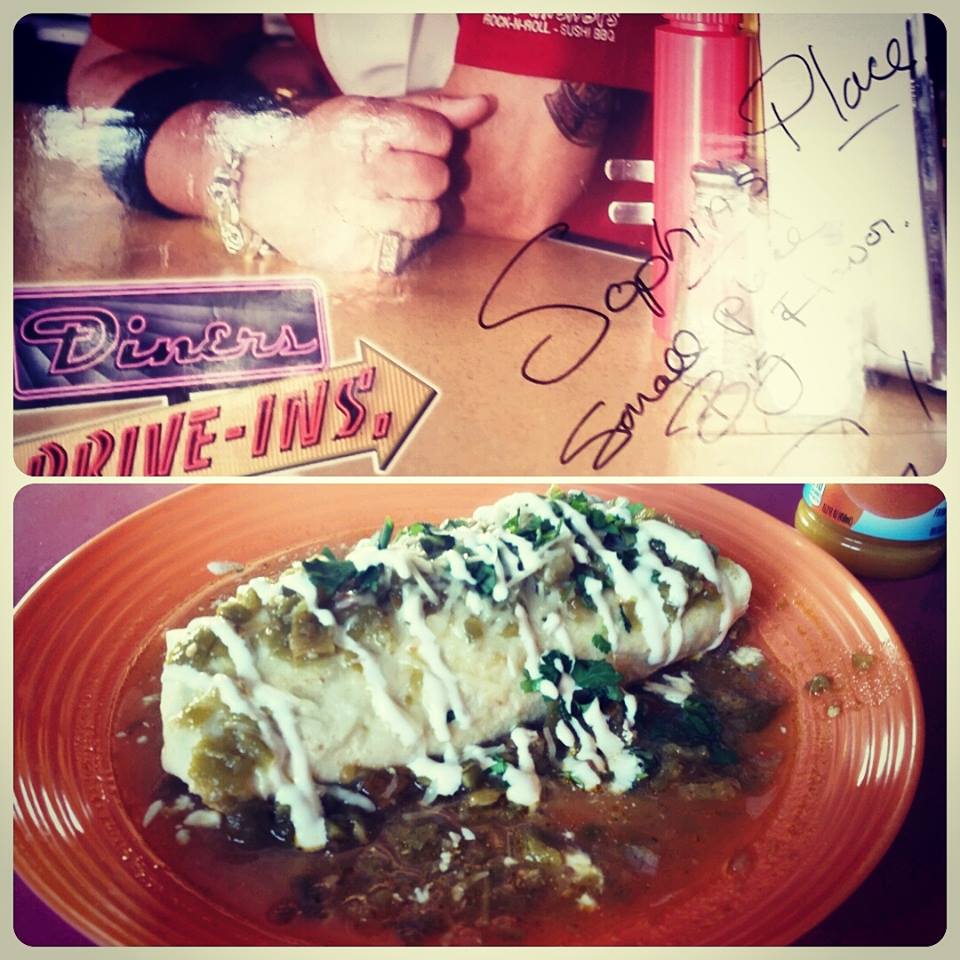 Food bucket list item #264 completed! Check out Sophia's Place! According to Guy, it's a small place with big flavor! I AGREE. The potatoes in the burrito are DYNAMITE. Definitely the BEST breakfast burrito I have ever had in my life. Just thinking about this place now is making me hungry. I'll be going to Albuquerque this week (Oct 2nd) and I will probably stop here and have a burrito. This place looks tiny and a little sketchy from the outside, but trust me….HUGE flavor and totally worth it.
EL CAMINO FAMILY RESTAURANT
Googled best restaurants in Socorro, New Mexico and this one was on the list so I added it to my bucket list. Life bucket list: food item #274 completed! Try the food at El Camino Family Restaurant, a local favorite. The fajitas are so good omg. These fajitas may be the best I've ever had. ?
KIKI'S RESTAURANT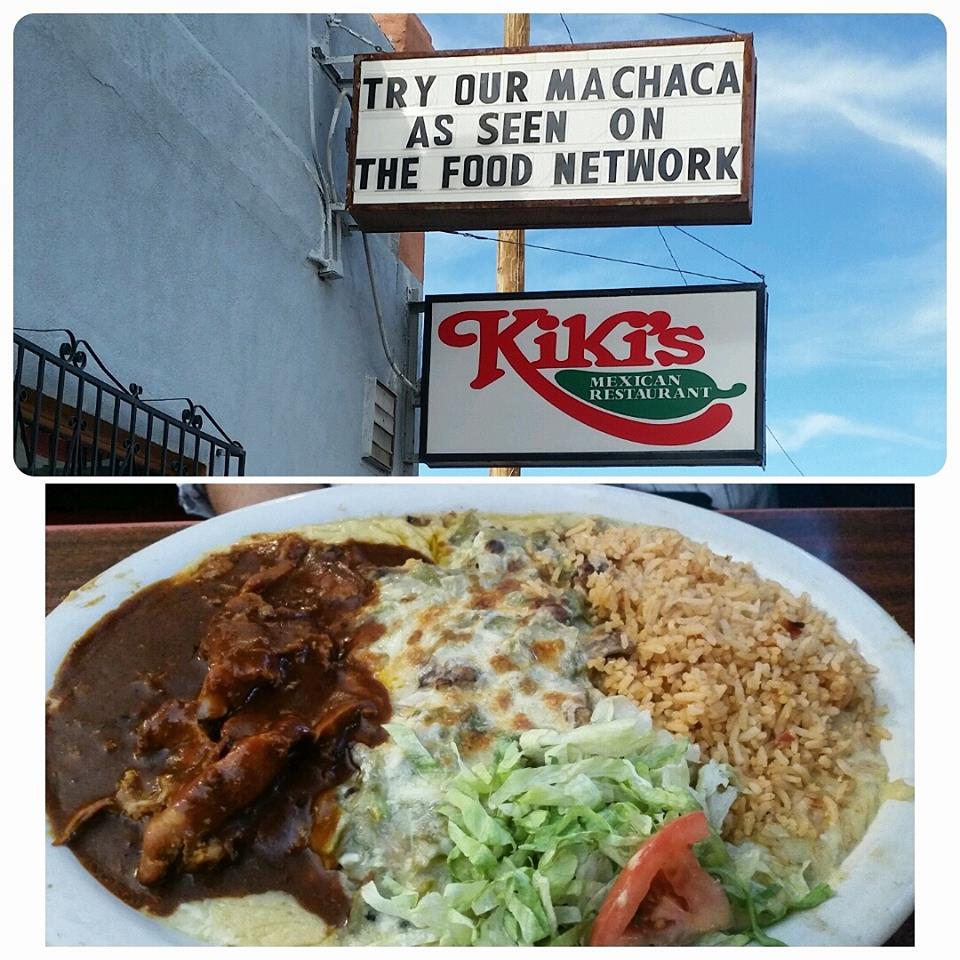 Food bucket list item #163 completed! Try the machaca at Kiki's Restaurant! My mom said it was delicious and she knows all about machaca. The fajitas I ordered were poppin. HIGHLY RECOMMEND.
LA PARILLA SUIZA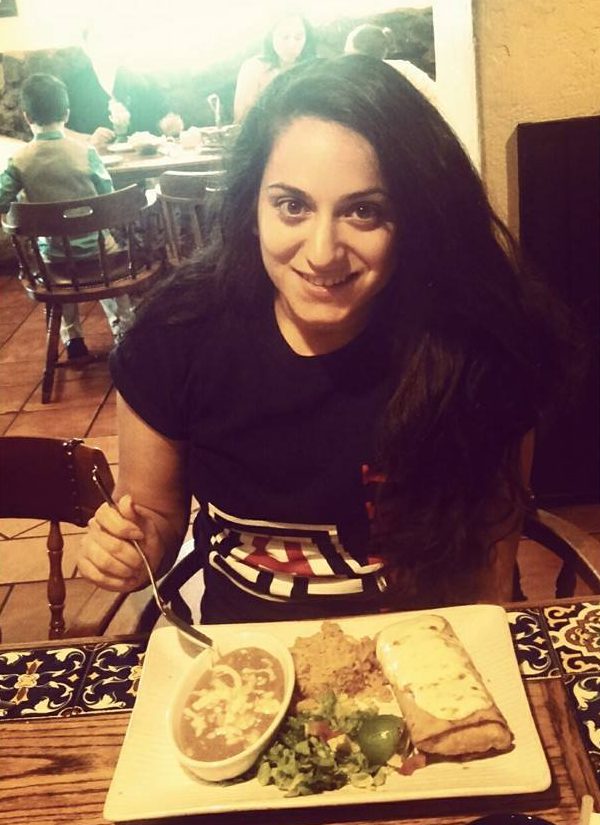 Tried the food at La Parilla Suiza and it was amazing!! Thank you Jose, for the recommendation. It was on point! Definitely going to come back here. The beans were really good and the chimi was full of flavor. Also, the salsa (not pictured) was very tasty!
---
THE RUSTY SCUPPER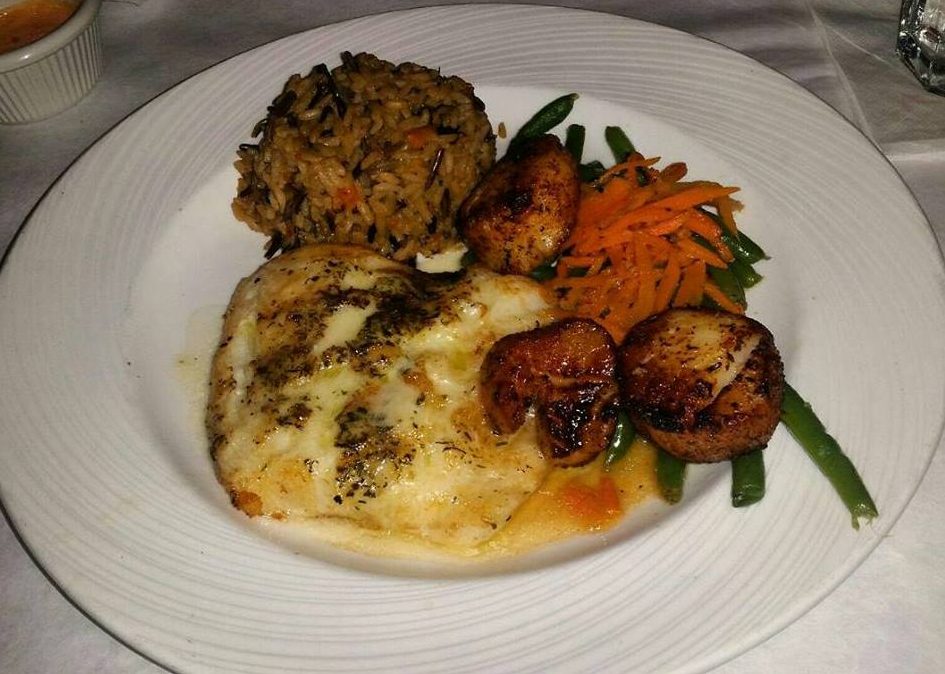 I had the absolute best seafood of my life in Baltimore y'all. Life bucket list : food edition item #475 completed! Try the food at the Rusty Scupper restaurant! Hands down my new favorite restaurant in all of Baltimore. I had the grilled Chilean Sea Bass and the famous scallops. AMAZING.
THE OLD EBBITT GRILL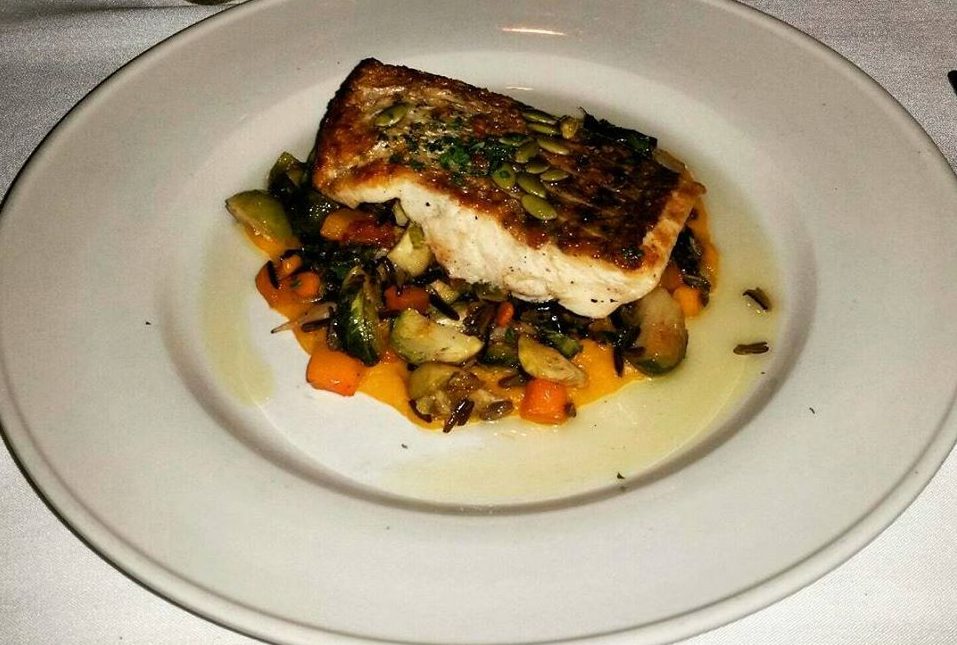 While in the Baltimore / DC area of course I had to try all of the amazing seafood. For our CORE team dinner in DC, I asked some friends for their favorite restaurant in DC and I was told that I needed to eat at The Old Ebbitt Grill! It was PHENOMENAL. I had the rock fish and it was super buttery and flaky and delicious. Highly recommend!
CRAB POT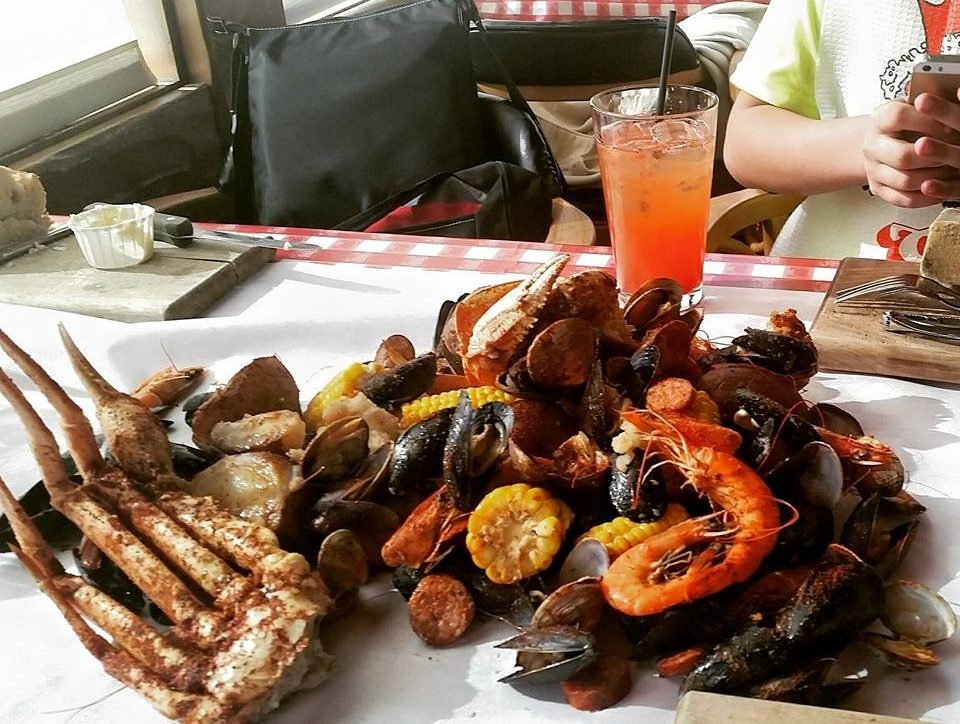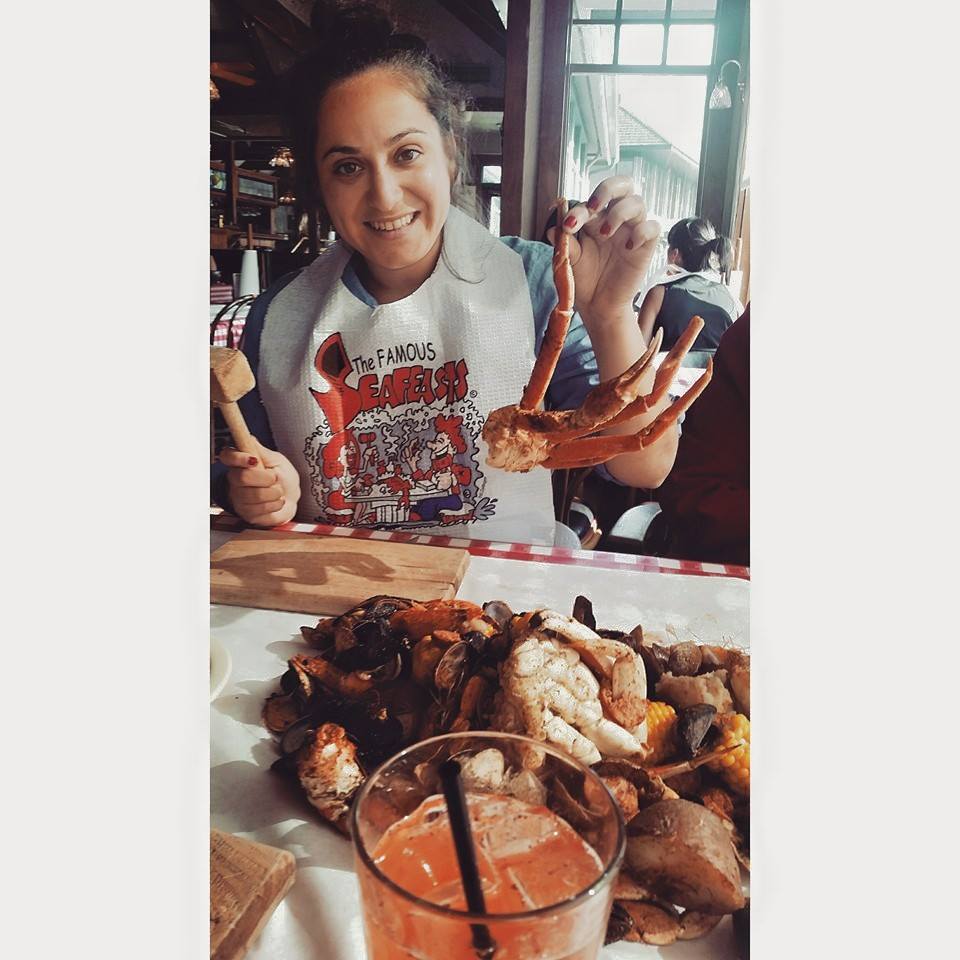 Finally got a chance to eat at the famous Crab Pot Restaurant! Hands down, the BEST seafood I've ever had in my life.
---
MRS. WHITE'S GOLDEN RULE CAFE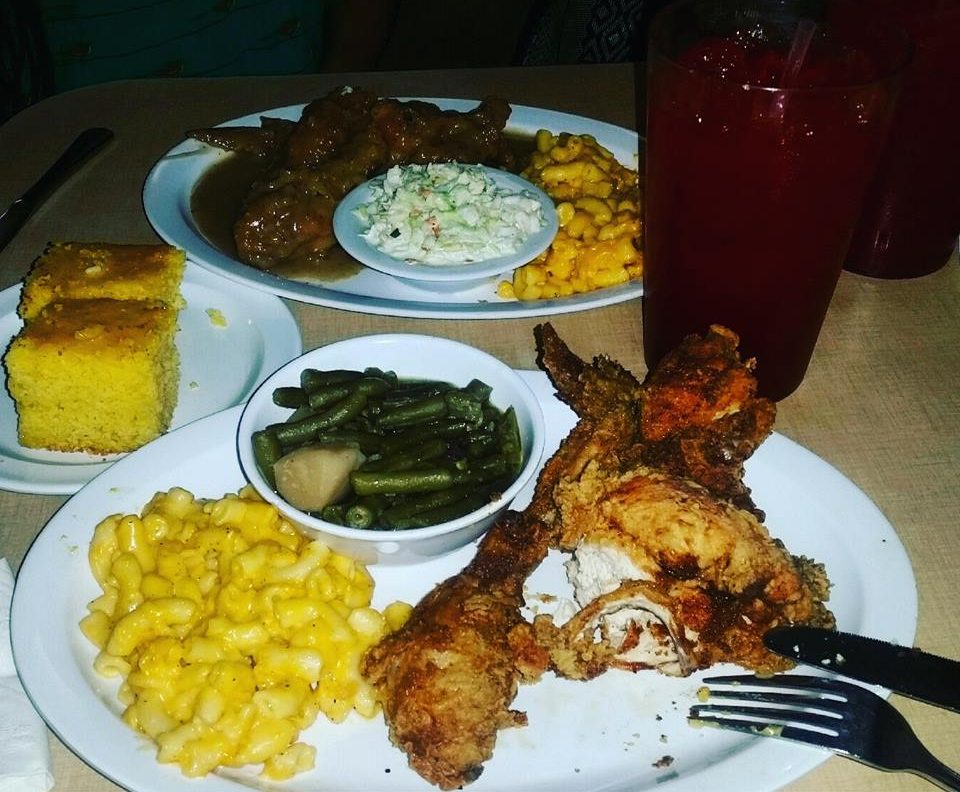 Met my new mentee today and together we completed life bucket list : food edition item #210! Try the soul food at Mrs. White's Golden Rule Cafe! Super friendly people work here and it was delicious!! Haven't had kool aid in so long! Good spot, I recommend! No wonder it's been around for more than 50 years!
---
SA BAI MODERN THAI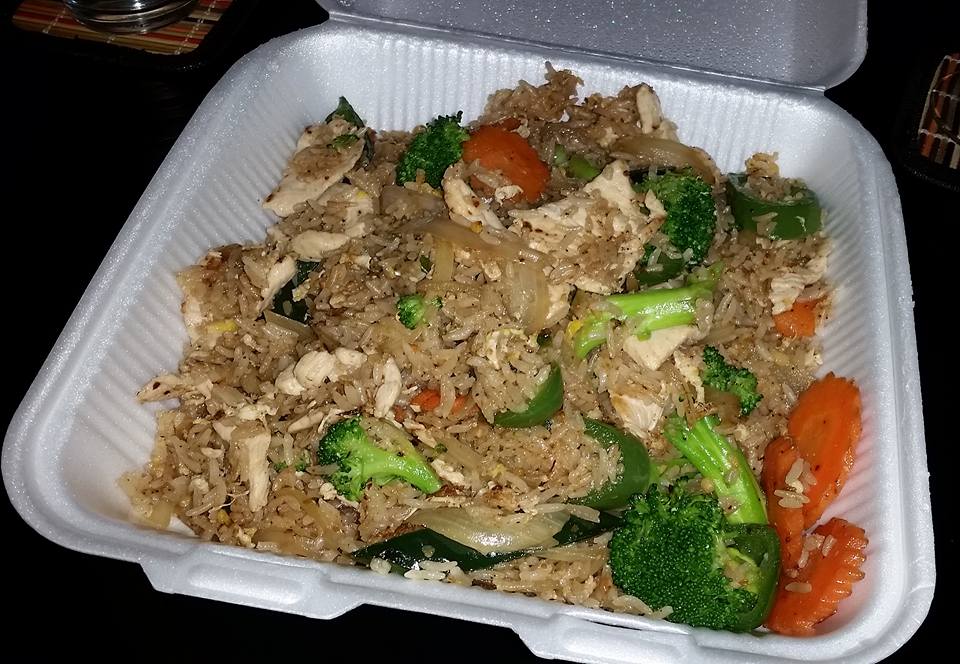 Today I crossed off food bucket list item #536: Sa Bai Modern Thai! They have a drive thru, the staff is super nice (I ordered to-go and they sat me down to wait, gave me a water and called me 'sweetie'
?), and the food is DELICIOUS. I had their spicy fried rice and not only do they give you a ton of food, it all has so much flavor!
KRUA THAI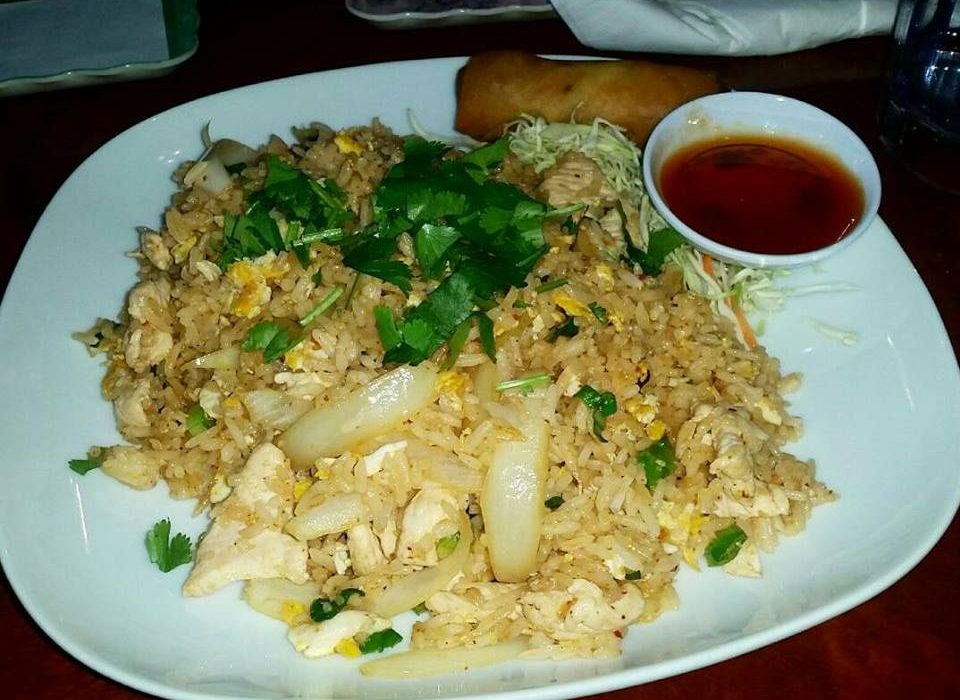 Every Friday, my work team and I go out to TFF (thai food friday) at Krua Thai and I always get the same order. Krua Thai is my favorite Thai restaurant in North Phoenix and you all need to check it out!
PIN KAOW THAI RESTAURANT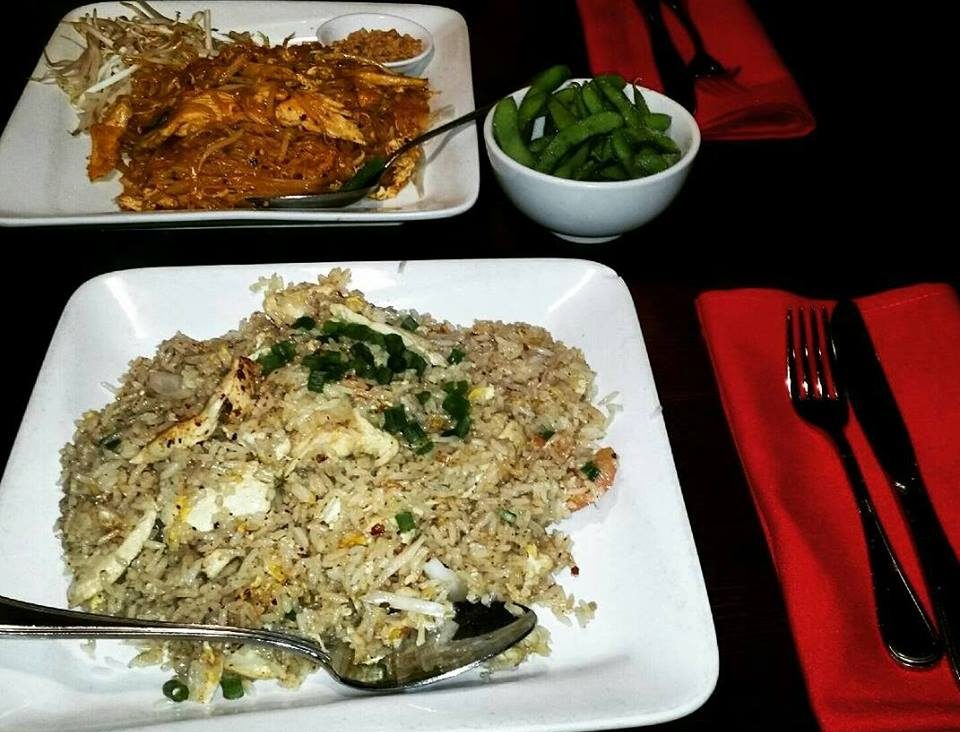 So since Yamille is always in Vegas I asked her to recommend a restaurant to add to my food bucket list. We were both craving Thai food so we ended up here! Pin Kaow Thai Restaurant was recognized as the best Thai restaurant in Vegas in 2014 and I can see why! DELICIOUS!! I had the fried rice and Yamille had the pad Thai. Great service and they give you orange slices with your check, so cute! Definitely my new Thai spot in Vegas! Thanks Yamille!
---
MISS SAIGON
Now this restaurant isn't officially on the Food Bucket List, but only because I discovered this place before I created the list. It is however, an honorary mention because it is my favorite Vietnamese restaurant. I can never leave Tucson without going to one of my favorite restaurants: Miss Saigon! Some of the BEST Vietnamese food in Tucson for sure. Had my usual coconut curry chicken, Rafa had the catfish, and Cali had some pho. Everyone needs to try this place.
RICE PAPER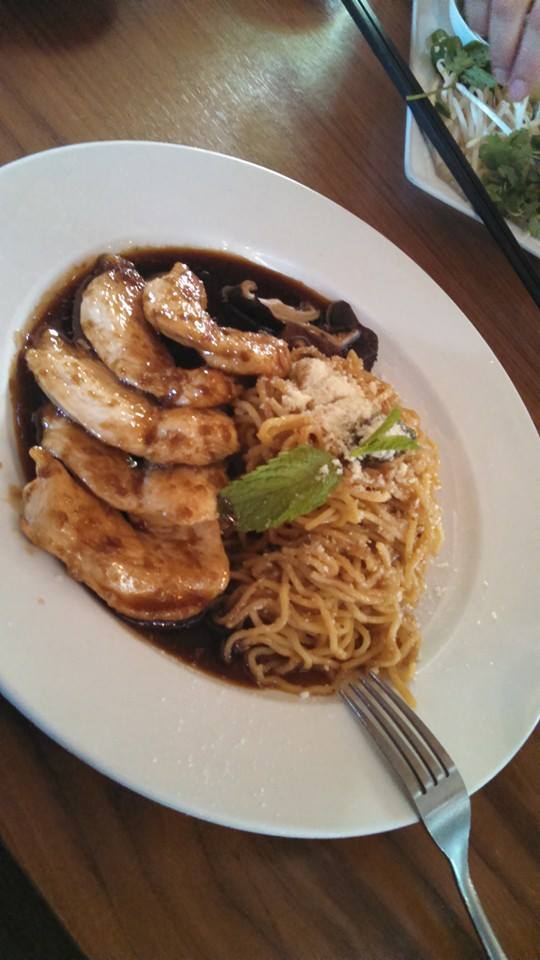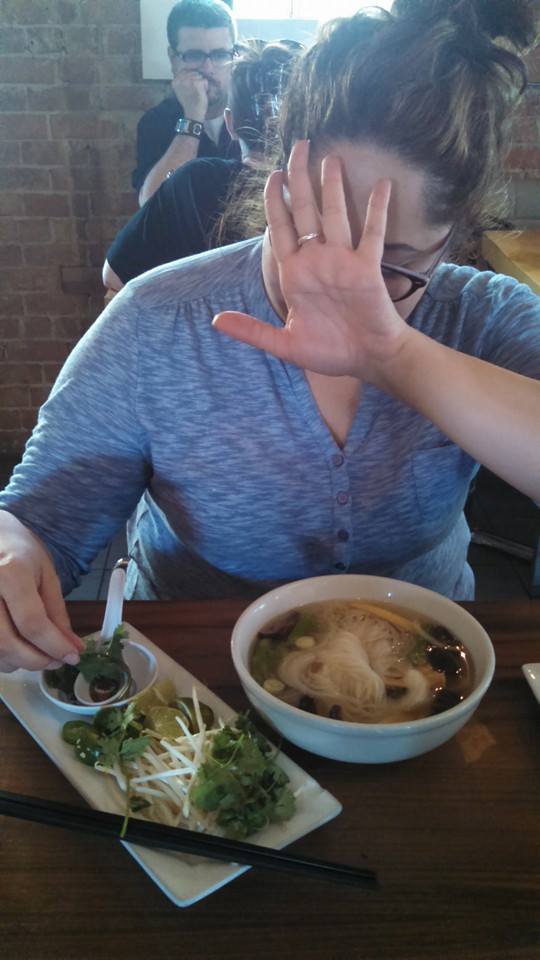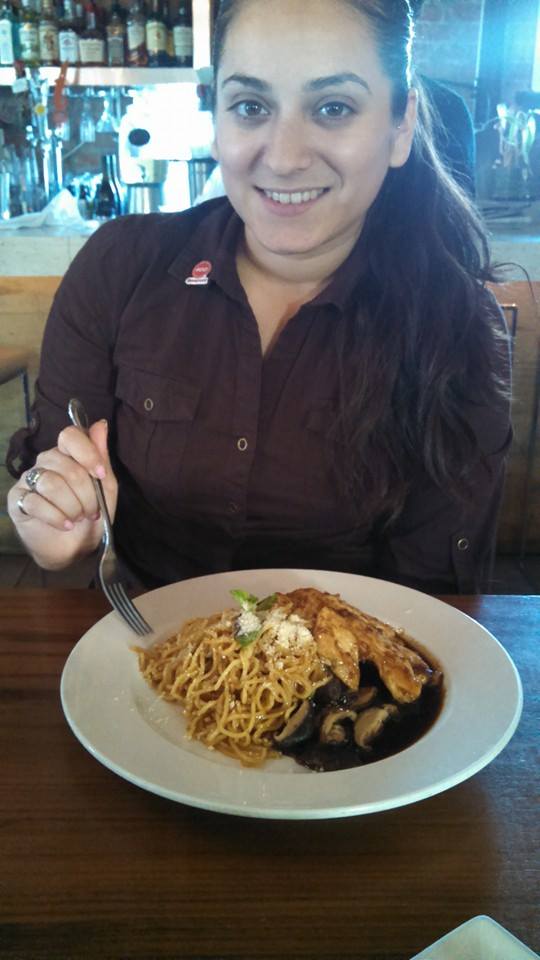 Oh man, Rice Paper is seriously so delicious. Just looking at the picture and thinking about the food is making me want to go back there again. My beautiful cousin (who apparently doesn't like pictures lol) recommended this place and it is just so good. If you like pho, try this place! It's kind of small but it has huge flavor 😉
---
Venezuelan Food
PATACON PISAO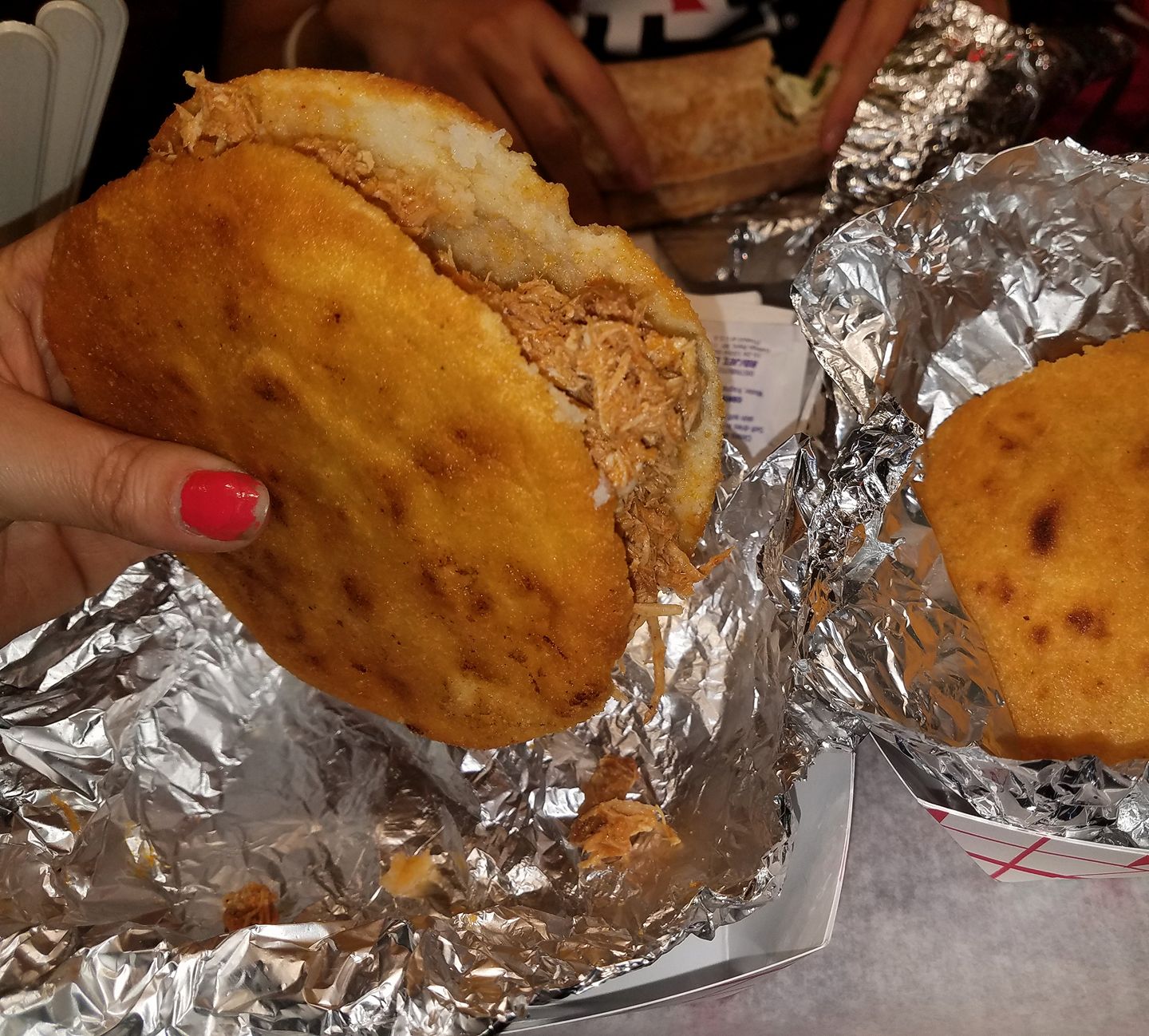 Wishing I was back in the lower east side in NYC! I had the BEST arepas from Patacon Pisao, and they were so bomb. For those who don't know, arepas are kind of like a meat pie made from ground maize dough originally from Venezuela! I tried the arepas with chicken and pork! They are fried and delicious, thanks so much Melanie for recommending! 
---