This post is sponsored by The Foundry. As always, all opinions are my own.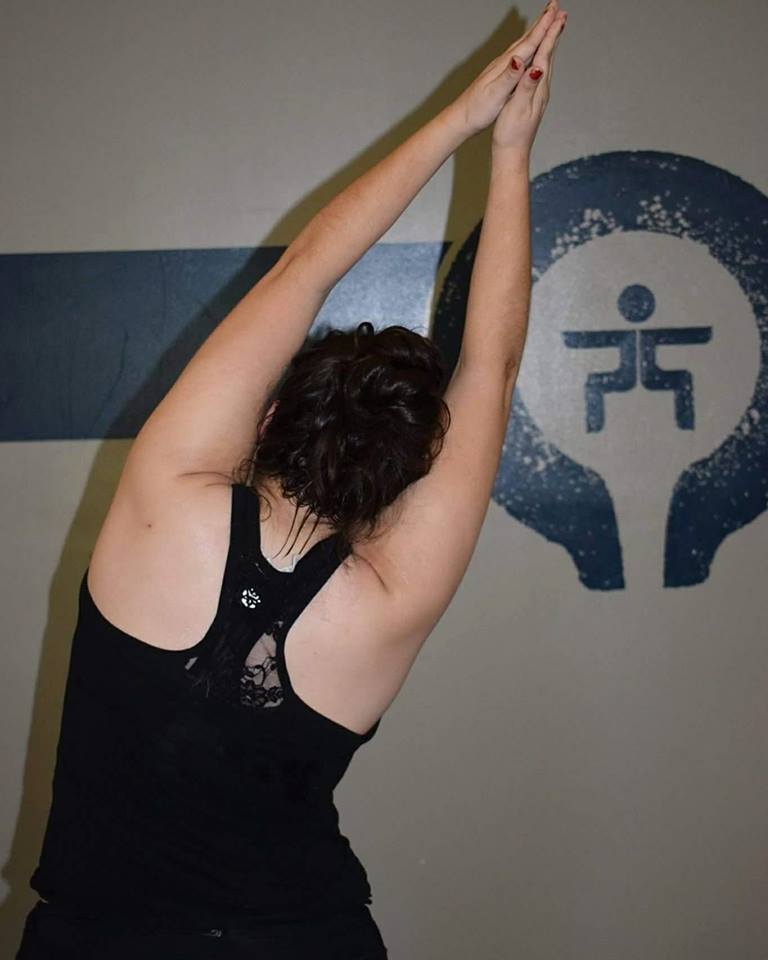 When people see me juggling the different activities in my life (work, travel, social life, gym, blog, non-profit, etc.) they tend to freak out a little. I, however, remain calm because I have a secret weapon: yoga. I love yoga because it's the time where I slow down my life a little. It's my favorite kind of exercise because it's good for both the mind and the body. I have tried regular yoga, piyo (pilates-yoga), but one type of yoga I had yet to try was Bikram Yoga.
I know that many people are curious but also nervous about trying Bikram Yoga, so as your faithful Queen of YOLO (You Only Live Once) and enthusiastic bucket list friend, I tried it and I'm here to tell you all about my experience at The Foundry.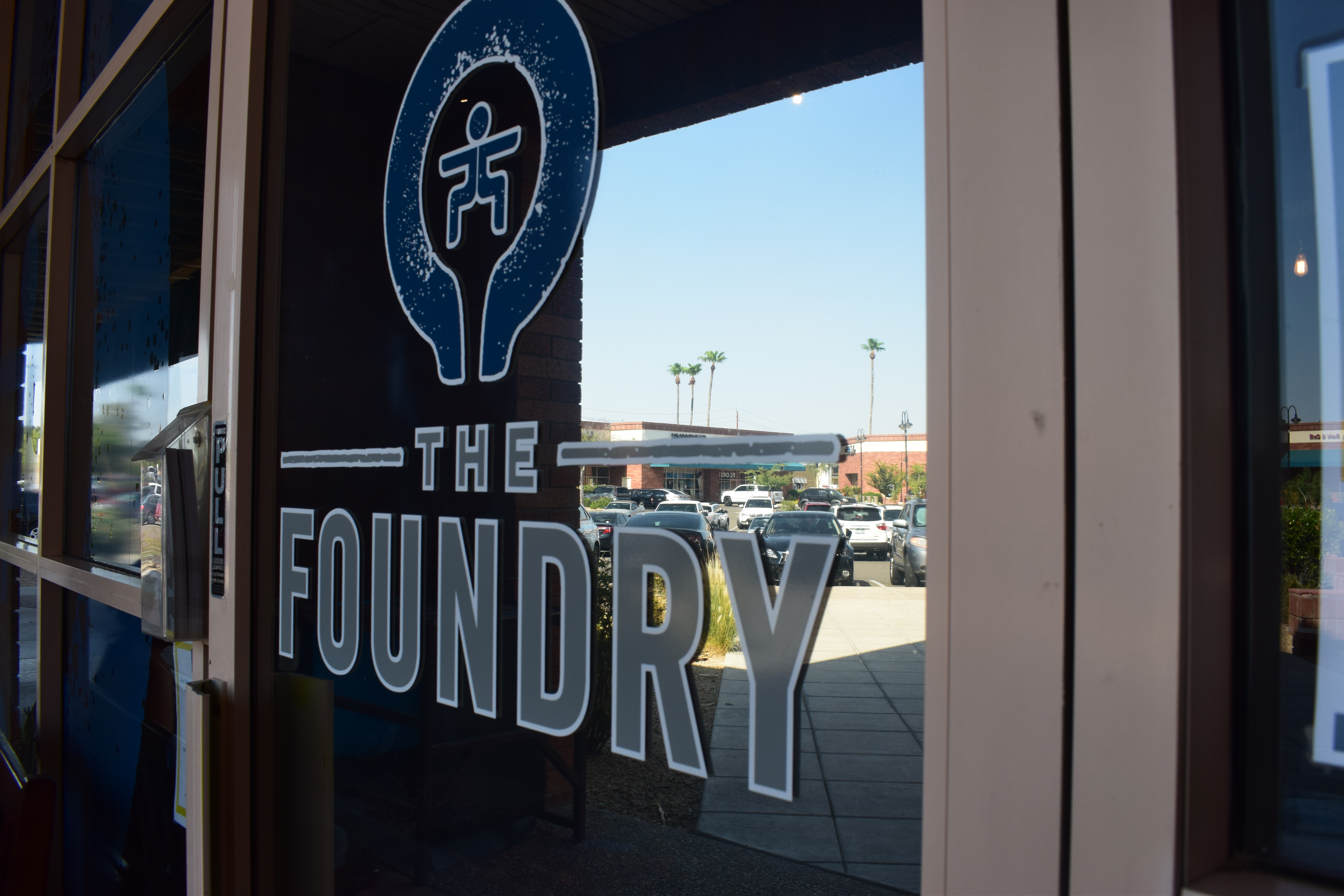 I decided to cross off this bucket list item at The Foundry because Cintra Brown (the original owner) was the first person to open a hot yoga studio in Arizona and one of the first few in the country more than 20 years ago.
When I got to The Foundry, I knew I was in a special place. I walked in and saw the general manager and our instructor for the day Heidi-Jo Klingman at the front desk warmly welcoming everyone. Heidi-Jo tells me that they get a lot of regulars, and that it's an inviting community. She mentions that it doesn't matter if you've been at their studio for 15 years or 2 days… someone will always be there to invite you in.
Heidi-Jo: Spiritual Gangster, Yogi, Instructor, and General Manager at The Foundry
Before I get into my experience, let's first clarify what exactly Bikram Yoga is and what it entails. When I first heard of Bikram Yoga, I just thought that it was doing yoga in a heated room, but it is so much more than that. Heidi-Jo taught me that there is a definite difference between Bikram Yoga and Hot Yoga and that the terms are not interchangeable (as I thought they were). She told me that Bikram Choudhury is the man responsible for bringing hot yoga to the United States.
She mentions that Bikram Yoga consists of 26 postures and 2 breathing exercises, always in the same sequence and heated to 105 degrees Fahrenheit and 40 percent humidity. It is standardized and unchanging. This is the sequence they teach at The Foundry and the class that I took. She also tells us that heat has since been added to many popular yoga styles, so "hot yoga" is now used to refer to any yoga class that adds heat. And you're in luck, because The Foundry has both Bikram Yoga (which is always hot) and hot yoga (yoga classes that are NOT bikram, but utilize heat) at their studios.
Heidi-Jo started yoga in 2003 by taking what she calls the "studio tour"…which is going to different studios and taking advantage of introductory specials because she was a broke college student. I will be taking a page out of Heidi-Jo's book and using The Foundry's introductory special, so consider joining me! All the info will be at the end of this post.
Heidi-Jo was drawn to trying yoga because she suffered from back pain, a debilitating eating disorder and depression but it wasn't love at first practice. She actually hated her first Bikram Yoga class, because she was a heavy smoker and the heat combined with not being able to breathe was discouraging. She left the class midway and it took 6 months for her to try it again but she came back because she remembered the people that were in that class. They were covered in sweat, but they were also smiling!
After returning, she attended the OHM (Original Hot Method) Yoga School to become a Certified Bikram Yoga Teacher, 200 hour Yoga Alliance certified and a Certified Pilates Teacher. The instructors at the Foundry are knowledgeable and are proud to work there. Heidi-Jo feels a deep sense of connection to The Foundry, having been taught directly by masters such as Cintra Brown. She also feels honored to be a part of what Nicole and Todd Deacon (studio owners) are doing.
Before trying Bikram Yoga, I got some tips from my college friend and favorite yogi Karen. Karen who is also known as The Yogineer (Yogi+Engineer = Yogineer, find her on Instagram and Twitter) has been practicing yoga for three years and began her journey after having some health issues. She came across a Groupon for Bikram Yoga and decided to give it a try even though she had tried regular yoga before and wasn't a fan. She showed up to the first class with an open mind and although she nearly passed out because she wasn't prepared (didn't hydrate, had BBQ for lunch, and wasn't dressed properly) she realized she had found her new passion because once the discomfort passed, she felt amazing.
Karen, the Yogineer shows us what three years of yoga can allow your body to do.
Karen loves Bikram Yoga because as Heidi-Jo mentioned earlier, it is the same postures every time and she likes to know what is coming next. She also likes to see her progress in the postures. I also appreciated this because if during the first round of poses I wasn't able to get the pose right, I had more opportunities to keep trying.
Karen and I are two very different people but there's a reason why I asked her to be a part of my first experience with Bikram Yoga. When she tried Bikram Yoga (totally unprepared) she found that the challenge made her want to come back. Because of this, she completely recommends someone who has never done any type of yoga to jump right into Bikram Yoga, as long as they prepare for the class appropriately (we all give helpful tips later on). I, on the other hand, like to take intermediate steps before I try anything that I believe will be a challenge for me. Before running a half marathon, I first ran a 5K, then a 10K, and then a 15K. Before trying Bikram Yoga, I practiced regular yoga and piyo to get familiar with a couple of the poses. It all really depends on what kind of person you are…you can either jump right in like Karen, or dip your toes in the water like I did.
Karen and I both practice for different reasons. Karen practices yoga to keep her stress at bay and to stay healthy. She mentions that the physical poses you see are only 1/8 of the total practice and the majority of the changes are actually internal. Once you start a consistent practice your body and your mind starts to crave it. She can't go more than a couple of days without it now and can guarantee that on her worst days she can go to her mat and feel ten times better. There is a quote that reminds her a lot of why she does yoga that reads "Yoga is not about tightening your ass, it's about getting your head out of it" which makes her giggle every time. She laughs, but it reminds her of how much your mind evolves through the practice and how often our head is in the wrong place.
The reason why I practice yoga is more about the internal part that Karen mentioned. Of course, I enjoy the health benefits (more flexibility, building strength, great workout, etc.) but for me I love that I can have a rough day at work, go do yoga, and feel like my problems are not as big as I made them out to be. I get so much more than exercise out of it. It's the mental portion, the positive affirmations, the fact that you are not thinking about anything except breathing.
Focusing on the breath, but allowing a smile to escape.
As mentioned before, I do yoga and piyo for my mental wellness, and a lot of that has to do with the instructor. It has to do with what they say, the music they choose, and the connection you feel with them. Heidi-Jo was so positive as she was teaching. One of my favorite things that she said during the session was 'Any living person can do yoga, because any living person can breathe'. This completely aligns with what yoga is all about; it all starts and ends with your breath. Heidi-Jo was also super attentive to everyone in the class, even calling out people's names and making everyone feel welcome.
Now on to the actual class. The Bikram Yoga (Classic) Classes at The Foundry are heated to 105 degrees Fahrenheit and 40% humidity but it honestly feels a lot cooler than it sounds. You have the option of choosing a 60 or 90 minute class, I went with the 90 minute class because I wanted to take my time. You definitely need a water bottle and a towel to wipe your face because you will sweat a ton. You will follow what the instructor tells you to do but make sure that you are also listening to your body and your mind. If at any point you feel light headed (I did), just slow down, drink some water, and if needed, the instructors recommend to go into Savasana which is when you lie flat on your back with your heels spread as wide as the yoga mat and your arms at your sides with the palms facing up. You can always skip a pose if it feels too challenging for you, nobody will judge you. Yoga is a judgement free zone. The class for me was a bit difficult, but not impossible. The instructors make you feel super comfortable which is the reason why I will be returning to The Foundry.
One thing I was afraid of and I'm sure many of you are, is of passing out, but don't worry, the instructors know what to do. I learned that it's not common for people to pass out, but if you do, the instructors are all CPR and First Aid certified. Heidi-Jo has only had one person pass out on her watch in her 9 years of teaching and it was only because they had overextended themselves going hiking and then straight to Bikram Yoga during the intense Arizona summer.
Now for the part you are all waiting for, should Bikram Yoga be on your bucket list? I think by this point, you already know the answer. The answer is a resounding YES from all of us.
Karen, The Yogineer shows us one of her favorite poses.
Karen says that seeing all the benefits this practice has on your life is enough for her to believe everyone can benefit from a consistent practice. She has seen people in wheel chairs and elderly folks in a headstand overwhelmed with joy at what their body and mind are capable of.
Heidi-Jo mentions that the heat, combined with the mindful breathing and no-impact movement brings oxygenated blood to every cell in the body. This results in better quality of life all-around! She believes that yoga is for EVERY BODY. The element of the heat does take a small amount of time commitment to acclimate to – but it's worth it!
Of course I also have to encourage you all to try Bikram Yoga. I think people make it sound a lot more difficult than it is. It's such a relaxing and empowering practice that you almost forget about the heat, except for the fact that you are constantly sweating. And the heat makes you so much more flexible! It doesn't matter where you are in your own wellness journey, as long as the desire is there, I believe you can do it.
Now that you know that you should add Bikram Yoga to your bucket list, we are here to help you with some advice! I personally followed Karen's advice, did some research online, and read the FAQs on The Foundry's website. Thanks to all this, I felt fully prepared and had a great experience.
Karen breaks down her helpful tips into what to do before and during the class.
Before class:
Watch what you eat and when you eat on your practice days. Have a light meal and try not to eat much two hours before.
Drink half your body weight in ounces of water (most of it before you get in the room unless you want your belly making ocean sounds in class).
Arrive early and ask which side of the room is cooler to get a good spot for your first class.
Take a microfiber towel or a nonslip mat.
Do not wear cotton! Your clothes will be sweaty and weigh you down.
During class:
Take breaks during class, most likely certain poses will make you more light headed than others so just go into Savasana when this happens.
Don't push yourself beyond your limits.
Listen to the cues given by the teacher. This sounds trivial but we have a tendency to look around and try to imitate what our neighbor is doing; this is a surefire way to hurt yourself.
Heidi-Jo mentions that one of the most important things is to stay hydrated with good quality water and good foods. And she also recommends to come every day for your first two weeks (which is where the introductory offer comes in!) because this is where you will see the maximum results.
My advice is to take it slow, focus on your breathing and if something seems too challenging, just do your best. Know that if you can't do a pose today, you can come back and try again. Make sure to drink plenty of water before your first class, the fact that I was really hydrated helped me have a successful first class.
---
I hope you all enjoyed learning about Bikram Yoga. Thank you again to The Foundry for hosting me and letting me be a part of your community. I'll definitely be around soon taking advantage of the introductory offer which gives you two weeks for $30! They have three locations in the valley (Scottsdale, Paradise Valley, and Tempe-Rio Salado) so one of those is bound to be near you! Will you join me?
Thank you all for reading, and stay enthusiastic!
Feel free to follow the adventure on social media ?
Facebook / Instagram / Twitter / Youtube 
-Maira