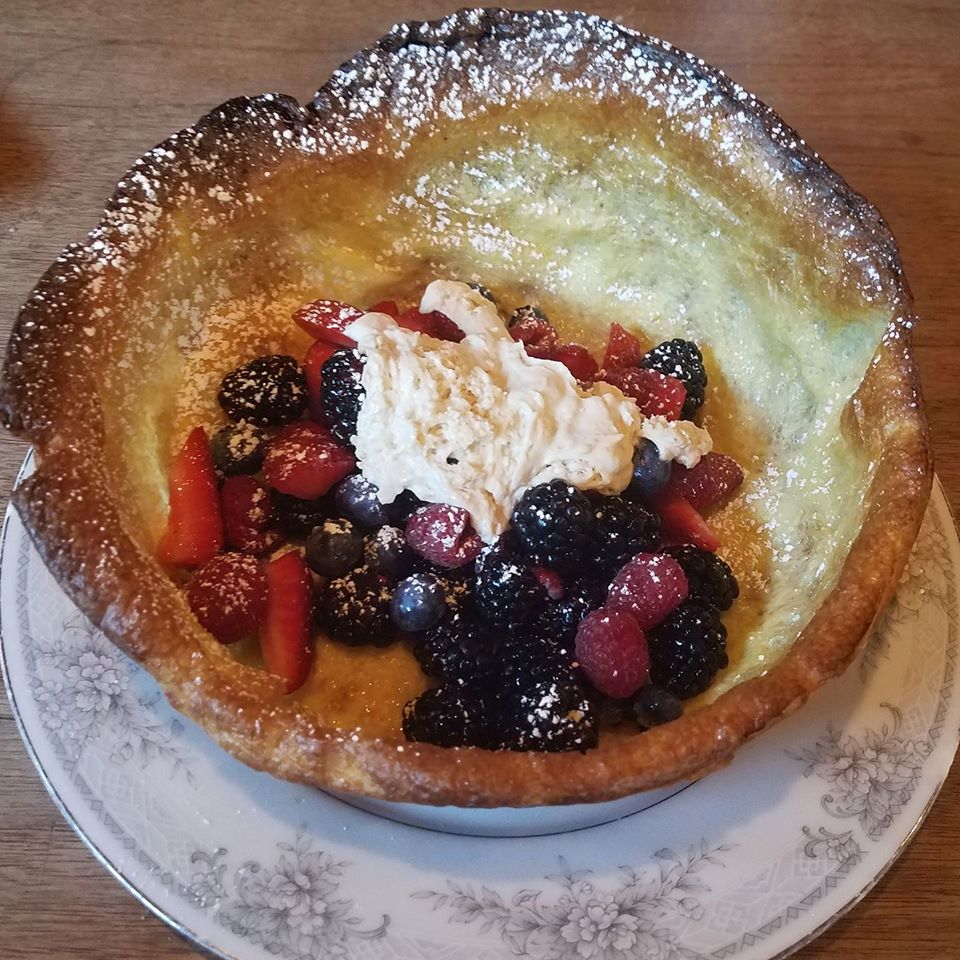 Here at Enthusiastic About Life, we are huge fans of all sorts of different food. As I travel the United States, I love seeing the variety in breakfast and brunch. Check out all of my favorite spot and let me know which spot sounds the best!
Arizona
BAJA CAFE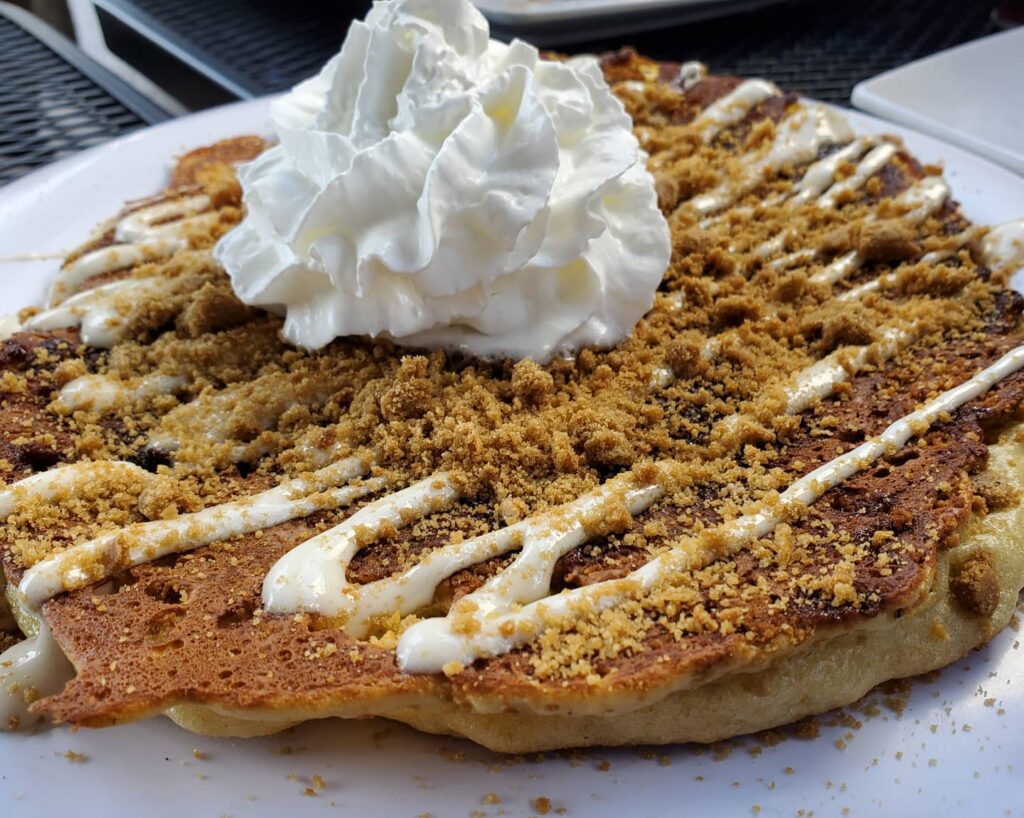 Baja Cafe has the most delicious pancakes including the specialty pancake pictured here : cochinito pan dulce pancake! It tastes just like a Mexican pastry and I need it again now!!!
BARISTA DEL BARRIO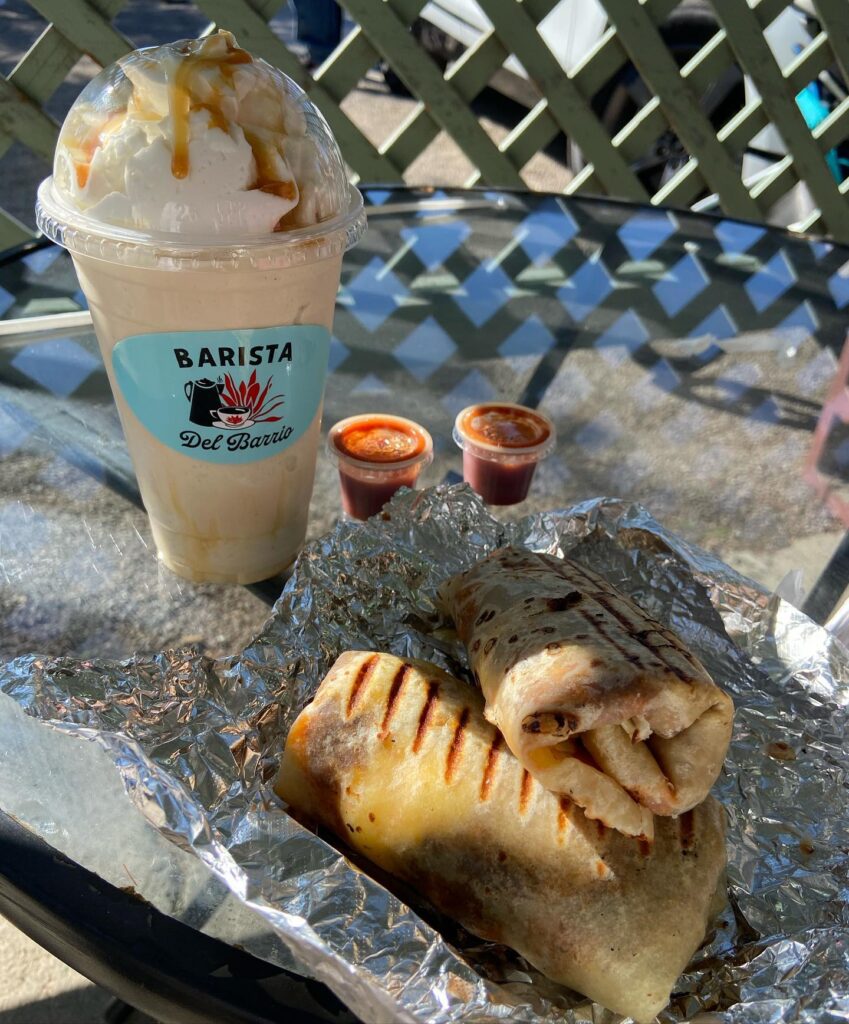 Most of you know that this year I've been on the look out for the best breakfast burritos in Phoenix and I've had some really good ones…but the best breakfast burrito I've had lately is in Tucson!
If you haven't been to Barista del Barrio and tried their homemade chorizo burritos, stop what you're doing and go now. You get 2 smaller burritos which honestly makes it easier to eat and they are packed with flavor.
BLUE WILLOW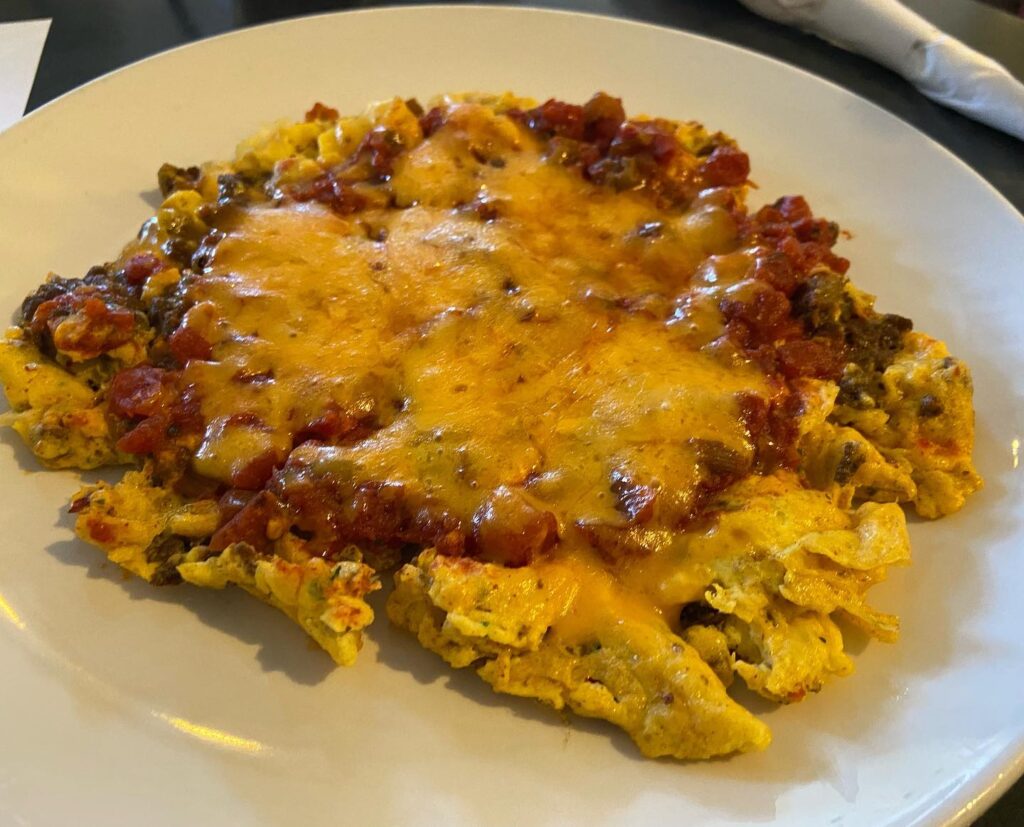 I finally tried Blue Willow and it was delicious! It's a really cute restaurant and their chorizo scramble has layers and layers of flavor. Their chorizo is homemade and the salsa and cheddar cheese in top is just *chef's kiss*
The restaurant itself is also super cute!
THE BREAKFAST CLUB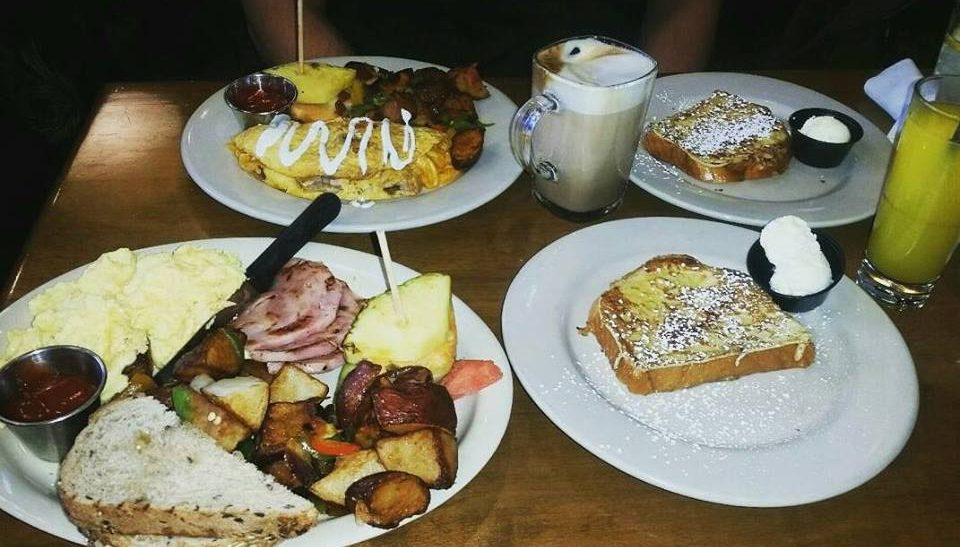 The Breakfast Club in downtown PHX was delicious! The food was so filling. The portions are HUGE but the prices are small and super reasonable. I loved everything on my plate but the potatoes were my favorite!
BUTTERFIELD'S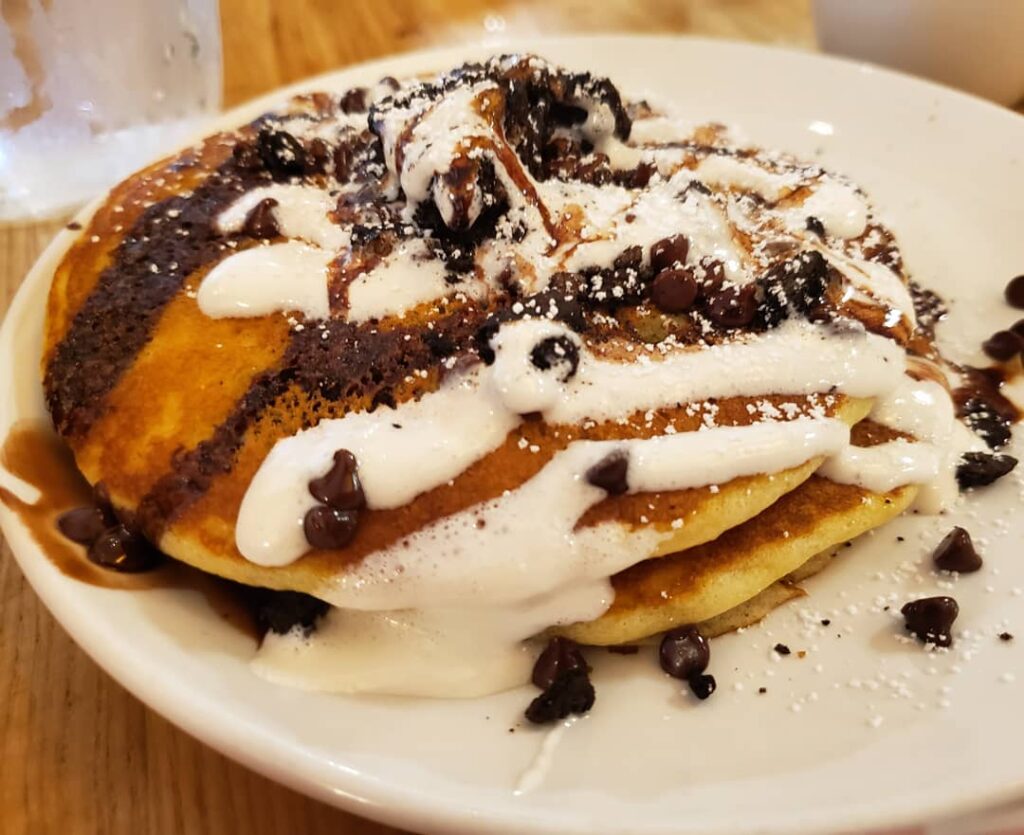 Butterfield's Pancake House is THE SPOT for delicious, flaky and unique pancakes! I had the Oreo Cookie S'mores pancakes and they were PHENOMENAL!!! These are pancakes stuffed with oreo cookie and chocolate chips, layered with marshmallow spread & topped with chocolate sauce. They are so sweet you almost don't need syrup.
CARLY'S BISTRO
Carly's Bistro in downtown Phoenix had super delicious food, HIGHLY recommend
CHELSEA'S KITCHEN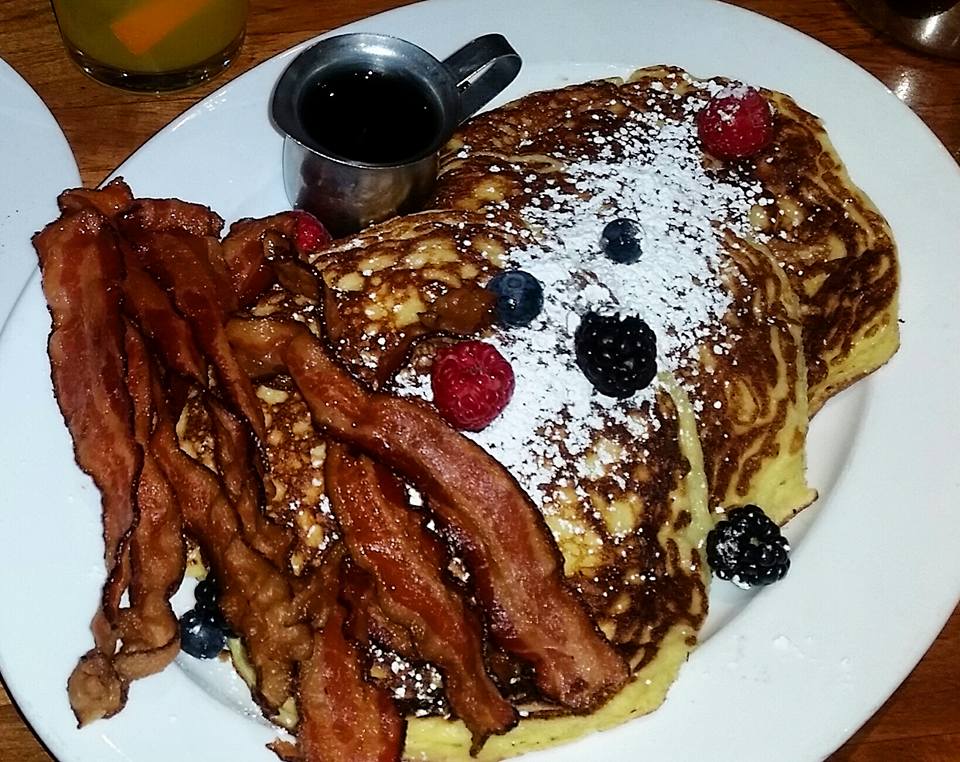 I had the Chelsea's Hot Cakes with seasonal fruit and applewood smoked bacon. It was delicious and the hot cakes had a hint of lemon so I literally felt like I was eating lemon cake. I also tried the sangria which was delicious!
CREPE BAR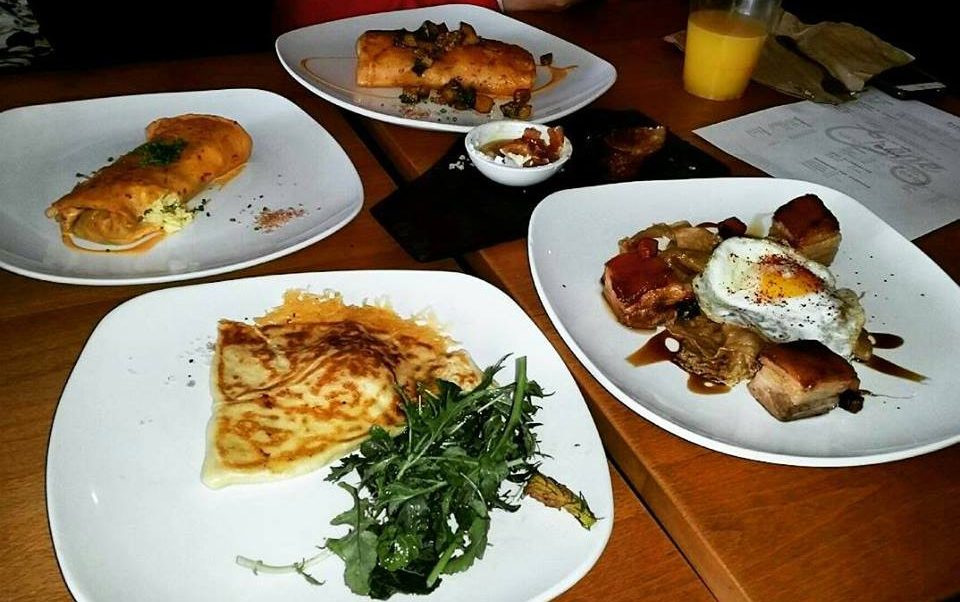 The crepes were delicious, we recommend!
DAILY DOSE OLD TOWN BAR & GRILL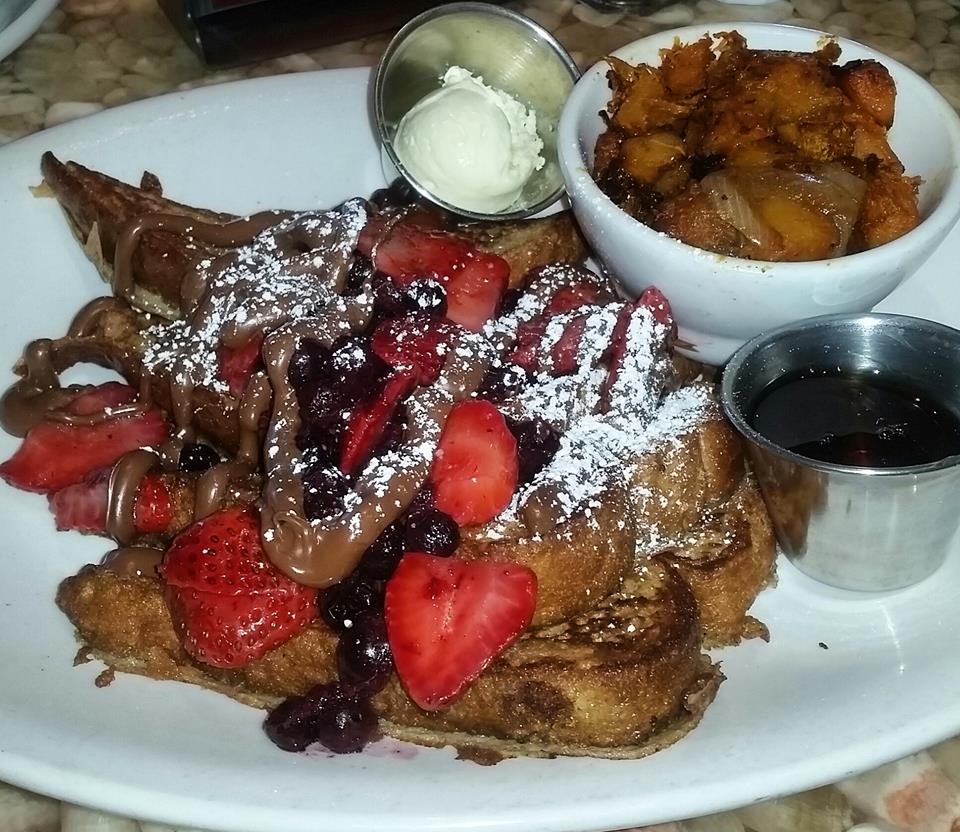 Daily Dose was delicious! I had the french toast with NUTELLA, fresh berries, and powdered sugar! I also had a tequila sunrise that was phenomenal because they make their own simple syrup in house! Highly recommend!
DON TACO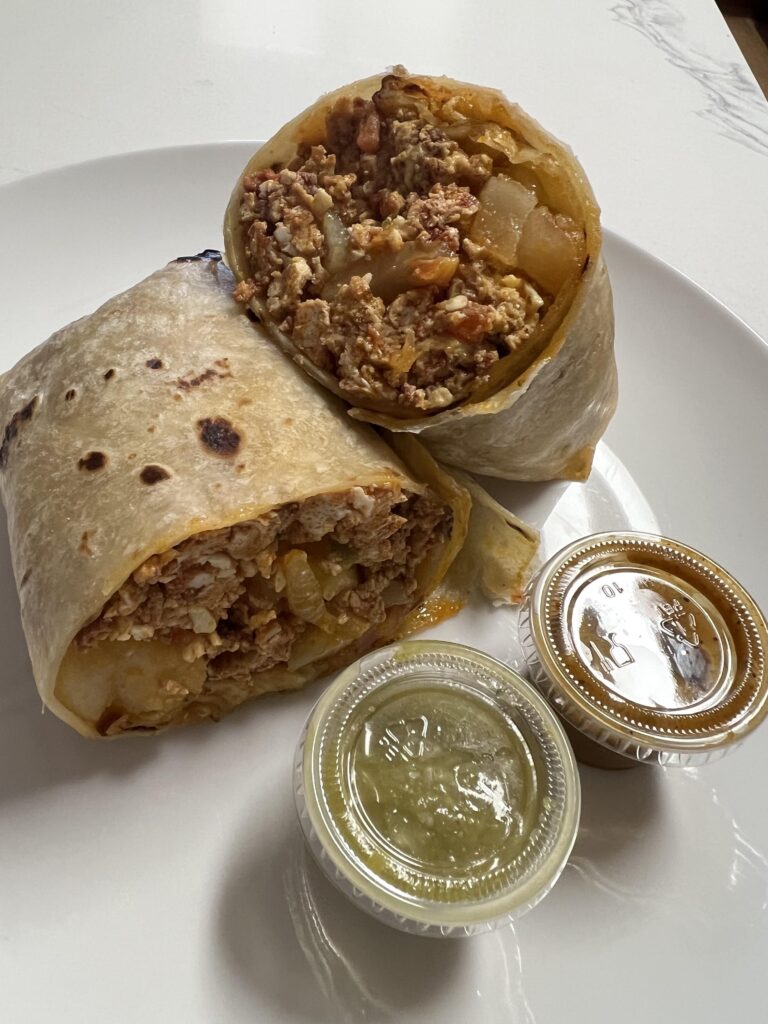 If you're looking for some delicious breakfast burritos in Laveen, then I highly recommend Don Taco! I tried their chorizo breakfast burrito with potatoes and it was so good! Their tortillas are some of the best I've ever had. I also tried the machaca burrito with potatoes and it was delicious! I also really liked their red salsa so make sure to ask for extra!
THE DUCE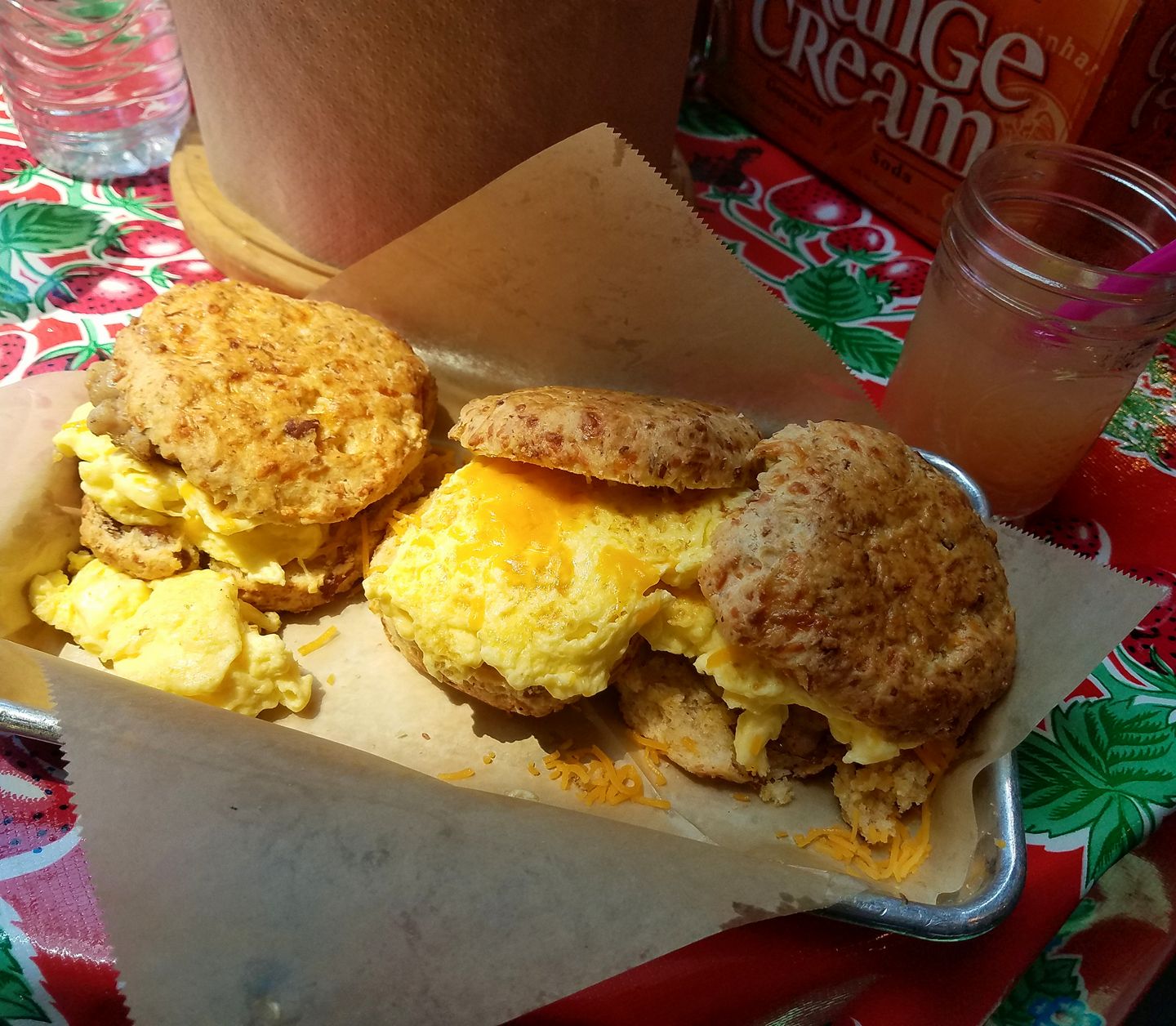 Brunch is my fave meal and The Duce did not disappoint. I ordered the Cheddar Bacon Buttermilk Biscuit Sliders and omg…they were so bomb and I completely deserved all that buttery and cheesy goodness. It was super filling. The biscuits are house made and include scrambled eggs, chicken sausage, & cheddar cheese. Simple but super tasty.
THE FARM AT SOUTH MOUNTAIN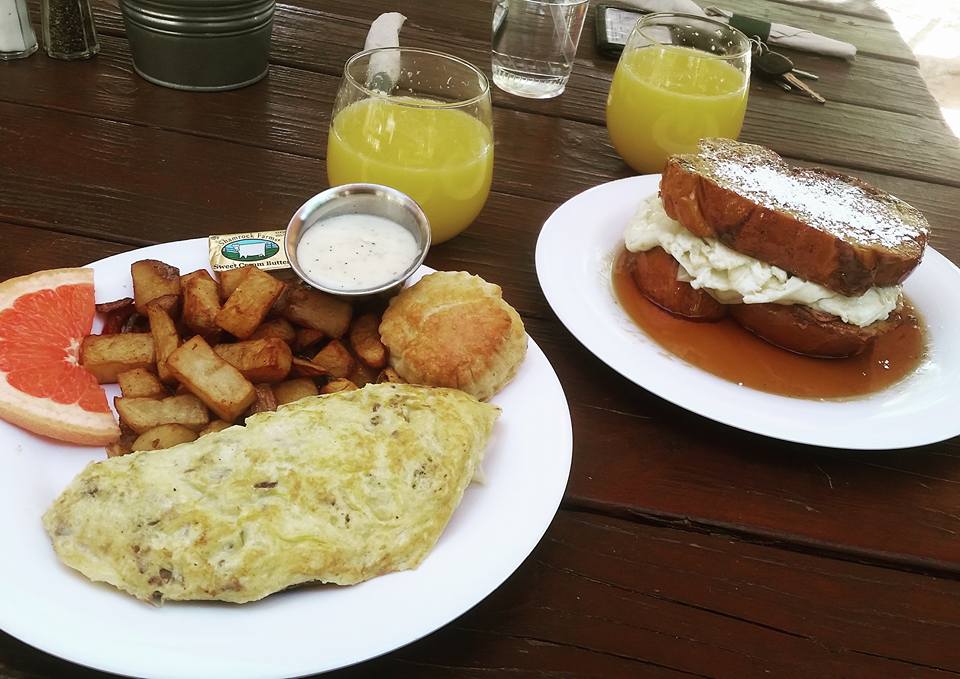 It was DELICIOUS. We of course had mimosas, I had the the 'pork is the new black' omelet with breakfast potatoes and a flaky buttermilk biscuit and my cousin had the farm monte cristo which was a french toast sandwich with egg, ham and cheese covered in syrup. Not only is the food fantastic, but it's such a beautiful area, they have such great service and the vibe is so cute and classy!
FEZ RESTAURANT AND BAR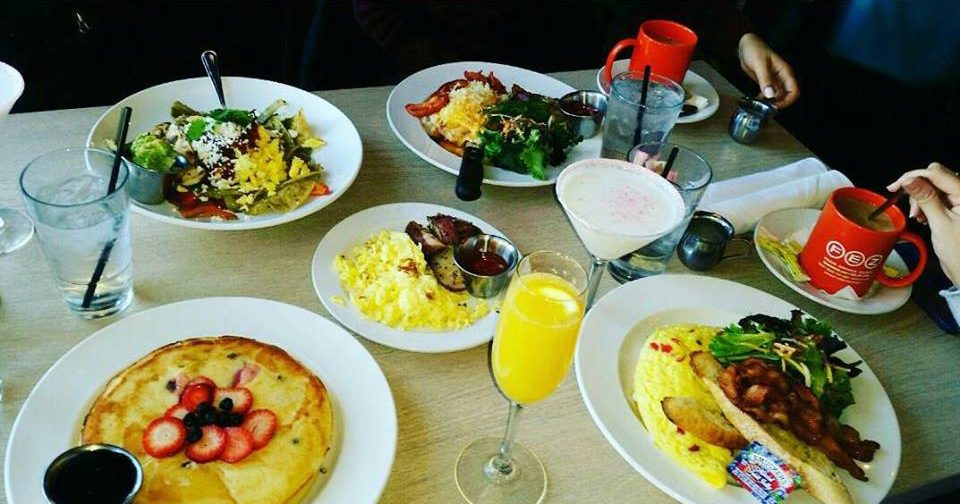 We tried the brunch at Fez On Central! DELICIOUS. I had the strawberry/blueberry hot cakes with eggs and roaster potatoes. They were SO GOOD. I also loved the $4 mimosas and other really cute (really strong) brunch drinks! Will definitely be back!
FIRST WATCH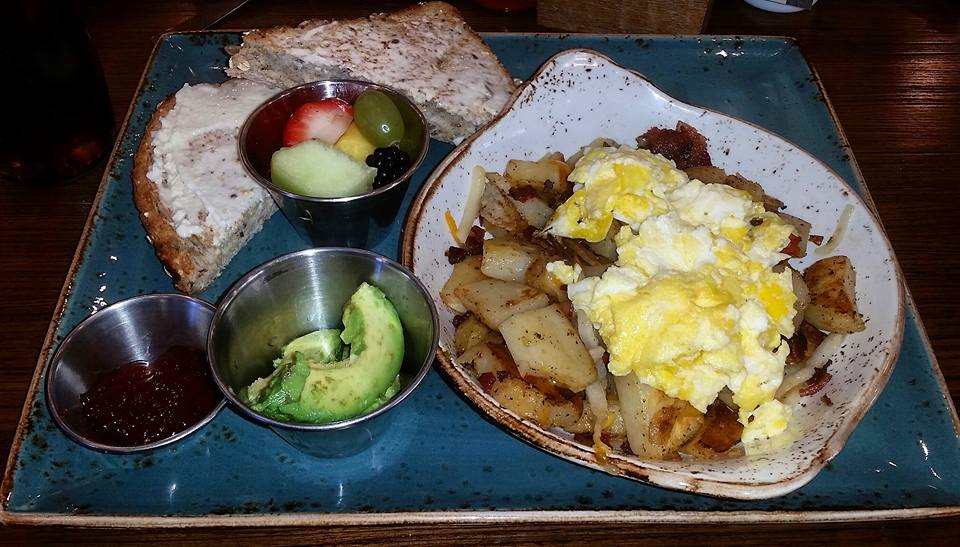 I loved it! The Farmhouse Skillet hash with eggs, seasoned potatoes (my fave), bacon, roasted onions, CHEESE, and toast. Super hearty and just what I needed.
THE GLADLY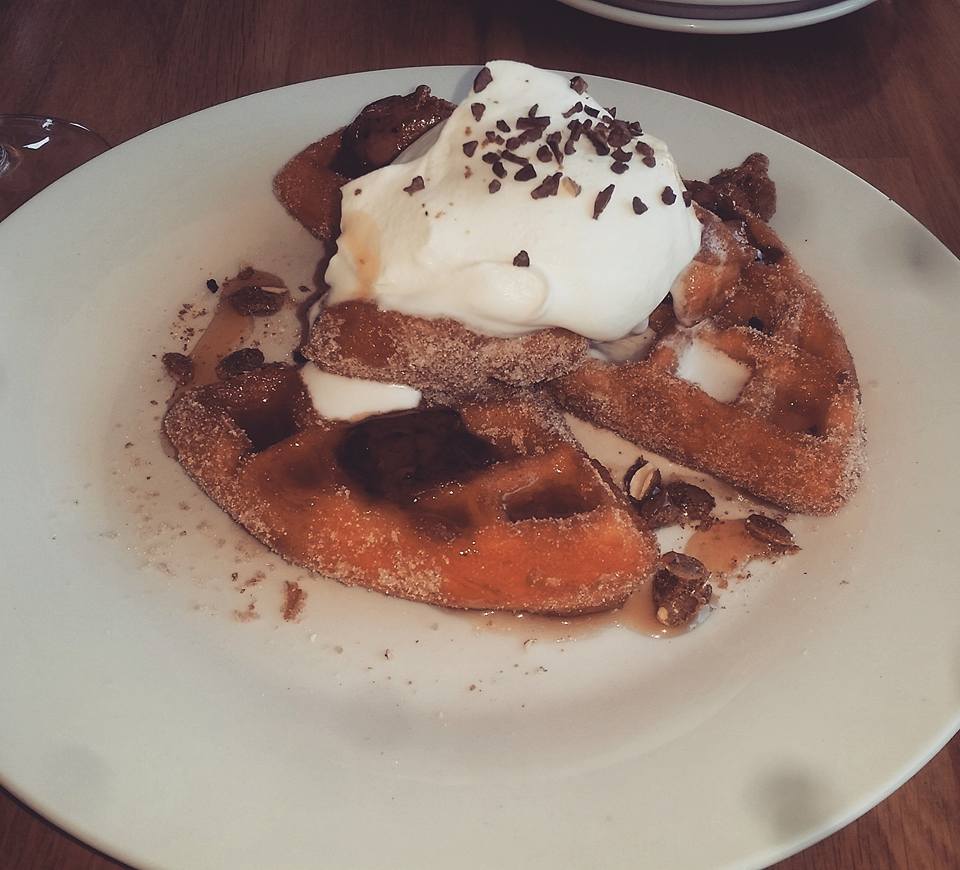 Dessert or breakfast? Why not both!? This churro waffle from The Gladly is officially my new fave brunch item. That's right, you read it right. It's a waffle that tastes like a CHURRO. But it's not overly sweet because of the smoked chile-chocolate butter.
THE GRAND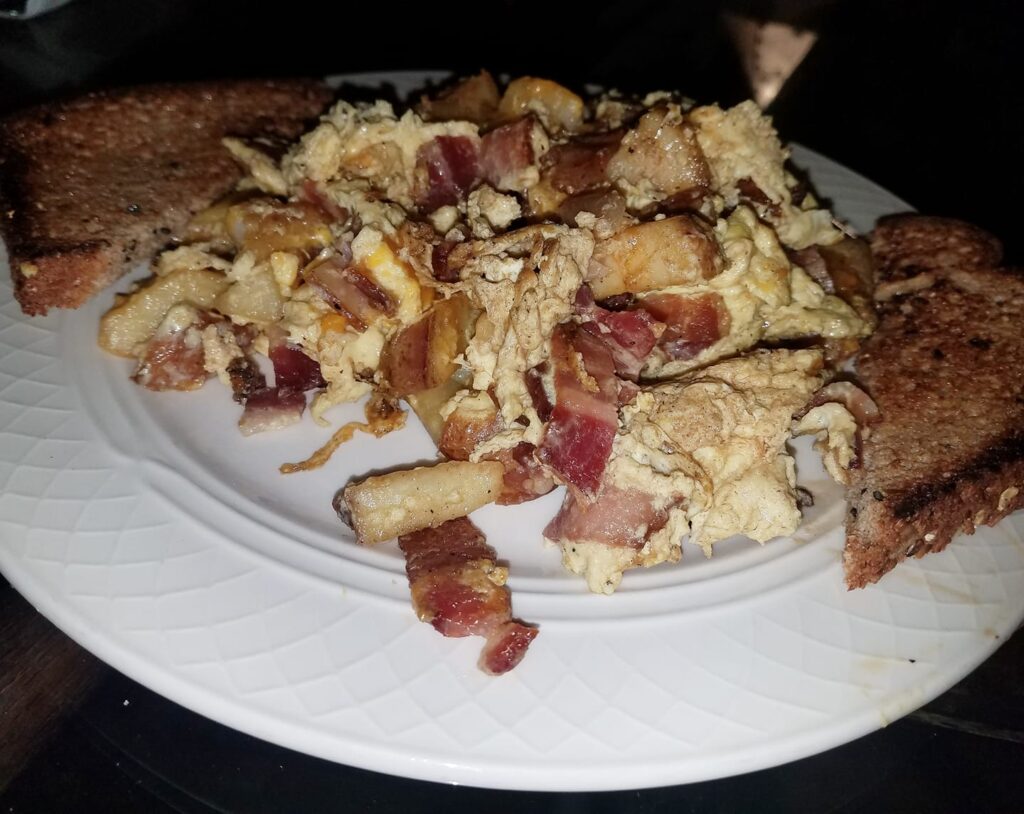 Who else is always down to eat breakfast at any time!? The Grand is one of my favorite late night spots if you are craving breakfast because for a place that is open 24 hours, they have the BEST breakfast. I've had their breakfast burritos right before going back to the club next door, I've had their scramble with bacon/potatoes/eggs, I've had their pastries. Literally everything they sell is delicious. The ambiance is also really cool and hipster. You are bound to run into all kinds of people here!
GROUND CONTROL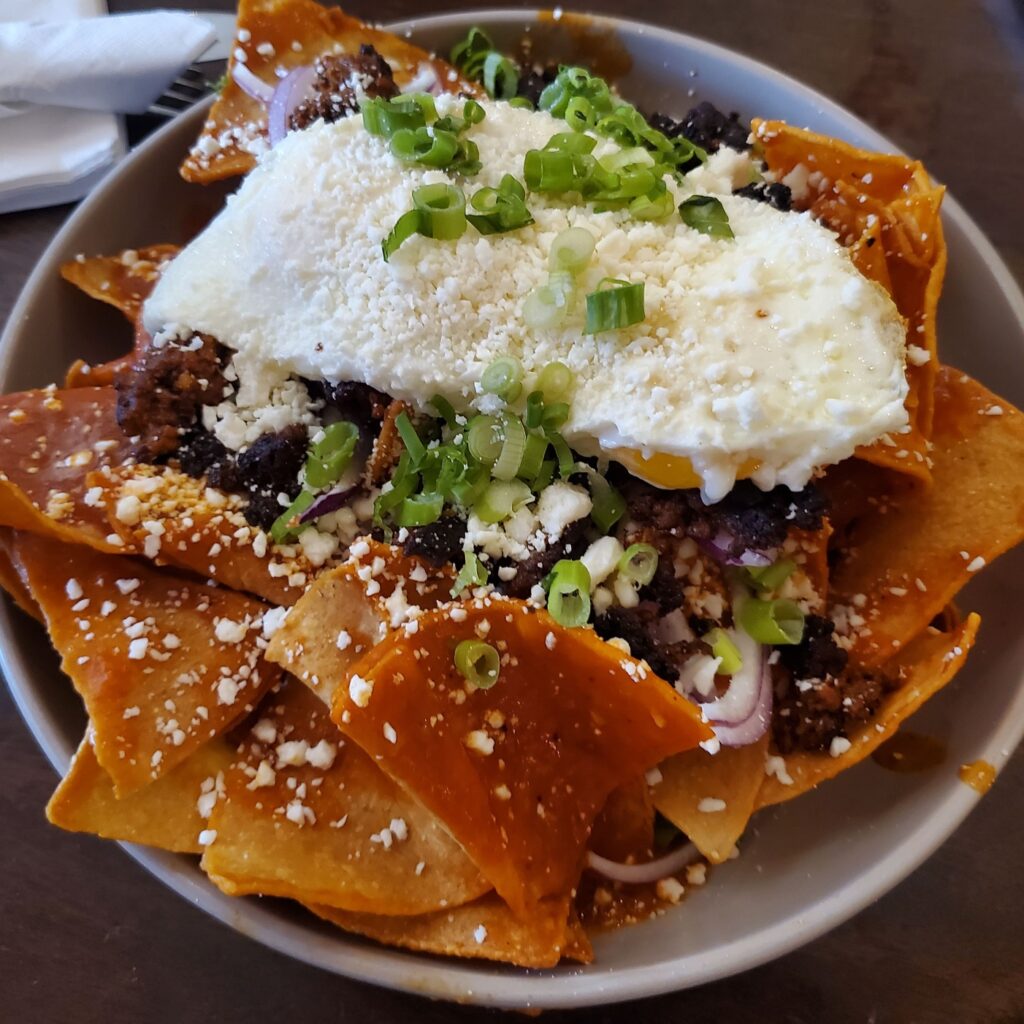 If you're craving delicious chilaquiles, look no further than Ground Control in the West Valley! They were SO GOOD!!
If you're not sure what Chilaquiles are, they are fried corn tortillas simmered in red sauce and topped with fried egg, cotija cheese and red & green onions. I added chorizo because chorizo makes everything better. My sweet friend brought me here for my birthday brunch and I cannot stop thinking about this meal!
THE HOUSE BRASSERIE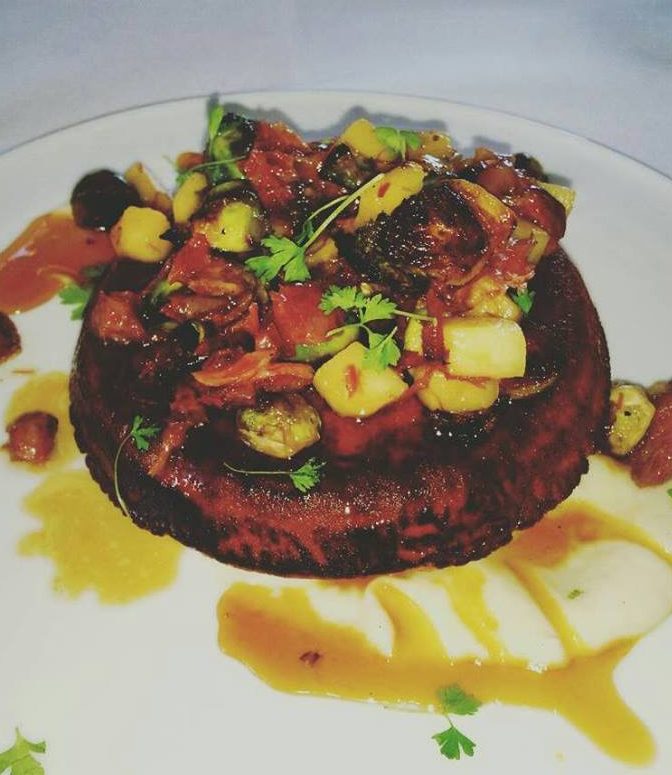 It was DELICIOUS and super cute and the staff was so friendly. I had the Dutch pancake which is basically cake for breakfast. It's really pretty (hello instagram lovers) but also really filling and delicious. I loved the artichokes and pieces of bacon at the top. Definitely coming back!
LOS FAVORITOS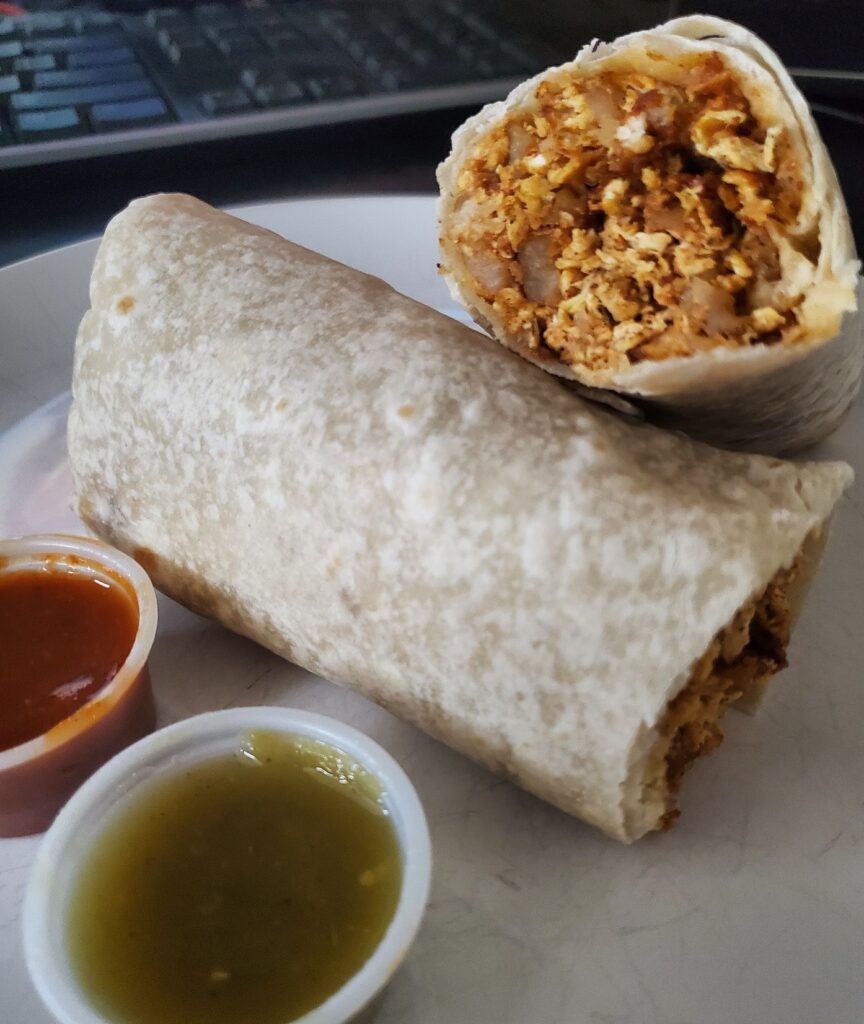 The first breakfast burrito I tried was the chorizo breakfast burrito from Los Favoritos. DELICIOUS! I loved their salsa too. They have several locations so I'm sure there is one near you.
KISS THE COOK
If you're craving a really wholesome breakfast in a super cute restaurant, then I highly recommend Kiss The Cook in Glendale! I had the most delicious biscuits, eggs, bacon and potatoes! This breakfast plate also comes with a side of breakfast muffins that are so good!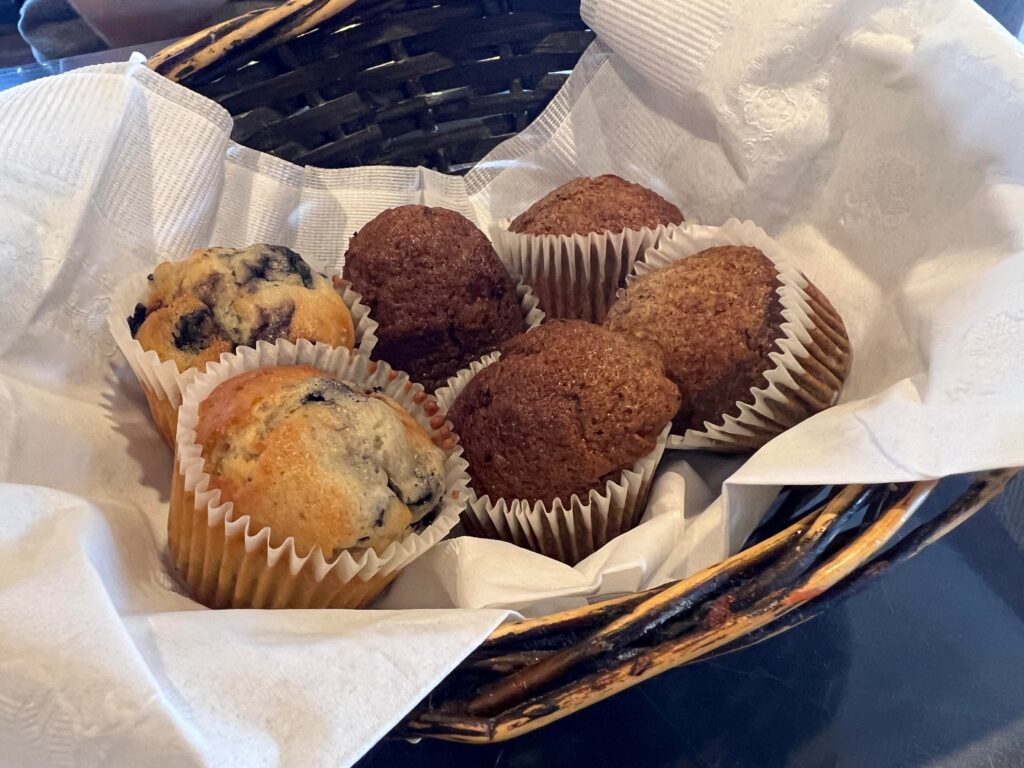 My favorite muffins were the blueberry ones!
LUX CENTRAL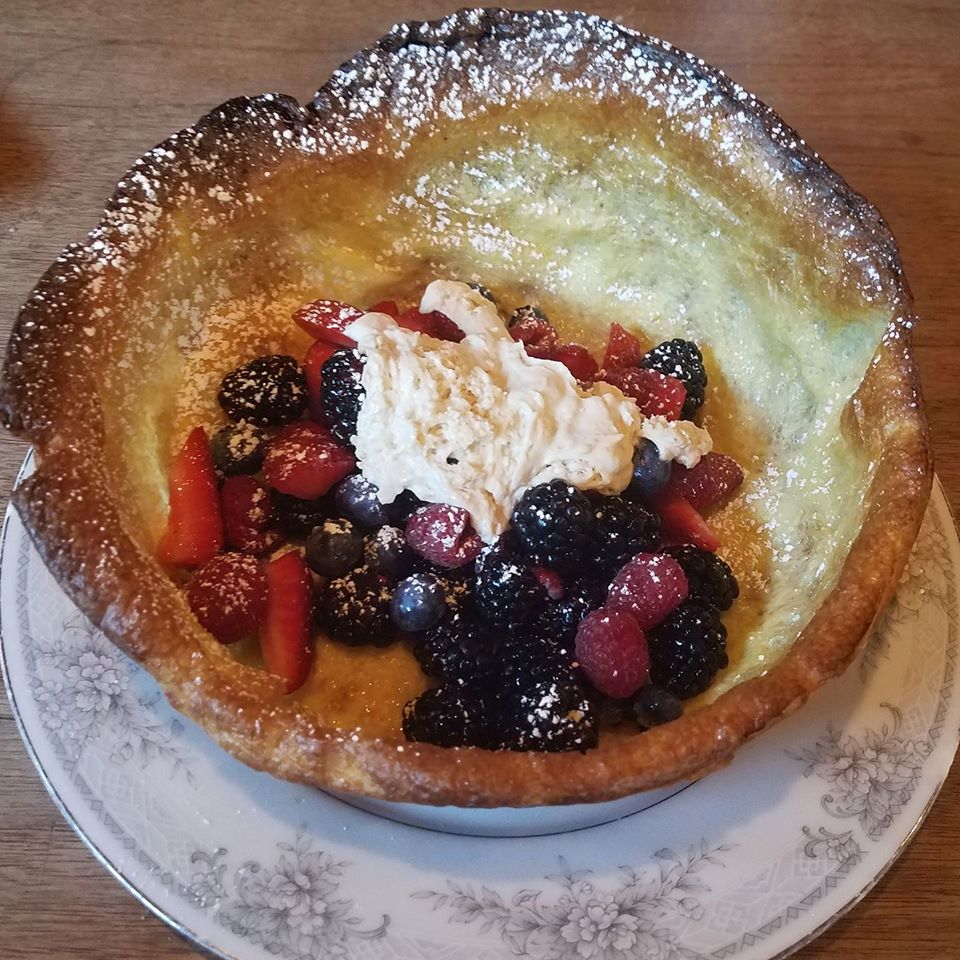 I found a new fave brunch item at Lux Central and it tastes even better than it looks, TRUST ME! The Dutch pancake with house made whipped cream and berries was PHENOMENAL and it's honestly so much food.
MATT'S BIG BREAKFAST
Finally tried the food at Matt's Big Breakfast! Hands down the best waffle I've ever had. I recommend! Make sure you get there early because this place is ALWAYS poppin.
N COUNTER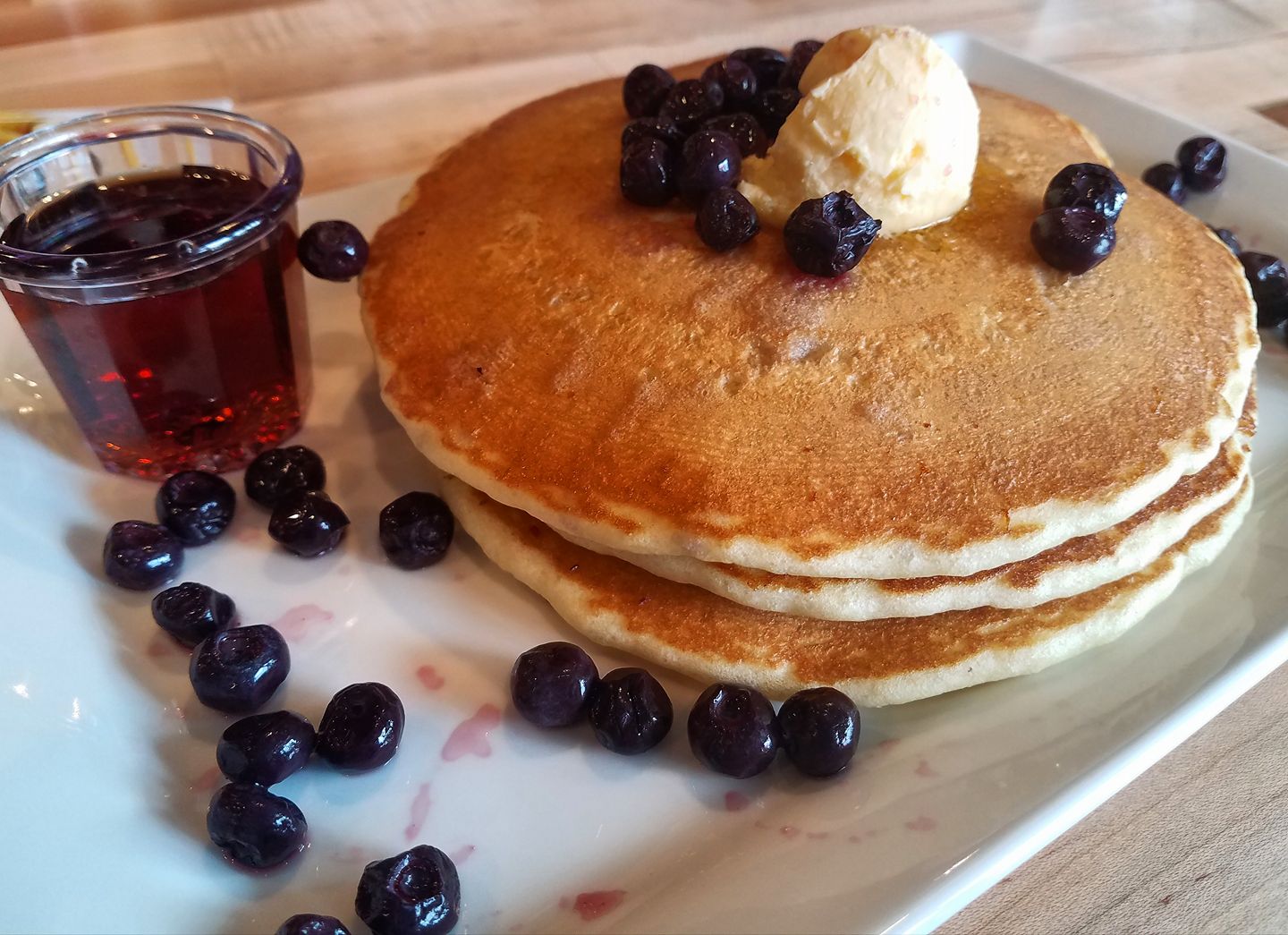 I had the loaded omelette and my mom had the French toast and pancakes.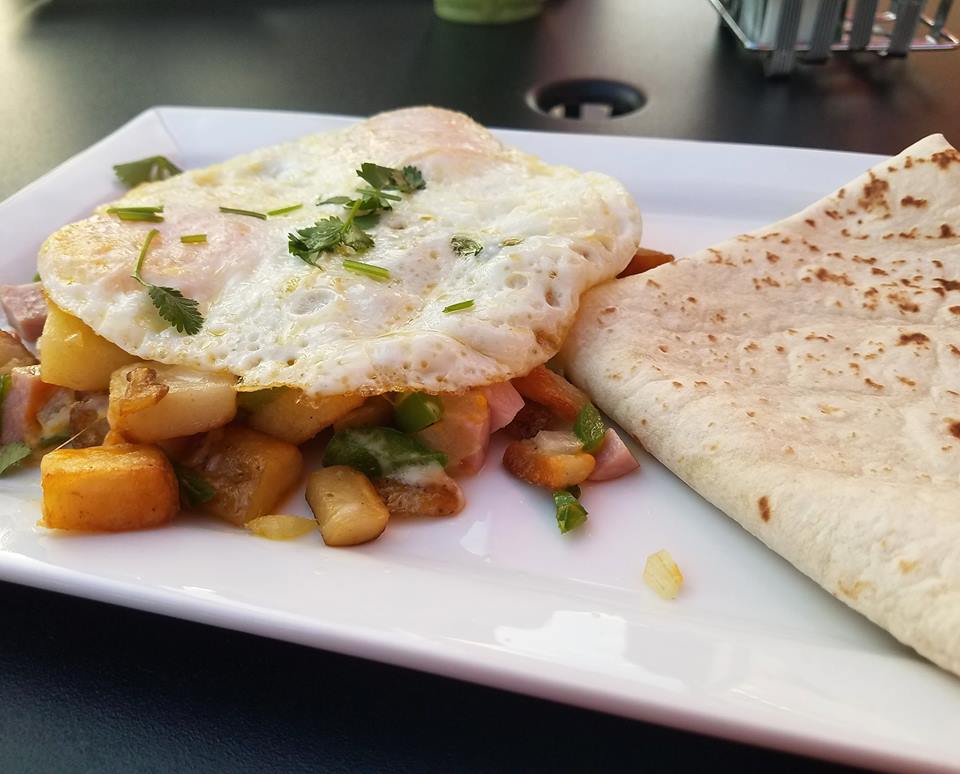 I ordered one of their sautés (the Denver) which includes ham, green pepper, onions, grilled potatoes, and melted cheese with choice of toast AND a tortilla! Delicious and super filling!
ST FRANCIS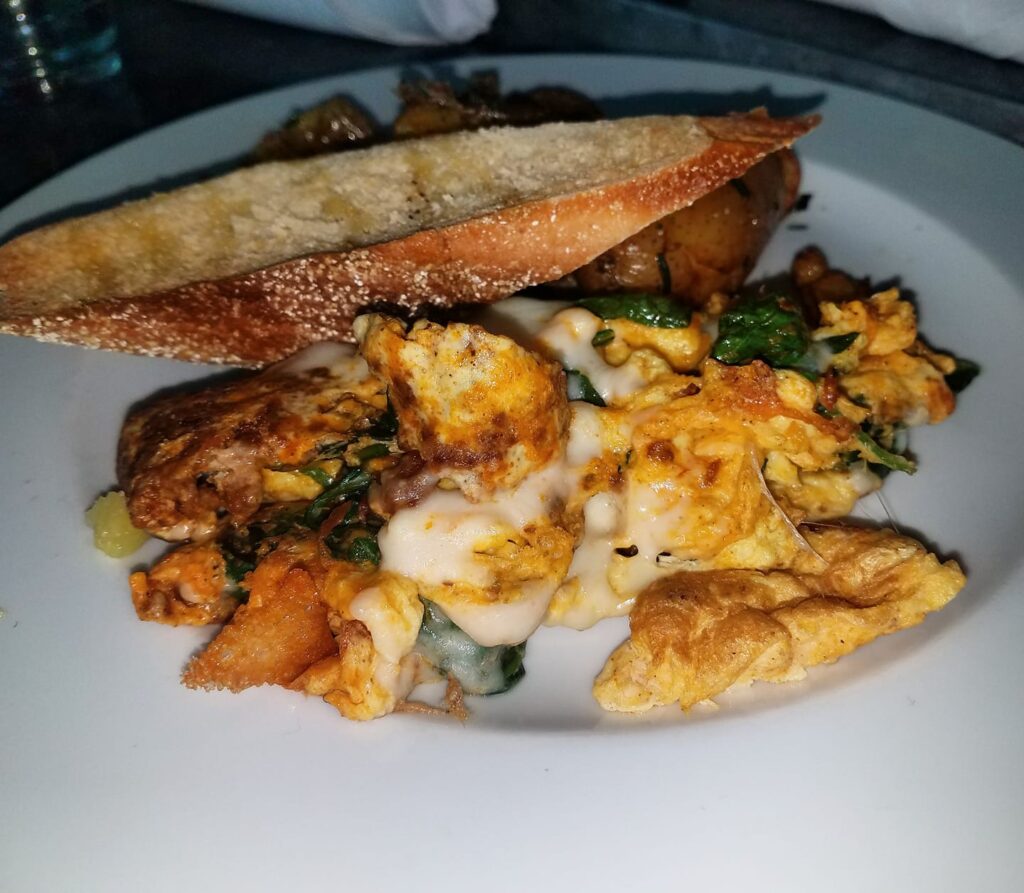 I had the very filling and delicious chorizo scramble at St Francis with chorizo, spinach, jack cheese, salsa and toast! It was super tasty and complimented my mimosa perfectly! And the toast was amazing and had me busting an Oprah and saying 'I LOVE BREAD' lol.
OHSO DISTILLERY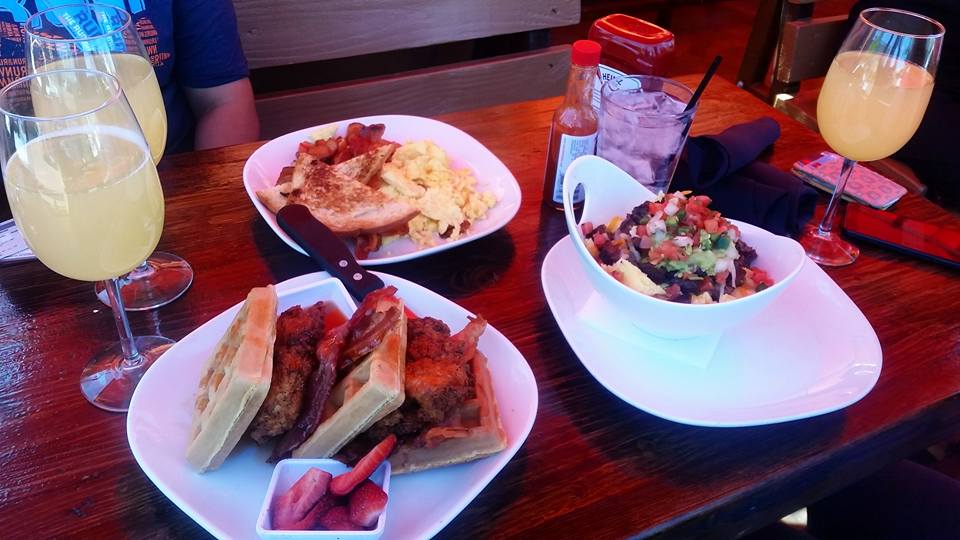 I've been to the Phoenix location for dinner but the brunch is a million times better. The chicken and waffles was to die for. Super juicy chicken and flavorful waffles. Juana tried the classic breakfast and Renee finally had steak and eggs! Plus the brunch comes with a mimosa or a beer!
ORANGE TABLE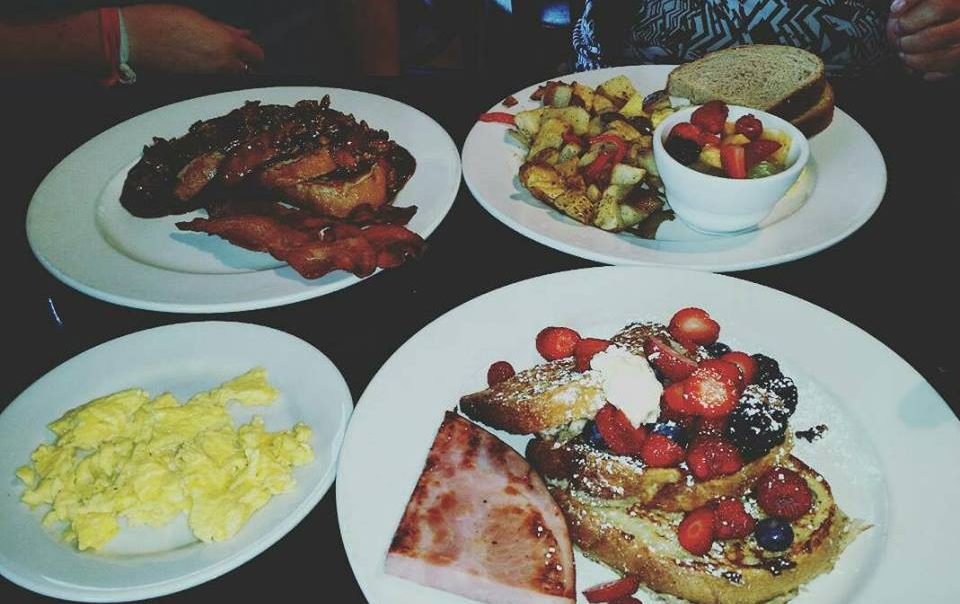 The brunch at Orange Table in Tempe was DELICIOUS!! I had the traditional french toast with berries, Yamille and Deyzi shared French toast with whiskey syrup sauce (def getting that next time)! Super delicious, we recommend!
ORIGINAL BREAKFAST HOUSE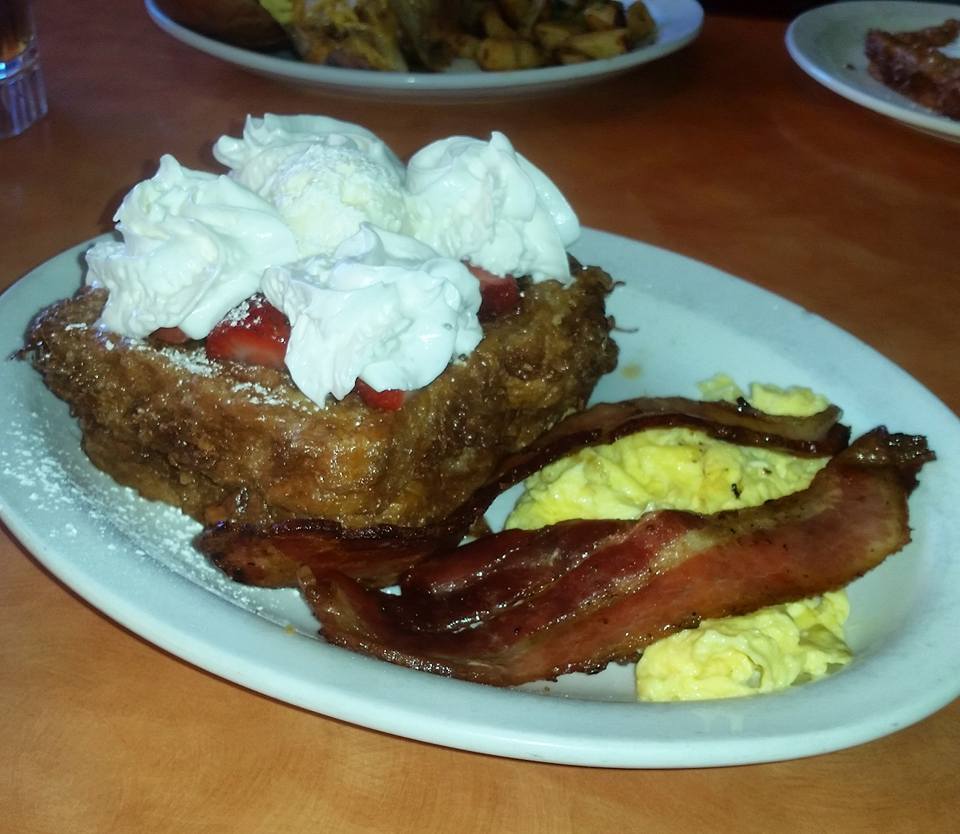 If you're looking for an absolutely hearty breakfast, look no further than The Original Breakfast House. And since it was called 'original breakfast' I decided to stick with a traditional breakfast plus I saw someone else getting the same thing and it SMELLED delicious. The waffle was so golden and flaky, the bacon sizzled to perfection and the eggs so tasty!
OTRO CAFE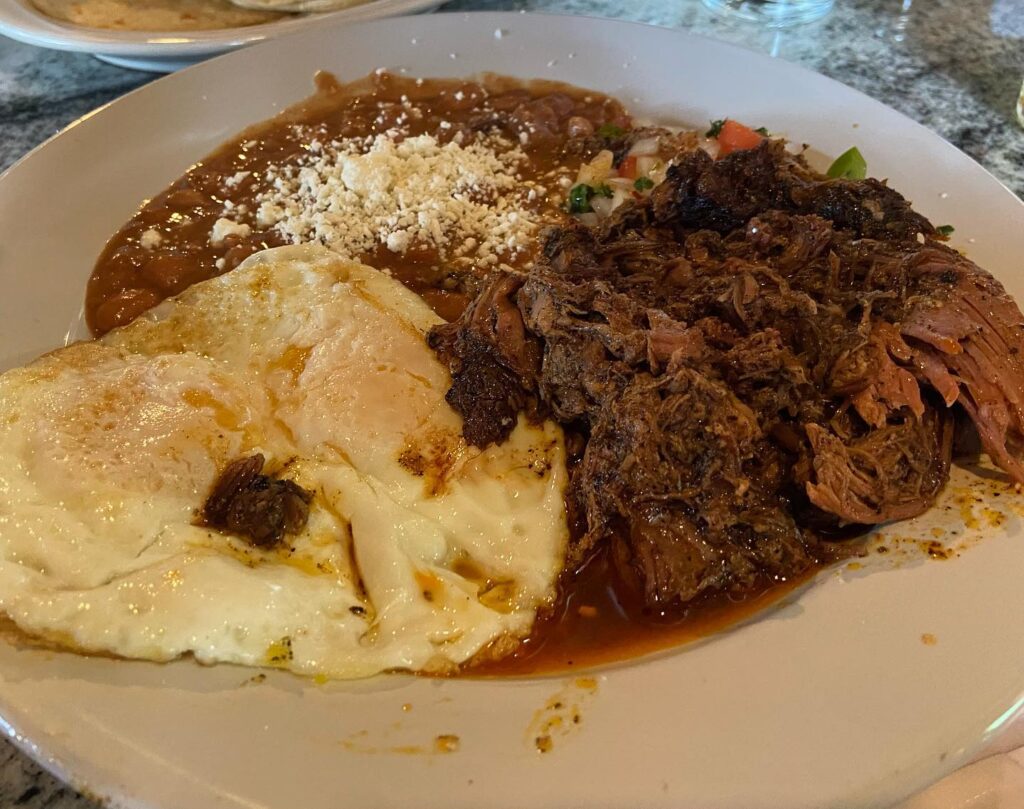 I recently checked out Otro Cafe in Phoenix and loved it! The restaurant was cute, the staff was so friendly and the food was delicious! I had the Barbacoa and eggs and the Barbacoa had so much flavor!! Don't forget the tortillas and their salsas!
PENCA RESTAURANTE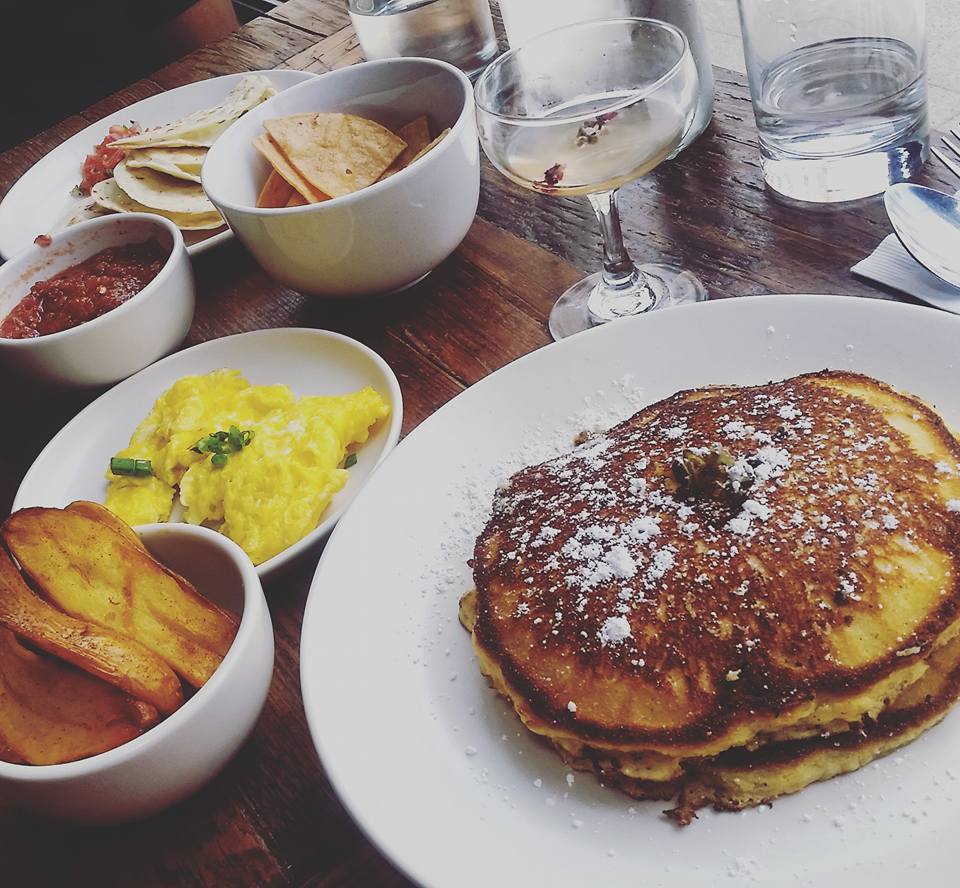 I LOVE the brunch at Penca Restaurante! I had the delicious pancakes that tasted like heaven, eggs and fingerling potatoes. This place was super cute and hip and they have the best sangria in town!
PERK EATERY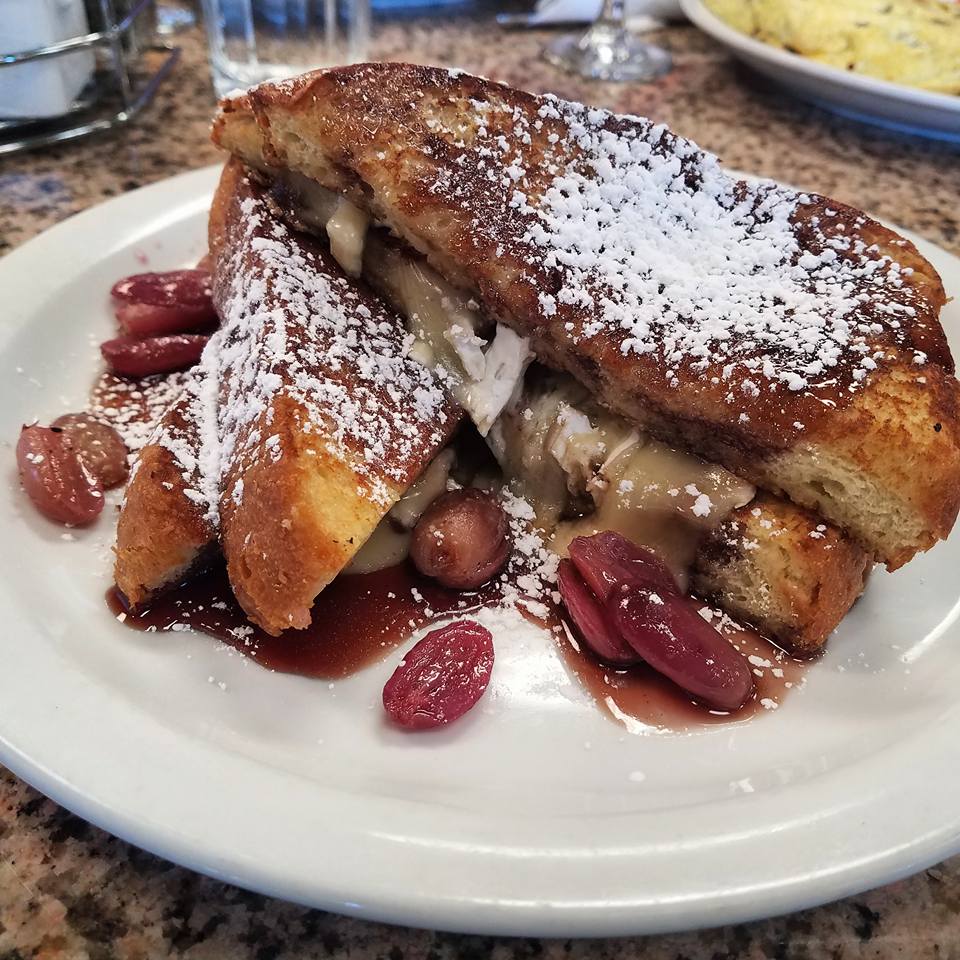 I had the Wine Country French toast and yes it tastes as good as it sounds. French toast, French Brie, roasted red grapes and red wine rosemary syrup. Guy Fieri gave this dish his stamp of approval and now it has mine!
POSTINO ANNEX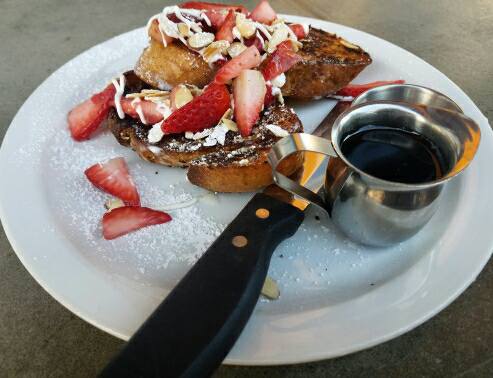 If you've never had the brunch at Postino Annex , you need to do yourself a favor and make some plans to come here. I had the ciabatta french toast with house made berry preserves, almonds and vanilla creme fraiche and yes it was as delicious as it looks AND sounds!
PREP & PASTRY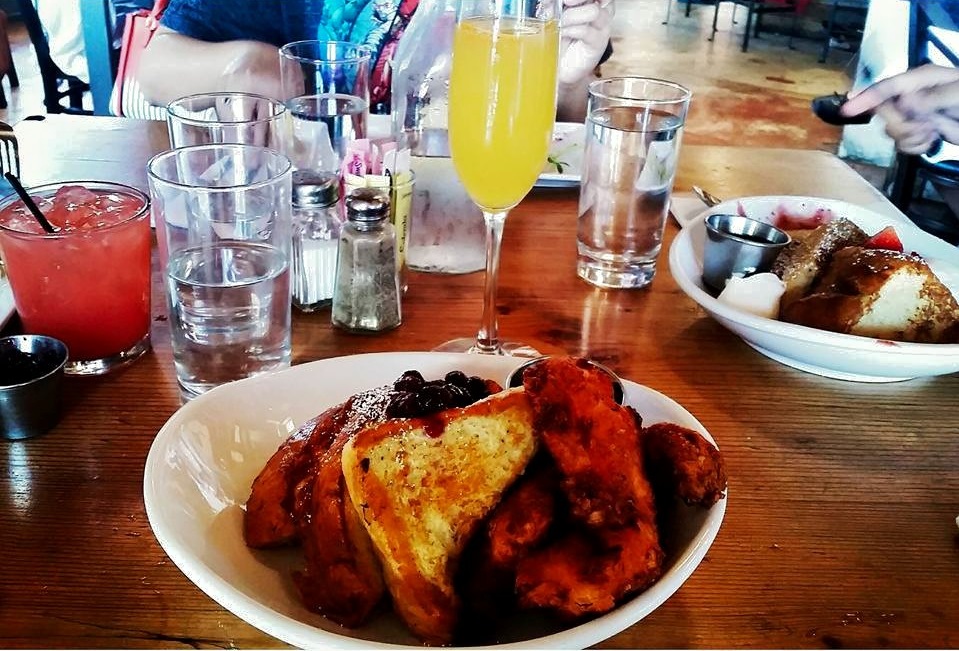 Prep & Pastry is one of my favorite brunch places in Arizona. I had the fried chicken and French toast and it was just mouthwatering. Their brunch drinks are also sooo good!
PRESCOTT STATION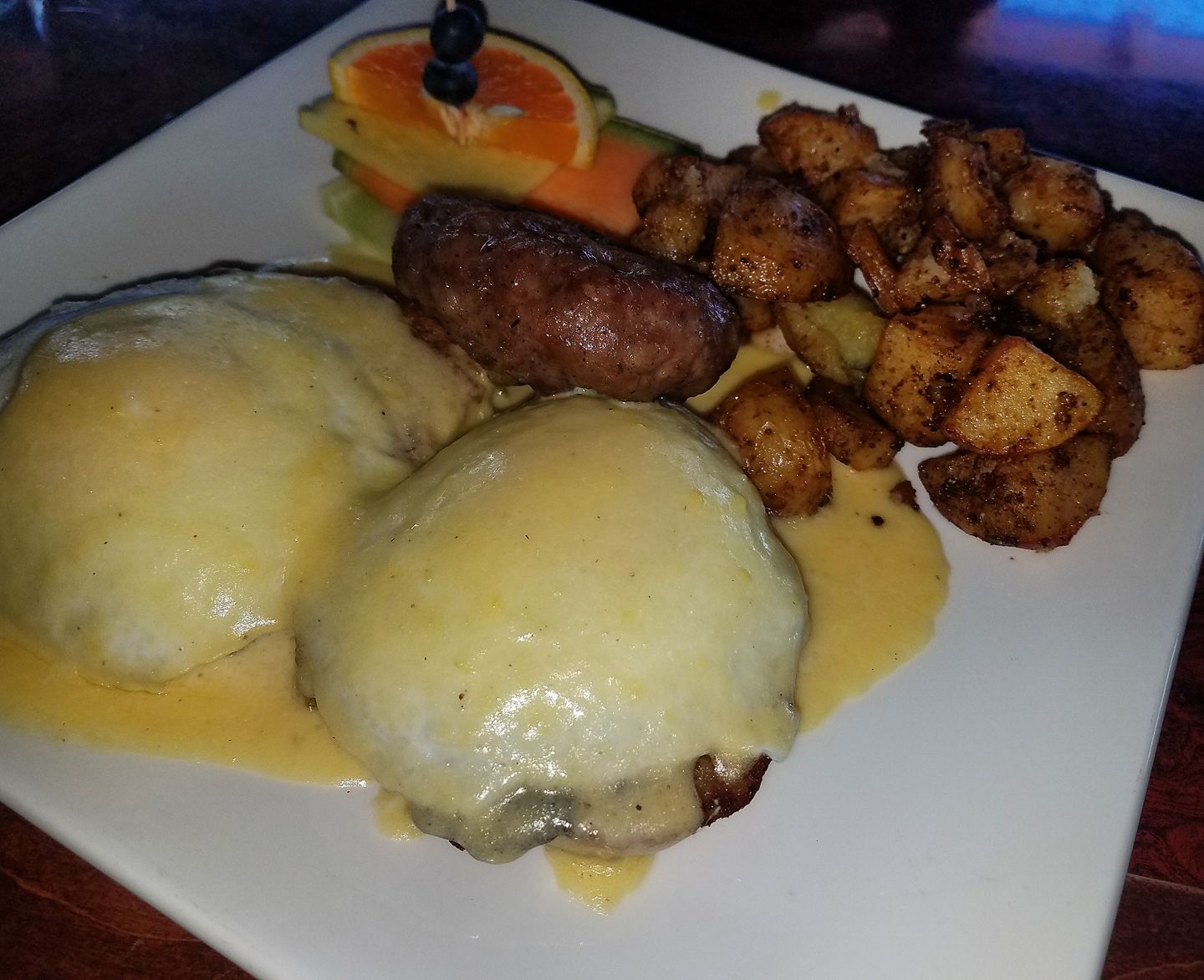 If you know me at all, you know that I'm all about that ESPECIALLY if it comes with unlimited mimosas! The last time I was in Prescott, I discovered a hidden gem that serves delicious food (eggs benedict, waffle sausage patty, and seasoned potatoes) and has unlimited champagne…you can add orange juice if you really want to but I didn't
the next time you hike a mountain in Prescott, feel free to try the brunch at Prescott Station! It's the perfect combination!
SEIS KITCHEN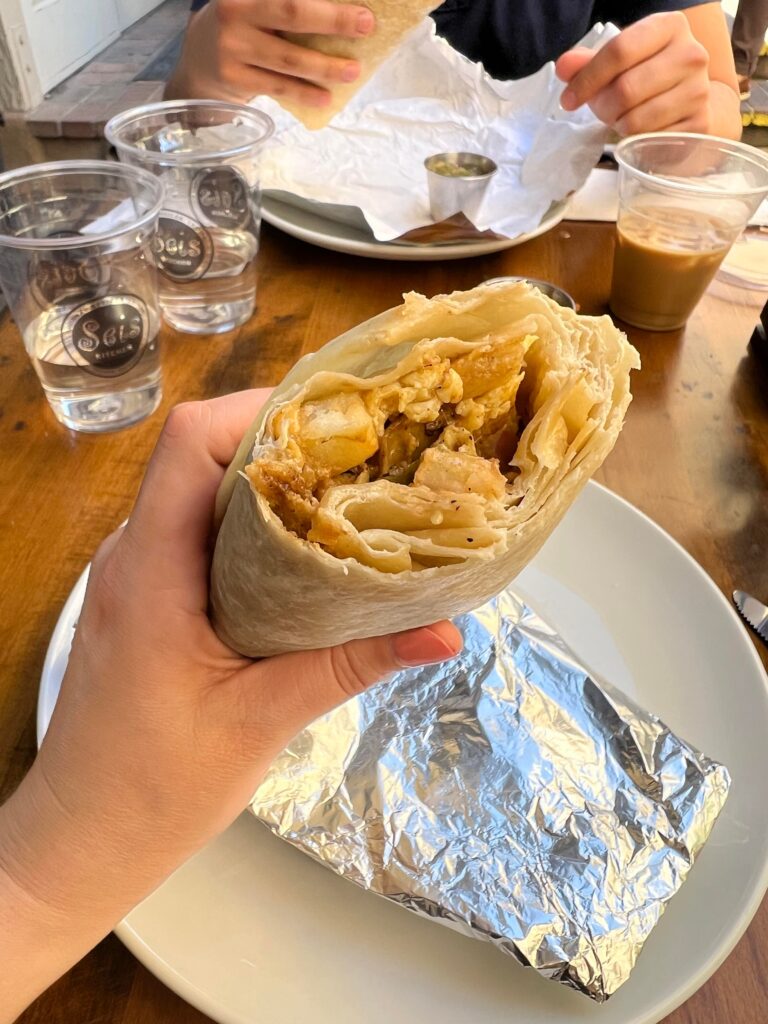 If you're looking for a spot with tasty breakfast burritos in a cute setting, look no further than Seis Kitchen in Mercado San Agustin in Tucson. I had the bacon breakfast burrito and it definitely hit the spot!
TOCA MADERA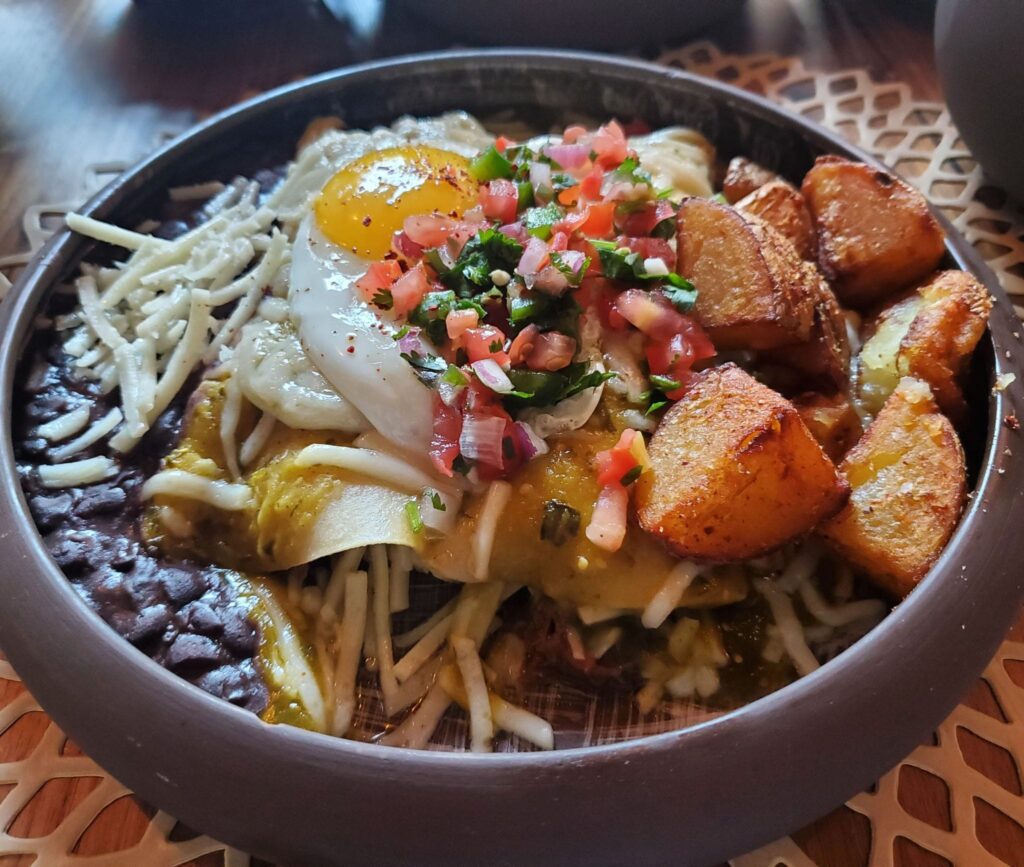 Toca Madera definitely lives up to the hype. The restaurant itself is BEAUTIFUL, service is great, the drinks are delicious and the food is beyond amazing! For those who are lactose intolerant like myself, you will love Toca Madera because they have incredible vegan options! I had the breakfast enchiladas with short rib barbacoa, black beans, potatoes and a fried egg! I chose the vegan mozzarella option and it was super tasty. I cannot wait to go back!
SALUT KITCHEN & BAR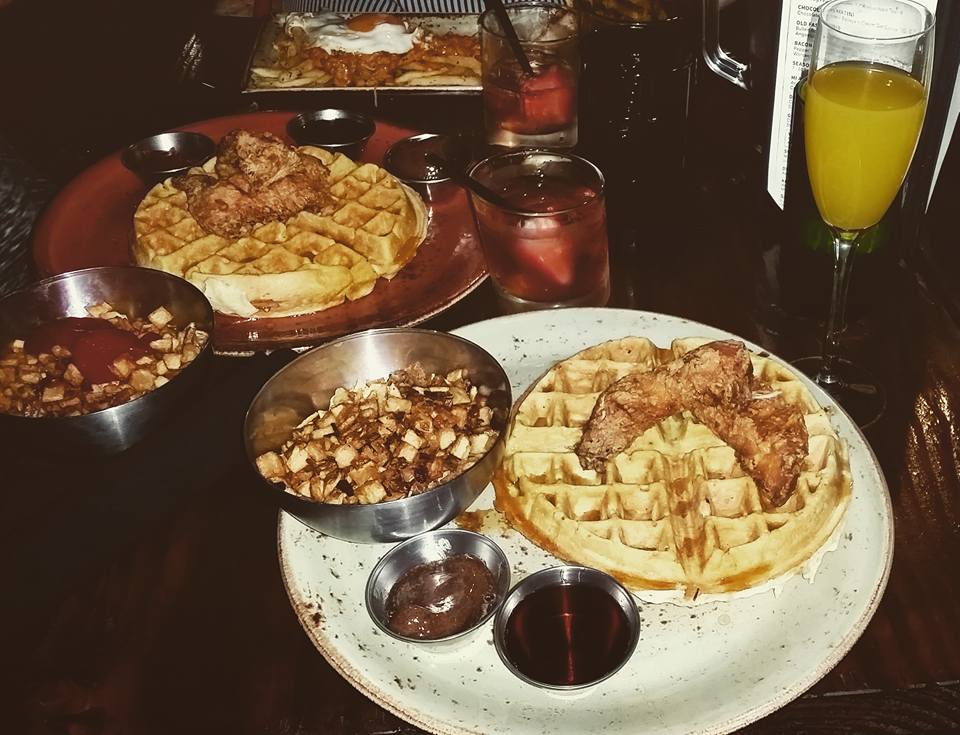 I got the chicken and waffles and the bottomless mimosas. The chicken was really good and the waffles came with a super flavorful brown sugar and pecan sauce! Also really liked the atmosphere I will be back! Plus they have wine flights on Tuesdays!
SCHNEPF FARMS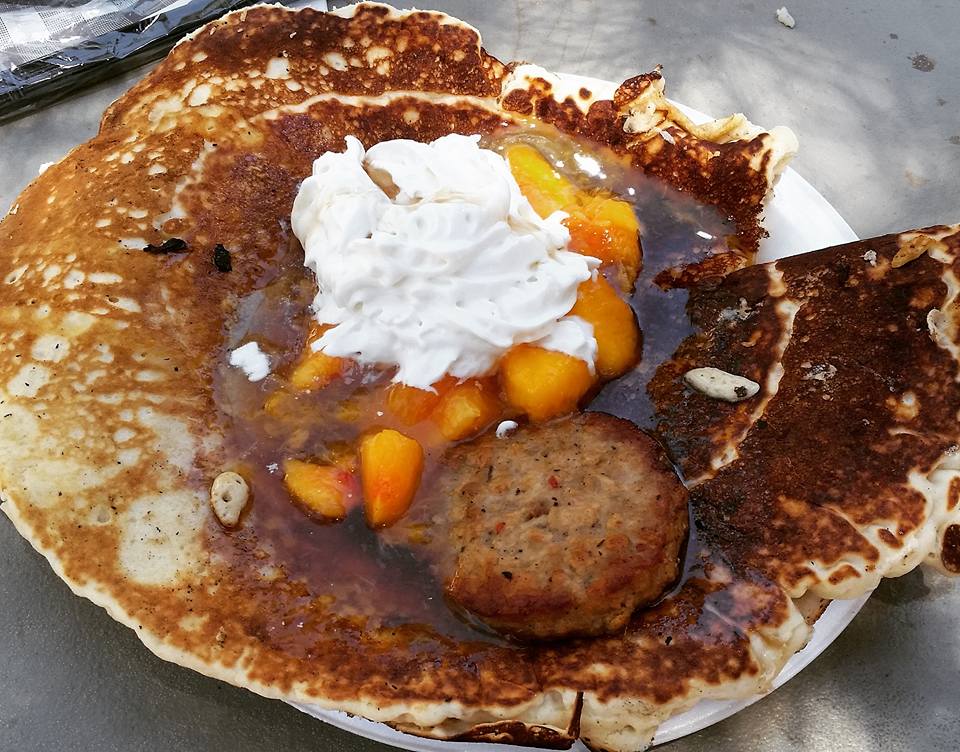 The infamous peachy pancakes at Schnepf Farms are so big and flakey and the fresh peaches on top was just the final detail to make this a perfect breakfast. Check out more pictures of these pancakes being made and other pictures from my experience at the Peach Festival.
SCRAMBLE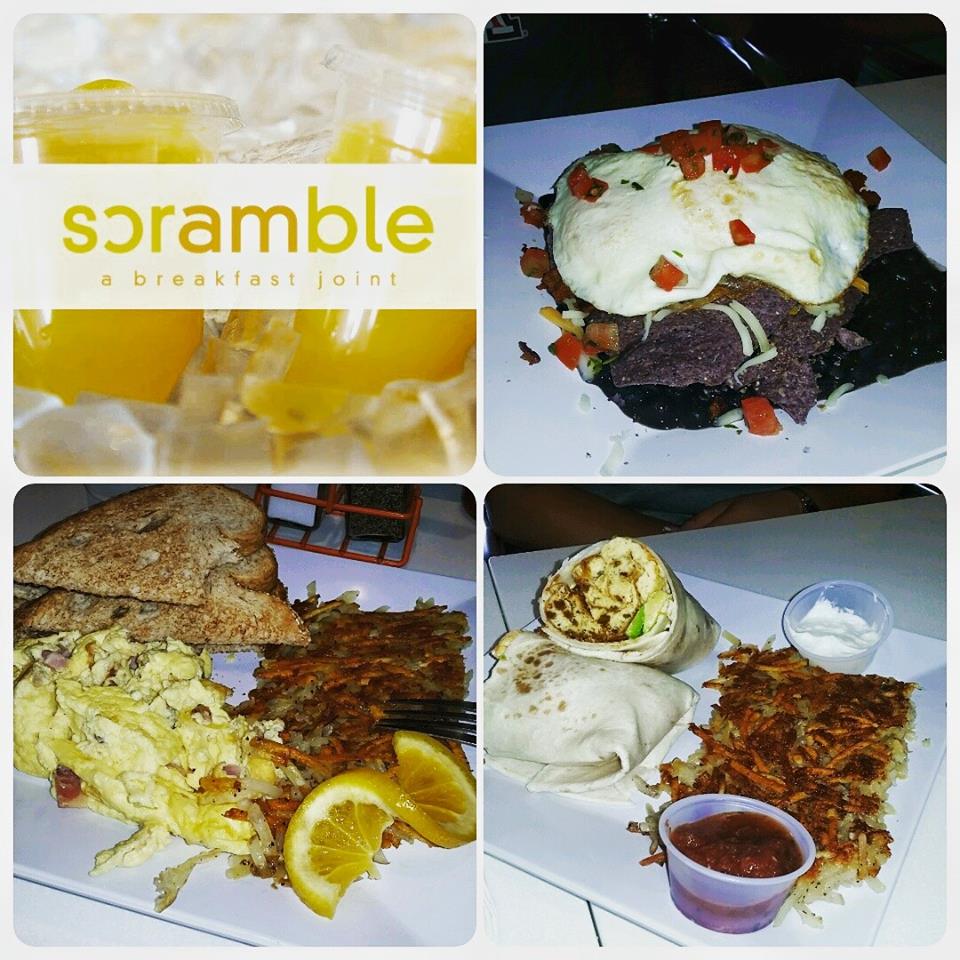 Scramble : A Breakfast Joint is now one of my favorite breakfast places in the valley. It was absolutely DELICIOUS. We had the meat lovers scramble, huevos rancheros, and chorizo burrito with jalapeño cream cheese! We recommend!
TOASTED OWL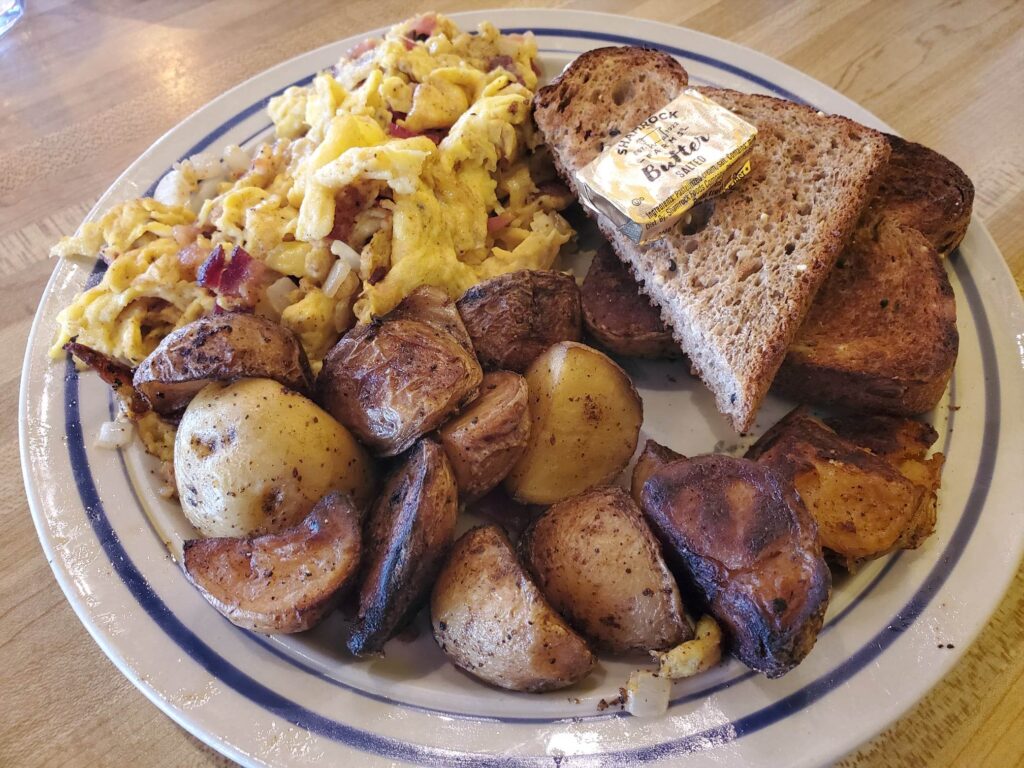 If you're looking for a delicious wholesome breakfast in a spot with cute owl decor everywhere, definitely check out Toasted Owl! They have two locations and I enjoyed both! I had the scramble with potatoes and bread and it was so filling and the perfect hangover cure.
THE VIG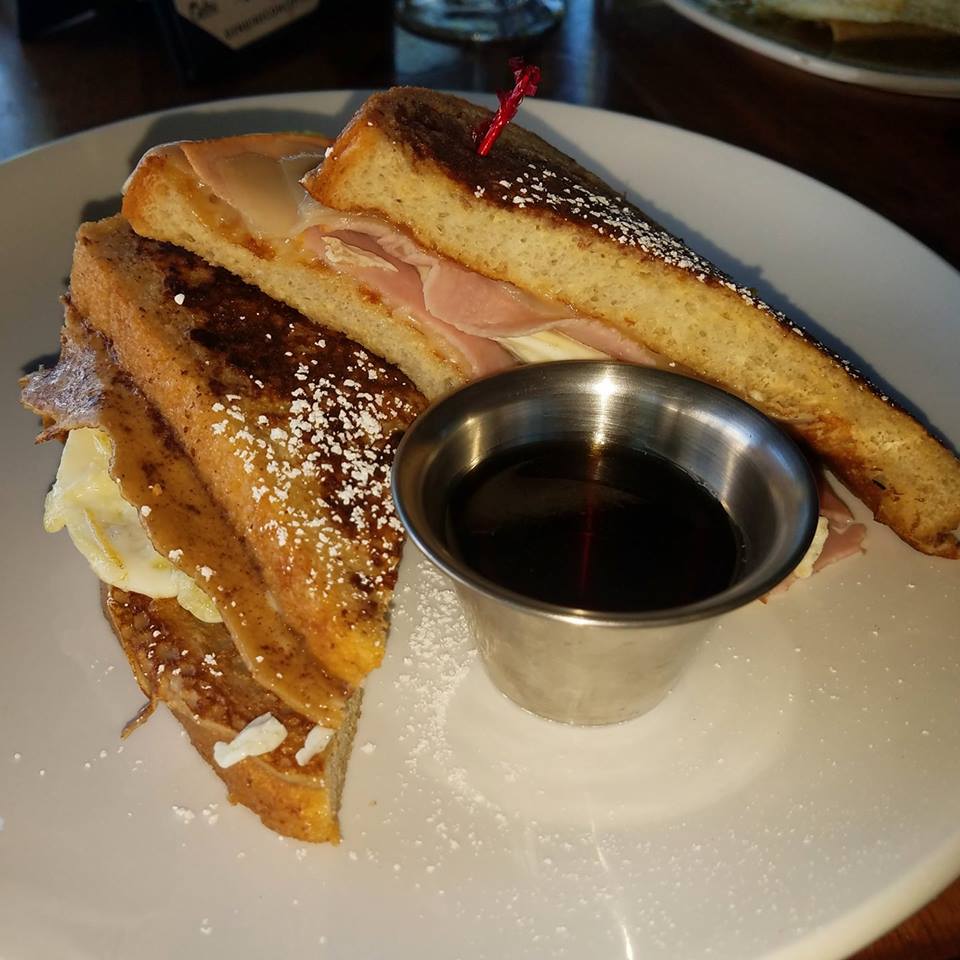 The Vig is delicious, they have $3 mimosas, AND a secret dessert menu! This monte cristo was literally heaven.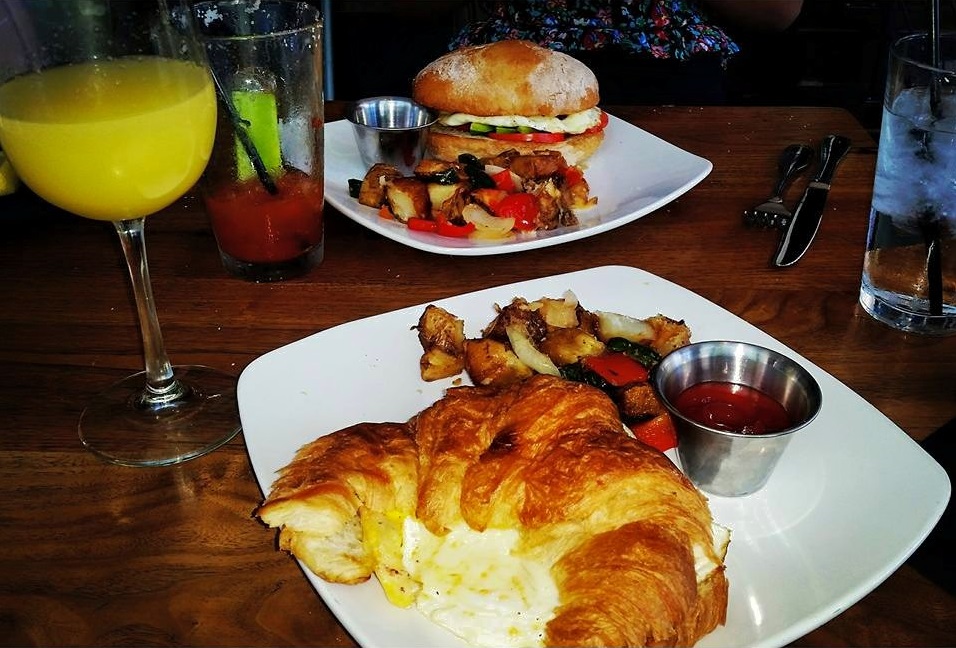 I had the breakfast croissant sandwich and the breakfast potatoes. Plus they have bottomless mimosas (always fantastic).
VIRTU HONEST CRAFT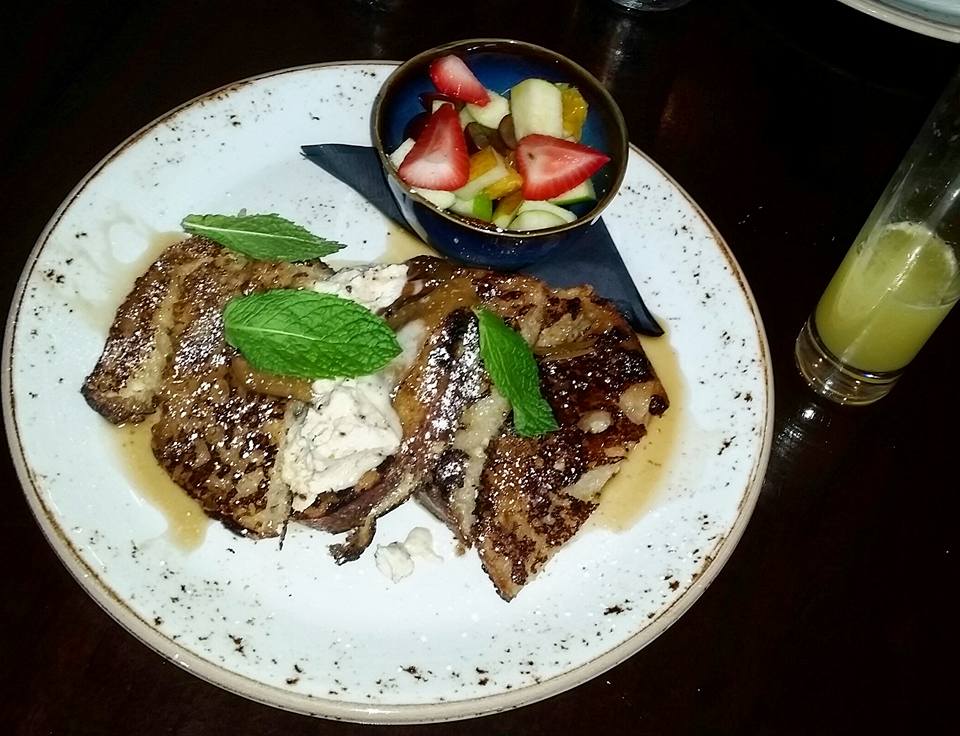 If you know me at all, you'll know that I LOVE French toast and the Brown Butter French Toast with toffee, cinnamon pears, and mascarpone was absolutely delicious!! Definitely coming back!
THE WINDSOR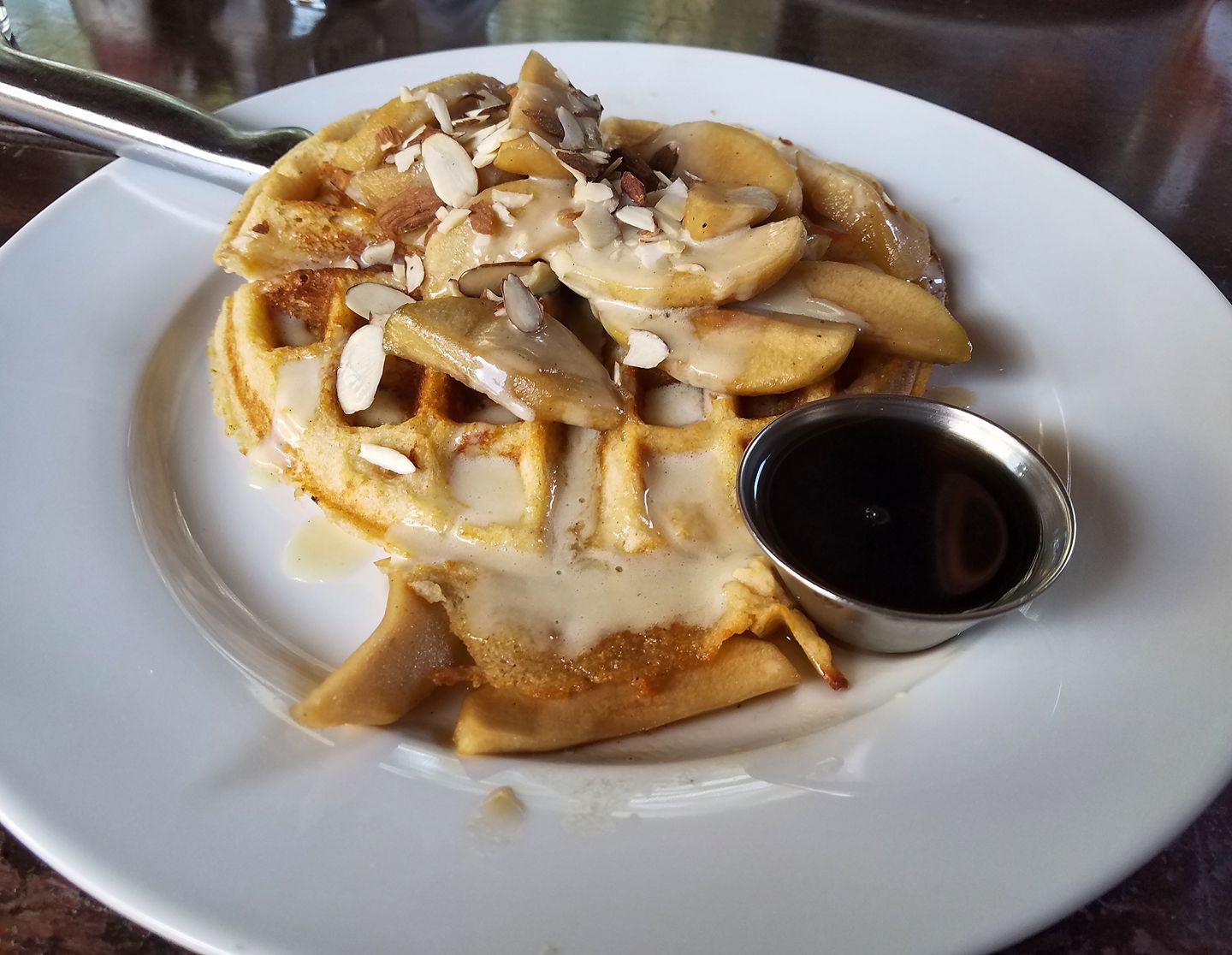 I tried the apple almond waffles at The Windsor and omg my friends, these were some of the tastiest I've ever had and I eat out quite a bit. What I loved about this place besides the delicious food and good drinks is that they are dog friendly!
California
BOSSCAT KITCHEN & LIBATIONS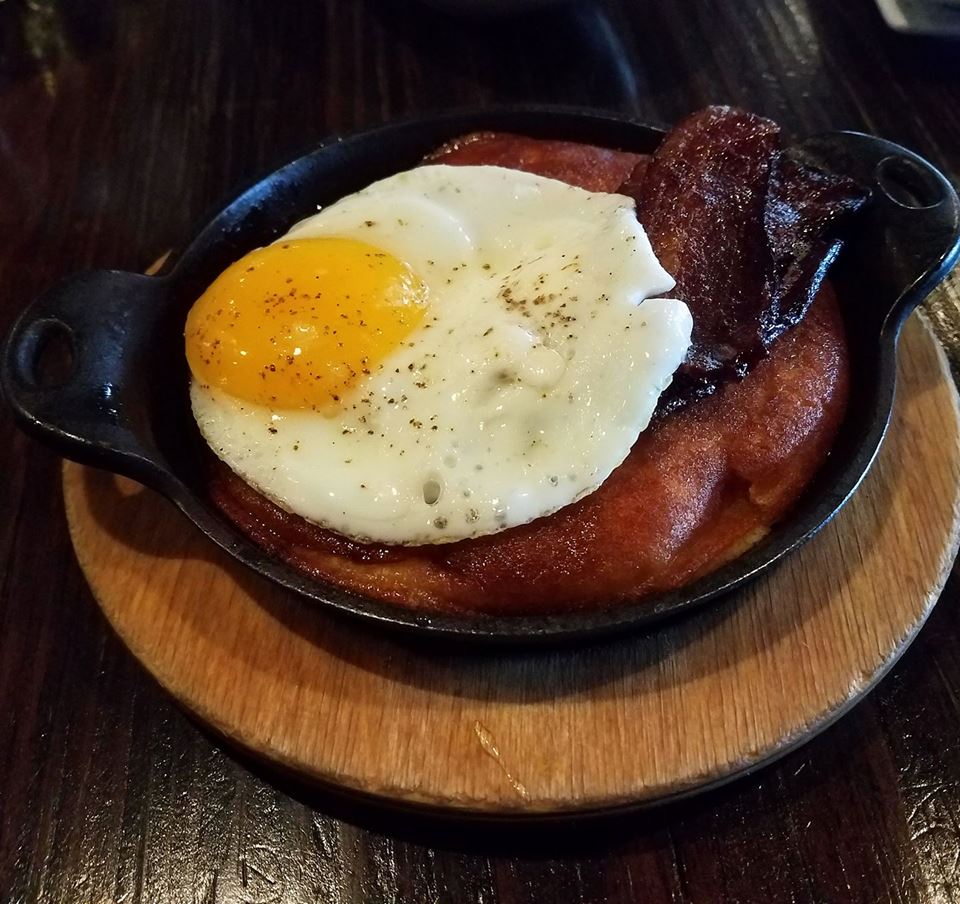 I enjoyed a barrel aged breakfast featuring a sweet skillet pancake with whiskey maple syrup, a duck fat fried egg, and bacon! The perfect combination of a sweet and savory brunch in California!
CAFE CREPE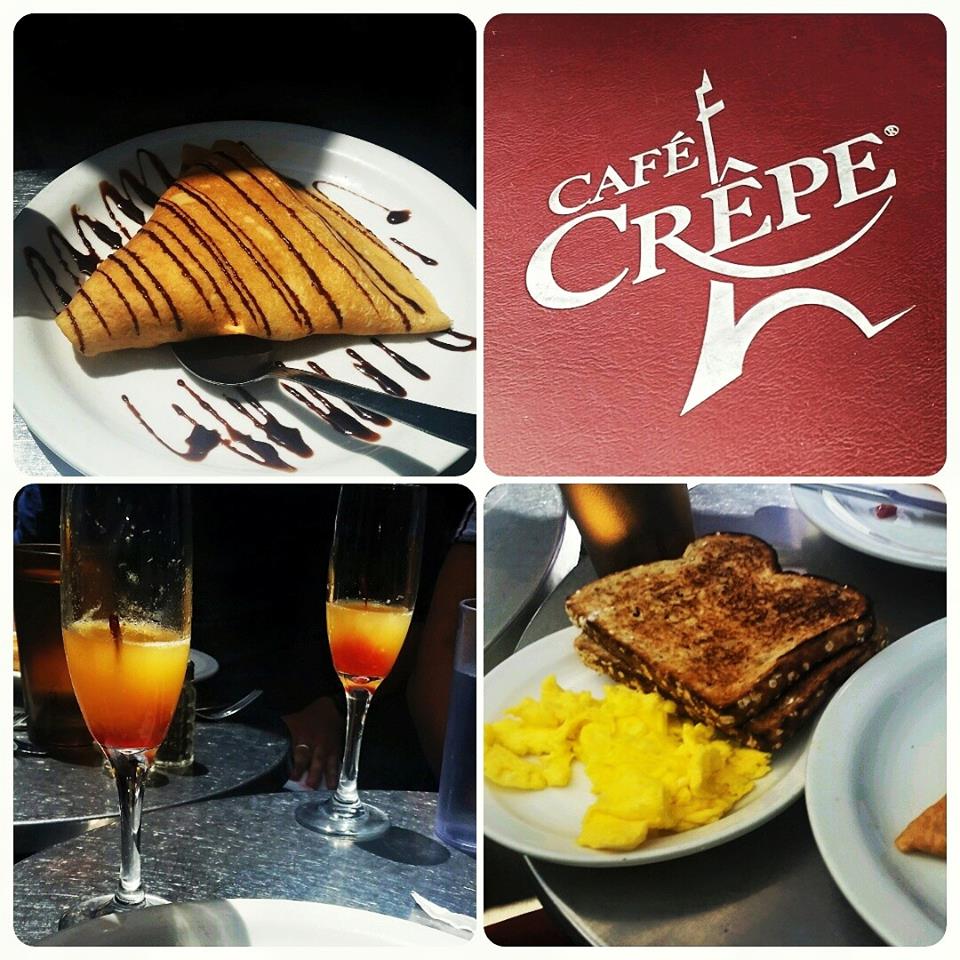 I tried the crepes at Cafe Crepe in Santa Monica while vacationing and omg they were DELICIOUS and the mimosas were just what we needed. Also our really attractive waiter said 'good choice' when I ordered my ham and swiss cheese crepe. I love being on vacation.
CHEEKY'S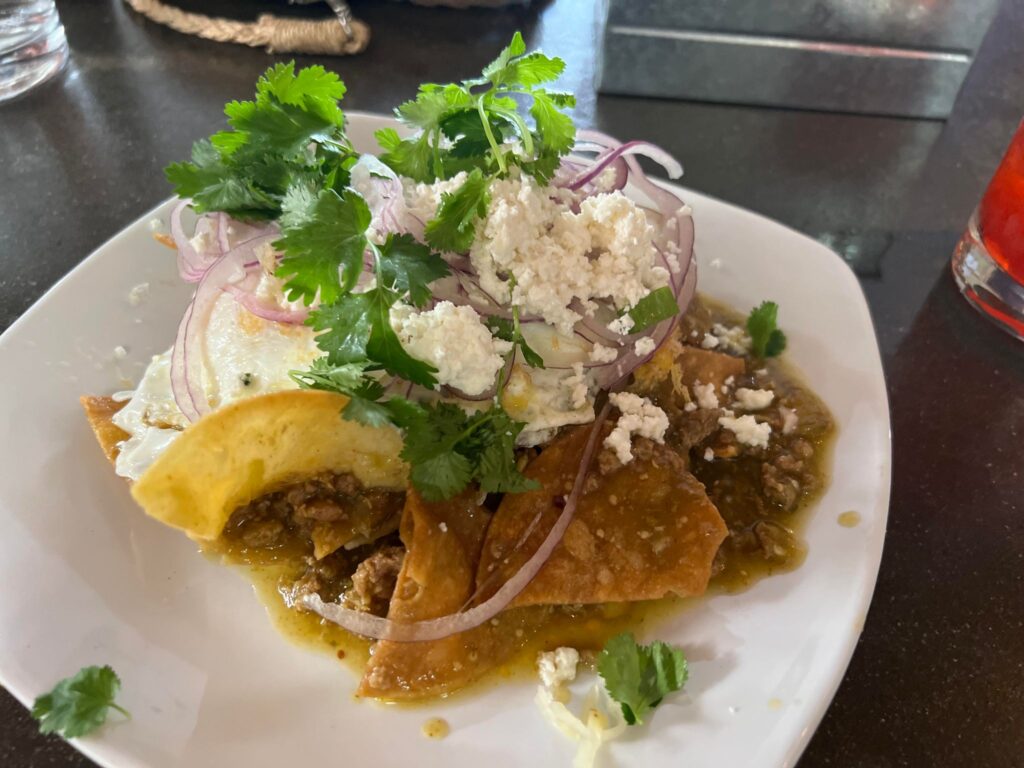 If you're craving delicious brunch in Palm Springs, look no further than Cheeky's! It's always poppin' so make sure to either get there early or make a reservation. I tried their chilaquiles with the homemade chorizo and it was so good! They also have delicious brunch drinks!
RIVIERA HOUSE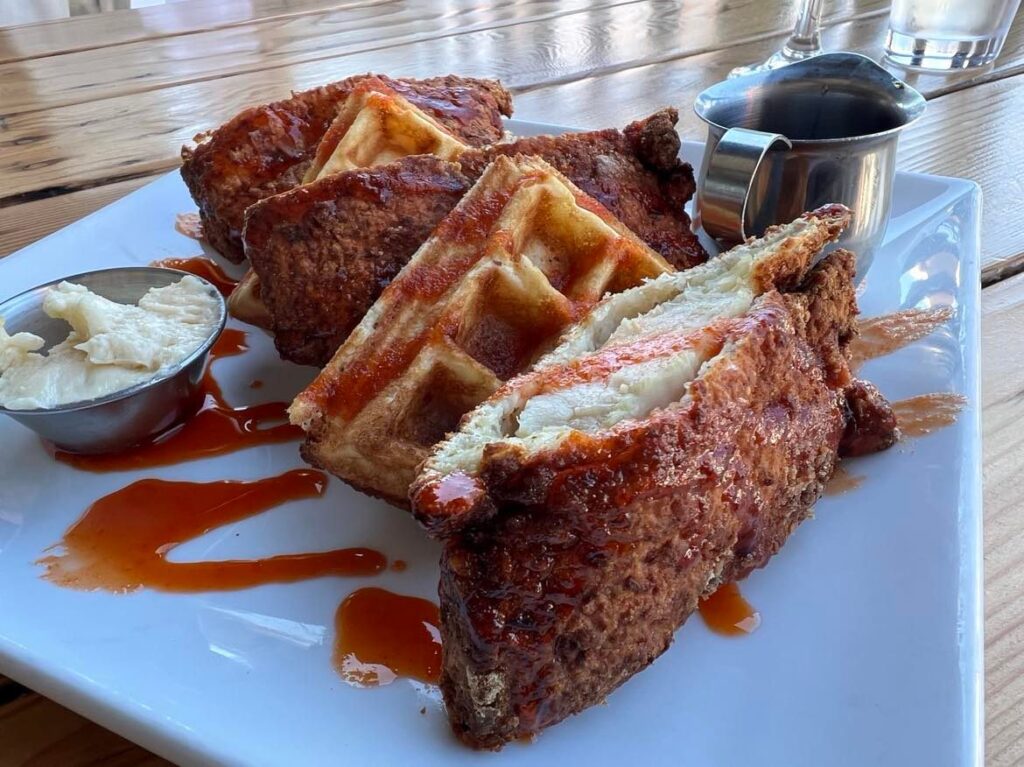 Riviera House in Redondo Beach has a great unlimited mimosa deal and their jidori fried chicken and waffles are so good! I love the sweet and savory taste of the dish!
ROSCOE'S CHICKEN AND WAFFLES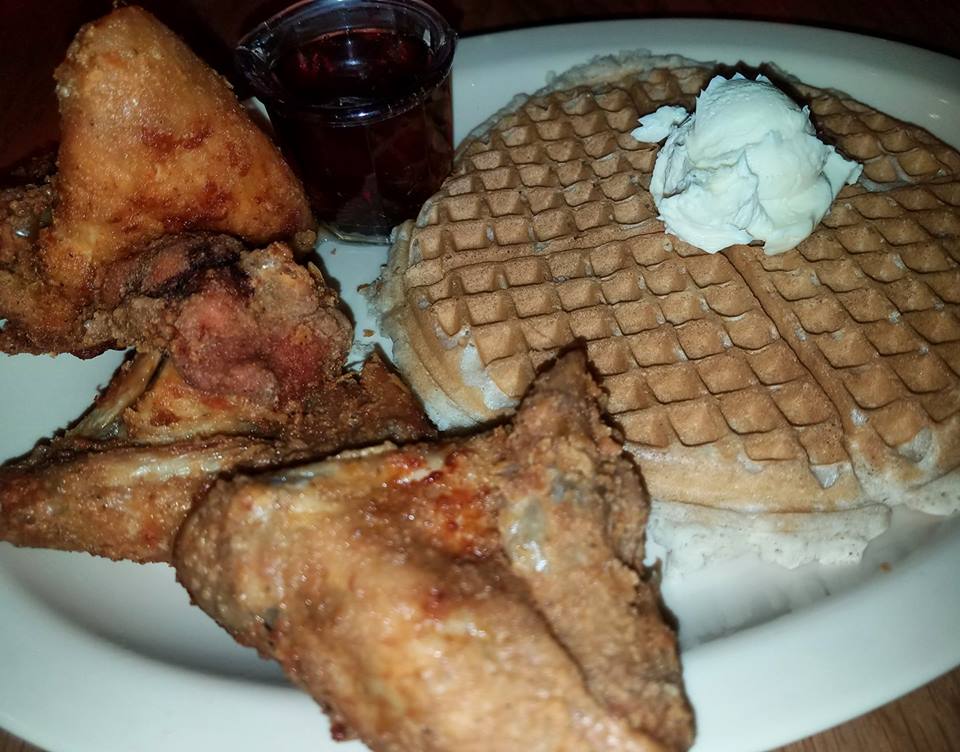 IA few of you recommended Roscoe's Chicken' N Waffles in California and omg y'all. It was DELICIOUS. I had the Obama plate and added some hot sauce (definitely necessary) and it was so good, can you all believe that I had dinner here twice lol. Seriously, add this spot to your food bucket list. It's amazing.
SQUARE ONE DINING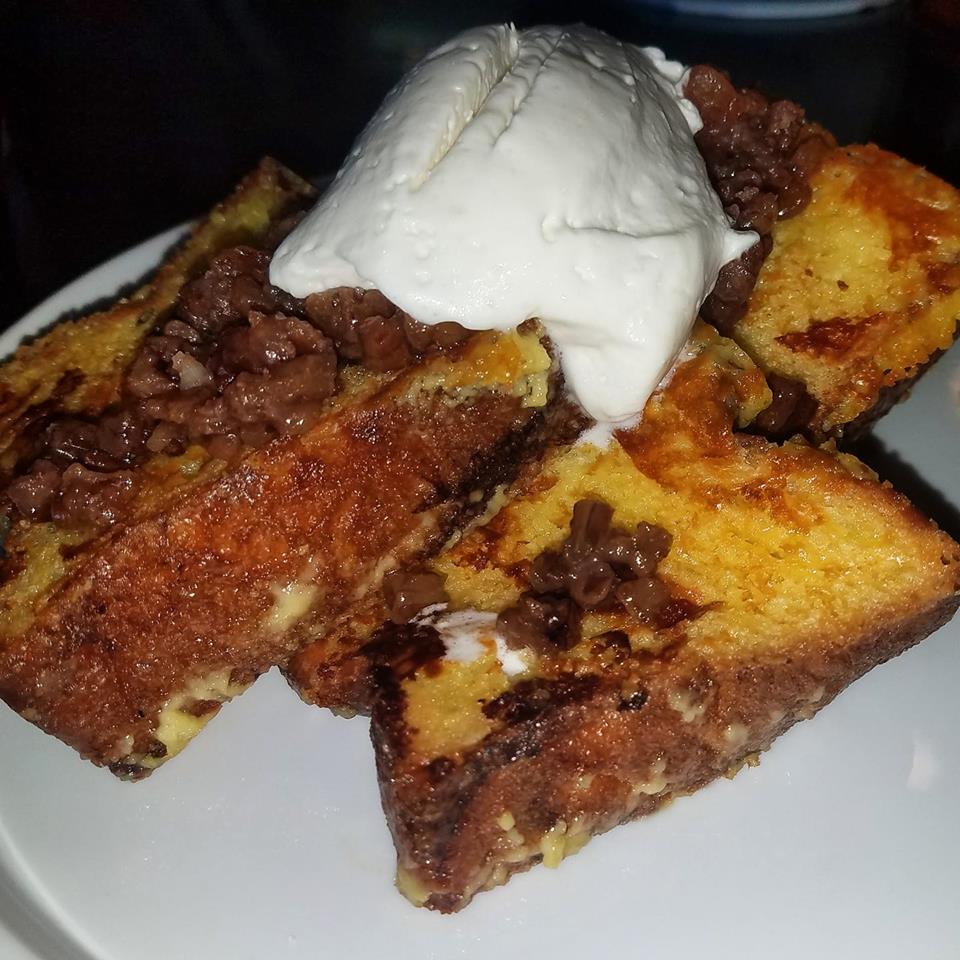 I tried the brioche french toast from Square One Dining in LA and it was DELICIOUS! The french toast was flaky, the bourbon-pecan topping was NEEDED, and the whipped cream just finished off the dish. I can't wait to go back!
VALERIE CONFECTIONS AT GRAND CENTRAL MARKET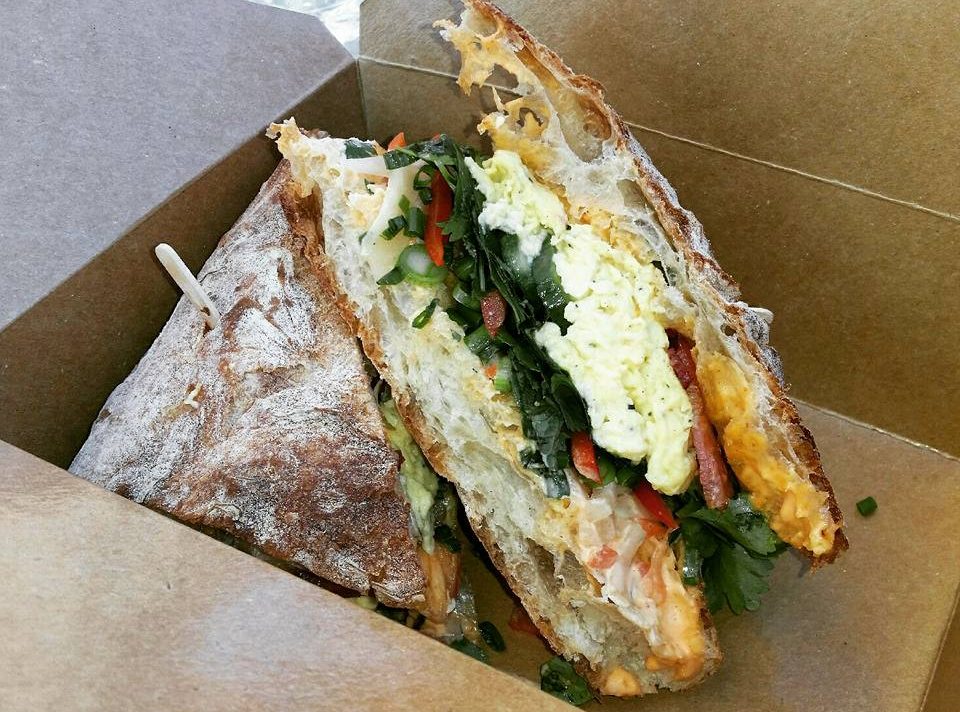 I took a girls' trip to LA and we ended a fabulous weekend by stopping at Valerie Confections located inside the Grand Central Market in LA (similar to Desoto Central Market in Phoenix) to grab some breakfast to go. Super cool place filled with tons of very diverse restaurants. I had the bahn mi breakfast sandwich and it was DELICIOUS.
Canada
AUNTIES AND UNCLES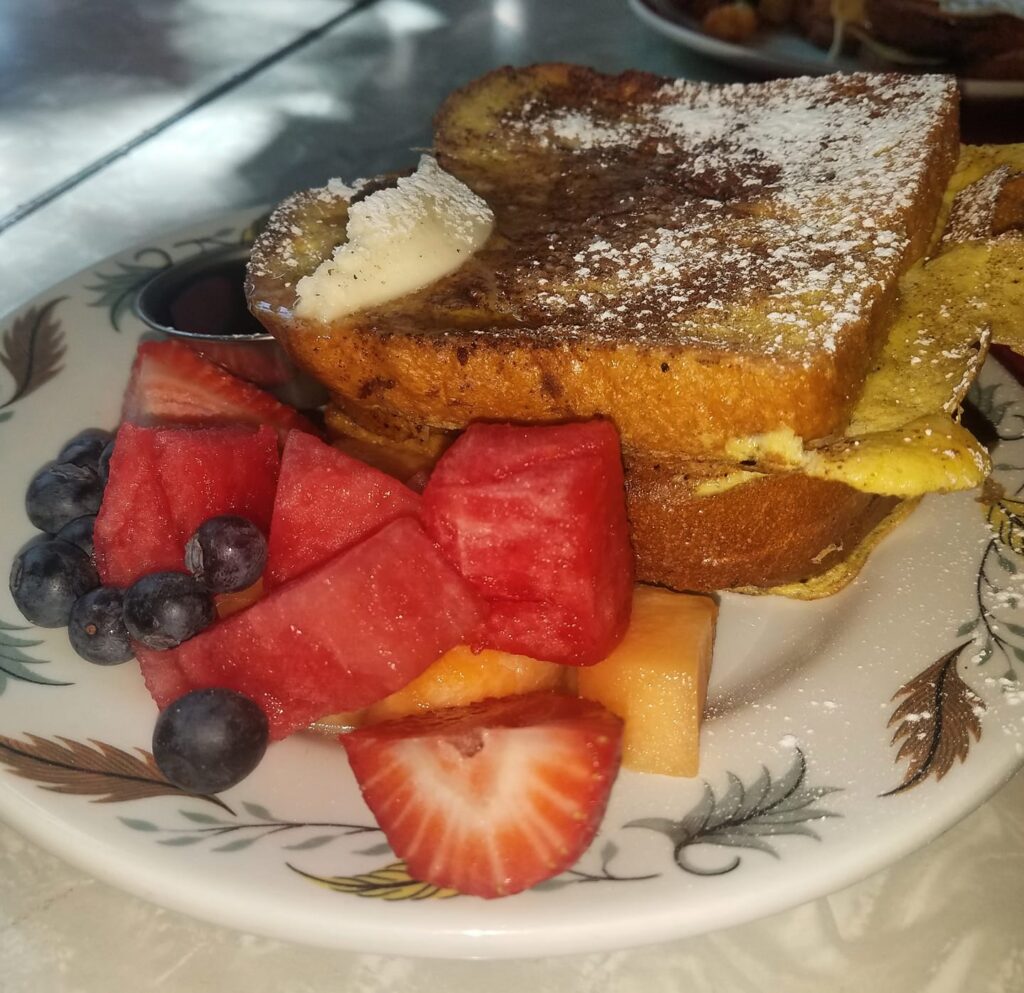 Aunties and Uncles is a diner that you need to add to your bucket list! The internet told me that I needed to try their French Toast and the internet was not wrong! The French toast was amazing and flaky and sweet and super filling but what really makes this place a high recommendation is the location and the people. I met some cool people here who gave me tons of recommendations on what to do in Toronto and recommended other restaurants too! I would go back in a heart beat for breakfast. Let me know if ya'll end up going and don't forget to bring cash because it is cash only!
GERALDINE'S COUNTER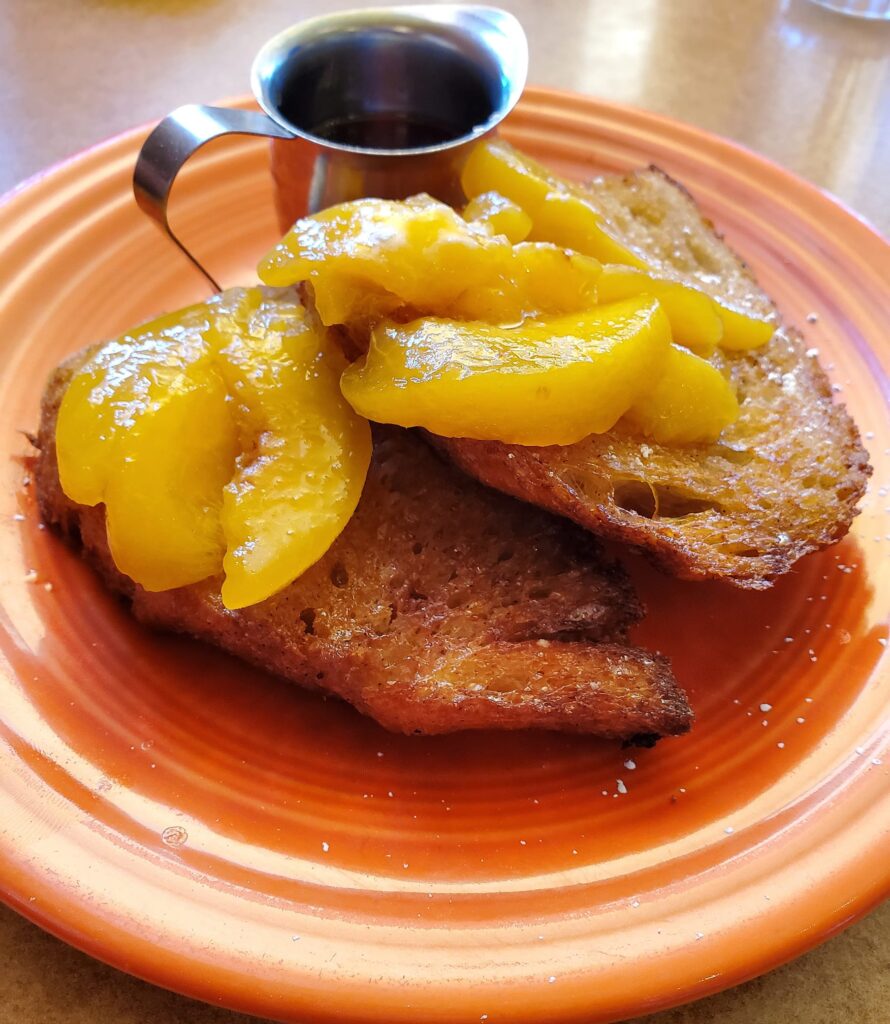 The internet told me that Geraldine's Counter was famous for the scrumptious French toast, and the internet did not let me down! The French toast topping of the day was honey soaked peaches. HONEY SOAKED PEACHES!! It was so good, I thought about going back the next day lol. The bread had the perfect texture and did I mention this is just a half serving!?! Their servings are huge!!
ROSEDALE DINER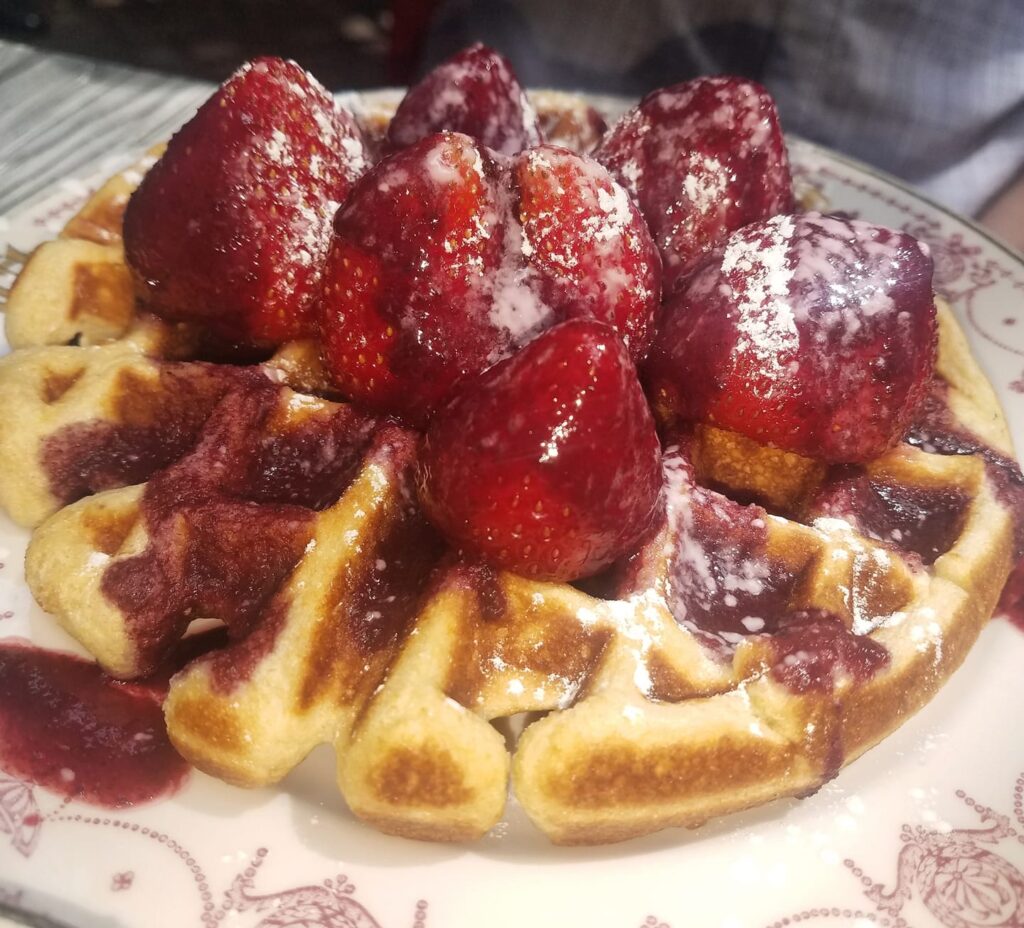 I ate SO MUCH in Canada, but as a proud brunch lover I'm happy to say that my favorite meal was brunch at The Rosedale Diner
! Not only do they have the best customer service (shout out to their bartender who gave the best cocktail recommendations) and a great ambiance…the food is TO DIE FOR. No wonder they've been in business since 1978. I had the sweet waffle with strawberries, berry coulis, and whipped cream. Simple but phenomenal. I almost want to come back to Toronto just for the food.
UNIVERSEL DEJEUNERS ET GRILLADES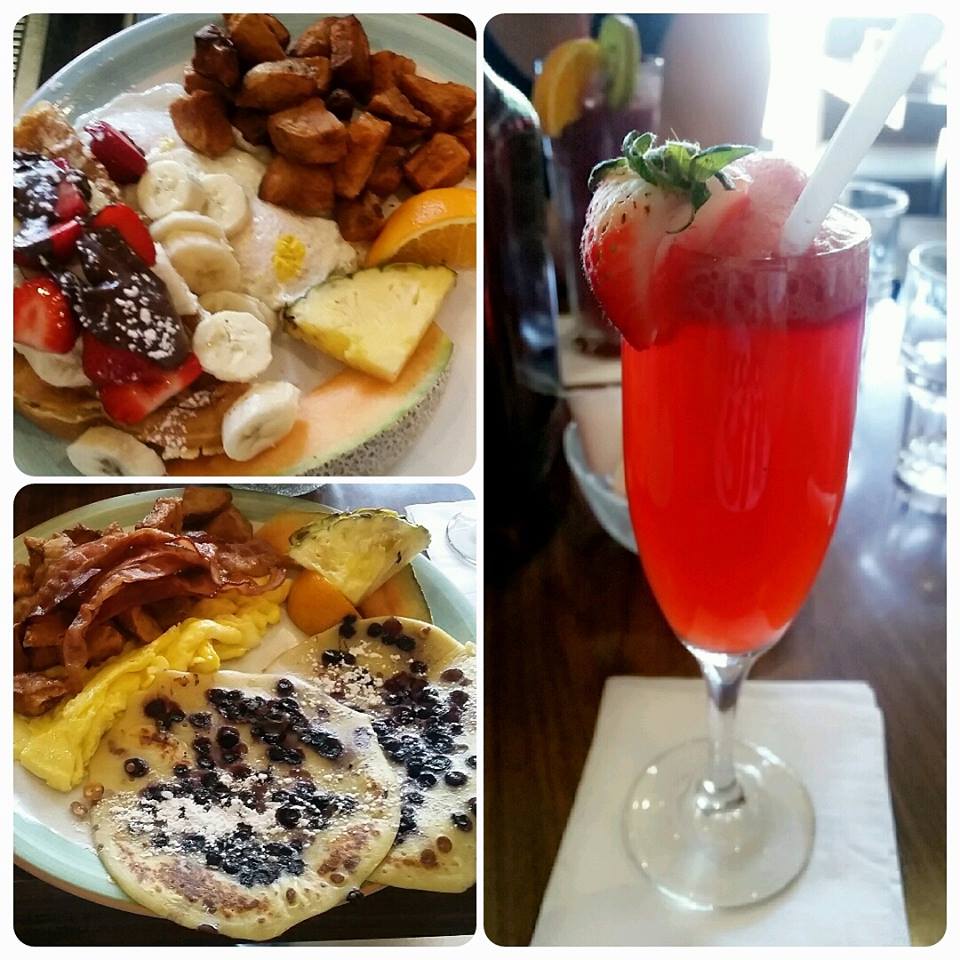 I had a mimosa fraisiere (strawberry mimosa), eggs, bacon, potatoes, toast and of course since I'm in French Canada I had to get the crepes with blueberries! My gosh, it was all phenomenal. Universal Restaurant is currently winning on the best brunch (in Montreal) I've had so far!
Colorado
THE BERKSHIRE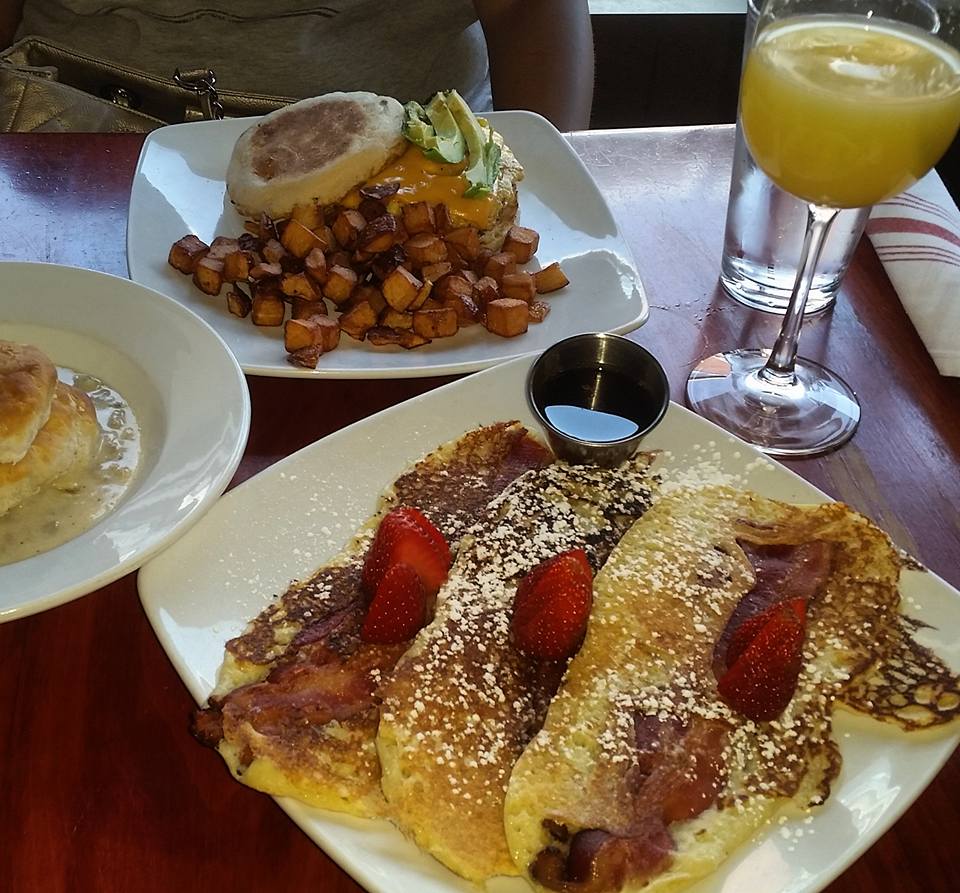 I had the bacon pancakes with strawberries, and biscuits and gravy, UNLIMITED mimosas, and my friend had the breakfast sandwich with delicious house fries. It was all phenomenal and I never want to leave Denver.
Massachusetts
GOOD FRIENDS CAFE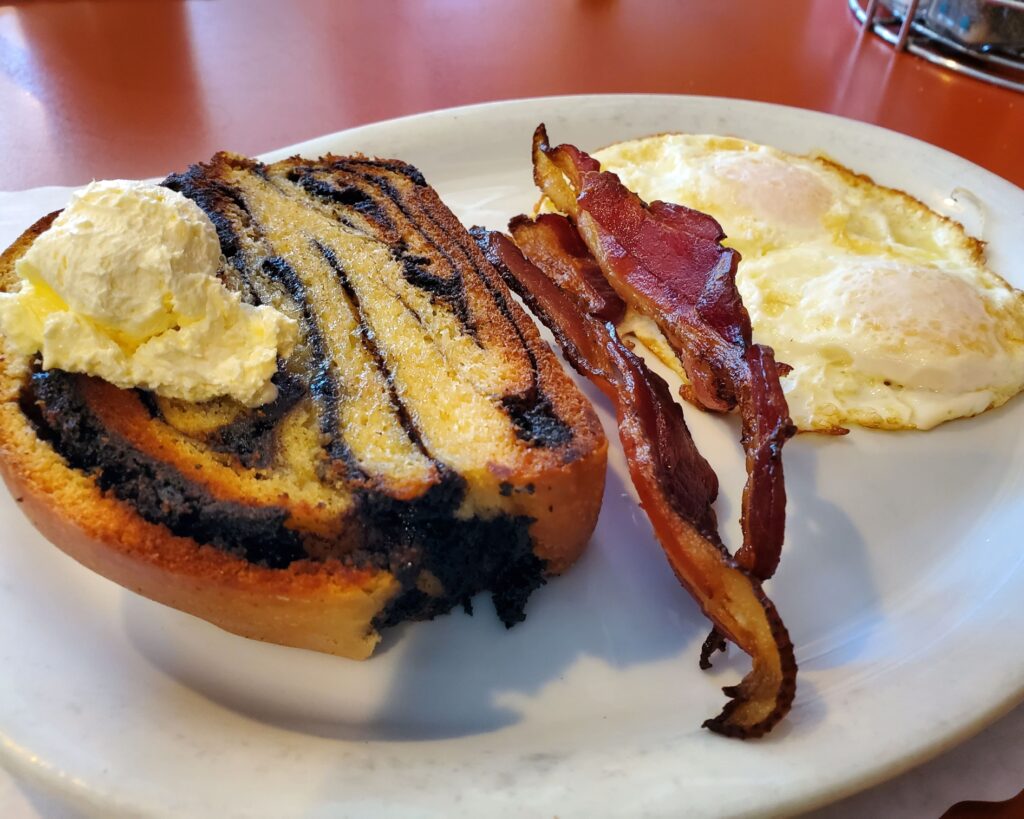 Today I'm featuring my FAVORITE breakfast spot in Cape Cod: Good Friends Cafe! They have the most delicious oreo bread that we went back the next day and ordered more.
Mexico
CUARZO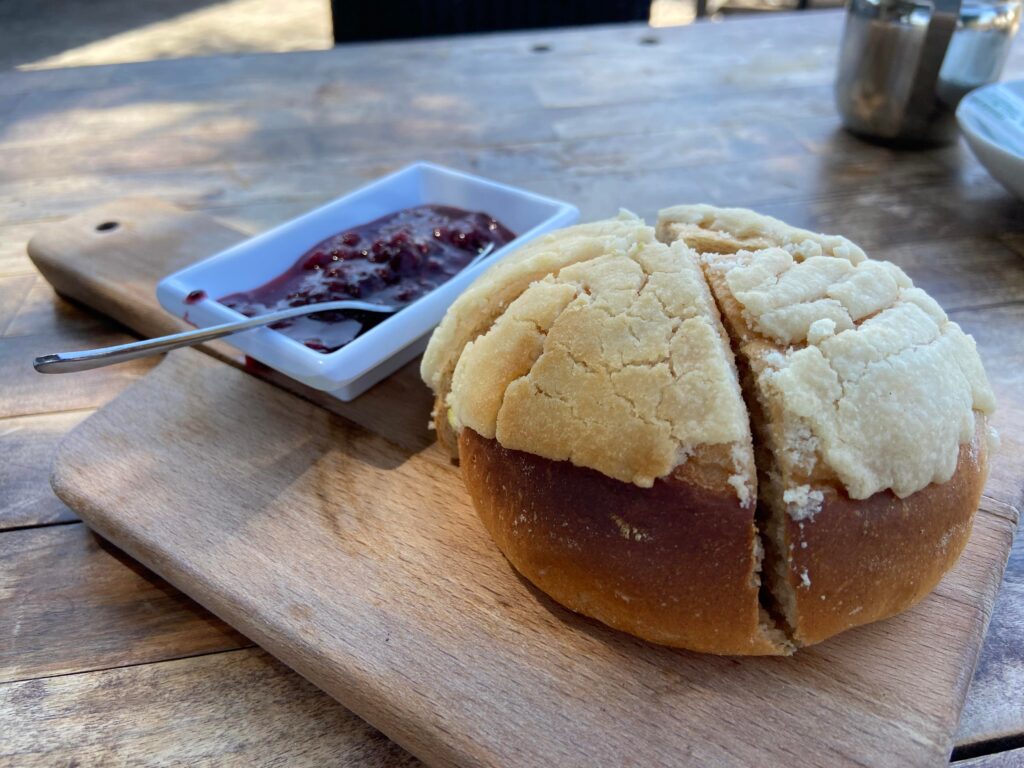 We tried Cuarzo for their breakfast as it was highly recommended by folks online and it also was an open air restaurant which was perfect for us to enjoy the weather! As soon as you sit down, they bring you pan dulce (sweet bread) with jam and I wish every restaurant did this. It was so good!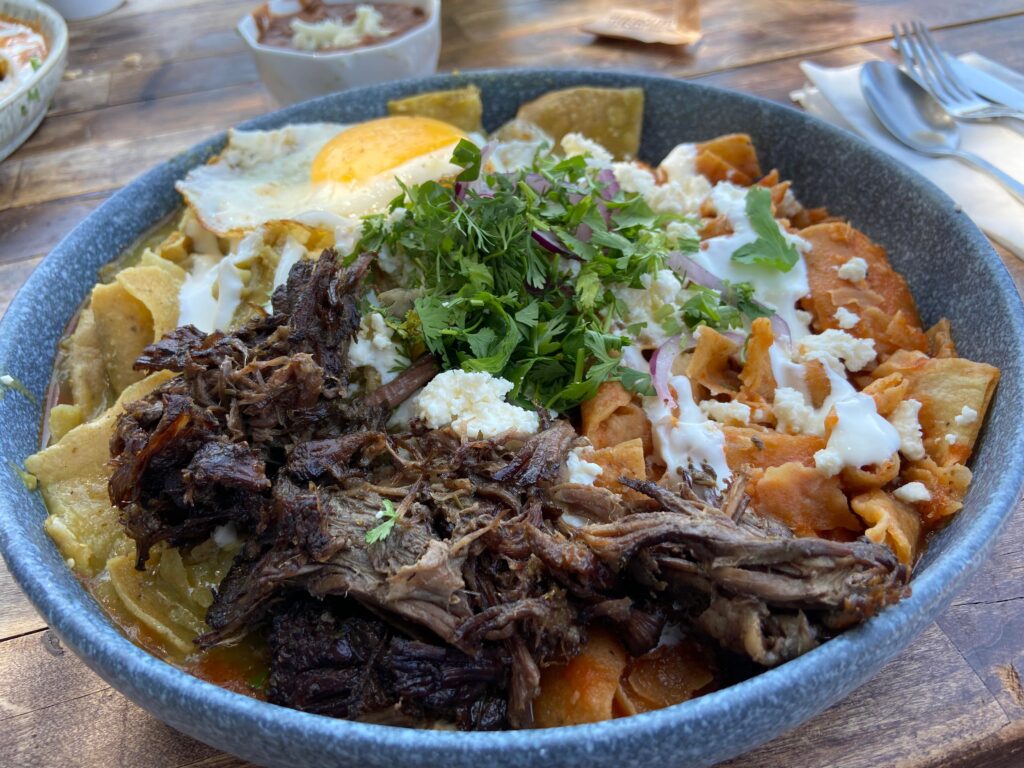 I tried the red and green chilaquiles with shredded beef and it was so delicious!!!! It was also a lot of food so I would definitely recommend coming very hungry or sharing it with someone. The chips were perfectly fried, the salsas had so much flavor, and the shredded beef was incredible.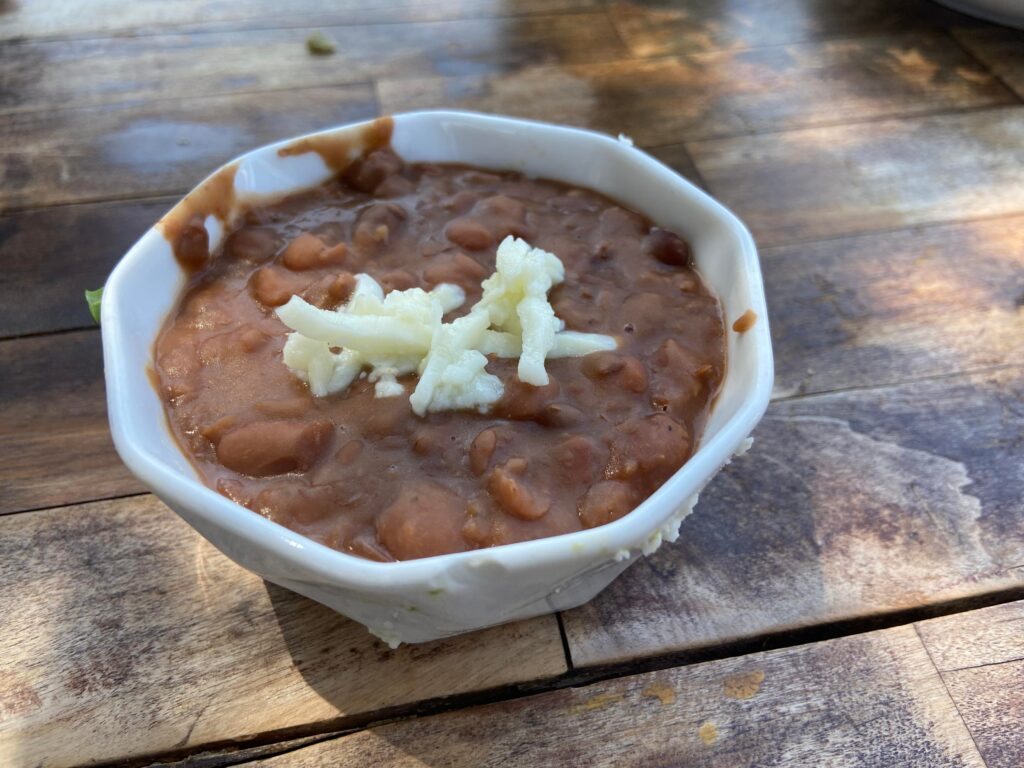 My dish came with pinto beans and they were tasty!

The Ultimate Valle De Guadalupe Food Bucket List!
~ ENTHUSIASTICABOUTLIFE ~ EDIT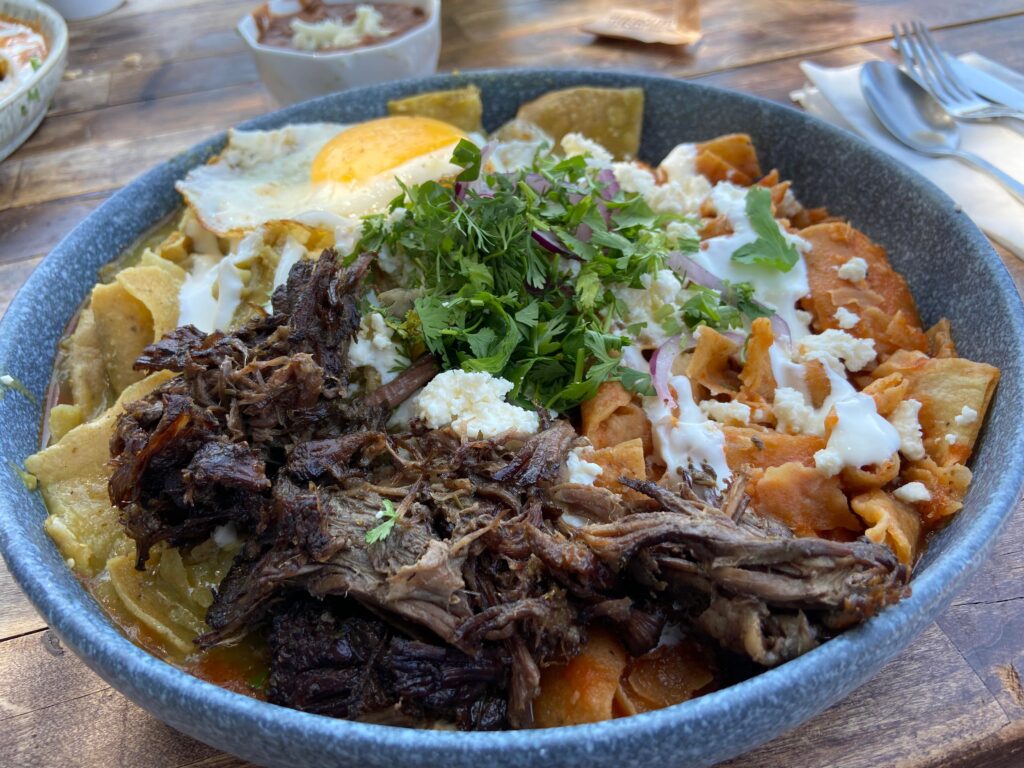 I used to think that places that were known for their wine wouldn't have delicious food but Napa Valley and now Valle De Guadalupe in beautiful Mexico have proven me wrong!
As I was planning my trip I was pleasantly surprised to see that there are a ton of incredible restaurants there! After visiting for a few days and trying so many different kinds of cuisine, I can guarantee that no matter what you like to eat, you'll find a great spot in Valle De Guadalupe (VDG). I highly recommend that you make reservations ahead of time if you don't want to wait for a table.
Check out my favorite food recommendations in VDG and let me know if I need to add others!
Casa Frida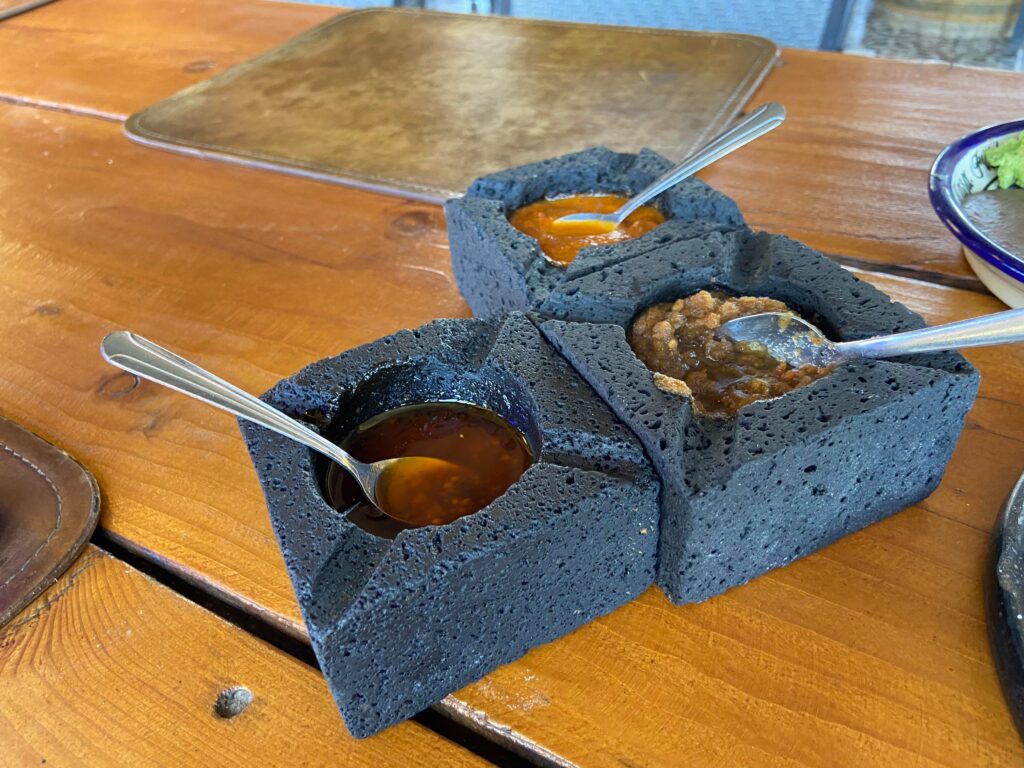 We tried the lunch at another winery where we had a wine tasting: Casa Frida and it was so good! Check out my full review of Casa Frida here. They start you off with three different kinds of salsa. There are two restaurants at this winery and we tried the Corazon D'Petra Restaurant.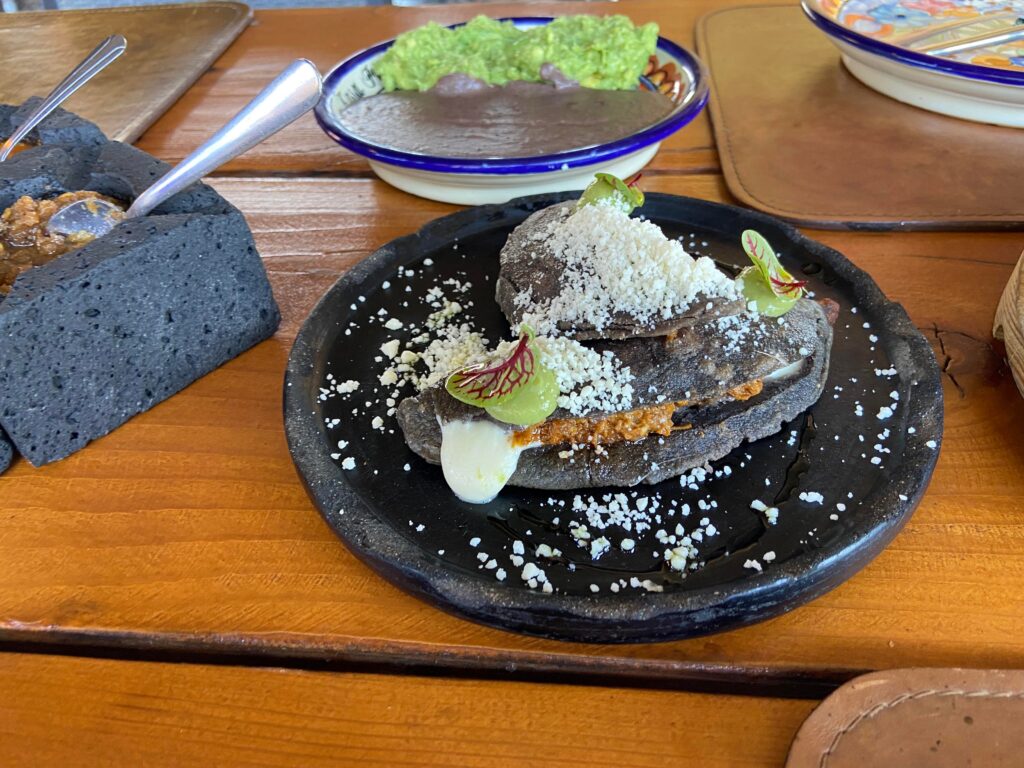 For our appetizer, we tried the fried duck quesadillas and they were phenomenal! During my stay in Valle De Guadalupe, I absolutely fell in love with blue corn so any opportunity that I could, I would order it.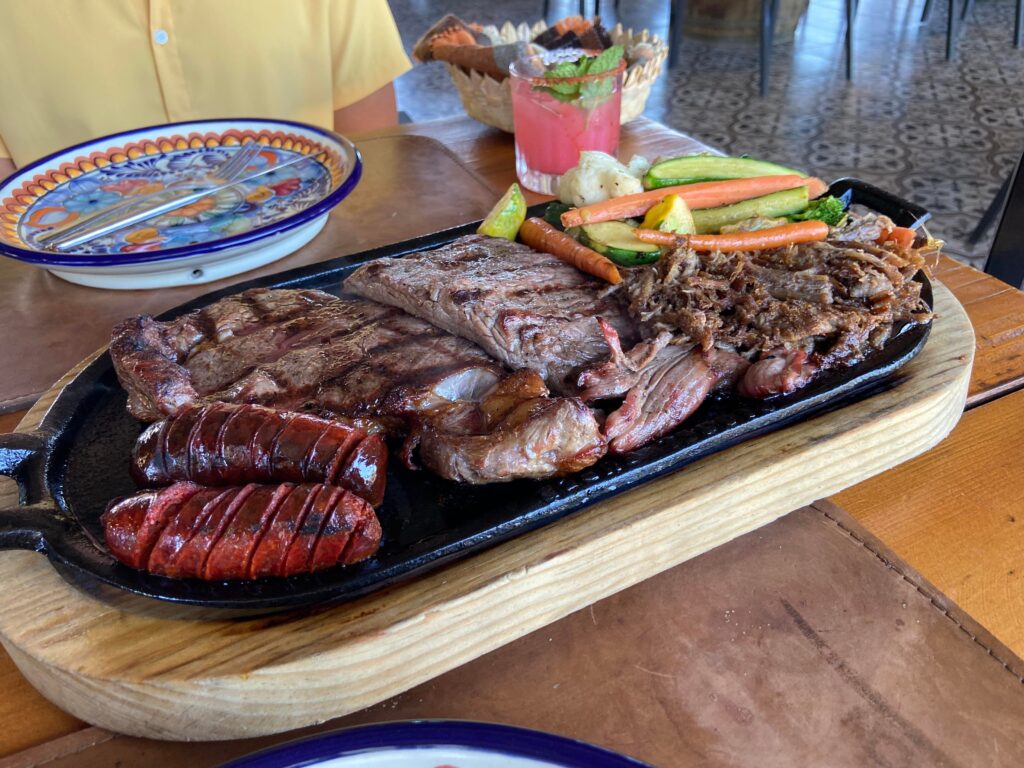 For the entrée, we shared this giant meal: the Asado Diego that came with skirt steak, ribeye, chorizo, fried machaca, seasonal vegetables, guacamole and beans. Everything was amazing but the star of the show for me was the fried machaca. It was so crispy and flavorful! This dish is meant to be shared and it would be perfect for 3-4 people.
Cuarzo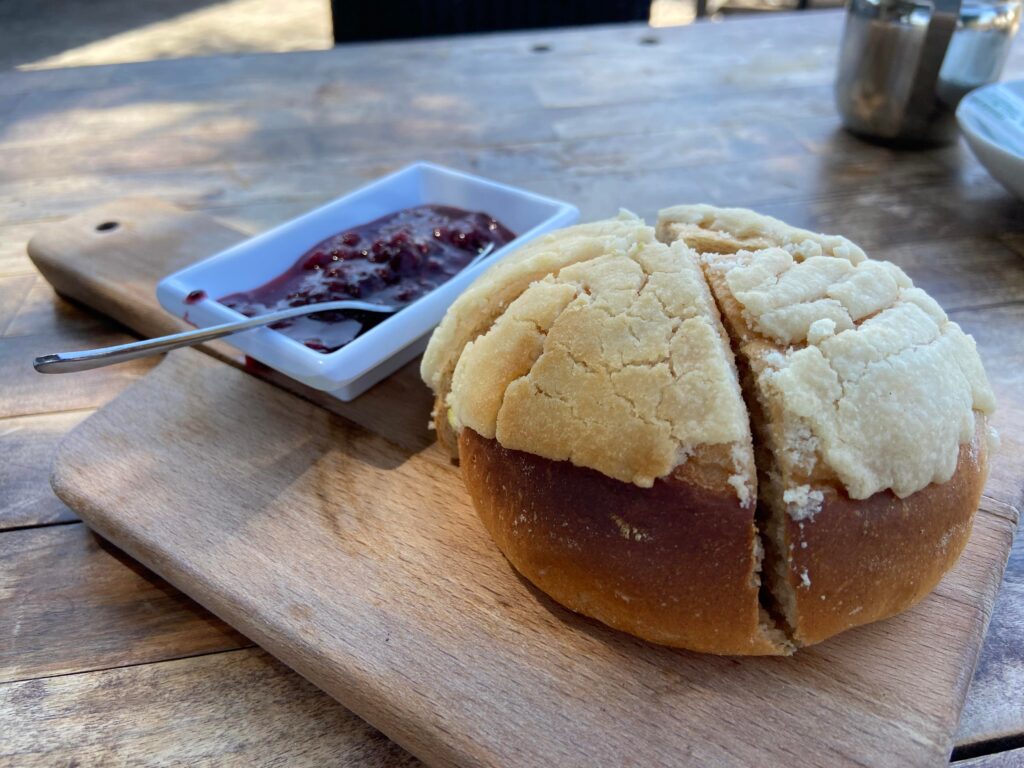 We tried Cuarzo for their breakfast as it was highly recommended by folks online and it also was an open air restaurant which was perfect for us to enjoy the weather! As soon as you sit down, they bring you pan dulce (sweet bread) with jam and I wish every restaurant did this. It was so good!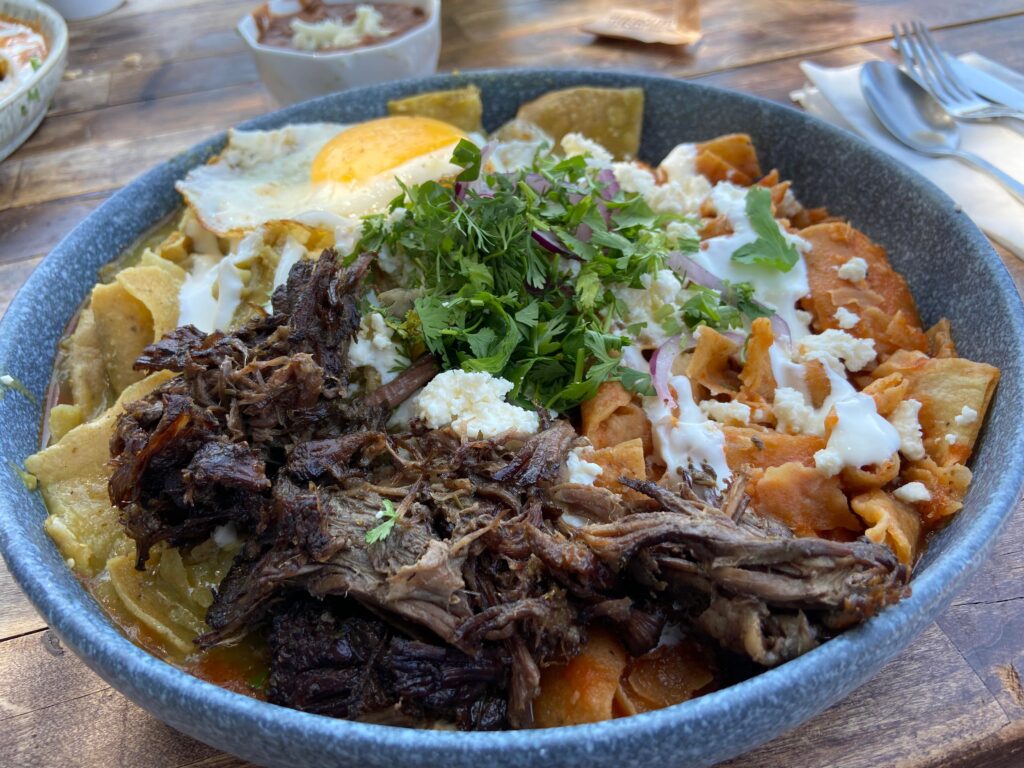 I tried the red and green chilaquiles with shredded beef and it was so delicious!!!! It was also a lot of food so I would definitely recommend coming very hungry or sharing it with someone. The chips were perfectly fried, the salsas had so much flavor, and the shredded beef was incredible.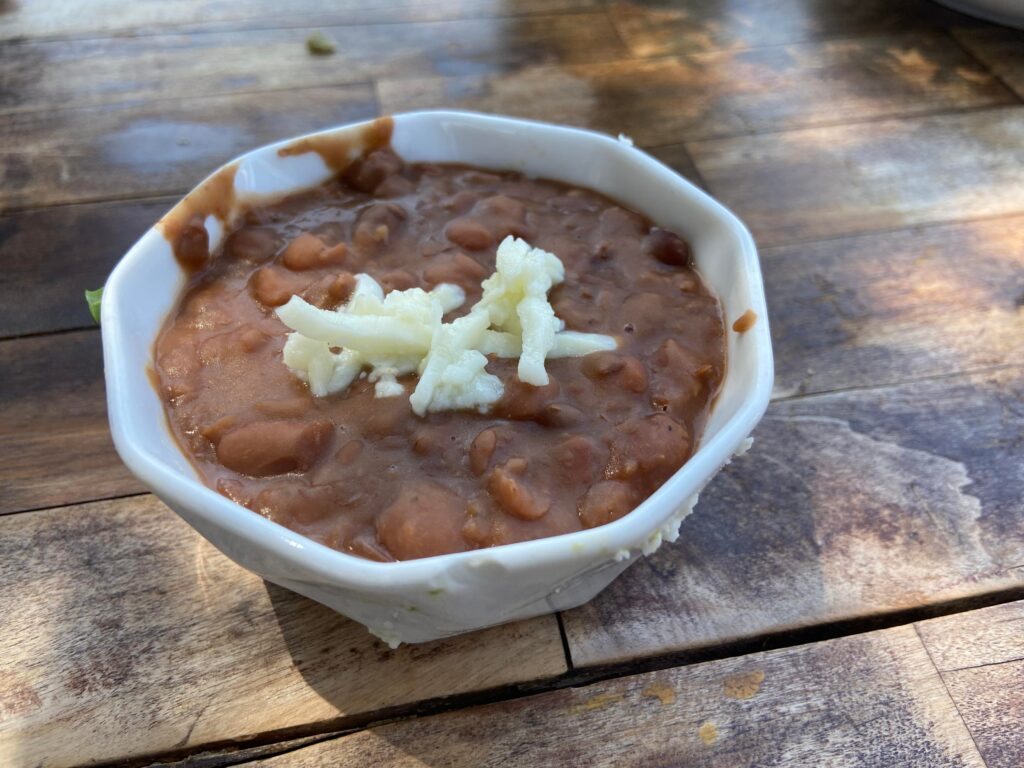 My dish came with pinto beans and they were tasty!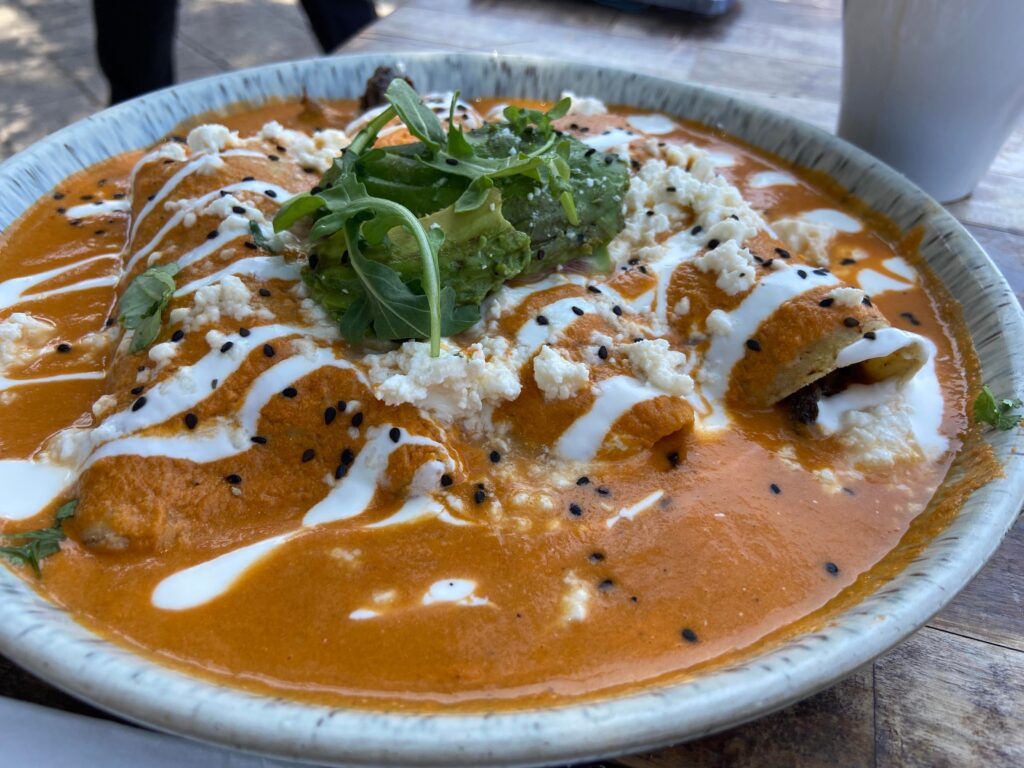 We also tried the enchiladas with shredded beef and it was so good! Everything was delicious here and we highly recommend it!
Don Tomas Viñedo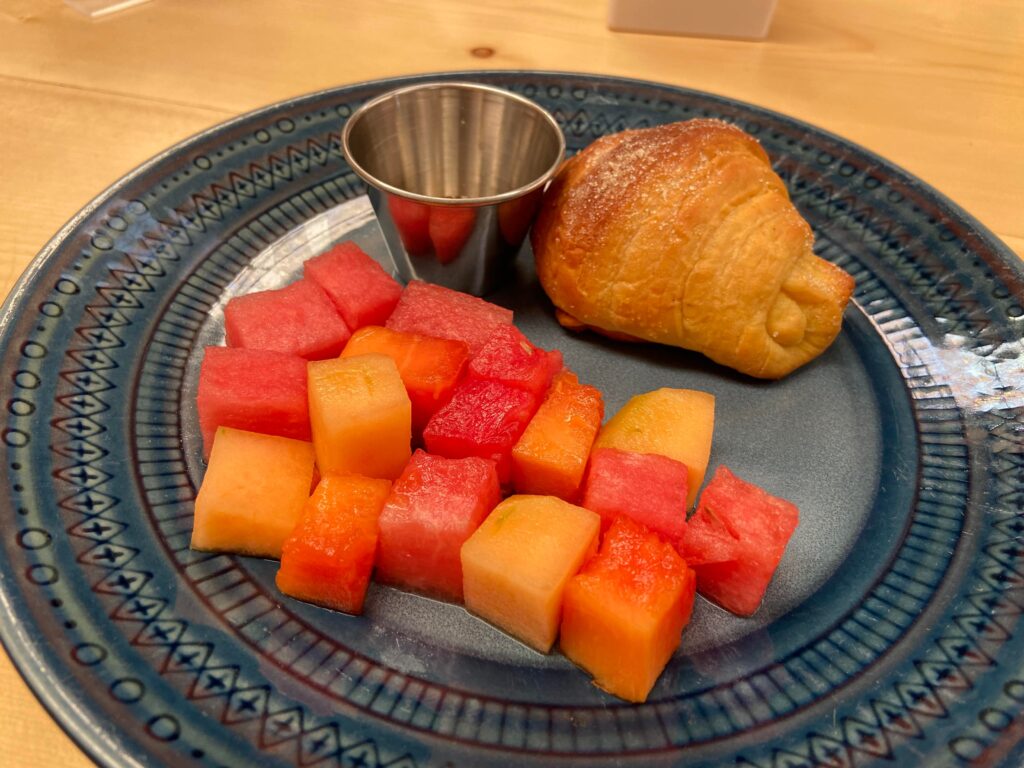 For breakfast, we tried the restaurant at Don Tomas Vinedo, where we were staying. Check out my full review of Don Tomas here. I had the pan dulce (sweet bread) with fresh fruit and it was so good! The fruit tasted very fresh and the bread was sweet and delicious.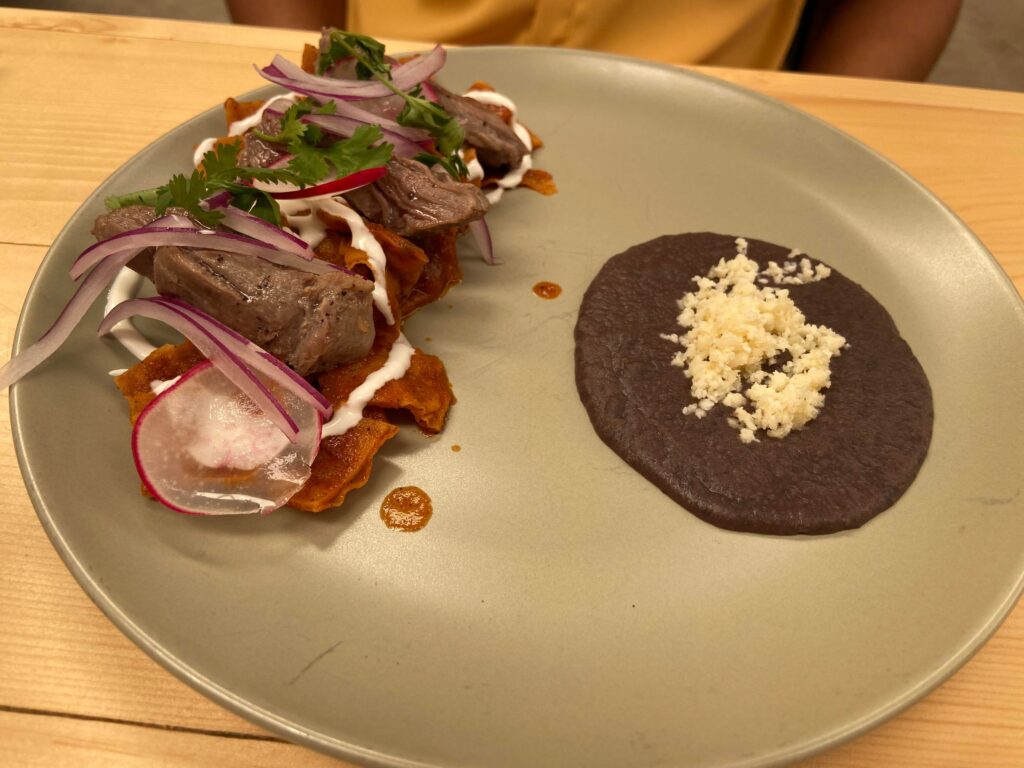 We also tried the chilaquiles with arrachera meat and black beans and although it sounds and looks simple, it had so much flavor!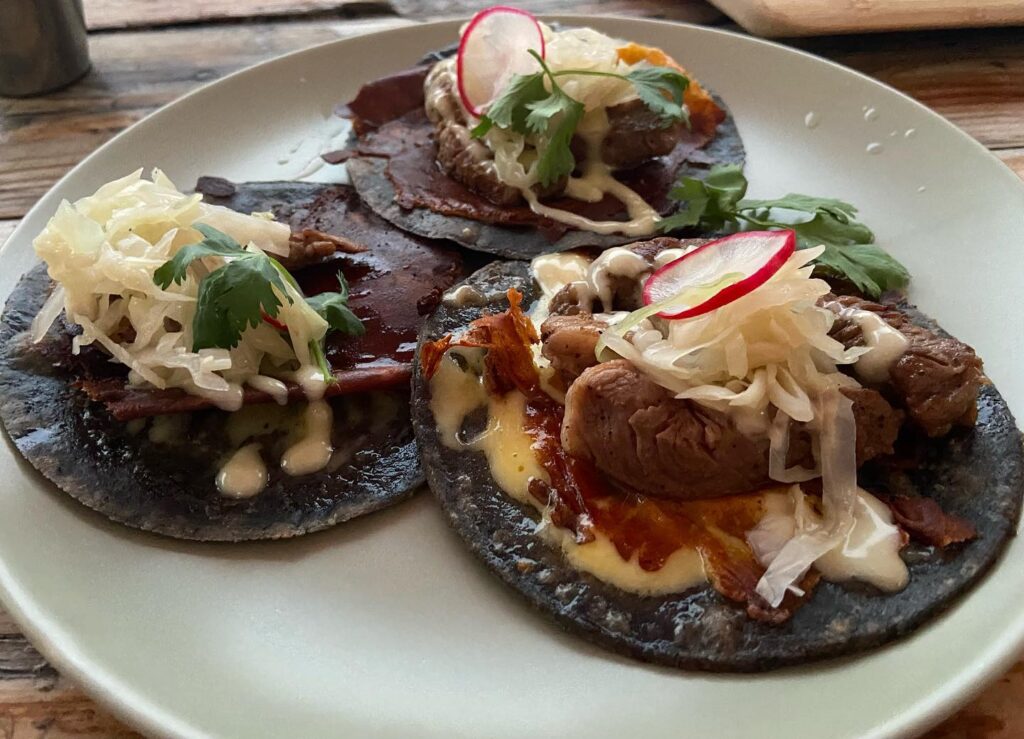 The restaurant at Don Tomas Viñedo was so good that we went back for dinner. I tried the rib eye tacos on blue corn tortillas and I think blue corn tortillas are my new fave! The meat was so flavorful and the cheese and salsa on top was so good!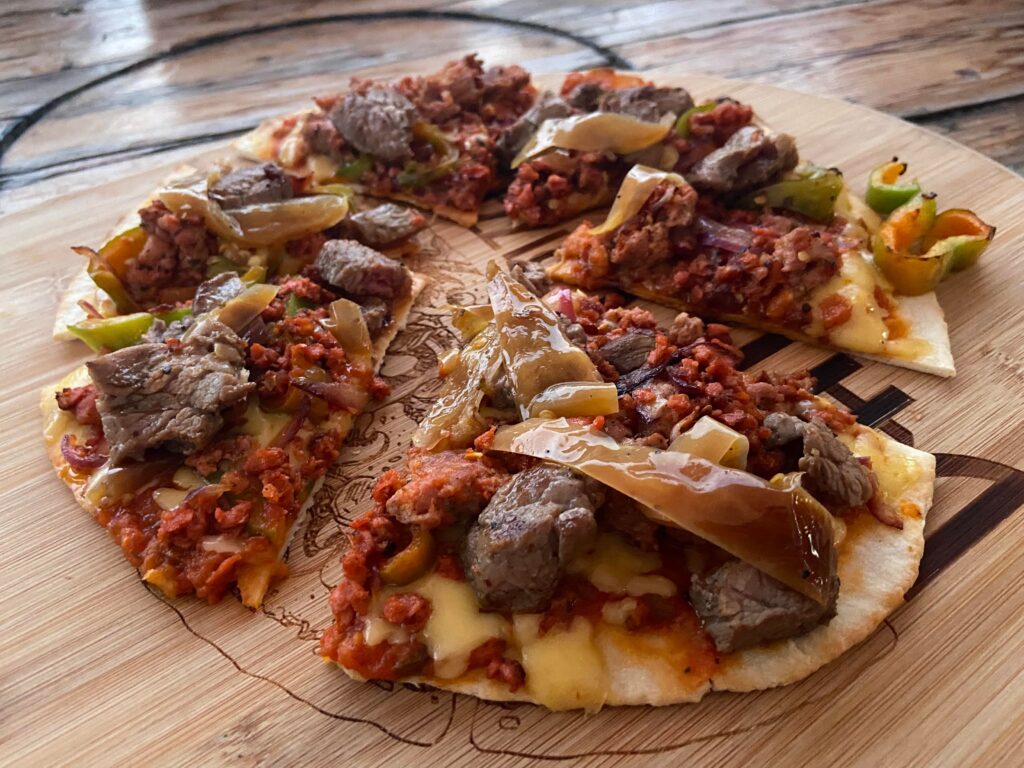 We also tried the flat bread with salsa pomodoro, arrachera meat, artisenal cajun sausage, lamb, and cheese. It was excellent! There was so much flavor in this one dish.
Minnesota
ORIGINAL PANCAKE HOUSE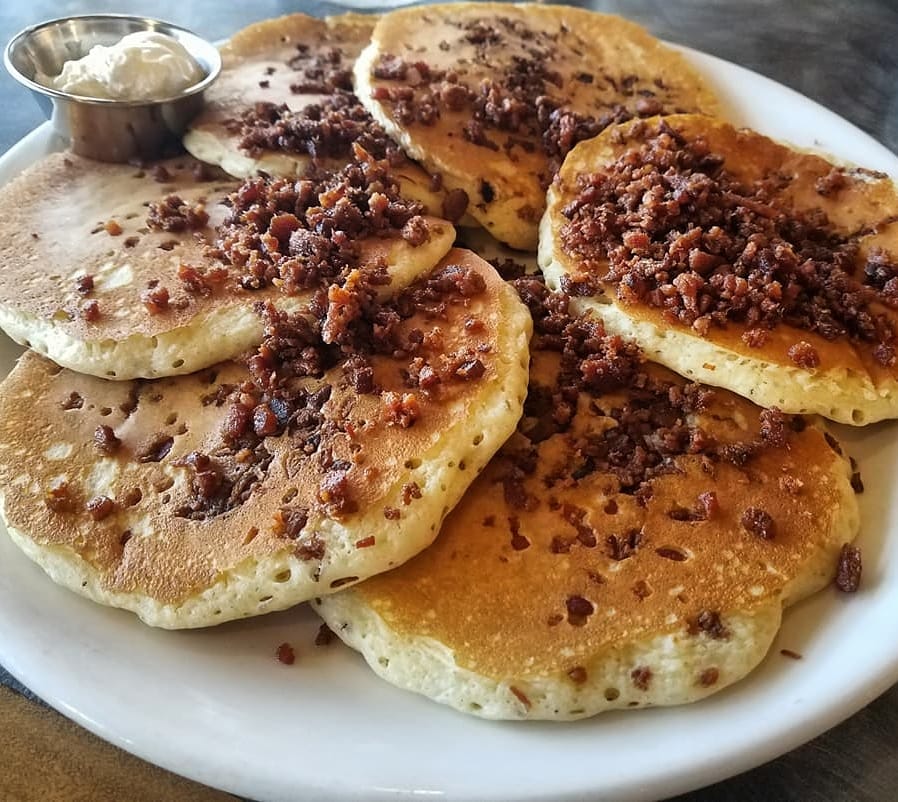 I love breakfast food and I love brunch, so I was thrilled to find amazing breakfast in Minnesota which happened to be my favorite meal while visiting. I had the incredible bacon crumb covered pancakes atOriginal Pancake House – Roseville, MN and my friends, it was the best thing I've eaten in my life. And IT WAS SO MUCH FOOD. The pancakes were perfectly fluffy and sweet, the bacon crumbs were in every bite, and it just hit the spot.
North Carolina
COMMUNITY MATTERS CAFE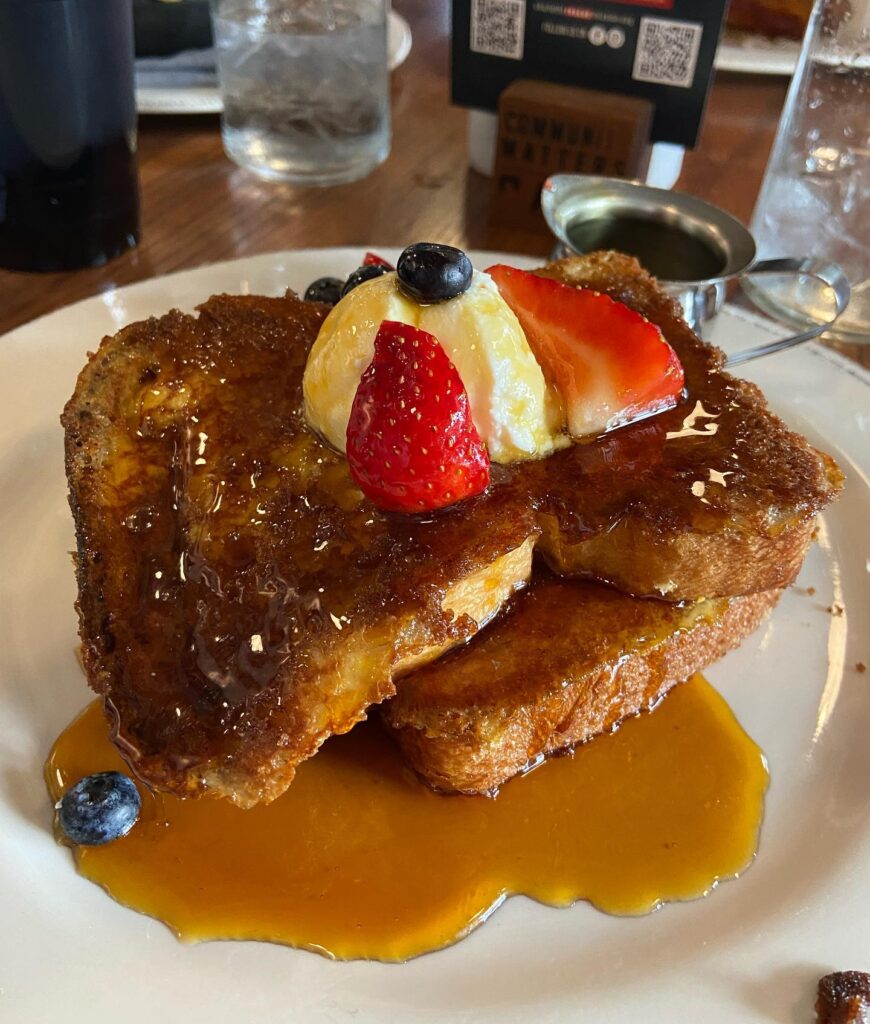 Community Matters Café is an extension program of Charlotte Rescue Mission, an addiction recovery program that offers its 120-day recovery program free of charge. The Life Skills Program at Community Matters Cafe gives graduates the opportunity to gain real-world work experience and help them reintegrate into society.
HUMMINGBIRD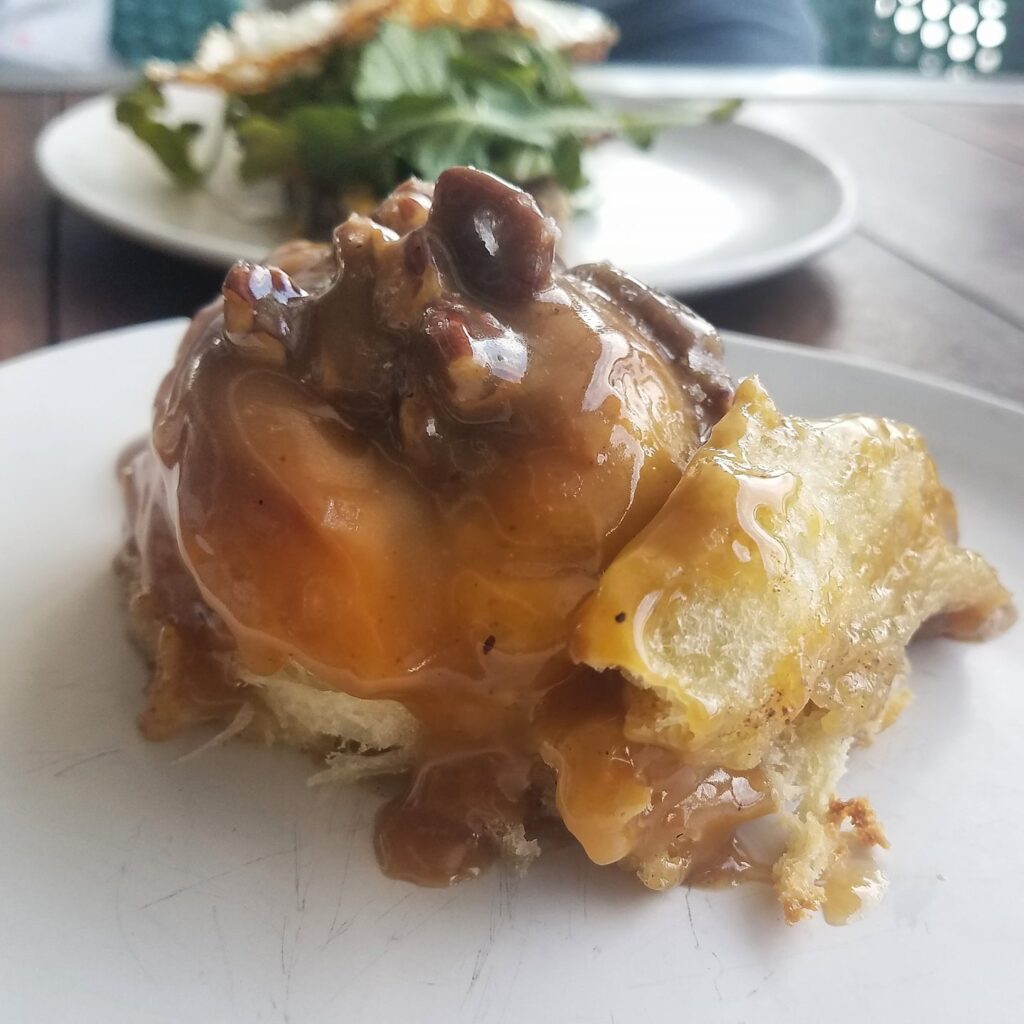 I had the butterscotch sticky bun from Hummingbird and it tastes just as good (I'd argue better) than a donut, it's sweet and it is basically everything that is right with the world. Hummingbird in Raleigh was one of my fave restaurants because of their unique menu, delicious drinks and cool little patio area!
Nevada
THE CRACKED EGG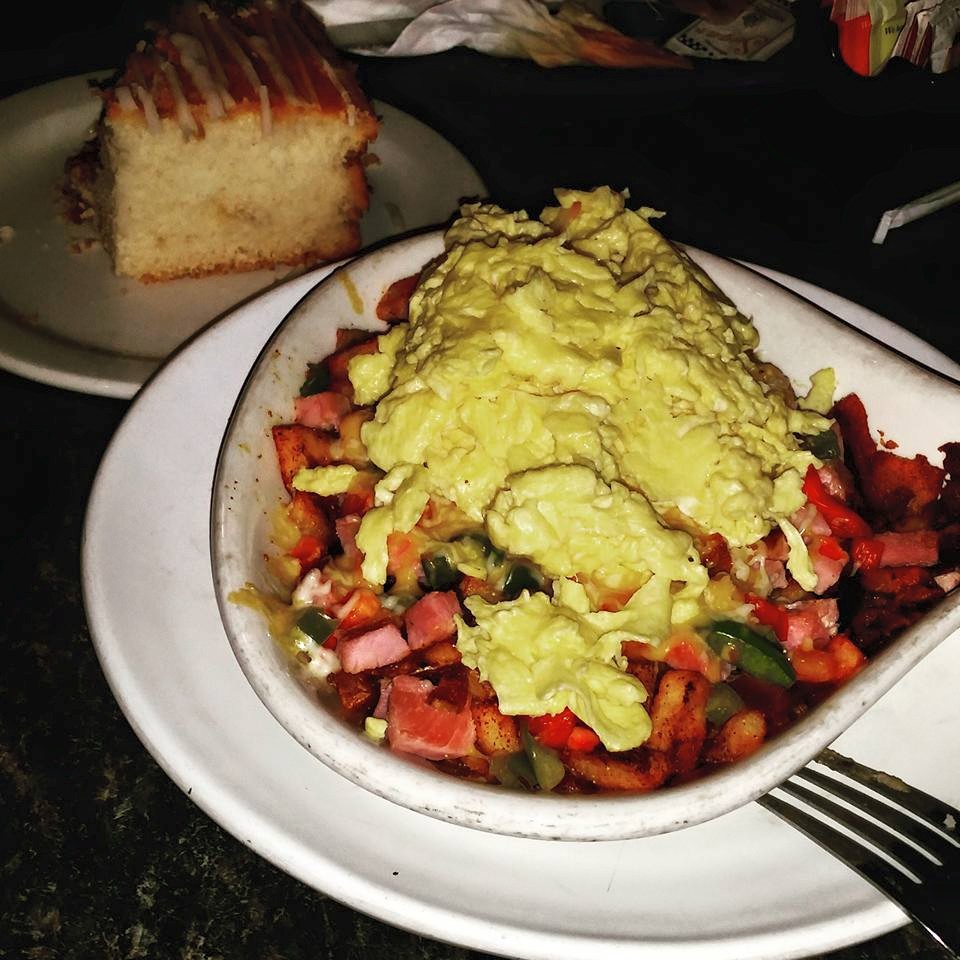 Growing up, I never really knew that Vegas was a foodie spot but let me tell you. It totally is. And if you are a breakfast foodie, then you need to make it out to The Cracked Egg. This place is phenomenal. One of the best breakfast skillets I've ever had. And I'm loving their coffee cake. Literally heaven in my mouth.
EGG SLUT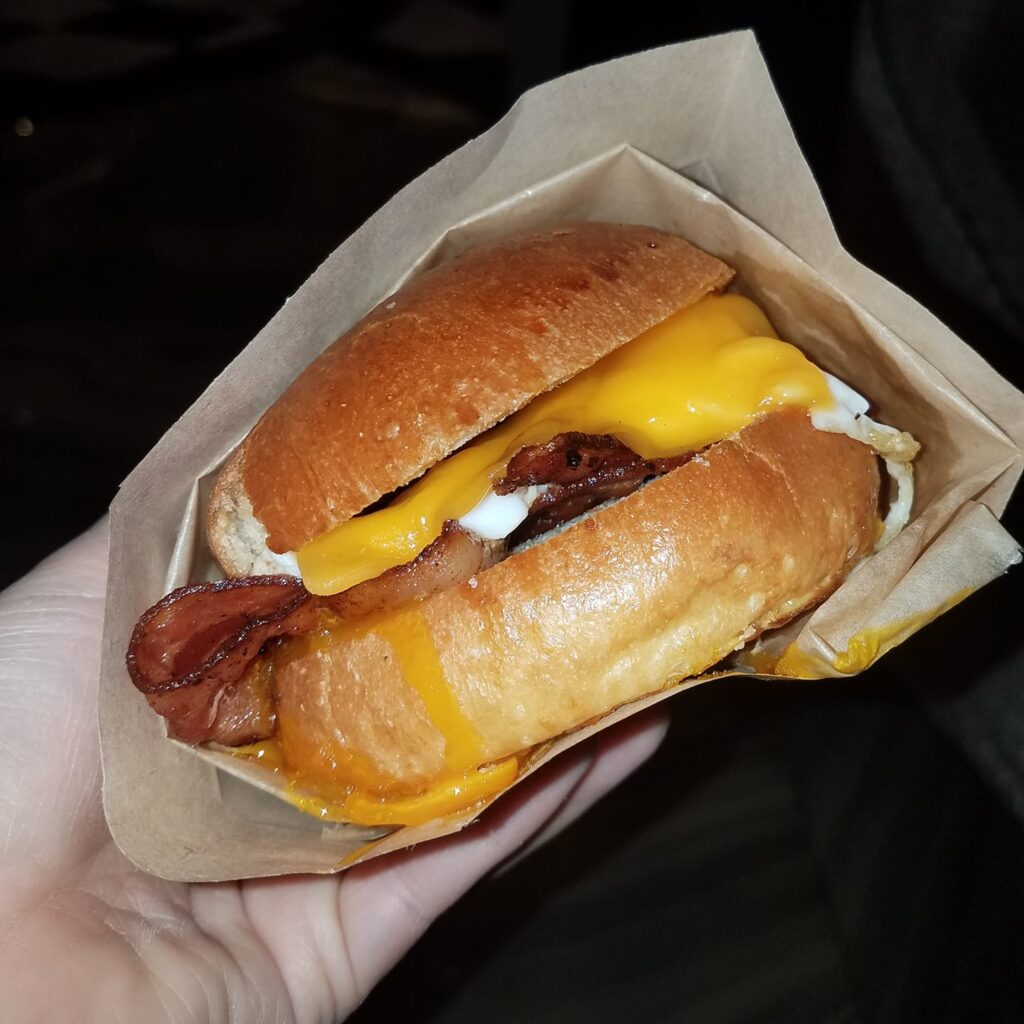 I swear Vegas has all of my favorite restaurants from all over the world and this time I checked out Egg Slut! You can find this delicious breakfast spot in California or Vegas and get the delicious bacon, egg and cheese sandwich! The bacon is so flavorful, the cheddar cheese just oozes everywhere, and the brioche bun brings it all together! The sandwich was so good!
THE GOOD EGG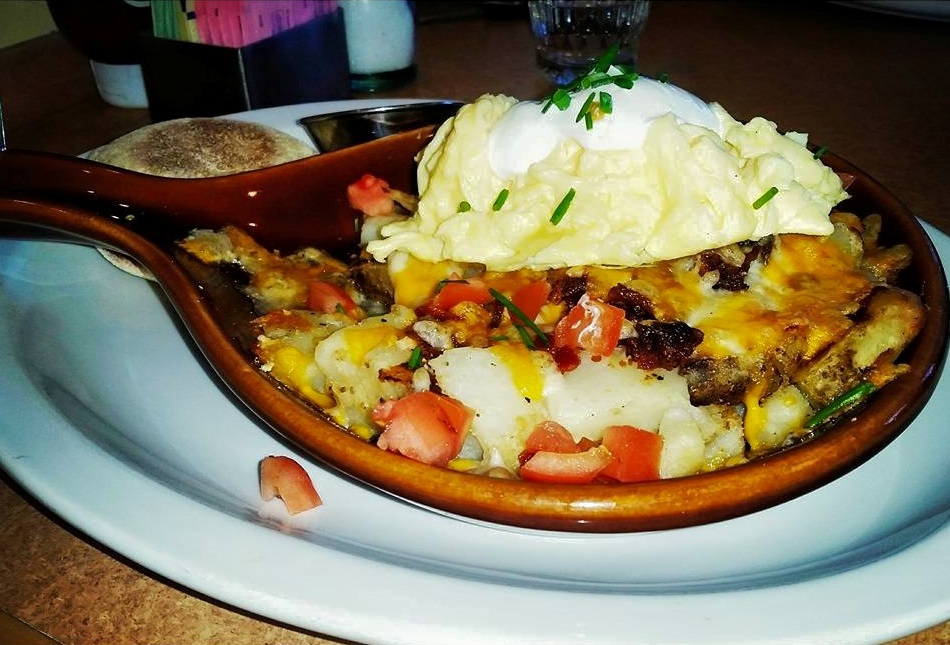 I had the breakfast skillet which came with a biscuit and oh my good. It was so filling, so flavorful and just overall some of the best breakfast I've had. And it feels healthy! I've heard their protein pancakes are legit so I will be back! This place is perfect for a post hike meal (which is why I've come to this restaurant twice after a hike haha).
New York
ESS-A-BAGEL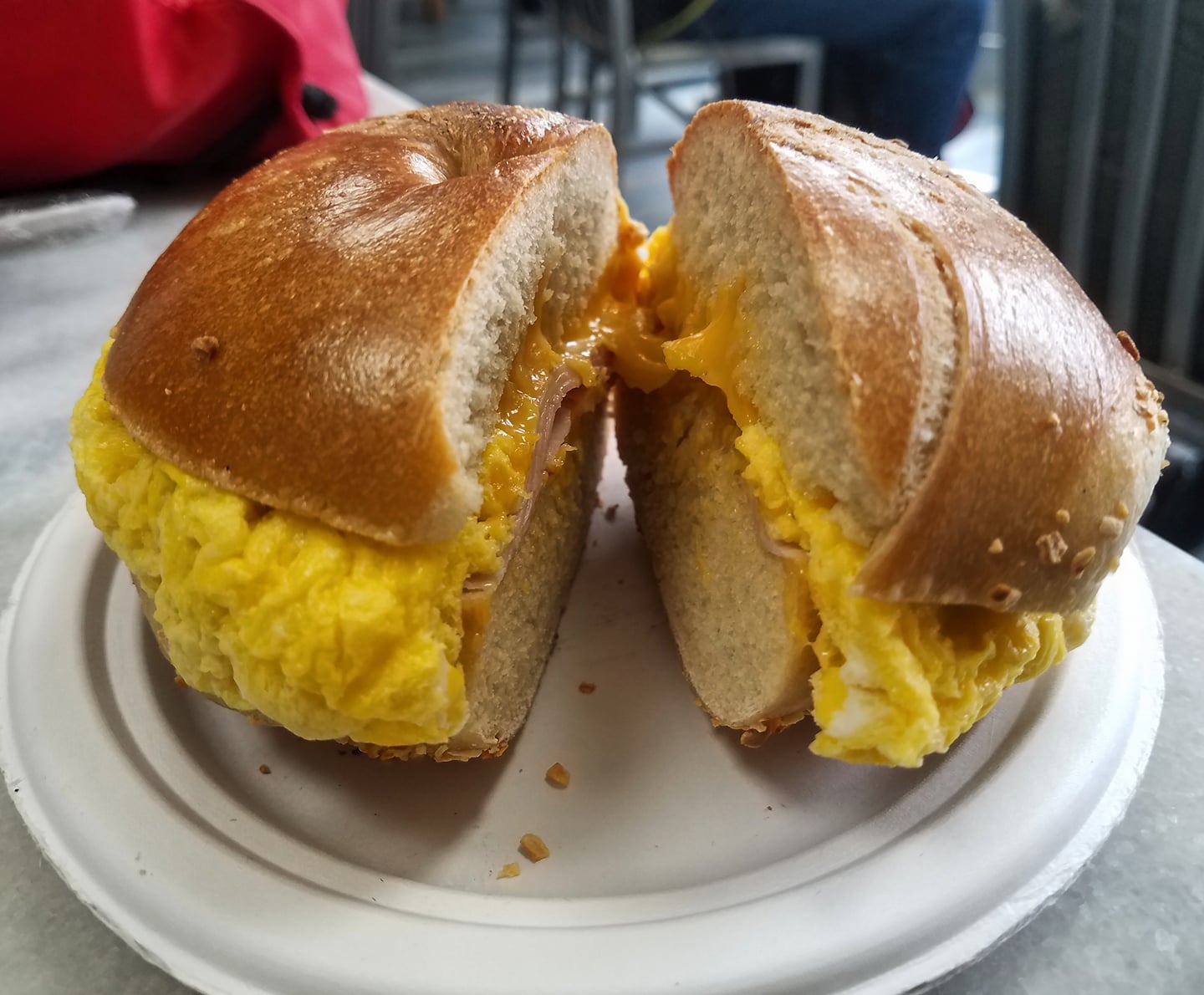 Everyone told me I had to have a bagel in NYC, so my friend and I stopped at Ess-a-Bagel and we LOVED it. I had a ham, egg and cheese bagel sandwich and it was phenomenal. I loved the food but was more in love with the whole ambiance. We stood in line and they were so quick to take your order….a little too quick that I panicked and ordered the first thing on the menu because I didnt want to hold up the line lol.
---
Feel free to check out the entire catalog of my Food Bucket List for category inspiration and email me or comment below asking me for more restaurant recommendations as I aim to please!
I hope you all enjoyed the list! Thank you all for reading, and stay enthusiastic!
Feel free to follow the adventure on social media
Facebook / Instagram / Twitter / Youtube
-Maira