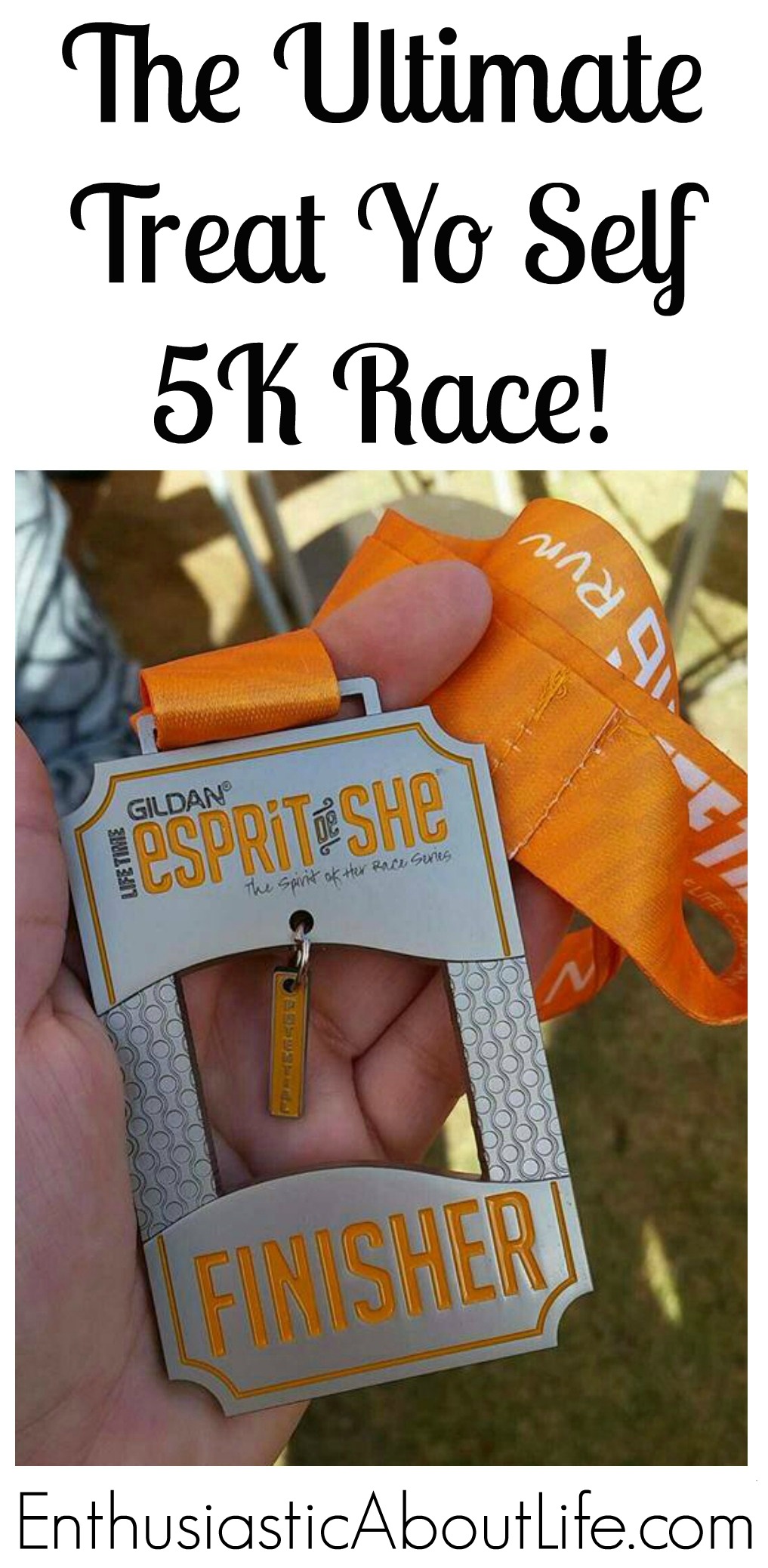 This past weekend, I ran in the Gildan Esprit de She 5K race in Tempe and it was an absolute blast. I knew it would be a fun experience because I ran it last year but oh my goodness, they upped their game this year.
This race was literally the definition of Treat Yo Self day from the hit show Parks and Recreation.
If you're not aware of what Treat Yo Self day is…you need to watch the show. Like right now. But I recognize that there are 7 seasons so I'll give you a quick recap. But you need to start watching the show after you finish reading this blog post. Treat Yo Self day was introduced on the show on October 13, 2011 and it's a day when characters from the show spend all day pampering themselves with anything and everything. And this race reminded me of that episode because there was SO MUCH PAMPERING happening.
And this pampering was perfect because I took my mom to cross off this bucket list (item #20: run a 5K) and it was Mother's Day which made it the perfect day for her to get pampered!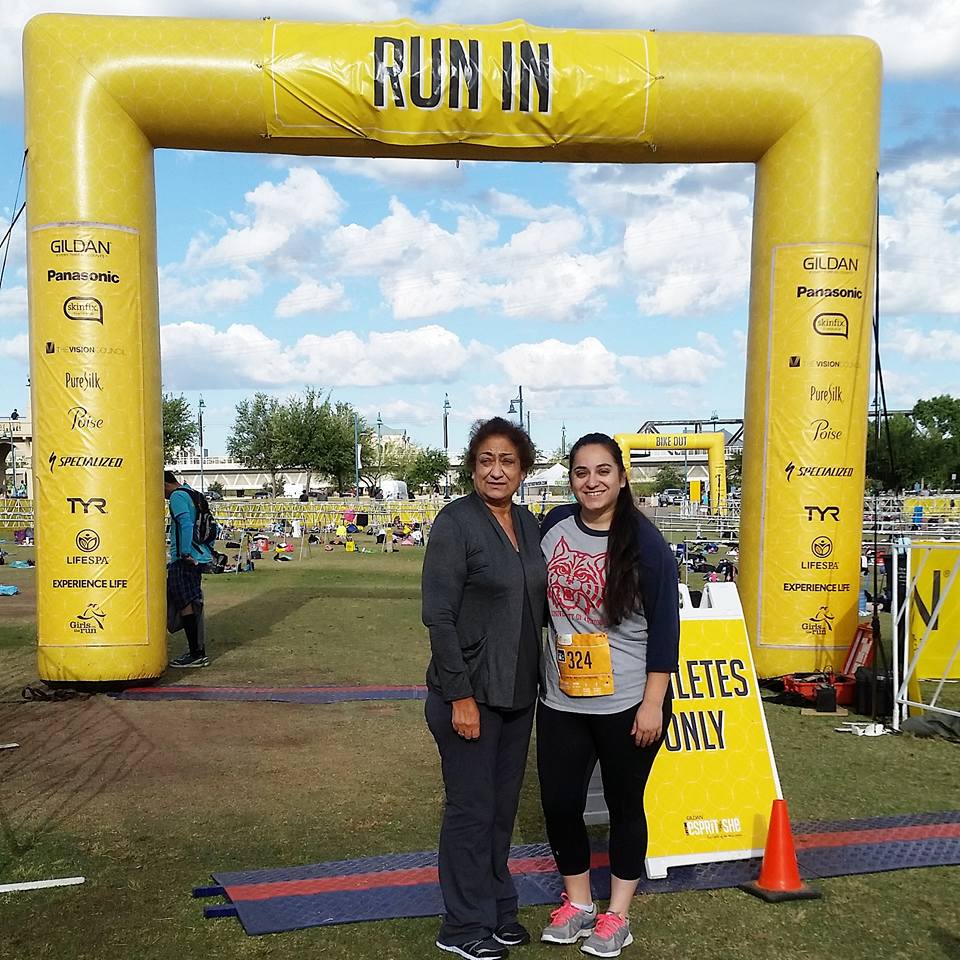 The race was such a feel good event with really uplifting music (Rachel Platten, anyone?) and a lot of good vibes. This was a women's race focused on empowering women and they totally accomplished their goal. Right as we were lining up to get started, positive messages were being shared by the announcer and my favorite message shared was the following:
'You are enough. You are SO enough. It is unbelievable how enough you are.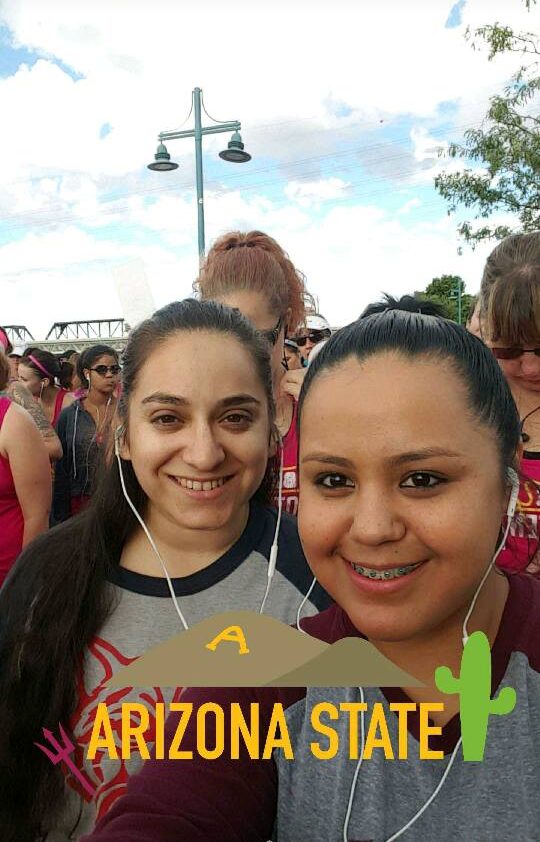 After finishing the 5K in the perfect Arizona weather, we started to treat ourselves because we were a little tired and sweaty. And yes I wore a University of Arizona shirt to a race held at Arizona State University (Proud U of A Alum here!) but it's okay because my cousin wore her Arizona State University shirt and we kind of matched. 😉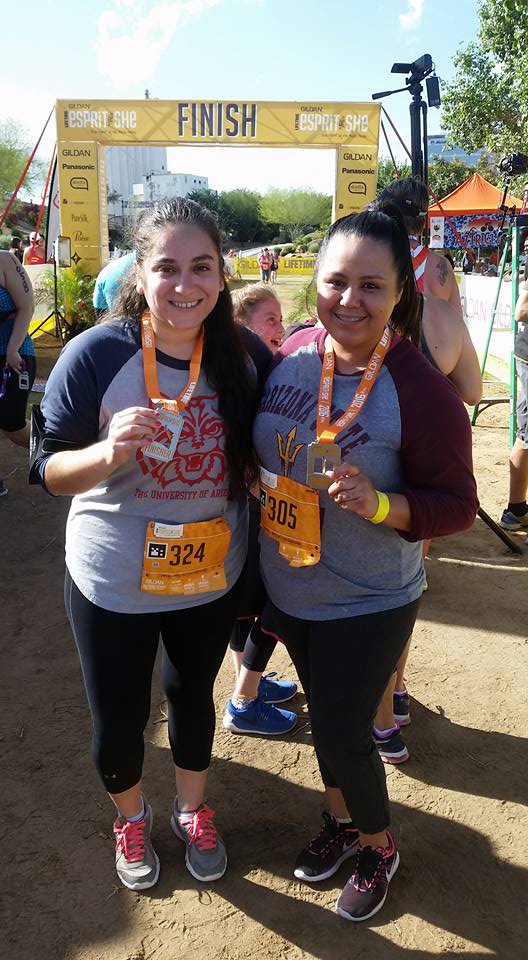 It's funny because it might seem like we planned our outfits but we didn't. I saw her outfit when she came to pick me up at my house and I said 'Oh my god, I'm changing. Give me 2 minutes!' and ran inside to change and walked out looking like her twin (lol).
After we got our finisher medals (which were REALLY nice that I wanted to wear it all day so I did lol), we went to the brunch station! Yes they had brunch for us! Unfortunately I was so hungry that I didn't take any pictures (lol) but trust me it was delicious.
The next step in treating ourselves was of course…MIMOSAS!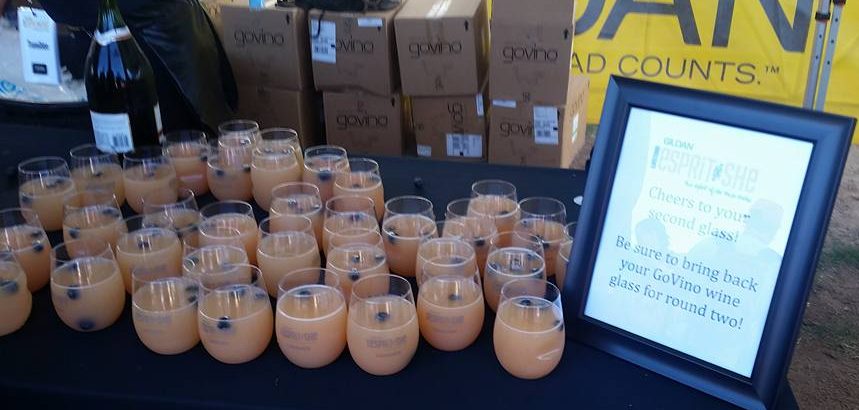 The Gildan Esprit de She race had a Bubbly Bar and you know we had to drink a few because running 3.1 miles can make a person very thirsty! 😉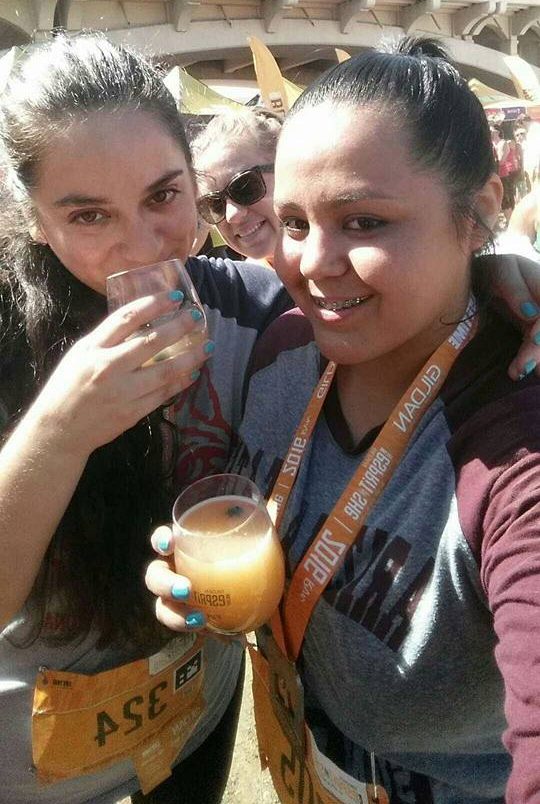 We also got tattoos! We were given a temporary tattoo where we had to fill in the blank for what counts and matters to us based on the Gildan model that for them Every Thread Counts. I chose the word 'day' because life is a gift, and we need to take advantage of every day and live each day with as much enthusiasm as we can. 🙂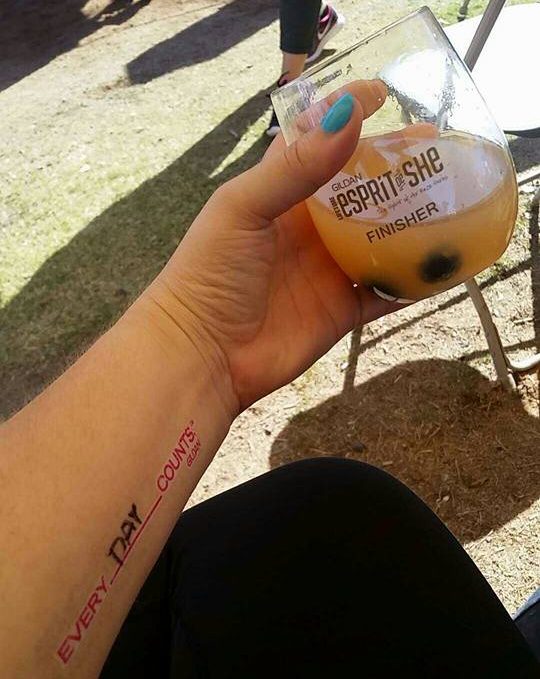 After getting mimosas, we walked on over (with mimosas still in hand of course) to the nail polish station. Yes they had people giving manicures! It was so relaxing and my nails came out looking so cute. My favorite colors are red and blue (it's the University of Arizona Wildcat in me) and I loved the blue nail polish they had!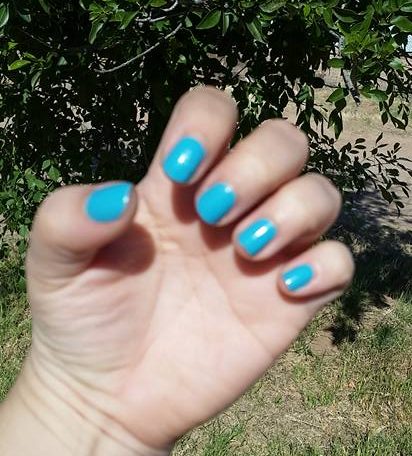 After the manicures, we walked on over to the hair braiding station.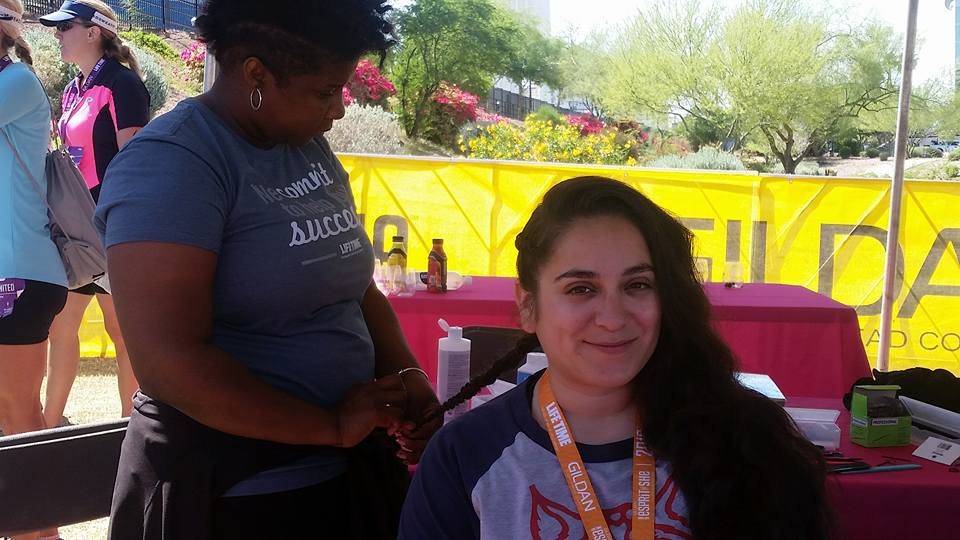 The hair braiding artists were SO TALENTED and it felt like really nice to have someone braid my hair. I opted for the three braids and loved the end result.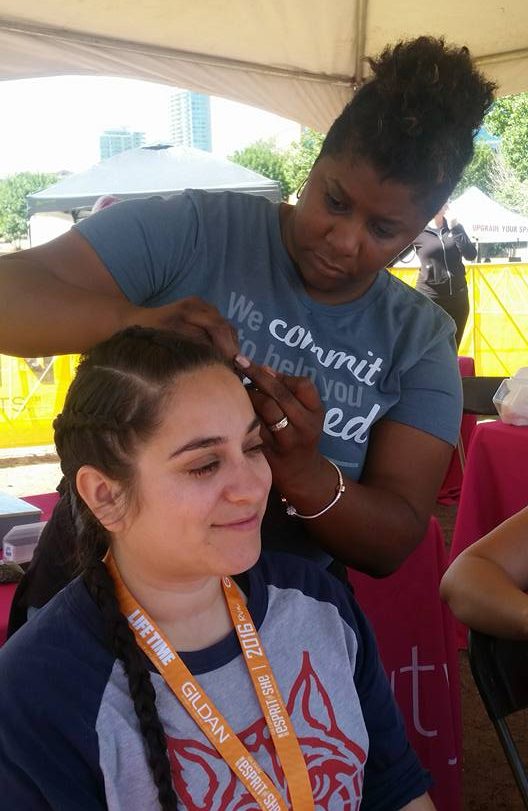 Just check out that braid! I wish I could do my hair like this every day. I wanted to take this hair style to work all week but unfortunately I was so tired after the race that I fell asleep and ruined my hair. But when I took out the braids, my hair looked super curly and I liked it so that's how I went to work.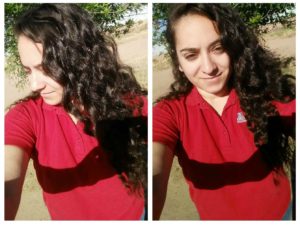 After getting pampered at all of the different stations, we also went around to the different sponsors and got a ton of goodies ranging from drinks to food to clothes to stickers. All in all, it was such a fun race and my cousin and mom have decided to make this a Mother's day tradition so we will be back next year! 🙂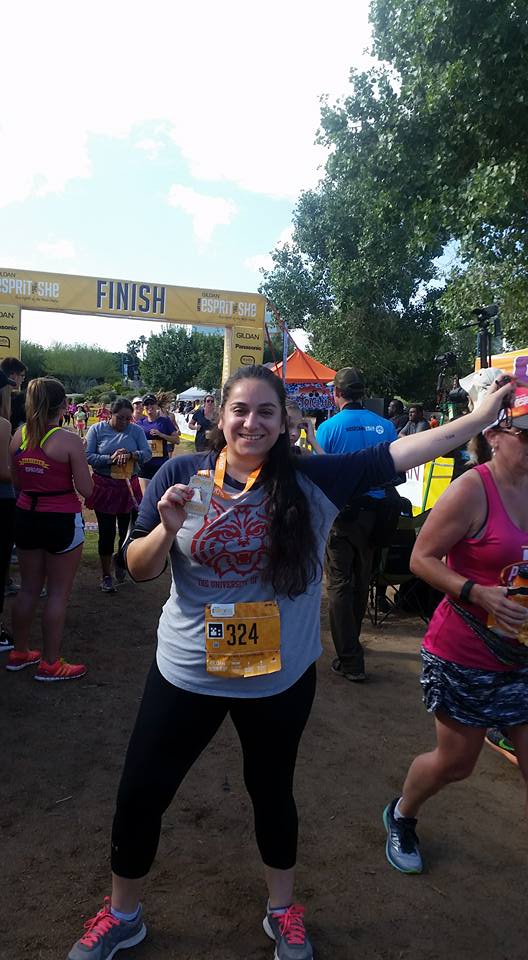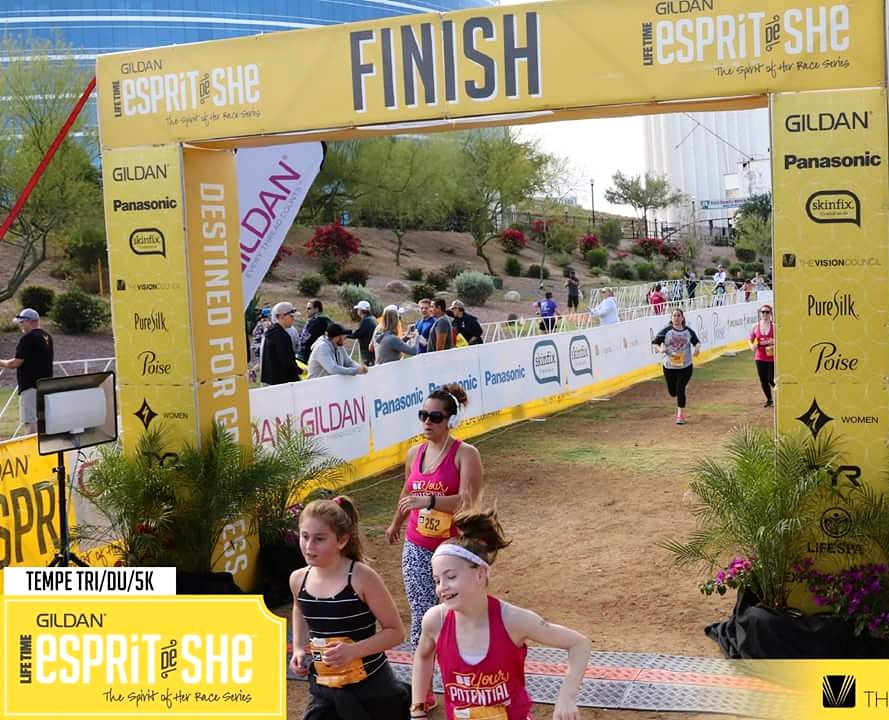 Let me know if you want to join me next year for the race or any other race coming up! Thanks for reading and stay enthusiastic 🙂
Check out other blogs I've posted about running below:
Foam & Fun at the Phoenix Bubble Run 5K!
Bucket List Item #21: Run a 10K!
5 Reasons To Add A Race To Your Bucket List!
You can read more blogs on 'Bucket List Items' here!
-Maira
Please follow and like us: