Click the highlighted blue states to see bucket list items crossed off.
---
ARIZONA
HORSESHOE BEND!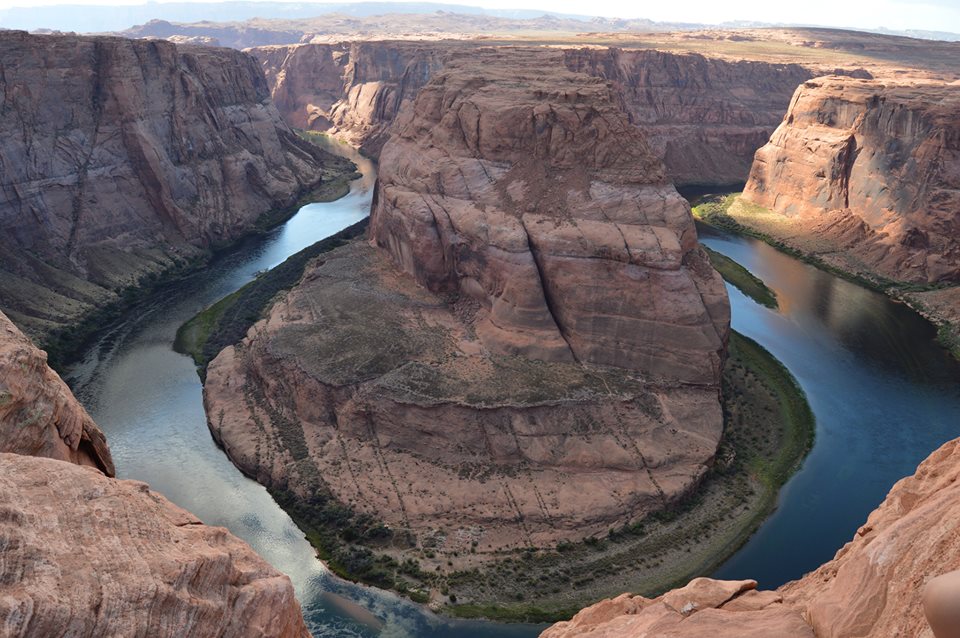 Two weeks ago I crossed off bucket list item #542 : visit Horseshoe Bend! It was one of the most beautiful sights in nature that I have ever seen. I stole this picture from my friend Yamille because her pictures were way better than the ones I took (lol). More photos of Horseshoe Bend can be found here.
OFFICIATE A WEDDING!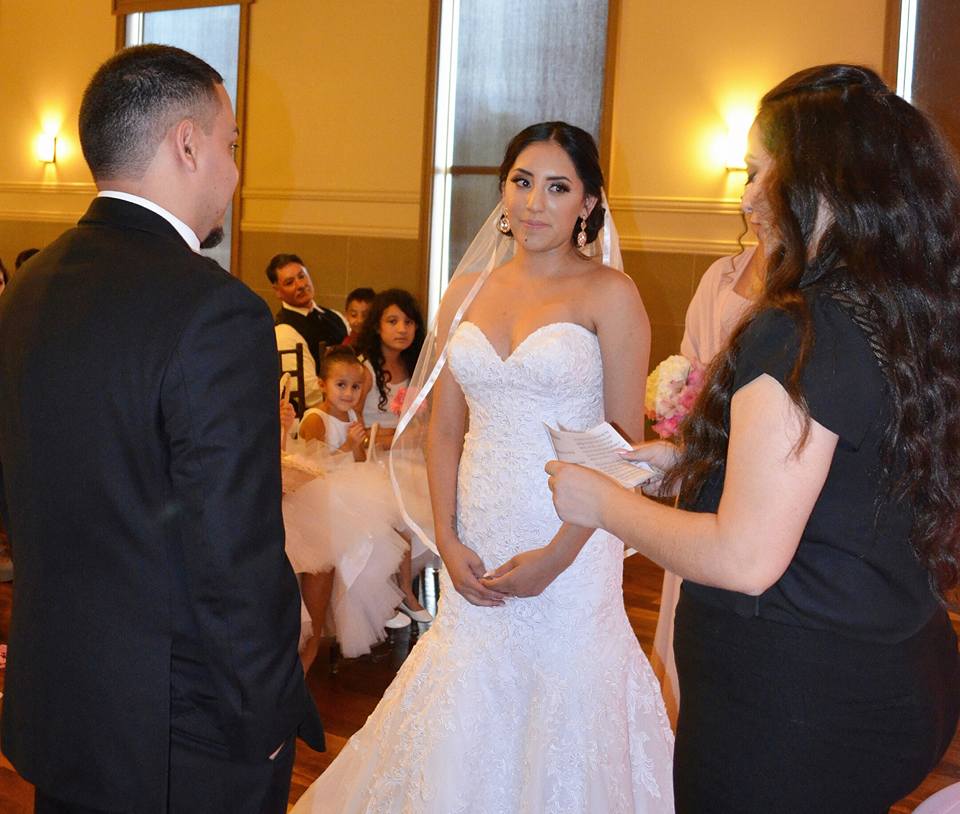 'By the power vested in me by the Universal Life Church and the state of Arizona, I now pronounce you husband and wife'. My friends it finally happened! The most anticipated bucket list item of my summer has finally been completed! Bucket list item #390: officiate a wedding! And I officiated for two of my closest friends. Gloria and German, thank you for allowing me to be a part of your special day. I have so much hope for your marriage and wish you a lifetime of happiness. Check out all of my tips if you have been asked to officiate a wedding here!
SEE NEIL DEGRASSE TYSON!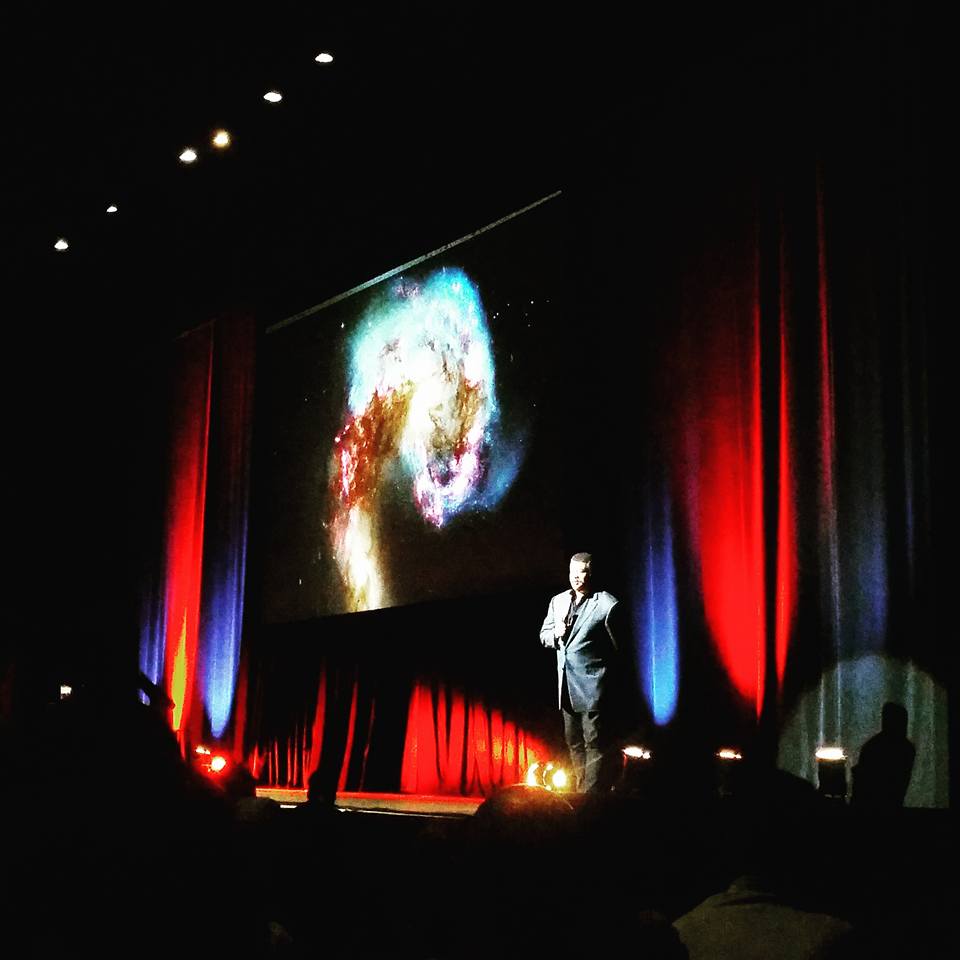 Last week I was able to cross off bucket list item #257 : see my hero (and man crush monday!) Neil deGrasse Tyson in person! I attended his lecture in downtown Phoenix. He talked about science, engineering, movies, popular culture and about just life in general. He was such a good speaker, really funny and inspiring too! He also spent way more time than he needed to answering questions from the audience. A real stand up guy. Thanks for the lecture, NDT! Also I've started following him on Twitter because he is HILARIOUS.
UNIVERSITY OF ARIZONA FOOTBALL GAME IN COLLEGE OF ENGINEERING SUITE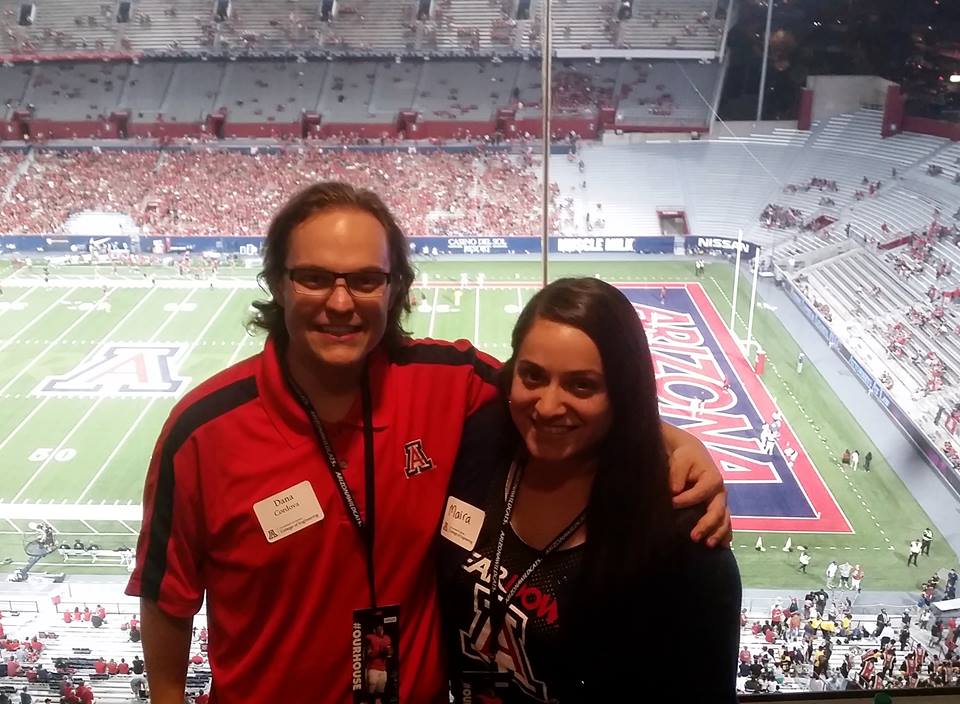 I always say that my life is amazing because the people that I surround myself with are amazing. Tonight, my friend Dana is the amazing one and the real MVP. Thank you so much for inviting me and helping me cross off bucket list item #23: see a U of A football game in the VIP suite!!! Thank you Dana and the College of Engineering for making this possible. Everything is amazing right now. Let's go cats!! Bear down!!
WIN 1ST PLACE IN TRIVIA!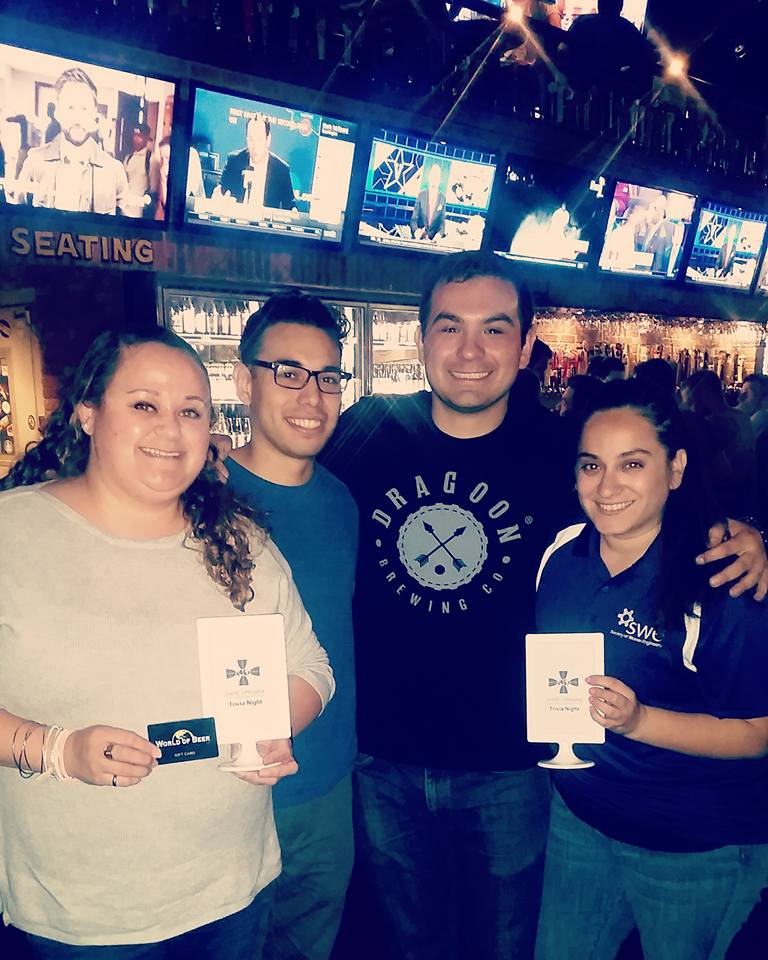 After years and years of playing trivia and getting to 2nd and 4th place, tonight we finally got 1st place!!! It was not easy and we definitely didn't expect to win but tonight 4 regular members of SHPE Phoenix walked in to World Of Beer in Tempe, and 4 WINNERS walked out! So proud of us!
PLACE IN A RACE!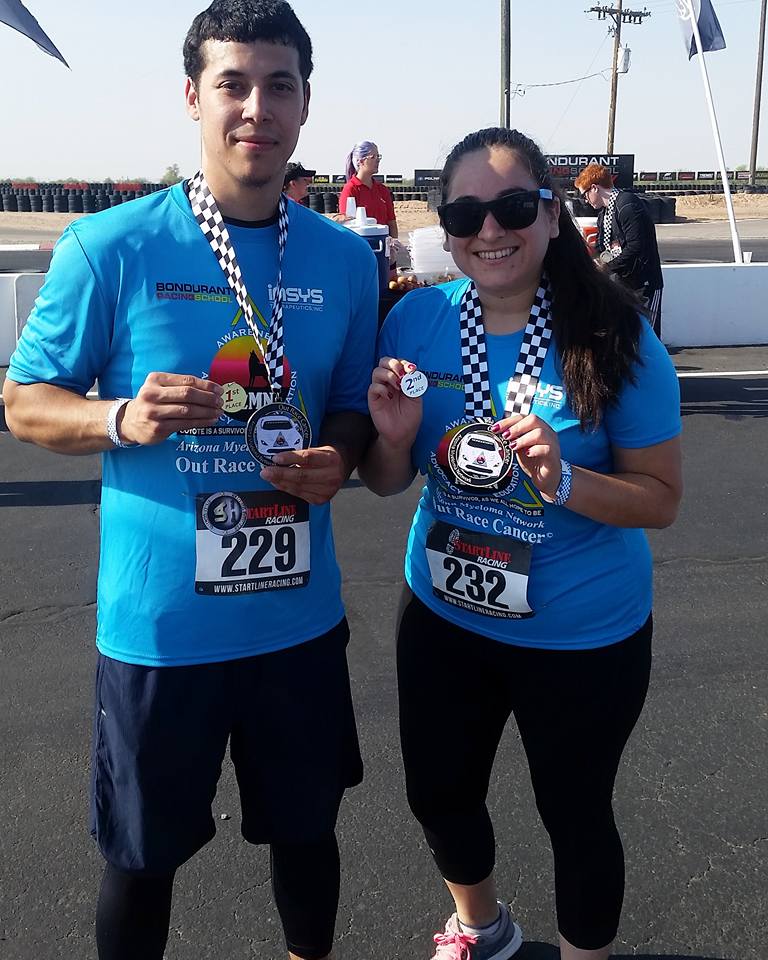 Oh my goodness friends!!! I crossed off a bucket list item that I didn't think I would cross off for a VERY long time. BUCKET LIST ITEM #18: get either 1st, 2nd, or 3rd place in a race completed!! I got 2nd place!!! Oh and my cousin got 1st place!! Team Garcia dominated today!!
GIVE SOMEONE A HEART FELT SURPRISE!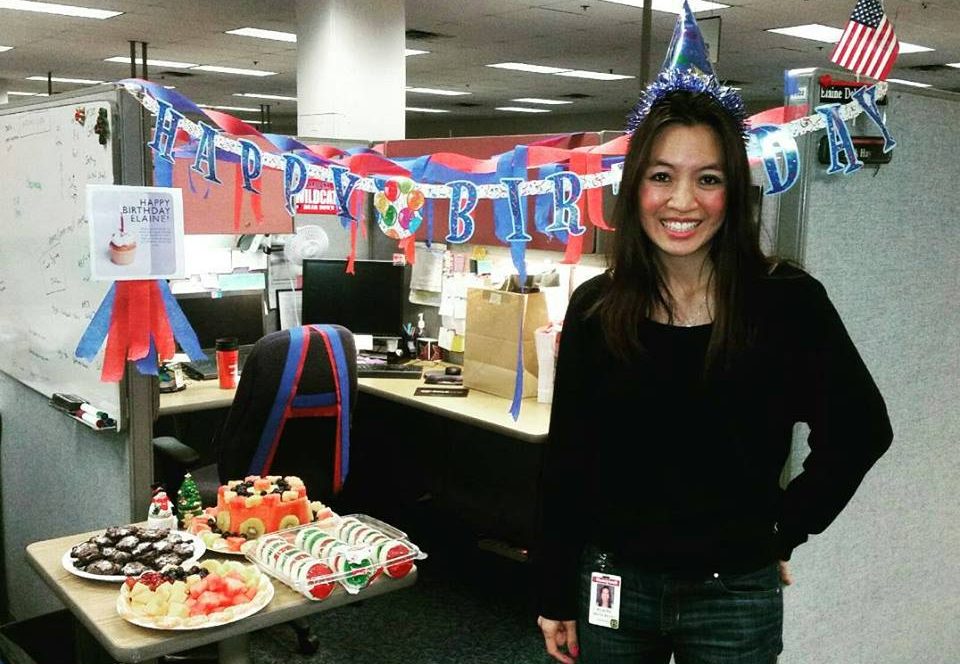 So this is what happens when you refuse to tell us when your birthday is. We just choose an arbitrary day and declare it your birthday lol. Happy fake birthday Elaine!! You are so very special to us so we wanted to celebrate with you. We love you! Operation: surprise Elaine with a birthday has been completed! Mission accomplished!
p.s. life bucket list item #215 is to give someone a heartfelt surprise so i'm going to count this one, we love you Elaine!! 🙂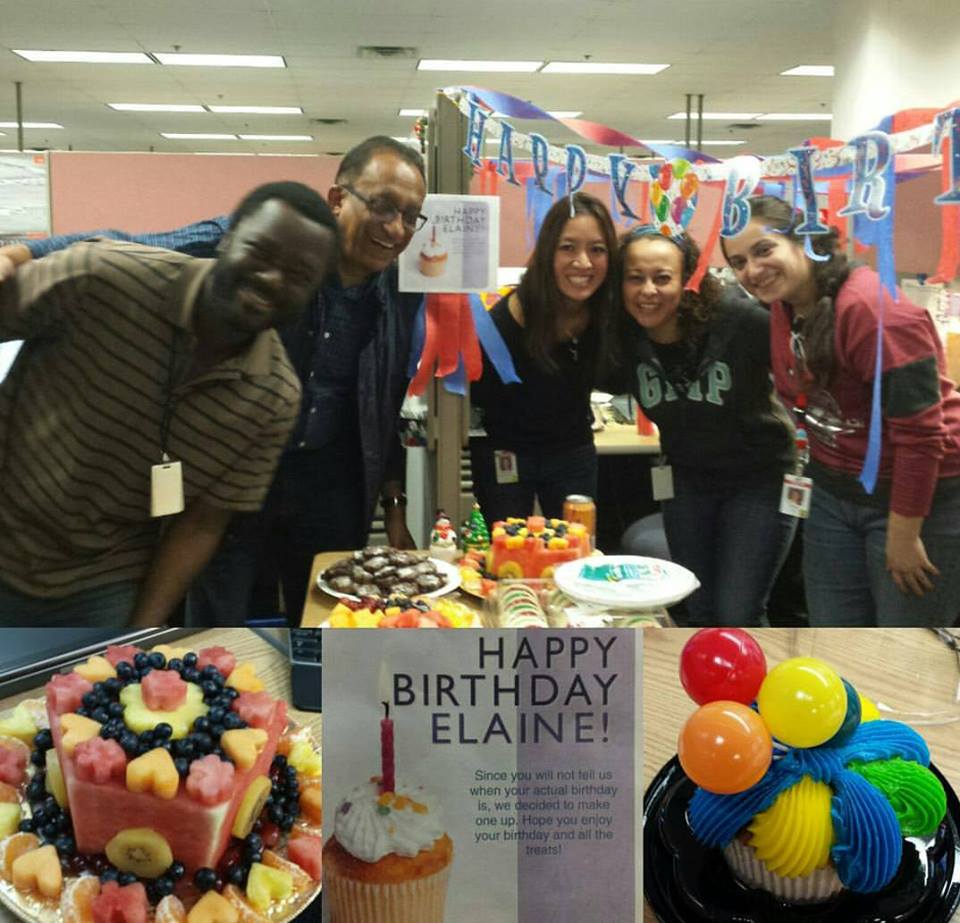 Bucket list item #405 completed : GIVE A SCHOLARSHIP TO A DESERVING STUDENT! : 9/28/2015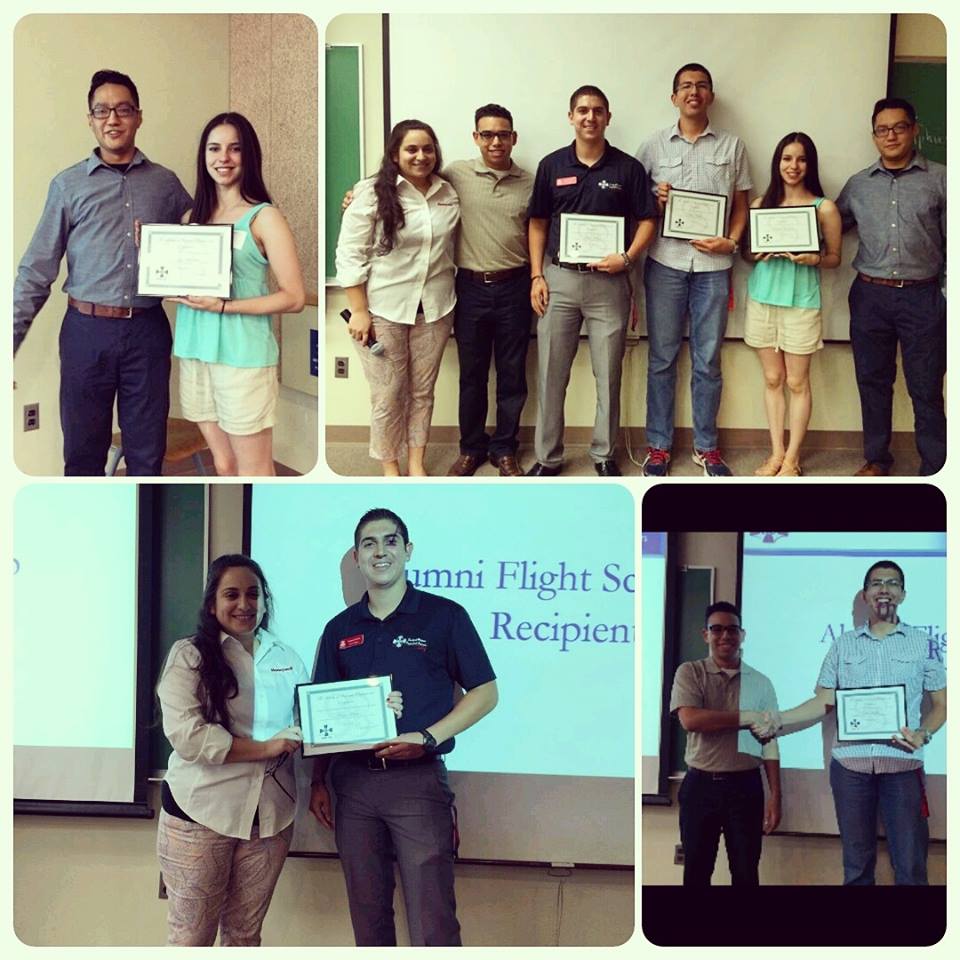 I had a fantastic meeting the day that this picture was taken. A few months ago, my friend Jaime tried to hustle me into paying his registration to attend the SHPE (Society of Hispanic Professional Engineers) National Conference. His little hustle gave me the idea to start the 'Garcia scholarship' and of course I added it to my bucket list: give a scholarship to a person who deserves it. After a few weeks of getting the Garcia scholarship ready, I mentioned my plans to my friend Erick. He suggested that I contact SHPE UA alumni and ask them to donate and create a scholarship fund to send even more members to the conference. I LOVED this idea. I reached out to alumni and together we created the SHPE University of Arizona Alumni Scholarship. Tonight we were able to give 3 students scholarships of $415 to pay for their flight to Baltimore. So happy to be in a position to help members attend a conference that has helped me grow so much as a person and as an engineer. You all deserve scholarships and so much more. I will never stop being impressed with how much you all help your community and your peers. As one of the scholarship winners said 'SHPE is life'. Thankful to have spent the evening with my very favorite group at U of A.
I just wanted to formally thank everyone for participating in the very first year of the SHPE UA Alumni Conference Scholarship. Together, Mario, Lucio, Jose, Steven and I were able to raise $1,250 to give three scholarships of $415 to three deserving members. We had 20 students apply and it was very difficult to choose winners because as we all know from being involved in SHPE UA, all of the members of SHPE UA are very strong candidates. Thank you again for donating, reviewing scholarships and for sharing the information about this scholarship.
Also, Ricardo as well as another anonymous entity donated two more flights at last night's meeting. So in total, FIVE students are going to the National Conference with help from SHPE UA alumni! FANTASTIC JOB EVERYONE!!
SHPE UA is doing big things and I'm so very happy that we are able to help. Thanks again!
Bucket list item #158 IN PROGRESS : GIVE A TED TALK! : 8/3/2015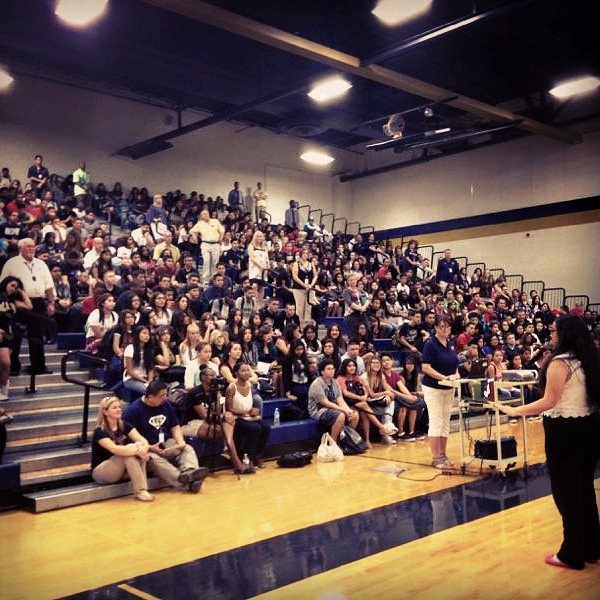 Had such a blast returning to my high school La Joya to speak to the freshman class about my high school experience and my journey after. It felt so good to return to the place where it all started. Thank you Lynette Turnbaugh for inviting me to come and speak to these kids. It was an honor! Go lobos! And it was so good catching up with Nate Lucca, David Meza, Charles Solares, Jesse Arellano, and Bridget Recio! 🙂
Fave part of my talk: We had a mean girls moment where I made them close their eyes and raise their hands if they were nervous about starting high school lol.
Excited to be on my way to completing life bucket list item #158: give a TED talk.
Bucket list item #118 completed : GO KAYAKING! : 8/1/2015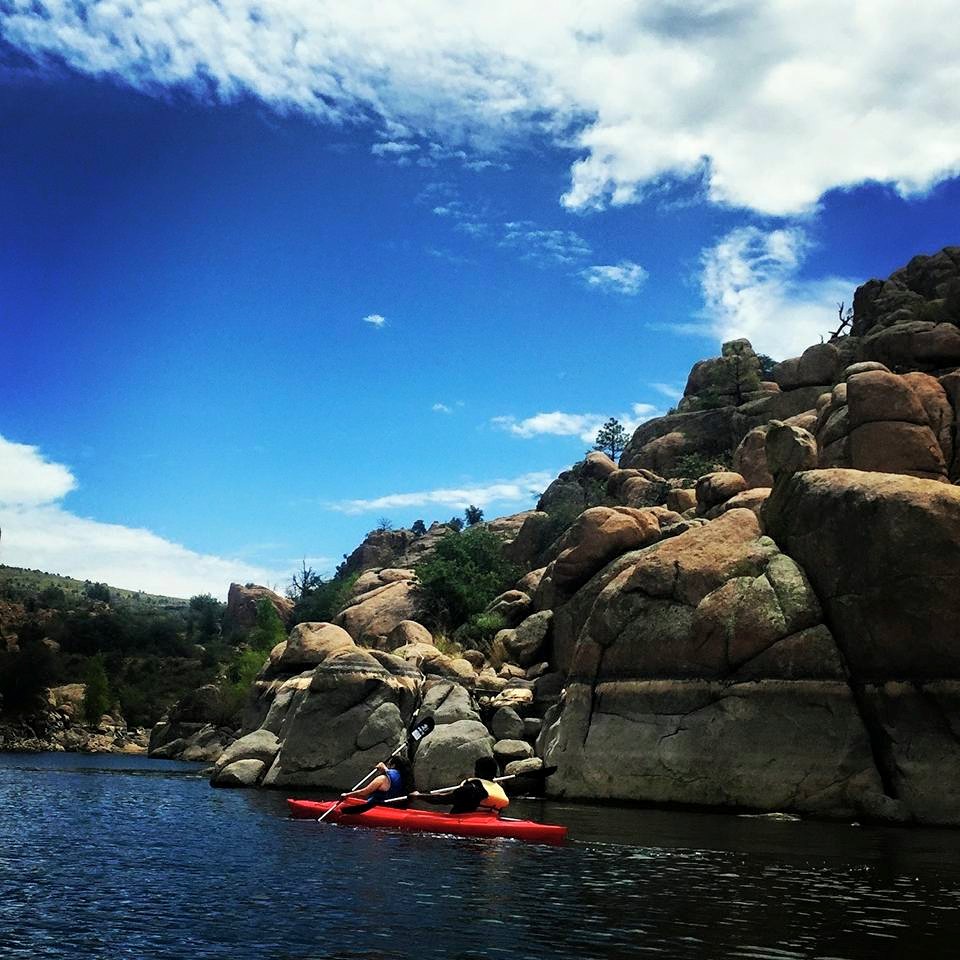 I went kayaking for the very first time in Prescott at Watson Lake! It was awesome but tiring and my wrists hurt because apparently I don't know how to kayak haha
Bucket list item #27 completed: MEXICO FUTBOL GAME! : 7/12/2015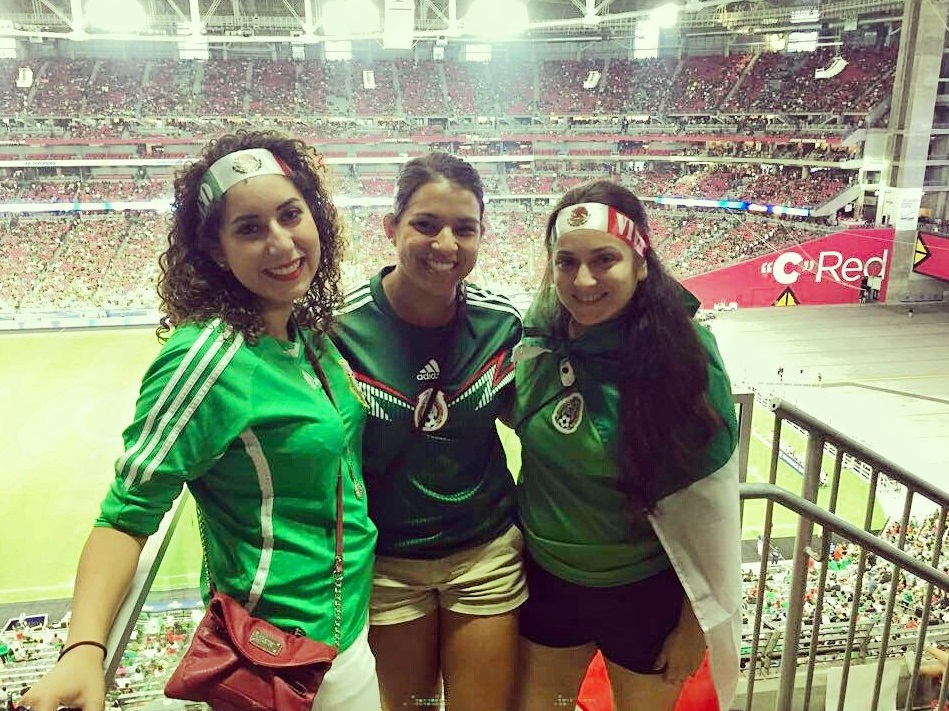 El año pasado me toco ver un partido de Mexico en persona por primera vez pero Mexico no hecho un gol. Esta vez me toco ver 3 goles de parte de Mexico!!! // Last year I crossed off bucket list item #17 : watch a Mexico soccer game in person and it was so awesome but I didn't get to witness any goals. This year I came back to another game and this time Mexico scored THREE times!!! What an epic game. #copa100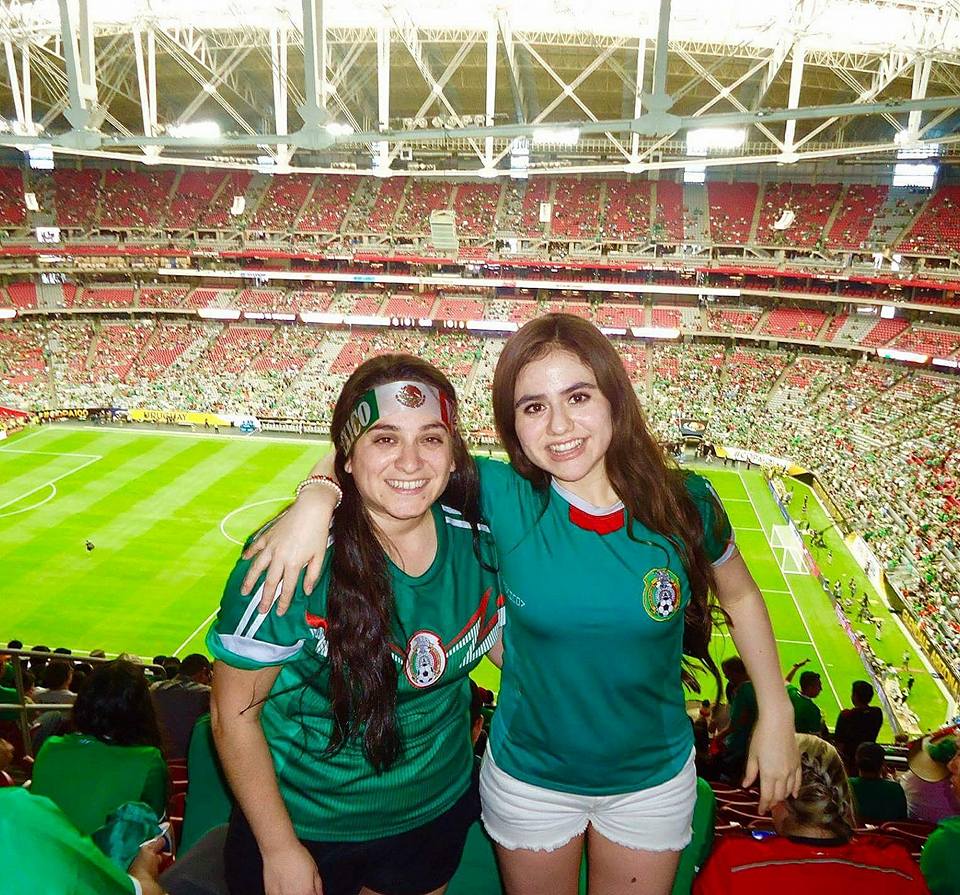 I FINALLY DID IT! I went to go watch a Mexico game in person!! I've been wanting to go to one for so long and wow was it an experience! Such a great atmosphere with such dedicated fans. I walked in with a borrowed jersey and walked out with a headband, a flag and a jersey haha VIVA MEXICO!!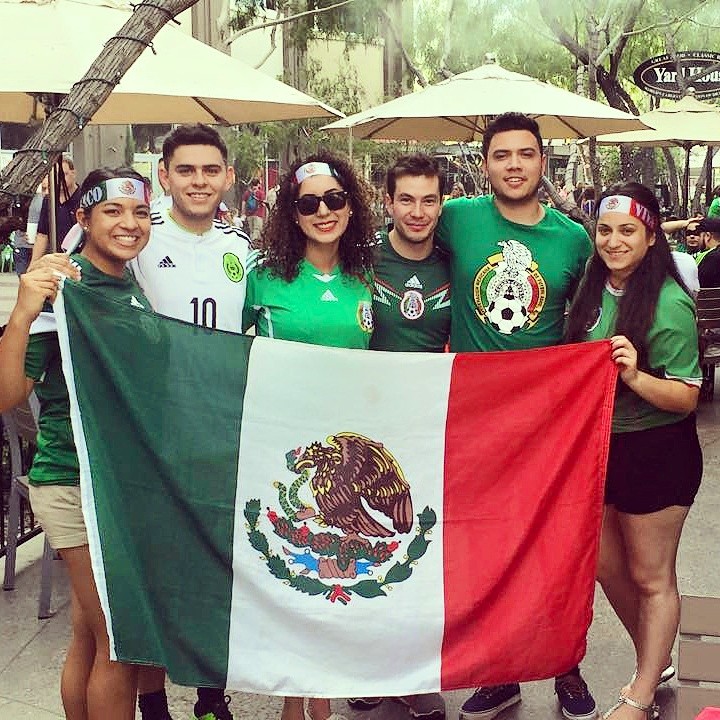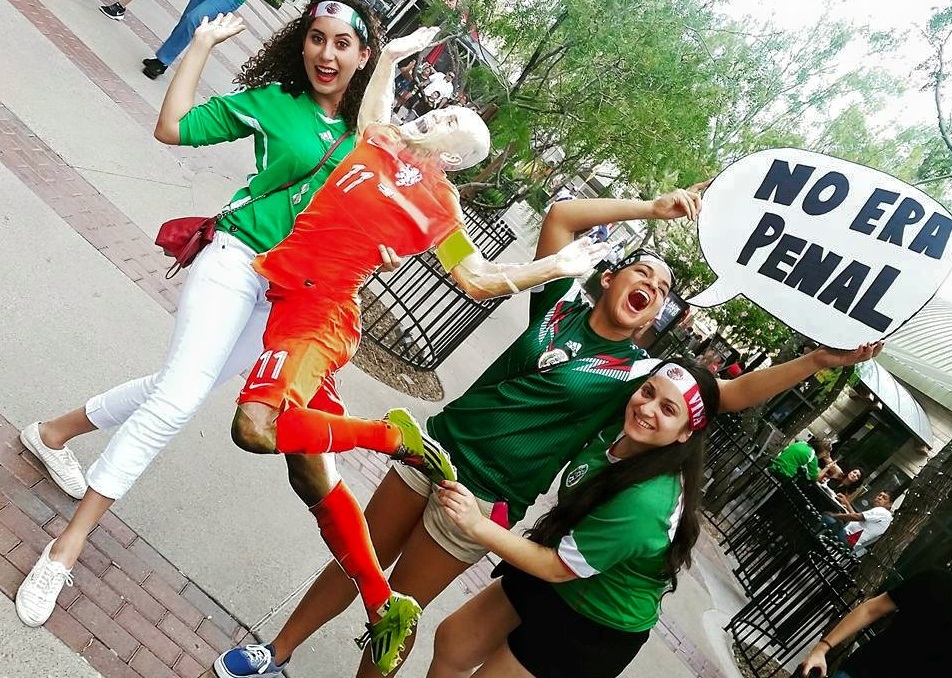 Bucket list item #399 completed: VISIT ALPACAS OF THE SOUTHWEST! : 4/3/2015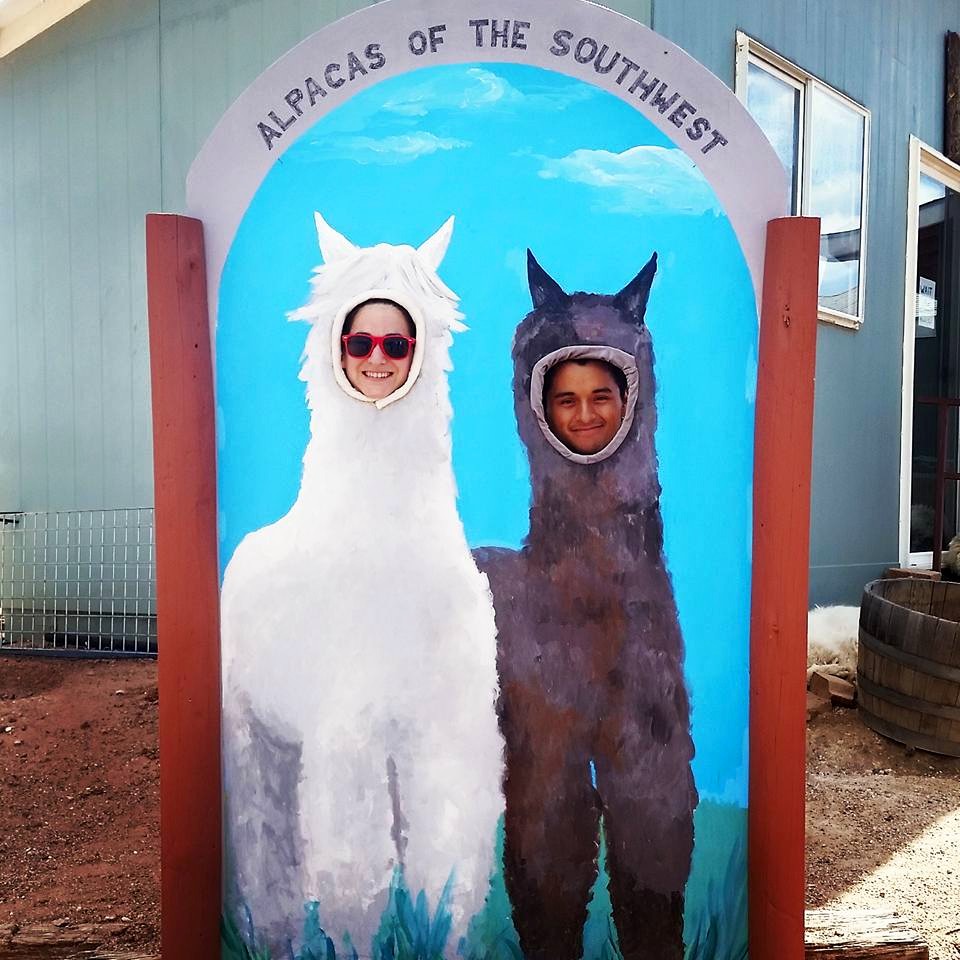 i visited the famous Alpaca Farm in Kingman and it was so awesome!!! Alpacas are so adorable. Today I learned that the only reason that alpacas are around today is because a few thousand of them were hidden after the Spanish tried to eradicate them way back when. I love fun facts. Highly recommend this place if you're on your way from Phoenix to Las Vegas. Super random but super cool. Also, make sure to buy yourself some alpaca socks, your feet will thank you.
Bucket list item #109 completed: ENJOY A GAME IN A SUITE! : 6/19/2015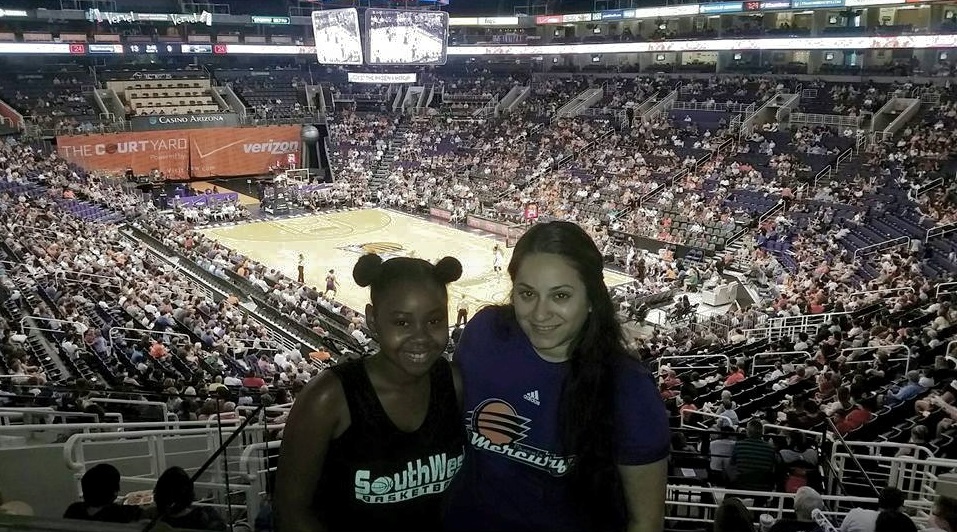 Loving the suite life! Thank you BBBSAZ and Perini Building Company for hooking us up and helping my little sister and me cross off a bucket list item! Awesome way to watch the Phoenix Mercury game!
Bucket list item #166 completed : SKI SHOT WITH FRIENDS! : 6/6/2015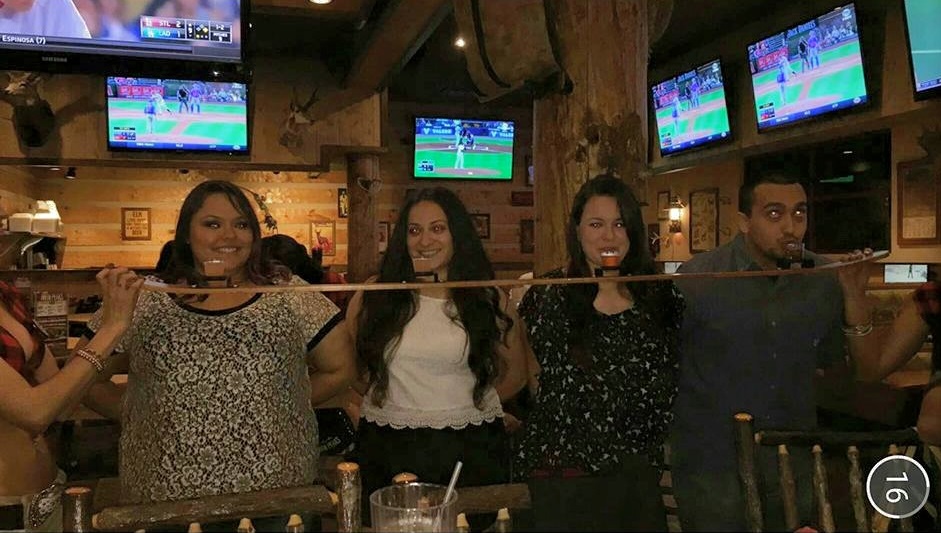 Taking a ski shot at Twin Peaks was So. Much. Fun.  I don't think I can ever go back to taking a regular shot again lol. If you've never done a ski shot, please go do one. Great experience. No hands!! Lol
Bucket list item #358 completed : WATCH A MOVIE AT A DRIVE-IN! : 4/3/2014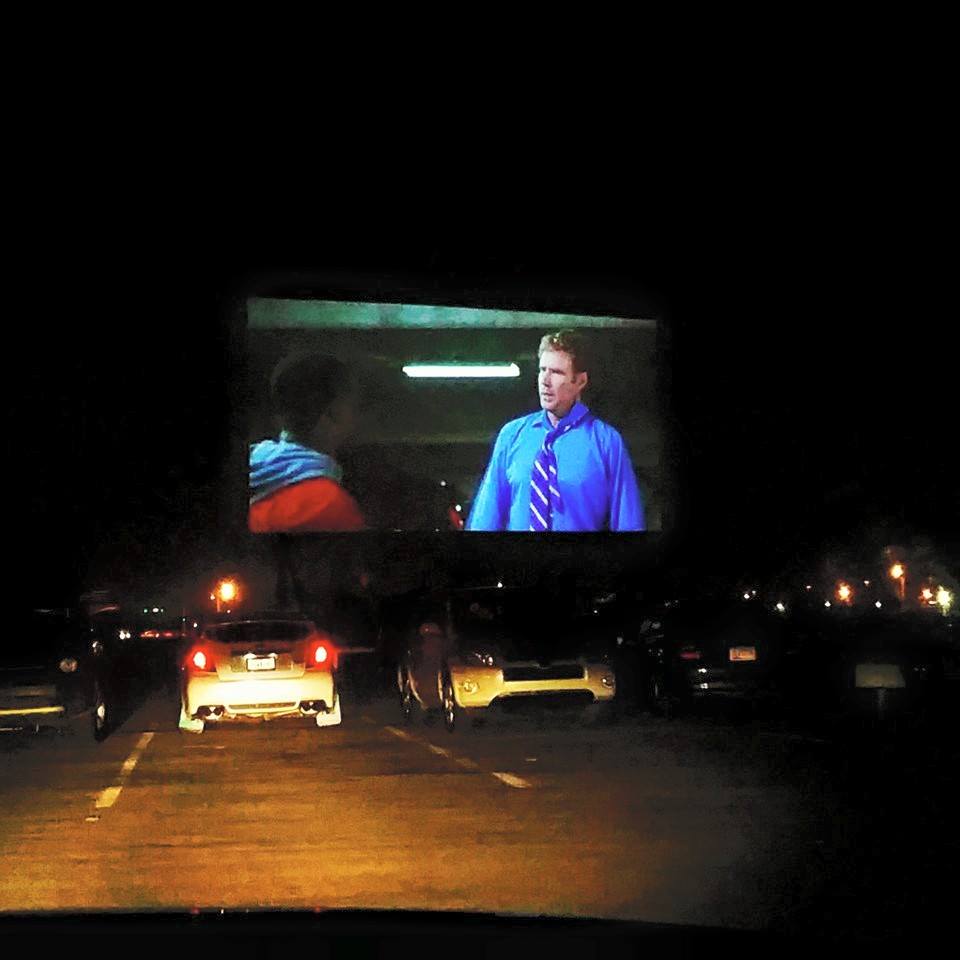 Life bucket list item #358 completed! Watch a movie at a drive in! What an awesome experience! Definitely coming back! Get Hard was a lot better than i thought it would be! Totally recommend you all come to a drive-in at least once in your life! It's perfect for a friends' night out, family night out, or even a date night. West Wind Glendale Drive-In was pretty cool! Get there early to get a good spot. 🙂
Bucket list item #54 completed : GO TO A SPRING TRAINING GAME! : 3/29/2015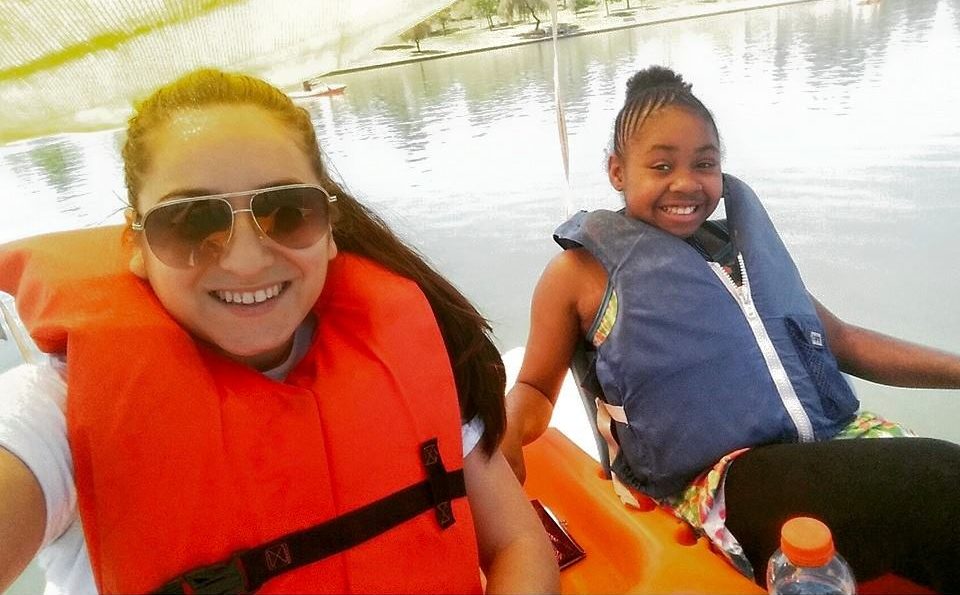 It was such a blast, especially since I went with my little sister! We went to Kiwanis Park in Tempe and Wheel Fun Rentals hooked us up with a free rental because we are part of the Big Bros Big Sis program! Definitely recommend renting a pedal boat, it's super fun! Unfortunately, Wheel Fun Rentals is no longer at Kiwanis Park but Tempe Town Lake has similar items to rent!
Bucket list item #38 completed: METEOR CRATER : 11/18/14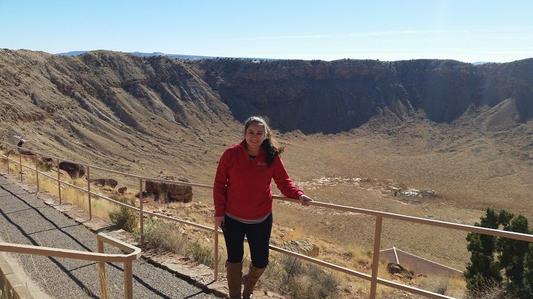 We made it to Meteor Crater. It is really an unbelievable sight. Crazy to think that a meteor can hit Earth and create a crater 700 feet deep and 4000 feet across in just 10 seconds. 20 football fields can fit inside the crater, jesus. Definitely recommend you all check it out.
Bucket list item #26 completed: VISIT KARTCHNER CAVERNS : 7/12/14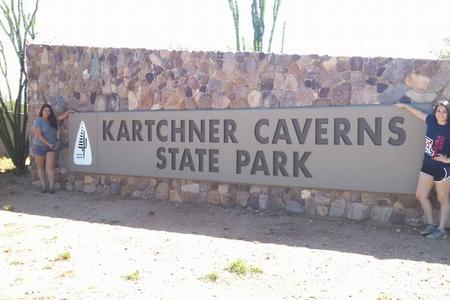 Kartchner Caverns State Park was seriously one of the most amazing experiences ever. Nature is wonderful. I definitely encourage everyone to visit and explore the caves! It's definitely a whole new world. I got a cavern kiss which is when a drop of dew falls on you inside the cavern. Beautiful place, please check it out! Make sure you bring some comfortable shoes because the tour of the cavern is pretty long but worth it!
Bucket list item #16 completed: VISIT TOMBSTONE : 6/31/14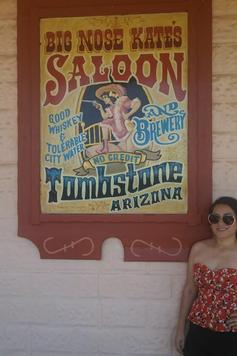 Tombstone, AZ is super sunny, pretty epic, and it's known as the town too tough to die! Great place with ghost tours, wine tasting, delicious food, and great beer. Highly recommend if you're trying to get out of the city and want to do something really unique!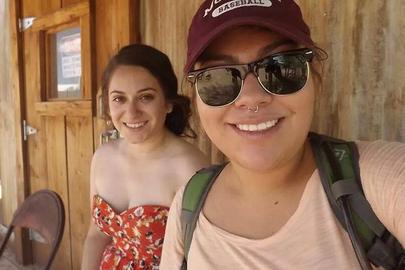 Bucket list item #12 completed : WIN A HUGE CHECK : 6/5/14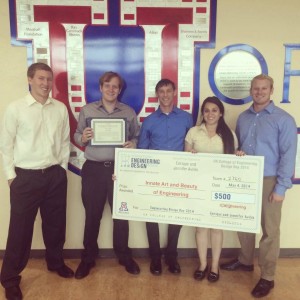 It was an absolute honor working with you four on our senior design project this year. A huge shout out to my team for meeting all of our goals for our project!
I've always wanted to hold one of these huge checks and I never thought that winning one was possible but here it is! We won the 'Innate Art and Beauty of Engineering' Award. Cheers to a successful Engineering Design Day!
TEXAS
THE ALAMO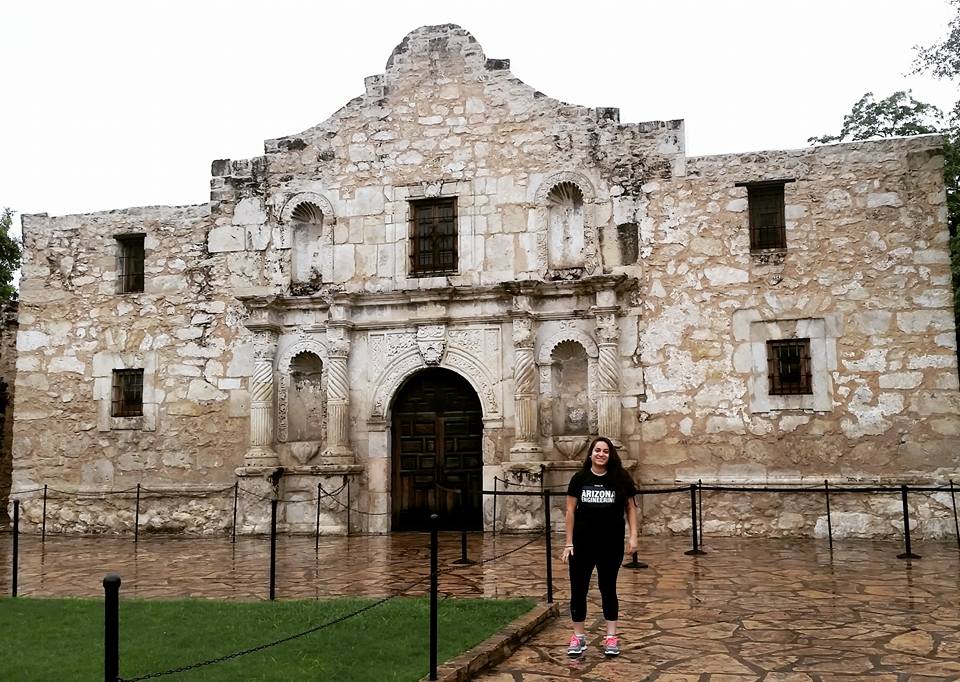 Stepped into the pages of history today and crossed off bucket list item #161 : The Alamo. Such a surreal feeling to find this building surrounded by modern looking hotels and restaurants and to know that this was a place very critical to Mexican-American history. I touched the walls and I felt the importance. What a glimpse into the past.
WORLD'S LARGEST BOOTS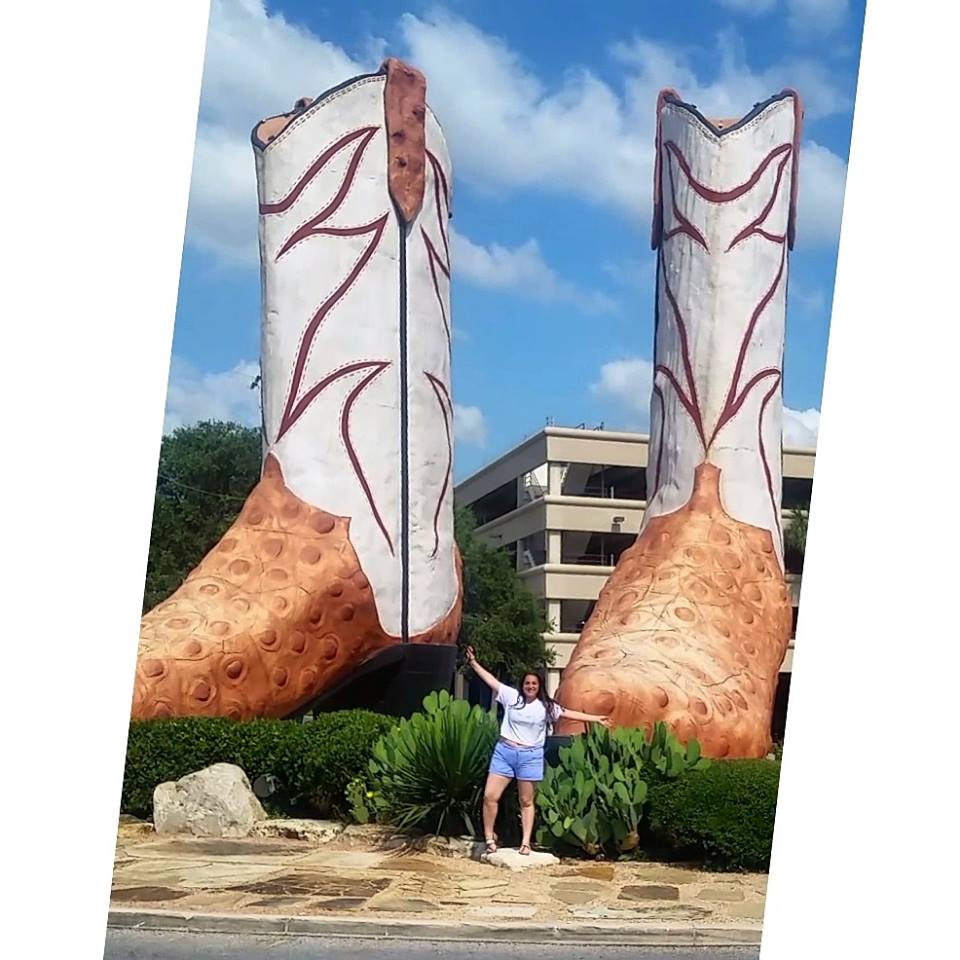 I guess the saying 'everything is bigger in Texas' is true! Bucket list item #512 completed: check out the world's largest cowboy boots! San Antonio is an interesting place.
?
?
?
MIRADOR DE LA FLOR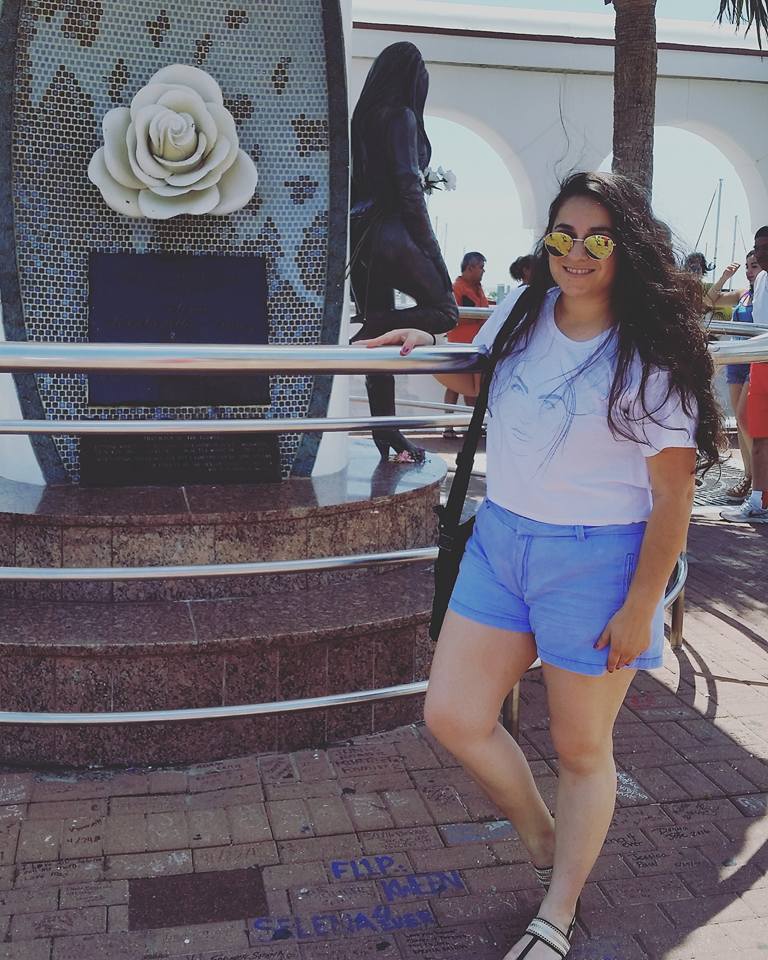 It was very cool to visit the birth place of the queen of Tex Mex music and to cross off bucket list item #178 : visit the Mirador de la Flor, a monument built to honor Selena. Que viva la reyna, Selena Forever.
❤
❤
❤ I loved Texas because every time I turned on the radio, I heard Selena.
WYLER AERIAL TRAMWAY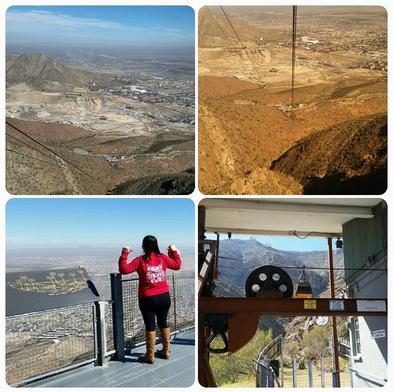 Life bucket list item #279 completed! Take a ride on El Paso's only public aerial tram: Wyler Aerial Tramway. This was my first time going on any sort of aerial tram and I'm a little scared of heights so it was definitely an experience. It was awesome though, I would highly encourage anyone to ride it! I tried to convince my mom but she's boring 😉
---
CALIFORNIA
Bucket list item #451 completed : TOUCH A SHARK! : 3/4/2016
Life bucketlist item #451 completed! Touch a shark!! It was tiny and harmless but I was still scared haha
---
COLORADO
Bucket list item #89 completed: VISIT THE ORIGINAL CHIPOTLE : 12/29/14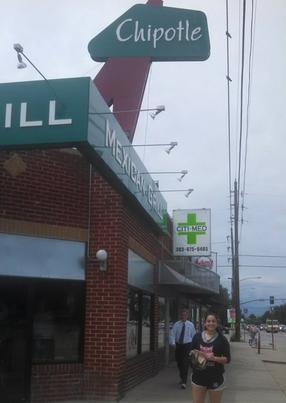 Life bucket list item #89 completed!! Go to the first ever original Chipotle in Denver!! I was super excited to cross off this bucket list item, not only because I love Chipotle and I was hungry….but because THIS IS WHERE IT ALL STARTED. THIS IS WHERE THE MAGIC STARTED. This Chipotle was tiny but you could see the history, and the employees were super nice. My chicken burrito was amazing.
---
MARYLAND
Bucket list item #488 completed: EDGAR ALLAN POE GRAVESITE! : 11/15/2015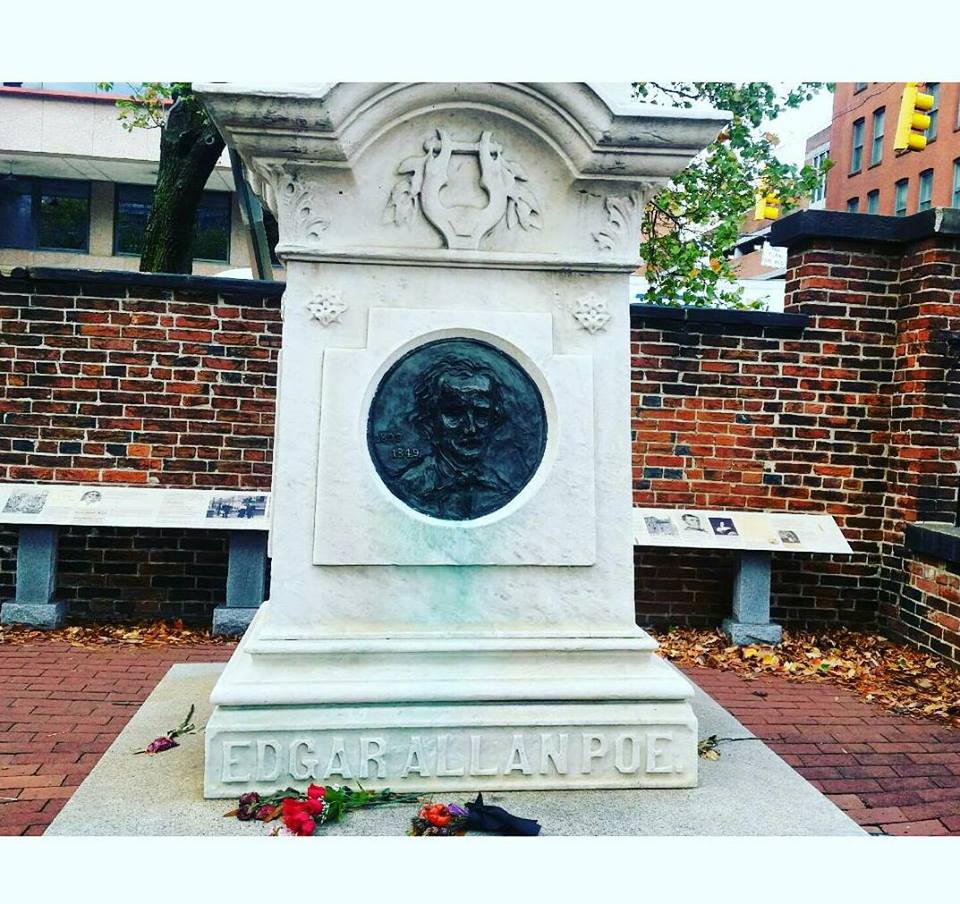 Of course I had to go explore while in Baltimore and cross off another bucket list item. Life bucket list item #488 completed! Visit the graveyard where one of my favorite authors is buried and see his memorial. I've always loved reading and I specifically remember the very first time I read an Edgar Allan Poe short story and was absolutely entranced.
Back to top of page
---
MICHIGAN
Bucket list item #428 HALF COMPLETED: RAP BATTLE AT 8 MILE! : 7/24/2015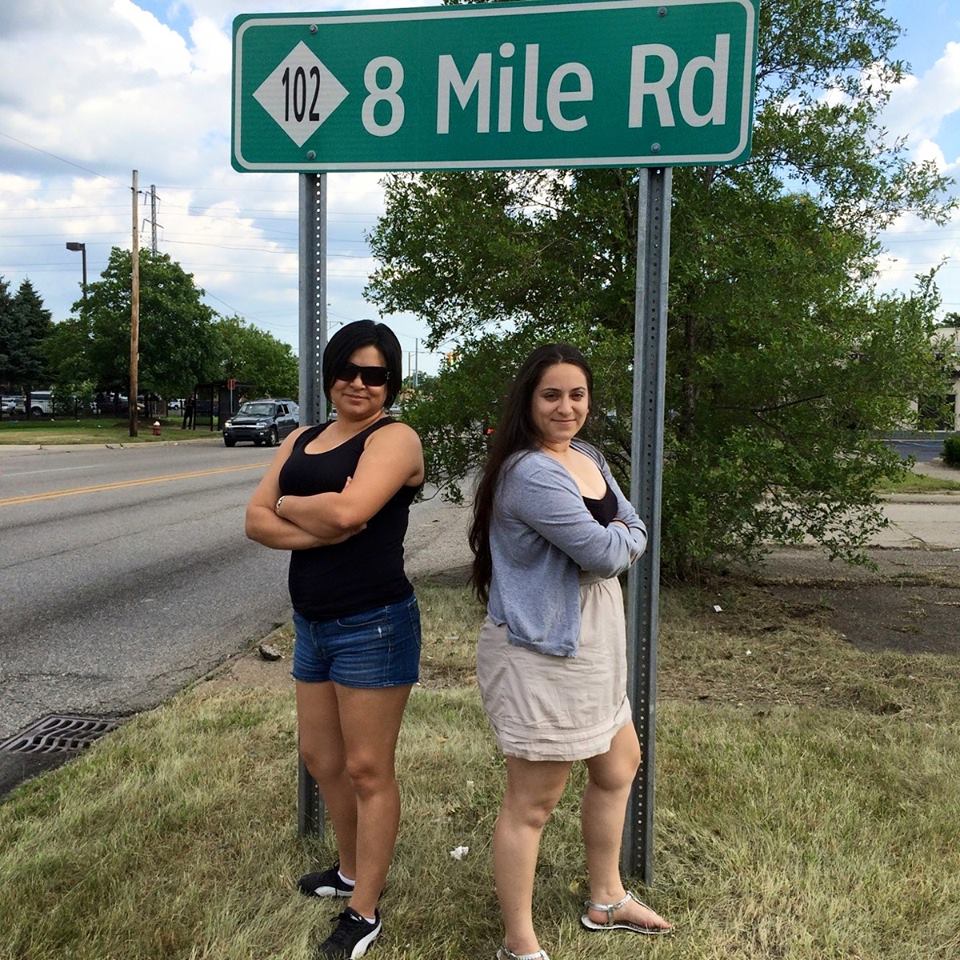 'Now, everybody from the 313
Put your hands up and follow me'
So life bucket list item #428 is to go to 8 Mile and have an epic rap battle with Eminem. I made it to 8 Mile but Eminem wasn't there, unfortunately. ONE DAY I WILL MEET HIM!
---
MONTANA
Bucket list item #407 completed : GLACIER NATIONAL PARK IN MONTANA! : 9/7/2015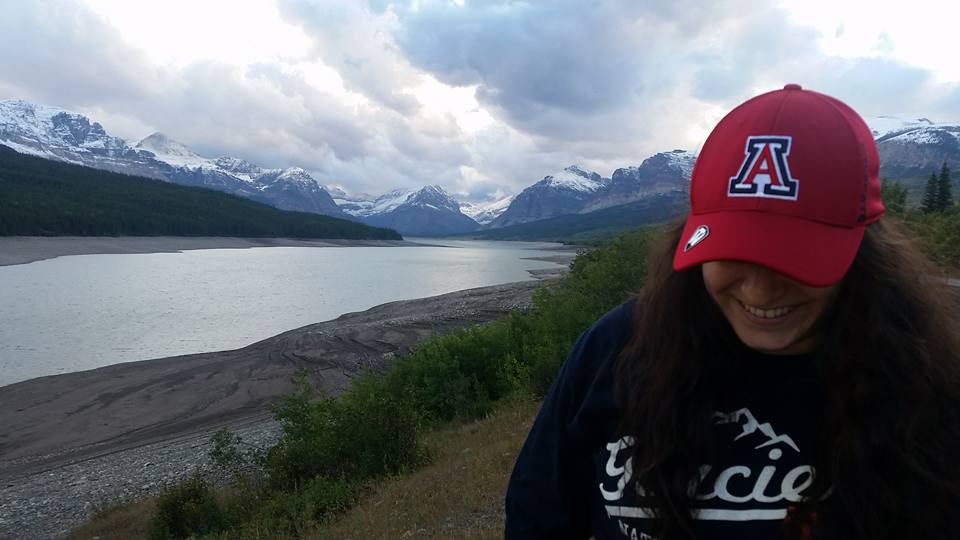 Glacier National Park in Montana is hands down, one of the most beautiful places I have ever visited. Montana is beautiful. Literally beautiful views EVERYWHERE. Thanks for hosting me Sandra!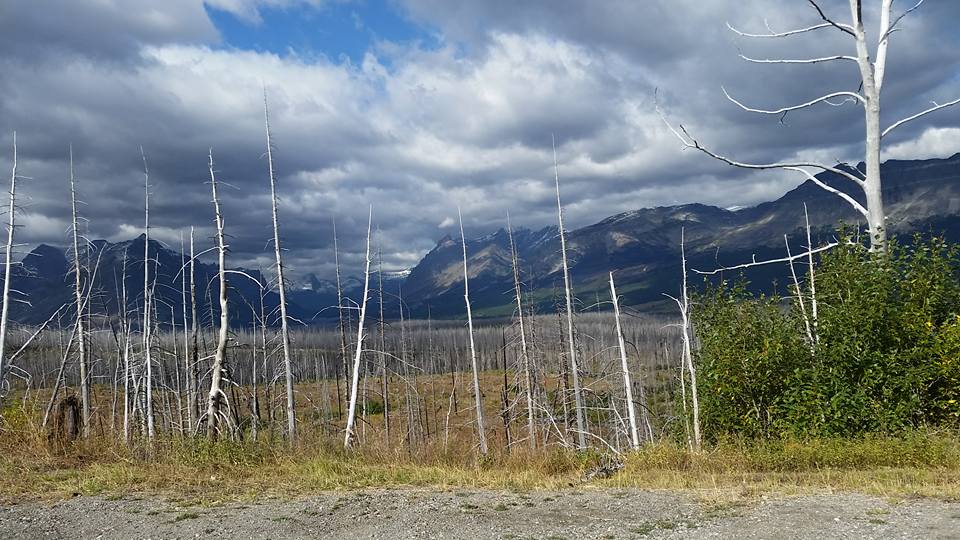 Got to see some of the parts of Glacier National Park that have been affected by wildfires in the past.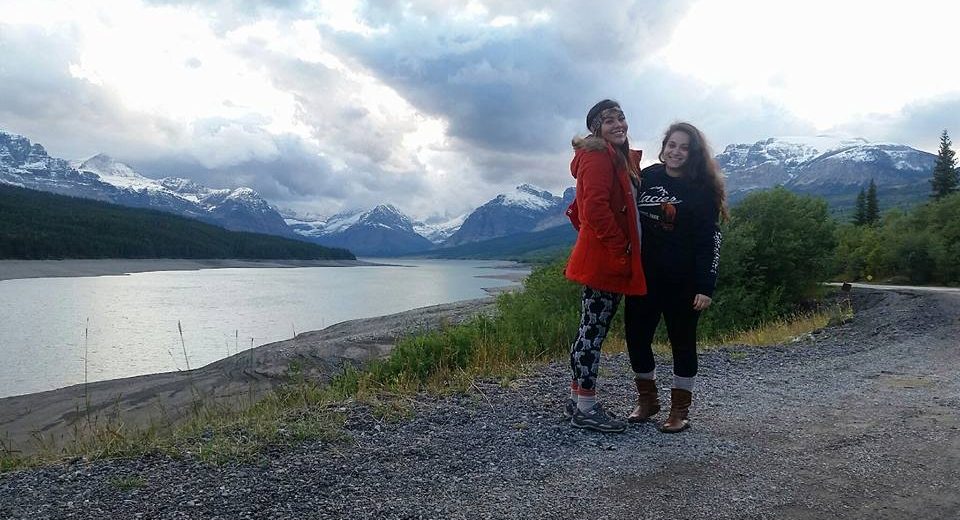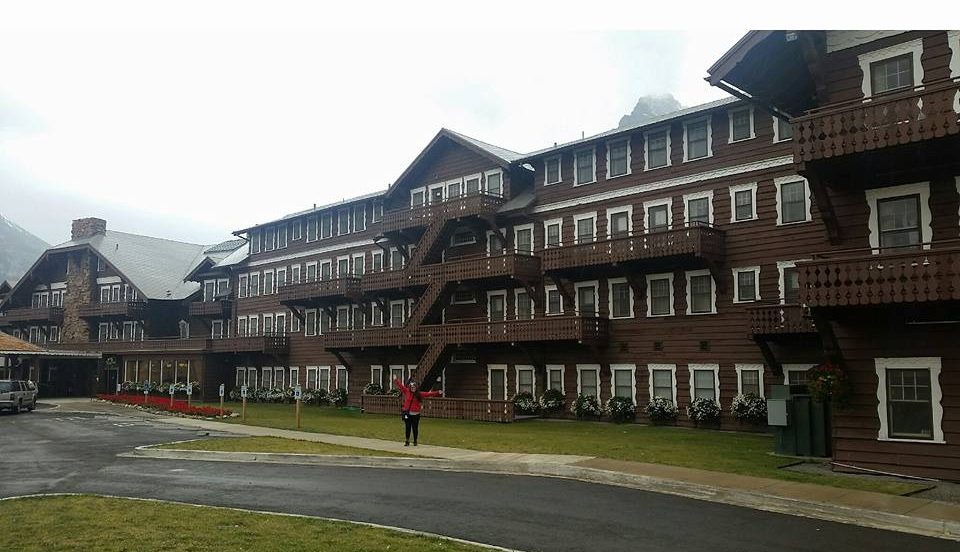 Had the privilege of making it to the Many Glacier hotel on this 100th birthday! What a beautiful and historically rich structure. Definitely going to come back and stay here! Went on a super cool hotel tour and learned some fun facts! Fun fact: the Many Glacier hotel was designed to mimic Swiss architecture to encourage people to 'see America First' and visit the 'American Alps' instead of the Swiss Alps.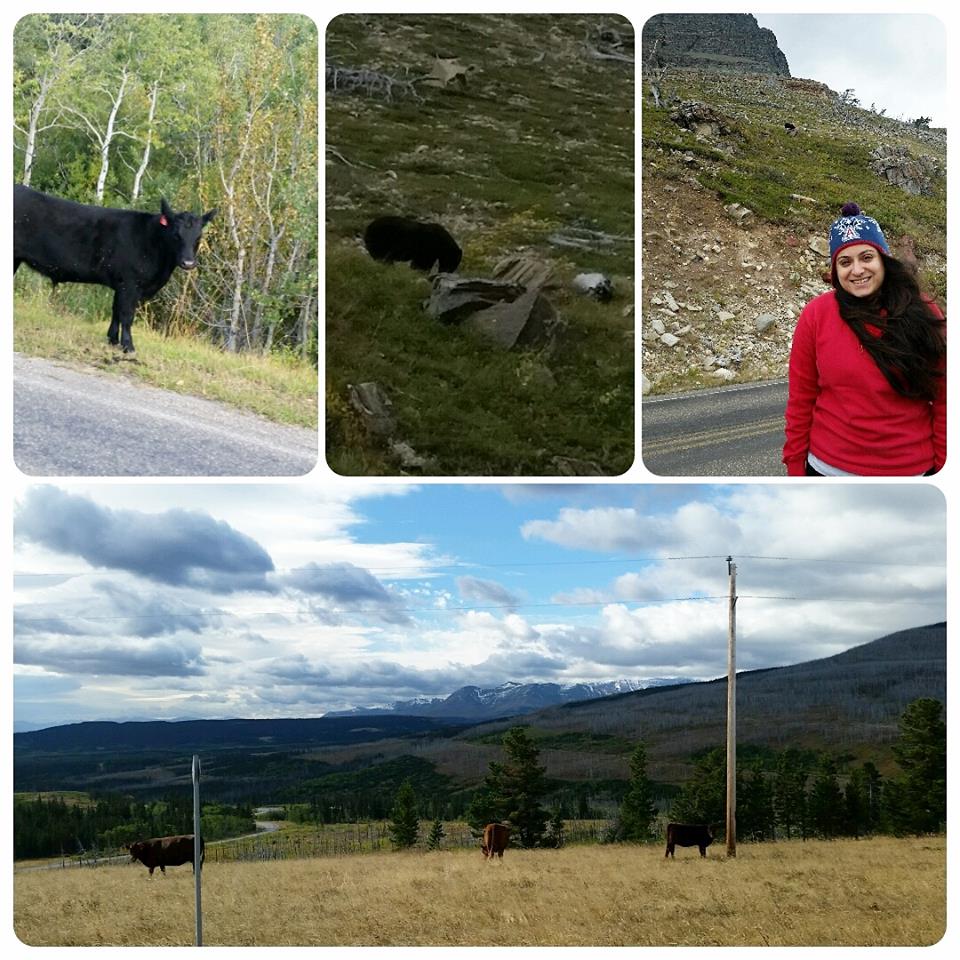 Some of the wildlife I saw at glacier national park. Tons of cows, 3 bears, a fox (not pictured), horses (not pictured) and a few squirrels (not pictured). AND YES THAT IS A BEAR BEHIND ME.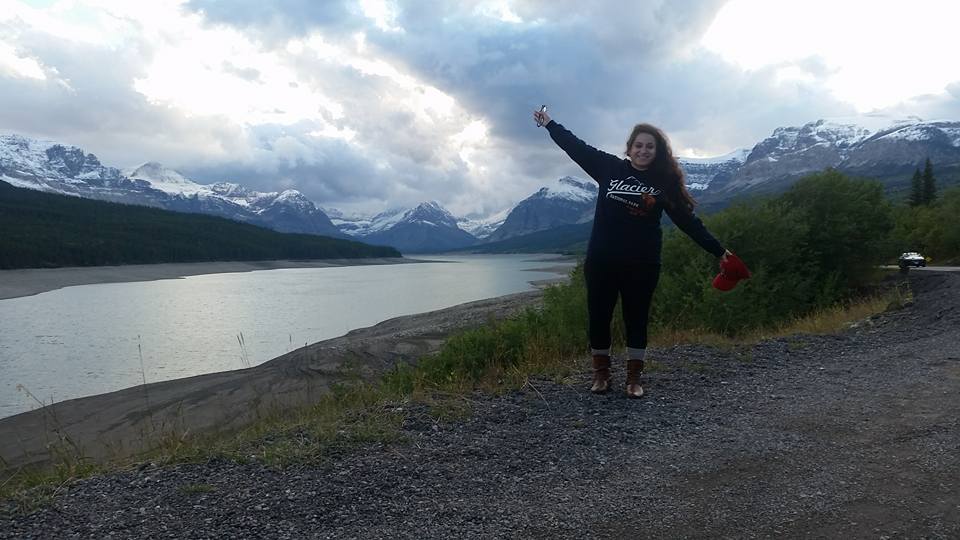 Back to top of page
---
NEVADA
Bucket list item #56 completed : ROLLERCOASTER IN VEGAS! : 10/25/2015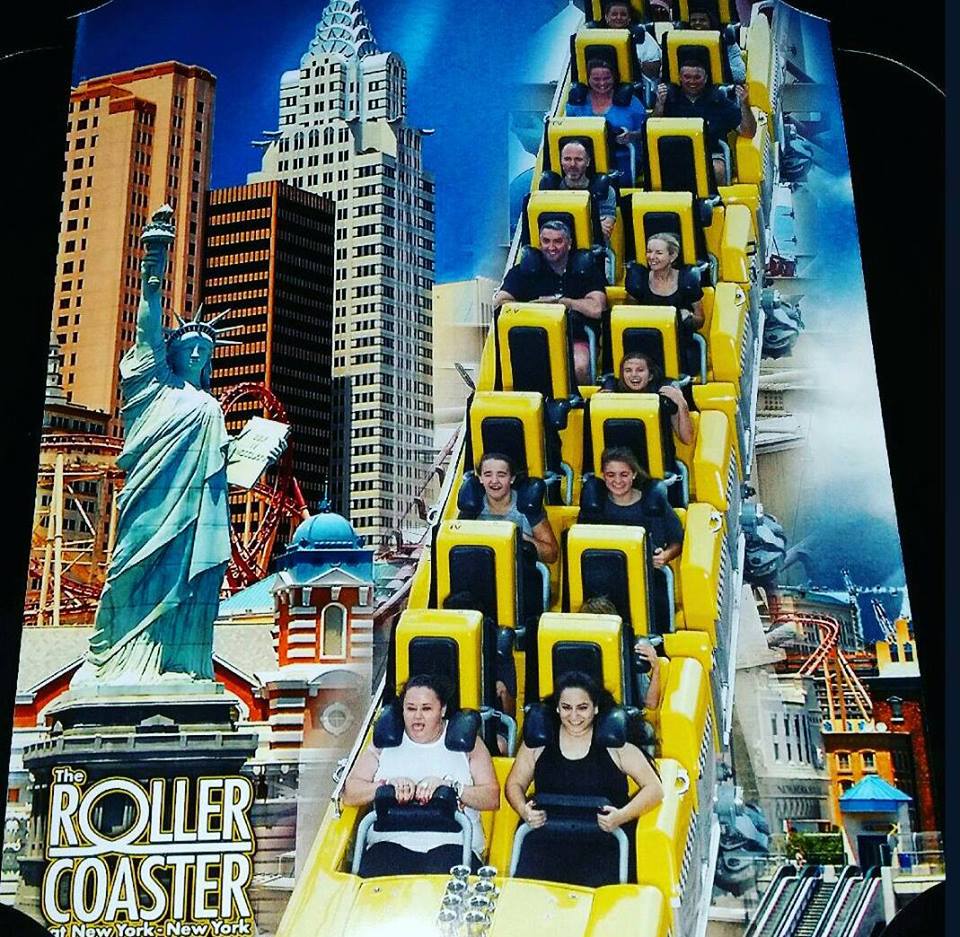 LOL at Yamille's face in the front row next to me ahahahahhaa
Life bucket list item #56 completed! Ride The Rollercoaster in the NYNY Hotel in Las Vegas!!! Way better than I expected! Had some good turns and fantastic views of the strip! So awesome! Can't wait to come back and hit the rest of the coasters!
P.S. – I've been to Vegas several times but have never been able to ride a coaster because I've always been way too hungover lol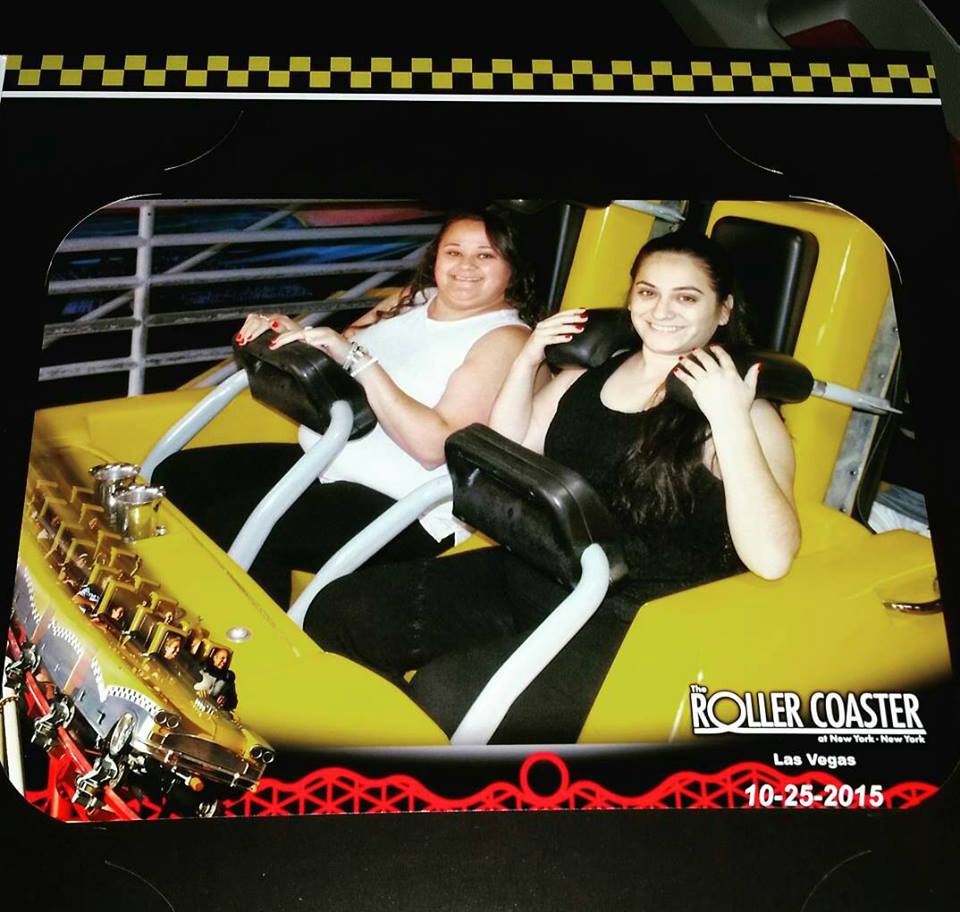 Tell me this isn't the most flattering picture you've ever seen of 2 people on a rollercoaster LOL friendship goals right!?! 
Bucket list item #45 completed : GO TO AN AFTER PARTY! : 10/24/2015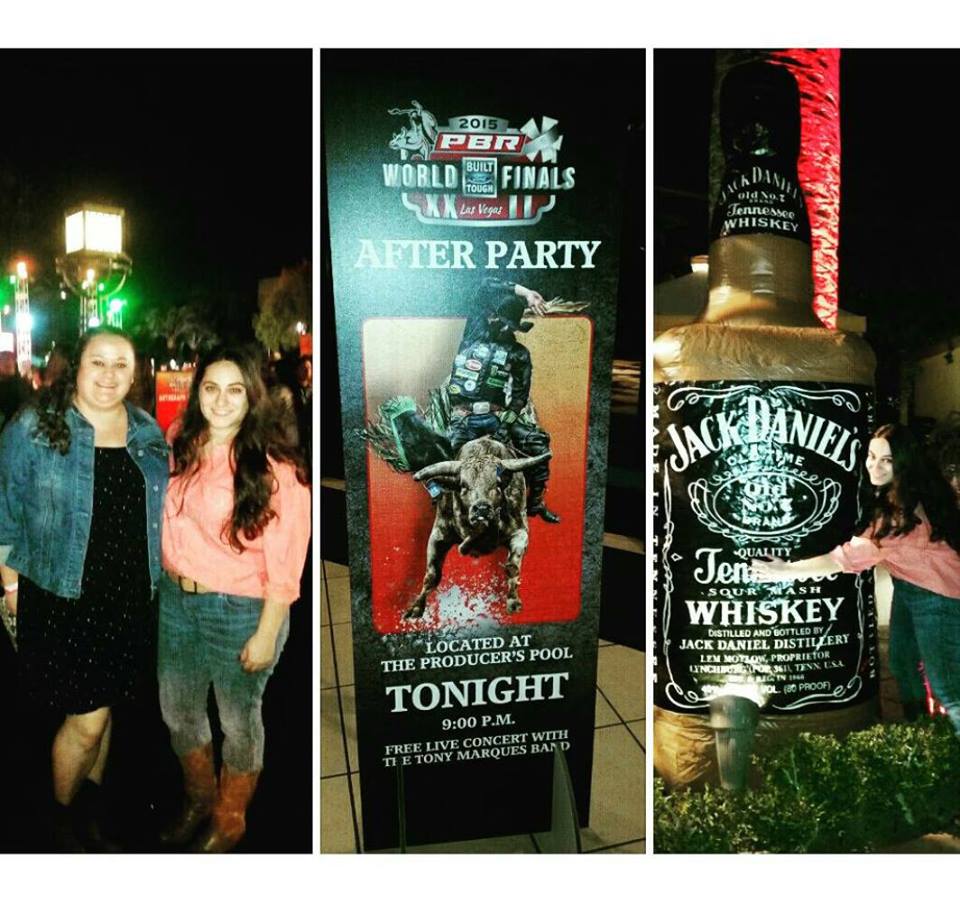 So tonight after the PBR 2015 World Finals, I also managed to spontaneously cross off life bucket list item #45! Go to an official event after party! It was pretty cool! We got to see JB Mauney and a few other bull riders, they had drinks, and a live band with a dance floor! Vegas is great!
---
NEW MEXICO
Bucket list item #14 completed: GRAPE STOMPING! : 10/4/15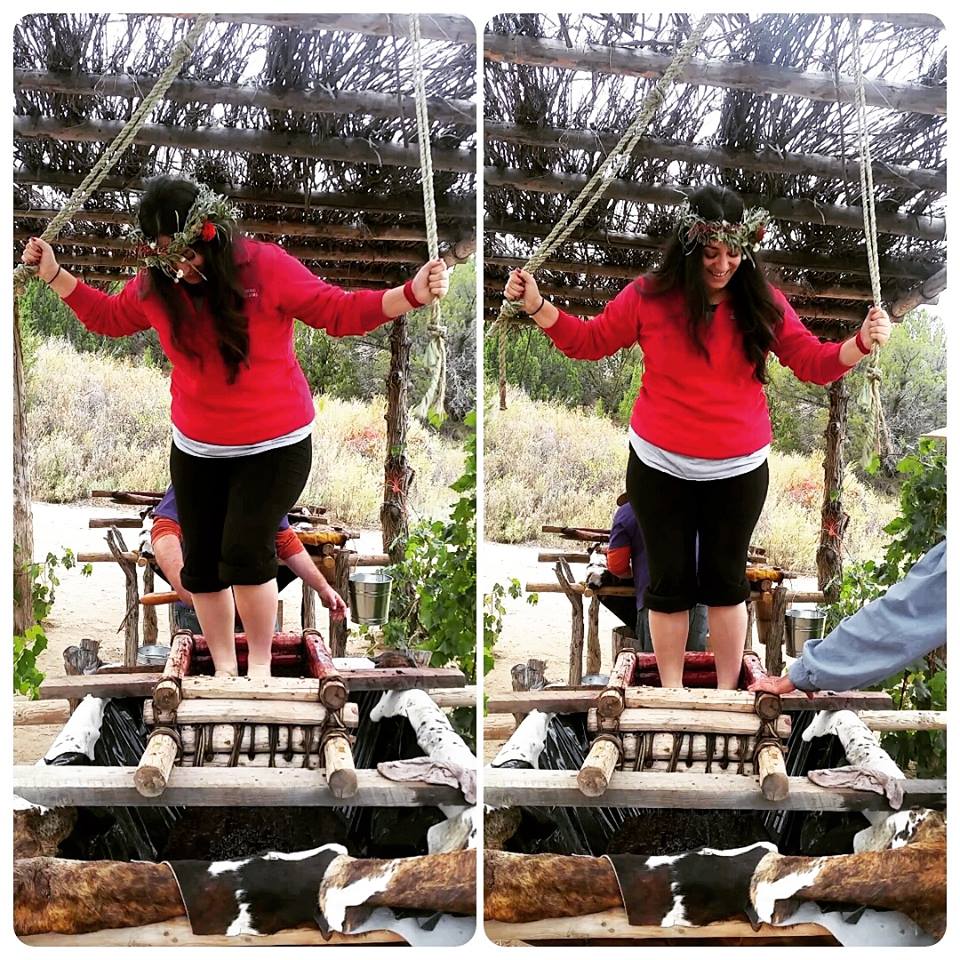 AND LAST BUT NOT LEAST MY ABSOLUTE FAVORITE PART OF THE Rancho De Las Golondrinas Harvest Festival was that I got to complete life bucket list item #14 : go grape stomping in order to make wine!!! I feel like my whole life has led up to this moment lol I got to stomp grapes that would eventually be turned into red wine (my favorite kind!!) Also I feel like the flower wreath totally completed this experience. WHAT A FANTASTIC DAY. VIDEO WILL BE UP SOON. IT WAS EXHAUSTING WORK BUT WELL WORTH IT
I also learned about the history of the water wheel , the history of the loom AND THE HISTORY OF HOW BEER IS MADE. Fun fact: millers who used to work with beer became some of the very first billionaires by distilling wheat to make beer!! Lol learning is fun! I high fived the tour guide after he mentioned that.
Bucket list item #29 completed: ALBUQUERQUE INTERNATIONAL BALLOON FIESTA: 10/3/15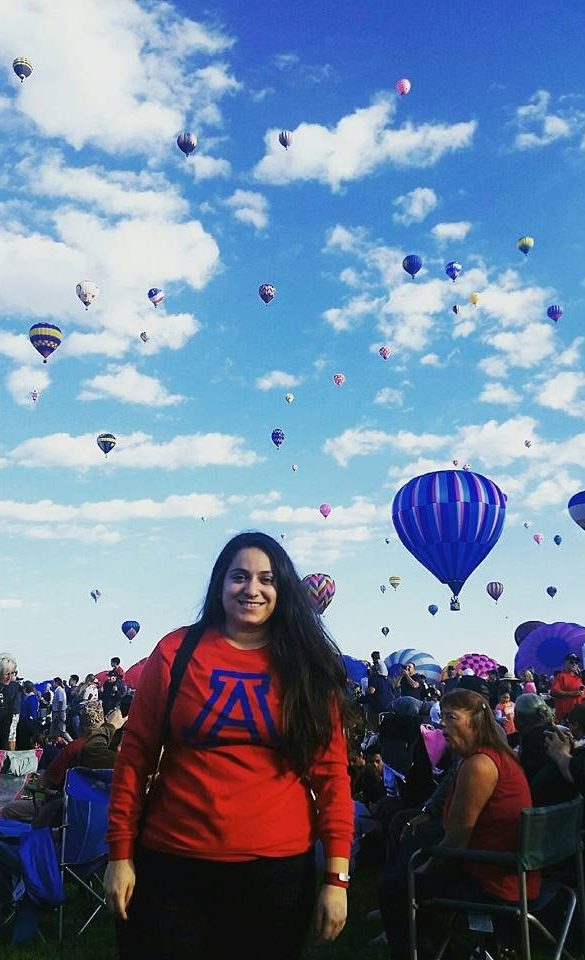 Life bucket list item #29 completed: go to the Albuquerque International Balloon Fiesta ! What an awesome experience. Saw some fantastic balloons start flat on the ground, get fired up and soar to the skies. I could literally stay here all day and watch the balloons.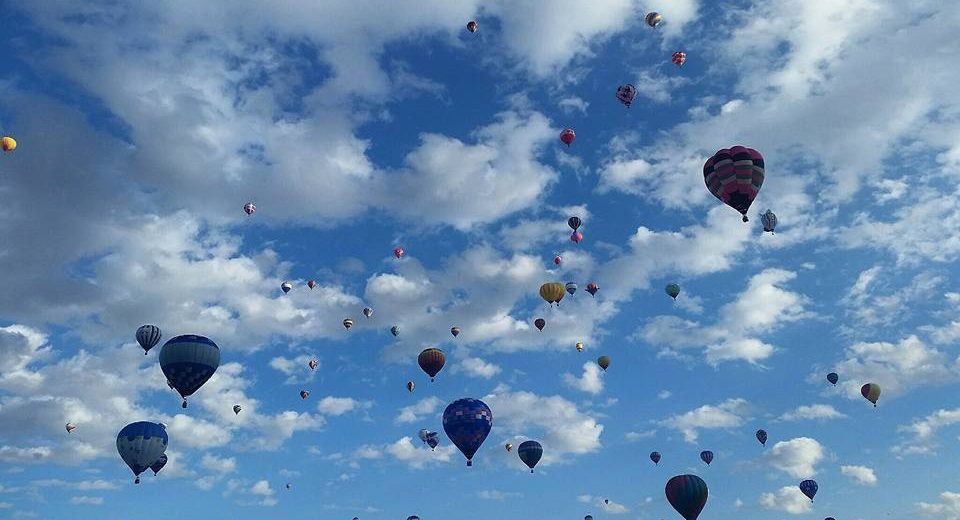 It was all so pretty! The balloons were all SO HUGE. I had never seen any this close it was so awesome! Everybody seriously needs to come here.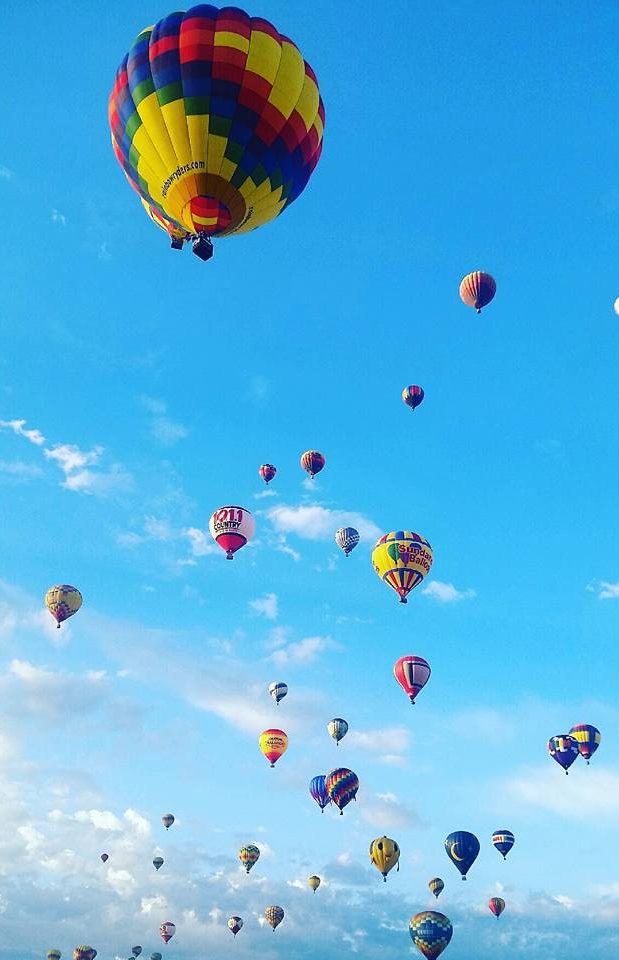 Tell me why I always find Elena in random places lol first Disney, now Balloon Fiesta lol so good seeing you!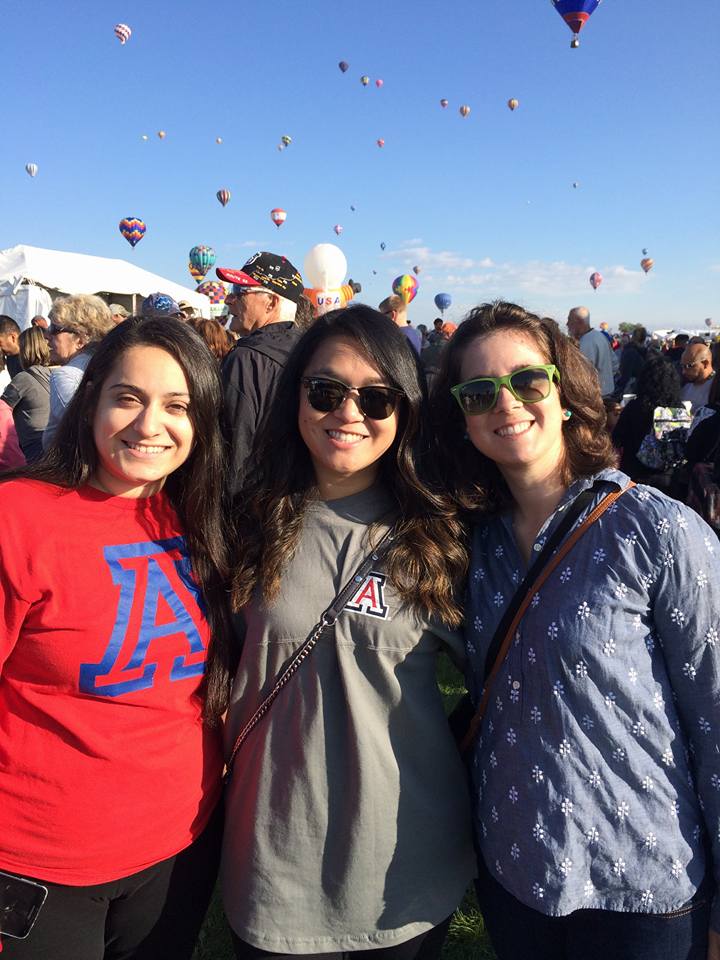 Bucket list item #352 completed: WORLD'S LARGEST AERIAL TRAMWAY: 11/15/14
This bucket list item was one of my favorites. Taking a ride on the Sandia Peak Ski & Tramway: World's Largest Aerial Tramway was amazing! It was so awesome and the view at the top was breathtaking. Seriously so awesome. Everyone come here. I can't say enough about the views. The ride itself is about 15 minutes long and there is a person on the tram giving some information about the history. Once you get to the top, there is usually snow and it's beautiful!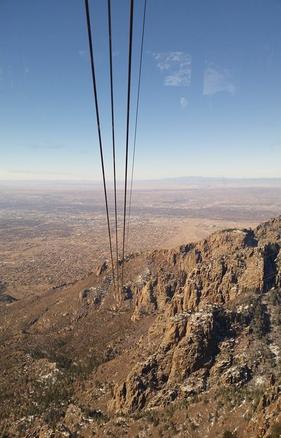 ---
---
WASHINGTON
Bucket list item #367 completed : MOUNT RAINIER! : 4/17/2015
Of course I had to add Mount Rainier to the bucket list! Breathtakingly beautiful. Even the drive up the mountain was completely majestic. We were lucky to be able to drive up in April and see a little bit of snow. The snow was SO BRIGHT. Will definitely be coming up here and doing some hikes.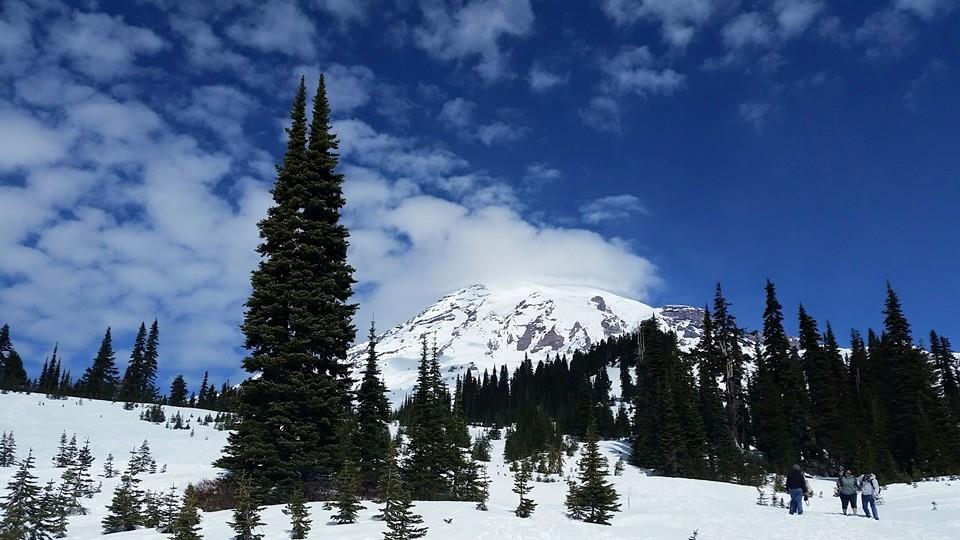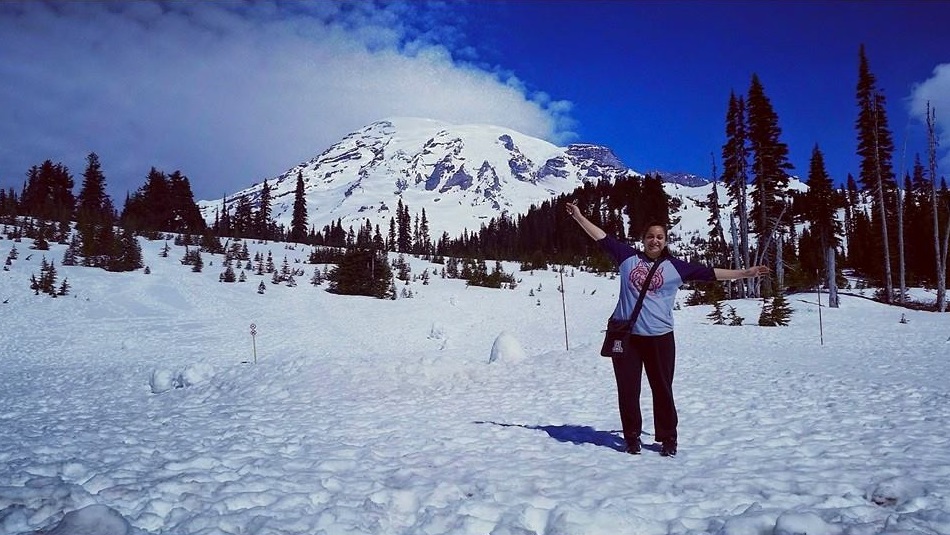 Bucket list item #362 completed : SPACE NEEDLE IN SEATTLE! : 4/16/2015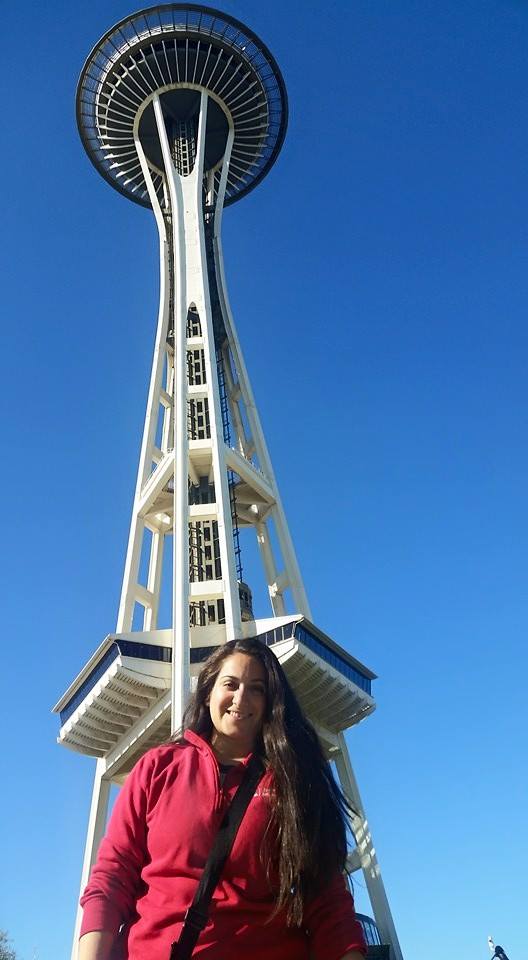 Of course i had to add the space needle to the bucket list! Life bucket list item #362 completed! So awesome!!! 520 feet up!! I'm all about observation decks and make it a point to visit them if I am in a city that has one. The Space Needle has been my favorite so far just because of the amazing views, and how the wind feels when you are that high!
Bucket list item #364 completed : ADD GUM TO THE FAMOUS GUM WALL! : 4/16/2015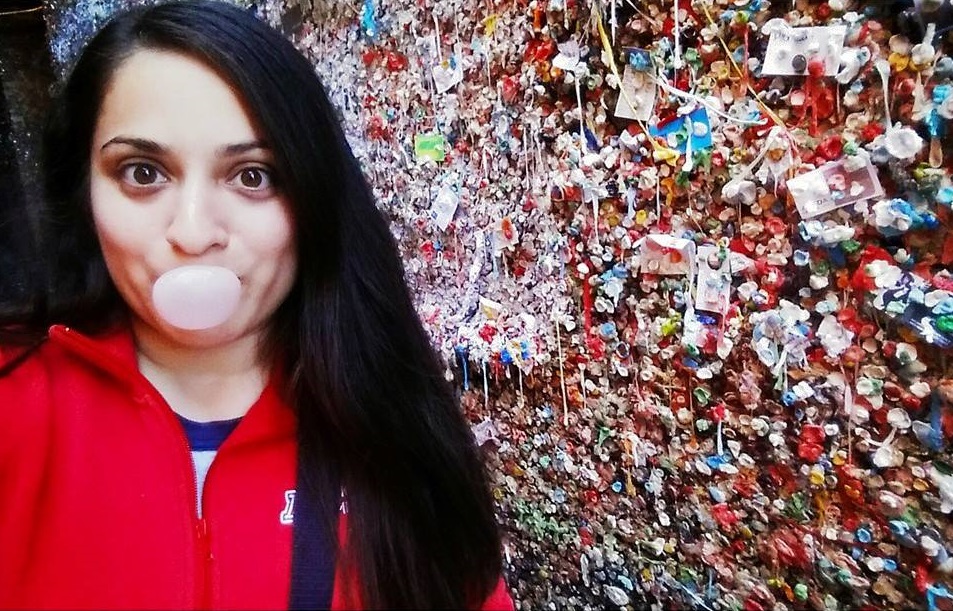 I found the gum wall near Pike Place Market and added some gum! It was really cool to see in person but I won't lie…it was kind of gross haha. When I went to add my own piece of gum to the wall I was super careful to not touch any of the other gum haha.
Bucket list item ##361 completed : SEATTLE GREAT WHEEL! : 4/16/2015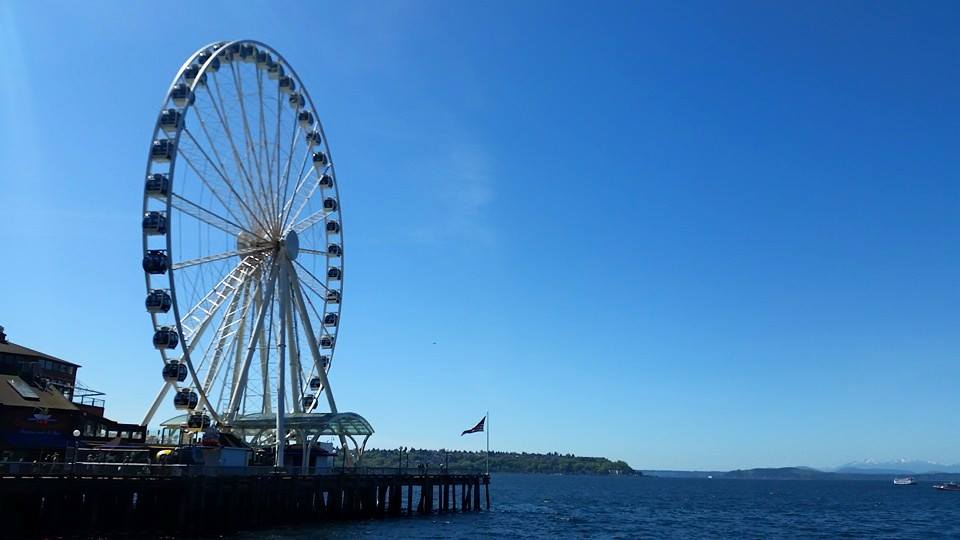 Riding the Seattle Great Wheel was super awesome but not fun if you're afraid of heights…like me lol but the views were incredible!
---