This post is sponsored by The Brush Bar. As always, all opinions are my own.
This month I've partnered with The Brush Bar, a paint and wine bar in Scottsdale that offers instruction for adults and serves beer, wine and cocktails. This partnership came to be because I've gotten so many requests from friends and Enthusiastic readers to try out something like this. And the verdict is in: a drinking and painting class needs to be on your bucket list!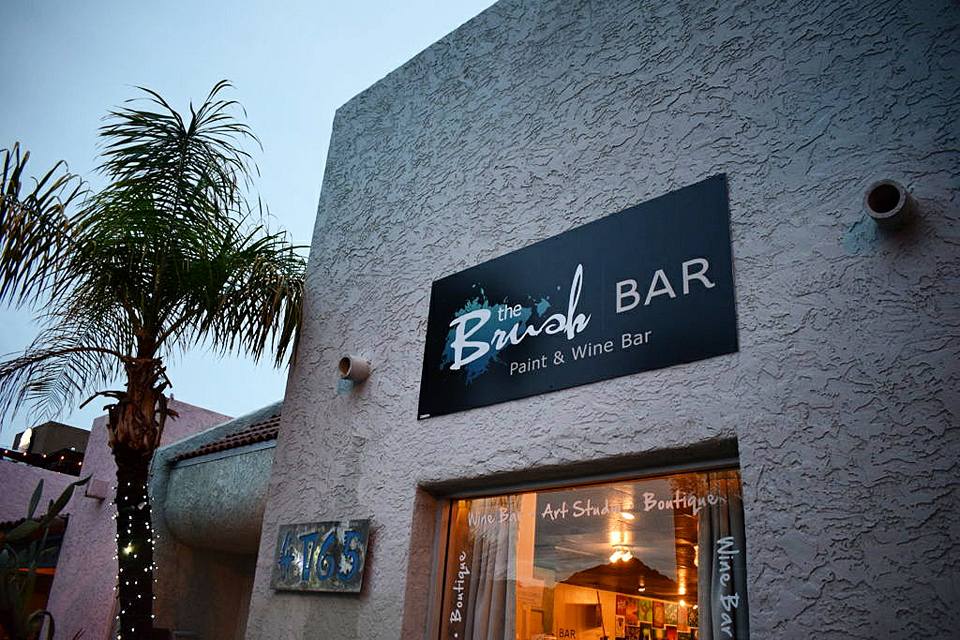 Thank you to The Brush Bar for hosting me and letting me experience all of the magic that goes on inside the studio! My friend Wendy and I seriously had such a blast.
When you walk into The Brush Bar, you are greeted by the staff, taken over to get an apron, shown the bar, and then taken to your work station.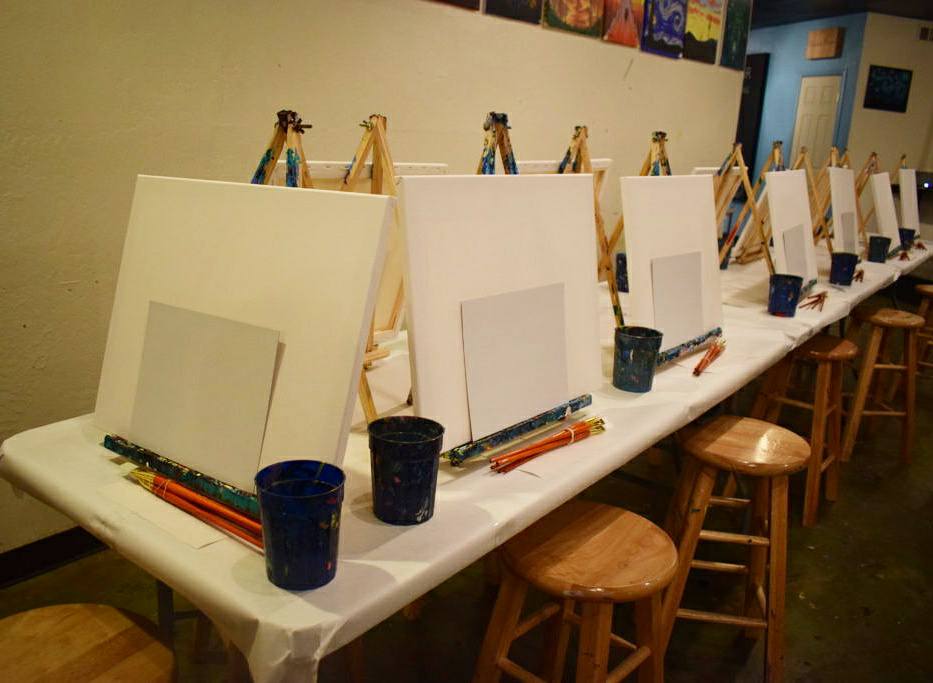 The Brush Bar looks like your typical painting studio except for the complimentary cookies AND THE ON-SITE BAR. Plus the twinkly lights everywhere just made the experience so much better.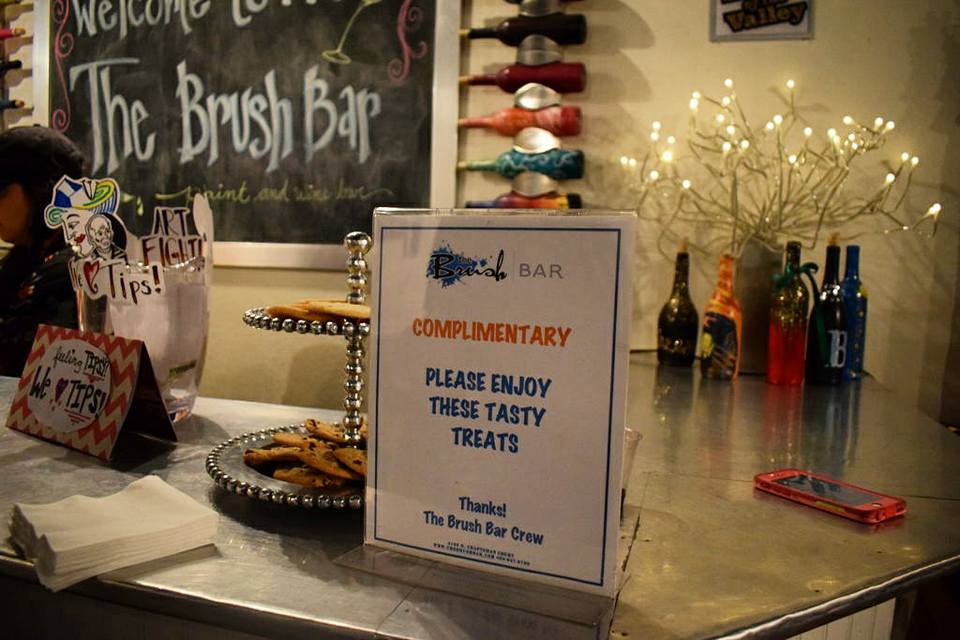 April is the bartender/manager and has been with The Brush Bar since 2012. She brought a family member for her birthday and fell in love so she decided to join the team! She loves the owners of The Brush Bar and says that they have made the 4 ½ years that she's been there so wonderful.
Honestly, if you're not into painting you should just check out the Brush Bar to try one of April's famous mimosas, they are WORTH IT. 😉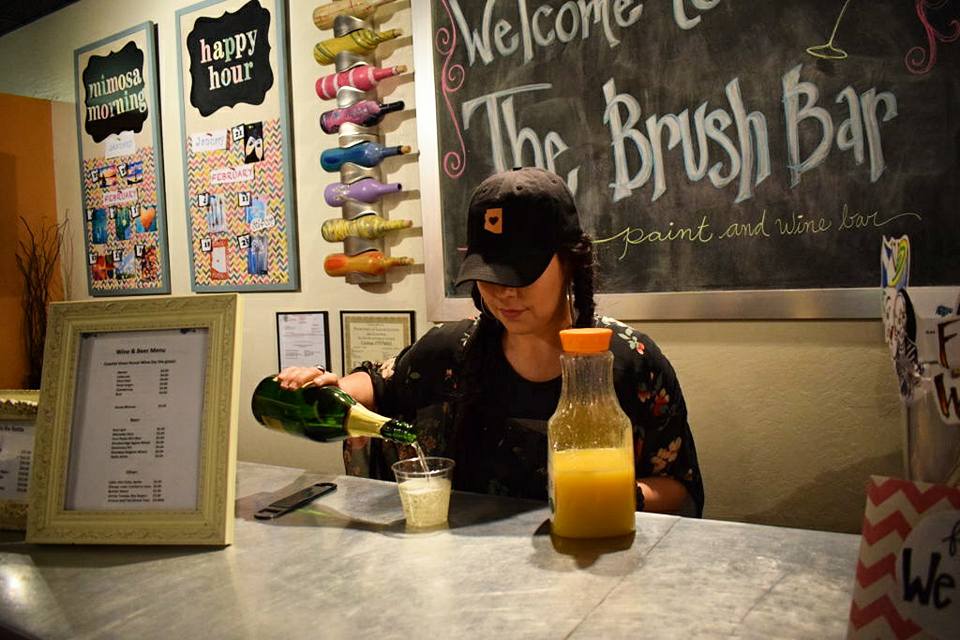 Although April doesn't have any prior bartending experience, she has been making mimosas for herself for almost 15 years. You will learn a little later what makes them so special 🙂
April agrees that a drinking and painting class should be on everyone's bucket list because most people haven't done anything like this since grade school. She says that it's easy to forget how fun and therapeutic art can be and encourages all of you Enthusiastic readers to not be afraid to try something new and to get out of your comfort zone!
When I got to the studio, I immediately felt good vibes and April tells me that it's always like this. She tells me that everyone who works at The Brush Bar absolutely loves it. She describes her staff as a little family who plays hard and works hard to make this the best experience for everyone that comes in.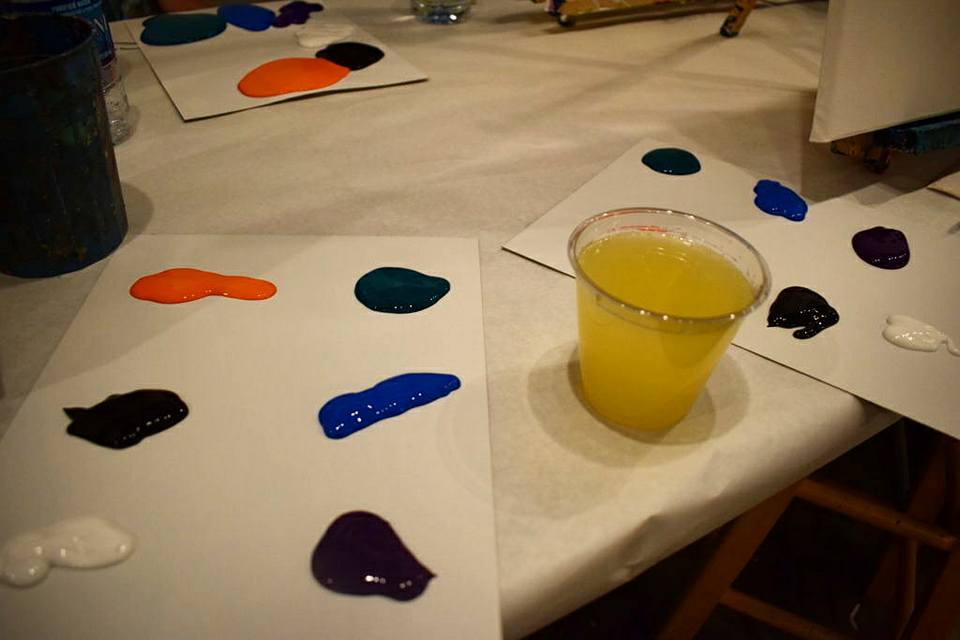 Anyone can create a masterpiece here and I promise that if you listen to the instructor, you will walk out with a painting that you are proud of. And if you don't listen, at least you will have a good time 😉
The artist providing the instruction for the night was Katie from Louisville, Kentucky. Katie has loved art since the age of 5, but got her official training at the University of Louisville where she double majored in painting and sports medicine.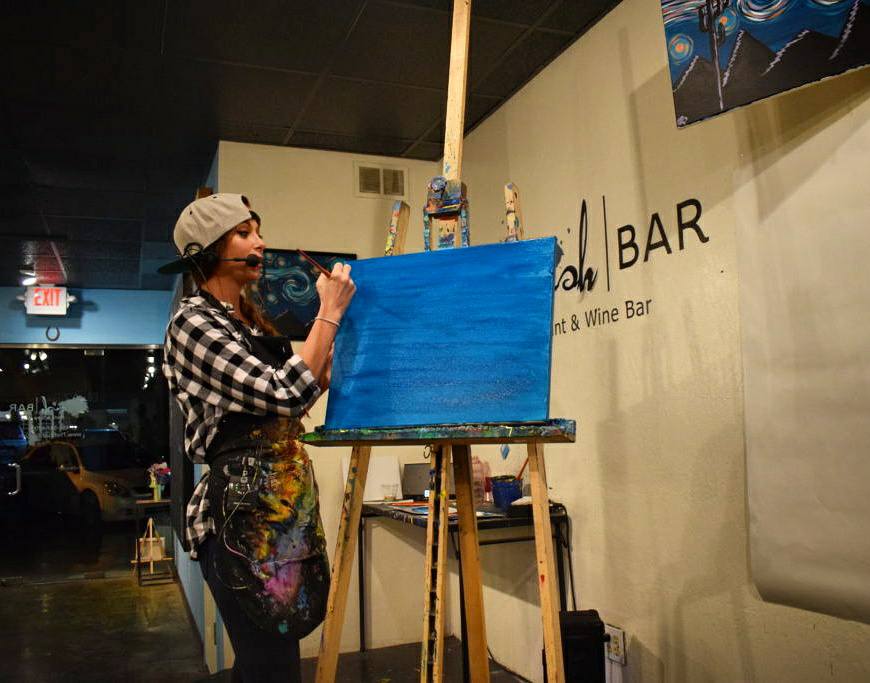 After graduating, she got a job at another painting studio in Louisville and spent some time there as head instructor. After feeling unfulfilled as a local artist she wanted to spread her art so she decided to leave everything to make a name for herself. She moved to Scottsdale in 2013 and got a job at Yelp. Since she wasn't painting as much, her roommate at the time suggested they go out for a drink and they stumbled upon The Brush Bar.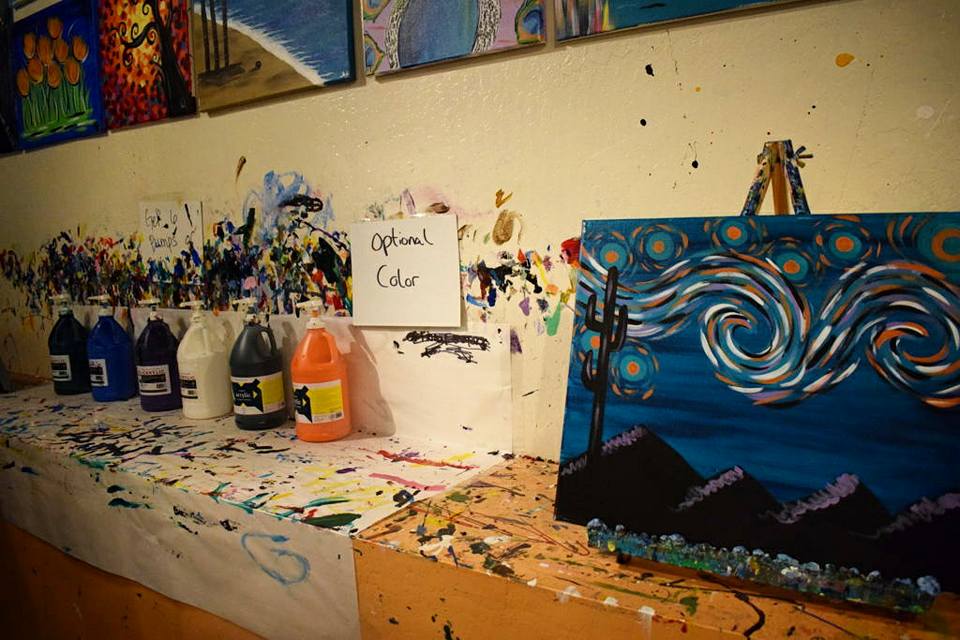 Halfway through her glass of pinot noir she got in the zone and forgot where she was. The instructor at the time, saw what she was painting and Katie was hired on the spot. She left a high paying Senior Account Executive position at Yelp and has been at the Brush Bar ever since!
Now that she is an instructor and no longer a customer, she likes to begin her class by telling everyone to trust the process, that everything will come together at the end and my friends, she is right. I'll be honest and say that I didn't believe her but my painting came out great! And yes, I unintentionally matched with my painting (lol).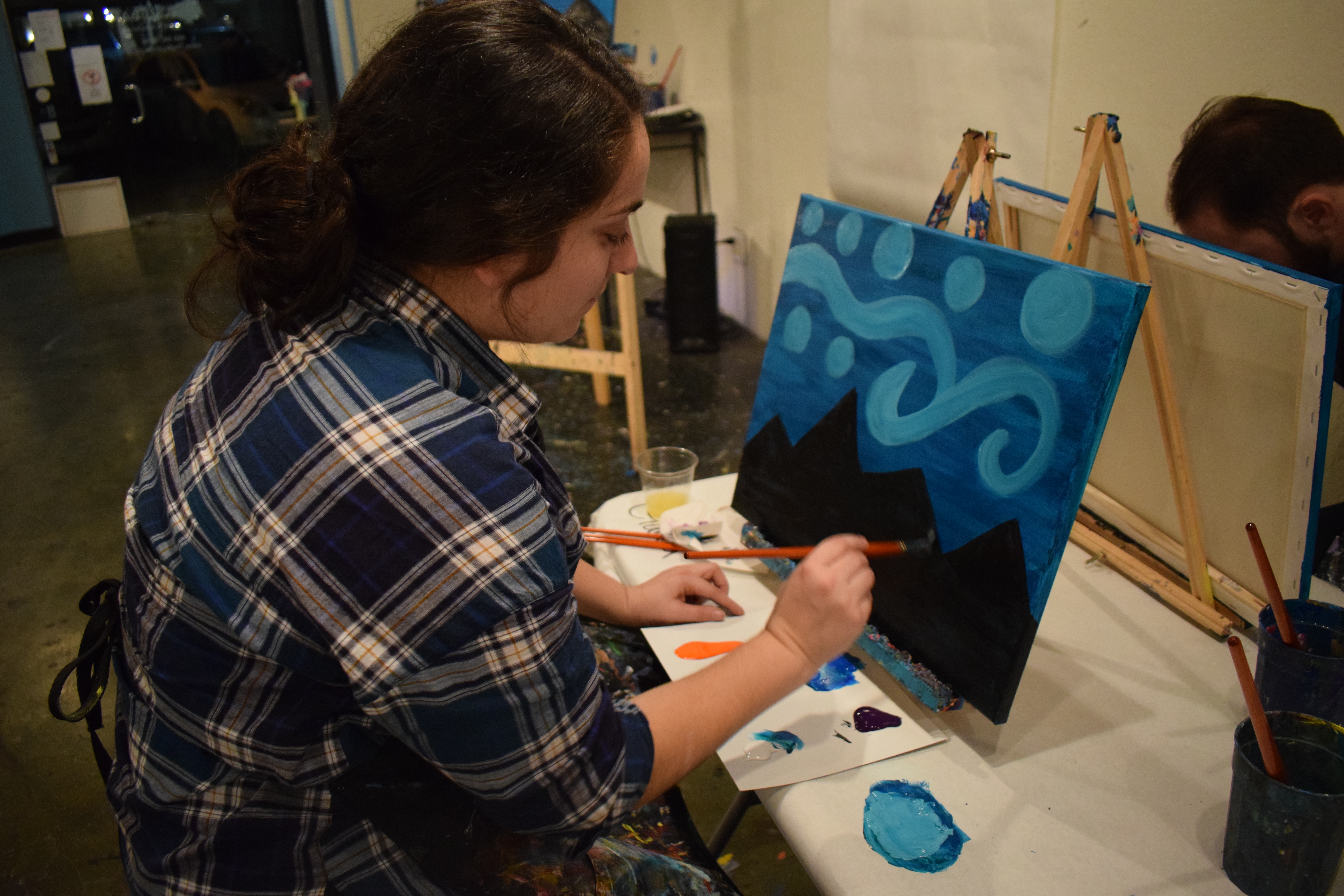 Katie was such a fun instructor…not only was she very patient and easy to understand, but throughout the class, she tells you to 'channel your inner Bob Ross'. She helps you create a painting that you can proudly display in your home. During the rare moments when the class starts to get low on energy, she uses rock-paper-scissors and free drinks to get everyone hyped up. Half the class lines up to battle her in rock-paper-scissors in the hopes of scoring a free drink and even if you don't participate, it is so fun to watch!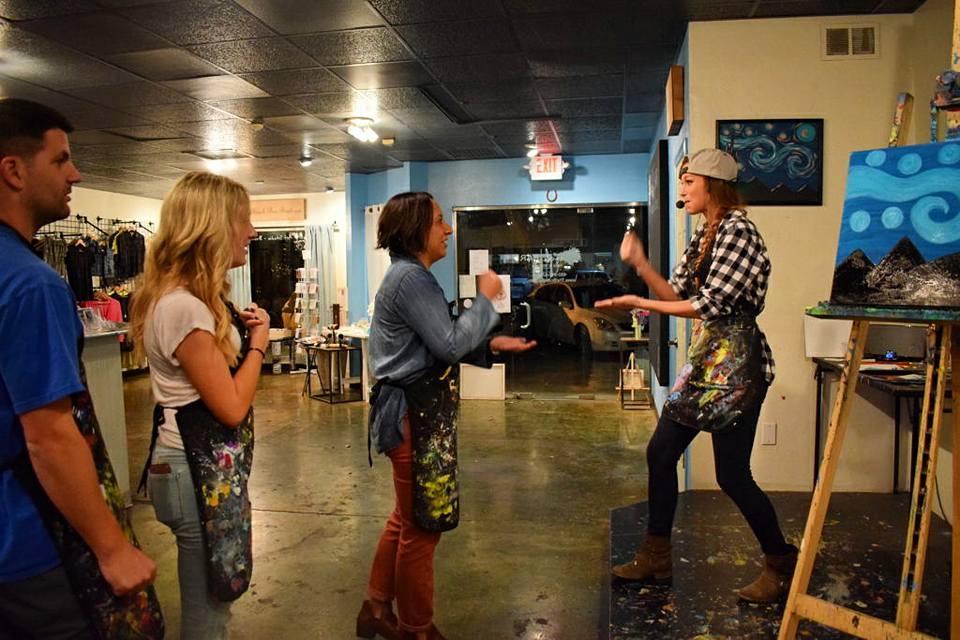 Katie jokes that she makes a fool of herself in almost every class but she really just wants people to feel like they can be themselves. She likes to incorporate rock-paper-scissors because it gets everyone back to their "feel good" childhood days when art class was an everyday thing.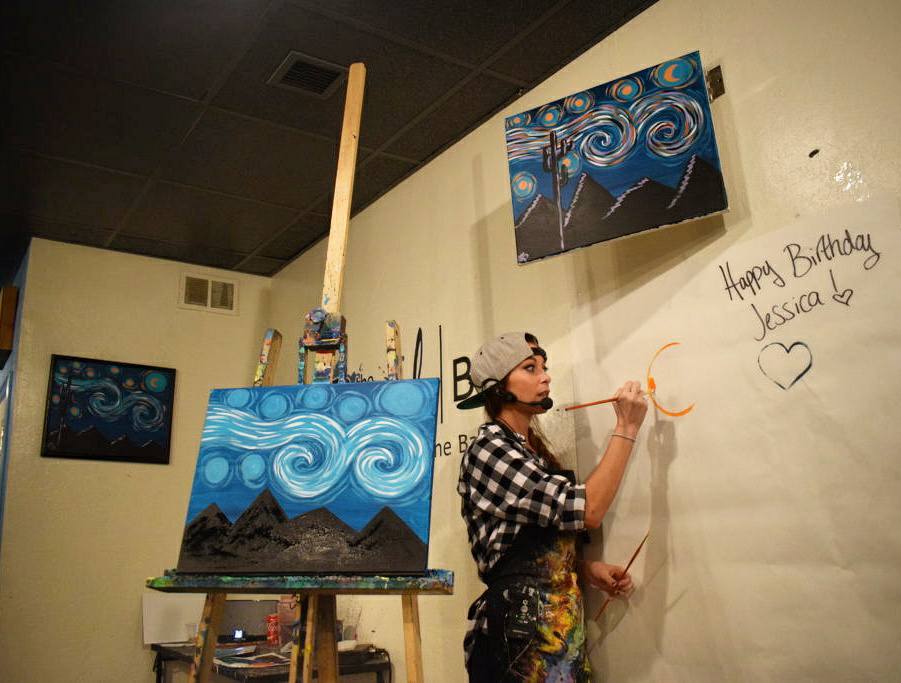 Her favorite part of showing people how to paint is seeing their faces light up; it's pure gratification on her end to see how big their smiles get.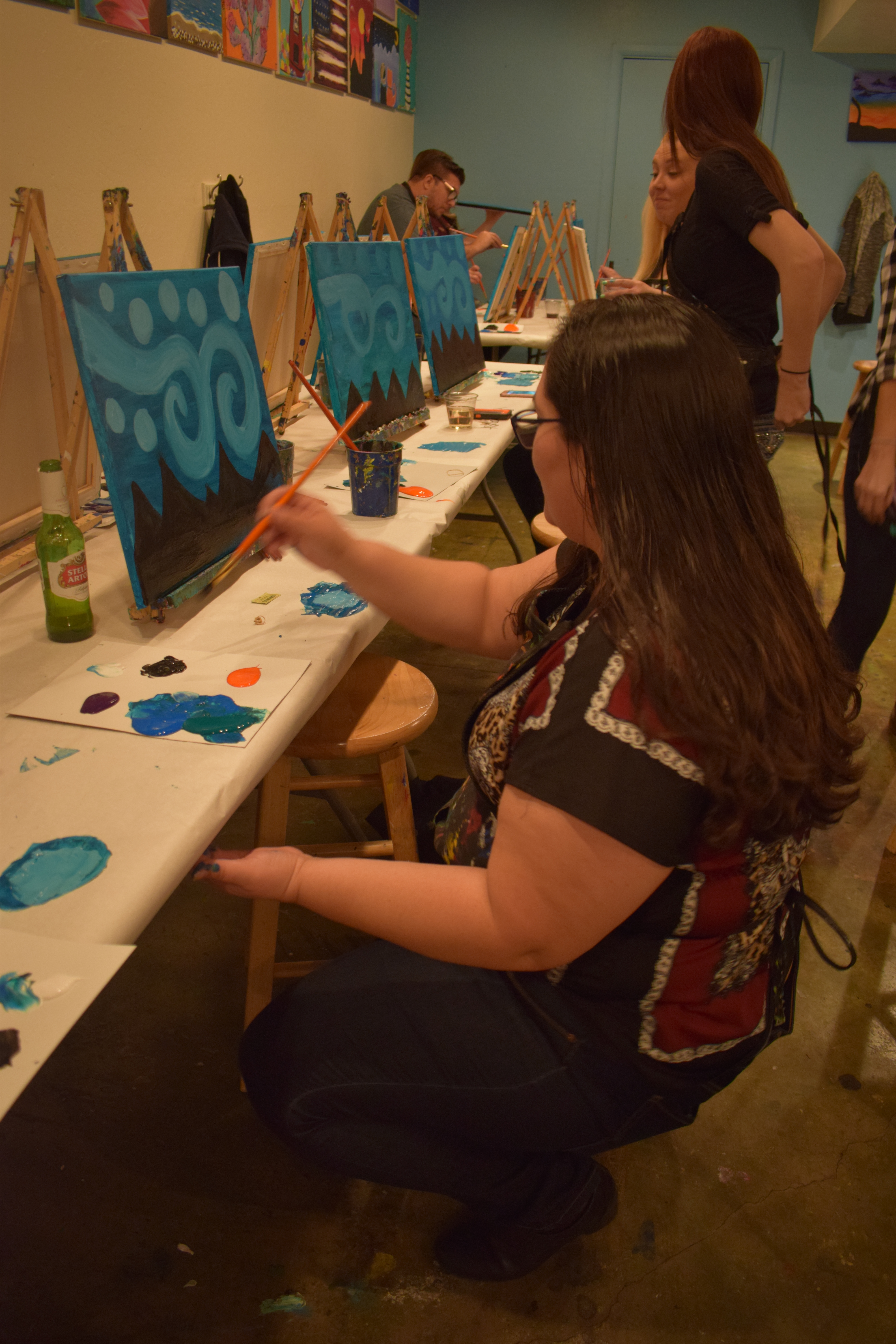 Katie also tells you that 'it's your painting, it's your night' so no matter what happens at the end, there's no pressure. You can totally follow her instructions or go off and do your own thing…it's no big deal.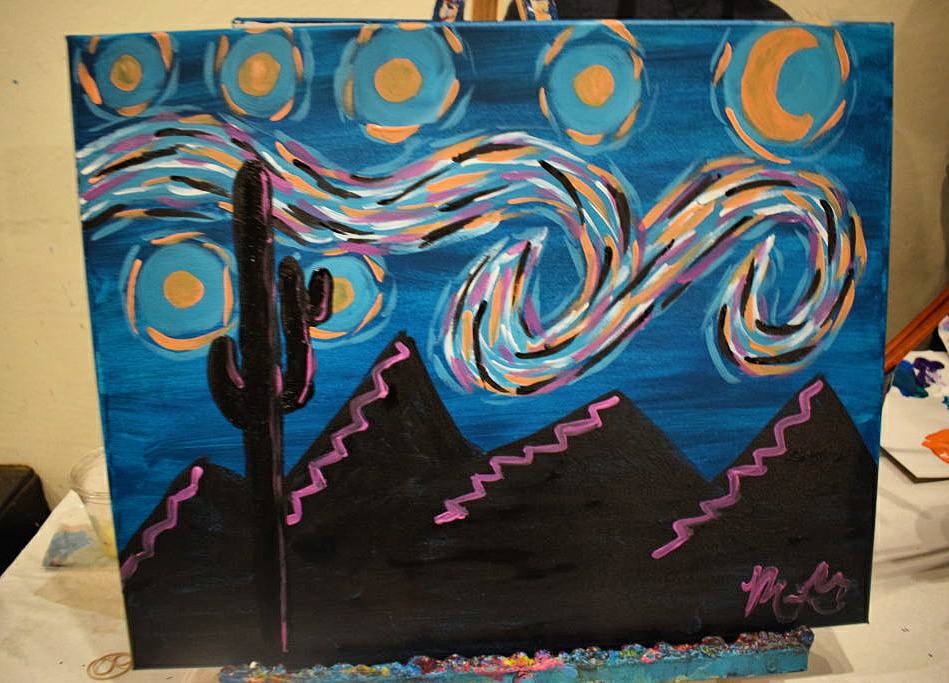 She thinks that painting in general should be on everyone's bucket list and if alcohol has proven for certain individuals to open up and feel less structured then bottoms up!
I definitely recommend a drinking and painting class for everyone, especially girls nights out, bachelorette parties, date nights, or just a fun weekend out which is what Wendy and I did!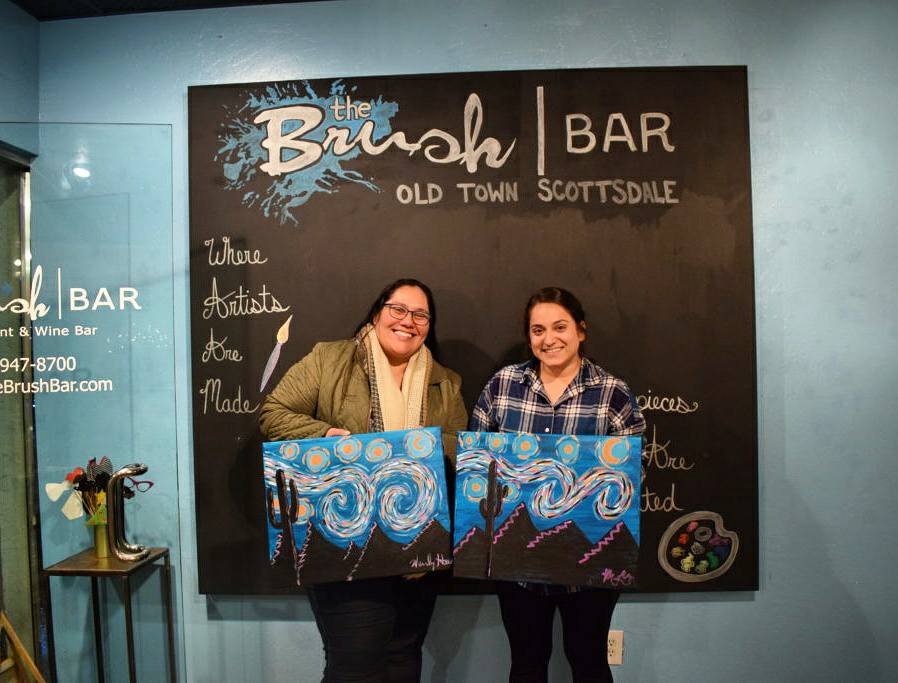 I know my #JoinTheBrunch squad and I are going to come back for the brunch special where they serve unlimited mimosas for $10! And let me tell you that I had the opportunity to drink a couple of  mimosas while I painted and April does not mess around. You basically get a glass of champagne with a splash of OJ, it is WONDERFUL.
The Brush Bar also partners with other organizations to give back to the community. They donate gift certificates to various silent auctions, galas and fundraisers throughout the year. They partner with UMOM, the largest shelter for homeless families in Arizona to sell note cards and all the proceeds go to them. They also donate the paintings that the instructors paint in the classes to different shelters. They love to help any way that they can.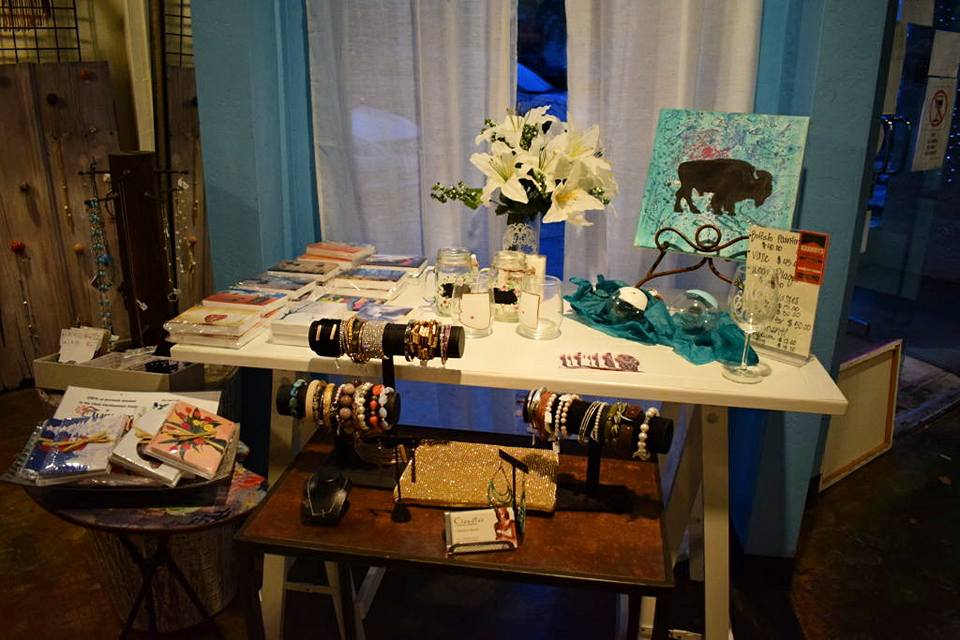 I  had such a blast painting and drinking and definitely have plans to return to The Brush Bar. Thank you all for reading and I hope you are now wanting to channel your inner Bob Ross.
And coincidentally, The Brush Bar just released their March & April calendars and there are some fun new paintings coming out! Every class on Thursday is only $30 and Happy Hour classes are $30 with $3 glasses of wine/beer!
Make sure you tell them Enthusiastic About Life sent you!
If you have any more recommendations on other items to add to my bucket list, please let me know! And stay enthusiastic!
Feel free to follow the adventure on social media 🙂
Facebook / Instagram / Twitter / Youtube
Maira
Please follow and like us: