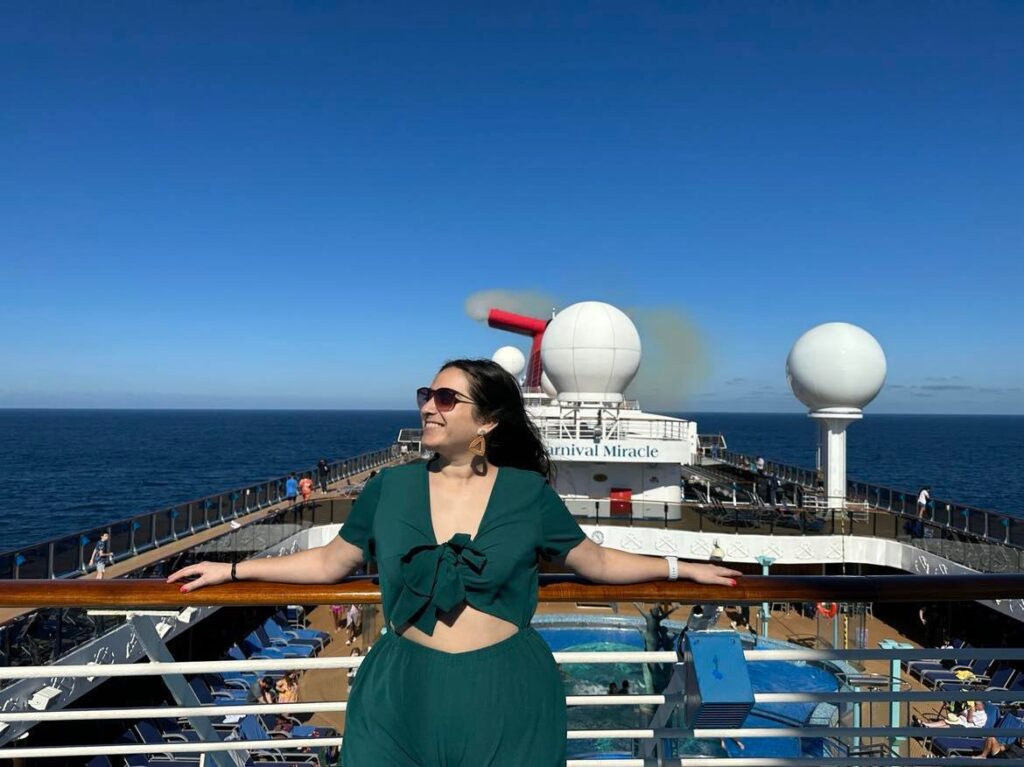 Last Thanksgiving, I went on my very first cruise to Cabo San Lucas, Mexico (departing from Long Beach, California) and after going through it, I have so many tips to share! I spoke to friends and family who had gone on cruises and got some tips prior to my trip, but I have even more to share. Check out all my tips for people going on a cruise. Enjoy!
Overview of my cruise experience
I had a lot of fun on my first ever cruise to Cabo San Lucas, Mexico using the Carnival Cruiseline. Check out my Instagram Reel for an overview of my cruise experience and keep reading for my tips!
Cruise Duration
I would highly recommend that you choose a shorter cruise (3-5 days) for your very first cruise for a few reasons. You never know if you will get seasick, you don't know if you'll actually like cruising, and if you select a shorter cruise at least you won't feel 'stuck' on your vacation.
Data plans
I didn't book a data plan because I wanted to be off the grid and this was actually really great. I was worried that I wouldn't be able to communicate with the other people in my group but we just made sure to say 'let's meet here at 9am tomorrow' and that's what we did. You are also able to call other rooms with the in-room telephone. Make sure to let your family and friends know that you won't be answering any texts/calls so they do not worry.
If you don't want to be off the grid, then I recommend you pre-pay for the data plan to get the best price but also know that it can be spotty depending on where you are going.
Luggage
You have the option to check your luggage into the ship but if you do this you'll have to wait to get your luggage when entering and departing the ship so if you are able to, I would recommend that you pack light and just keep your luggage on you. I know this may be difficult on a longer cruise, but if it's an option you can take, then I recommend it!
Cruise Amenities
Make sure that you download the cruise app so that you can see all of the activities available and take advantage of a few. We did a free tequila tasting, played mini golf, listened to live music, and attended a musical. This also helps you explore the ship which I thought was really fun.
Bring a book
There's plenty of downtime on a cruise and although there are a ton of activities, I still recommend that you bring a book or download music/movies for the days when you've done everything on the boat.
Alcohol package
If you are a big drinker, I recommend you do the math and see if an alcohol package is worth it as drinks can be pretty pricey on the boat. We got lucky since people in our group were regular cruisers who had points and deals so we had plenty of alcohol.
You can also bring alcohol onto the cruise depending on your cruise line so make sure to check their website.
Food
Unlimited food is included on cruises and I hope you won't make the same mistake I did which was to select the very first restaurant I saw. I would recommend that you take a lap to see all of the options available (there's a bunch of counter style casual food spots) and then make your decision. I would also encourage you all to get really small portions to try each item before loading your plate and then going back for seconds or thirds. This way you can make sure that you are only eating your favorite items and nothing is going to waste.
I also found out that many ships have a nicer, sit-down restaurant so make sure you go to the restaurant for a few of your meals as I found the food there tasted a lot better.
Clothing
Make sure to bring clothing that will work for the location you are going to but I also would recommend to bring a light sweater if you are traveling any time outside of Summer because it can get pretty chilly out in the ocean.
A lot of cruises will also have a 'formal' evening so make sure that you go to that and bring proper attire! People went all out on the cruise I went to and it felt like prom!
Fear of feeling trapped
I had the giant fear of feeling trapped on a boat in the middle of the ocean so I made sure that we booked a room with a balcony so that at any time I could just step out and get fresh air. Even if we hadn't booked a balcony room, it was nice to know that you could go up to the highest level of the ship and get some fresh air.
Seasickness
Most people won't get seasick on a cruise since the ship is so large, but just in case I recommend that you bring Dramamine. I actually thought I would feel sick but I didn't!
Excursions
I highly recommend that you look at the excursion options available for when your ship docks. There's a ton of excursions available ranging from spending the day at an all inclusive resort, going on adventurous hikes, swimming with dolphins, etc. Book early so that you are able to do what you like and make sure to at least go on one excursion so that you are able to experience the location to the fullest. We did one excursion and then the next day, we just walked around and explored Cabo on our own.
---
I hope this post helps you prepare for your first cruise. Please comment below any recommendations and I will update my list to reflect that!
Thank you all for reading, and stay enthusiastic!
Feel free to follow the adventure on social media
Facebook / Instagram / Twitter / Youtube
-Maira