This post is sponsored by Toyota. All opinions are my own.
As most of you who follow me on social media already know, this weekend I was in Long Beach, California having an absolute blast at the We All Grow summit. More details on all of the action there will be posted a little later so keep a look out. Today we are focusing on the transportation to this amazing conference. I was very fortunate to have been hooked up by Toyota Latino and Scion with two beautiful, sleek and sporty cars: the Scion iA and the Scion iM. As much as I wish I was able to drive both like a superwoman, I was only able to drive the Scion iA. My friend Sylvia drove the Scion iM and you can check out her review here. Now you all have all of the necessary information to make a good decision.
A huge thank you to Toyota Latino and Scion for letting me and the 4 other Phoenix Latino Bloggers in my group take these babies out for a test drive this past weekend. When I heard the news that we were going to be driving these two cars, I was ECSTATIC for a couple of reasons.
#1: I LOVE Toyota. It is such a fantastic company and I know this first hand because I'm a Toyota Corolla owner. And before I bought my Corolla, I did a ton of research and was happy to find that Toyotas are super dependable, great cars and Toyota has amazing customer service.
#2: The look of the Scion iA is so beautiful. I love my Corolla but when I saw the new models that Toyota had come out with, I was definitely eyeing them. They just looked so different from the Toyotas I was used to. They were a lot sleeker, sportier, but you know that since they are a Toyota product they are still super reliable which is a win-win for everyone.
#3: It is literally a dream car. A few of my friends and family have told me that the Scion iA is their dream car so I was super honored to be driving a car that they will hopefully be buying soon!
#4: I love road trips. I was super excited to test drive a car in this way because when you go on a road trip, everything that could possibly happen, does happen! You have to stop to put gas, you drive through different areas, you drive at night, you drive during the day, etc. This was great because I was able to experience the Scion iA in its full glory!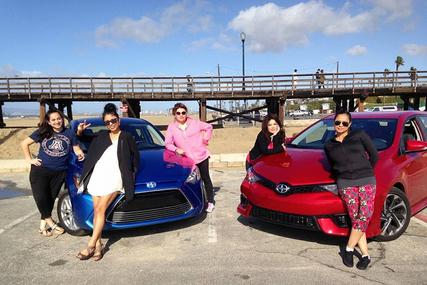 After driving this car from Phoenix to Long Beach, and then Long Beach to Phoenix again, I was able to come up with 8 reasons why you should buy the Scion iA.
#1: IT IS SO FUEL EFFICIENT
We literally only put in gas once on our way there and then again on our way back. The Scion iA has a fuel mileage of up to 33 city and 42 highway which my wallet loves, and therefore I love it too. Not only did we save money, but this was also great because on our way to Long Beach the first night, we drove through the night (midnight-5am) and nobody wants to put gas during this time because every gasoline station looks so creepy.
#2:  IT IS SO EASY TO DRIVE
I like to think that I travel quite a bit and I've gone through my fair share of rental cars. I'm always worried about rental cars because some cars are just not intuitive or you need to spend a lot of time to get the hang of it just to feel natural driving. This was definitely not the case with the Scion iA. It was so easy and so user friendly. All of the buttons are where you expect them to be. It is flashy on the outside (because it's a beautiful car) but on the inside, it is super practical.
#3: IT IS SO SPACIOUS
You wouldn't really think that the Scion iA is spacious if you look at it from the outside but trust me, it is. In the Scion iA, I took two other friends so let's think about it now.  You have three women in one car….now think about luggage for four days for three women. Would you think that would fit? IT DID! Also, on our way back…we received so much swag from the different companies at the conference that we each had at least three extra bags to take back to Phoenix and we STILL fit comfortably.
#4: IT IS SO COMFORTABLE
We were in this car for 5 hours which doesn't sound like a long time but since I'm an engineer, let's do some math together. I was sitting down at work for 10 hours before I left to Long Beach. 10 hours of sitting down at work + 5 hours of sitting down in a car = 15 hours of sitting down. And sitting down can hurt!! It can leave you sore, but thankfully the Scion iA had super comfortable seats so we arrived feeling great and ready for the conference.
#5: IT IS SO COMPACT
The Scion iA was so compact which was great because it was so easy to park. It fit so easily into any parking space…even the ones in California which I swear are way too narrow.
#6: IT HAS A GREAT SOUND SYSTEM
You know when you lend a car to a group of Latina bloggers, that music will be a big deal. We definitely wanted to listen to Romeo Santos and J. Balvin and feel like we were at the club haha. And we definitely did! The car had a super easy system to connect our phone's music through using bluetooth technology and the sound was just so crisp that we jokingly said that it felt like we were at a personal concert haha.
#7: IT IS SO BEAUTIFUL
This point doesn't even warrant a paragraph. I mean, just look at the car. It is beautiful.
#8: TOYOTA IS SUCH A GREAT COMPANY
The team at Toyota is so nice and not just on the professional side but also on the personal side. When they dropped off the car they couldn't find my house because I apparently don't know how to write my own address (I sent the wrong address) but they were so sweet about the whole thing and made sure that I got the car. So again, I just want to extend a huge thank you to Toyota Latino and Scion. I can definitely see why the Scion iA and the Scion iM are people's dream cars. Let me know what you all think of the Scions and if you have one or are thinking of purchasing one!
I hope you enjoyed (and agree) with the reasons to buy a Scion iA. Thank you again Toyota and Scion!
Thank you all for reading, and stay enthusiastic!
You can read more blogs on 'Trips' here!
Feel free to follow the adventure on social media 🙂
Facebook / Instagram / Twitter / Youtube 
-Maira