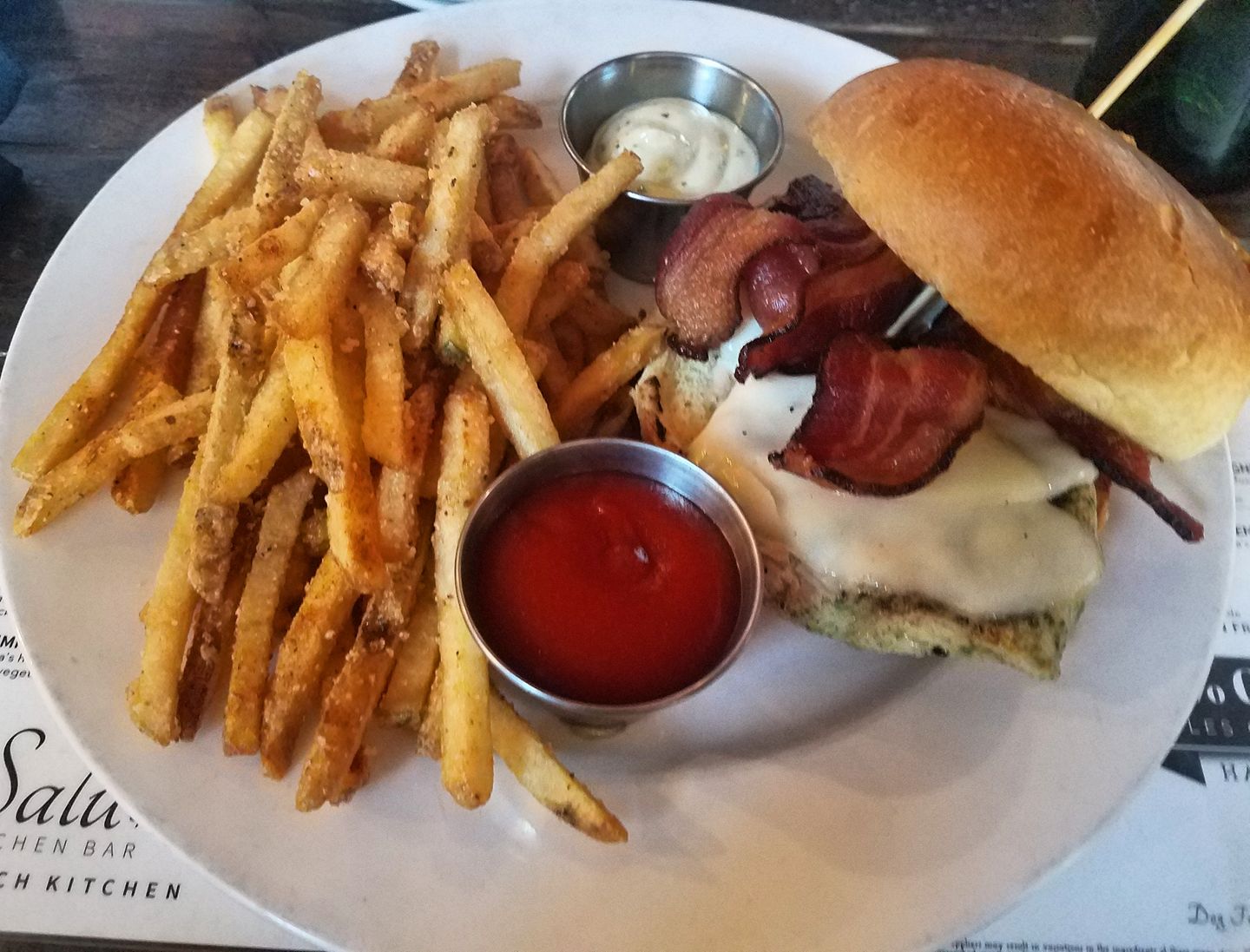 Here at Enthusiastic About Life, we are huge fans of all sorts of different food. As I travel the United States, I love seeing how different states do American Food. Check out all of the American Food restaurants I've eaten at throughout the United States and let me know which spot sounds the best!
Arizona
THE ARROGANT BUTCHER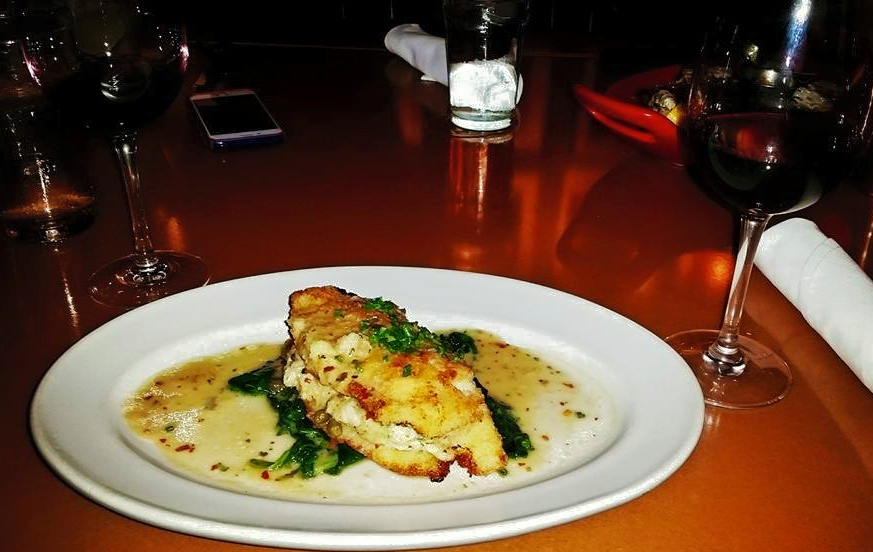 The food at The Arrogant Butcher was really good! Cool, hip place! I had a delicious crab stuffed chicken paired with a red wine from Spain for Becky's birthday! I recommend it because the food and the drinks are great, but also because it's in a great downtown location near a ton of bars! So you can eat and then party!
BLUE HOUND KITCHEN & COCKTAILS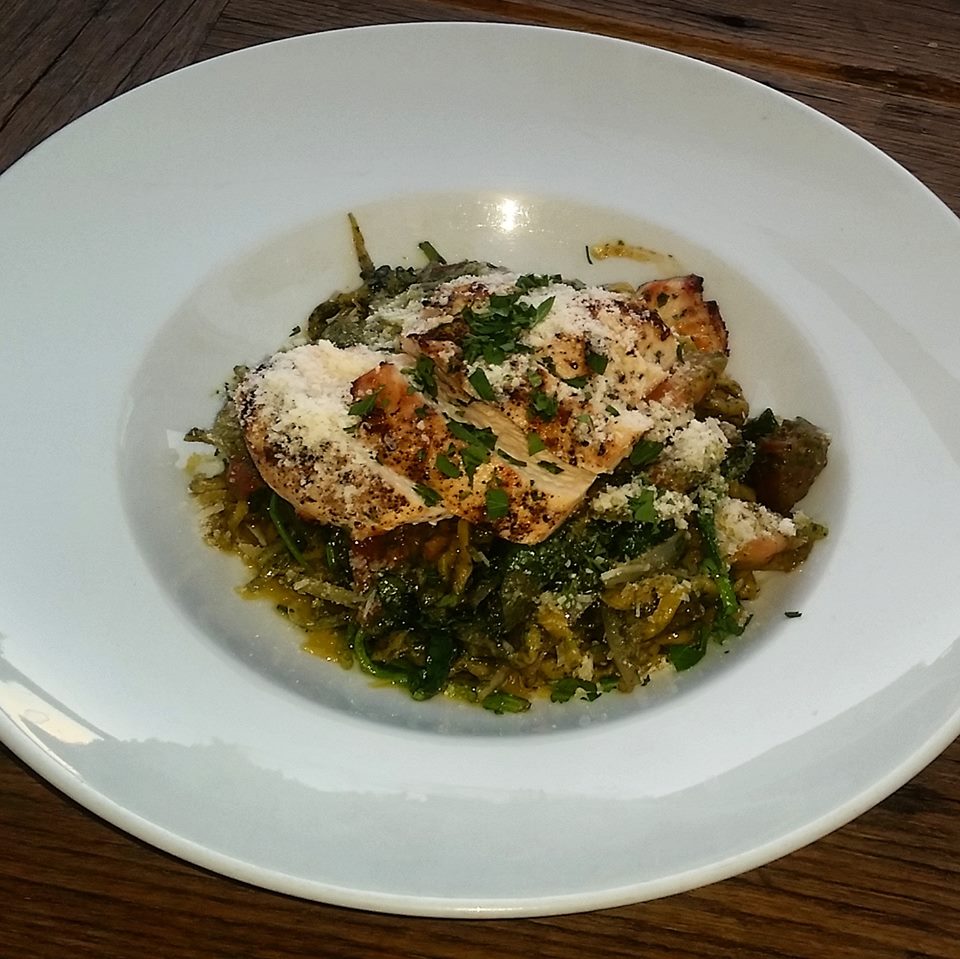 Blue Hound Kitchen & Cocktails was delicious and super dog friendly (they gave my friend's dog 2 water bowls!). For dinner, I had the handmade pasta with basil pesto, parmesan and grilled chicken. It was literally heaven on a plate!
BURGERS AMORE FOOD TRUCK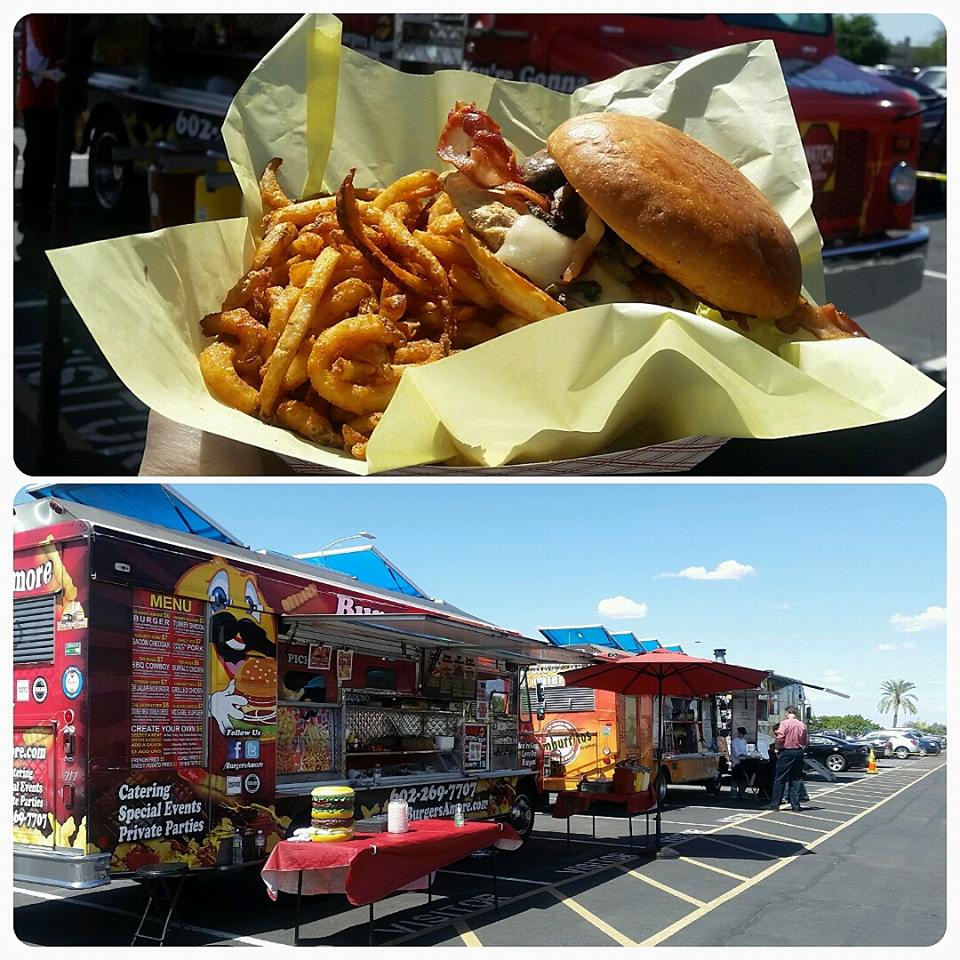 I love when my job makes it easy for me to cross off bucketlist items! Today, we had food truck Wednesday and I tried Burgers Amore! This food truck was recommended by my coworker Kris and I owe him a beer because my chicken, bacon, swiss and mushroom sandwich was seriously out of this world. It's hard to find a good chicken sandwich at a burger spot but wow, Burgers Amore was a home run. Highly recommend!
CHELSEA'S KITCHEN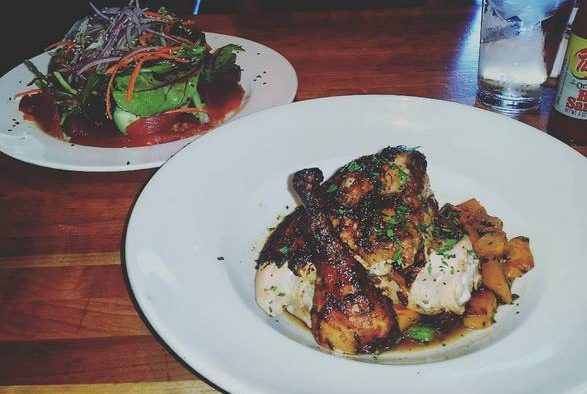 I loved Chelsea's Kitchen! Super cute and fancy place with AMAZING food. Literally as soon as I walked in, I could SMELL the flavor. I had the rotisserie half chicken and Joe had the tuna salad! DELICIOUS! Definitely will be coming back and trying everything on the menu!
THE CHUCK BOX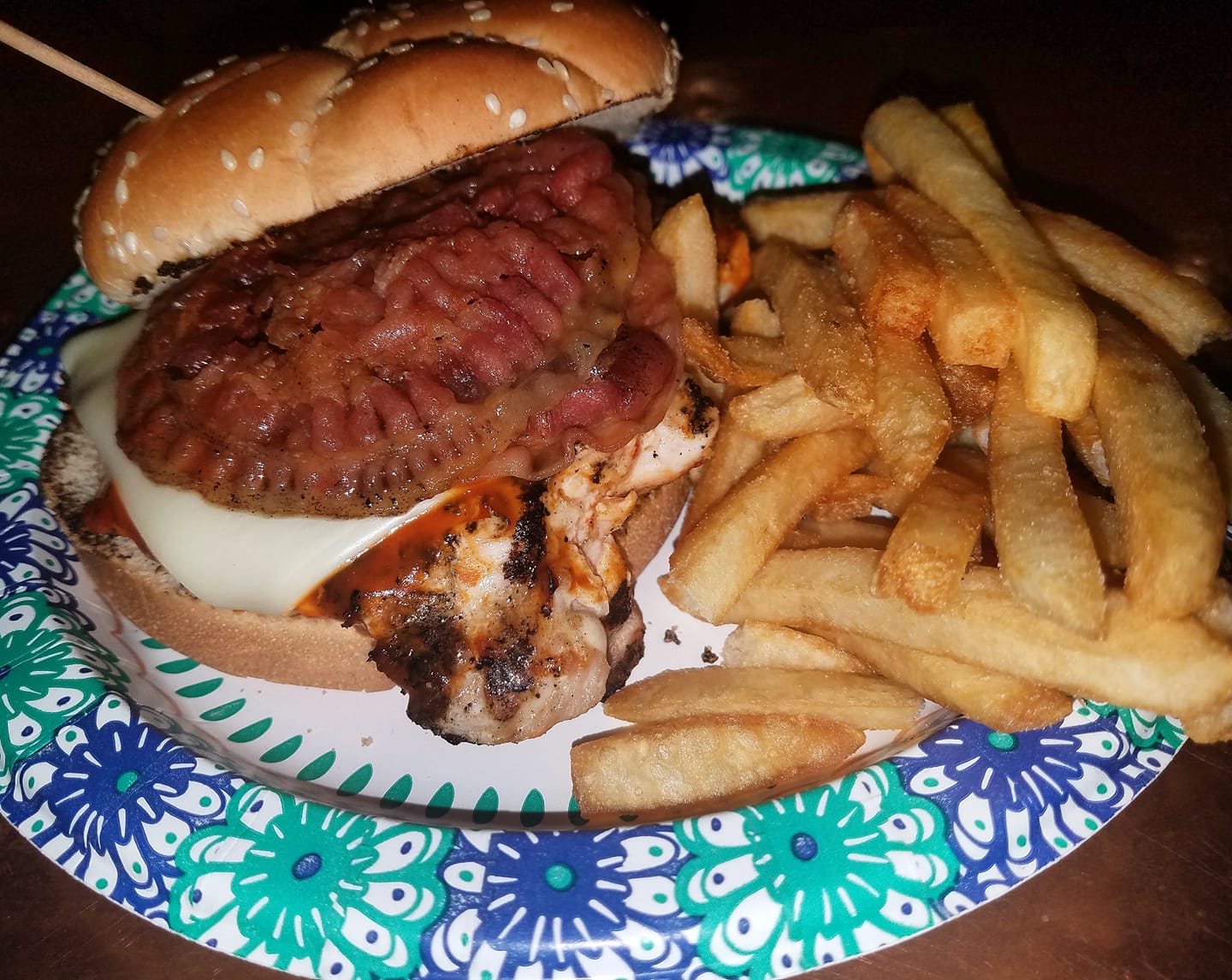 The Chuckbox is so tasty. I had the spicy chicken sandwich with a BACON WREATH and it was delicious. It's made to order on an open mesquite fire right in front of you so it tastes super fresh! They also have beer and wine if you're thirsty. Make sure you bring cash as it is a cash only establishment.
THE COMPASS ARIZONA GRILL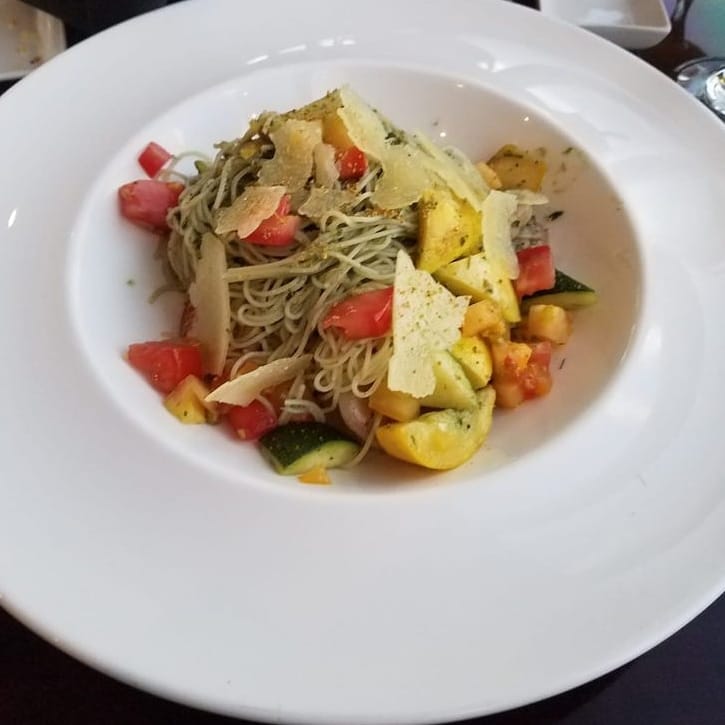 The Compass Arizona Grill within the Hyatt Regency in Phoenix is great for carb-loading but it's also perfect if you're trying to admire some beautiful views while you eat.
CORDUROY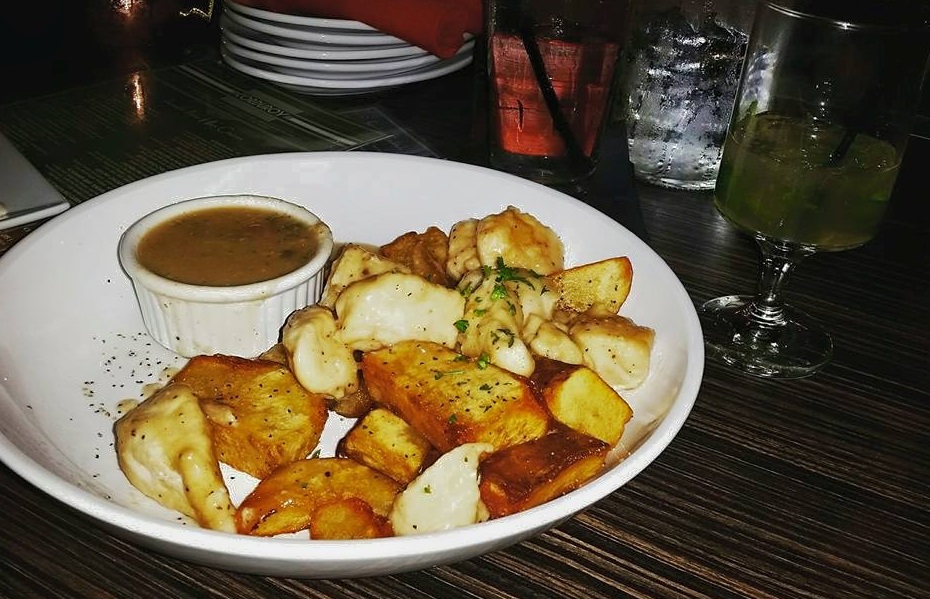 I tried Corduroy and can tell you that this restaurant had a great atmosphere, delicious lemony chicken and interesting drinks! Loved my apricot mojito!
COOPER'S HAWK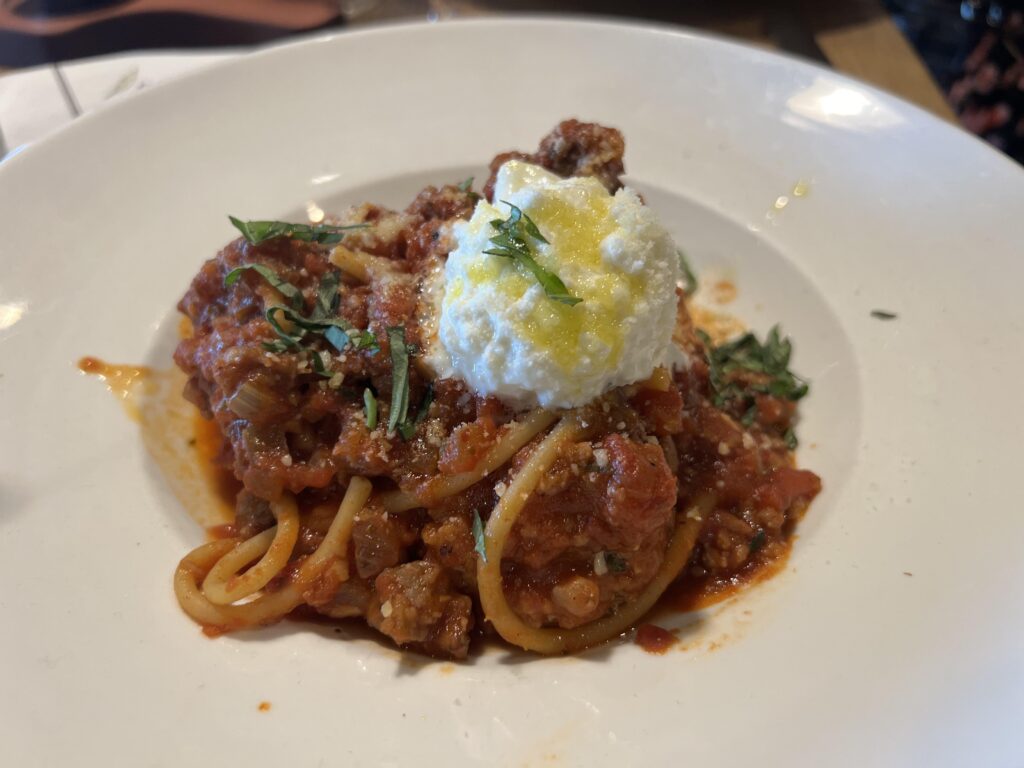 If you're craving some delicious pasta with a great wine selection, then I highly recommend Cooper's Hawk in Gilbert. I had the keaton's spaghetti & house-made meatballs and can't wait to go back! The restaurant actually used to be a spa and it's a great place to go for girls' nights.
DAILY DOSE OLD TOWN BAR & GRILL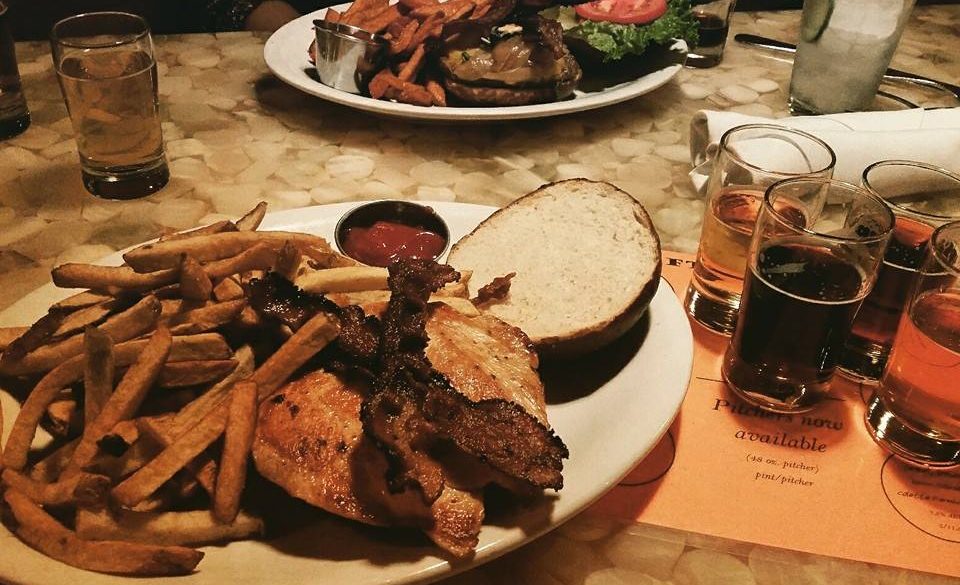 Daily Dose is DELICIOUS. They have fantastic beer (I had a flight of beer) and the chicken and bacon sandwich I had was so juicy and perfectly cooked! And the fries were probably some of the best fries I've had in Scottsdale. Definitely coming back, especially because I've heard that they also have fantastic breakfast! Recommend this place if you are in the area!
DISTRICT AMERICAN KITCHEN & WINE BAR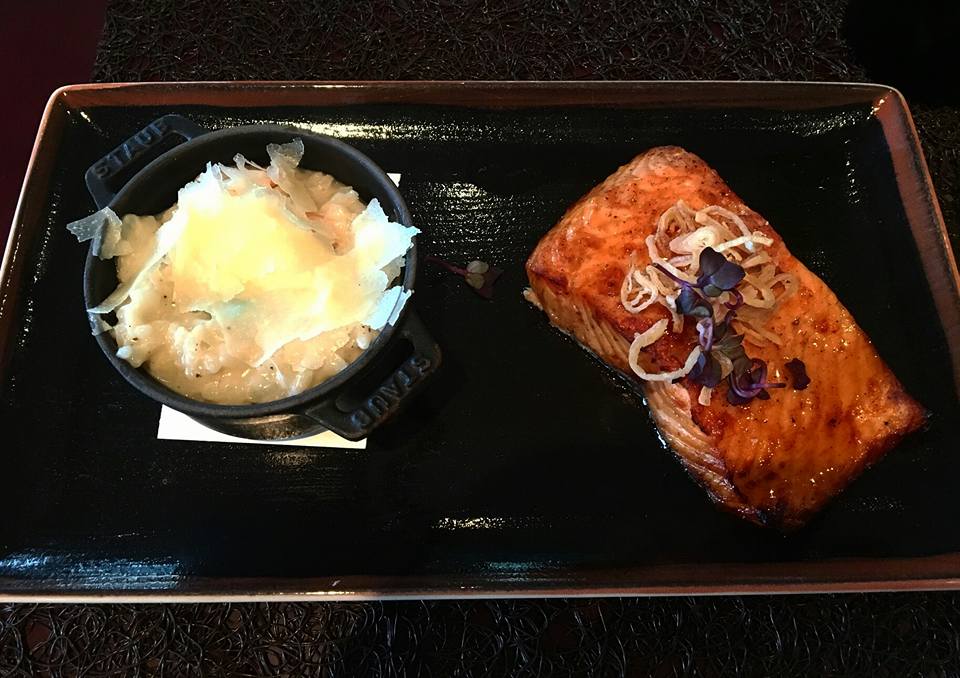 At District American Kitchen & Wine Bar,I had the Cedar Roasted Pacific Salmon with maple bourbon glaze and a side of risotto with shrimp! It was super tasty, the restaurant was very hip/classy and the service was great. At the end of every meal there is a really fun surprise. I won't ruin the fun by telling you what it is, but trust me it is awesome!
THE DUCE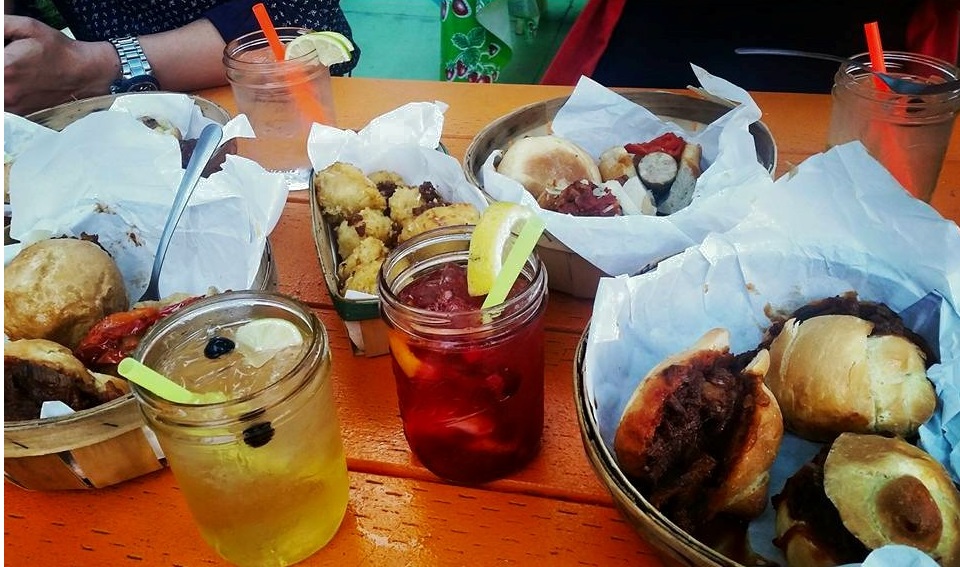 I LOVED THIS PLACE. The environment at The Duce was poppin' and the food was delicious. Also, the cocktails were kind of involved and had a ton of ingredients but it all worked out because those drinks were delicious. I had the briscuit sliders and the cranberry cobbler cocktail! Def coming back! This is my new spot.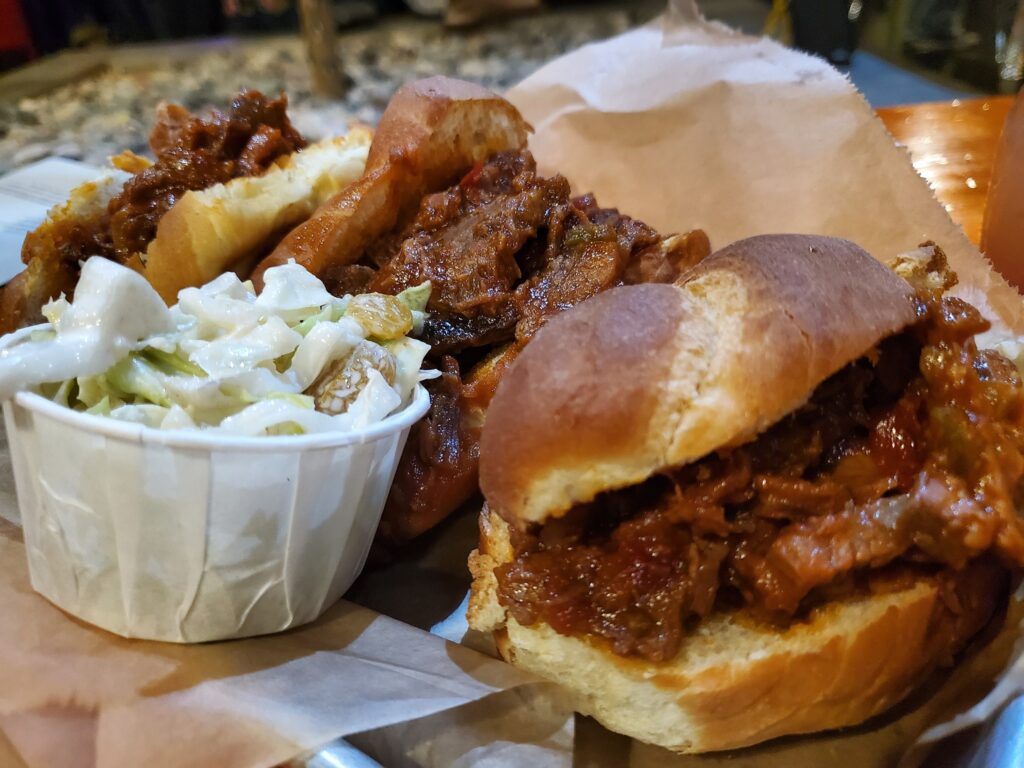 Not only is it a unique spot with lawn games, a boxing ring, dance areas, cute patio seating, amazing cocktails but they also have delicious brunch and lunch/dinner! Pictured here are the brisket sliders with a side of cole slaw. SO TASTY AND FILLING!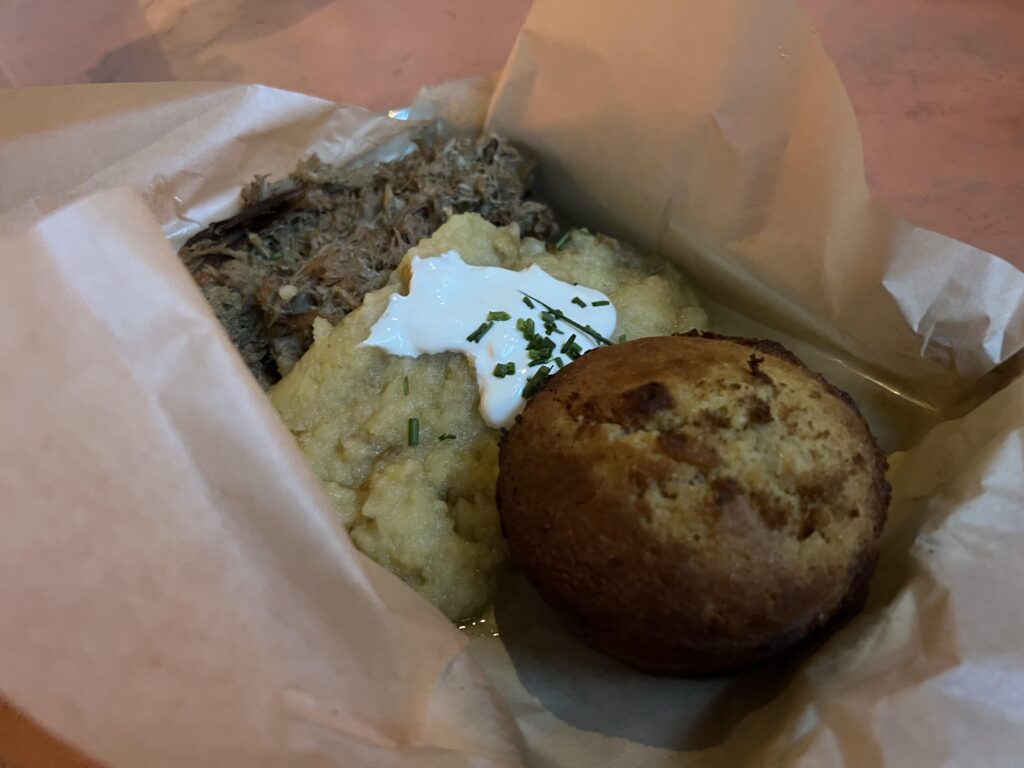 The Duce recently changed their menu and added this incredible garlicky pulled pork, mashed potatoes and corn bread. Everything had so much flavor!
FAIR TRADE CAFE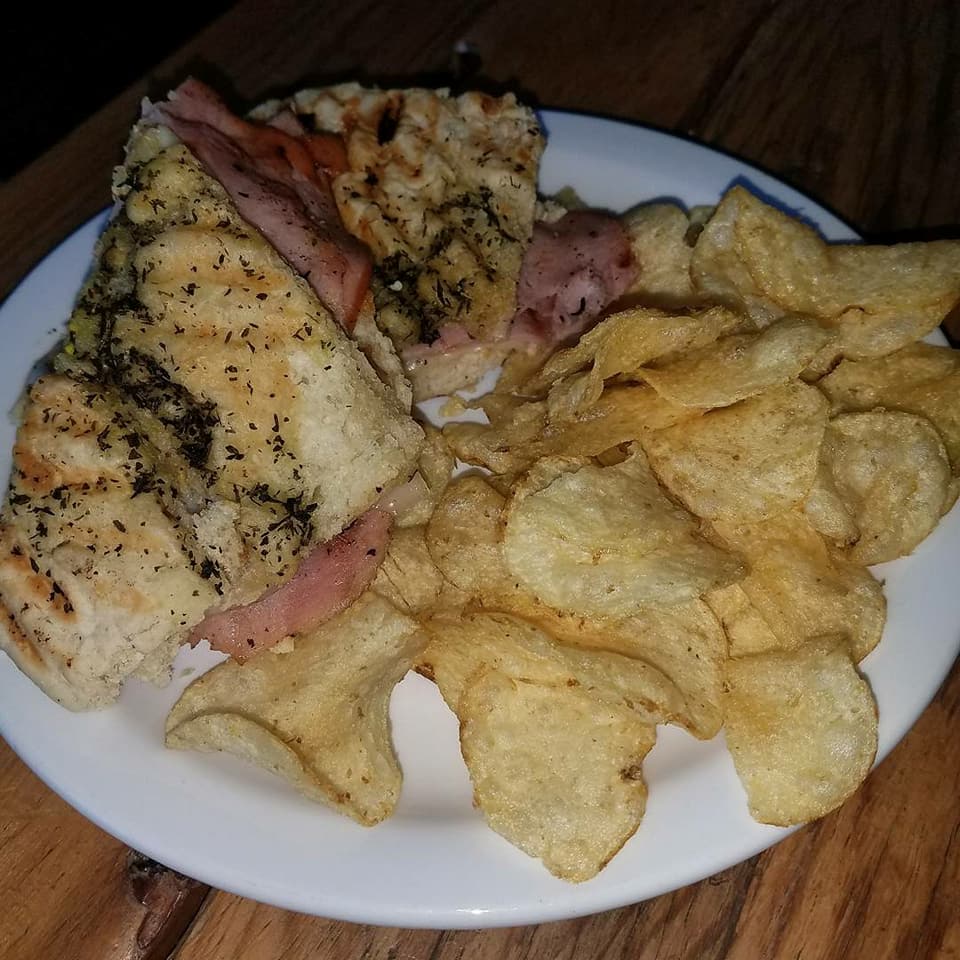 Fair Trade Cafe is my current fave weekday restaurant because on Wednesday nights, they host weekly game nights with your typical board games AND LOTERIA!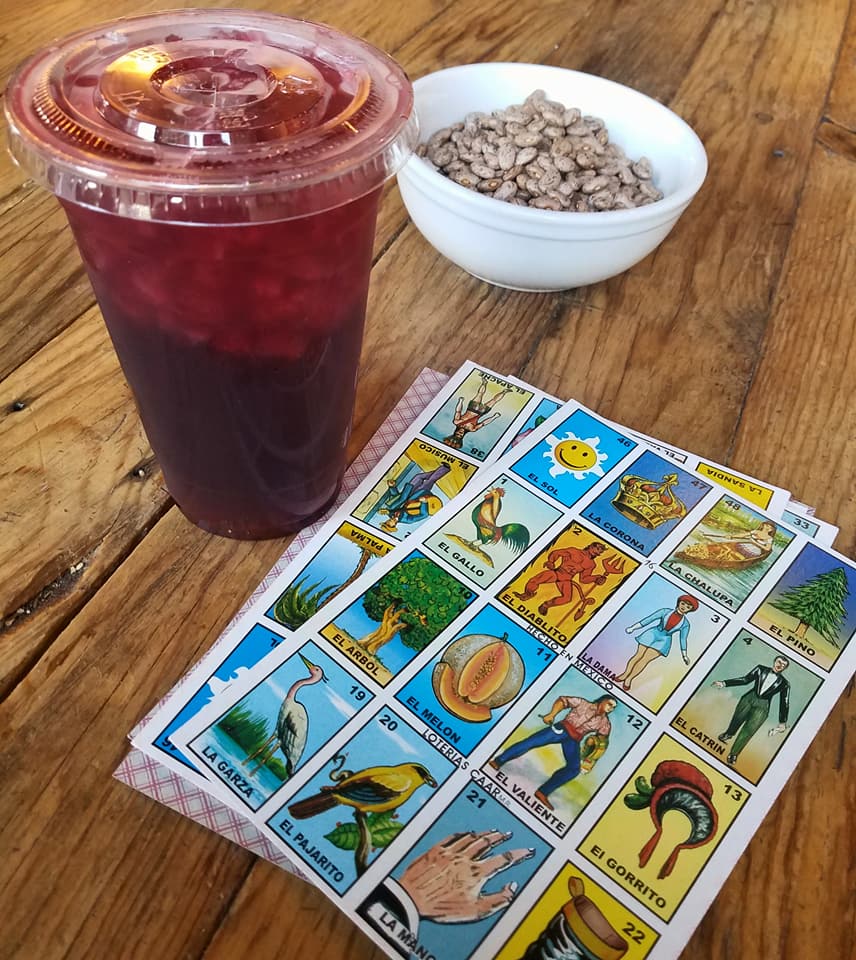 Plus they have delicious food and drinks! I had the ham and swiss panini on their house-made Herbed Panini bread and it was so tasty and full of flavor.
THE FINAL SCORE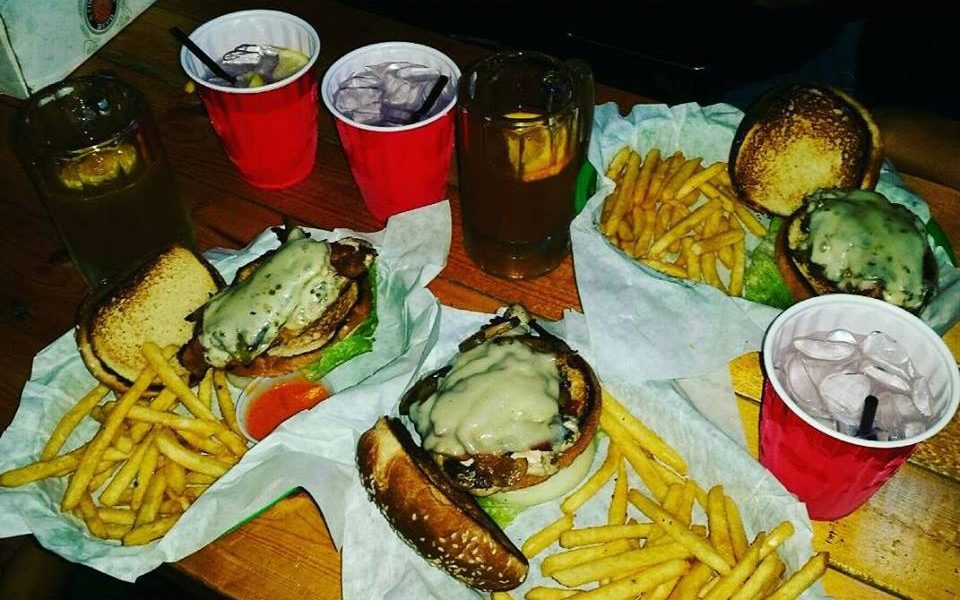 One of my favorite parts about coming to Prescott every few weeks is trying the food here! At The Final Score, I had one of the best grilled chicken sandwiches I've had in a long time. It was perfectly cooked and super juicy. This is definitely one of my top three restaurants in Prescott. Definitely will be back. Great service too!
FREDDY'S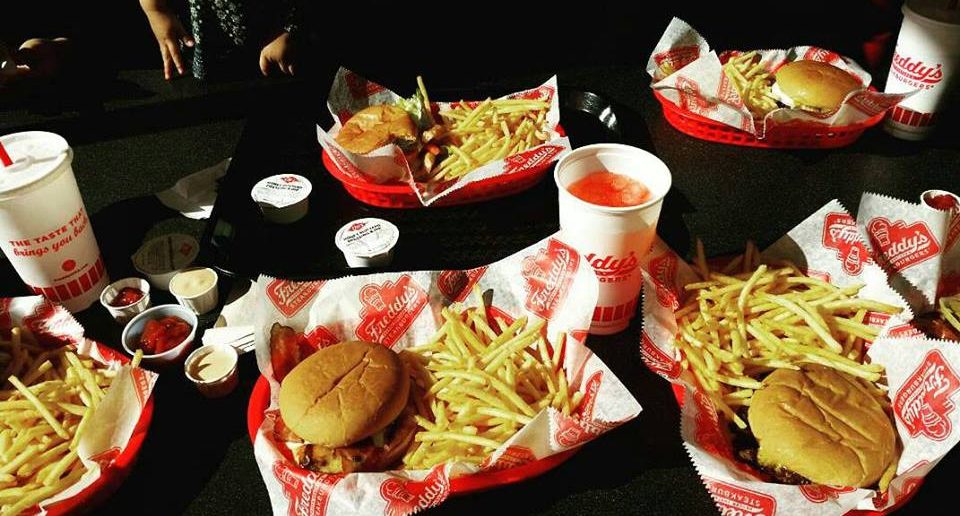 I finally tried Freddy's today and it was really good!! I loved the thin cut fries!
GURLEY STREET GRILL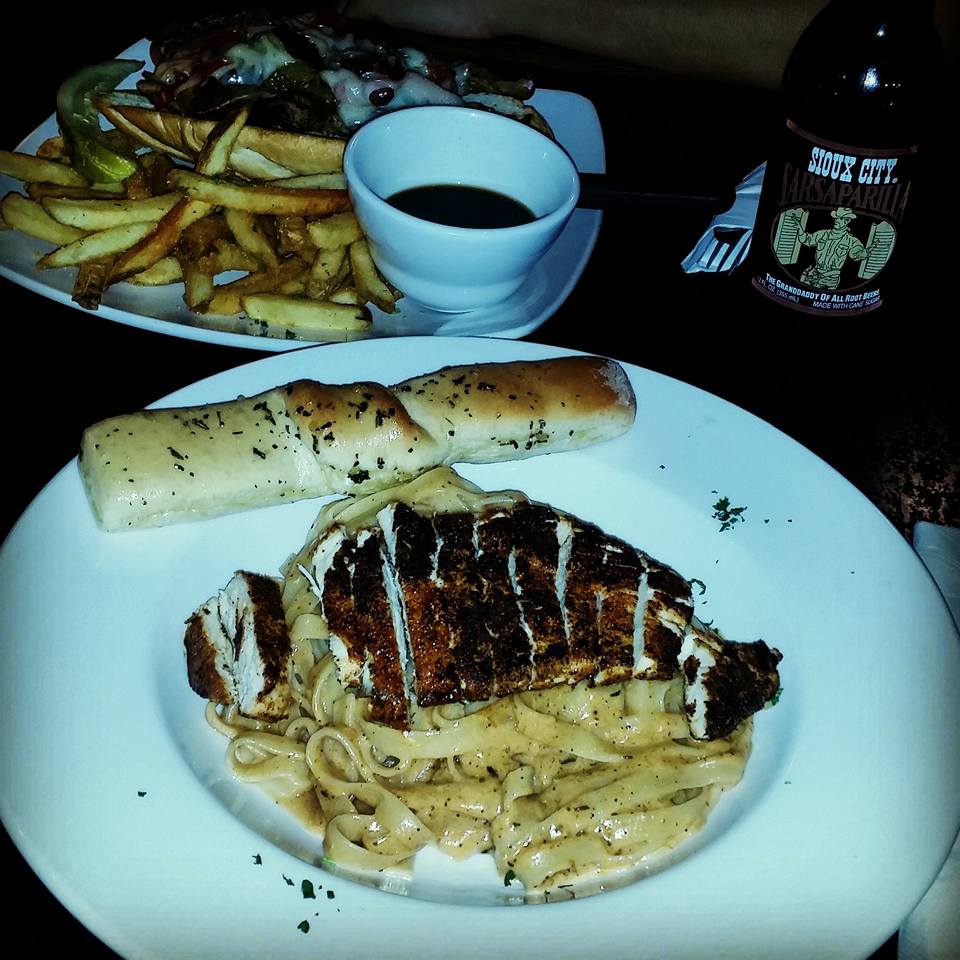 The Gurley Street Grill in Prescott was delicious, had such a classy feel and fantastic service. My blackened chicken and fettucini pasta with house made sau
THE HABIT BURGER GRILL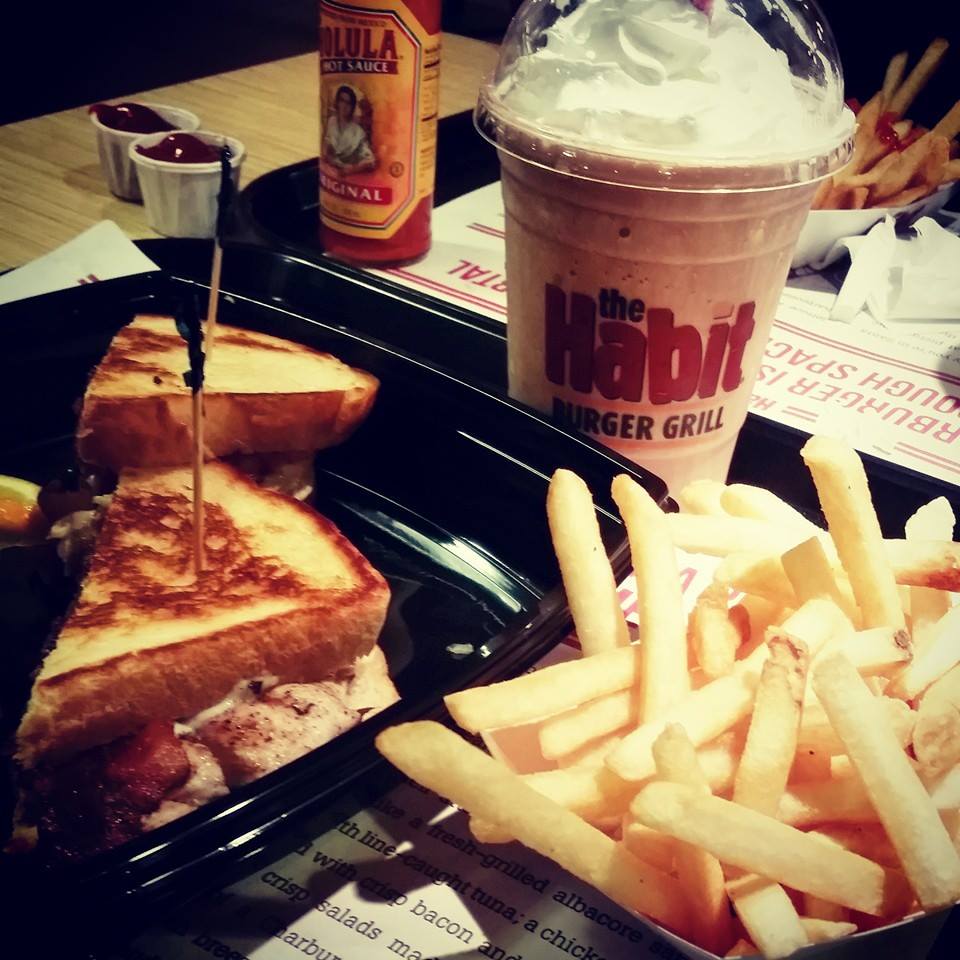 Finally tried The Habit Burger Grill! I've never had such a good sandwich at a burger place. The chicken was juicy and grilled perfectly. The bread was super tasty. The fries were seasoned and full of flavor. And the shake was the cherry on top.
HANNY'S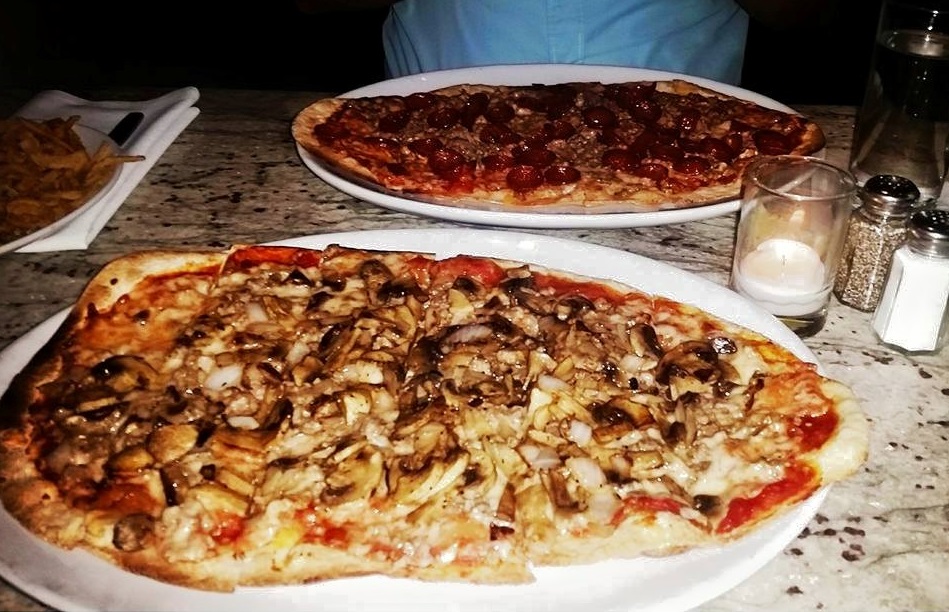 I've partied here at Hanny's before but I've never had their food…it was tasty! Super classy place.
THE HAYMAKER RESTAURANT CO.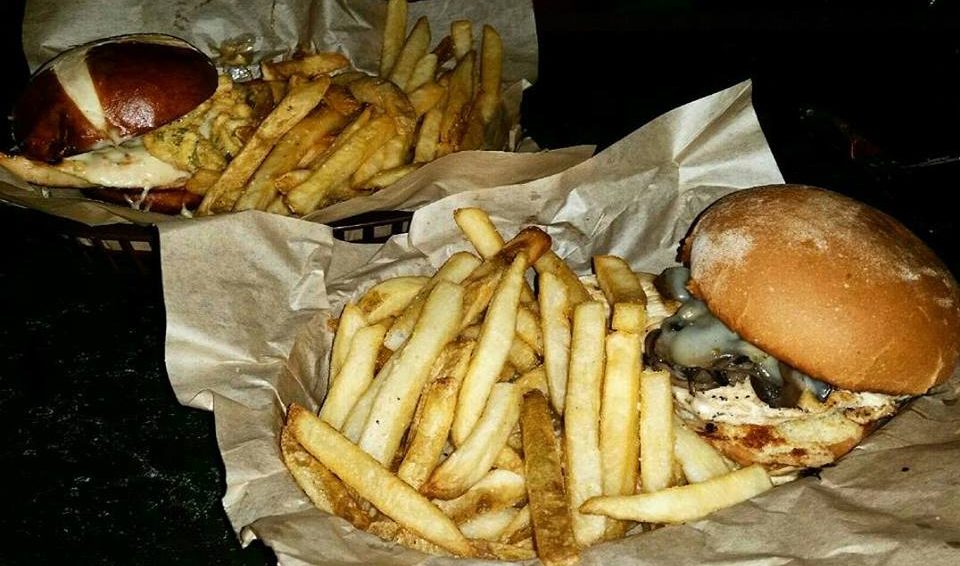 At The Haymaker, I had the mushroom, swiss and grilled chicken sandwich! It was delicious and super great service! I recommend!
THE HENRY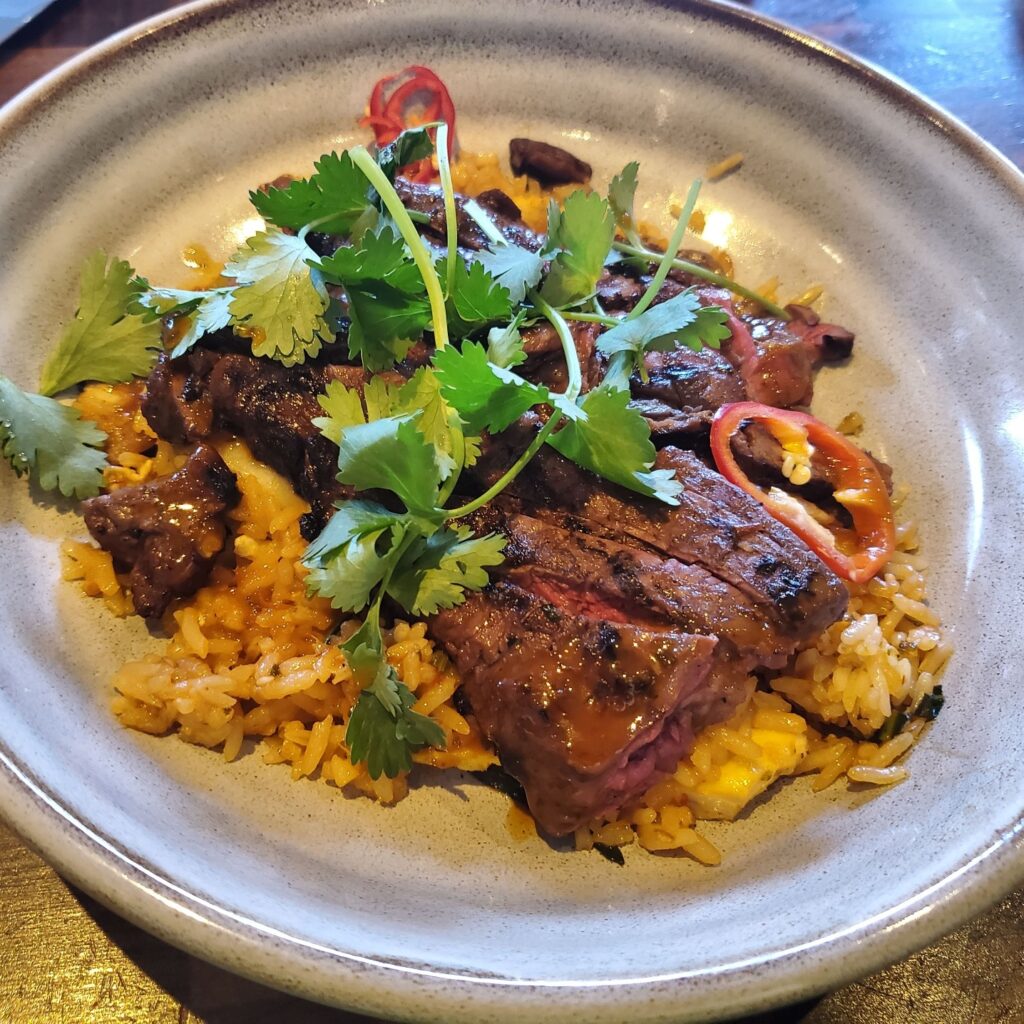 I recently tried The Henry for lunch and cannot wait to go back! It's a really cute restaurant with delicious cocktails and coffee AND tasty food.
I had the Korean Prime Skirt Steak with double egg fried rice and it was PHENOMENAL! What are you all eating this weekend?!
HOUSE OF TRICKS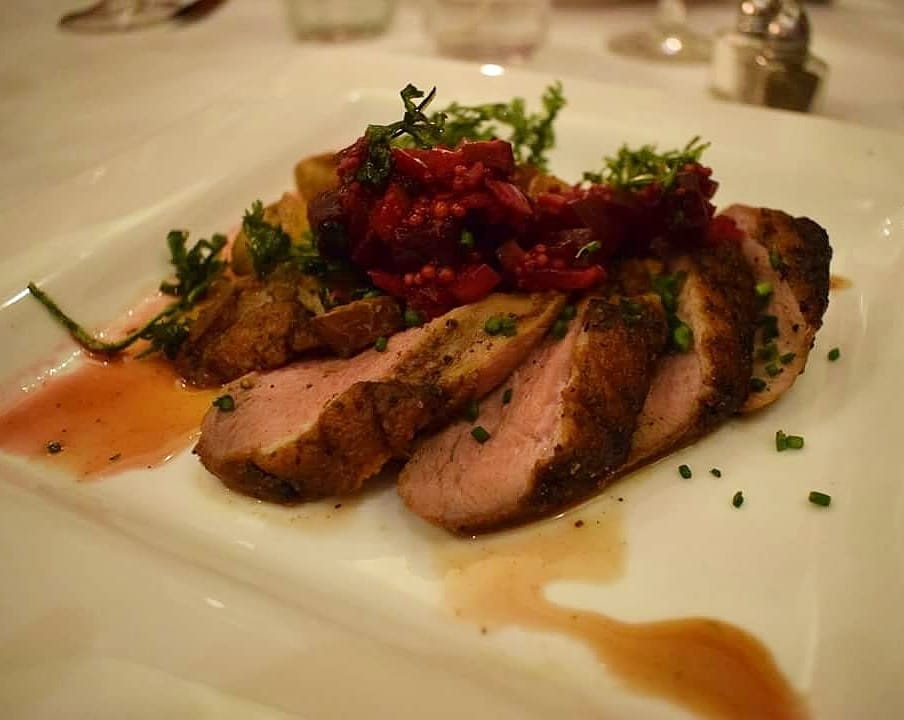 I had the spiced duck breast after their chef recommended it and it was phenomenal. It was so flavorful and tender and just so satisfying. It came with crispy fingerling potatoes and a pickle beer relish that I was hesitant to try but it was the best combination. All of their food was amazing but one thing that blew me away was the ambiance. I'll definitely be back for romantic dates, girls nights and fun dinners with friends/family.
JOE'S FARM GRILL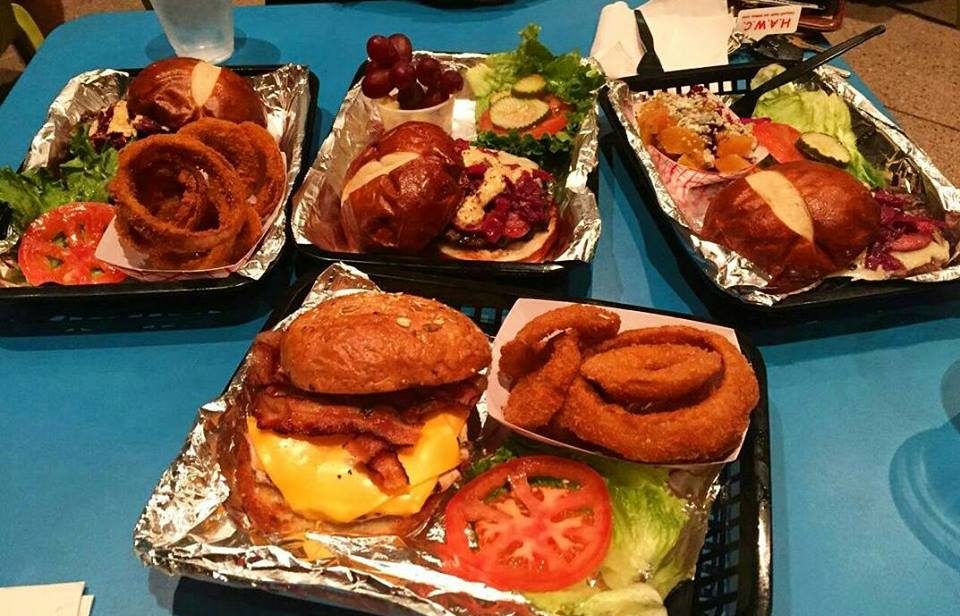 Oh my god y'all I think I've found my favorite restaurant for American food. The food at Joe's Farm Grill in Gilbert IS MOUTH WATERING. My friend Guy Fieri from the Food Network tried this place and so obviously I had to try it. Hands down one of the most delicious chicken and bacon sandwiches I've ever had. Super juicy and flavorful and those onion rings were just 'dynamite' ??? Delicious and HIGHLY recommend. Definitely will come back every time I'm in the area. Also the restaurant is just super cute, trendy and very different!!
LENNY'S BURGER SHOP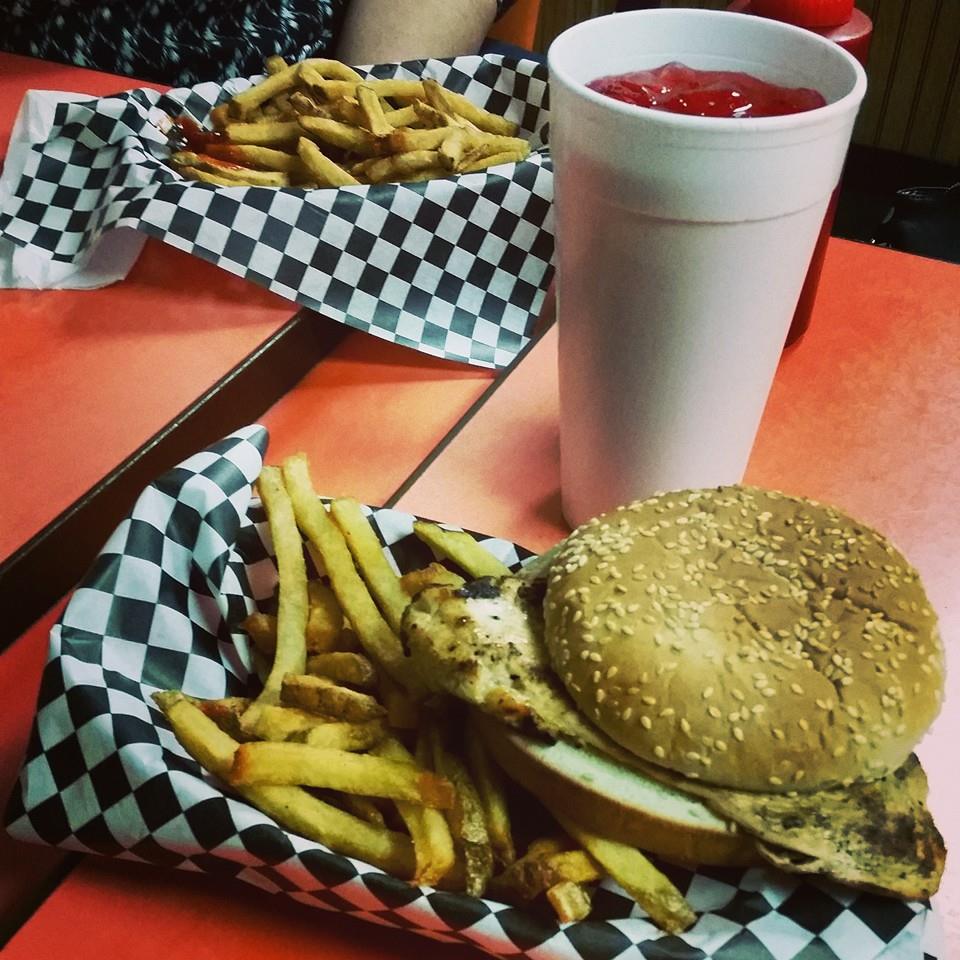 Lenny's Burger Shop is a cute little place with big flavor. I had a grilled chicken sandwich with some of the most savory french fries I've had in a while. Delicious grilled chicken fillet sandwich.
THE LOLA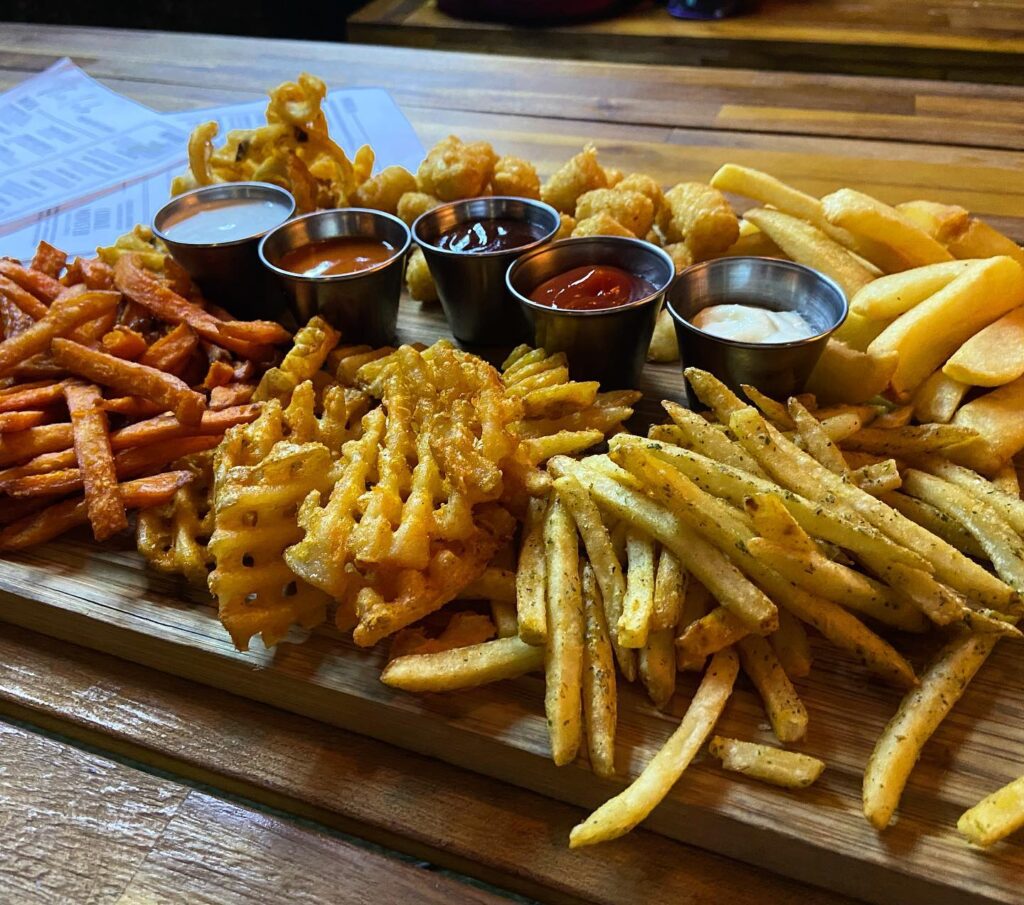 If you're a potato fan, then you need to go to The Lola for happy hour and order their My Gf Isn't Hungry board! It's literally all kinds of potatoes!
Their drinks are really tasty too! And the whole place is just very Instagrammable lol.
OHSO BREWERY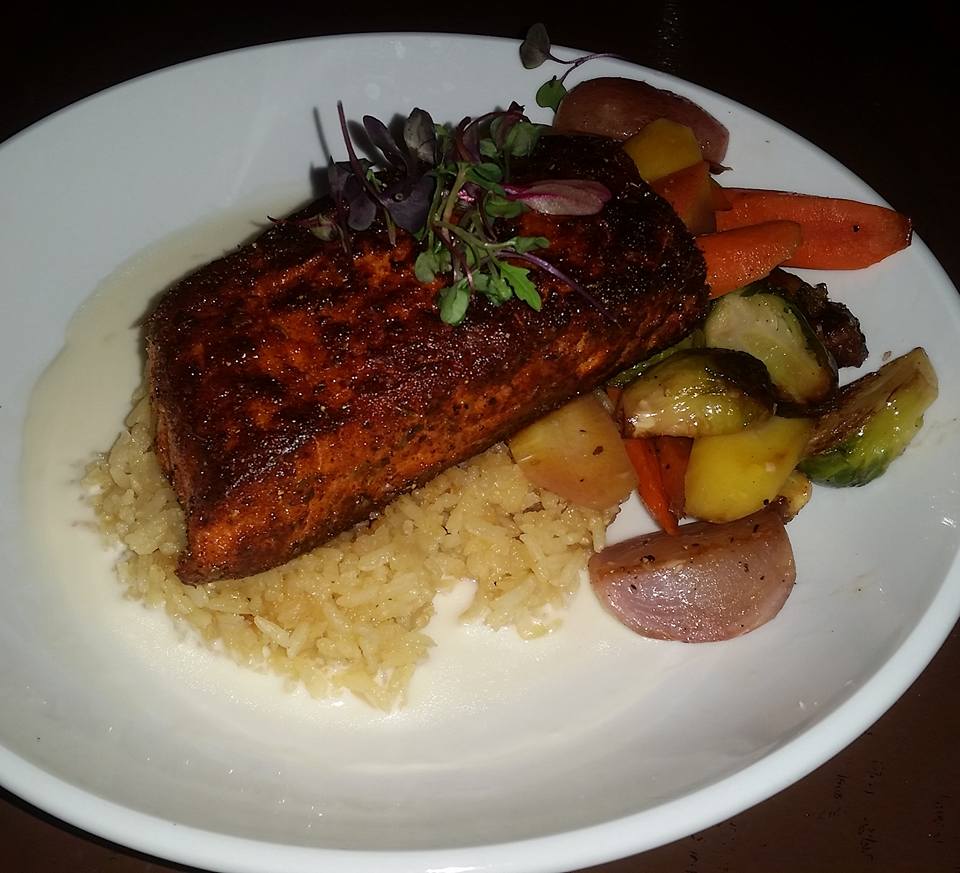 I had so many people tell me to try this dog friendly restaurant and I can totally see why! The patio is huge, the food is delicious, the beer is fantastic AND they have homemade dog treats! I had the blackened salmon with aloha rice, seasonal vegetables and lemon butter sauce. So flaky and savory; we recommend!
THE PARK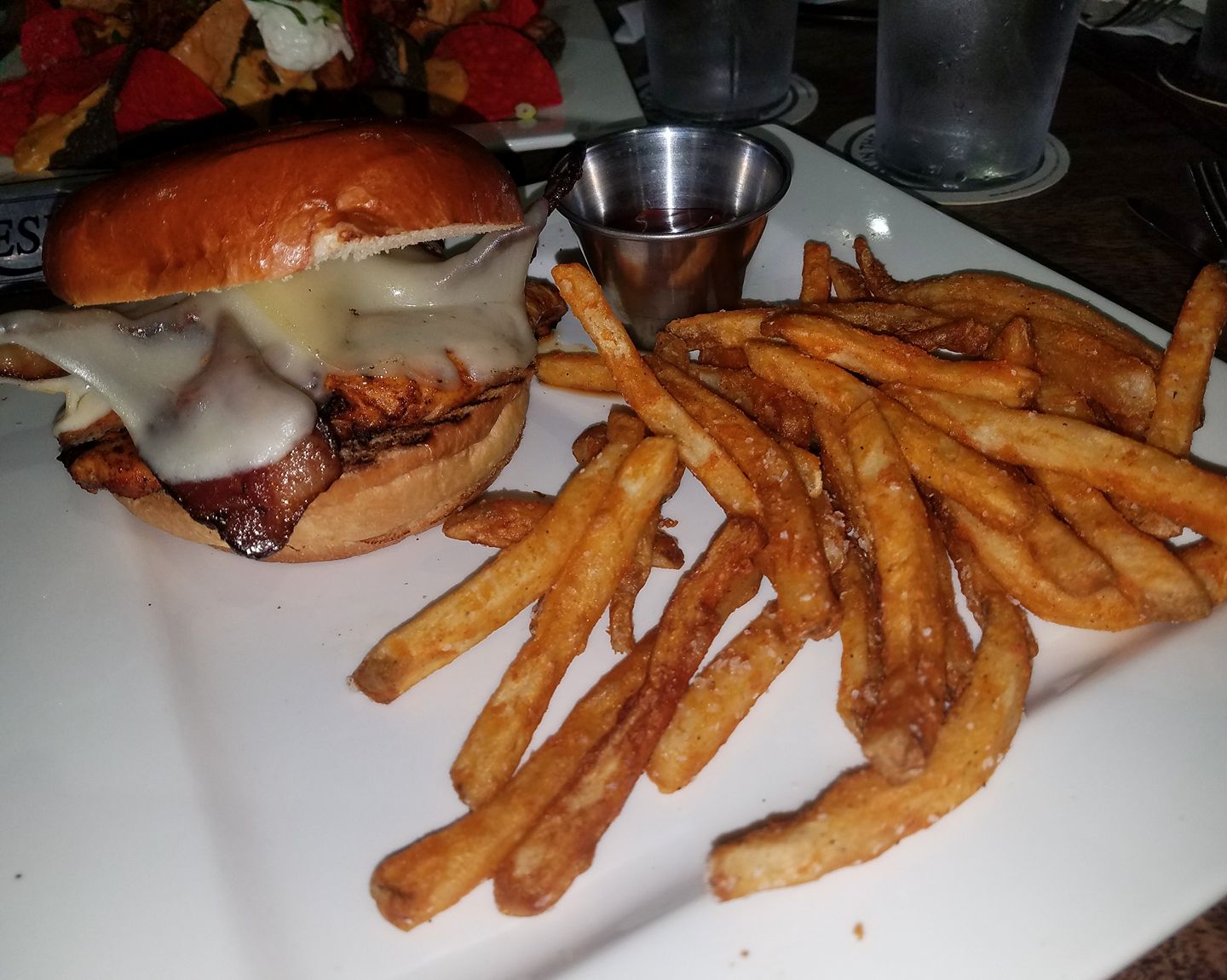 I tried the grilled chicken sandwich with bacon and cheese AND fries at The Park : Street Food Bar and Beer Garden and it was so good! So good, in fact, that I ate the entire sandwich and left like 4 fries even though I was stuffed midway through (lol). The Park is an interesting restaurant because they have an indoor beer garden and you can serve yourself as much (and as many different kinds) of beer as you'd like!
THE PURPLE TURTLE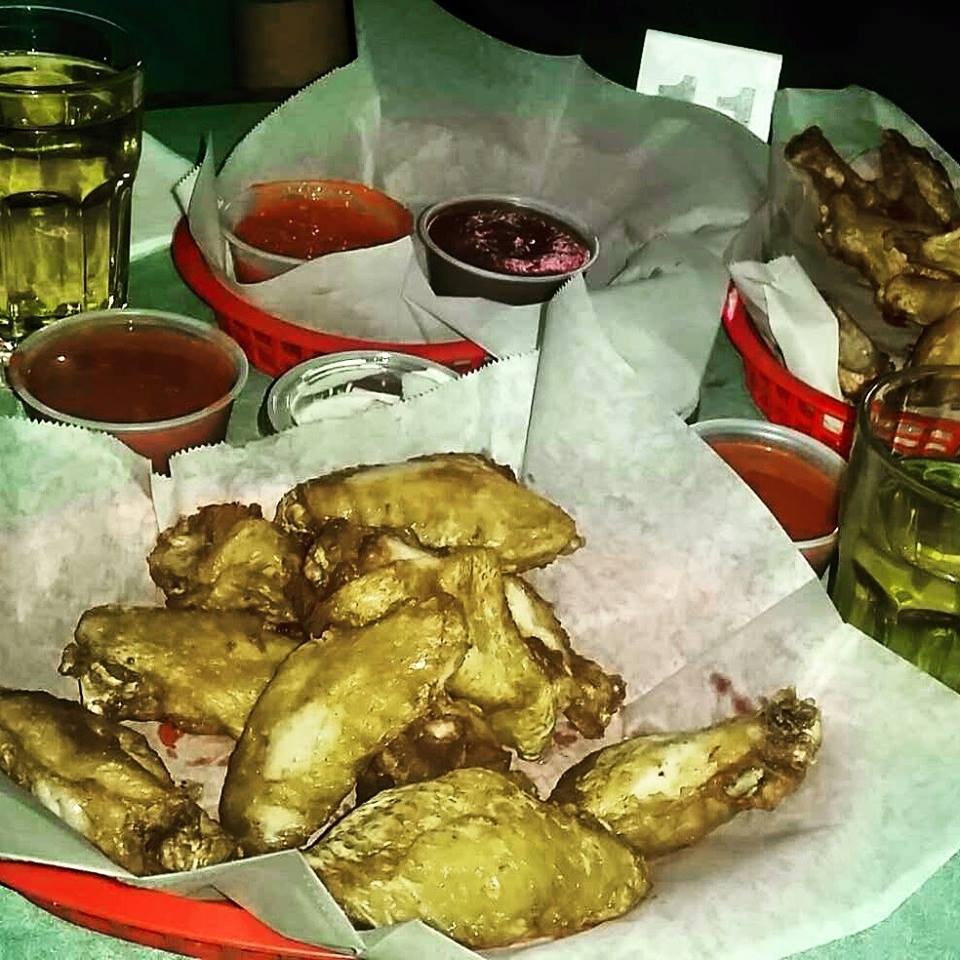 The wings at the Purple Turtle were DELICIOUS (and super cheap). And they also had REALLY CHEAP beer! The suicide wings were so spicy that I was literally tearing up lol this has never happened before! Definitely making this my spot when I'm on this side of tow
THE RAVEN CAFE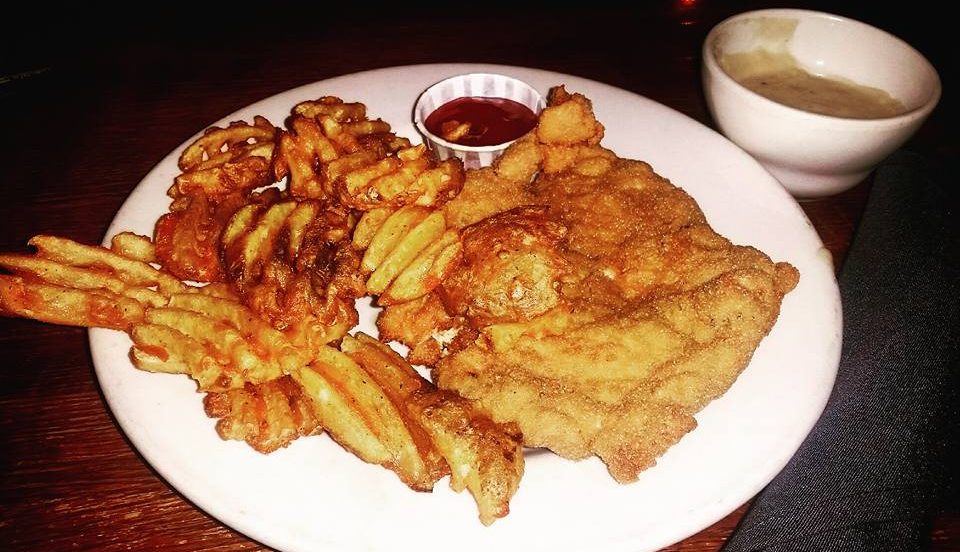 The Raven Cafe in Prescott is a super hip place with an awesome beer and wine selection and the food is AMAZING. I think this is my favorite place in Prescott so far. Loved the chicken fried chicken, the waffle fries and the homemade gravy. DELICIOUS. Thanks for the recommendation Tim!
REHAB BURGER THERAPY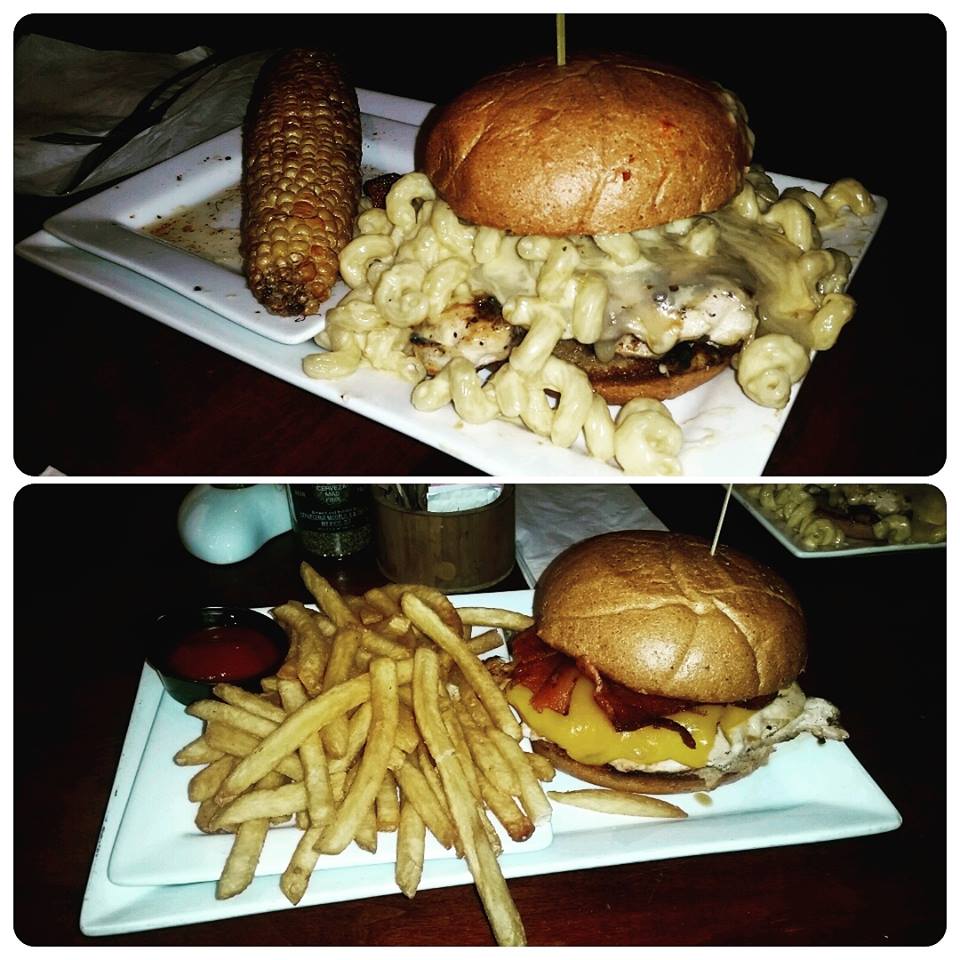 Rehab Burger Therapy in Scottsdale was amazing. I had a super juicy and delicious grilled chicken sandwich! Yamille had the Mac & Cheese grilled chicken sandwich with the Jamaican corn. So good!!
RUSTLER'S ROOSTE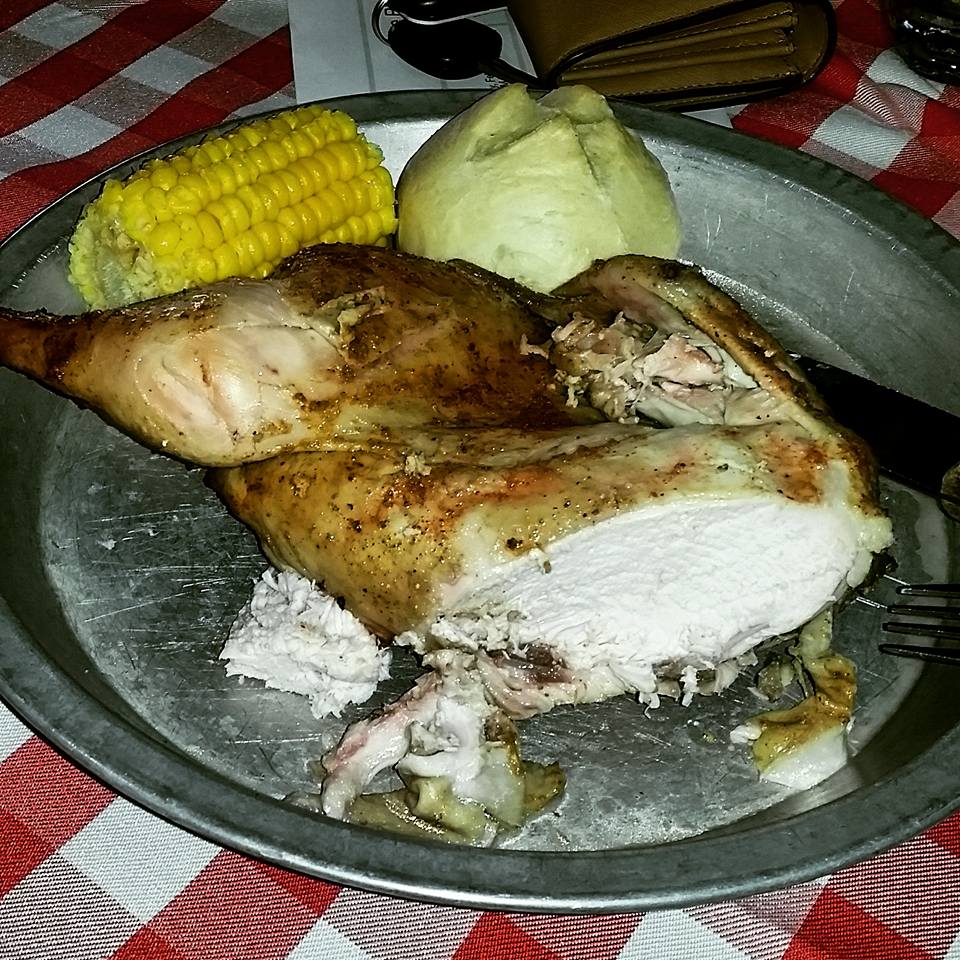 I finally had dinner at Rustler's Rooste. Super cool restaurant! Their motto is 'brews with a view'. Delicious chicken and it was so huge!! And that's their normal portion size. The corn was so sweet and flavorful. They also had a live band and it was just a really fun time! Next time I will line dance. I recommend!
SALUT KITCHEN AND BAR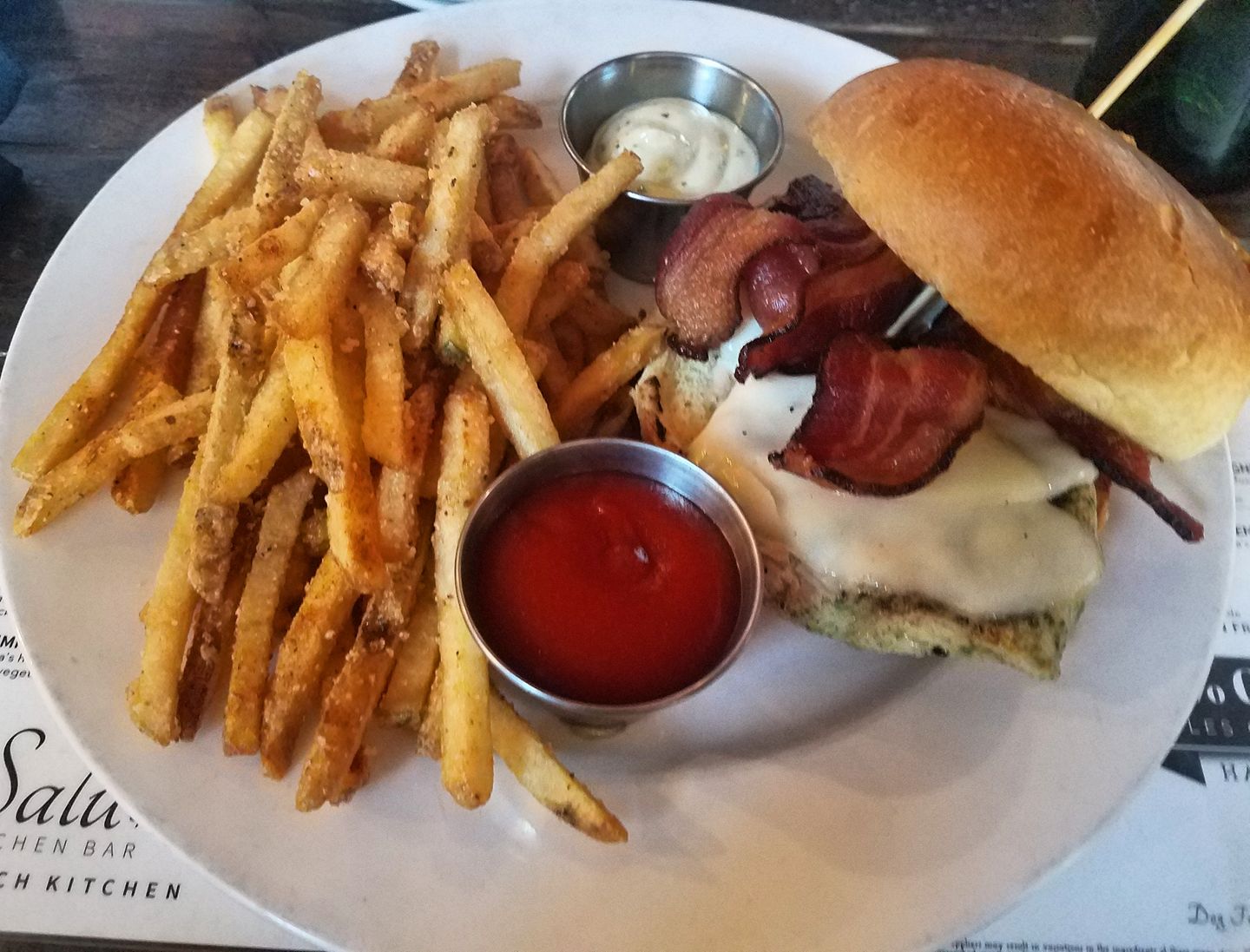 I love the happy hour at Salut Kitchen and Bar because you can get 50% off all bottles of wine…and if you dont finish the bottle, you can take it home! Doesn't that sound amazing? They're also dog friendly and have delicious food! Their brunch is super tasty and their dinner is just as good! I had the Applewood Grilled Chicken sandwich with the regular truffle fries with Lemon Truffle aioli, SO MUCH FLAVOR!
SORSO WINE ROOM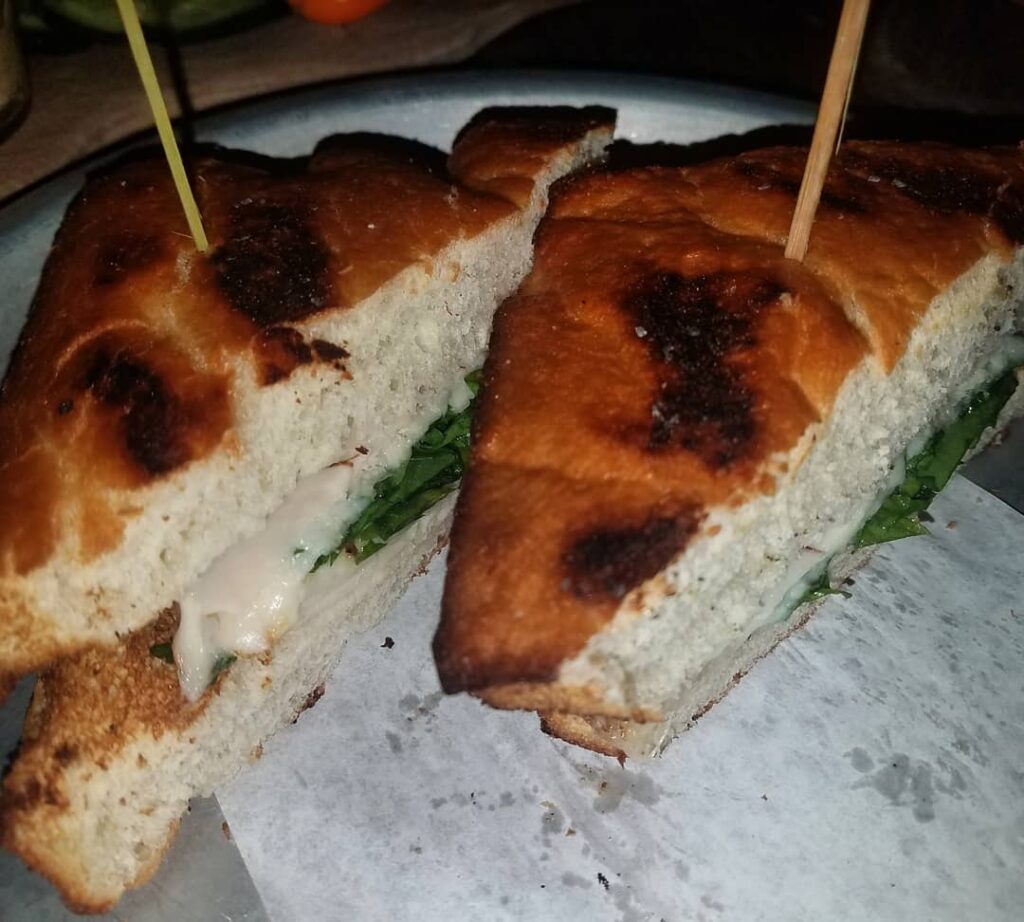 You might have seen places with self-serving beer dispensers…well Sorso Wine Room has this same concept for 32 wines from around the world! Their happy hour is every day from 3-6pm (and all day Wednesday) and you can get house wines by the bottle for $20 and house bubbles by the bottle for $25! They also have the BEST grilled cheese sandwiches, and if you can't decide which one to get…you can do a grilled cheese flight! I got the grilled cheese with arugula, provolone, and prosciutto!
STAGECOACH ROADHOUSE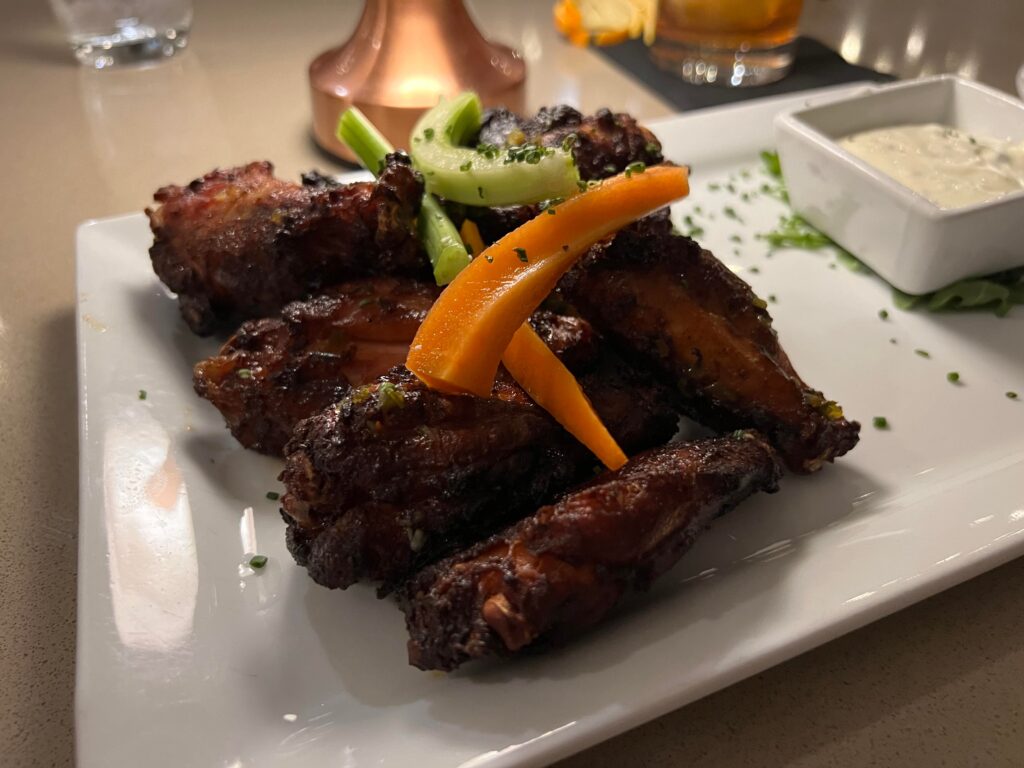 I started with the smoked lemon pepper wings and smoked wings are the only wings I will ever eat now. The smoky flavor comes through and the wings were perfectly juicy!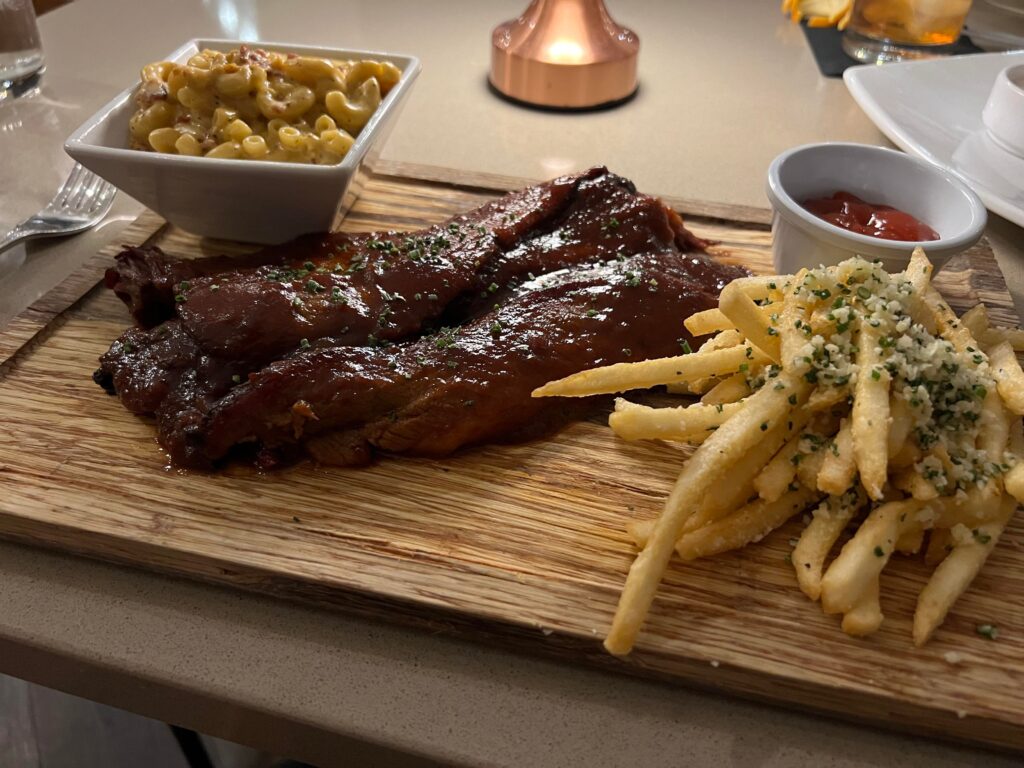 The brisket was the special on Saturday night so of course I had to try it and it was delicious! The sides were just as good with some of the best macaroni and cheese I've ever had as well as some tasty parmesan truffle fries that were perfectly crispy. The prime rib with the crispy onion strips was also very good. I love that the crispy onion strips are half garnish/half side. Again, make sure you do not leave without trying their dessert. I had the chocolate chip cookie with ice cream and it was so delicious and made to order!
TAP THAT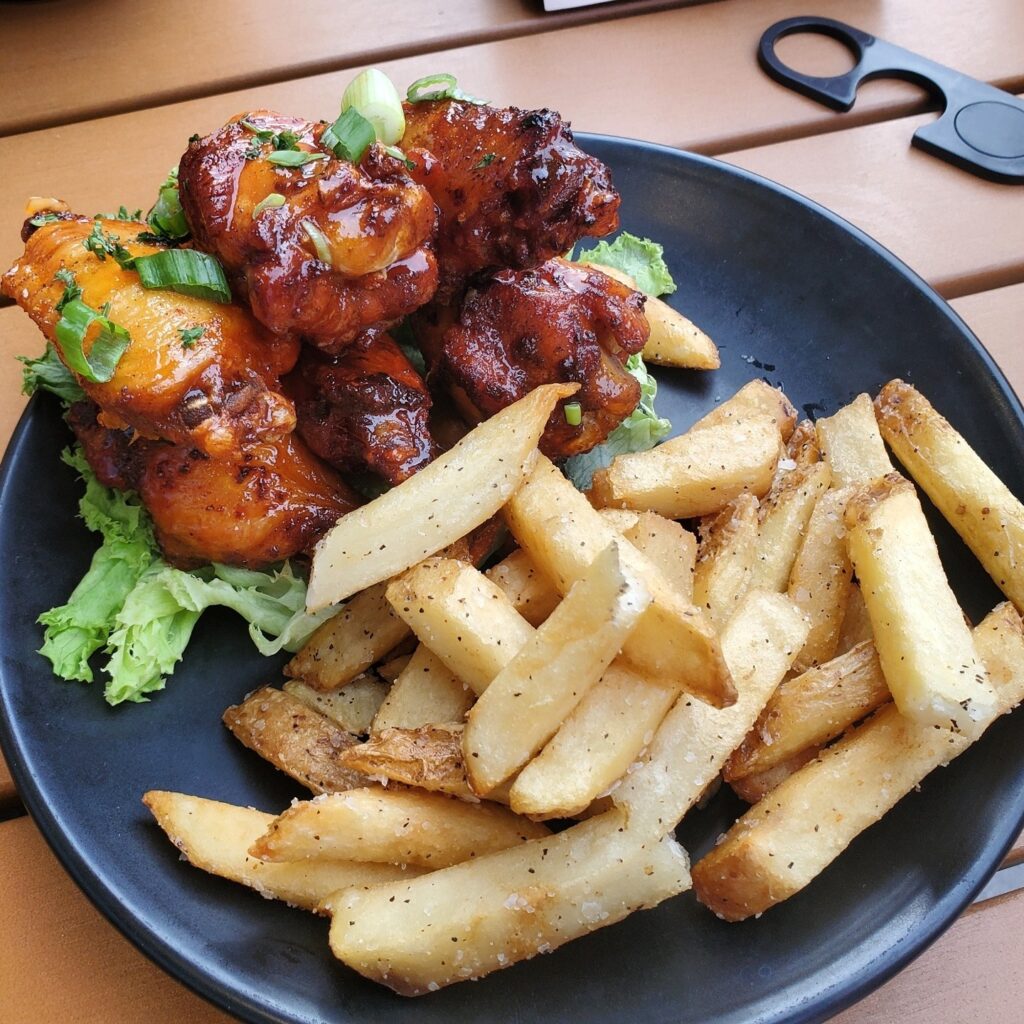 Tap That had delicious wings and fries! My friend recommended this spot so I checked it out and also recommend! Great spot for (your your own) beer, eats and good vibes! The free pretzels they give you prior to ordering were also delicious!
TILTED KILT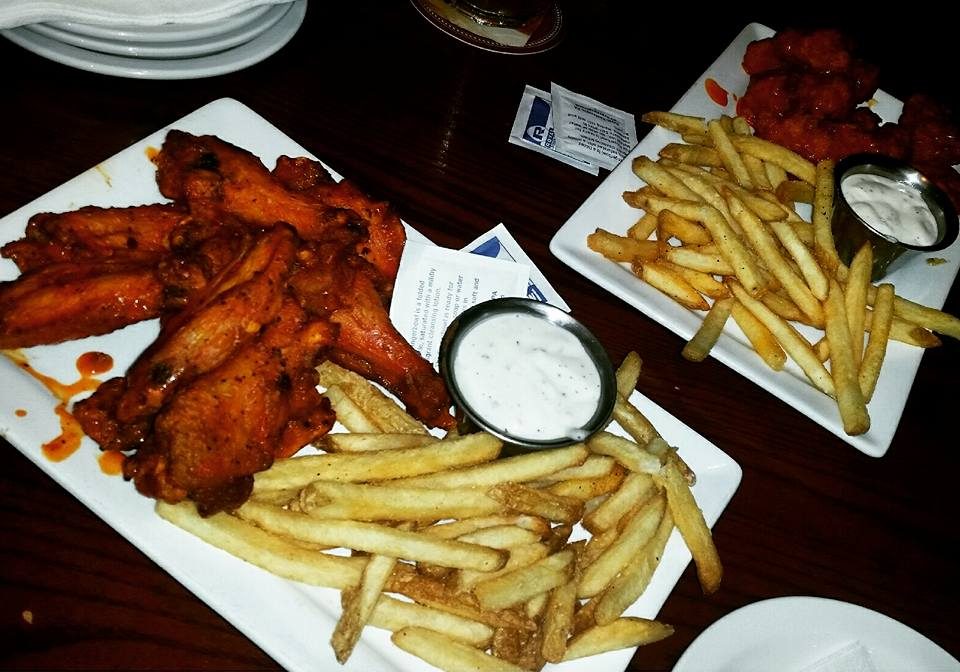 Finally tried the world famous hot wings at Tilted Kilt! Pretty solid!
TIMO WINE BAR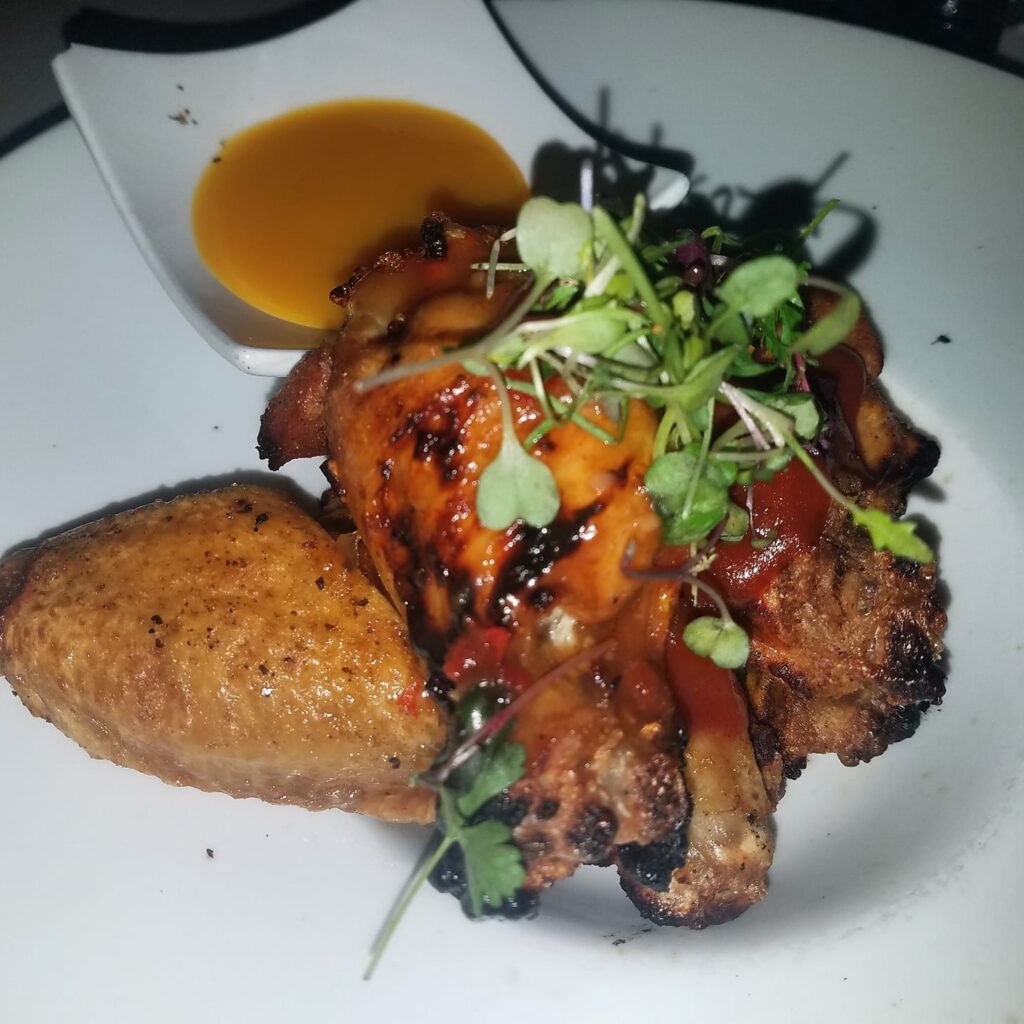 If you haven't checked out Timo Wine Bar
you really need to! The ambiance is great, they have a sweet outdoor patio with live music, fab happy hour, DELICIOUS wings, and a dessert menu that sounds amazing and that I'll def be trying next time! Also, on Mondays (their official #datenight) you can get a pizza and a bottle of wine for $25!
TOP OF THE ROCK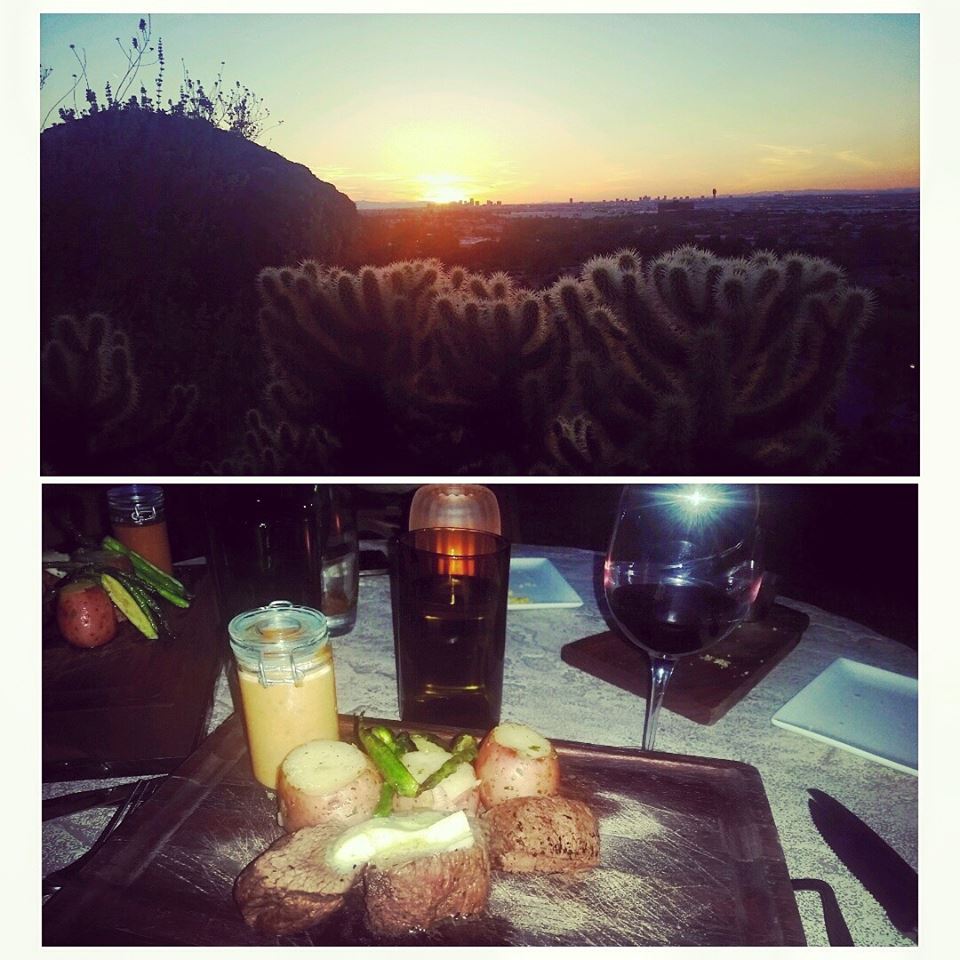 Came out to celebrate my 1 year anniversary (a few days early) with Honeywell. It's been such a great year out in the real world and it has FLOWN by. So happy and gracious to be where I am, surrounded by people that make me happy, and working on what makes me passionate. Cheers to a great year and cheers to many more to come. Happy anniversary to me and happy anniversary to Ashley and me for surviving one year out in the real world. To celebrate this accomplishment, we went to the restaurant on top of a mountain with a beautiful view of the valley and delicious food and wine: Top Of The Rock!
TRUE FOOD KITCHEN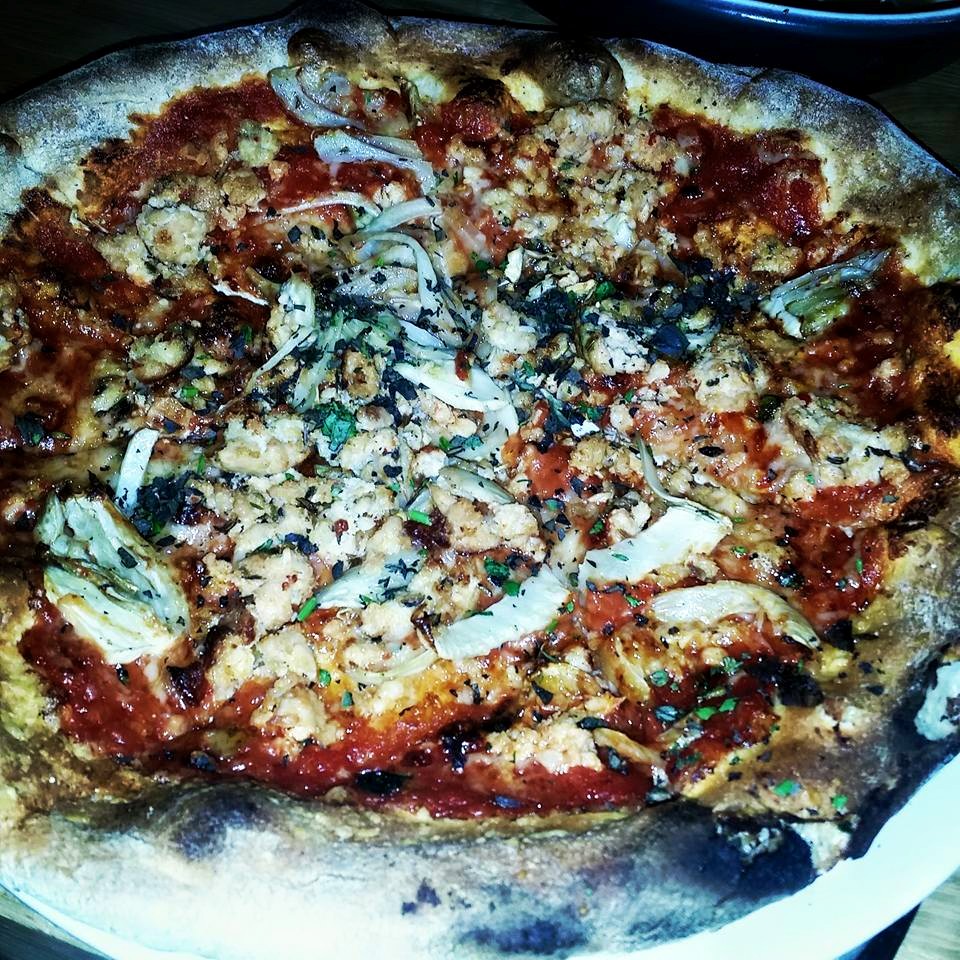 True Food Kitchen is so healthy AND delicious.I ate the entire wild mushroom pizza and did not feel bad about myself at all hahaha. Super tasty!
TWIN PEAKS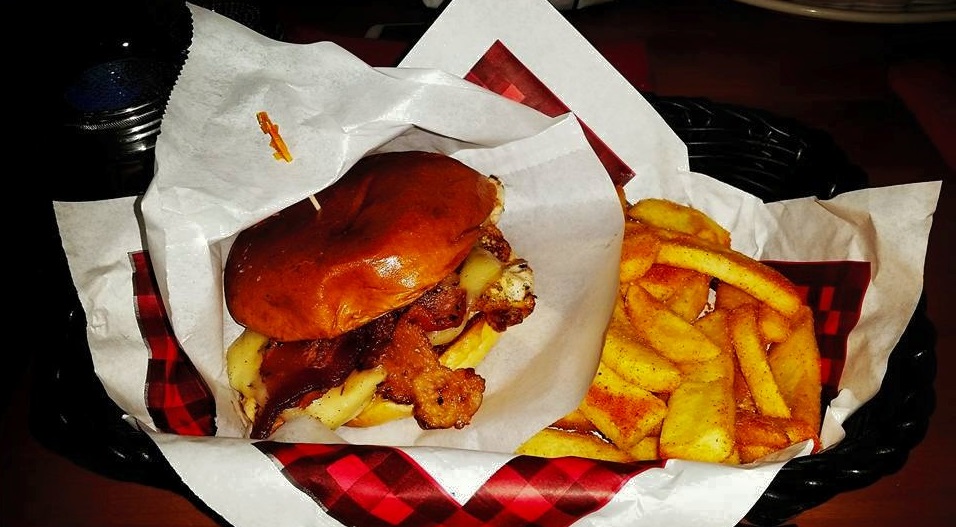 Decided to have my birthday dinner at the infamous Twin Peaks! A lot of my guy friends were very happy that I chose this place and I was so confused as to why until we got there. All of the servers are female…and wear (really cute) shorts and crop tops. The food was delicious and they have the infamous ski shot (which was also on my bucket list of course). It's basically a group shot that you take with your friends where they have shot glasses lined up on a ski. Add it to your bucket list, it is super fun haha.
THE TURQUOISE ROOM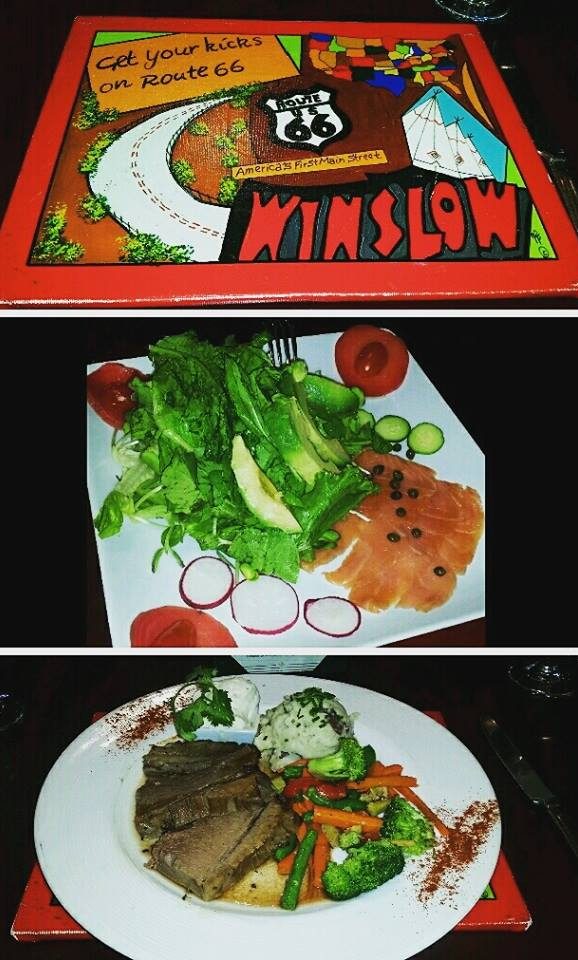 First stop as we ate our way from Phoenix to Albuquerque to Santa Fe was the Turquoise Room in Winslow, AZ! Fancy and quaint restaurant inside an even fancier hotel: La Posada! I had the briscuit (super tender and delicious) and my mom had the smoked salmon salad (she loved it!) We recommend!!
THE WELCOME DINER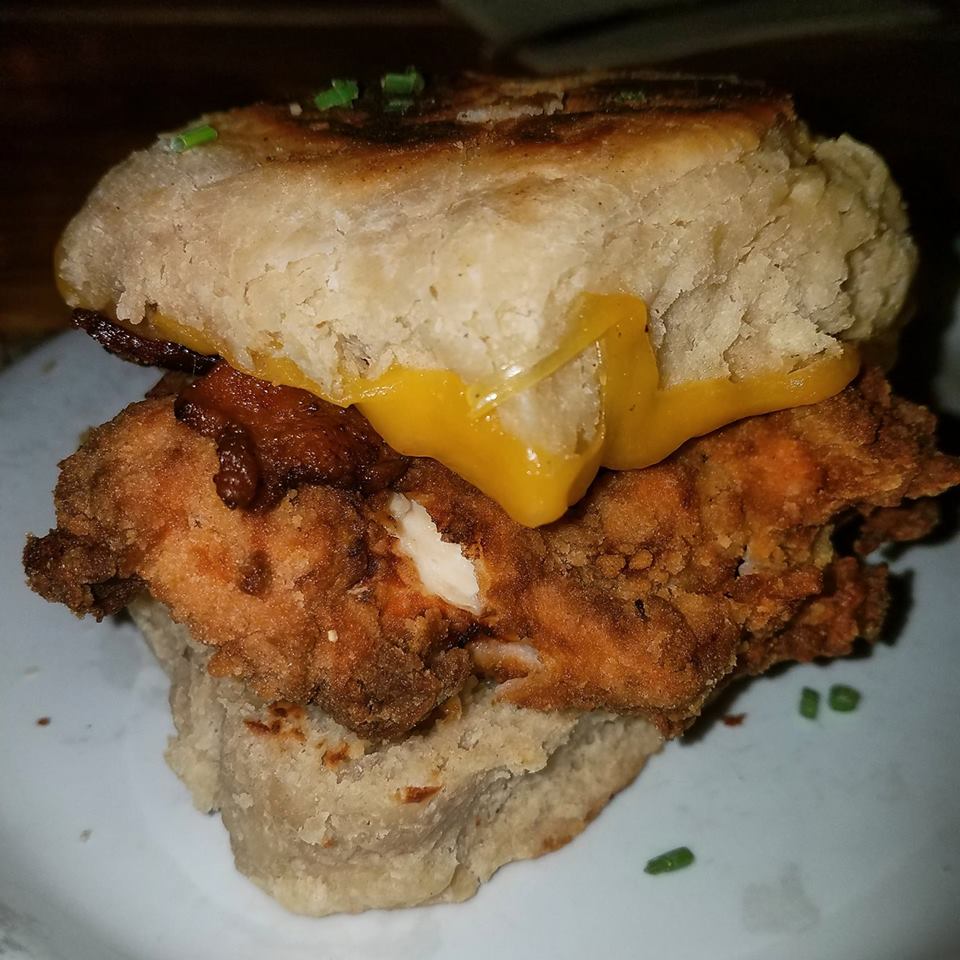 If you know me, you know that I like to constantly be trying new restaurants but there are a few places where i am a repeat customer. Welcome Diner in downtown Phoenix is definitely one of those places! If you're looking for a casual place with amazing food, then look no further! I'm sure you will love the this fried chicken biscuit sandwich with bacon, cheese and gravy (on the side). SO. FREAKING. BOMB.
Best chicken and bacon biscuit sandwich I've ever had. The biscuit literally melted in your mouth and the chicken was perfection and the bacon was just a bonus. Highly recommend.
WILDERNESS BREWING COMPANY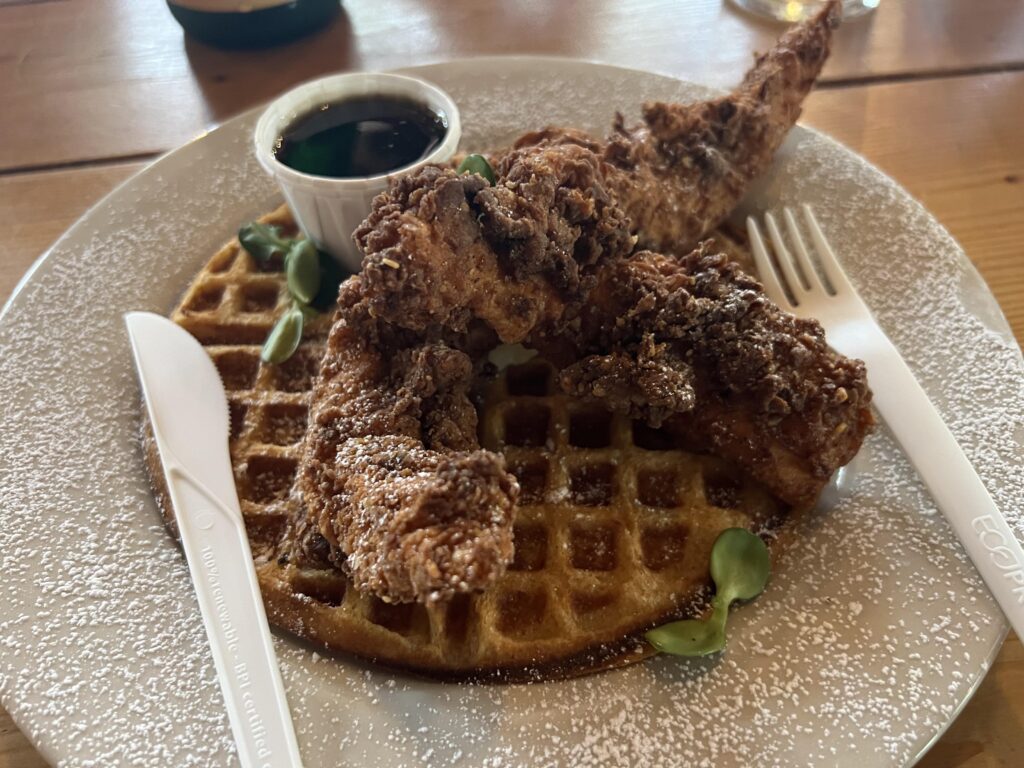 The best fried chicken and waffles dish that I've had recently was at a brewery, can you believe it? The waffle reminded me of a Waffle House dish but way better and the fried chicken was perfectly fried and flavored!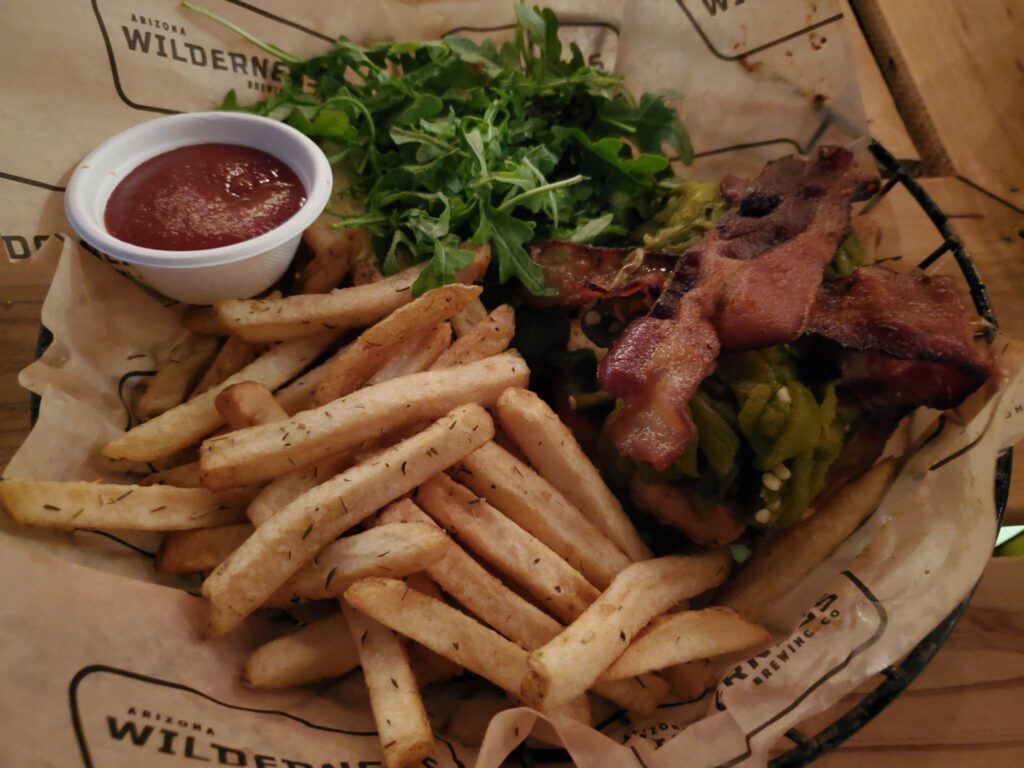 I also really enjoy their chicken sandwiches and fries!
YARDHOUSE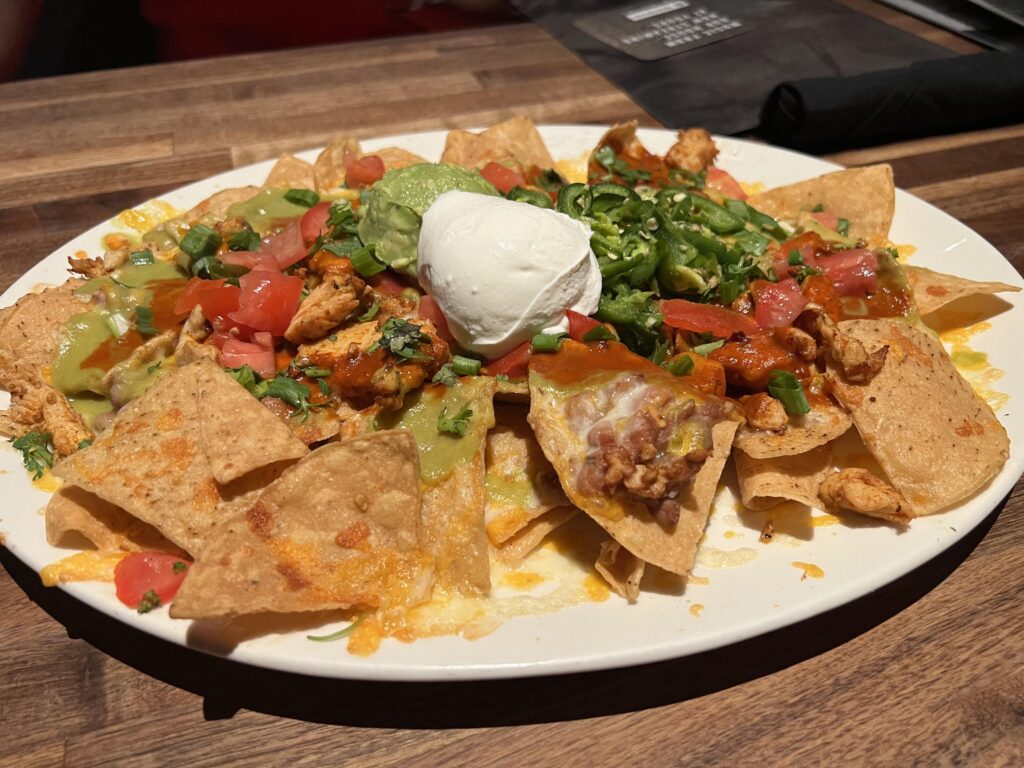 If you're looking for a great happy hour spot, then check out Yardhouse in Glendale. They have great appetizers including these loaded nachos!
ZINBURGER – WINE & BURGER BAR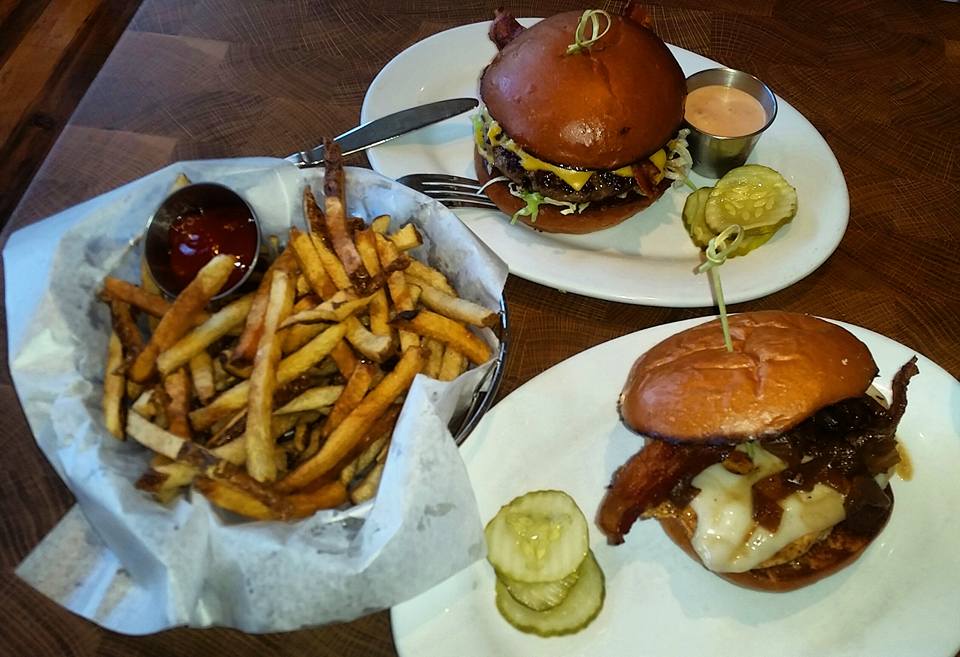 At Zinburger Wine & Burger Bar, I had the grilled chicken sandwich with thick cut bacon, provolone, and braised onions. The chicken was so juicy and flavorful, the bacon was savory and the braised onions were the cherry on top! My cousin ordered the Samburger with applewood smoked bacon, american cheese, lettuce & 1000 island. She LOVED it! And don't even get me started on the fries…SO GOOD! We recommend!
California
38 DEGREES ALE HOUSE & GRILL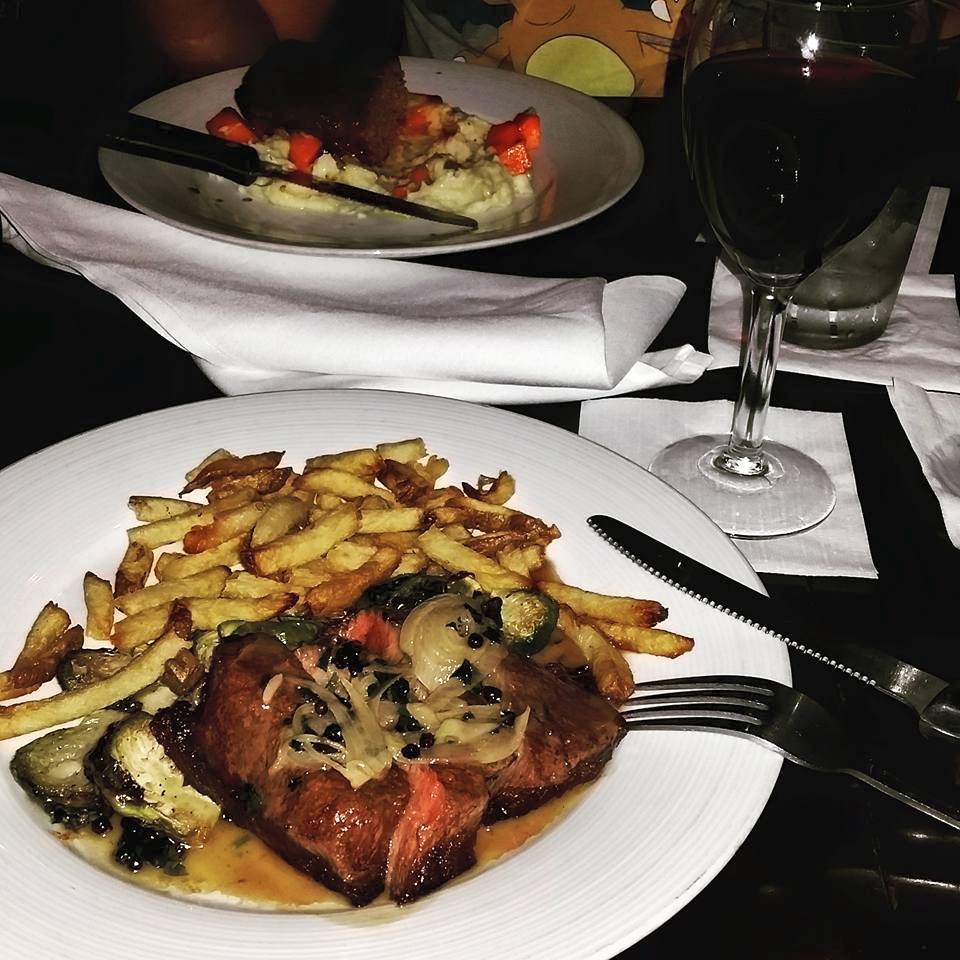 I spontaneously added 38 Degrees Ale House and Grill to the food bucket list while vacationing in San Diego. Delicious steak and frites and much needed pinot noir.
CHICKEN FARM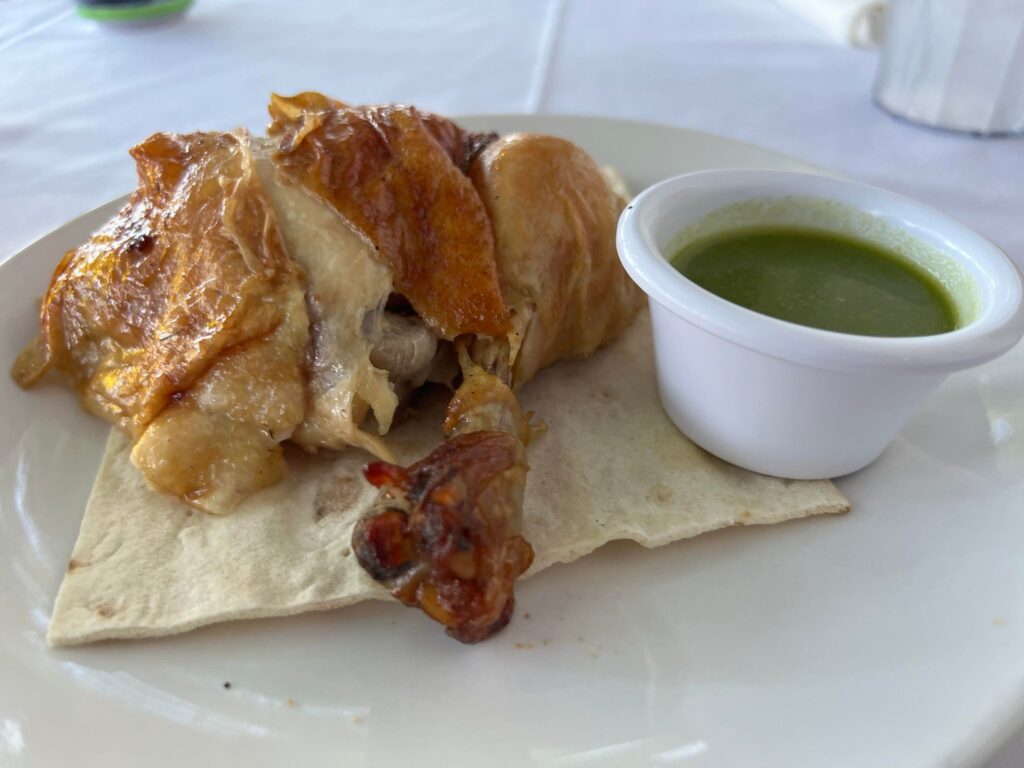 If you want delicious rotisserie chicken with even better green salsa, make sure you stop by Chicken Ranch in Palm Springs! They have great customer service and the food is excellent!
NICKEL DINER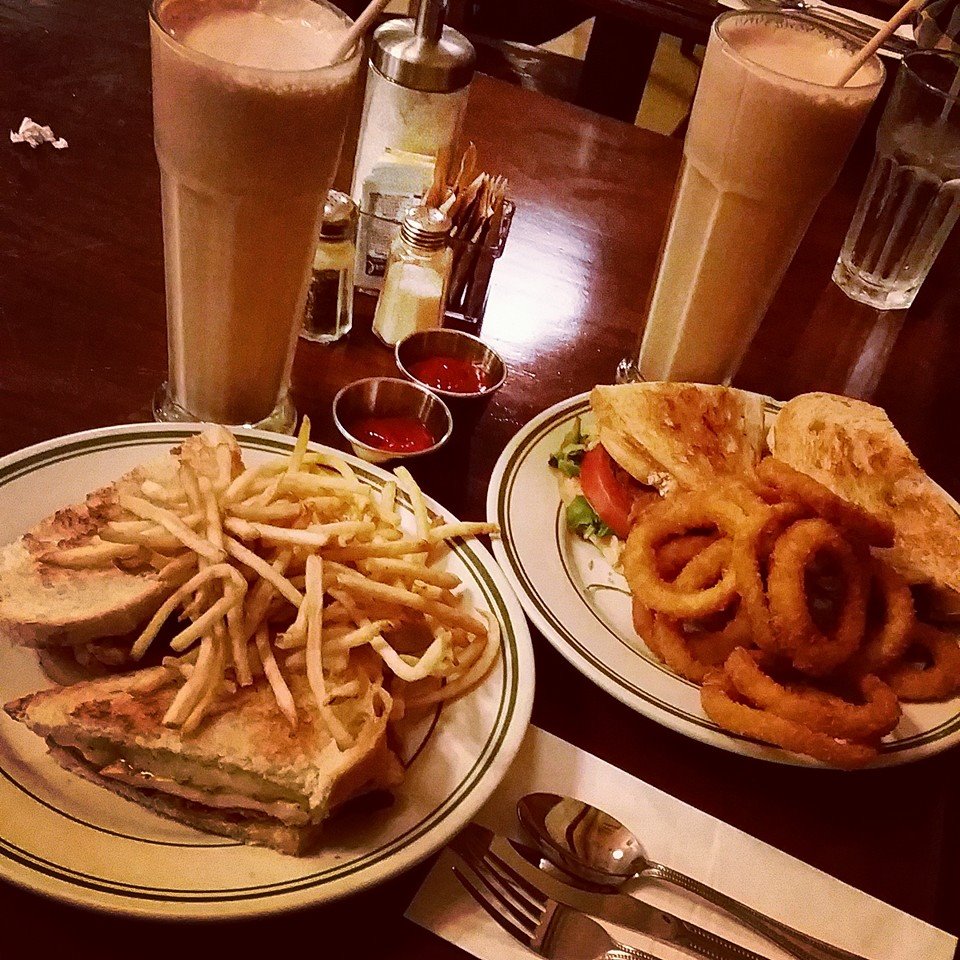 Food bucket list item #228 completed! Eat at The Nickel Diner in downtown Los Angeles for Valarie's birthday! Everything was delicious and full of flavor. The Oaxacan chocolate shake was ridiculously savory
PINK'S HOT DOGS
Life bucket list food edition item #169 completed! Get a hot dog from Pinks! Got lucky and didn't have to wait super long! Delicious hot dog and super cool to eat at this historic road side spot!
Colorado
LOWRY BEER GARDEN
Because there's no such thing as a diet when you're on vacation
? I crossed off food bucket list item #404 with my first visit to a beer garden for lunch! The Lowry Beer Garden was super hip, poppin' and had delicious food and great beer. I tried the B-52 Bomber sandwich with grilled chicken, double sugar cured bacon, mushrooms, caramelized onions and provolone. Plus delicious home fries and an Apricot Blonde beer. The atmosphere was super fun and the food was perfect. I kind of wanted to keep drinking here but I had other bucket list items to cross off so I will have to come back
New Mexico
FLYING STAR CAFE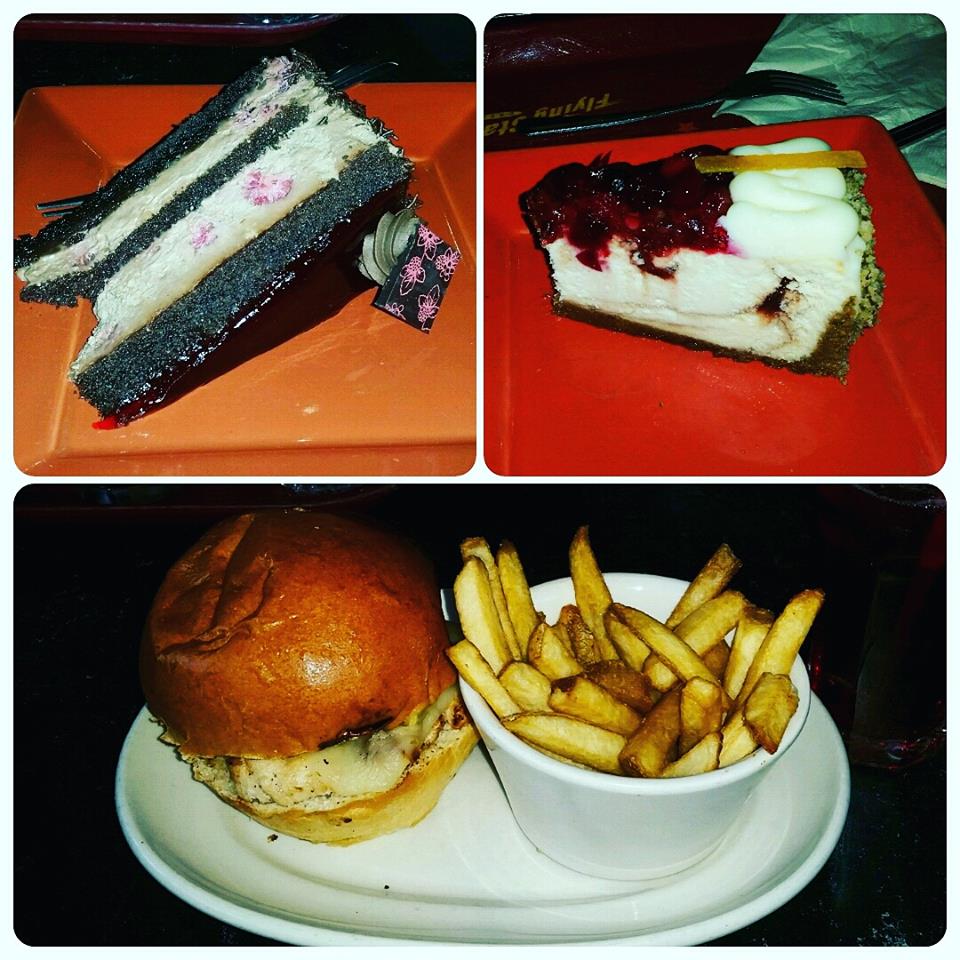 Flying Star Cafe is Albuquerque's favorite chain since 1987! This place was recommended to me by my friend Mariela who joined me for dinner! Delicious chicken sandwich and fries and the homemade cheesecake and chocolatecake was TO DIE FOR. No wonder the locals love this place. Fantastic dinner with fantastic company.
THE RANCH HOUSE
One of my fave dishes in New Mexico was the brisket sandwich from The Ranch House. The green chile brisket sandwich had habanero pepper jack cheese on a brioche bun and it was just the right amount of spicy. The brisket was so tender and the green chile just added another depth of flavor to the sandwich. IT WAS SO TASTY.
Illinois
HONEY BUTTER FRIED CHICKEN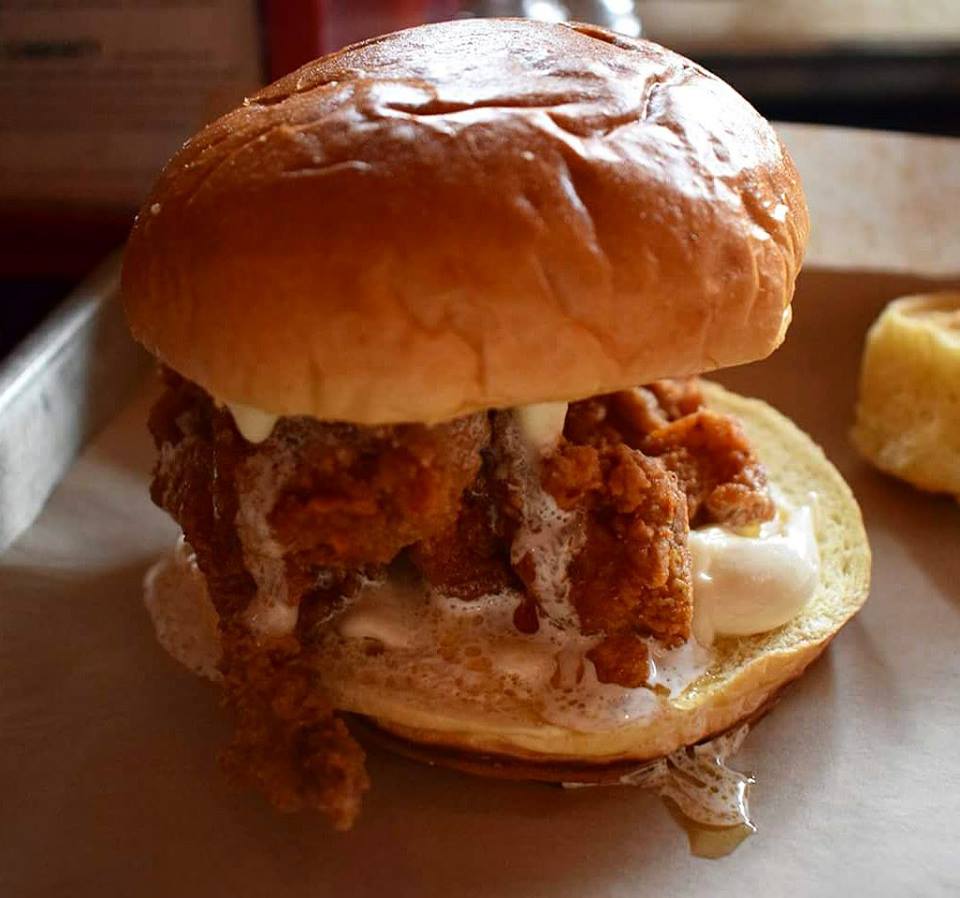 I know Chicago is Pizza heaven but I was told by my foodie friends that I had to check out Honey Butter Fried Chicken and OMG. This fried chicken sandwich with HONEY BUTTER is hands down the most delicious chicken sandwich I've ever had in my life. Make sure to stop here when you're in Chicago. The staff is super friendly and they have really good drinks too! I almost want to lick my phone screen just looking at this photo.
Michigan
ENDZONE CHICKEN AND RIBS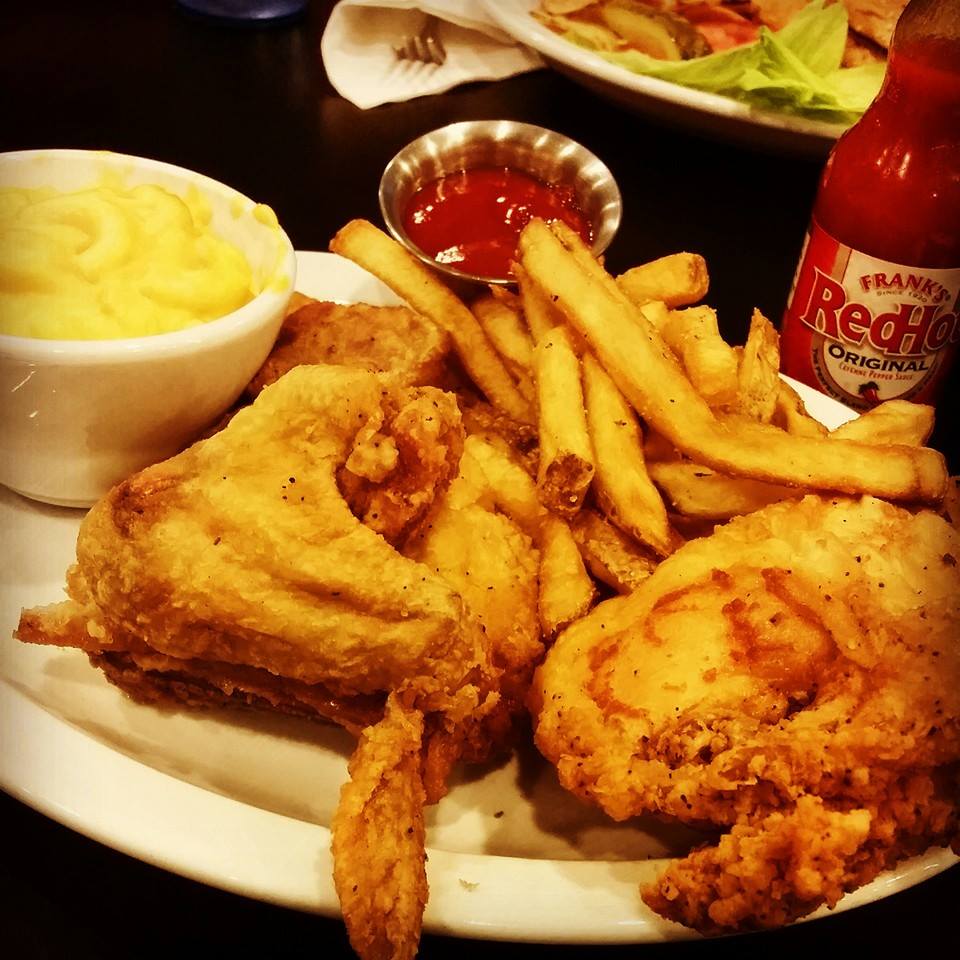 This chicken is broasted. If you have to ask you'll never know. But I'll go ahead and tell you. The only reason I ordered this dish was because of the word 'broasted'. I was intrigued and gave it a try without even looking up exactly what it meant. I tried this while at the SHPE ( Society of Hispanic Professional Engineers ) National Conference in Detroit. IT WAS DELICIOUS. I'll tell you what broasted means: prepare food using a cooking process that combines broiling and roasting. Definitely encourage y'all to try it! Food bucket list item # 248 completed! Try broasted chicken at End Zone Chicken and Ribs!
Milwaukee
GOOD CITY BREWING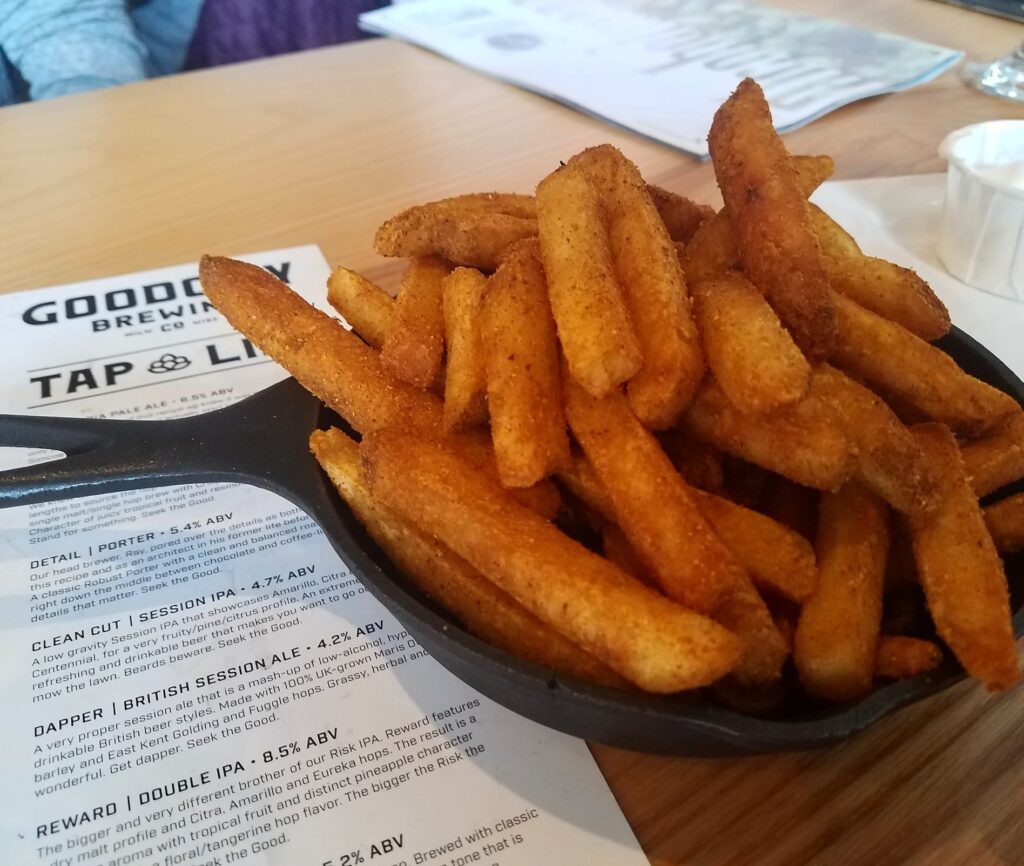 I LOVED the curry fries pictured here because they paired perfectly with all of the beer I had at Good City Brewing! They were so tasty that I kept burning my mouth because I couldn't wait to eat them.
Texas
THE BEARDED LADY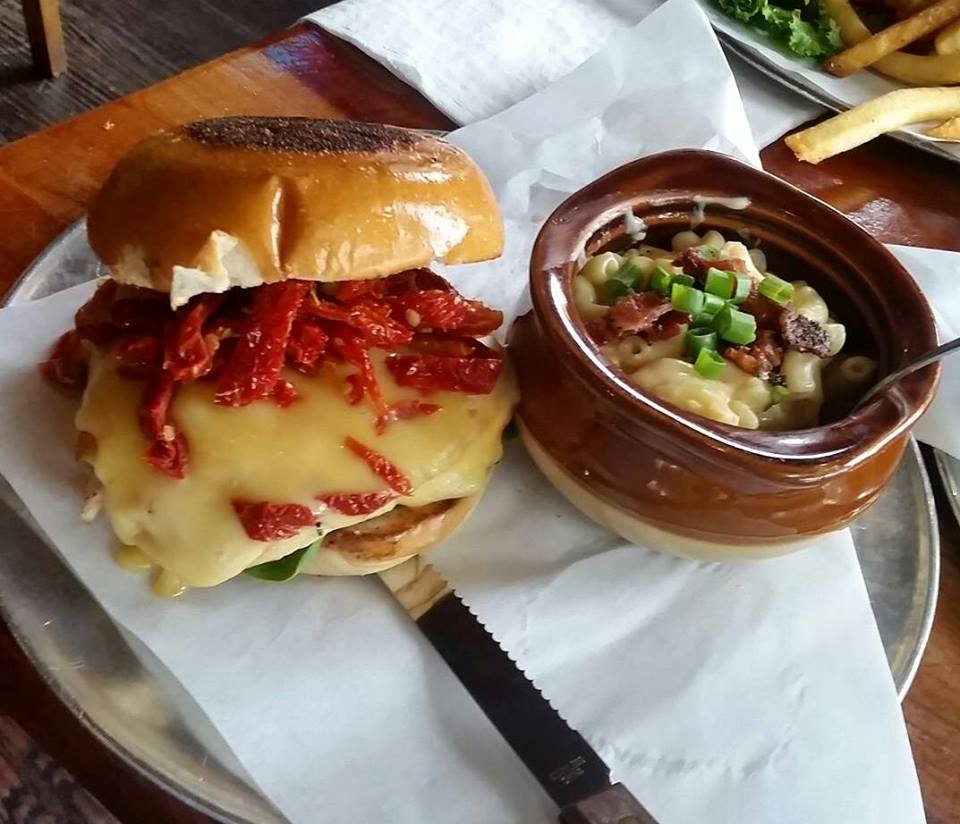 I'm all about grilled chicken sandwiches and mac n cheese ESPECIALLY when it's from The Bearded Lady in Fort Worth, TX! Bucket list food edition item #540 was such a delight to cross off because the food was super flavorful and the ambiance was very chill! I loved the combination of sun dried tomatoes, sautéed onions, spinach, cheddar cheese and grilled chicken! It was phenomenal! Thanks Meghan for recommending and hanging out with me!
Washington DC
HOTEL WASHINGTON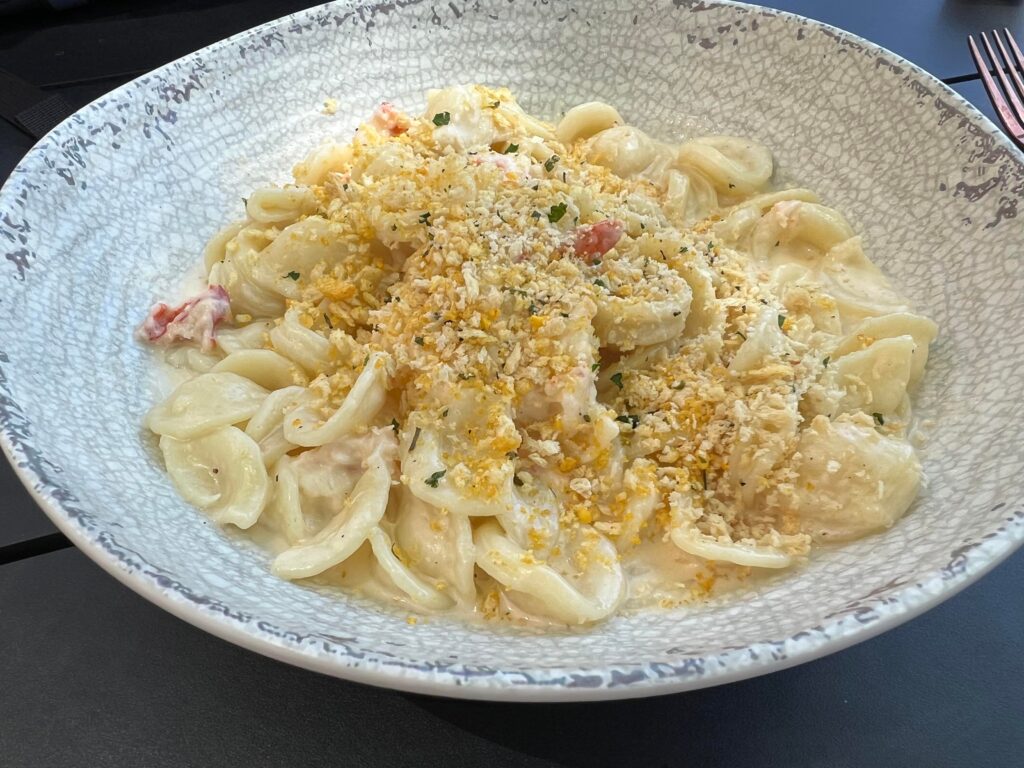 If you're looking for a cool spot to grab some delicious lobster mac and cheese then I recommend the Hotel Washington in Washington D.C. It was so tasty and such a huge portion!
---
Feel free to check out the entire catalog of my Food Bucket List for category inspiration and email me or comment below asking me for more restaurant recommendations as I aim to please!
I hope you all enjoyed the list! Thank you all for reading, and stay enthusiastic!
Feel free to follow the adventure on social media
Facebook / Instagram / Twitter / Youtube
-Maira