This post is sponsored by JORD Wood Watches. All opinions are my own.
Sleepless in Seattle, Phoneless in Phoenix, Stylish in Chicago!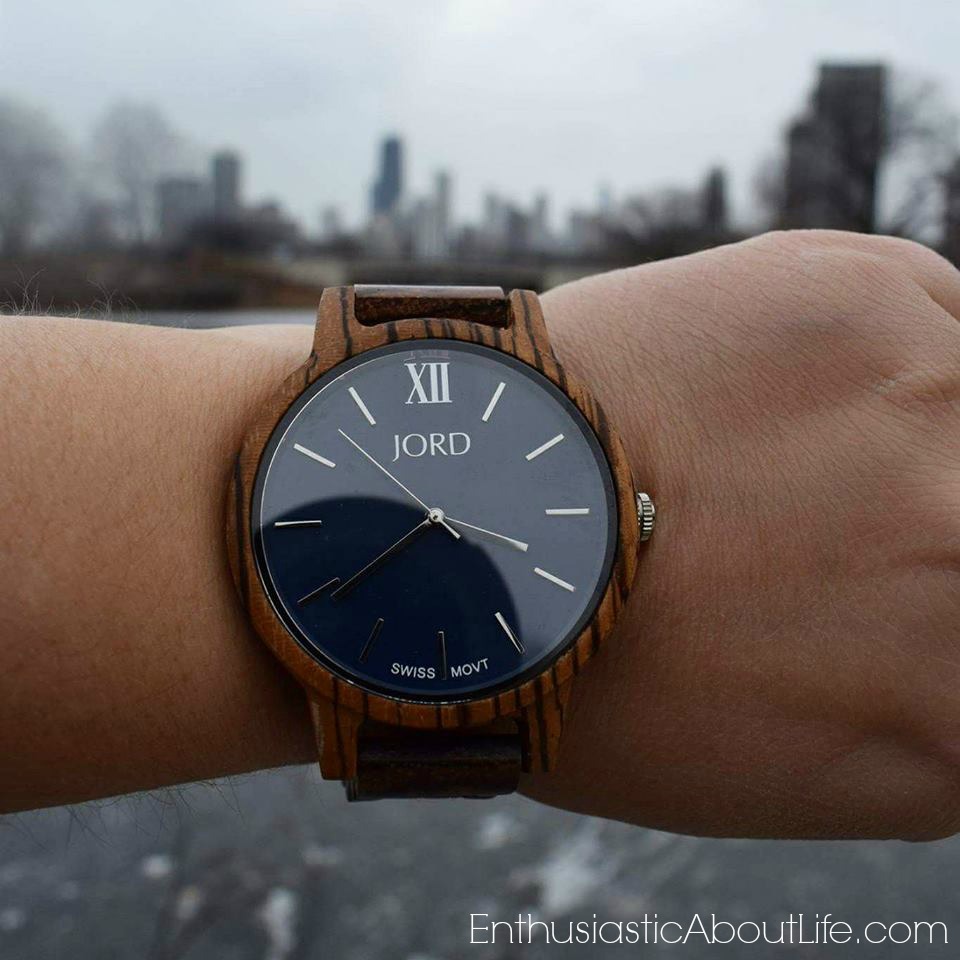 If you follow me on Instagram, Facebook, and/or Twitter you will know that I am in Chicago, but you may also be wondering why the serious lack of pictures on social media. Well, my cell phone broke Thursday night before my super early morning flight to Chicago. 🙁
I honestly could not have planned this partnership with JORD at a better time. This month, I've partnered with JORD, a company that creates luxury, one-of-a-kind wooden watches and luckily for me, I was wearing this watch when my phone broke. So I knew how much time I had before Verizon closed, I knew how much time I had before the phone repair shop closed. and I was also able to arrive at the airport on time!
Seriously, sometimes it feels like the universe is watching my back. So thanks Jord, you are a lifesaver!
I've partnered with JORD because I was amazed at how beautiful the watches were. Not many watches can make me stop and take a second look. What initially got my attention about these watches was the fact that they are made out of wood! How unique is that? I feel like it makes anything I do look sophisticated, even drinking a really strong margarita from Xoco 😉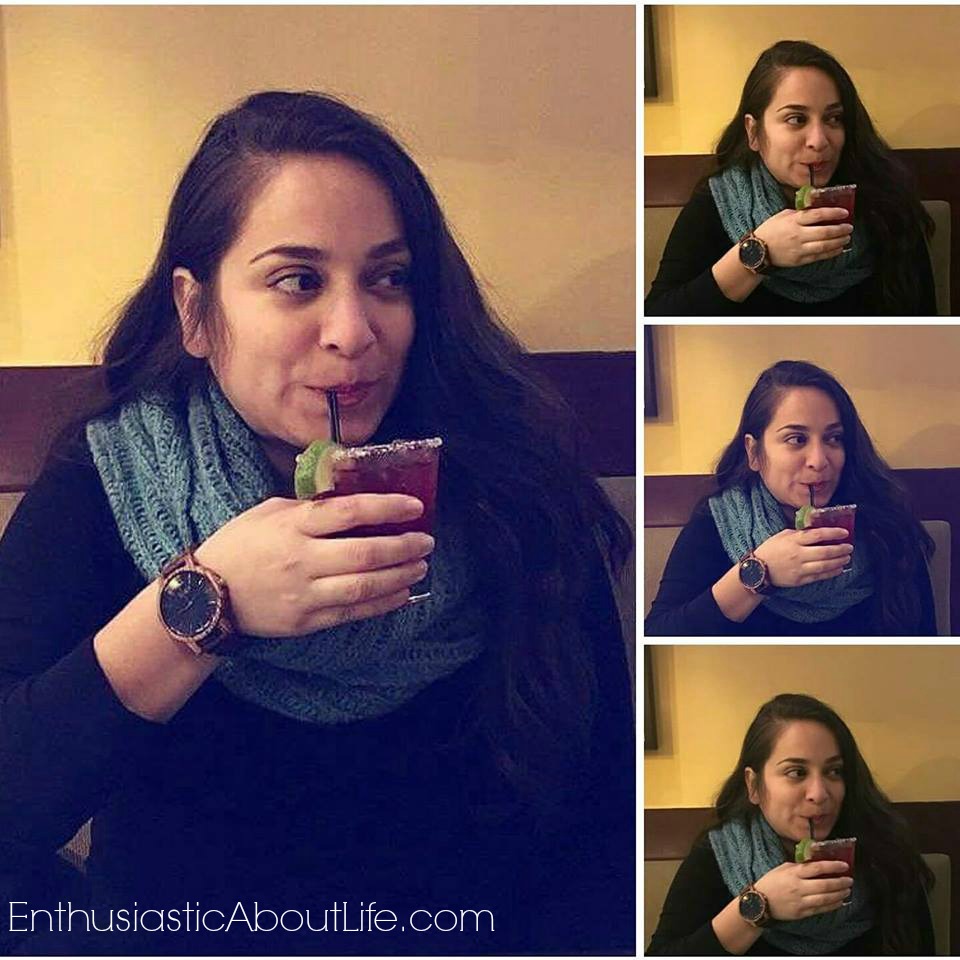 I can't really call myself a fashion blogger, but wearing this watch made me feel like one (lol). Mostly because I kept getting compliments and because it looks so stylish no matter what you're wearing. I took this watch on my 2nd trip of 2017 to see if it could keep up with my travel blogger lifestyle and wow,  it sure was able to! Our first stop was Cloud Gate, or 'The Bean' in Chicago!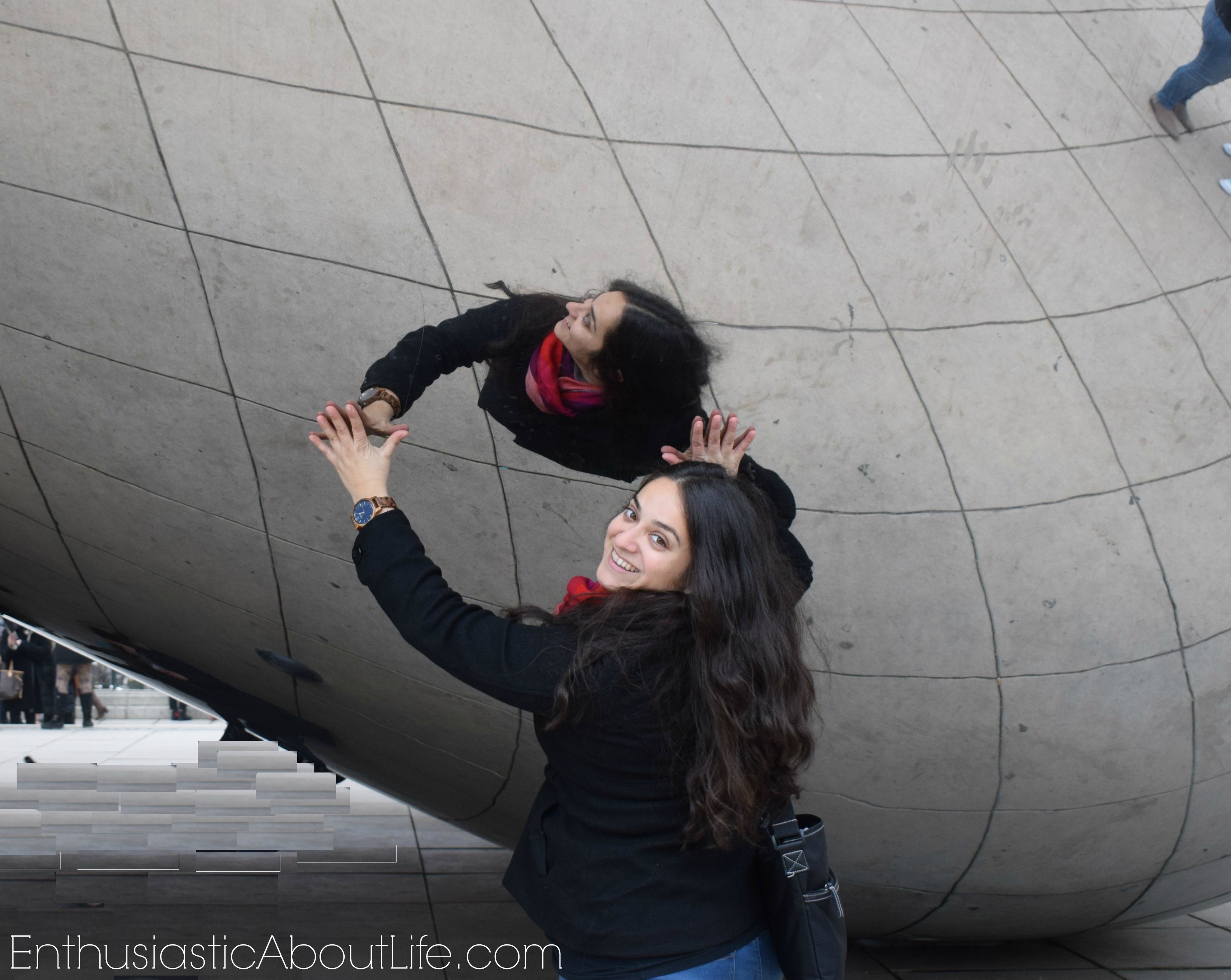 And even next to this incredibly shiny structure, my watch was still able to outshine everything!
The watch I'm wearing is the Fankie Series: Zebrawood and Navy from the women's shop. They also have a men's shop for all of my male readers 🙂 so don't you worry fellas, there's something for everyone.
There are four reasons why I like my new watch but before we get into those, can we please talk about the packaging?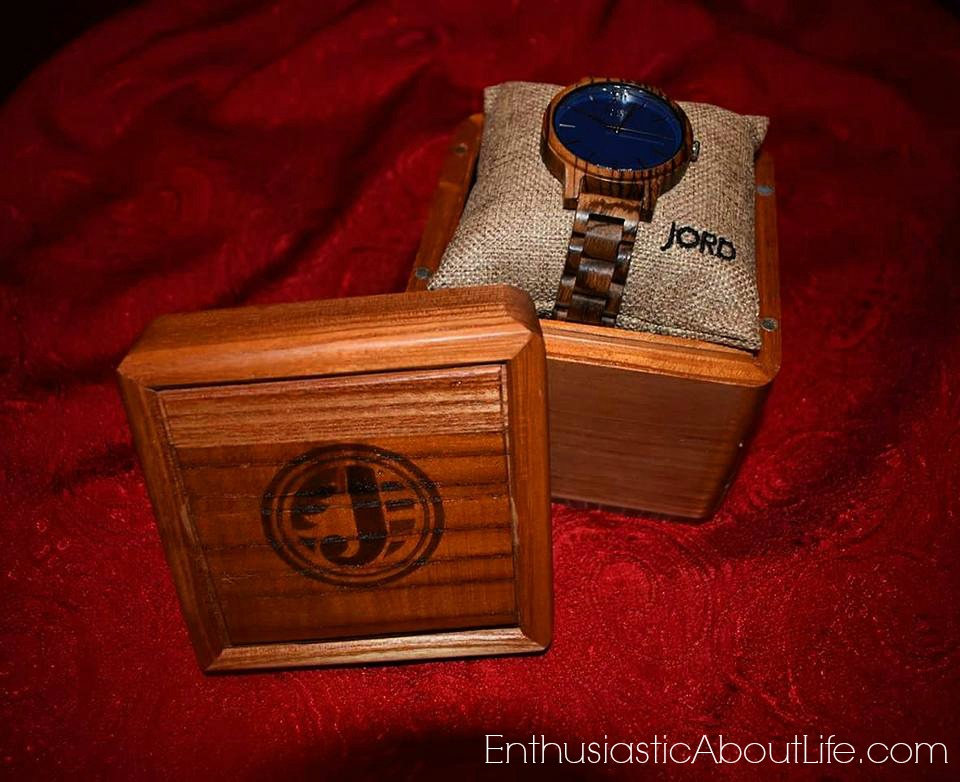 Imagine opening this on Valentine's Day, or your birthday, or Christmas?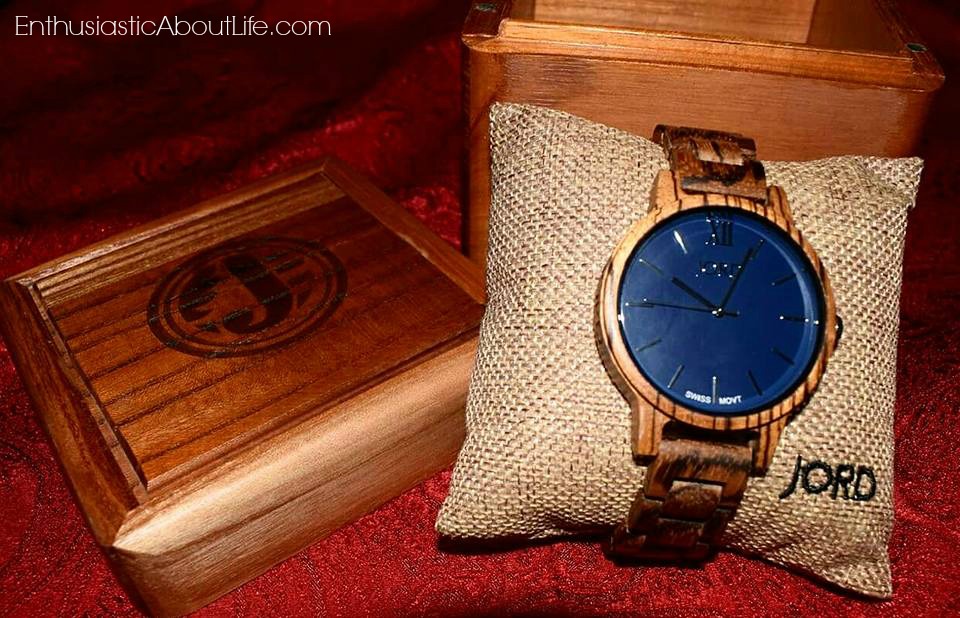 The packaging seriously goes above and beyond. And the little pillow-thing was just so adorable to me. Okay, back to the four reasons!
#1: It's comfortable
I was a little hesitant on how comfortable this watch would be, but I was pleasantly surprised! It felt completely normal, in fact, it was better than a regular watch because when I wear other watches they are always so cold because of the steel or metal band. You don't feel any cold from this wood watch, which was great for me because Chicago was freezing!
#2: It's weather resistant + perfect for travel
Taking this watch to Chicago was how I tested if it was truly weather resistant. The Chicago rain and snow didn't tarnish it at all. I'll admit I was afraid it would feel like wet wood on my wrist, but it didn't! And it also survived me spilling a little bit of hot chocolate on it 😉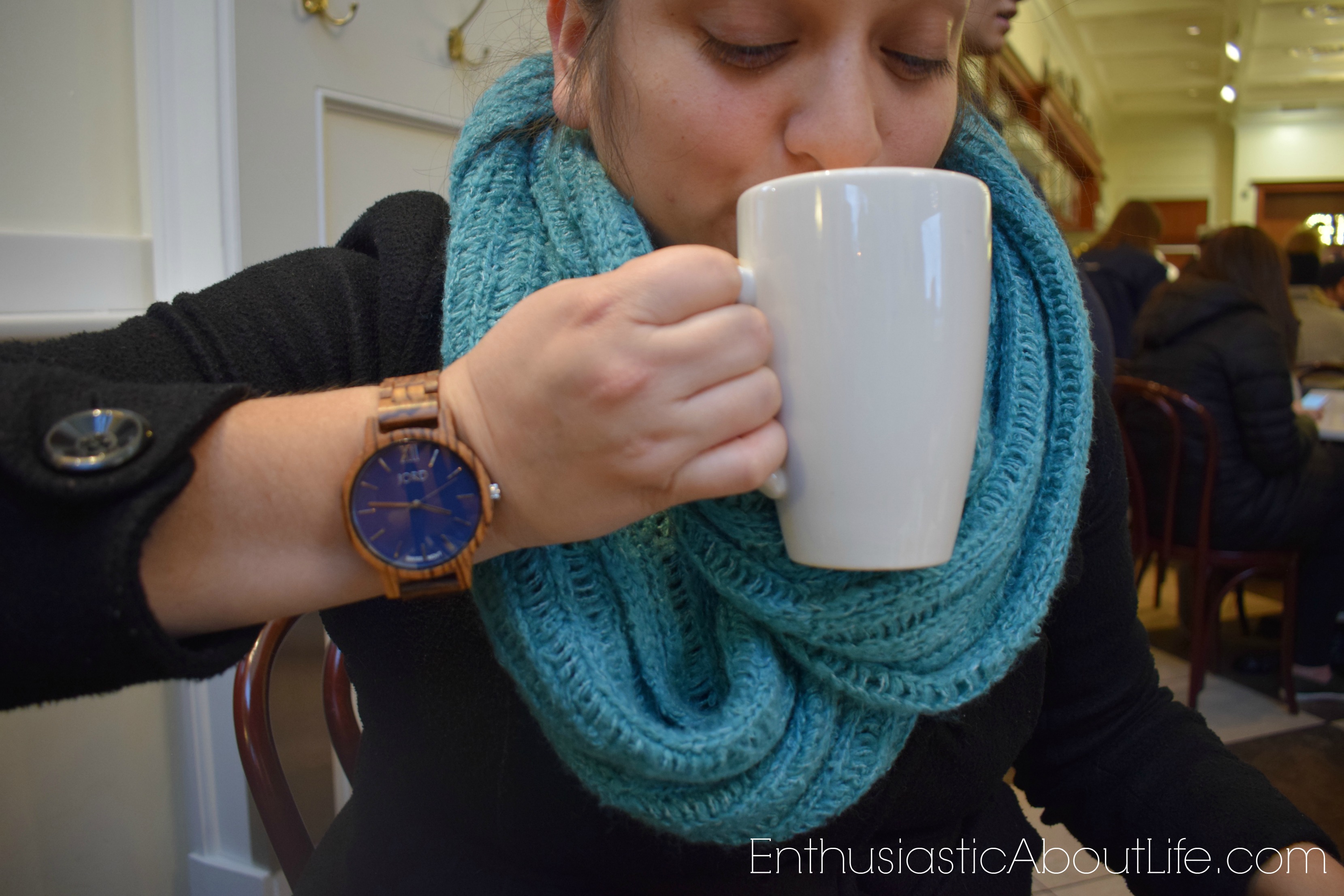 #3: It's unique + pleasing to the eye
This is self explanatory. The face of the watch is bright navy blue which is one of my favorite colors and the steel/glass combination next to the wood bracelet is just so pretty to me. Plus, how often have you seen someone wearing a wood watch? I've gotten so many compliments everywhere!
#4: It's customizable
One thing I wasn't aware of when I got my watch was that I could have customized it! That's right, you can add a unique engraved message to your already unique watch. You can add your name, a happy birthday message, a romantic message, a funny pun, or an inspirational quote. I'm half tempted to get another one and engrave 'enthusiastic' on it (lol).
Since I love my new watch so much and I'm all about sharing with my enthusiastic friends, JORD and I have teamed up to give you all the opportunity to win $100 to use towards purchasing one of these beauties. And even if you don't win, all of you will be receiving $25.00 just for being a part of the Enthusiastic FAM! 🙂
All you have to do is fill out the giveaway entry HERE (only 2 questions)!
The contest will close

2/26 at 11:59pm

. The $25 code will expire on

4/30/2017

.
Good luck everyone! Thanks for reading and stay enthusiastic!
Feel free to follow the adventure on social media 🙂
Facebook / Instagram / Twitter / Youtube
Maira