This post is sponsored by The Murder Mystery Company. As always, all opinions are my own.
Tasty dinner. Over the top theatre. Laugh out loud reactions. These are three things to expect from the Murder Mystery Dinner Company in Phoenix at The Old Spaghetti Factory.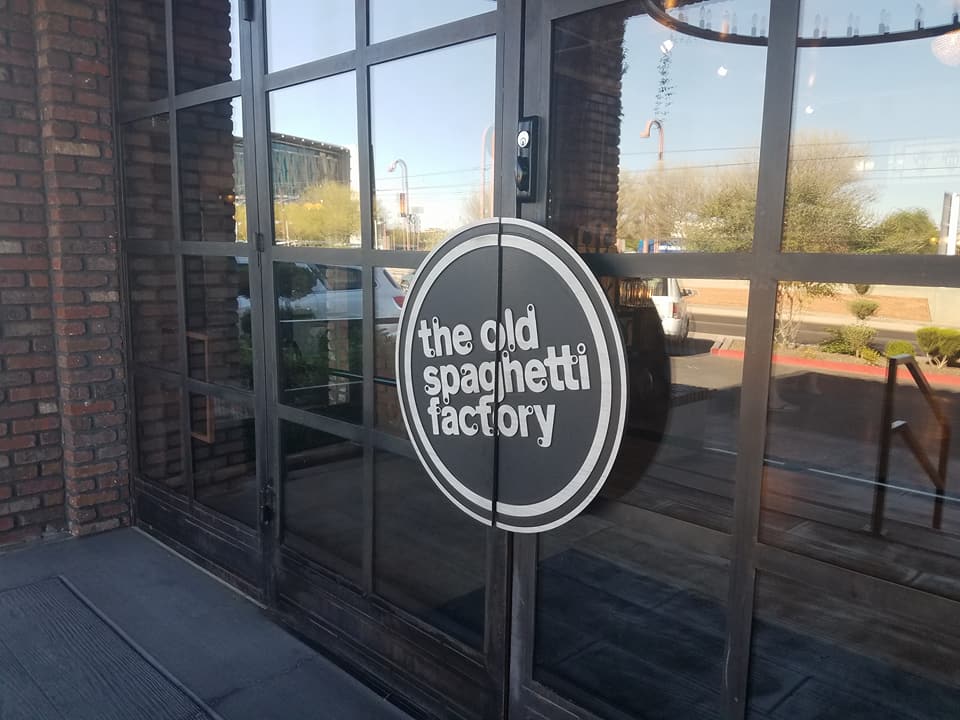 I've had 'Murder Mystery Dinner Theatre' on my
bucket list
for years, ever since I first heard about this concept back in
college
when a friend invited me. However, back then I didn't completely understand it so I let the fear of the unknown stop me. But I've grown, matured, and became Enthusiastic About Life (or 'The Queen of YOLO' as my cousins likes to call me, blog post coming soon with the full origin story) so when I got approached to cross off this bucket list item, I had to say YES.
My cousin Juana joined me and we had such a unique and fun time. Juana had never heard of this type of outing and I had to explain to her what it was all about, so I figured I would share the same info with all of you!
The Murder Mystery Company performs live, interactive murder mystery dinner theater shows nationwide, including in Phoenix and Chandler. Their shows offer a unique experience, that allows you to get involved in the show (literally), and enjoy a tasty 3-course meal while you put your detective hat on.
Every event has a specific theme with a corresponding dress code. The show I attended was 'Crime and Punishment', a 1920's mafia mystery experience about jealous jilted lovers, a rival Mafioso, and even a couple undercover feds at a speakeasy.
When attending, you have the option to dress to match the theme and luckily for you, the dress code is provided. The dress code for the show I attended included flappers, boas, elbow-length gloves, sequins, diamonds, feathered headbands, fedoras, pinstripe suits, tassled skirts, high-waisted jackets, and cloche hats.
Unfortunately, I didn't have anything to match the theme, but next time I plan to dress up because there is a prize at the end for the best outfit. Plus, look at the outfits that these fabulous actors are rocking, tell me that doesn't make you want to dress up!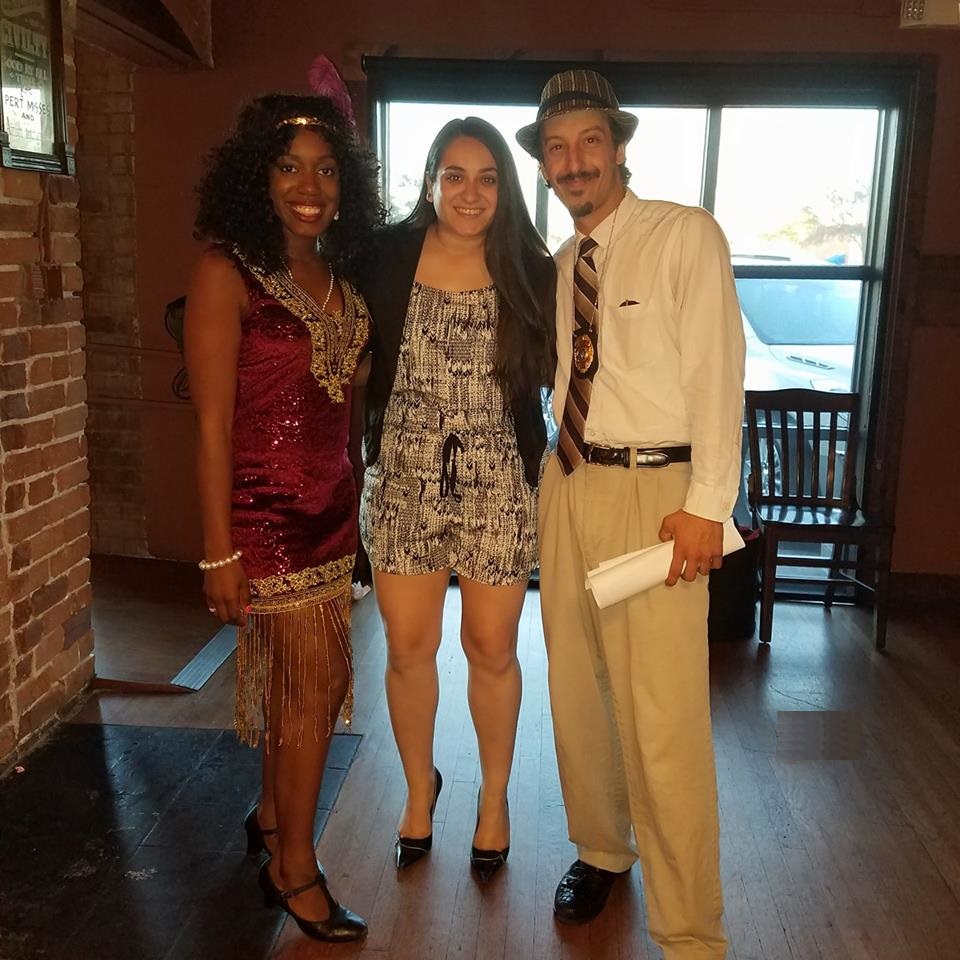 Once you have your outfit, you are all set to go. When you arrive, you are immediately thrown into the show. The Phoenix troupe of actors are fabulous. They don't break character at all, so you really do feel like you are in the 1920s. The actors are engaging, dramatic, and throw out some hilarious jokes so you are laughing the entire time.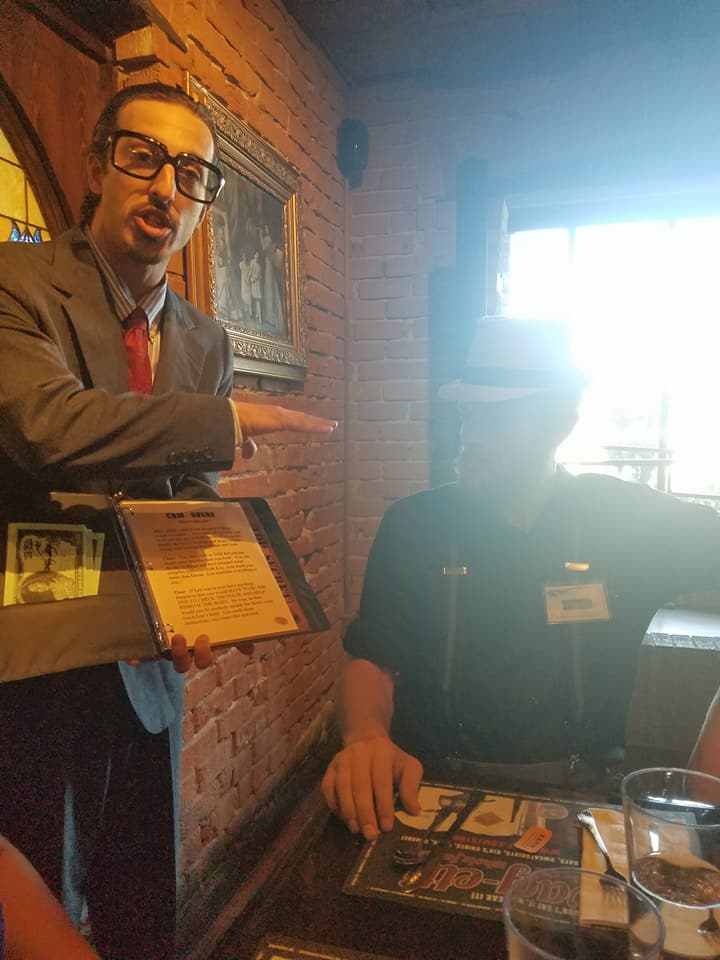 When you walk in, you are shown your table and then have the opportunity to take a mugshot memento to take home for $20.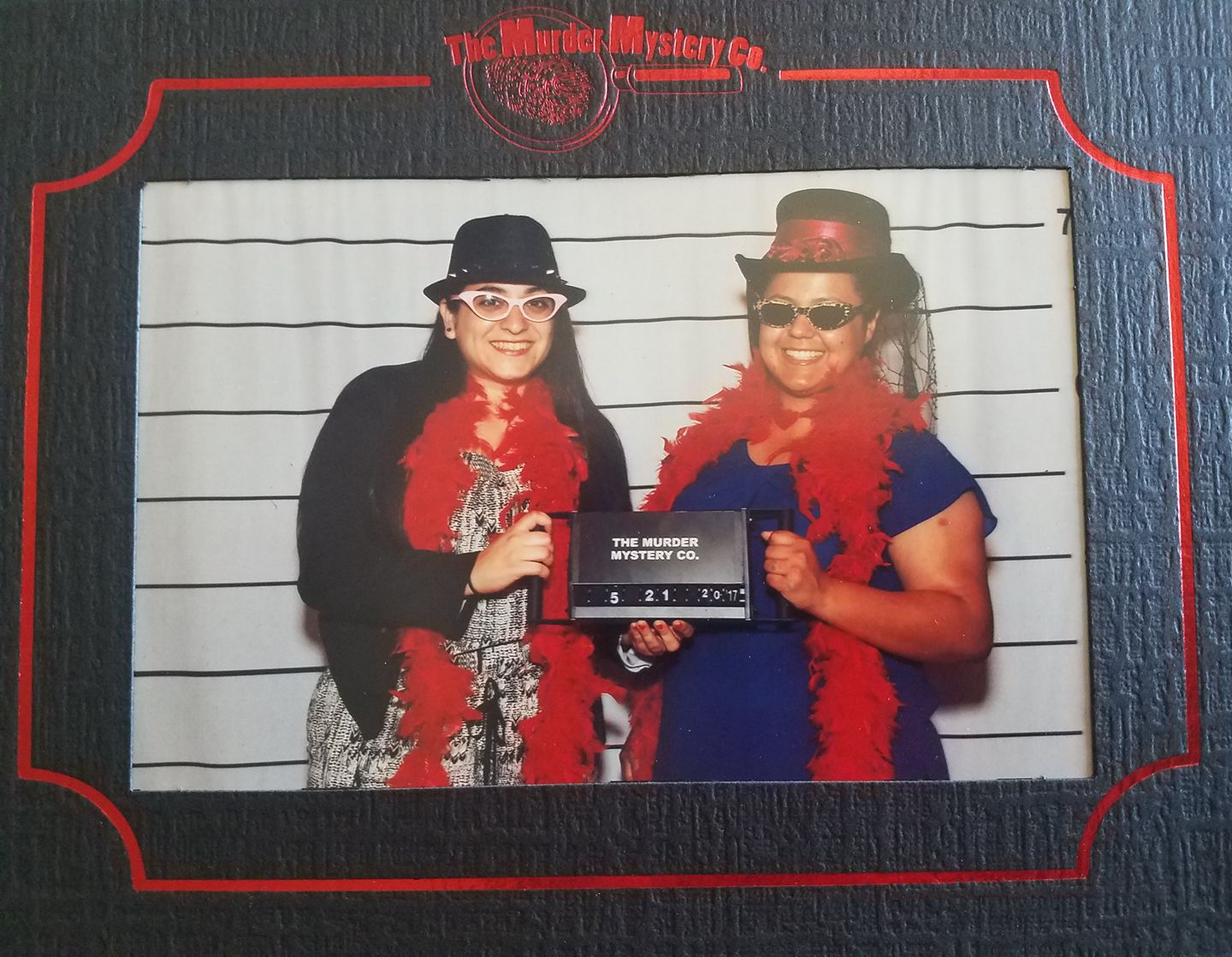 You get seated with your fellow detectives and are given hints for the murder so that you can start investigating. The show is two hours long which includes plenty of time for you to figure out who the murderer is. Not only are you a detective, but a couple of people in the audience are also chosen to be 'actors'. Most of the people that get chosen are those who dress up, so if you want to work on your acting chops make sure you dress up.
Going to a Murder Mystery Dinner is a fun experience to do with your family, friends, and significant others (there were so many couples there!). I would recommend this experience to girlsfriends, siblings, cousins, but not young children because there are a couple of sexual innuendos, which are fun but might be a little awkward for younger detectives. There are awards for best dressed, best suspect, best actors and my favorite: dead last place for the detectives who have absolutely no idea what they're doing (luckily, not us!).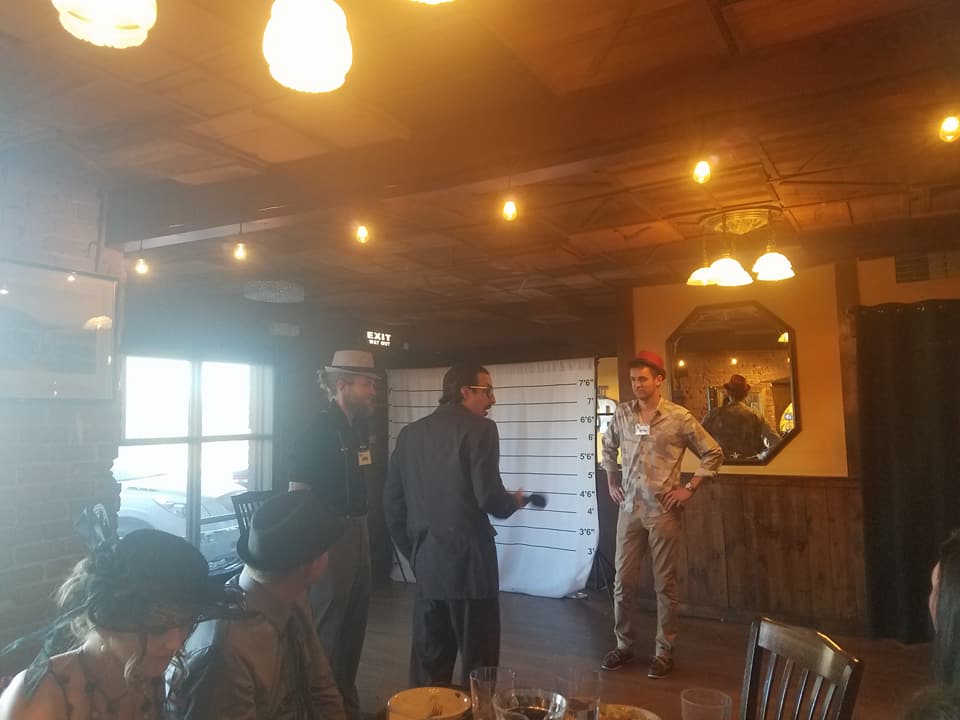 And of course it's not a murder mystery dinner theater without dinner. The event was hosted at The Old Spaghetti Factory. There are three choices for dinner and I went with the Spaghetti Vesuvius: a spicy blend of tender all natural chicken, sausage, and handmade meatballs with green peppers and onions.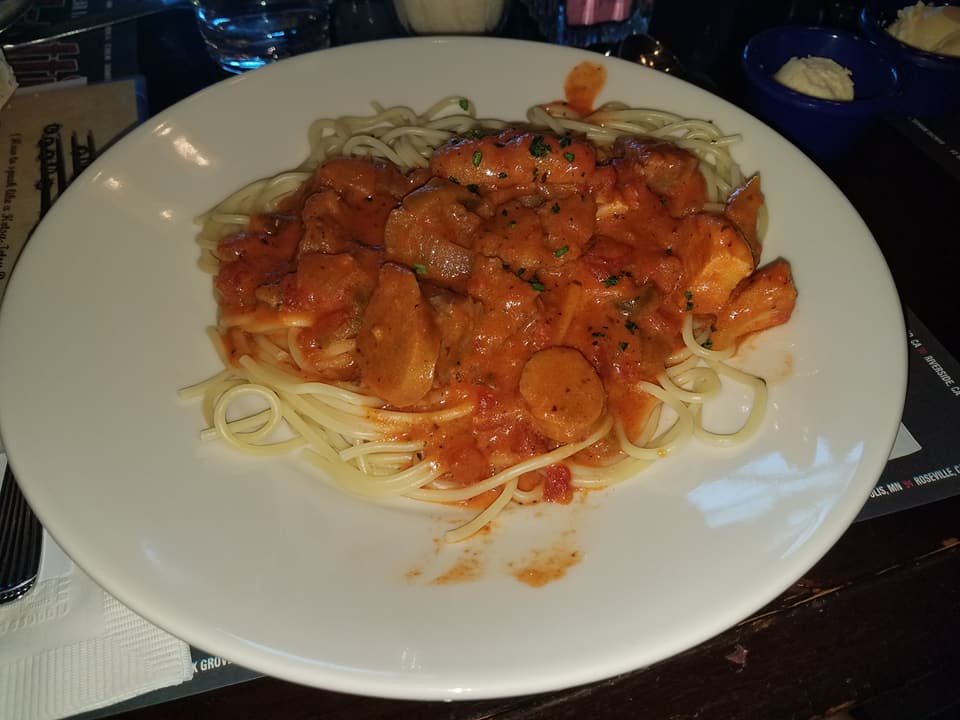 My favorite part of dinner was the dessert, I was seriously impressed with the flavor of the ice cream, it was so good!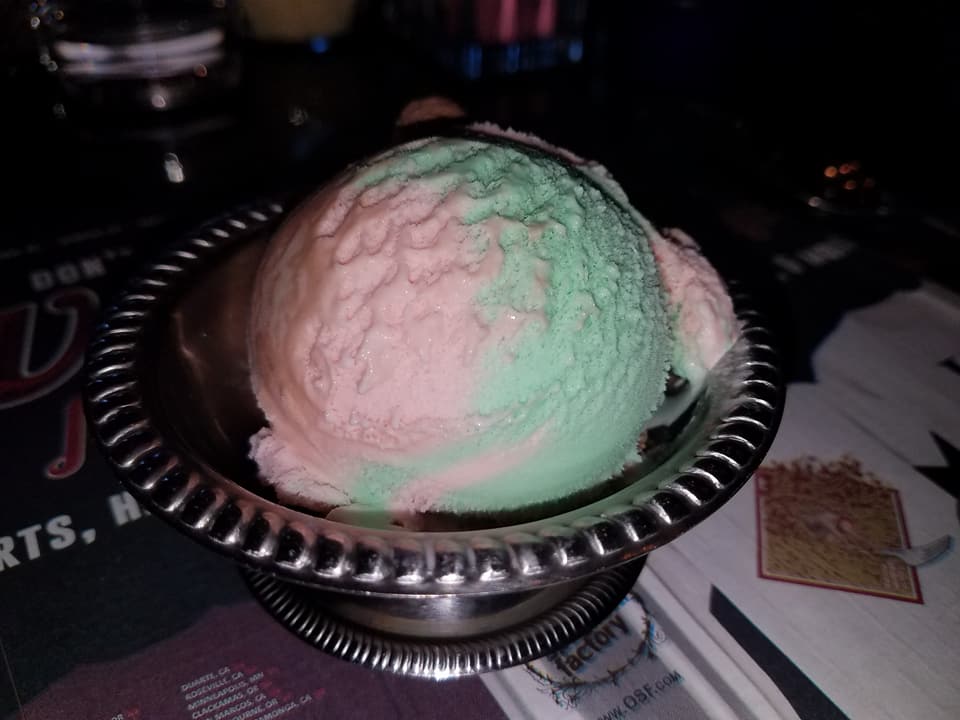 By the end of the night, we chose the wrong murderer but we still had a blast. I would love to come back and participate again and this time I would try a little harder just so that I can win the 'Detective of the Night' prize.
So what do you say? Do you believe a murder mystery dinner should be on your bucket list? Let me know!
Feel free to visit their website to get more information and to sign up soon because they are currently hosting a sale where tickets are 50% off. Thank you all for reading, and stay enthusiastic!
Feel free to follow the adventure on social media ?
Facebook / Instagram / Twitter / Youtube
-Maira