This post is sponsored by the Book Publicity Services. As always, all opinions are my own.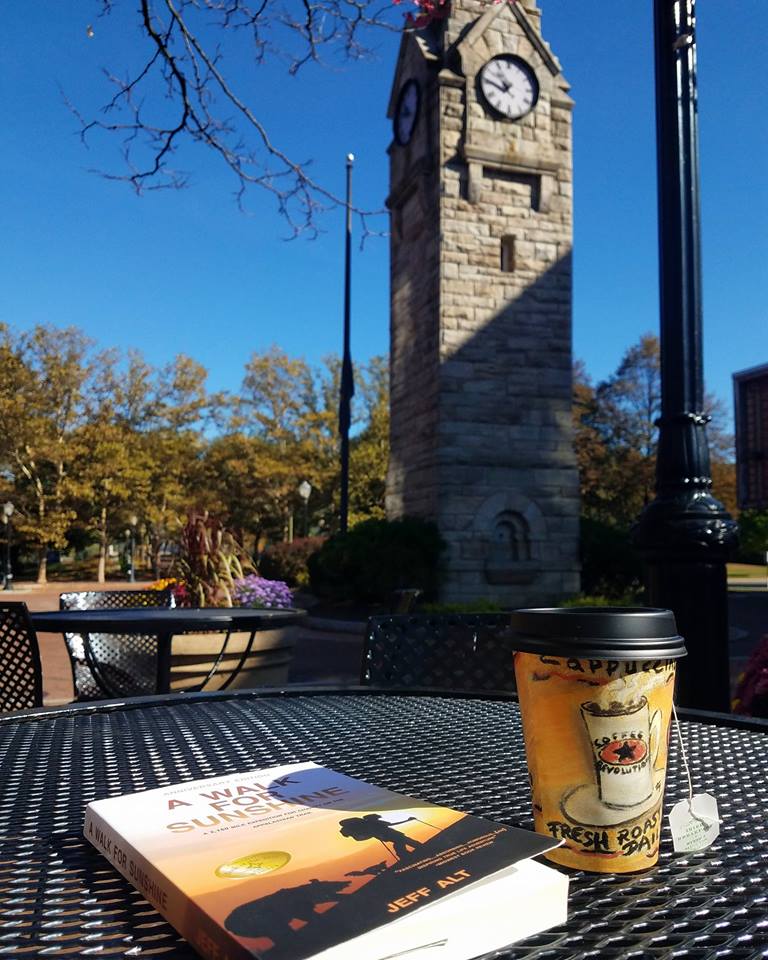 Last month, I crossed off one of the biggest items from my bucket list: run a full marathon. That's right my friends, I ran 26.2 miles! There is so much I can say about crossing off this major feat, but you will have to wait for that article coming in the next few weeks.
Today, we are discussing the book I read just before my marathon, the book that motivated me and made me believe that anything is possible. That book is 'A Walk for Sunshine: A 2,160 Mile Expedition for Charity on the Appalachian Trail' by Jeff Alt.
'A Walk for Sunshine' details the journey of Jeff Alt as he accomplishes a major feat (that happens to also be on my bucket list): hike the Appalachian Trail. I have heard of the Appalachian Trail and figured it was difficult, but I didn't realize how long and strenuous and what a mental challenge it is.
According to the official Appalachian Trail website, the Appalachian Trail (A.T.) is almost 2,​190 miles long, passes through 14 states, eight different national forests, six national park units and numerous state parks, forests, and game lands.
If you are wondering whether the 2,190 mile is a typo because it differs from Jeff's book title (2,160)…it's not. The Appalachian Trail changes every year due to upkeep and at the time that Jeff hiked it, it was 2,160 miles long.
I learned so much about the hike, about one person's determination, about the importance of positive thinking, goal setting, and how walking for a cause can change everything.
In the book, Jeff talks about how he wanted to hike the Appalachian Trail to raise money for Sunshine, a center that supports men, women, and children with developmental disabilities, and offers residential, vocational, and clinical support as well as therapeutic and recreational programs. Sunshine is a special place for Jeff and his family because his brother is a resident there.
I recommend this book to anyone who is a hiker, or who has a physical goal they want to reach, whether it's running a race, climbing a mountain, or winning a championship because you learn so much about the qualities needed to accomplish a daunting task. I would also recommend reading this book before crossing off that feat (like I did) because as I ran 26.2 miles, I thought to myself 'If Jeff can hike 2,160 miles, then I can run 26.2 miles'. Trust me, it definitely helps.
I had the pleasure of interviewing Jeff and getting to learn a little more about him and his journey. Enjoy!
---
Maira: What was your favorite part about hiking the AT?
Jeff: The ability to allow my mind to free flow and contemplate for 147 days without interruption of domestic routine.
Maira: In the book you spoke about the obstacles you encountered, what would you say was the most difficult part of accomplishing this incredible goal?
Jeff: The sub zero temps in the beginning.  Sleeping with my boots in my bag so they wouldn't freeze.
Maira: What would you change if you were to hike the AT again?
Jeff: Gear has lightened up since my original hike.  I would pack lighter.
Maira: What was your budget for the hike? You mentioned hikers who could afford luxurious hotels and others who couldn't…what's a typical budget for hiking the AT? How much did it cost to hike the AT? Including gear, shipping of supplies, supplies themselves? 
Jeff: Depends on your life style.  That's a difficult question (estimate $5k-10k)
Maira: One thing I was surprised at was your diet of candy bars, pizza, and ice cream. I've hiked Havasupai Falls (20+ miles round trip in Arizona) and everything I've read mentioned eating carb heavy food but no one mentions candy bars! Did you learn anything from the food you ate? Would you bring different food if you did it again?
Jeff: In my home / normal work out routines and short term hiking getaways, I eat sweets sparingly. But, The Appalachian Trail Diet Plan-Eat all you want and still lose weight is the name of the game on a thru-hike.  You're hiking 20 miles every day with a backpack.  You burn 4-6 thousand calories a day similar to running two marathons a day. The only thing that I've changed is I prefer protein bars over energy bars.  But, I still eat candy bars and anything I want, because you can and they offer some flavor to keep the calorie intake going.  When you burn through serious calories like this every day for 5 months, the junk food will not go to your belly. Yes, I would eat that half gallon of ice cream at the half way point again and a dozen Krispy Kreme donuts if they are hot and fresh.
Maira: I don't think you mentioned in the book too much if you ever got homesick, I imagine it must be because you met up with friends and family along the way…did you ever get homesick? Did you miss any of the simple luxuries of life?
Jeff: Never got homesick.  I morphed into a nomadic life and was content with what I had.
Maira: I loved how positive you were, and how it seemed like you never thought about quitting. Have you always been this way or was it because you were hiking for such an important cause? 
Jeff: I always try and find the lemonade when given a lemon.
Maira: Hiking the AT is on my bucket list, what would you say to someone who is considering hiking the AT?  
Jeff: Make sure you really want to hike the AT before acquiring all the gear and quitting your job.  Try backpacking for 7 days with an experienced hiker first.
Maira: I read your book right before running my first marathon and it definitely helped me. The fact that you hiked that many miles made me think that running 26.2 miles was totally doable. What's the best part about being able to inspire others to cross off their own big goals? 
Jeff: My goal when I wrote my book was to inspire others.  That makes me feel good to know I helped drive someone to take that step towards a big goal.
Maira: Would you consider hiking the AT again?
Jeff: Yes!  I plan to do the AT again.
Maira: I write about bucket list items so naturally I have to ask, what's the next big item to cross off from your bucket list?  
Jeff: A long list of adventure trips.  But, right now my bucket list goal is to continue raising my kids outdoor style so that they grow up and appreciate a good adventure without electronic devices.
---
If you'd like to purchase a copy of the book, the book is available for purchase on Amazon. Thank you again to Jeff Alt for partnering with me and for inspiring me to cross a marathon off of my bucket list!
I will be giving away a copy of this book to an Enthusiastic reader! All you have to do is leave a comment on this blog post, Facebook, or Instagram and tell me what is the biggest physical bucket list item that you are looking forward to crossing off soon. You can also re-tweet this tweet here for another entry into the giveaway! Every comment will win you an entry into this giveaway, the more places you comment, the higher chance of winning! The winner will be announced on Friday, good luck!
Thank you all for reading, and stay enthusiastic!
Feel free to follow the adventure on social media ?
Facebook / Instagram / Twitter / Youtube 
-Maira